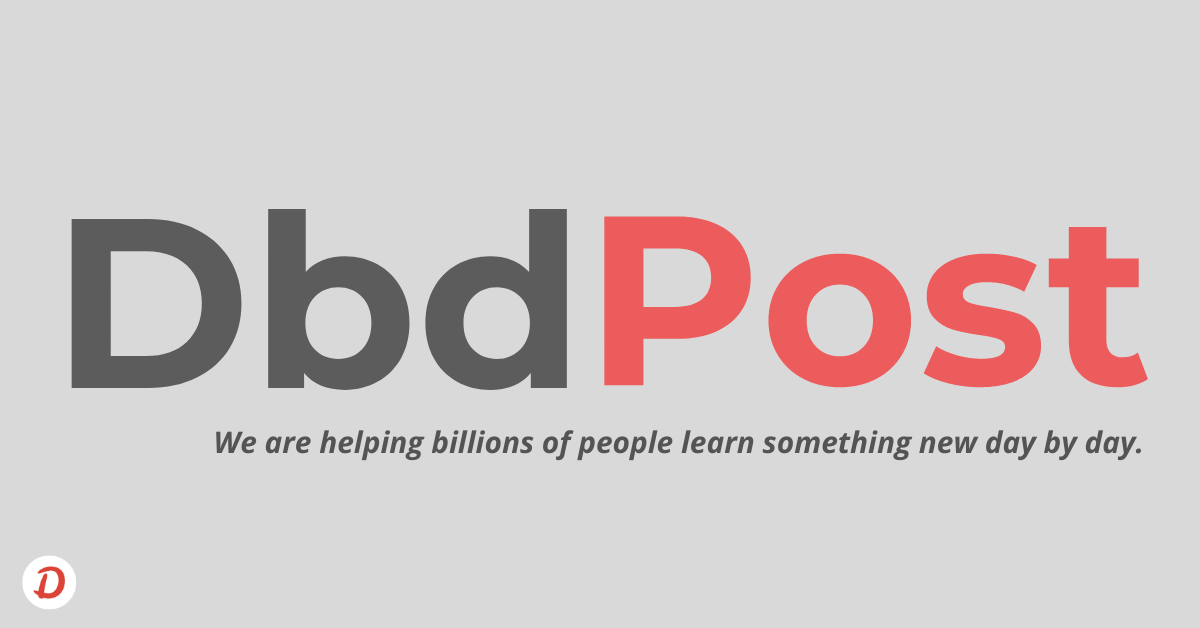 What are our missions and values?
With the mission of making everyone on the globe feel like they have a voice and that their ideas matter, DbdPost.com aims to answer all what, when, where, who, whom, which, whose, why, and how questions related to your daily life. Our goal is to provide you with high-quality content to help you grow as a person or at work, at home, or wherever it may be.
We believe in helping everyone grow and making the world a better place.
Who we are?
DbdPost.com is a one-stop resource for all of your research needs on anything and everything under the sun. We have categories ranging from Automotive, Business & Finance, Computers & Technology, Education to Entertainment & Arts, Family Life, Food & Drinks, Health & Wellness, Hobbies & Skills, and so much more.
You can find all what, when, where, who, whom, which, whose, why, and how to question's answer, which is very useful in your daily life. We are dedicated to providing you with the most relevant information possible, based on your interests, to help you no matter where you are.
Our team is made up of talented individuals who love their work and are incredibly passionate about helping people around the globe. We value creativity, drive results, and believe in smart teamwork. Every day, hundreds of people with a desire to help others join our great D community.
Why should you go with DbdPost above all the rest?
All the information available on DbdPost.com is written and reviewed by experts in their field who know what they're talking about and our great D community editors to ensure its accuracy.
We have a complete set of guidelines that each writer must follow to help keep articles on the site interesting and relevant.
DbdPost.com provides the most extensive and comprehensive list of articles on the web today! We're constantly updating our page to include new categories, and we're also providing links to related articles that might interest you depending on what category you were previously reading.
If you want quality, value, and efficiency when answering all what, when, where, who, whom, which, whose, why, and how questions related to your daily life, then DbdPost.com is the place for you!
All articles are free, so you don't have to pay for anything. No charges, no subscriptions, just complete access! This way, you can save money for other things that are more important to you.
What categories do we cover in DbdPost?
You can find the list of all categories on DbdPost.com under the Explore link on our homepage.
These are some categories that are available on DbdPost that you might be interested in:
Automotive
Business & Finance
Computers & Technology
Education
Entertainment & Arts
Family Life
Food & Drinks
Health & Wellness
Hobbies & Skills
Holidays & Celebrations
Home & Garden
Personal Care & Lifestyle
Pets & Animals
Philosophy & Religion
Relationships
Sports
Travel
Work & Occupations
We're constantly updating our great D community to include new categories, so you'll be able to discover whatever you want!
Join our great D community, offer us your comments, and let's work together!
What does Dbd stand for, and what is our slogan?
Part of the name of our site is Dbd, which stands for day by day, referring to the fact that we post helpful and most useful information daily.
Our slogan – "Learn something new day by day."
Affiliation
DbdPost is a part of Magical Media Studio, Inc.