The best universities in Dubai offer undergraduate and postgraduate programs to the residents of the Emirates. The island is home to both local and foreign universities.
Dubai has become a hub for higher education, with various universities offering diverse programs in multiple fields. Some of the top universities in Dubai are Amity University, Murdoch University, Middlesex University, and more.
Our Dbd team conducted extensive research to compile the list of universities in Dubai. First and foremost, we looked at tuition fees to ensure that students got good value for their money.
We also considered the number of students enrolled at each university, which can indicate its popularity and reputation. Furthermore, we also took ratings from reputable sources such as Dubai KHDA Report into account.
After thoroughly researching and evaluating these factors, we compiled a list of the top universities in the city.
Compare the best universities in Dubai
Here, we have presented the comparison of cost, established date, faculty, and more for the best universities in Dubai.
11 top universities in Dubai
Dubai is home to several highly reputable universities that attract students from all over the world. These universities, which include international and American institutions, offer a range of degree programs.
In addition to these foreign universities, several local institutions in Dubai offer excellent higher education opportunities.
1.

Amity University – Dubai Campus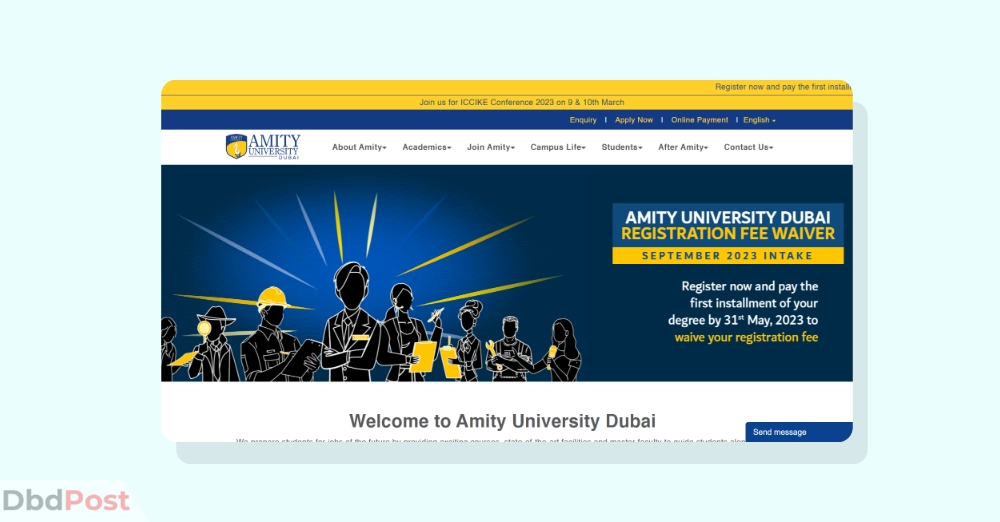 Amity University is a highly respected international university located in the UAE and is a part of the Amity Education Group.
The university offers a wide range of degrees. They are recognized by prestigious organizations, including the CAA of the UAE Ministry of Education, KHDA, QAA, and WASC accredited.
In addition to its main campus in Dubai, Amity University also has locations in London, New York, and India. The university offers over 30 different programs and is known for its highly qualified academic staff.
Amity University offers many Bachelor, Diploma, and Master's programs. Arts and Humanities, Technology and Engineering, Design, Hospitality, etc.
The university also provides SAS certification for students pursuing a Bachelor's or Master's degree in analytics.
In addition to its academic programs, Amity University also offers numerous scholarships for both undergraduate and postgraduate students. These scholarships include merit-based awards, discounts, and special Emirati students.
2.

Murdoch University, Dubai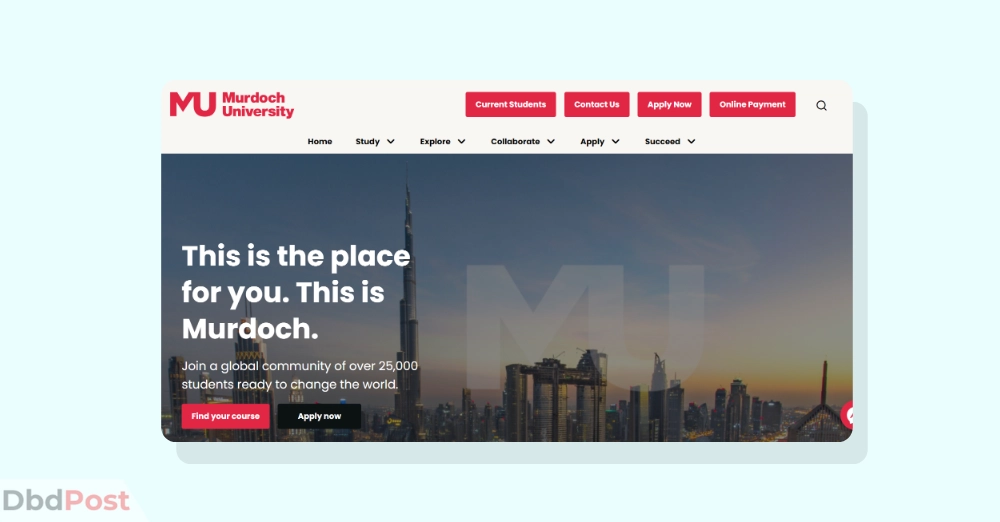 Murdoch University, Dubai, is a branch campus of one of Australia's emerging research universities, Murdoch University.
It has accreditation from the Dubai Government, KHDA, the Australian Government, and TEQSA.
Furthermore, the university offers a wide range of educational programs to meet the needs and goals of every student. It provides undergraduate degrees with 72 credit points per program and the option to pursue a double major.
Murdoch University also offers postgraduate degrees at the Graduate Certificate and Masters levels.
With its diverse range of programs and flexible options, Murdoch University is an excellent choice for students looking to further their education.
3.

Manipal of Higher Education – Dubai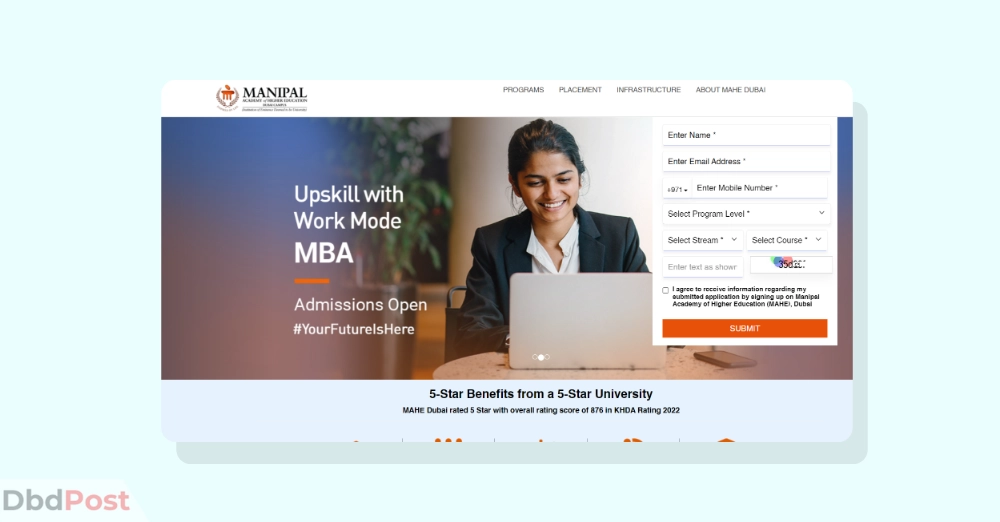 Manipal Academy Dubai is a branch campus of the Manipal Academy of Higher Education, India. It has been approved by the University Grants Commission (UGC) in India, MHRD Government of India, and received permission from the KHDA.
In addition to the quality classes for learning, the academy also provides various facilities. It has a cafeteria, various indoor and outdoor sports, a library, a gym, fitness, and wifi access.
MAHE-Dubai offers over 50 undergraduate, postgraduate, Ph.D., and certification programs. Undergraduate students at MAHE-Dubai can choose from fields such as Humanities, Film Studies & Television Production, Architecture, and Business Administration.
Likewise, for postgraduate, you can opt for Media & Communication, Business Administration, Interior Design, Information Science, Biotechnology, and Computer Science. For those looking to take their studies even further, MAHE-Dubai also offers a Ph.D. program in Biotechnology. [1]MAHE Dubai, " Programs, https://www.manipaldubai.com/mud/academics/programs-list.html"
4.

BITS Pilani, Dubai Campus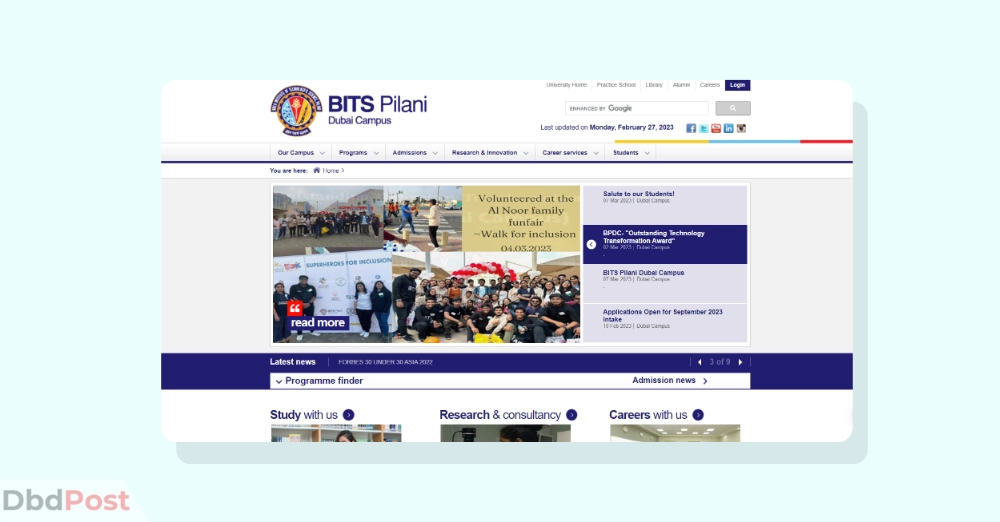 BITS Pilani, Dubai Campus is the international branch of the renowned Birla Institute of Technology and Science in Pilani, India.
This famous university has students from UAE, other gulf countries, Asia, the Far East, and Africa.
Moreover, it is determined to provide exceptional internships through its partnerships with an impressive 400 businesses in the UAE and India. This campus also offers students a balance of practical and theoretical knowledge.
BITS Pilani offers various integrated first-degree, higher-degree, and doctoral programs in various fields.
5.

Middlesex University Dubai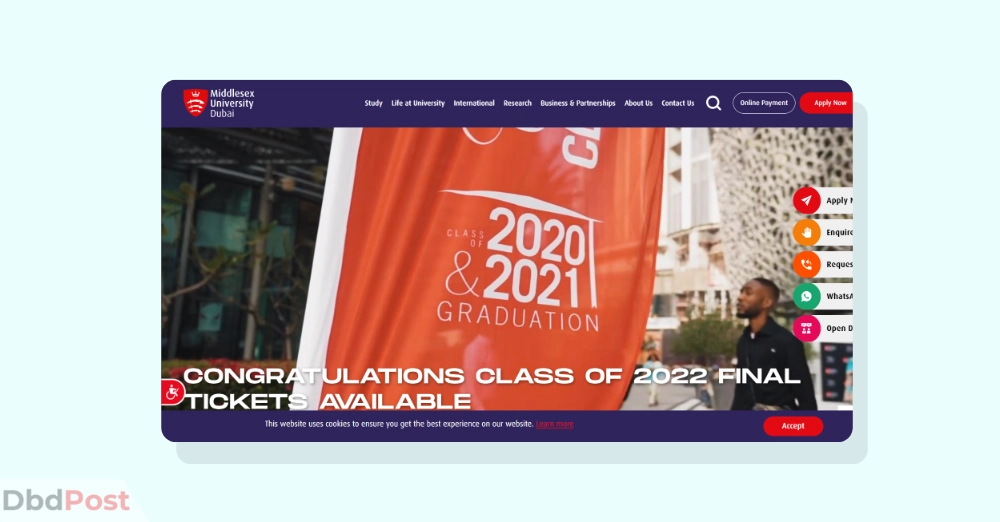 Middlesex University Dubai is the international branch of the well-known London-based Middlesex University.
With the mission to make British education accessible and more affordable for students from all over, this university has quickly become Dubai's largest UK institution.
In 2021, this university opened its second campus in Dubai International Academic City. And it becomes the first international university in Dubai to offer a multi-site campus experience. [2]Middlesex university, "Our present, https://www.mdx.ac.ae/about-us/our-present"
Moreover, the university offers undergraduate and postgraduate programs spanning various courses. You can choose subjects like business, media, law, health and education, accounting, psychology, and design.
6.

S P Jain School of Global Management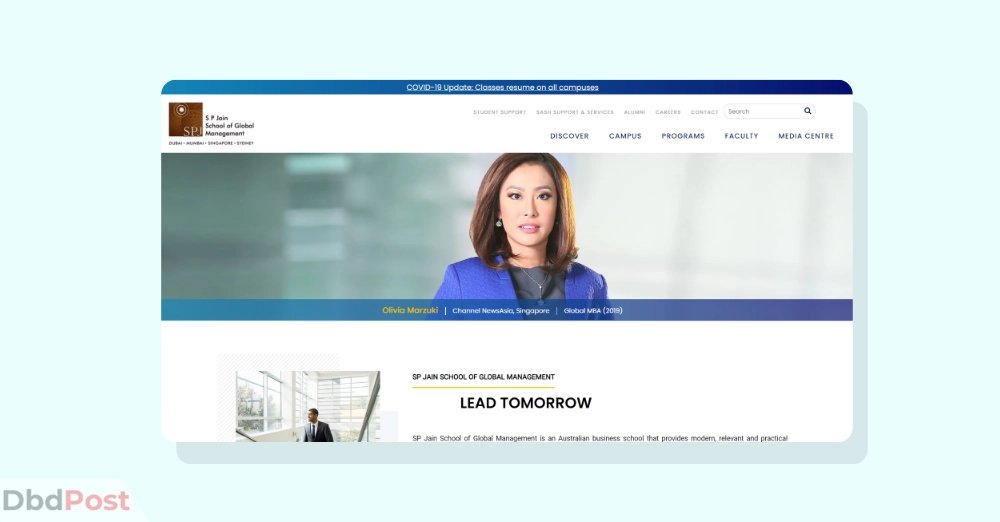 SP Jain School of Global Management is one of the leading educational institutions worldwide.
It was established in 2004, with its first international campus in Dubai. This school provides quality education across India, Dubai, Australia, and Singapore.
The school also boasts high-end facilities like hi-tech learning centers, a library, and mock trading rooms.
Moreover, S P Jain offers a wide range of Australian degree programs, including undergraduate, postgraduate, and Doctoral courses.
With more than 74% of core faculty holding doctoral degrees, students can benefit from the highest level of expertise.
Undergraduate program options include business administration, economics, data science, and business communication. And for students seeking a postgraduate degree course, S P Jain offers a Master of Global Business, Global MBA, Executive MBA, and a Master in Artificial Intelligence in Business.
7.

Curtin University – Dubai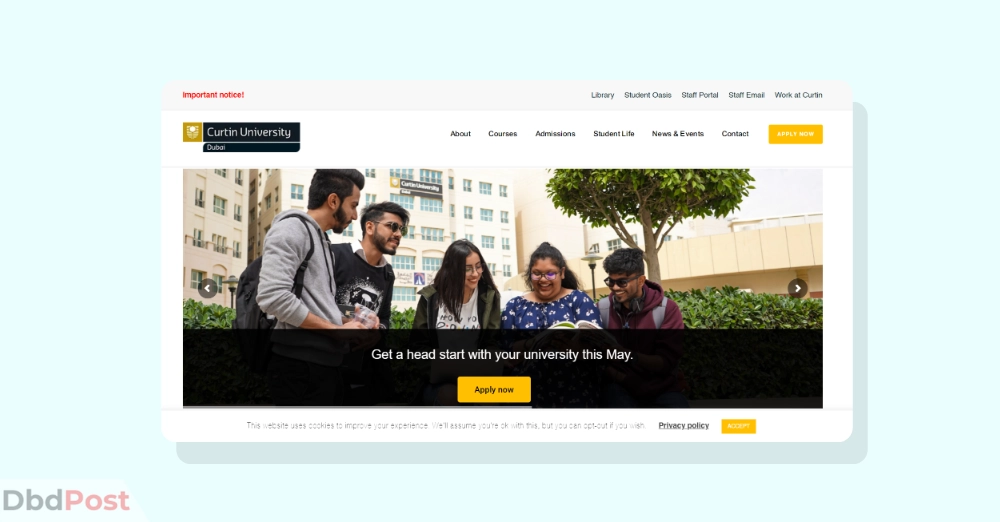 Curtin University is a leading global university expanding its global presence. According to the QS World University Rankings 2022-23, Curtin is ranked in the top 1% of worldwide universities.
Additionally, it has campuses in many countries worldwide, including Australia, Singapore, Dubai, Mauritius, and Malaysia.
The Curtin university is committed to providing high-quality education. It offers a variety of educational opportunities for students, ranging from undergraduate and postgraduate programs to professional development courses.
8.

Hult International Business School Dubai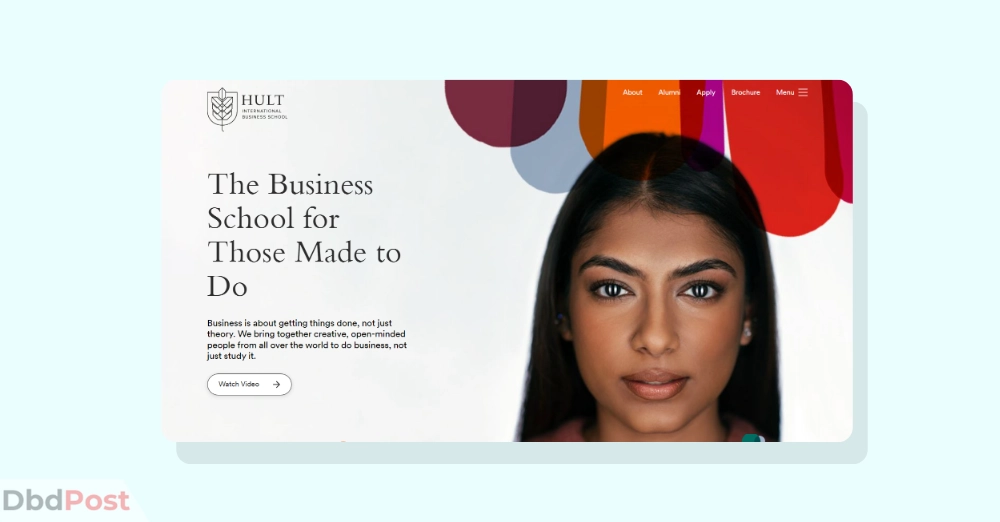 Hult offers one of the best MBA programs in Dubai and globally. It is internationally renowned and highly ranked amongst business schools worldwide.
The Association of MBAs (AMBA) and the Business Graduates Association (BGA) also honored Hult with a Bronze award for Best Lifelong Learning Initiative 2021.
Furthermore, the university offers an impressive array of programs, from bachelor's to doctoral degrees. Students can pursue a Master's in Business Administration, BBA, and Doctorate in Business Administration.
Similarly, for those seeking a more specialized education, Hult also provides Master's degrees in Business Analytics, Finance, International Business, Marketing, and Management.
9.

London Business School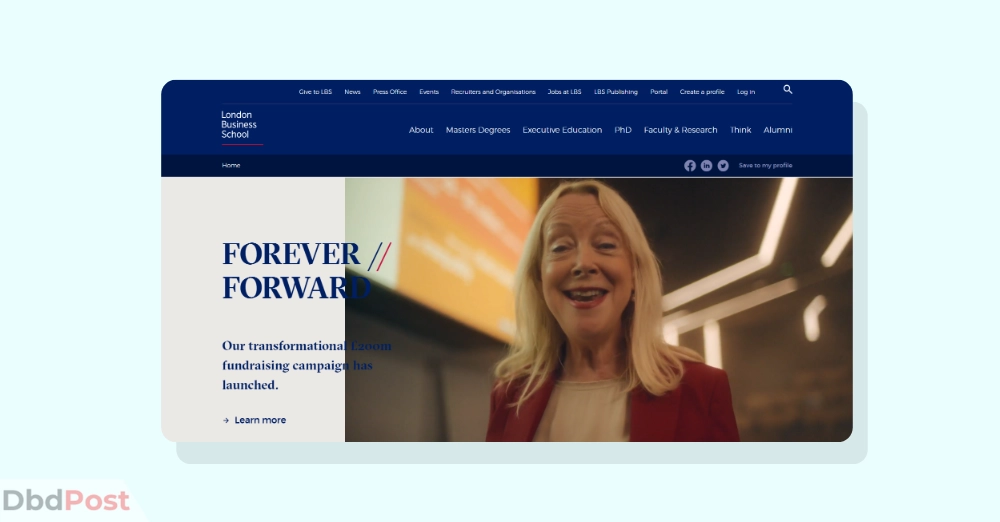 The London Business School is one of the best business schools in Dubai. It is the first school to have a campus outside of London that is fully accredited.
By taking advantage of on-campus and virtual resources, students can gain interactive classroom education and invaluable global business knowledge.
Additionally, it has been ranked number one by Forbes in its MBA program and the UK for Masters in Management by the Financial Times. At the same time, its Master of Finance has attained first place according to the Financial Times world rankings.
With an impressive array of master's degrees and MBA options available, there is something for all disciplines of study.
Students can choose from various professional master's programs, such as those in Management, Analytics, and Financial Analysis.
10.

Heriot-Watt University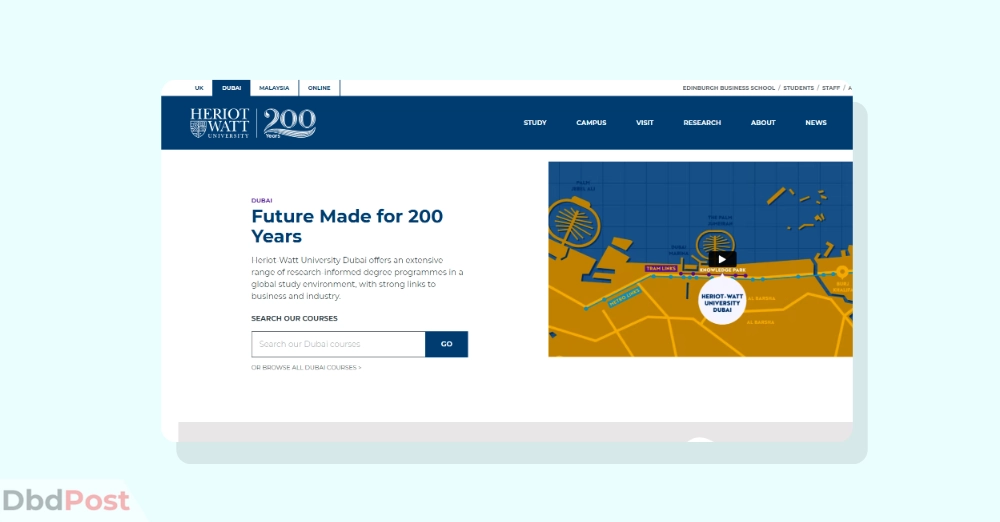 Heriot-Watt University is the first British university in Dubai International Academic City. It is known for its commitment to providing excellent British education to students in the Gulf region.
The university offers students the opportunity to transfer between different campuses. This way, students can learn in different places and make their educational journey fit their ambitions.
Further, Heriot-Watt University provides undergraduate and postgraduate engineering, business, and computer science programs.
11.

The University of Manchester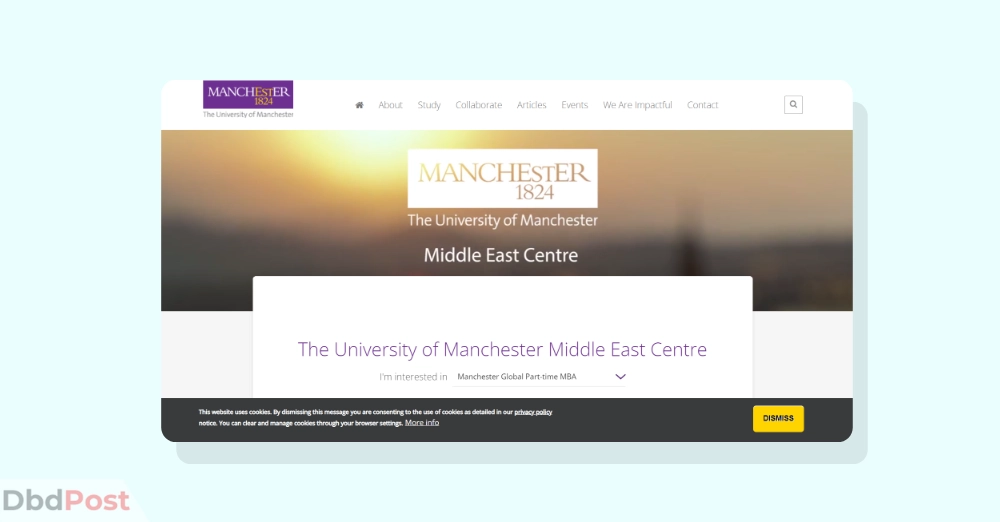 The University of Manchester has been a leader in providing a world-class education for over fifteen years.
The university provides working professionals and business students to pursue their education. You can apply for their MSc in Financial Management, MA in Educational Leadership in practical, and many other collaborative learning courses.
Additionally, it offers renowned MBA programs worldwide. The Financial Times Global Ranking 2022 ranked their program 12th in Europe and 5th in the UK.
Furthermore, their courses have triple MBA accreditation from various reputed organizations, including EQUIS – EFMD, AMBA, and AACSB.
How to get admission to a Dubai university?
Here are the general steps you can follow to apply for admission to a university in Dubai:
The National Admissions and Placement Office(NAPO) processes Emirati and Emirati-born students' higher education applications in UAE.
Students applying through NAPO must take EmSAT in Math, English, Arabic, and Science and meet the university's requirements.
International and expatriate students in the UAE must contact each higher education institute for registration terms.
UAE Ministry of Education scholarships are available to Emirati students with excellent general academic scores to study abroad.
UAE nationals/children of Emirati women who finished secondary education must also complete General School Certificate (GSC).
Students can also apply by filling out the Ministry of Education eService "register students at public institutions of higher education" and uploading relevant papers. [3]UAE Ministry of Education, "Admission requirements,

https://u.ae/en/information-and-services/education/higher-education/joining-higher-education-institutions-/admission-to-colleges"
Related stories
---
FAQs
Final thoughts
In conclusion, the best universities in Dubai offer top-quality undergraduate and postgraduate programs. From reputed local universities to international universities in Dubai, the city as it all.
We hope that our Dbd guide helped you find the best universities in Dubai.