Today's best AED to PHP exchange rate is 14.77 PHP for 1 AED on April 1, 2023.
This exchange rate allows Filipinos living in UAE to use a cost-effective way of transferring funds and helping their family and friends back home in the Philippines.
AED to PHP conversion rates – Today's best rates
Exchange rate of UAE to PHP on March 31, 2023
PHP to AED conversion rates – Today's best rates
Exchange rate of PHP to UAEon April 1, 2023
AED to PHP exchange rate history
The AED to PHP rate throughout history has fluctuated through exchange periods. However, the AED has dominated since 2021 from 13 PHP to 16 Pesos per Dirham. The all-time low value of AED vs PHP was 11 Pesos per 1 Dhs in 2008.
Aside from these fluctuations Peso has maintained a stable value of 11 to 15 units per 1 Dirham. [1]Google Finance, "AEDvsPHP, https://www.google.com/finance/quote/AED-PHP?sa=X&ved=2ahUKEwjV2MOa3cj7AhX9SmwGHXpKC-4Q_AUoAXoECAEQAw&window=MAX"
Moreover, the AED to Peso exchange rate reflects the countries' overall stable and prosperous economic conditions.
The table below shows the exchange values for the last 30 days.
| Date | Exchange Rate from AED to PHP |
| --- | --- |
How to transfer money from UAE to the Philippines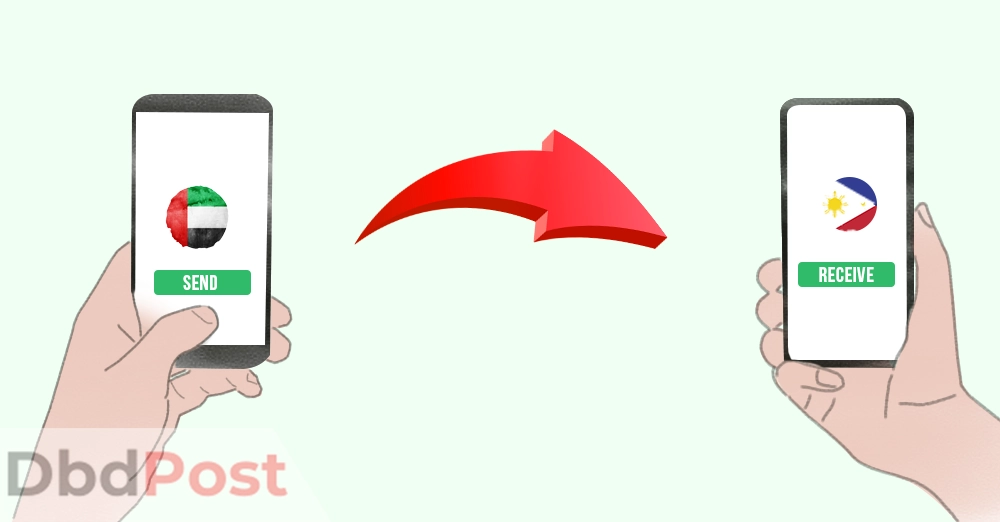 The total remittance from UAE to Philippines has decreased significantly from around 2 billion to 1.32 billion dollars in 2021. Before the pandemic, the total remittance was 2.04 billion in 2018 and an all-time high of 2.54 billion dollars in 2017.
As of 2020 there are estimated of 1.77 million migrant Pilipino workers who are decreasing as Philippines government has imposed self-employment policy. This is the reason behind the decrement in remittance. [2]Statistica, "Remittance UAE to Philippines, https://www.statista.com/statistics/1069196/philippines-value-cash-remittances-overseas-filipino-workers-uae/"
There are different methods for transferring money. Each has its advantages and disadvantages.
Below, we will look into some popular methods for transferring money from UAE to the Philippines.
Method 1.

Through bank transfers

When sending money, banks are one of the most common methods. You can make a bank deposit online or in person.

Banks are a popular choice for many people when they need to send money. They offer ease of use, and your money gets deposited directly in your Philippine account.

Major Philippine banks have branches or representative offices in Dubai. This makes expats easy to deposit money directly in their family's accounts.
Method 2.

Money transfer services

For most people, the easiest and most convenient way to transfer money is to use a money transfer service like Western Union or Al Ansari.

These companies have agents in the UAE and the Philippines, so you can easily send money from one country to another.

For starters, Al Ansari offers money transfer services from UAE to Philippines from over 200 branches all over the country. You can also use their mobile app to make the transaction.

Similarly, Western Union allows direct integration of your bank account with their app. Connect your bank account and send money to your loved ones in just a few taps with a flat fee of 15 AED up to 5,000 AED. [3]WU, "Send money to the Philippines, https://www.westernunion.com/ae/en/send-money-to-philippines.html#:~:text=Money%20transfer%20made%20easy%20with%20the%20Western%20Union%C2%AE%20app"
Method 3.

Send in-person

If anyone you know is traveling to the Philippines, you can always send cash. This is an old-fashioned way to transfer money, but it's still used by many people when sending money.

However, there are some risks involved with this method, such as being scammed.

Carrying a lot of cash can be risky because you might lose it, or someone might rob you. You must also know how much cash is allowed to carry during international travel.

Make sure to send the money to someone you trust so they can keep it safe for you.
Methods of converting AED to PHP
The most common (and simple) way to convert Dirham to Philippine Peso is via a money exchange service.
You can do this online or in person. The services always use the current exchange rate, so you don't have to worry about that.
Now, let's explore a few ways of converting Dhs to PHP.
Method 1.

Using exchange services

The most convenient way to convert AED to PHP today is through currency exchange services like Al Ansari Exchange and Hadi Exchange.

They also offer an exchange rate calculator that you can use to compare different rates before transferring. Also, they offer safe and secure transactions with low fees.

The listed money service providers have some of the highest rates and reputations for exchanging AED vs PHP.

However, you might need your passport and another form of ID for large transactions. These services have a live exchange rate that you can see on their website or app.
Al Ansari Exchange
Location: Dubai Outlet Mall, Al Ain Road, First Floor, Dubai
Contact: +97144273220
Website: Al Ansari Exchange
Alfarddan Exchange LLC
Location: Mall of the Emirates, Sheikh Zayed Rd, Al Barsha 1, Dubai
Contact: +97143233004
Website: Alfarddan Exchange LLC
Goodwill Exchange
Location: Mohd. Aqil & Abdul Razak Zarouni Building, Dubai
Contact: +97142356364
Website: Goodwill Exchange
Hadi Express Exchange
Location: Al Hubbai, 20 B St, near Tamil Mini Mart, Al Karama, Dubai
Contact: +97143537650
Website: Hadi Express Exchange
Method 2.

Exchange cash in person

To convert your AED to PHP, exchanging cash in person is viable. The easiest way to exchange money is by finding someone you know and trust for the AED to PHP conversion.

However, there is always a small risk of forgery or scams. To ensure safety in your transaction, only make exchanges with people you trust completely.

For example, agree to meet in person or use a secure payment method so there will be physical evidence of the transaction.
AED vs other currencies
The United Arab Emirates economy is worth $421 billion, making it the 25th largest economy in the world.
The AED is one of the most stable currencies in exchange rates because it is pegged to the United States dollar at a rate of 1 U.S. dollar to 3.6725 AED. [4]Investopedia, "What is AED, https://www.investopedia.com/terms/forex/a/aed-united-arab-emirates-dirham.asp#:~:text=The%20United%20Arab%20Emirates%20had,S%20dollar%20to%203.6725%20AED."
Now, let's compare AED to some popular currencies.
The table below shows how much AED is worth in comparison to ten other popular currencies:
| AED | Other currencies (Eqv to 1 AED) |
| --- | --- |
| US Dollar(USD) | |
| Euro(EUR) | |
| British Pound(GBP) | |
| Indian Rupee(INR) | |
| Australian Dollar(AUD) | |
| Canadian Dollar(CAD) | |
| Singapore Dollar(SGD) | |
| Swiss Franc(CHF) | |
| Malaysian Ringgit(MYR) | |
| Japanese Yen(JPY) | |
PHP vs other currencies
The Philippines has a floating currency, meaning its value is not pegged to other currencies. The country's economy is the third largest in Southeast Asia and the 33rd largest in the world by nominal GDP. [5]ONADA, "Pesos, https://www.oanda.com/currency-converter/en/currencies/majors/php/"
In recent years, the Philippines has transitioned from being an agricultural-based economy to relying heavily on services and industry.
Below we have the table of PHP vs popular currencies around the world. We have compared 1 PHP equivalent of all 10 currencies.
| PHP | Other currencies (Eqv to 1 PHP) |
| --- | --- |
| US Dollar(USD) | |
| Euro(EUR) | |
| British Pound(GBP) | |
| Indian Rupee(INR) | |
| Australian Dollar(AUD) | |
| Canadian Dollar(CAD) | |
| Singapore Dollar(SGD) | |
| Swiss Franc(CHF) | |
| Malaysian Ringgit(MYR) | |
| Japanese Yen(JPY) | |
Related Info
---
FAQs on AED to PHP
How much is Dirhams to Philippine Peso?
1 United Arab Emirates Dirham is equivalent to 14.77 PHP Pesos at the moment.
However, the value may differ depending on the type of money exchange service you use.
How much money can you bring to the Philippines from UAE?
The cash limit for international traveling is 100,000 AED or any equivalent currency. This limit is applied while traveling out or entering the UAE. [6]UAE official site, "Cash limit, https://u.ae/en/information-and-services/finance-and-investment/clearing-the-customs-and-paying-customs-duty#:~:text=Cash/money,at%20the%20customs."
Which exchange rate is better in UAE to Philippines?
The exchange rate depends on the type of money exchange service you use. However, Al Ansari Exchange and Hadi exchange are some popular exchange services.
Final thoughts
The Dhs to PHP exchange rate can differ depending on how you exchange or transfer the money.
We recommend using reputed exchange services or banks for transactions. Check the laws and limits on sending money while converting Dirham to Peso today.
We hope you found this Dbd guide on AED to PHP helpful. If so, please share it with others and follow us for more information like this in the future.


Mohamed Yousuf is a personal financial advisor based in the UAE. He helps people save money, shop smarter, and manage their finances. He has over a decade of experience as a financial adviser and is committed to helping his clients reach their financial goals. He is also actively involved in the community, volunteering his time to help those in need.