Burj Khalifa is the world's tallest building and a symbol of modern architecture, luxury living, and innovation. From luxurious shopping to world-renowned restaurants, it has it all.
Burj Khalifa offers a unique and unforgettable experience for visitors of all ages. This guide will provide information on the building's attractions, dining, shopping, and entertainment options. Some of the best of Burj Khalifa is its Observation Deck, The Dubai Fountain, Armani Hotel, and more.
Our team put together the Burj Khalifa Guide through a comprehensive process. We visited the iconic building, experienced its various offerings, and gathered feedback from tourists and locals.
Also, we conducted extensive research through various sources, such as government websites, travel blogs, and social media.
The outcome is a comprehensive guide filled with information necessary for a memorable visit to Burj Khalifa.
Quick info about Burj Khalifa
Burj Khalifa has become a symbol of modern Dubai. Here are a few facts about Burj Khalifa: [1]Burj Khalifa, "Facts, https://www.burjkhalifa.ae/en/the-tower/facts-figures/
It is the tallest building in the world, standing at 828 meters (2,722 feet) tall.
The construction of Burj Khalifa began in 2004 and was completed in 2010.
It has an elevator with the longest travel distance in the world.
Emaar Properties constructed it.
It has the highest number of stories in the world.
Best of Burj Khalifa
Burj Khalifa is home to several activities, restaurants, and attractions. Not only can visitors experience the majestic architecture, but they also have a fun Dubai experience at Burj Khalifa.
Best things to do in Burj Khalifa
Best restaurants
Best attractions in Burj Khalifa
Observation Deck
About Burj Khalifa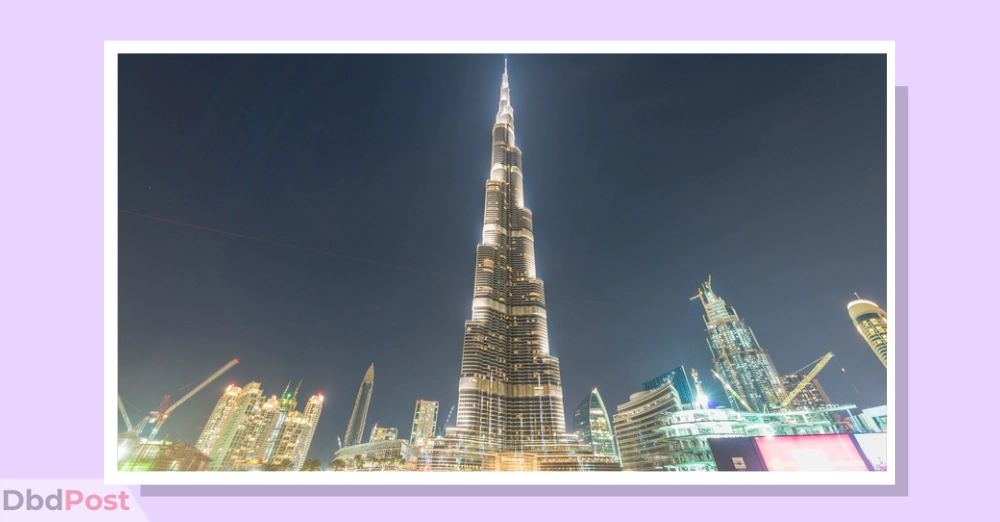 The Burj Khalifa, a magnificent skyscraper in Dubai, is known for its impressive stature and luxurious offerings. On January 4, 2010, the tower was officially opened to the public after being developed by Emaar Properties and designed by the architectural firm Skidmore, Owings & Merrill. [2]Burj Khalifa, "Construction timeline, https://www.burjkhalifa.ae/en/the-tower/design-construction/#:~:text=%C2%A0Official%20launch%20ceremony"
Apart from its towering height, the Burj Khalifa has various residential options, from studio apartments to exclusive suites, and the Armani Hotel Dubai, designed by the renowned fashion icon Giorgio Armani.
The hotel offers personalized services such as a spa, fitness center, and dining options, and booking services are also available for the building's residential units.
Likewise, the Burj Khalifa is an entertainment hub, not just a place to live or stay. Visitors can indulge in high-end retail outlets, fine-dining restaurants, and a multiplex cinema.
Additionally, the tower has ample parking spaces, a kids' play area, and several recreational centers. The Burj Khalifa Lake, Burj Park, and The Dubai Fountain surround the building, and visitors can also access the At the Top observation deck on the 124th floor.
Moreover, the Burj Khalifa features several office spaces, making it a bustling business center. The building's design, engineering, and innovative technology have made it a global icon, setting the standard for tall buildings.
The Burj Khalifa continues to be a popular tourist destination, attracting visitors from all over the world.
Things to do in Burj Khalifa
There are many exciting Burj Khalifa activities, making it a great destination in Dubai. We have listed some of the best things to do near the iconic tower.
1.

Exploring the Burj Khalifa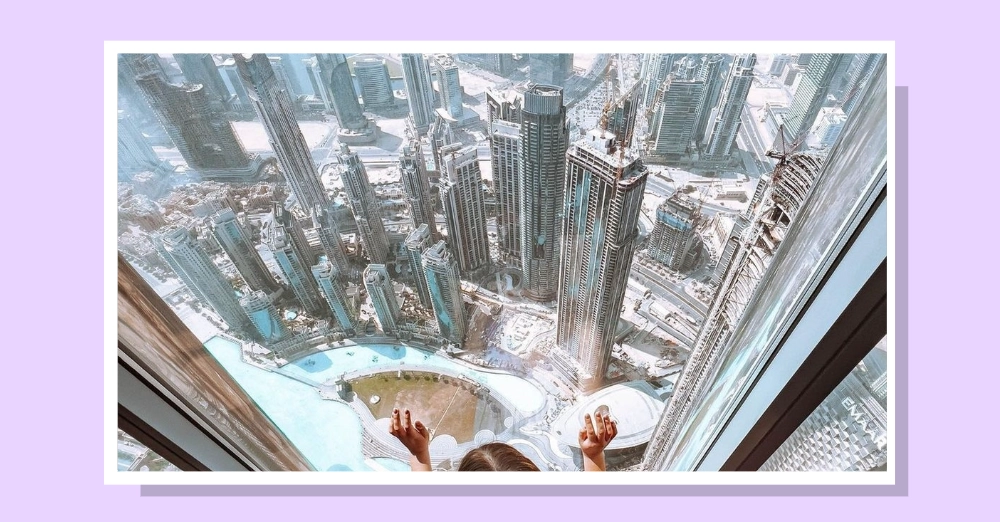 There are many attractions to explore in the tallest building in the world. The most popular option is the views of Dubai attractions from the Observation Deck on the 124th and 125th floors. After enjoying the views, you can enjoy lunch or dinner at the Burj Club or The Lounge.
Book Now:
2.

Yacht tour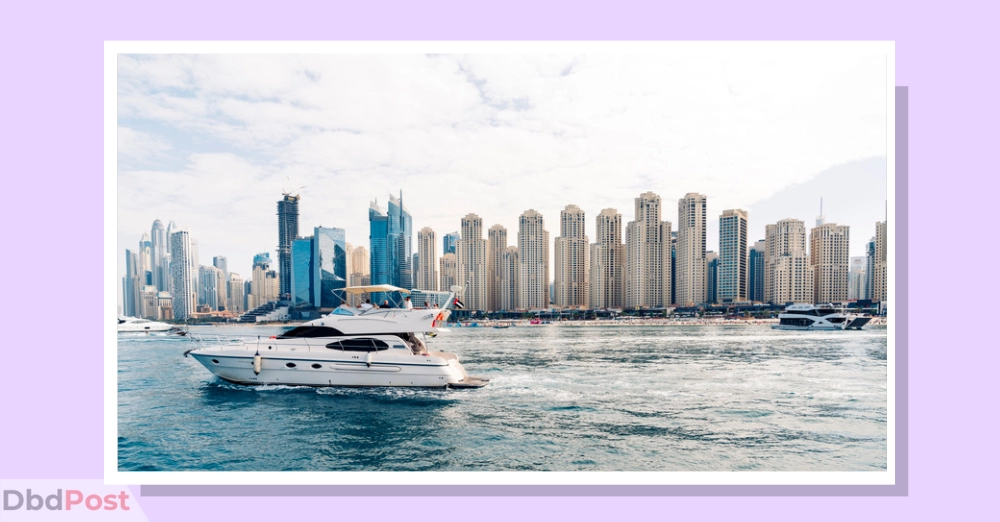 Sailing along the Persian Gulf can fully appreciate Dubai's stunning skyline. A yacht offers an exceptional experience with sunbathing and seating decks to lounge on. While cruising the waves, visitors can marvel at famous landmarks such as Atlantis and the Burj Al Arab.
A range of cruises is available to cater to different preferences. There are morning, lunch, afternoon, sunset, siesta, twilight, and moonlight cruises, each with a unique charm.
Whether it's a solo trip, a romantic getaway, or a family vacation, sailing along the Persian Gulf is an incredible experience. The calm waters and stunning scenery make it an unforgettable journey. Don't miss the chance to witness the beauty of Dubai from the sea.
Book Now:
3.

Fitness and spa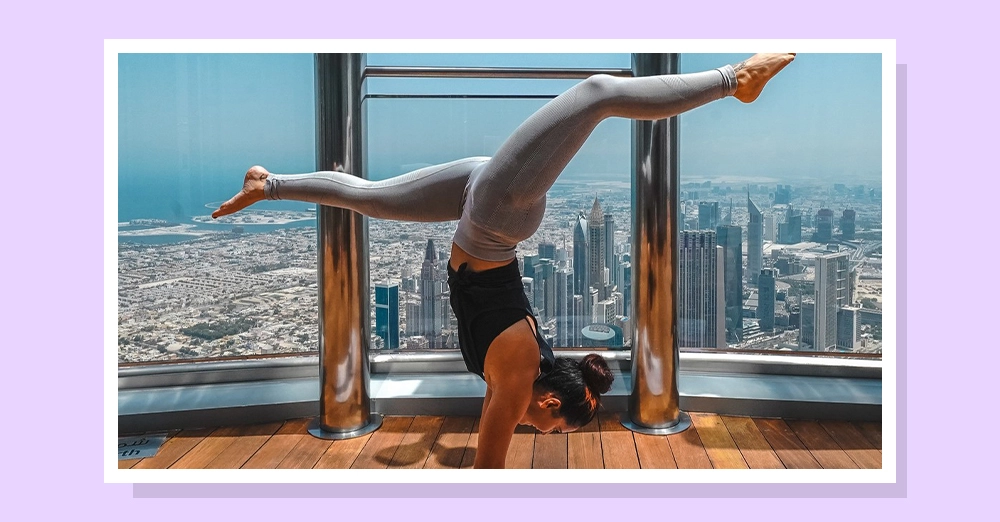 Visiting the magnificent Burj Khalifa in Dubai is the perfect way to explore Dubai. It is an experience that allows you to take in the beauty and culture surrounding this stunning structure.
You can follow the awe-inspiring experience with a pampering session at fitness and spa options in Dubai. After a long day, you can choose to unwind in soothing heat treatments, saunas, and Jacuzzis. Here, you can enjoy some much-needed relaxation with reviving offerings.
Book Now:
4.

Jet ski

Jet Skiing is an exhilarating experience. After a busy night exploring Dubai Khalifa, head to the Arabian Gulf.

The waters of the Emirate are perfect for Jet Ski. It provides plenty of thrills as you skim across small waves. It's a great way to spend time outside with friends and family.

Book Now: Bissalama Travels
5.

Dining and cruise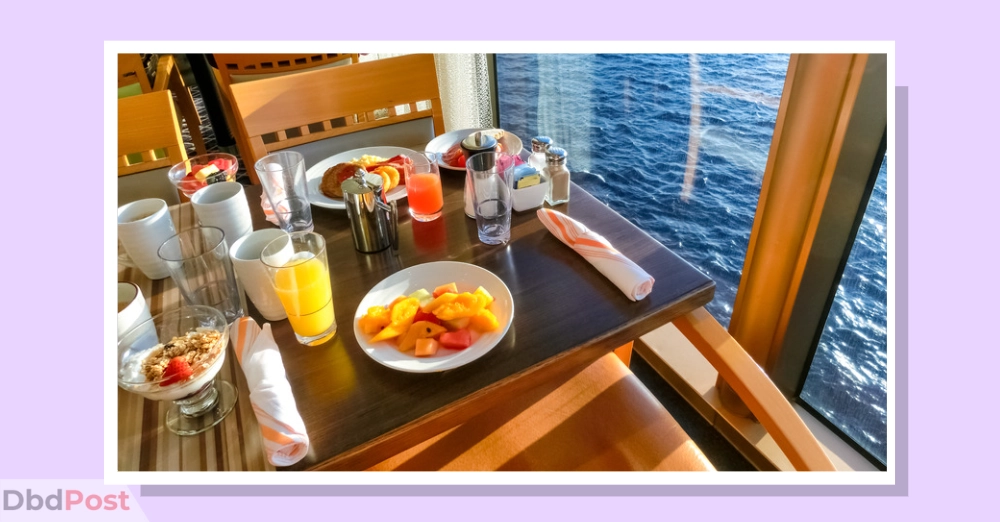 Dining on a cruise is the perfect way to conclude a day's sightseeing at Burj Khalifa. You can take a cruise on a traditional dhow around Dubai Marina.
Enjoy the delicious international cuisine from the 4-star hotel's kitchen. You can soak in the city lights and experience luxuries like no other with food and entertainment.
The spectacular Dubai skyline comes alive after dark. And sailing on a cruise and viewing the skyline is a romantic adventure.
Book Now: Dhow Dinner Cruise in Dubai Marina
Top attractions near Burj Khalifa
When visiting the area surrounding Burj Khalifa, many exciting attractions exist. Some of the top attractions include:
Get ready for a wet, wild, and unforgettable experience. Aquaventure Waterpark is the perfect place to unleash your adventurous side.
With over 105 record-breaking slides, attractions, and experiences, you'll never run out of action. Enjoy heart-pounding water thrills with waterways, rapids, and wave pools while basking in the Dubai sunshine.
Take a break from all the splashing with a gentle stroll through The Lost Chambers Aquarium. Discover the mystical marine world beneath the waves. You can see attractions like bottlenose dolphins and South African fur seals at Atlas Village.
Grab your swimsuit and head to Aquaventure Waterpark today.
Book Now: Aquaventure park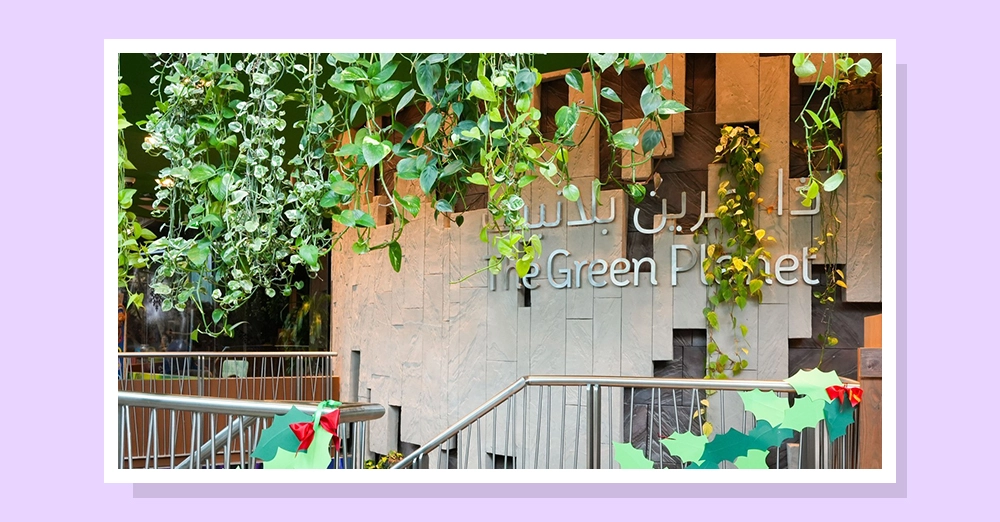 A visit to The Green Planet will be an experience like no other. This huge indoor tropical forest is home to more than 3,000 species of plants and animals. It also features the world's largest artificial yet life-sustaining tree.
It is a fascinating place where you can explore a wide range of flora and fauna, all inside an enclosed ecosystem. Visitors will be able to learn about the importance of preserving its natural state.
Book Now: Green planet
3.

The Dubai Fountain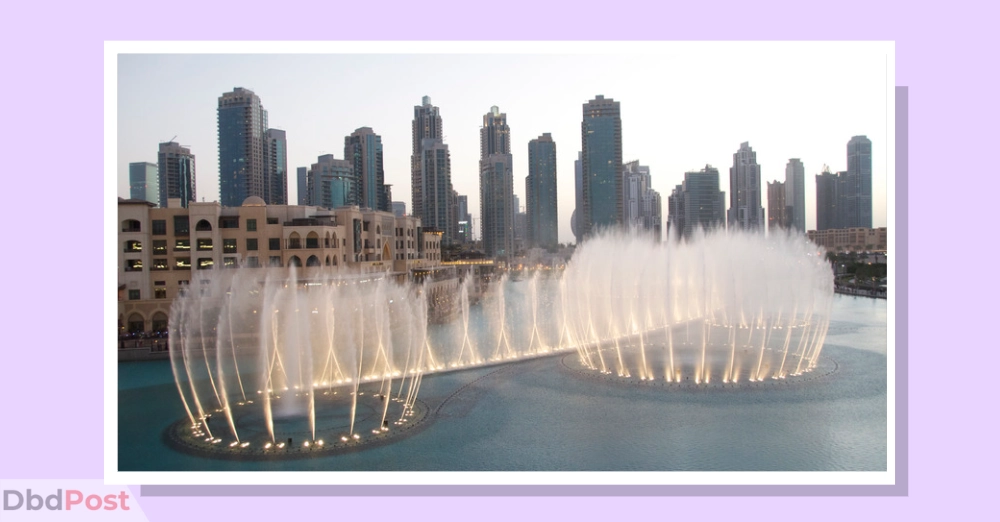 The Dubai Fountain is a breathtaking water, light, and music show. It is situated at the base of the Burj Khalifa. The Dubai Fountain is one of the largest choreographed fountain systems in the world.
It features over 6,600 lights and 50 colored projectors. It creates an impressive display set to classical, Arabic, and world music. [3]Burj Khalifa, "The Dubai Fountain, … Continue reading
The fountain operates daily, with performances every half hour in the evening. It is one of the best Burj Khalifa attractions.
4.

Dubai Opera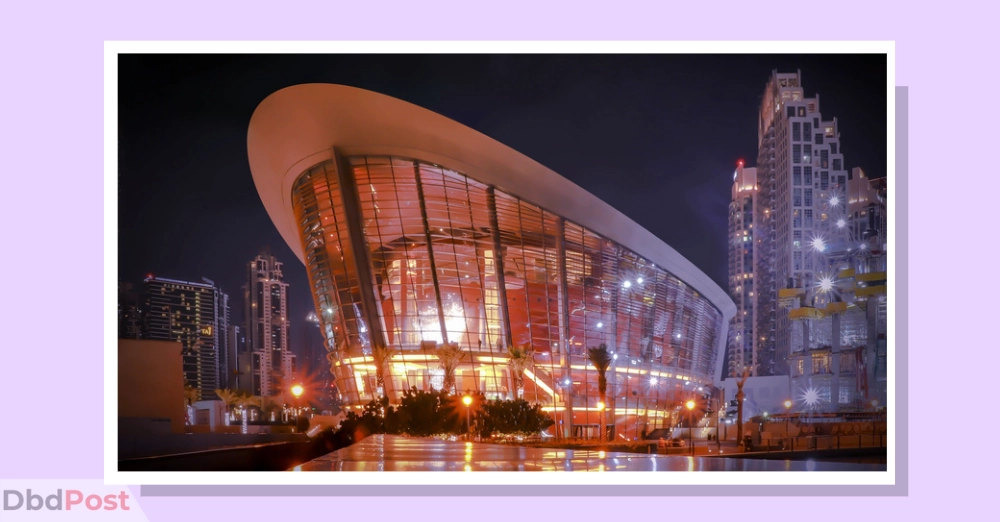 Dubai Opera is the perfect place in Dubai to experience performing arts and music. It has lots of great shows, art, and culture worldwide.
It's located in The Opera District in Downtown Dubai. You can experience theatre performances, ballets, and operas at Dubai Opera.
5.

The Dubai Mall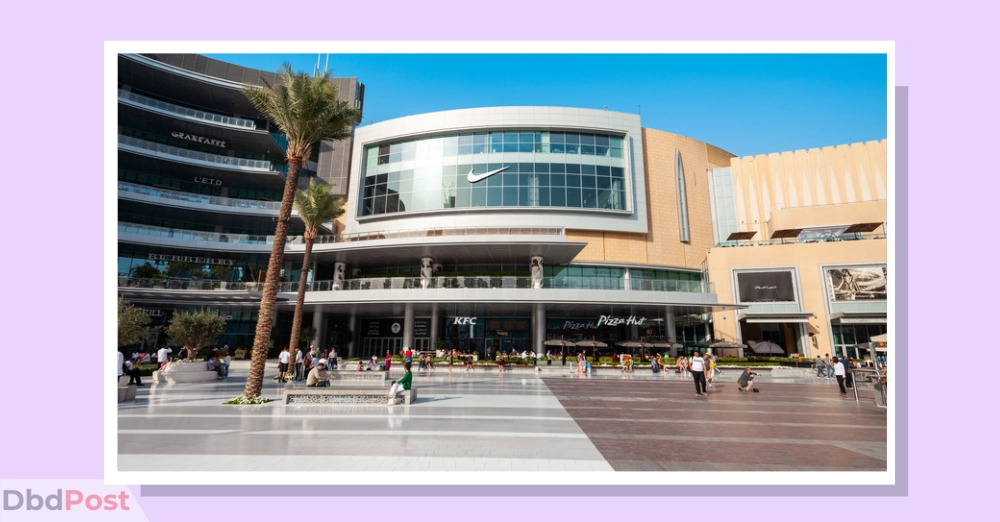 The Dubai Mall is located in Downtown Dubai. Burj Khalifa is very close to the mall. It attracts over 100 million visitors annually.
It offers 1,200 retail outlets and a diverse range of international dining options. The mall also provides fun activities and high-end designer labels.
Additionally, it features a 22-screen cinema, a luxury hotel, and an indoor ice rink. It is a complete shopping, dining, and entertainment experience.
Burj Khalifa hotels
Burj Khalifa houses luxury hotel rooms on its lower levels. Some popular hotels located near the Khalifa building include the Armani Hotel, Radisson Blu, and The Address Downtown Dubai.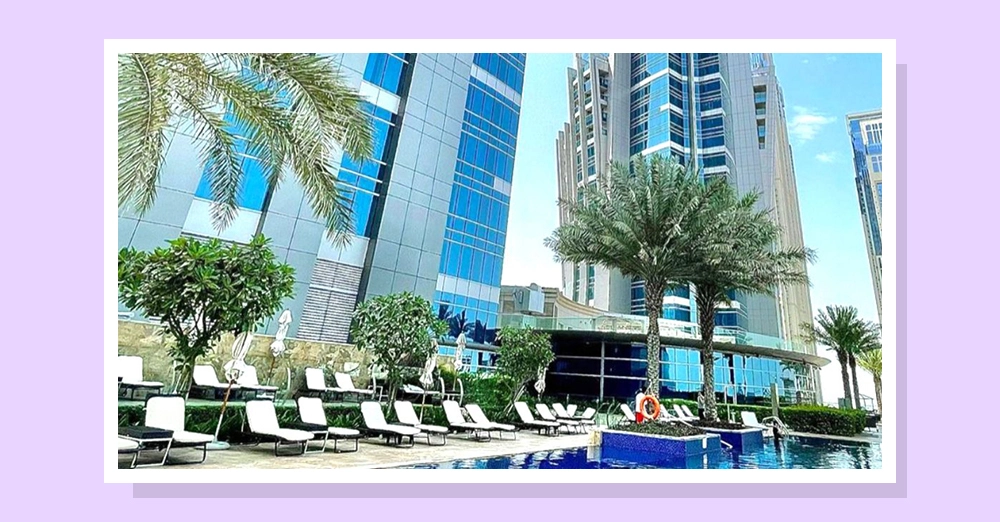 The JW Marriott Marquis Hotel Dubai provides guests with modern luxury and award-winning service. This grand 5-star hotel stands as one of the tallest buildings in the world. It has breathtaking views of the gulf and skyline.
Guests can enjoy deluxe bedding, complimentary Wi-Fi, marble bathrooms, and 24-hour room service. After a day of exploring, unwind in their outdoor pool or energize at the fitness center.
The International culinary tour continues inside for those looking to sample flavors from near and far. Their offerings include Japanese, Italian, Indian, and Thai cuisine.
Book Now: JW Marriott Marquis Hotel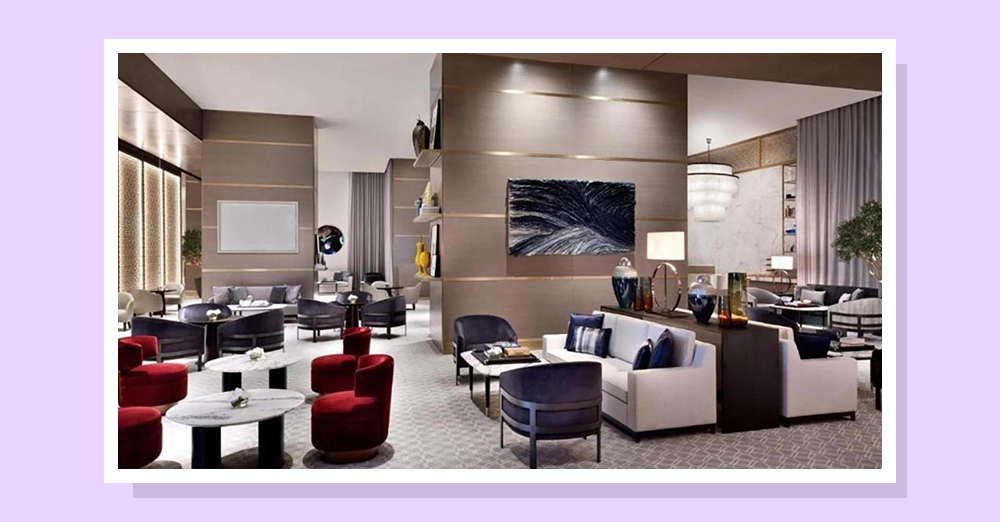 Address Residence Dubai Mall offers guests a luxurious stay in the heart of downtown Dubai. Each suite has a flat-screen TV, air-conditioning for optimal comfort, and a private bathroom.
They have a kitchen with a fridge, oven, and microwave for those who prefer to cook. Moreover, unwind on the balcony with unparalleled views of the city skyline. Enjoy the onsite swimming pool or use the fitness center for leisure.
The hotel is located near prominent attractions like The Dubai Fountain and Burj Khalifa (1 km away).
Book Now: Address Residence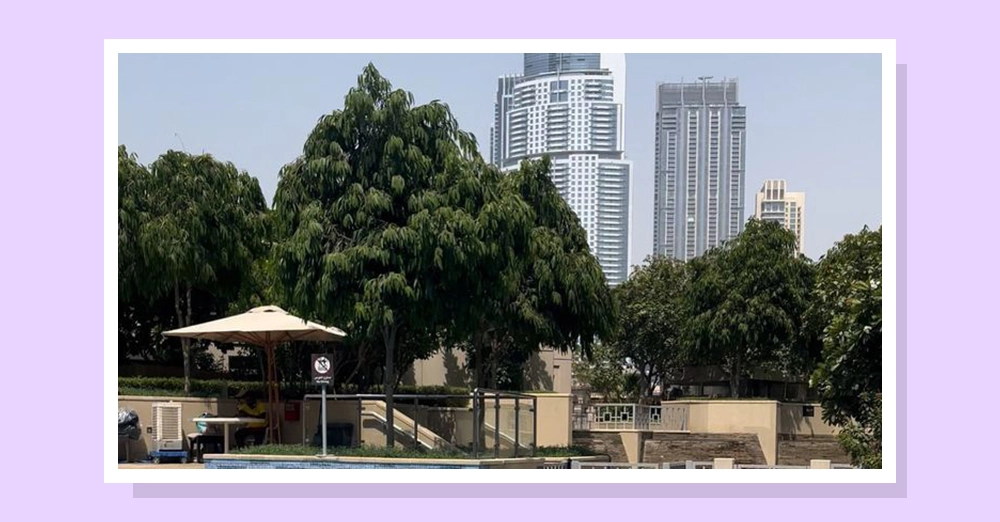 Ramada is an exceptional 4-star deluxe property with a prime location for travelers. Placed in "The Centre of Now," guests have easy access to UAE's most famous landmarks.
You can enjoy the breathtaking views of the Burj Khalifa from the hotel. It is only a few steps away from Dubai Mall and Souk Al Bahar.
The hotel also overlooks the magnificent Dubai Fountain and is minutes away from Dubai Opera. A perfect stay in paradise, it's, without a doubt, a sightseeing adventure like no other.
Book Now: Ramada Downtown Dubai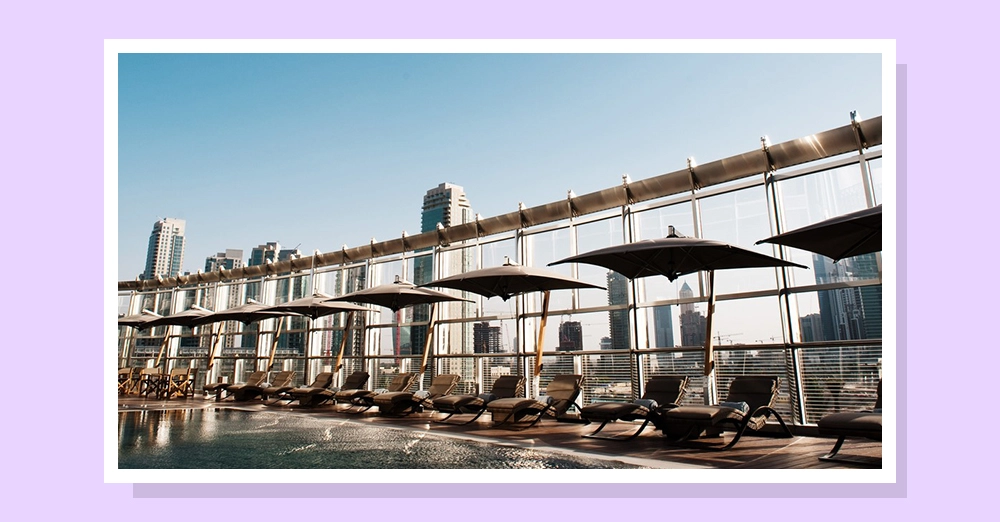 Situated in the Burj Khalifa, Armani Hotel Dubai is a beacon for modern luxury. The hotel features elegantly designed rooms, seven vibrant restaurants, and a deluxe spa.
Guests can expect stylish decor highlighted by curved lines and Japanese tatami. The rooms have flat-screen TVs, iPod docks, and free WiFi.
And for those looking for some late-night entertainment, Armani Privé hosts some of the most famous club nights. A stay at Armani Hotel Dubai promises a truly spectacular experience.
Book Now: Armani Hotel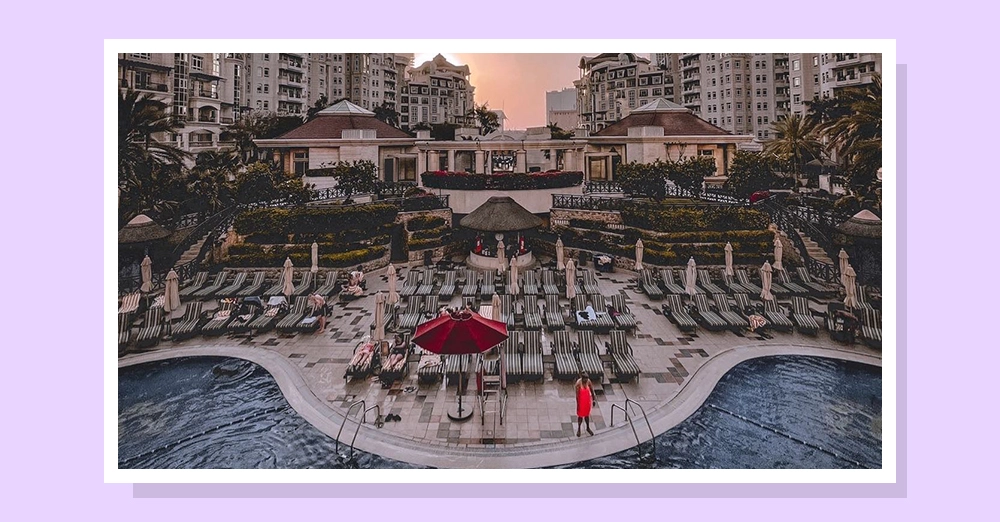 Swissôtel Al Murooj Dubai is a 5-star luxury hotel near the iconic Burj Khalifa and Dubai Mall. The hotel has on-site golfing, a poolside bar, and an onsite spa.
Their 3 onsite restaurants feature international dishes and more for one to enjoy. Many leisure activities are offered, such as a health club and racquetball/squash.
Moreover, free in-room WiFi access is available along with designer stores.
Book Now: Swissôtel Al Murooj Dubai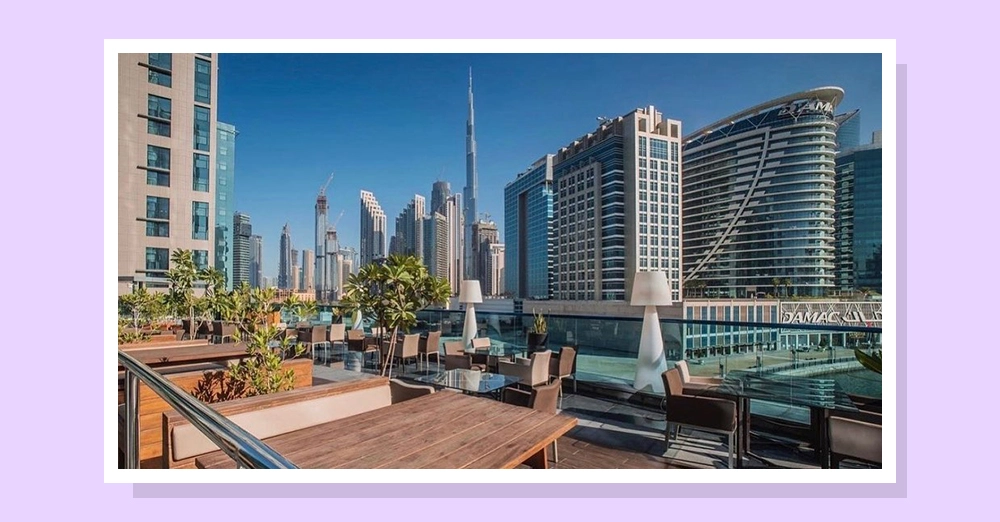 The Radisson Blu Hotel in Dubai Waterfront is perfect for a luxurious and memorable stay. As a five-star hotel, they provide outstanding facilities and friendly professional service.
The hotel can choose from its 432 stylishly designed rooms and suites. You can enjoy stunning views of iconic structures such as the Burj Khalifa and Dubai Canal. The private balconies offer breathtaking skyline vistas while giving guests a relaxing space.
Overall, the Radisson Blu Hotel offers an unforgettable experience with its warm hospitality.
Book Now: Radisson Blu Hotel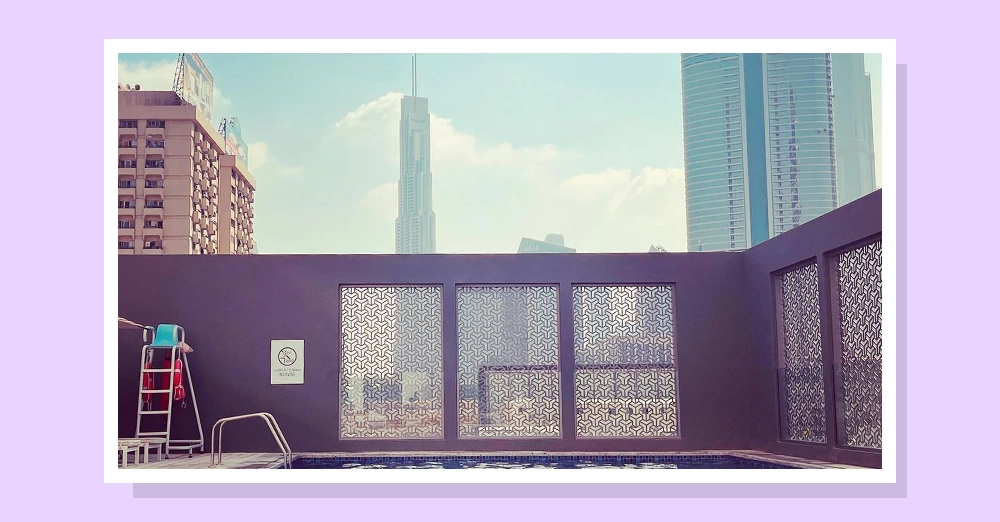 Rove City Walk is an eco-friendly hotel located in the center of Dubai. It is just a 10-minute drive from Burj Khalifa, The Dubai Mall, and La Mer Beach. This three-star hotel offers top amenities such as airport pick-up services, laundry/dry cleaning services, and free Wi-Fi.
Its restaurant, The Daily, features international cuisine. You can enjoy different cuisine in the restaurant. Guests looking to stay in shape while they travel can take advantage of the 24-hour gym onsite.
Rove City Walk provides all you need to make your Dubai visit memorable.
Book Now: Rove City Walk
Restaurants
Dubai is home to many luxurious and affordable restaurants. Restaurants around Burj Khalifa are generally more high-end. We have compiled a list of restaurants near Burj Khalifa.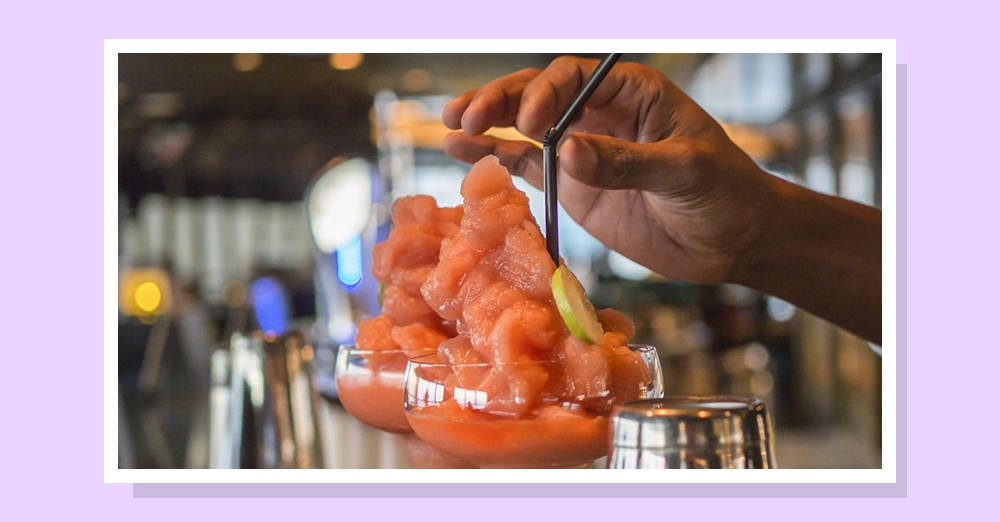 The Observatory Bar & Grill offers a unique social experience. It has one of the best views of Dubai Marina and Palm Jumeirah.
There's always something worth celebrating, from their Happy Hour to the Sky High brunch here. Their menu includes a range of delicious eats such as pan-seared salmon and spiced BBQ pork ribs. It is perfect for fine dining with stunning scenery.
Book Now: Observatory Bar & Grill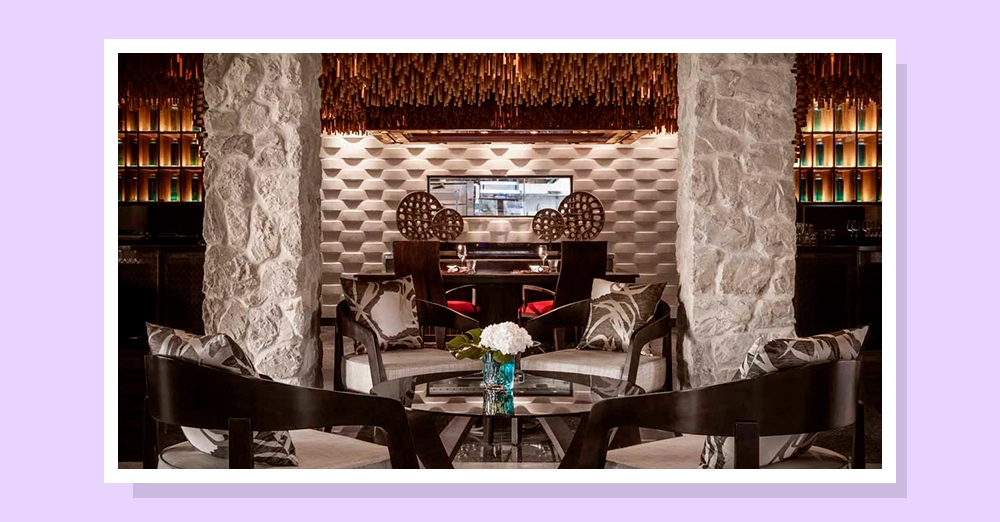 Eauzone at the beach is a distinct and unique experience. You can enjoy the view of the setting sun. Their atmosphere with palm trees and ocean breeze brings a relaxing experience.
You can lounge around shady wooden decks or enjoy a dip in the translucent pool. You can enjoy an exclusive dinner in the evening with Eauzone's beautiful restaurant furnishings.
Their menu includes Modern food with an Asian twist. Eauzone experience is completed with a sip of their premium cocktails and beautiful views.
Book Now:Eauzone – One&Only Royal Mirage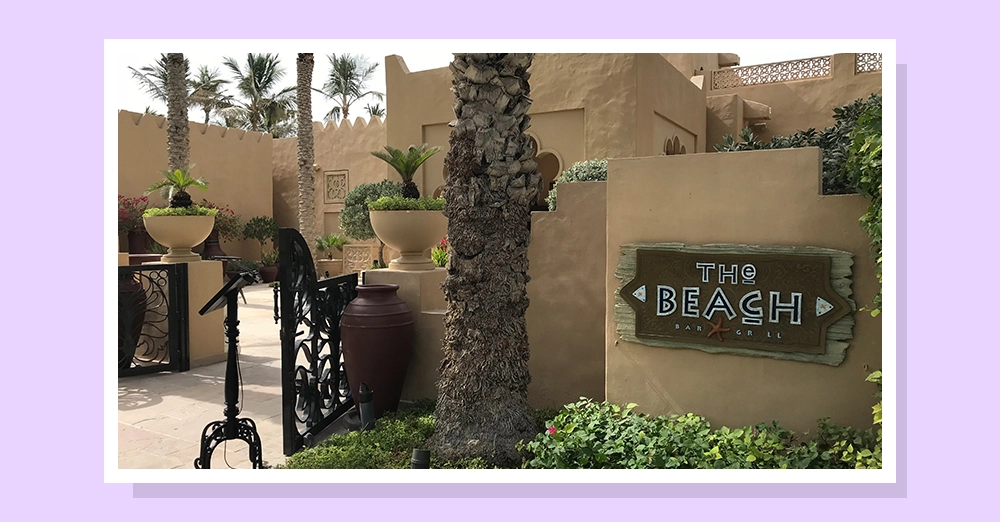 The Beach Bar & Grill by Mauro Colagreco provides the best beachside dining experience. You can enjoy picturesque views of Palm Island Bay and spend quality time with your loved ones.
The restaurant specializes in South American cuisine prepared by Chef Mauro Colagreco. You can enjoy al fresco dining with a refreshing sea breeze and the warmth of the sand.
The dishes also cater to all types of diners. You can order individual dishes or meals made for sharing.
Book Now: The Beach Bar & Grill – One&Only Royal Mirage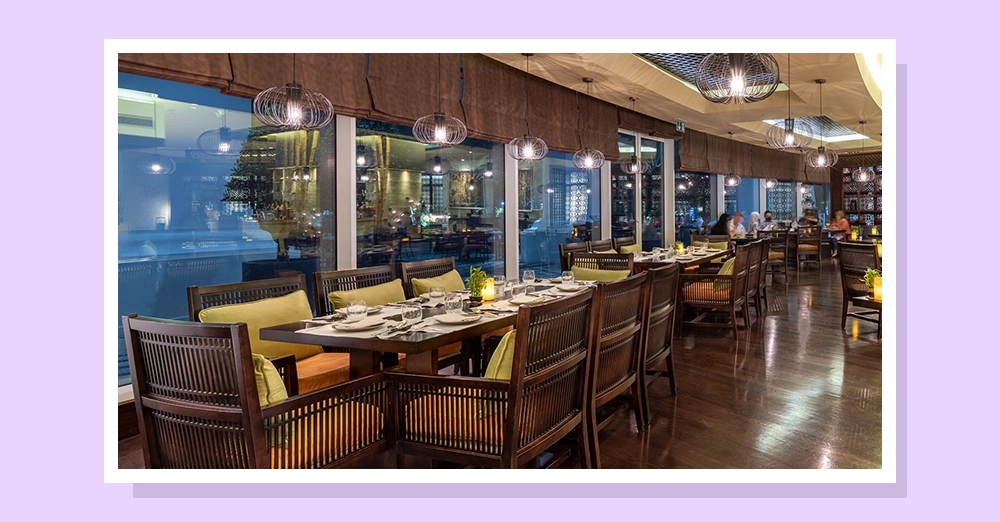 Lao restaurant offers a unique opportunity to explore the tastes of Southeast Asian cuisine. Combining favorites and classics, Lao takes guests on a culinary journey. They prepare every dish with authentic spices and sauces with traditional cooking techniques.
It is located in the Hilton hotel and offers both indoor and alfresco seating in the garden. The private dining room is perfect for intimate gatherings.
Lao sets the scene for an unforgettable dining experience. Visit Lao for an exact test of Southeast Asia.
Book Now: Lao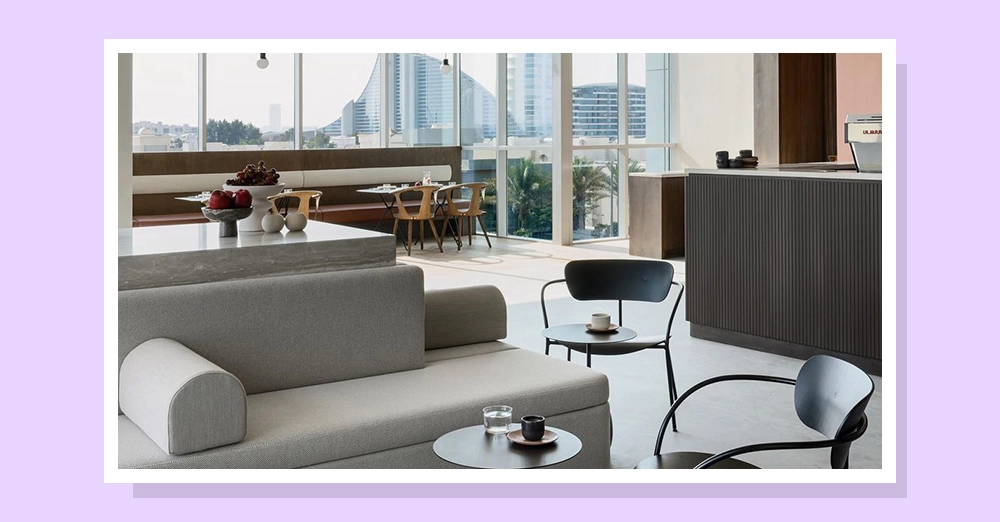 21grams brings an honest and daring flavor of the Balkan Peninsula to Dubai. Their staff goes a long way to ensure an authentic experience. Each dish and pastry is made from family recipes and local seasonal ingredients.
The venue itself is bright, with a cozy rooftop terrace. You can enjoy stunning views of Dubai's skyline from Burj Khalifa to Burj Al Arab. This dynamic combination ensures customers feel welcomed with genuine and generous warmth and great spirit.
Book Now: 21grams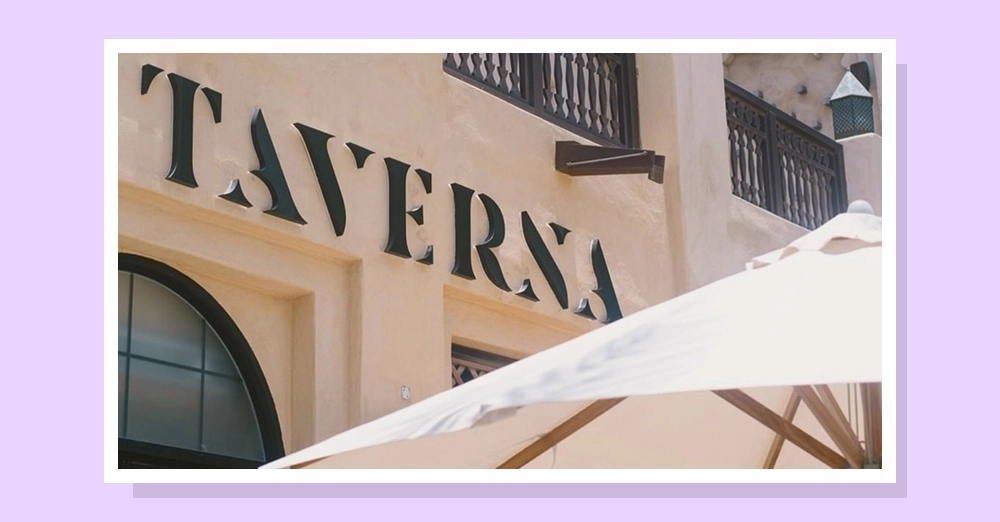 Taverna at Souk Madinat Jumeirah offers traditional Greek cuisine. Led by renowned Chef Theo Rouvas, the menu is full of classic flavors and carefully sourced ingredients.
Fresh seafood specialties are cooked according to each diner's preference. The cuts of charcoal-grilled meat are cooked with rustic Greek cooking methods. For an authentic dining experience reminiscent of Greece, Taverna is the perfect spot.
Book Now:Taverna Greek Kitchen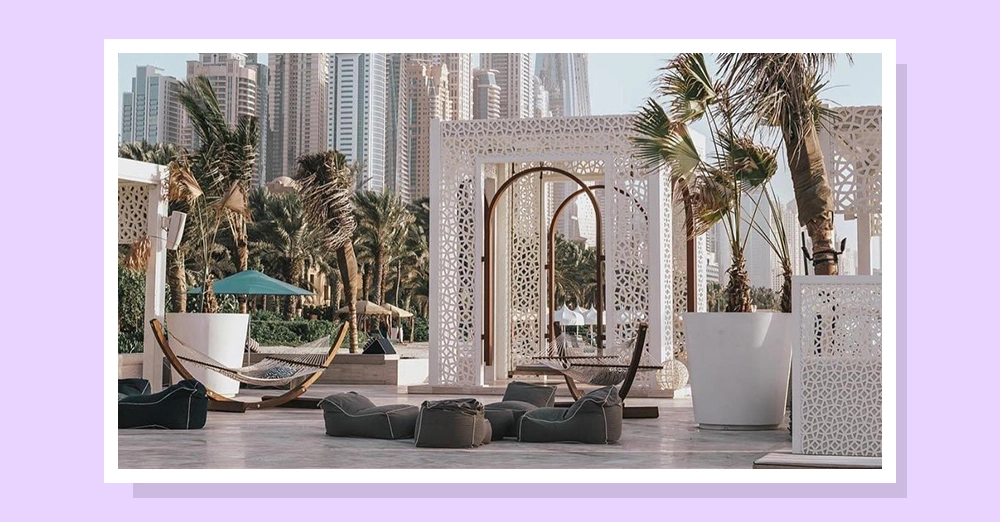 DRIFT Beach Dubai is the perfect mix of style, luxury, and effortless chic. You can enjoy Provençal cuisine at this lively, luxurious beachfront spot.
It offers stunning views of Dubai Marina's iconic skyline. Moreover, their loungers or an infinity pool overlooks the beautiful Arabian Gulf.
DRIFT Beach offers an unforgettable experience that merges luxury and comfort.
Book Now: DRIFT Beach Dubai – One&Only Royal Mirage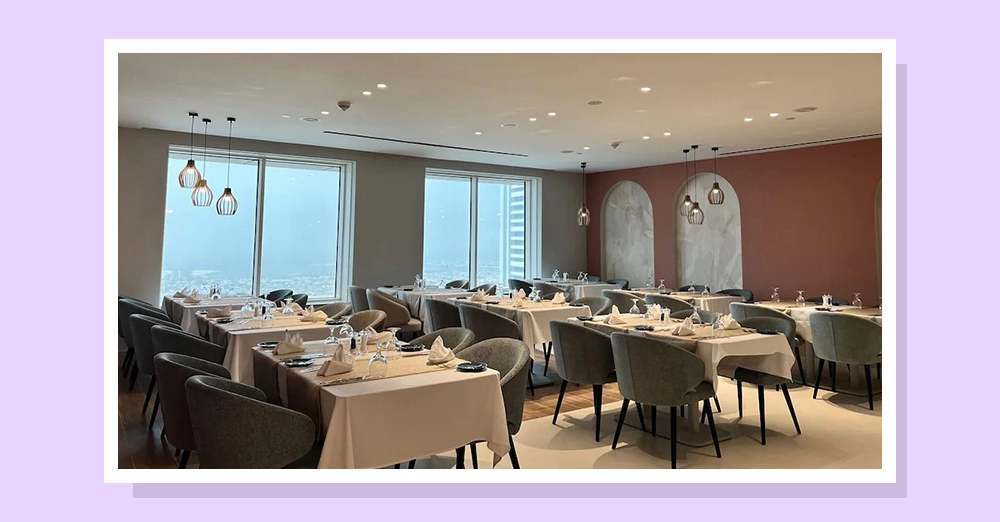 The Panorama Restaurant offers a one-of-a-kind culinary experience for guests. They offer a breakfast buffet that boasts cultural specialties sure to please everyone.
Patrons can choose from an extensive Ala carte menu during lunch and dinner. To top off the meal, a selection of coffee and soft beverages are available to complement the dishes.
Located at the four-star Residence Inn By Marriott hotel, Panorama Restaurant is an excellent choice.
Book Now: Panorama Restaurant
Malls near Burj Khalifa
Dubai is home to many luxurious malls. For those looking for a shopping experience, nearby malls to Burj Khalifa include:
1.

Dubai Mall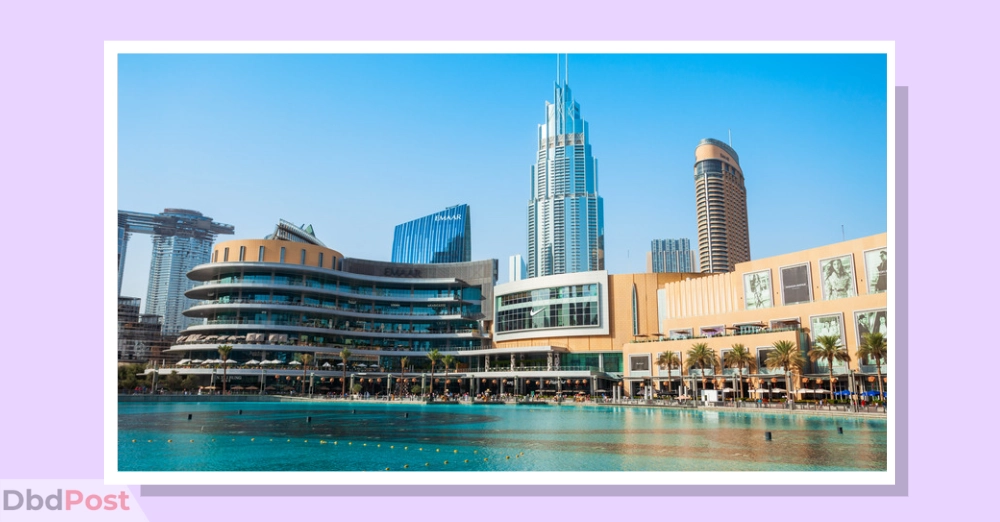 | | |
| --- | --- |
| Distance from Burj Khalifa | 260 meters |
| Location | Downtown Dubai, Dubai |
| Hours | Monday- Thursday (10:00 AM – 12:00 AM), Friday – Sunday (10:00 AM – 1:00 AM) |
| Outlets | Armani Exchange, Amiri, Apple Store, and more |
| Website | Dubai Mall |
| Map | Get direction |
The Dubai Mall is located in the heart of Downtown Dubai. This highly sought-after retail destination welcomes over 100 million visitors each year.
It has 1,200 retail outlets and an impressive portfolio of international restaurants, cafes, and leisure attractions.
Everyone can find something to suit their tastes here. Families are guaranteed fun-filled activities and high-end designer labels at The Dubai Mall.
2.

Mall of the Emirates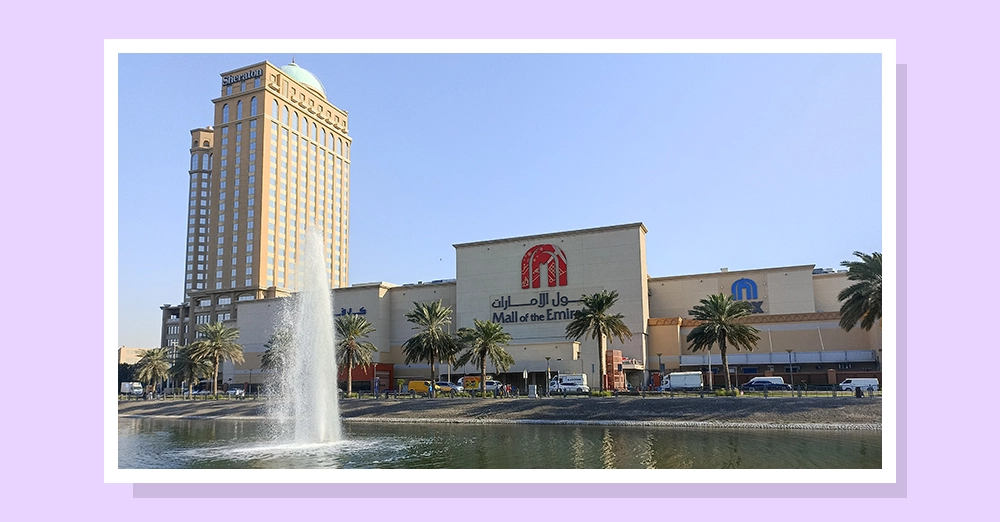 | | |
| --- | --- |
| Distance from Burj Khalifa | 15 km |
| Location | Sheikh Zayed Rd, Al Barsha, Al Barsha 1, Dubai |
| Hours | Monday – Friday (10:00 AM – 11:00 PM), Saturday – Sunday (10:00 AM – 12:00 AM) |
| Outlets | Adidas, Beverly Hills Polo Club, Calvin Klein, and more |
| Website | Mall of the Emirates |
| Map | Get direction |
Mall of the Emirates is a premier shopping, dining, and leisure destination located in an easily-accessible area. Shoppers can find popular brands like Adidas, Apple, and Calvin Klein. Those looking to enjoy some leisure time have plenty of options too.
Movie buffs will be delighted to spend time at VOX Cinemas. Foodies can choose between several places like Din Tai Fung or Common Grounds for dinner/lunch. With all these choices, the Mall of the Emirates ensures an entertaining experience.
3.

Bur Juman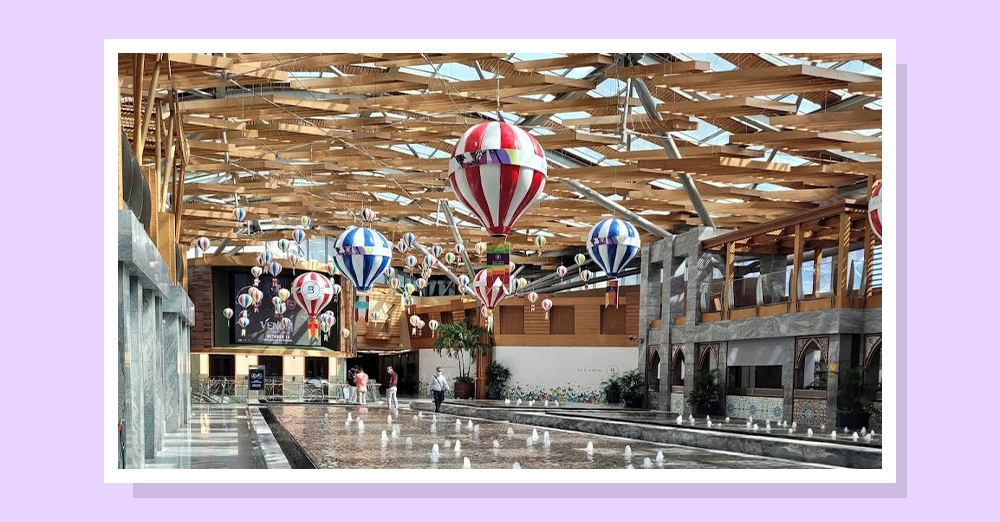 | | |
| --- | --- |
| Distance from Burj Khalifa | 7.8 km |
| Location | Khalid Bin Al Waleed Rd, Al Mankhool, Dubai |
| Hours | Sunday – Thursday (10:00 AM – 10:00 PM), Friday – Saturday (10:00 AM – 12:00 AM) |
| Outlets | Ajmal, Skechers, Giordano, and more |
| Website | Bur Juman |
| Map | Get direction |
Following its opening in 1991, BurJuman has quickly established itself as a leader in retail experiences. It has become renowned for its urban allure and charm.
Millions of people have visited the mall since it opened its doors. Located in the heart of Bur Dubai, travelers will find easy public transport access.
Moreover, Bur Juman offers experiences that consistently renew themselves through award-winning service, products, and entertainment.
Best time to visit Burj Khalifa
The best time to visit the Burj Khalifa depends on your interests. You can visit the tower early if you want to see the sunrise. If you want to enjoy a romantic sunset, plan your visit accordingly.
For a romantic experience, it is recommended to watch the Dubai Fountain show. It takes place regularly at the base of the building. To avoid crowds, visiting the tower during off-peak hours is best. Usually, the Burj Khalifa is the most crowded around 6 PM.
There are also annual events, such as New Year's Eve, where visitors can watch Burj Khalifa fireworks displays from the tower.
Overall, the Burj Khalifa offers a unique and unforgettable experience, making it a must-visit destination in Dubai.
How to save money in Burj Khalifa
Visiting Burj Khalifa is a great experience, but it can be expensive. However, there are several ways to save money during the trip.
Best Deals on Burj Khalifa tickets
To save money on tickets, book any of the following deals:
Hotels near Burj Khalifa
Hotels can be expensive near the iconic tower. However, we have compiled some of the best deals on hotels.
Book Now:
Best affordable restaurants near Burj Khalifa
To save money on food, feel free to book any of the following restaurants:
Besides the above-mentioned deals, there are other ways to save money on the trip. Some of them are:
Book Burj Khalifa tickets and activities to take advantage of early bird discounts on Burj Khalifa's prices.
Take advantage of happy hours or other time-based promotions at restaurants and cafes.
Visit the free attractions in the area, such as the nearby parks and gardens.
Use public transportation or walk instead of taking taxis to save on transportation costs.
How to reach Burj Khalifa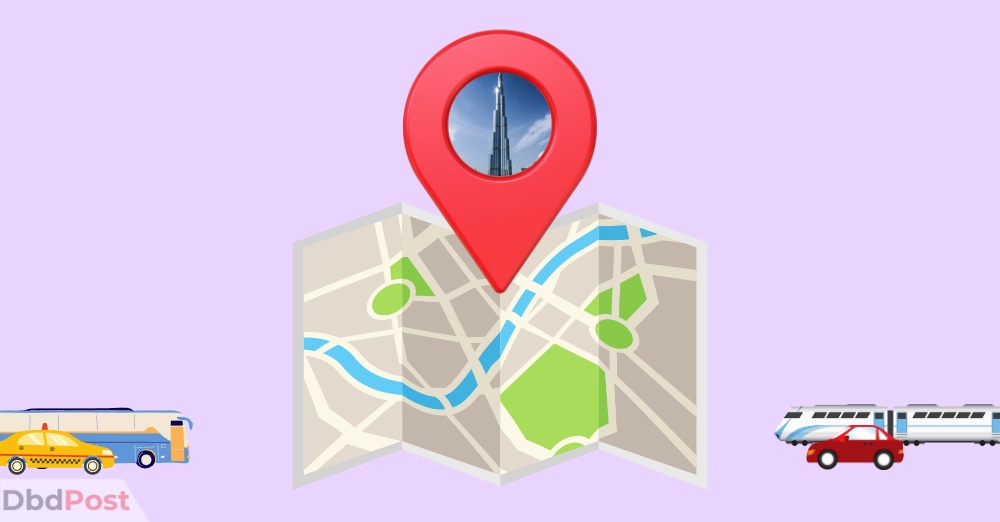 Getting to Burj Khalifa is more accessible than you may think. You can either get a metro, a bus, a taxi, or a car rental.
1.

Car rental

To get to the iconic Dubai tower, you can rent a car. Renting a car is easy and involves sightseeing in the city. You can find nearby attractions and enjoy the Dubai vibe while getting to Burj Khalifa.

Book now: Rental Cars
2.

By bus

Taking a bus to get to the Burj Khalifa can be surprisingly easy. You could opt for the Dubai Sightseeing Bus Tour or a regular public bus.

Even better, both options come with the benefit of saving money.

Book now:
3.

By metro

Metro is one of the quickest ways to get to the Burj Khalifa. To begin your journey, head to the nearest station and hop onto the Red Line. After a short ride, exit at Burj Khalifa metro station. You will be greeted by one of the most iconic structures in Dubai.
4.

By Taxi

Taking a taxi is a great way to get to the Burj Khalifa. You can book a Taxi via apps available to get to the destination. It can be more expensive than other mediums.

Download App: RTA iOS, Andriod
Burj Khalifa Location
FAQs
How tall is Burj Khalifa?
Burj Khalifa is 828 meters (2,722 feet) tall. It is the tallest tower in the world.
How many floors are there in Burj Khalifa?
Burj Khalifa has a total of 163 floors, including both habitable and mechanical levels. It was designed as a mixed-use building and includes residential, office, hotel, and leisure spaces.
When was Burj Khalifa built?
Construction of Burj Khalifa began in 2004. It was completed in 2010.
Who built Burj Khalifa?
Emaar Properties built Burj Khalifa. It was designed by the American architectural firm Skidmore, Owings & Merrill.
Where is Burj Khalifa?
Burj Khalifa is located in Dubai, United Arab Emirates. It stands as the tallest building in the world. It symbolizes modern architecture, luxury living, and innovation in the heart of Dubai.
Final thoughts
Burj Khalifa is a fantastic destination for a fun and memorable day out. With its breathtaking views, nearby attractions, and its symbol, it is a must-visit in Dubai.
We hope this Burj Khalifa guide has helped you make the most of your visit. Don't forget to make the most of your visit to the Khalifa tower.