Best fine dining restaurants in Dubai provide a taste of the world's most sought-after cuisines with the highest luxury. The city has everything whether you're looking for a romantic evening out or a lavish dining experience.
With its lavish luxury destination, Dubai is the perfect place to indulge in a fine dining experience. Some of the best luxury restaurants in Dubai are GAIA Dubai, Maiden Shanghai, Doors Freestyle Grill, and more.
Our team of experts personally visited the top fine dining in Dubai for genuine reviews. We considered factors such as food quality, atmosphere, pricing, service, and location. Also, we interviewed visitors and locals for genuine reviews of the diners.
Additionally, our team looked into top food blogs and social media for past customers' reviews and feedback.
This Dbd guide provides an informative and comprehensive guide to the best fine-dining restaurants in Dubai.
11 best fine dining restaurants in Dubai
Dubai is known for its luxurious dining options, and the city truly shines when it comes to fine dining places.
With options like high-end steakhouses, award-winning Italian bistros & Asian cuisine restaurants, there's something for everyone.
1.

GAIA Dubai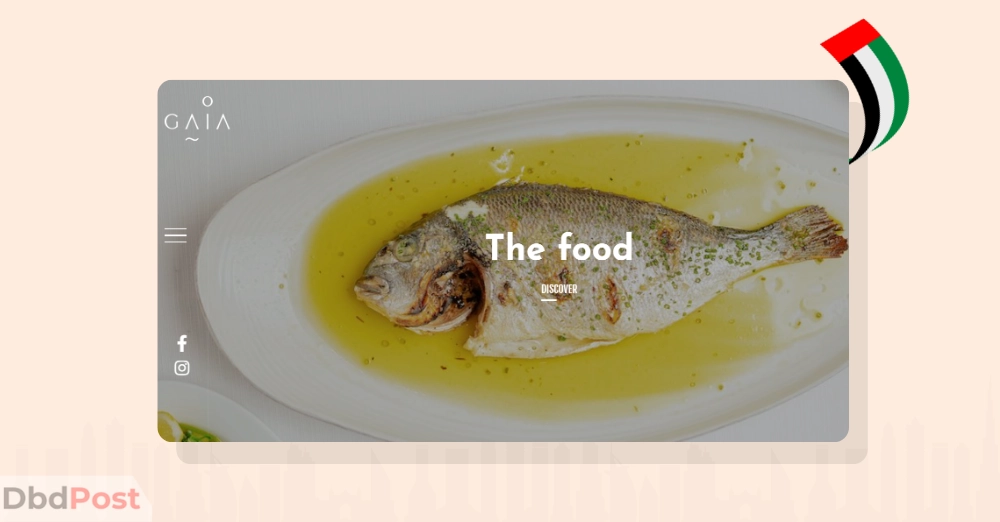 GAIA has been an Emirati favorite for fine dining since it opened in 2018. The restaurant delights everyone with its warm hospitality and alluring atmosphere.
The mastermind behind the homegrown food, beverage, and lifestyle concept is Chef Izu Ani, who specializes in Greek-Mediterranean cuisine.
GAIA's Mediterranean menu items have large portions perfect for groups and families.
Some delicious meals include seabream carpaccio, grilled octopus, saganaki, and prawns from the wood oven. Don't forget to try their traditional Greek salad.
To experience this awesomeness, book a table, as the restaurant can get busy on weekends.
2.

Doors Freestyle Grill
Doors Freestyle Grill offers delicious steak, seafood dishes, grill fare, and specialty dishes. Created by world-renowned chefs, there is something to satisfy everyone's cravings.
We recommend you try their Beef Striploin Steak, Beef Rib Eye Steak, Lobsters, and Lamb Chops, they are sure to leave you satisfied. The bonus is you can smoke Doors Shisha with the meals to enhance the experience.
The restaurant has a fantastic waterfront dining setting, and their VVIP Private Majlis, Mixology Lab, Sheesha Lounge, and Outdoor Terrace add to the fine dining experience.
3.

Bombay Brasserie
Bombay Brasserie is a unique fine dining experience offering an unforgettable journey through diverse Indian cuisine. At this signature restaurant of Taj Dubai, guests will be delighted by a fusion of classic and contemporary dishes.
Everyone can indulge in flavorful options such as their bestseller Cochin Lobster Curry, Butter Chicken, Lamb Shanks, and Prawns.
To finish any meal at Bombay Brasserie, one must try some desserts like Gulab Jamun, Kulfi, and Chocolate Cakes.
As for drinks, diners with varying preferences have a range of wines and other alcoholic beverages to choose from.
4.

Trèsind Dubai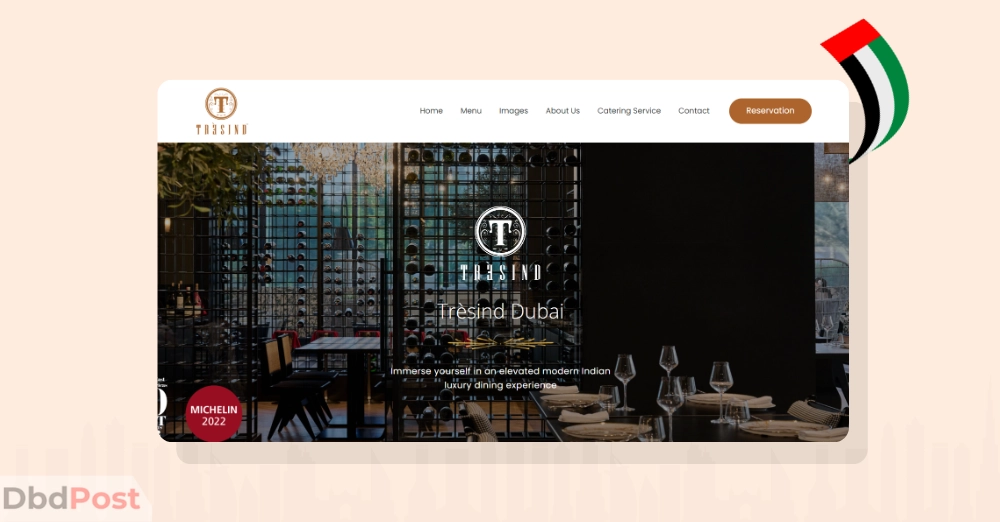 Trèsind Dubai is the best place for an Indian fine dining experience where their main chef, Chef Himanshu Saini, works his magic. The restaurant takes traditional dishes from South Asia and presents them in a modern way.
Each dish at Tresind has Indian influences and highlights various regional culinary aspects. We recommend you try their lunch set menu.
Similarly, the main course has classic Indian dishes like butter chicken, chicken biryani, and Bengali kosha mangsho.
To top it all off, the restaurant was recognized in the inaugural Dubai Michelin Guide and MENA's 50 best restaurants.
All these delicious dishes, locations close to attractions such as Dubai Marina, and Trèsind's fantastic atmosphere make the spot a must-visit.
5.

La Cantine du Faubourg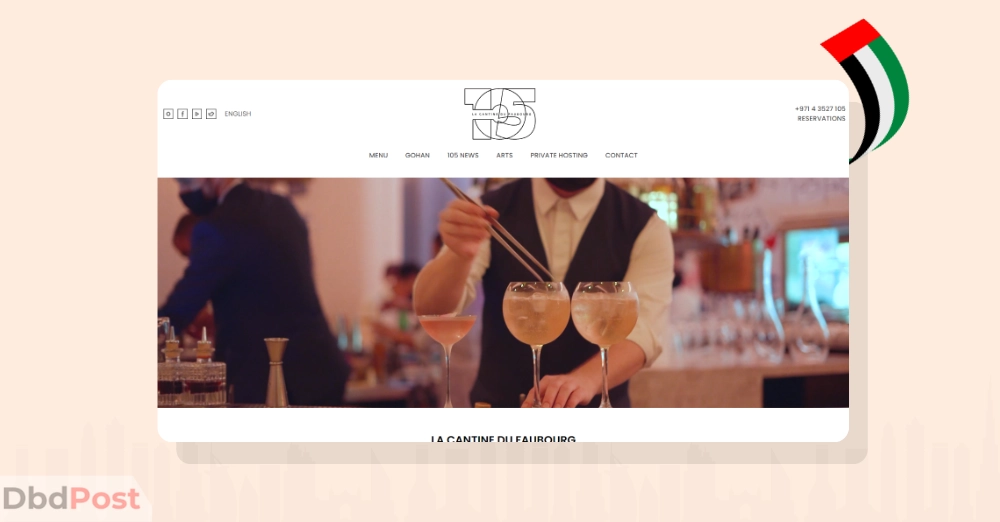 La Cantine du Faubourg brings delicious food, drinks, and entertainment, taking the fine dining experience to the next level. Thy offer a luxurious atmosphere with five fundamental principles: Sound, Music, Image, Art, and Food.
We recommend their signature steak made with Wagyu Japanese or Wagyu Australian tomahawk. Lobster risotto, spaghetti, and Roasted butternut squash are also popular among diners.
Wash it all with their signature cocktails like 105 G & T and Palome for a refreshing sparkle to the fantastic night.
Moreover, La Cantine du Faubourg provides an exceptional fine dining experience with its delicious food, music, and wine collection.
6.

LPM Restaurant & Bar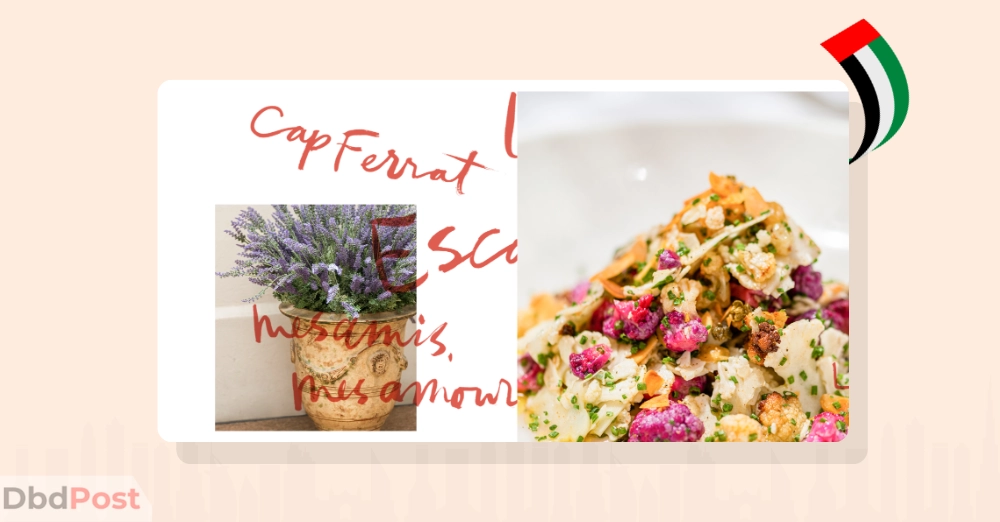 LPM Restaurant & Bar celebrates how food, drink, people, and setting come together. With its extensive wine and cocktail list, and A La Carte menu, the diner provides a luxurious dining experience.
LPM offers an array of dishes with many ingredients brought right from the Riviera. Food options like Tapenade, Mafaldine au homard, and Pommes Frites, are sure to satisfy everyone.
If you like seafood, bouillabaisse, crepes, and seafood platters, are sure to impress. Lastly, their French delight, crème brûlée à la vanille, will complete the LPM experience.
7.

Mint Leaf of London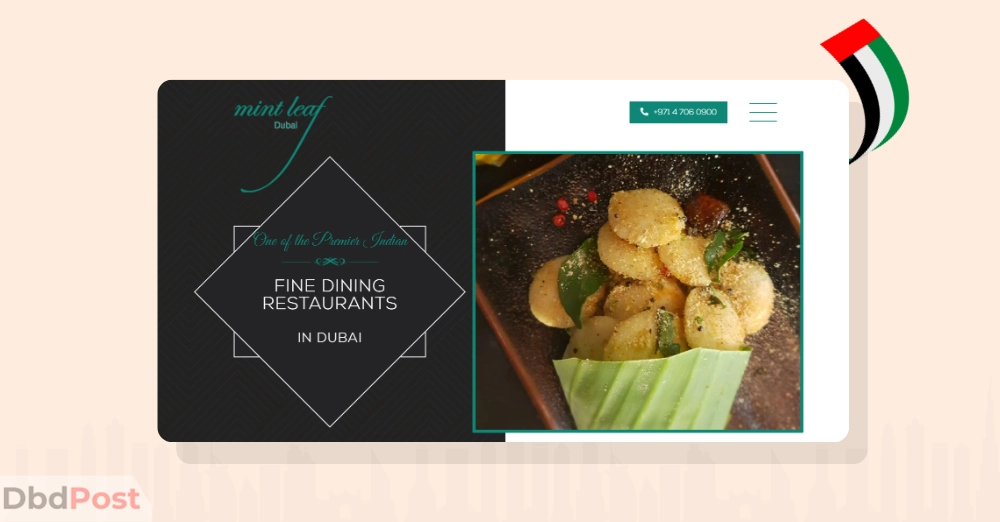 Mint Leaf of London is a popular Indian restaurant in the Emirates Financial Tower in Dubai's International Financial Centre (DIFC).
Boasting an elegant and sophisticated dining experience, the restaurant serves traditional Indian cuisine with a modern twist.
Their popular dishes include tandoori prawns, grilled chicken seekh kebab, and the classic butter chicken. Offering more than just outstanding service and fine food, visitors can enjoy amazing views of the world's tallest building,
Burj Khalifa. With delicious ingredients like freshly caught seafood, organic vegetables, and meats paired with beverages, the fine dining experience cannot get any better.
8.

Bice Mare Restaurant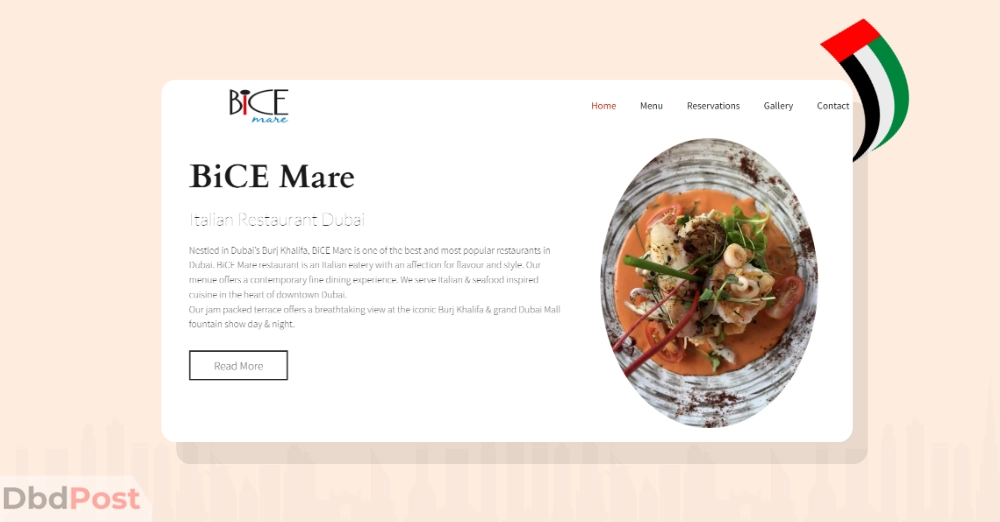 Bice Mare is famous for its seafood specials. It won What's On Magazine's Award in the Best Seafood Restaurant category three years in a row.
Bice is a perfect contemporary fine dining restaurant. Diners can enjoy their signature dishes with spectacular views of Burj Khalifa and Dubai Mall.
Chef Michele Blasi uses fresh and high-quality ingredients to create a fantastic food experience. The menu includes different delicious Pasta as well as Risotto dishes, one can even try Marinara or Bufala.
All these food items are made using seasonal and artisanal ingredients cultivated in Italy.
So if you want to feast on one of the most affordable fine-dining restaurants, head down to Bice Mare.
9.

COYA Dubai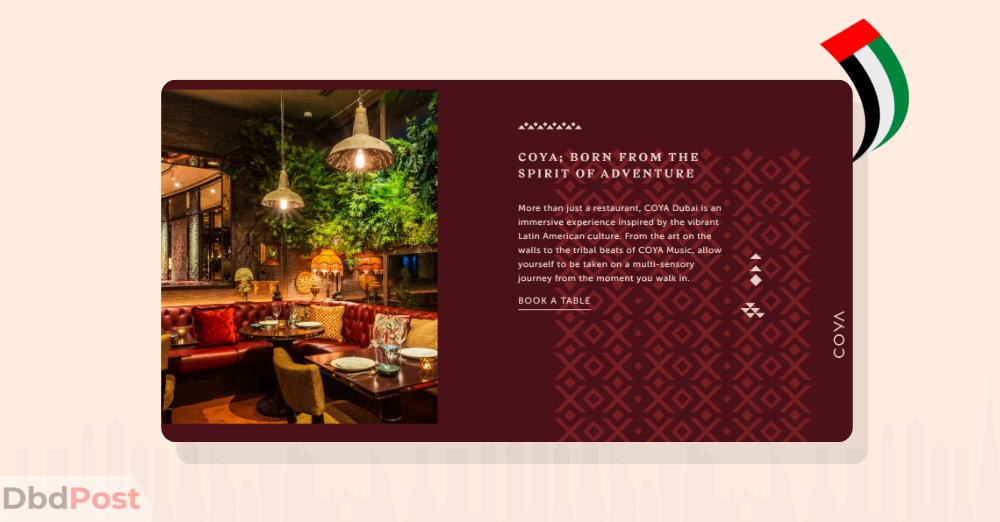 COYA Dubai offers an unparalleled Peruvian fine dining experience with its stunning setting. You can enjoy the furnishings, authentic Peruvian art, and breathtaking views of the Downtown Dubai skyline from their window seats.
The menu caters to all tastes, with delicious vegetarian options such as guacamole, kale, and manchego salad.
Also, you can choose from hearty meat dishes like veal heart skewers and oxtail empanadas. The lamb ribs with tamarind glaze are also a must-try.
To elevate the dining experience, guests can choose from an extensive selection of cocktails and wine.
10.

Prime68 steakhouse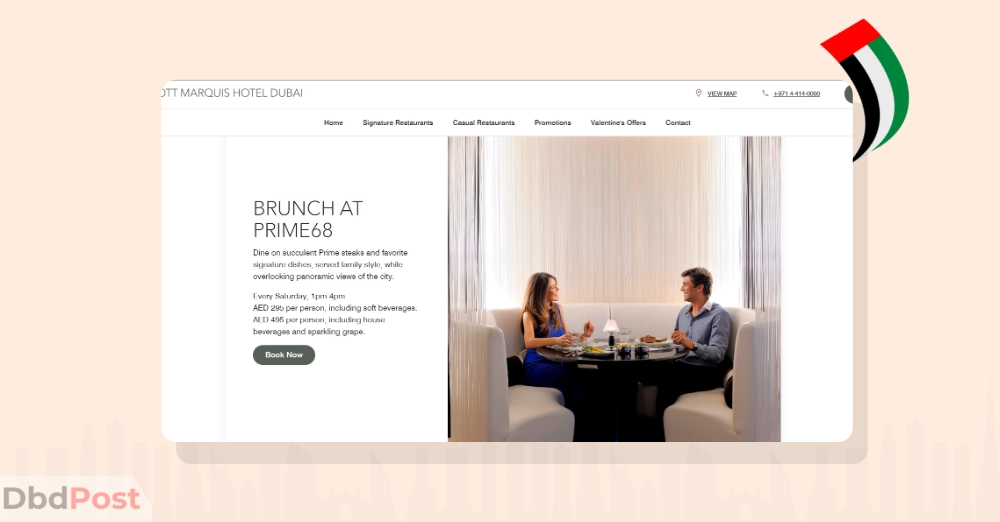 Prime68, located on the 68th floor, offers an unforgettable fine dining experience with breathtaking panoramic views of Dubai's skyline.
The menu features a variety of top-quality meats. You can choose from Ranger's Valley Australian Black Angus steak, AAA Wagyu beef from the USA, and AACO Wagyu, sure to please steak lovers.
For dessert, the chocolate cherry trifle and strawberry cheesecake are must-try options. The restaurant is committed to sourcing its suppliers' artisanal and sustainably produced ingredients.
If you're looking for a romantic evening, Prime68 is the ideal spot.
11.

Maiden Shanghai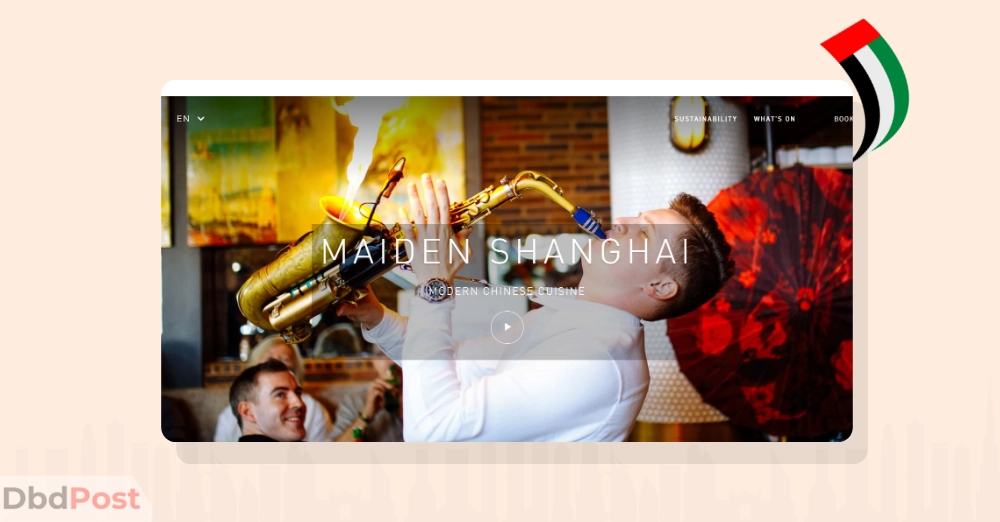 Maiden Shanghai is the premier destination for the Chinese fine dining experience. The stunning views from the terrace, private rooms, a karaoke room, and a bar make Maiden Shanghai a perfect place for dinner.
Chef Luo Bing crafts Cantonese, Sichuan, Shanghai, and Beijing dishes like BBQ Beef Puff With Honey Sauce, Kung Pao, and Bing's Organic Peking Duck.
The restaurant has won BBC Food Awards for Fine Dining Brunch 2021 and Time Out Dubai Nightlife Awards' Best Party Brunch 2021.
Maiden also hosts famous Friday brunches and a Naughty Noodles Saturday brunch. Besides Chinese food, the restaurant also offers some authentic Japanese dishes.
With flavors from the Far East, an upscale atmosphere, and unique food, Maiden Shanghai is a place to be.
How much does a fine dining dinner cost in restaurants in Dubai?
The cost of a fine dining experience in Dubai can vary greatly depending on the type of restaurant and the menu choices.
This multi-course meal includes a variety of dishes, often made with premium ingredients and showcasing refined culinary techniques.
On average, a basic multi-course fine dining meal without alcohol can cost between AED 200-450 per person. A tasting menu can range from AED 500 to 700 per person, featuring a selection of the restaurant's signature dishes.
Lastly, in high-end fine dining restaurants, prices can be significantly higher, with some establishments charging above AED 600-1000 for a full-course meal.
These restaurants are often known for their Michelin stars or reputation for exceptional food and service.
Etiquette to follow at a fine dining restaurant
Certain manners and etiquette are expected to be followed when dining at a fine dining restaurant. Here are a few do's and don'ts to keep in mind: [1]Business Insider "Top 15 Etiquette Rules For Dining At Fancy Restaurants, https://www.businessinsider.com/top-dining-dos-and-donts-from-an-expert-2013-4″
Do's:
Dress appropriately for the occasion (see dress code requirements if any)
Keep your phone on silent mode or turn it off during the meal
Be punctual on your reservation
Use utensils and napkins properly
Express gratitude for the food and service
Don'ts:
Chew gum or eat food before the meal begins
Avoid speaking loudly or using offensive language
Put elbows on the table
Leave your napkin on the table when you leave
Neglect to tip your server, if it's not included in the bill
It is always best to be mindful of your surroundings and consider the restaurant's atmosphere, as well as the customs and etiquette of your culture.
Related Stories
---
FAQs:
Final thoughts
All in all, Dubai is home to some of the most luxurious dining experiences in the world. From special occasions to romantic nights out, the possibilities are endless for those looking for the best fine dining in Dubai.
We hope our Dbd guide has helped you find the best fine-dining restaurants in Dubai. Make sure you visit one of the many fancy restaurants in the city.