Knowing how to check FAB bank balance is essential if you hold an account at the First Abu Dhabi Bank (FAB). This will let you know the status of your account and will help you keep track of your spending.
As UAE's biggest bank, FAB serves accountholders for personal and business purposes. They need to know their financial standings to manage their accounts better.
There are mainly two ways to do a FAB bank balance check online. We will discuss them in this Dbd guide and let you know the FAB balance check process.
How to check FAB bank balance online?
There are several ways to check your FAB bank balance. The most common way is through online banking, which also works for FAB salary check.
Customers can also check their balances through the phone banking service or by visiting the nearest branch.
GOnline banking is the most convenient way to check FAB bank balance as it can be done anywhere and anytime. Moreover, it is a safe and secure method as well.
Here is how to check balance online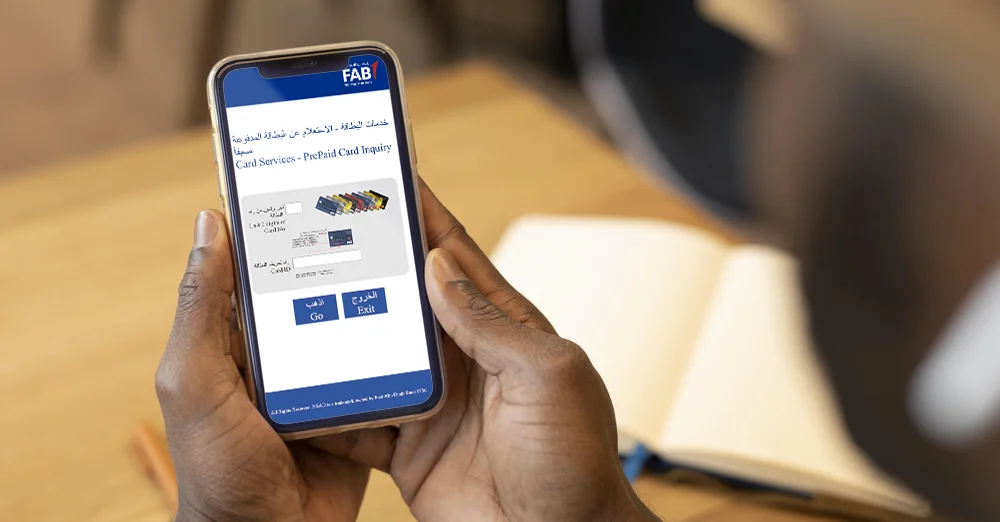 To check the balance online, follow these steps:
Step 1: Visit FAB's PrePaid Card Inquiry website.
Step 2: On the top input field, enter the last two digits of your card number. The card number is written on your card in 16 digits.

Step 3: After that, click on the "Card ID" input field and enter the whole card ID. You can also find the card ID on your card.
Step 4: Hit the "Go" button, and you will be taken to the next page.
Your account balance will be displayed on the screen.
You can check your balance using the FAB mobile app if you do not have a FAB Ratibi card or FAB prepaid card. FAB phone banking is a convenient service that lets customers manage their account details at any time.
To use this service, you must first download the app. You can download it from Google Play or Apple App Store.
Then, launch your FAB app and log in to your account. The main dashboard will have all your bank account details, and you can also see your balance on the go.
It is always helpful to get the app on your mobile. It can be used for balance inquiry, transactions, customer service, etc.
FAB bank salary account can also be managed using the app.
What happened to NBAD?
The First Gulf Bank (FGB) and the National Bank of Abu Dhabi (NBAD) merged to become the First Abu Dhabi Bank (FAB). The merger was first announced on July 3, 2016, and on April 2nd, 2017, FAB shares went public. [1]First Abu Dhabi Bank, "FGB-NBAD merger, https://www.bankfab.com/en-ae/about-fab/investor-relations/archive/fgb-nbad-merger#:~:text=Transaction%20structure"
NBAD used to be a leader in the wholesale banking sector in the UAE and had impressive international connections. FGB focused on consumer banking with strong credit cards and ran the National Housing Loan program for the Abu Dhabi government.
These two, which were two of the biggest banks in UAE, merged to create the largest bank in the United Arab Emirates. By 2019, FAB had a total asset value of USD 224 billion, making it the second largest bank in the Middle East as well. [2]First Abu Dhabi Bank, "FAB at a glance, https://www.bankfab.com/-/media/fabgroup/home/about-fab/investor-relations/pdfs/fab-at-glance.pdf?view=1″
Can I still check NBAD bank balance online?
Yes, you can still check the NBAD bank balance online!
If you're wondering how to, follow the steps to check FAB bank balance online. After all, they are the same at present.
Since NBAD merged with another bank to become FAB, you can use the balance checking service from the FAB bank platforms.
How to save more money in FAB?
Seeing low balance when you check FAB bank balance can be disheartening. However, you can take some proactive steps to make sure that doesn't happen too often.
Here are some tips on how you can save more money in FAB:
Use the FAB credit card for everyday purchases
If you use your FAB credit card for everyday purchases, you can earn rewards points that can be redeemed for cashback or other benefits. your credit score will also improve, giving you access to better rates and terms in the future.
Make use of the FAB savings account
You'll want to find a savings account that offers a competitive interest rate, gives special perks, and is accessible & easy to use.
The Islamic FAB savings account offers up to a 3.5% profit rate per year on AED currency, making it a great choice for those looking to earn a good return on their investment.
Plus, you can earn up to 5,000 AED cashback if you transfer your salary to your savings account. [3]First Abu Dhabi Bank, "Islamic Savings Account, https://www.bankfab.com/en-ae/personal/fab-islamic/personal-islamic-banking/islamic-accounts/islamic-savings-account"
Transfer your salary to FAB
You can get a cashback of up to AED 5,000 by transferring your salary to FAB. Plus, you will also get seasonal benefits and perks if you are new to FAB.
So opening an account in First Abu Dhabi Bank as a primary salary account can be a great way to not only save but make some money too. [4]First Abu Dhabi Bank, "Transfer your salary to a FAB account and get up to AED 5,000 cashback., https://www.bankfab.com/en-ae/campaigns/salary-transfer-cashback-offer"
Make a budget and stick to it
You can check FAB bank balance regularly to help you track your spending and savings. This will ensure that you only spend money on things that are truly necessary.
It will also help you identify areas where you can cut back on your spending and save a lot of money.
FAB's bank balance saving offers
We don't want you to worry about your savings the next time you check FAB bank balance. So, here are some more ways of saving your money.
FAB cashback offers
FAB provides a number of different cashback offers that cardholders can take advantage of. The FAB's cashback credit card is a great way to earn some cash back on your everyday expenses.
With FAB cashback credit card, you can earn up to 5% cash back on fuel, groceries, and utility purchases using AED currency. You get 2% cashback using other currencies. Plus, you will get AED 300 as a welcome cashback on your first purchase within 30 days of card issuance.
This is a great way to save money on your everyday expenses. So next time you want to order something online or visit a store, pay using the FAB cashback credit card.
FAB skywards miles offers
FAB also offers several travel cards that allow cardholders to earn Skywards miles. In addition, you will also get other facilities like lounge access, priority boarding, hotels, and car rentals. [5]First Abu Dhabi Bank, "Discover an exclusive range of privileges with our credit cards, https://www.bankfab.com/en-ae/personal/cards"
If you travel often, we highly recommend that you take advantage of FAB's Skywards miles credit cards. These will save you tens of thousands of Dirhams in the long run.
The FAB World Elite Credit card is one of the best travel cards in the UAE. It comes with USD 500,000 worth of travel insurance, worldwide lounge access for you & your guest, and more benefits.
This is a great way to earn rewards that can be redeemed for travel, merchandise, or other benefits.
FAB loans to increase your bank balance
What will you do if you need some money but find out you have a low balance when you check FAB bank balance? One of the smartest things to do in such a case would be to take out a loan from FAB.
First Abu Dhabi Bank offers different types of loans that can cater to your needs. Be it a personal loan, auto loan, or home loan, FAB has got you covered.
To apply for a loan, you must visit the nearest FAB branch and speak to the personnel there for help. They will be more than happy to assist you in every step of the loan application process.
Here are two of the best loan and financing options on FAB:
FAB's Islamic personal finance without salary transfer
FAB Islamic personal finance is a loan that can be given to both UAE nationals and expats without needing to transfer salary.
UAE nationals can borrow up to AED 1 million with 9.99% per year interest rates. Similarly, expats can borrow up to AED 600,000 with 14.99% per year interest rates. The repayment term is 48 months for both UAE nationals and expats. [6]First Abu Dhabi Bank, "Non-Salary Transfer Islamic Personal Finance, … Continue reading
It is possible to make voluntary early settlements on the loan too. This makes FAB Islamic personal finance an attractive solution for those who are looking for financing without having to transfer their salary.
FAB's Personal loan for UAE citizens without salary transfer
If you are running low on balance, you can take this loan from the bank. This is a personal loan that is given only to UAE citizens. You do not need to transfer your salary to the bank to be eligible for this loan.
The interest rate starts from just 4.99% per year, which is a very low rate. It means you won't be paying a lot of money in interest even if you borrow a large amount. [7]First Abu Dhabi Bank, "Get the personal loan you need without having to transfer your salary., … Continue reading
The repayment period is very flexible. You can pay back the loan within 48 months. Furthermore, if you work at the Ministry of Defence, you will get 60 months to repay your loan.
Taking this loan also comes with insurance coverage. That will help you save money in the long run as well.
To be eligible, an applicant must have a minimum monthly income of AED 15,000, a good credit bureau score, be 21 years or older, and have been employed with their current employer for at least 18 months.
Related Stories
---
FAQs
Are NBAD and FAB same?
Yes, NBAD and FAB are the same. FAB is a result of the NBAD-FGB merger.
How do I check my FAB E dirham balance?
You can check your FAB eDirham balance by logging in to the official eDirham website. You can also check the balance using their official apps from app stores. [8]UAE Ministry of Finance, "Settle your government services fees safely and conveniently, https://www.mof.gov.ae/en/About/programsProjects/Pages/EDirham.aspx"
How do I get my bank statement online FAB?
Final thoughts
FAB online balance check is possible through multiple methods. You can use the FAB mobile app or online portal to enter your information and check balance online in a few seconds.
It is always helpful to sign up for the FAB app for online balance checking. It can also be used to transfer your money and manage a bank account from anywhere.
We hope you have learned how to check FAB bank balance by now. If you found this Dbd guide helpful, feel free to share it online.


Arijit Negi is an expatriate living in Dubai for 18 years. He completed his degree in Master of Arts in Journalism from the University of Mumbai. Arijit focuses on providing helpful guides and information for ex-pats living in UAE and visitors to the UAE.