If you are wondering how to get labour card copy online in UAE, then you've come to the right place. You must get a copy immediately to avoid fines and other consequences if your labor card is lost or stolen.
Since, UAE Labour law is stringent when it comes to employee documentation. Not having a valid labour card can lead to all sorts of problems for employees in the UAE, including being unable to work, getting fined, and even being deported.
Generally, to get a labour card online in UAE, you can visit the MOHRE official site or download the MOHRE app. Enter the work permit number to check from the website, or log in by entering your username and password in the app to view your labor card.
This Dbd guide will show you how to obtain labour card online in UAE in minutes. Our guide is easy to follow and will help you stay within the law.
How to get labour card copy online in UAE: Step-by-step guide
There are two methods of obtaining the labour card copy. You can either visit the Ministry of Human Resources and Emiratisation (MOHRE) or use the app to get a copy.
The UAE Ministry of Labour oversees and manages labour contracts and necessary documents in the UAE. We'll show you both methods in detail, along with a step-by-step guide.
Method 1:

Get a UAE labour card copy from the MOHRE website

Follow the steps carefully, and you'll get a copy of the labour card without any issues.

Step 1: Go to the MOHRE homepage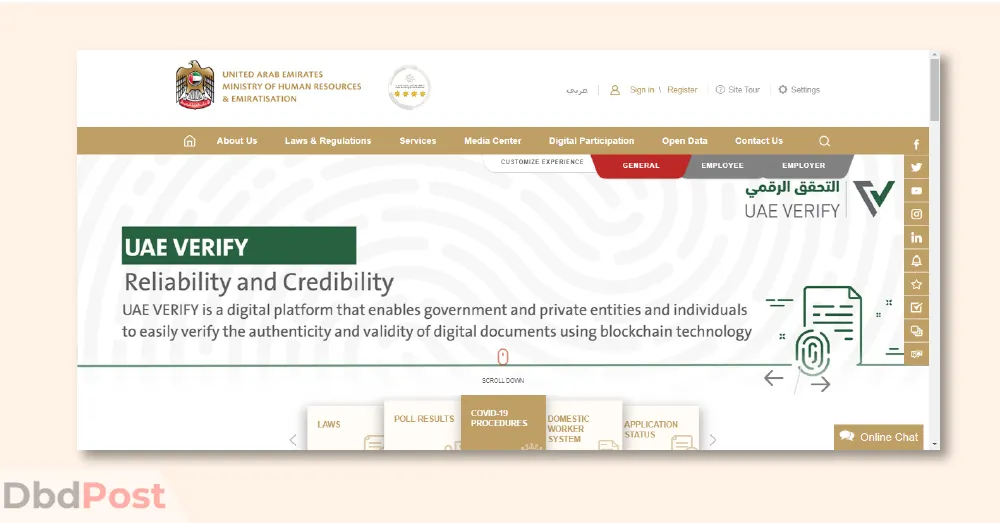 First of all, you need to visit the homepage of the MOHRE.
Step 2: Select services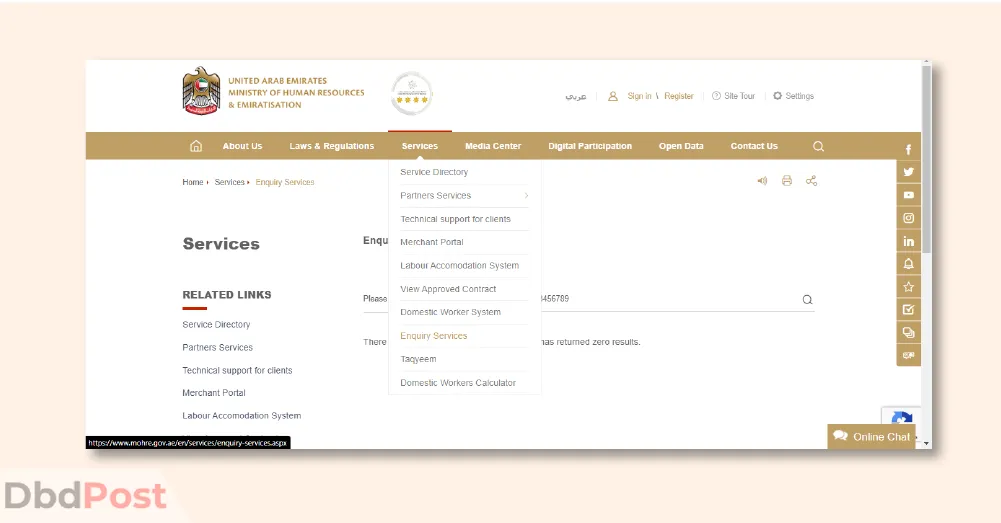 Next, Go to the "Services" option on the menu. Inside the services, press "Enquiry Services."
Step 3: Select the service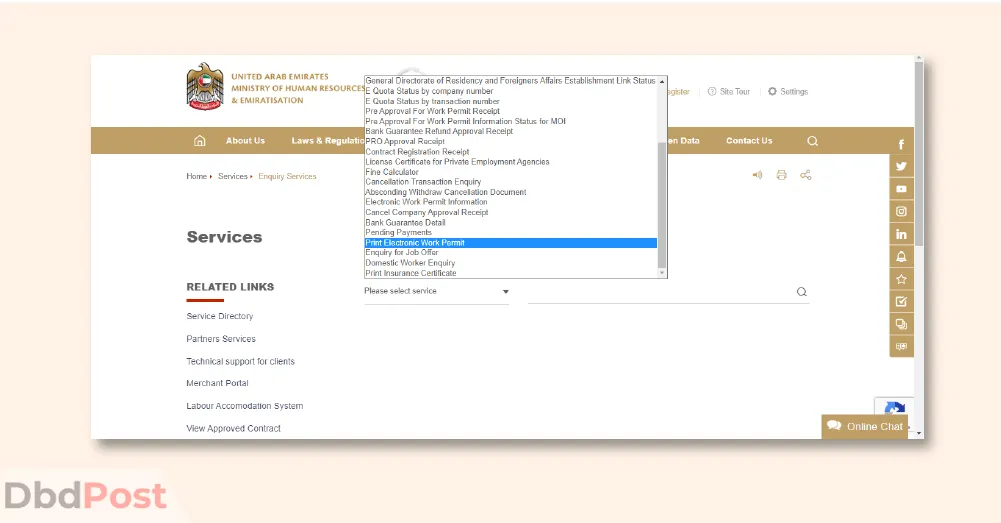 On the new redirect page, click the drop-down menu and select service then select "Print Electronic Work Permit."
Step 4: Enter your details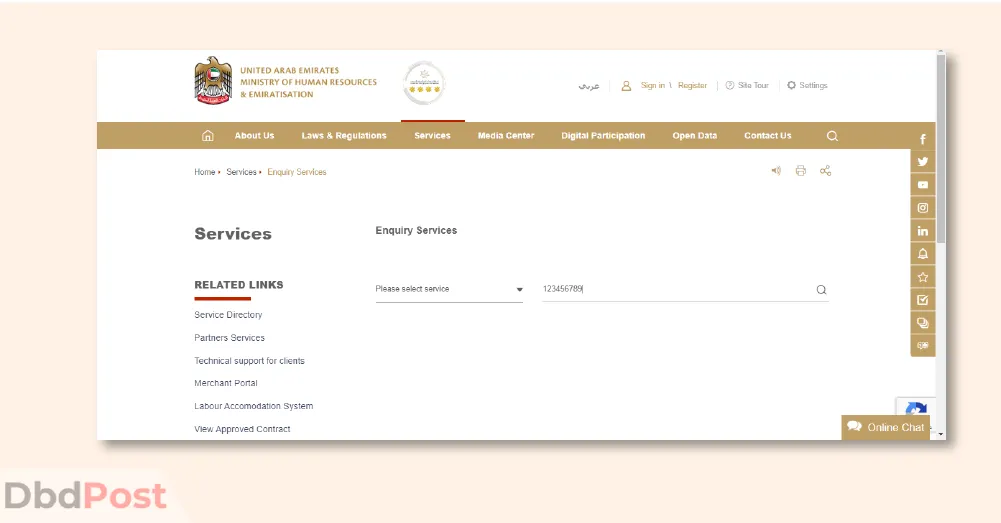 Enter your "Work Permit Number" and click on the search icon.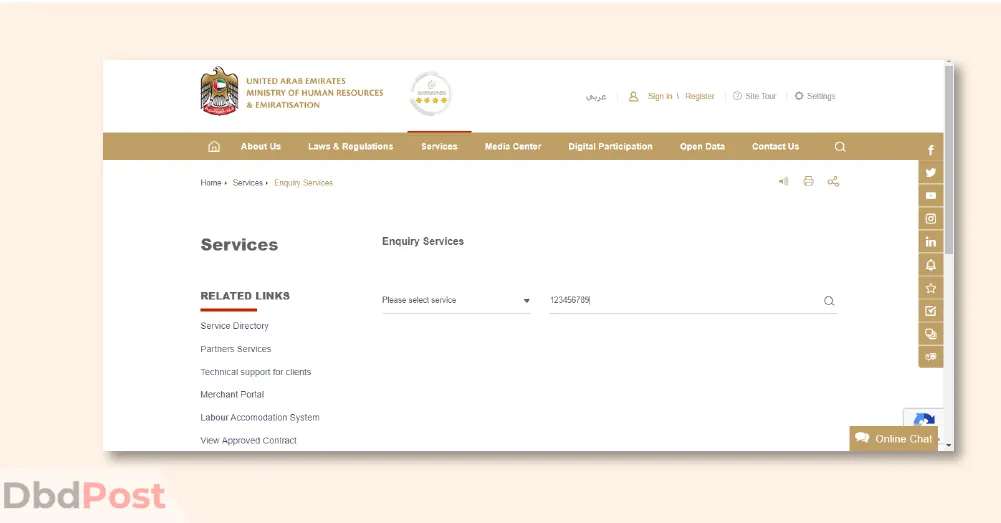 You'll be redirected to a new page where you can print a copy of your labour card.
Method 2:

Check labour contract via MOHRE app

Similarly, you can also get a labour card copy online using the MOHRE app. The app is available for both Android and IOS devices. So, now let's look into the steps of getting a copy from the app.

Step 1: Download the MOHRE app

Go to Google Play Store or App Store to download and install the application.

Step 2: Set up the app

Choose the language of your choice.

Step 3: Sign in

Sign in by entering the appropriate "Username" and "Password." After that, answer the security question for verification.

Step 4: View the card

Go to your "Dashboard." On the top of the screen, you see your labour card. Below the card, there is a "Share as PDF" button to get a copy. You can also obtain your UAE labour contract online from the same dashboard.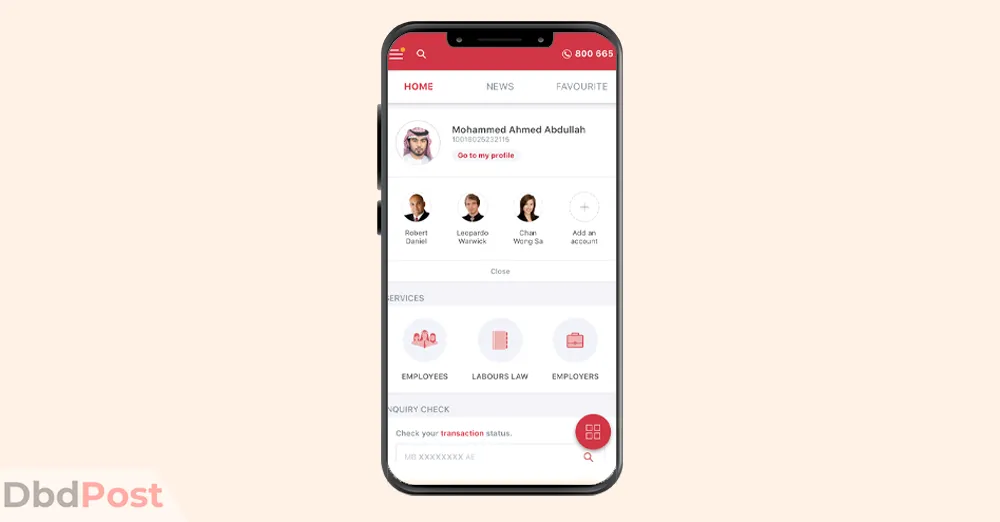 Some rules about labour card in UAE
Every employer and employee should know some essential rules and regulations about the labour card in UAE. Some of them are explained below:
The employer must provide proof of the laborer's medical fitness to work to get a new labour card.
The employer needs to prepare and sign the employment contract within 60 days of the arrival of the recruited laborer. This includes the processing of the labour card of the worker.
If an employer wants a labourer to keep working, he must renew the card within 60 days of its expiration without any extra charges.
If you want to change your status to become a partner or owner, you must first follow the steps to cancel your labour card.
If your labour relationship with your employer ends, you may be able to get a new labour card without waiting six months.
Companies will not be able to issue new work permits or labour cards for employees in the following cases: [1]UAE Official site, "Article 6,

https://www.mohre.gov.ae/handlers/download.ashx?YXNzZXQ9NDg2″

Expired labour cards for more than two months.
Labour cards had deficiencies (due to fines).
Work permits that have expired for more than six months.
Expired licenses for more than one year.
Any restrictions on work at the facility due to violating labour laws.
Related Info
---
FAQs
How to check my labour card copy online?
You can check and get a copy of your labour card online with the MOHRE app or website. The process is easy and takes only a couple of minutes.
Can I use the labour card copy for legal purposes?
Yes, you can use the labour card copy for legal purposes. You will need a copy of your UAE labour card for identification at your workplace.
Can I download the labour card copy?
Yes, you can download and make copies of your labour card for documentation and official purposes. You can save a copy of the labour card before printing or share it from the app dashboard.
How much time do I have to renew my labour card once it expires?
Is a labour card the same as an emirates ID?
No, the labour card is not the same as your Emirates ID. The Ministry of Human Resources and Emiratisation (MOHRE) issues labour cards, whereas the Federal Authority for Identity and Citizenship (ICA) issues Emirates IDs.
Final thoughts
We hope this guide on how to get labour card copy online in UAE was helpful. Carefully follow the guide to get the best results and obtain labour card online in UAE.
In addition, make sure to keep your labour card up to date and renew it before it expires to avoid any fines. Also, carry the card during work hours to avoid legal issues.
Please let us know in the comments below if you have any more questions. Also, share this guide to help others, and follow us for more informative content like this.