Traveling to UAE might be confusing to many. As a result, they take the help of a travel guide who provides the visitors necessary information to plan visitor's journey in the nation.
But with the help of the Wojhati app, this lengthy procedure is not required.
This is because the remarkable RTA Wojhati journey planner is the perfect solution for anyone worried about getting around Dubai and UAE if it's your first time or unfamiliar with the area.
The app mostly makes navigating the city's public transportation system easy. So if you are new to Dubai, this is the prerequisite to making your travel and stay effortless.
Moreover, the app provides users with the necessary updates on the phone about vehicles, their routes, and the initial and departure points. All in all, the RTA Wojhati guide will show how you can use the website to travel around UAE.
You will not only learn how to use the website for navigation, but you will also learn how you can learn about the travel guidelines in UAE. In this Dbd guide, we will show you how you can view Wojhati's live map to plan your trip before you leave the house.
Additionally, we will also show you some alternative apps on the Wojhati site that you can use on your Android or iOS device. So, keep reading our comprehensive RTA Wojhati journey planner and Wojhati app guide below to make your traveling in UAE easy and fun.
What is the RTA Wojhati journey planner app?
The Wojhati app is the journey planner for the public transport network in Dubai. This app was created by the Roads and Transport Authority (RTA) to help people understand Dubai's complex transport system and plan journeys using public transport.
The app allows users to easily switch between modes such as tram, water taxi, bus, metro, and other forms of transportation. It is easy to use, and the app features are user-friendly.
So it is not difficult to use if you are wondering how to use Wojhati app. You can simply enter your initial and final destination, which will immediately give you an estimate of how much it will take and how much it will cost to make the trip.
In addition, the app also provides information on disruptions or delays in the various transport systems so that you can plan your journey accordingly. Whether you're a resident or just visiting Dubai, the Wojhati App is a valuable tool to help you get around the city easily.
New Updates on RTA Wojhati App
Unfortunately, RTA Wojhati app is not available to download for Android and iOS devices since 2021.
If you try to download Wojhati app from the official website, you will get the response of "We're Sorry, the requested URL was not found on this server." The official RTA has not provided any information on why they removed the Wojhati app from the Play Store and App Store.
But you can still download the Wojhati app on your windows phone. Additionally, you can also use the RTA Wojhati journey planner from your desktop through their official website.
Why use the RTA Wojhati journey planner?
The Public Transport Agency (PTA) is responsible for providing public bus services in Dubai. It operates a large fleet of 1,518 buses, which are used to service an extended network of 119 internal lines.
This includes 35 lines that link to metro stations, 12 intercity lines that connect Dubai to other emirates, 62 internal lines, and eight fast lines. In total, the PTA's bus network covers 82% of the urban areas in Dubai. Daily, it transports around 369,248 passengers. [1]RTA.ae "Dubai Bus, https://www.rta.ae/wps/portal/rta/ae/public-transport/dubaibus#:~:text=/%20Dubai%20Bus-,About%20Dubai%20Bus,-The%20Public%20Transport
This might be hard to keep track of. But don't worry, Wojhati is there to save the day. One of the app's best features is that it makes track of all the vehicles, their routes, destinations, and timings all around the UAE convenient and easy.
To make you believe in the best qualities of the app, we have compiled all the features of the RTA Wojhati journey planner that will help you in your journey.
1.

Real-Time travel plan

The Wojhati app includes a real-time travel planner. It means that this site will help you to plan your journey in the city through different vehicles according to the current traffic situation.

With the help of this feature, you can easily change your route if there is any traffic on your chosen route. As a result, this will help you to save a lot of time during your journey.
2.

Easy-to-use interface

Another great thing about Wojhati is its very simple and easy-to-use interface. You don't need to be tech-savvy to use this site.

You can easily find your way around the city with just a few taps. Moreover, this website is available in both English and Arabic language. So, it will be easy for you to use this site during your journey.
3.

Get real-time updates on bus locations and next departures

One of the best features of Wojhati is that it provides real-time updates on the location of public transport anywhere within your area. With this, you can easily track the location of your bus and know when it will reach your stop.

There are different colors for buses, and their timings and locations are different. This feature is handy for those new to the city or who don't know much about the city's public transport system.
4.

Easy booking

RTA Wojhati site is a revolutionary way to book travel and find destinations. With this website, there is no need for agents or guides – you can easily find and book your destination on your own.

This will avoid unnecessary physical contact and also save you some money.
5.

Share routes

Arguably, this is the best feature of Wojhati. This lets you share your route with your friends and family. They can easily follow your route if they plan to go to the same place.

This will save both you and your partner time and effort. -making getting around Dubai efficient and convenient.
6.

Other features

There are many other features of this journey planning app. Some of them are listed down below.
It shows recently viewed locations and journeys.
It has a real-time map that uses GPS.
It shows route using metro buses.
It uses GPS-based location tools.
It shows major landmark locations and points.
Hence, this is why the Wojhati RTA journey planner is effective and efficient. If you are traveling in UAE, this site will become your excellent travel companion.
How to use the RTA Wojhati Journey planner?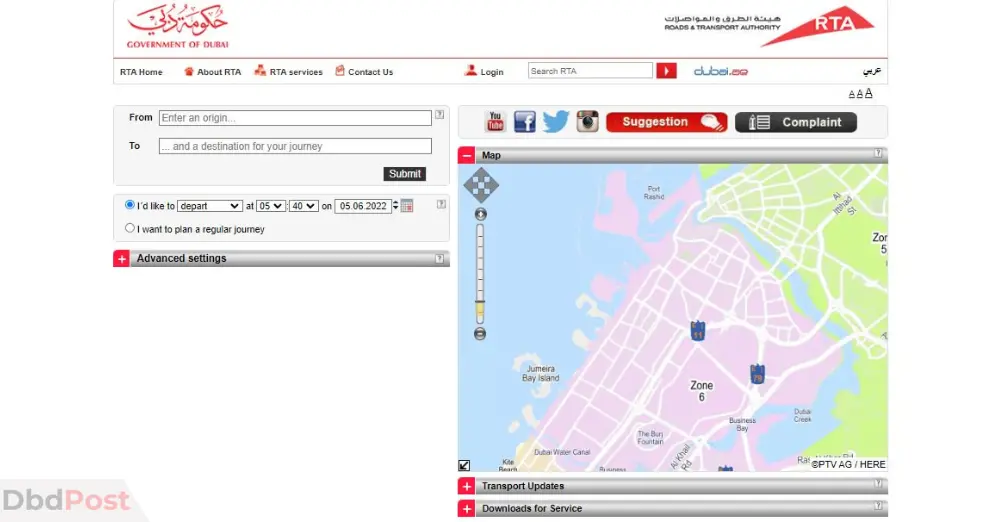 Since the Wojhati app is no longer available on mobile devices. The Official Website of Wojhati is a great resource for planning your next journey.
1.

Visit the RTA Wojhati website

First, you have to visit Wojhati.com, which is its official website. Then you will get access to the RTA Wojhati dashboard.

In the RTA Wojhati website dashboard, you can find,
Planner – The most important feature in the main menu is the planner. Here, you can plan your travel destination. You can see different routes that vehicles take to plan it accordingly.
Arrival and departures menu – While planning, you can notice essential points on the map, such as arrival and departure points. They are places where you can start or end a journey on a vehicle.
Save route or start a new menu – This feature is very convenient for saving your location if you have to travel more than once. Suppose you are visiting a new destination and press the start new button. You won't require to recheck the routes as you simply operate from the saved route button.
Settings -You can choose a default plan for your planner. This includes what type of vehicle you will use, certain routes, and setting up your points to shop and get on or off the vehicle.
Updates on transports – In settings, you can find different updates on transport such as their types which can be Bus, Tramp, Water Boat, and their regular routes.
Social media – You can share Wojhati app benefits through social media. You can also refer your friends and family to join the app.
Contact – This site lets you contact the RTA authority to give suggestions or complain about any problems you have.
Instructions – In this RTA Wojhati planner, you can find an amazing feature that provides instructions on how to use them for beginners. You can also gain valuable information on their FAQ page.
Now that you know what you can find on the RTA Wojhati planner website let's get into how you can use them.
2.

Planning

The first step of using the RTA Wojhati website is to plan your trip before heading out on the journey. As mentioned above, you can now plan your home, favorite places, routes, or destination from the website.
3.

Initial and departure points

Then you need to enter the locations, next departure point, and destination alongside your desired departure time. You can see a real-time map on the website that shows your route, initial points, various stops on the route, and departure points.

The website will then generate a list of possible routes for you. This list is to find you the quickest way to get to your destination.
4.

Vehicles routes and data

You can easily view all the vehicles' routes and directions on the site. Additionally, you can click on the bus and can find live bus routes with every destination on that route.

If you become familiar with the Wojhati RTA planner from their website, you can simply move from one location to another without the risk of getting lost.
5.

Download for Offline purposes

You can even download this information on your PC if you have to use it offline. When you find the best or quickest route, you can check the vehicle operation on that route and their arrival and departure times.

Now you can reach your initial stop on time, so you don't miss that particular vehicle. Hence this is the process to use the Wojhati travel planner from your web browser since the Wojhati app is not operable nowadays.
How to check bus timing through RTA Wojhati?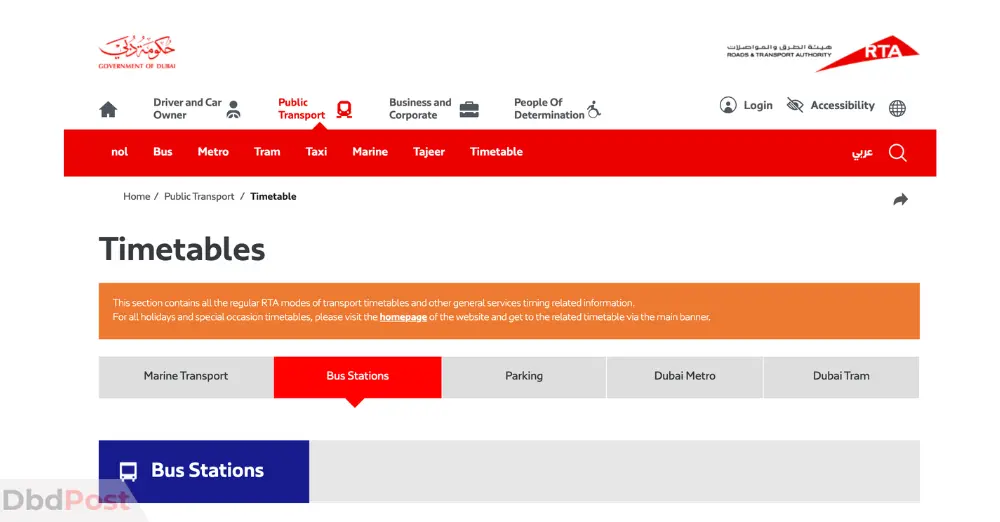 When you are on a journey in Dubai, it is essential for you to know bus timings. This will prevent you from missing your vehicle or getting lost in Dubai.
Hence we have provided you step by step guide on how you can easily check bus timing through the RTA Wojhati website.
First of all, you have to visit the RTA Wojhati website. Once you have found your travel plan's initial and final point, click on the search icon. This will bring up a map with all of the available bus routes.
To choose your specific bus route, click on the icon for that route.
The map will then show you the current location of all buses on the route. Click on the vehicle position icon on the map, you can see the live movement of the vehicles in real-time.
Click on the bus icon to see different colors of the bus, such as green, orange, and red, on the map. Green buses indicate that they are running on schedule, while orange buses are slightly late and red buses are a few minutes late.
Hence this is how you can check the bust timings from the RTA Wojahti journey planner. So next time you are scheduled to take the bus, be sure to check the map first to get an accurate idea of when your bus will arrive.
By separating the buses according to their colors, you can easily see which buses are running on schedule, which are slightly delayed, and which are running behind schedule.
By keeping this information in mind, you can avoid delays and make sure that you catch your bus with plenty of time to spare.
See also: Best Dubai Dating Apps and Sites
Wojhati RTA Alternatives
As mentioned above Wojhati RTA app is not available for Android or iOS users. Even if you can use RTA Wojhati from their website, it will be easier for you to travel around Dubai if you have a travel app.
Luckily RTA Dubai has released some alternatives for the RTA Wojhati app. Let's get into some of the most popular RTA Dubai apps.
1.

RTA Dubai public transport app

RTA Dubai is one of the best public transport apps in Dubai. It helps people who have to commute get around easier. This app saves time and also offers a range of online ticketing options.

It includes a feature of smooth online transactions and facilitates travel around Dubai. One amazing feature of the RTA public is it supports the NOL card service.

NOL is one such 'electronic ticketing card' service integrated with RTA Public Transport App.

Some amazing features of the RTA Public App are:
It checks timetables for the metro, tram, bus, or water bus.
It checks your NOL card balance
It renews your travel pass during the time of expiry.
Download RTA Dubai
You can download and install the RTA Dubai app on your Android or iOS device by searching RTA. Furthermore, you can download it right now by clicking the link here. Android | iOS
2.

S'Hail app

The S'Hail app is one of the best public transport apps available in Dubai. The app smartly integrates the public transport e-services into one platform, making it easy to book a limo or taxi for a quick ride.

S'Hail app also provides real-time updates on tram and metro bus schedules so you can plan your travel before or during the journey. Getting around Dubai efficiently and easy is the goal of the S'Hail app – whether you're using public transport or booking a private car.

Some of the key features of the S'Hail app are:
Provides vehicle schedules, timings, and routes in real-time.
Provide Live updates on Traffic.
S'Hail is available in Arabic for people who live there and in English for tourists.
Download S'Hail app
You can download and install the S'Hail app on Android and iOS devices. Just type S'Hail, or you can download it from the links given here. Android | iOS.
Hence these are the best alternatives for the RTA Wojhati app. Since both apps are modeled from the official Road and Transport Authority of Dubai, they are highly reliable.
Related Stories
---
FAQs about Wojhati RTA App
What is the app for Dubai bus timing?
You can easily check Dubai bus timing from the RTA Dubi Public Transport app and the S'Hail app. Furthermore, the RTA Wojhati website is extremely reliable as it provides real-time Dubai bus timing.
Is RTA wojhati available for iOS devices?
No, Wojhati is not currently available for iOS devices. You cannot currently download the Wojhati app on iOS or Android phones. Now, RTA Dubai has launched a different transport app for iOS devices – S'hail. S'hail app is also an RTA Dubai travel planner and works precisely like Wojhati.
Where can I find a bus route in Dubai?
You can access the bus route in Dubai through maps and information segments on the RTA website. You can also download a pdf file of all the bus routes in Dubai by clicking this link.
Final thoughts
RTA Wojhati journey planner is reliable for anyone traveling in Dubai. The site has all the necessary features to help you plan your trip, including real-time bus and metro schedule updates.
Additionally, from this planner, you can check the timings of the bus and their designated routes so you will never be late or lost. Unfortunately, the RTA Wojhati app is unavailable on Android or iOS devices.
However, you can still download it if you have a Windows operating system on your device. Furthermore, we have provided two separate apps for you to download for your Android and iOS devices which the official RTA in Dubai established.
We hope that by reading this Dbd UAE travel guide, you will better understand the RTA Wojhati journey planner.