Nepali passport renewal in Dubai can be a hassle for Nepali citizens living in Dubai as you must go to the embassy in Abu Dhabi to renew your passport.
Besides, renewing your passport at the Nepali Embassy can be difficult if you are unfamiliar with what needs to be done. You could make costly mistakes if you don't know what to bring or how much the fee is.
Generally, to renew a Nepali passport in Dubai, you first need to fill out the renewal application form, affix your photo, and compile all the required documents. After that, you must visit Nepal Embassy in Abu Dhabi, pay AED 200 for adults or AED 100 for minors, and wait around three months. [1]Embassy of Nepal, "Machine Readable Passport (MRP), https://ae.nepalembassy.gov.np/machine-readable-passport-mrp/#:~:text=AED%20200.00%20for%20normal%20renewal"
This Dbd guide will cover everything you need to know before your appointment at the Nepali Embassy in Abu Dhabi. Additionally, we will cover the renewal cost, what documents you need to submit, and how long the process will take.
Now without any delay, let's see how to renew a Nepali passport in Dubai right away.
How to renew Nepali passport in Dubai?
If you're a Nepali citizen living in Dubai, you might wonder how and where you can renew your passport. Unfortunately, there are no options to renew Nepali passport in Dubai yet.
However, we can assist you with everything you need to prepare before you fix an appointment at the embassy. We will help you gather the required documents, fill out the necessary forms, and cover the renewal charge and processing time.
Once everything is in order, you can quickly get your new passport. Let's see how to apply for it in more detail so that you can have your new passport in hand in no time.
Step 1: Fill out the application form
The first step in renewing your passport is to fill out the application form from the Nepal government passport department's official site. The form can be filled out online or downloaded and printed to be filled out by hand.
Either way, it is essential to follow the instructions carefully to ensure that the form is completed correctly. Additionally, one of the most important details to remember is that you should sign strictly inside the given box and must not touch the borders.
If you are renewing a passport for a minor, who cannot sign the application, you can put a small cross (x) in the middle of the box. This may seem like a small detail, but it is essential to follow the instructions carefully to avoid delays in your application.
Remember that the embassy will not go through an incomplete form. So it is essential to ensure that all the required information is included before submitting your application.
Step 2: Affix your photo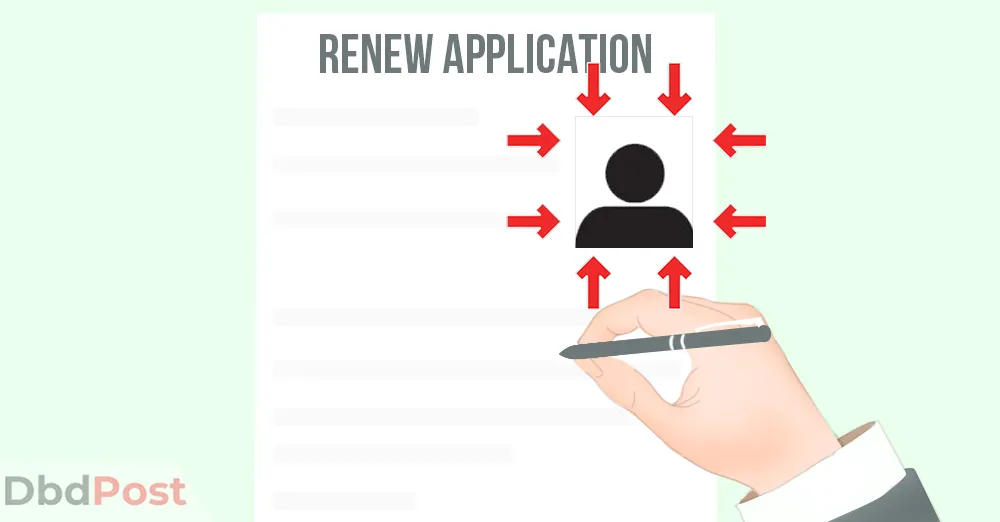 To complete the Nepali passport renewal application, you must affix your photo to each form before submitting it to the consular.
The photo for Nepali passport renewal in UAE must be recent and borderless with a white background. In addition, your face should cover 70 to 80 percent of the area, and your mouth should be closed.
If you do not have a recent passport photo that meets these requirements, you can have one taken at a passport center or by a professional photographer. Once you have affixed your photo to the application, you can submit it to the Nepali consulate.
Step 3: Compile all the necessary documents
After completing and printing the application form, you must gather all the necessary documents. The Embassy needs complete documents following the guidelines to further your renewal process.
For minors, you will need to submit some more documents than what is required for adults. You must have all of the required documents before beginning the process. Incomplete applications or those not meeting the requirements will delay the processing of your passport.
Let's review the documents you must compile to renew your Nepali passport.
Documents required for adults:
Two copies of the passport renewal form
Original passport and photocopy
Copy of your passport's UAE visa page
Copy of valid visa
Copy of citizenship
Applicants' self-presence is necessary
Documents required for minors:
Two copies of the passport renewal form
Birth certificate attested by the Ministry of Foreign
of the UAE
Both parents' passport photocopies
Both parents' valid UAE visa photocopies
Copy of marriage certificate of parents
Citizenship certificate copies of both parents
Minor's presence is mandatory
After you have gathered the required documents, you can visit the Embassy of Nepal in Abu Dhabi from Dubai. Don't miss any of these documents, especially for minors.
Step 4: Visit the embassy of Nepal
Once you have all of your documents, the embassy will be able to process your passport application and provide you with a new, renewed Nepali passport.
As there isn't a service for Nepali passport renewal in Dubai, you must go to the Embassy of Nepal in Abu Dhabi.
The easiest way to travel from Dubai to Abu Dhabi is by bus. Buses run frequently between these two cities, and the journey may take around two and a half hours. The one-way bus fare may cost around 25 AED per person.
You can quickly get the buses every 20 minutes at Al Gubabia and get off at Abu Dhabi central bus station. From there, you need to walk for about 10 minutes to reach the Nepal Embassy. The whole journey should take you no more than three hours.
While traveling by bus is the most cost-effective way to get around the city, other options are available if you find yourself running late. You can get a taxi and visit the Nepal Embassy in Abu Dhabi.
The fare will depend on traffic conditions and your location in Dubai, but you can expect to pay around AED 250 to AED 290 for the trip. It will take approximately one and a half hours to two hours to reach your destination.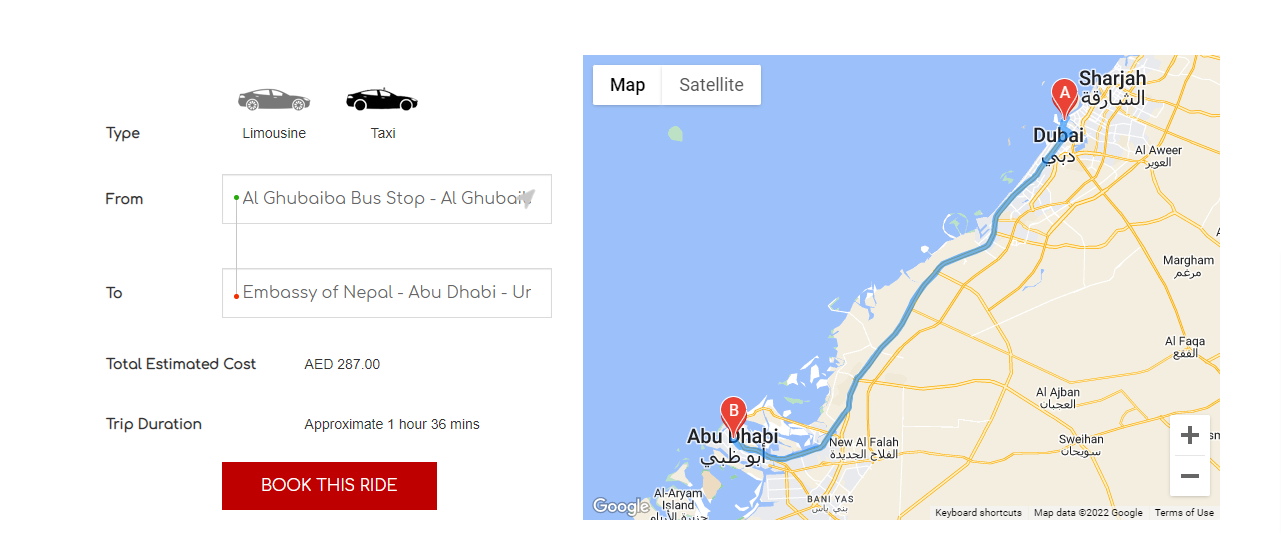 Also, remember that the embassy's consular hours are from 9:30 a.m. to 1 p.m. on Sundays and Thursdays. If you want to avoid wasting time and money, reach the location during these hours. These easy steps will help the process go smoothly so that renewing your passport is stress-free.
Nepali passport renewal fees in Dubai
To renew your Nepali passport, you will need to pay specific fees. The amount depends on whether you are applying for an adult or a minor passport.
The Nepali passport renewal fee for an adult is AED 200, and for a minor, it is AED 100. [2]Embassy of Nepal, "MRP renewal fee, https://ae.nepalembassy.gov.np/machine-readable-passport-mrp/#:~:text=AED%20200.00%20for%20normal%20renewal"
Once you have made your payment, you should keep the payment slip with you. You will need to present it when you come to your new passport.
Once the payment has been confirmed and you take the payment slip, your work is finished. The employees at the embassy will take care of everything else from there.
Processing time for Nepali passport renewal in Dubai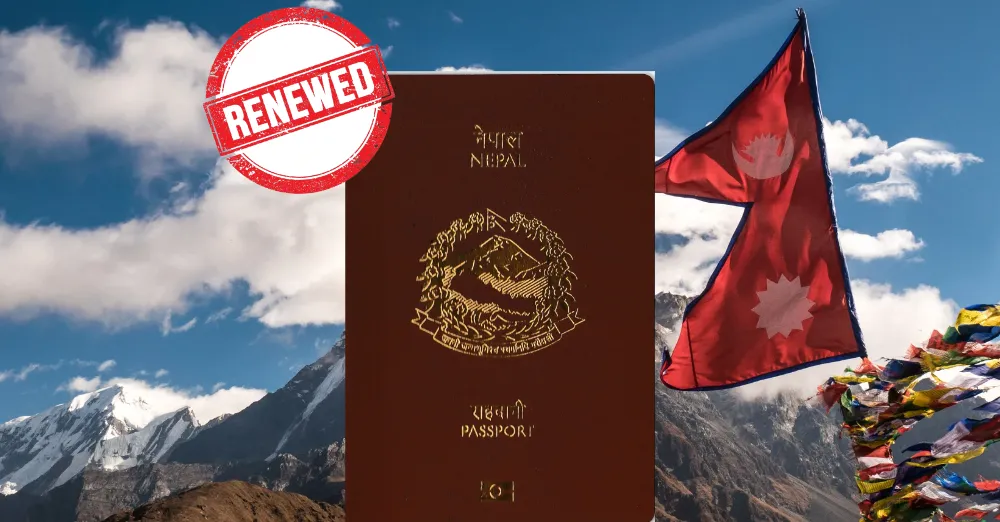 After completing the renewal application process for a new passport at the Nepal Embassy, you will need to wait for a while. You have to come back to the Embassy sometime later to collect your new passport.
Usually, a Nepali passport will be ready in about three months from the time of submission of the renewal application.
You must bring your old passport and the receipt to collect your new passport. Once you have those items, go to the passport collection counter and give the officer your old passport and receipt.
They will then give you your new passport. Keep your old passport until you receive your new one, as you cannot travel without a valid passport.
Embassy of Nepal – Abu Dhabi
Location: Plot No. 1, Villa No. 5, Sector 19-2, Al Aradah Street with Ramla Street, The Al Nahyan Area, Abu Dhabi
Contact: +971 2 634 4385 or +971 2 634 4767
Website: Embassy of Nepal
Hours: Monday to Friday (9 am – 5 pm)
Services: Visa, Passport, Attorney, Consular, and more
Related Stories
---
FAQs
Can Nepali passport be renewed in Dubai?
No, you cannot renew Nepali passport in Dubai yet. You must go all the way to the Nepal embassy in Abu Dhabi.
How long does it take to renew Nepali passport in Dubai?
The application process doesn't take much time, but it can take up to three months for the renewed passport to be released. Additionally, if you live in Dubai, you'll need to travel to Abu Dhabi for your renewal, which can take a whole day.
Final thoughts
Nepali passport renewal in Dubai seems like quite a hassle at first, but it doesn't necessarily have to be. The process can be made much smoother and less time-consuming with the correct information and by following the steps and tips in this guide.
Some key things to keep in mind are ensuring that all the necessary documents are in order, allowing enough time for the process, and being prepared for any unexpected delays. Following these simple tips can make renewing your Nepali passport a much simpler and less stressful experience.
If you run into any issues or need assistance, the embassy is always happy to help. So go ahead and renew Nepali passport in Dubai as soon as you can – it's not as difficult as you think!


Adi Abbas is a travel enthusiast based in Dubai who has explored more than 15 countries in the Middle East and South Asia. He loves discovering different cultures, trying local food, and seeking out exciting things to do. His passion for travel has taken him to many places, where he's made unforgettable memories that will stay with him forever. Adi loves documenting his trips through photography and writing about his experiences.