The process of renewing a passport can be difficult, especially if you're not located near the Philippine Consulate General. However, the Wafi Mall Passport Renewal Center makes it easy and convenient for Filipinos living in Dubai to renew their passports.
The Department of Foreign Affairs and VFS Global have partnered to open a Philippine passport renewal center (PaRc) in the Wafi Mall in Dubai. The Philippine Consulate General in Dubai is responsible for overseeing the operations of the PaRC.
To renew a passport at Wafi mall Philippine passport renewal center, fill out the online form, sign the printed form, and compile all documents without a prior appointment. Then pay AED 240 as a renewal fee and the PaRC will take your photo and biometrics. The process takes 4 to 8 weeks.
Now, let's get into the details. This Dbd guide covers the step-by-step process for renewing your Philippine e-passport at Wafi mall.
Wafi Mall Philippine passport renewal center
| | |
| --- | --- |
| Address | VFS Global, 3rd Floor of Wafi Mall, Wafi City, Dubai |
| Contact | +971 4 205 5888 |
| Operating Hours | Monday to Friday: 9 AM – 5 PM |
| Services Offered | Passport renewal, visa, and consular services |
| Passport Renewal Fees | AED 240 for each application |
| Optional Services | Premium service, Two-way courier, Form filling, Photocopy, SMS service |
Now, applicants can choose to renew their passports in VFS global at the Wafi Mall epassport renewal centre. The best part is that you don't need to make an appointment in advance.
This is a convenient option for those who may not have enough time or ability to schedule an appointment at the Consulate General. However, walk-in e-Passport applicants will be accommodated on a first-come-first-served basis. [1]Vfs Global, "Book an appointment, https://services.vfsglobal.com/are/en/phl/book-an-appointment"
VFS offers a range of additional services to make the application process smoother and easier for Filipinos in Dubai. The Premium Lounge service, for example, provides dedicated one-to-one assistance, refreshments, and form-filling assistance.
Similarly, VFS also provides a two-way courier service for renewing passports, as well as an SMS service for updates on the progress of an application. If customers find it difficult to fill in the form, VFS staff will help them through the paperwork.
Additionally, photocopying services are available to help you with your application. This will make the process easier and less stressful for you. [2]Vfs global, "Additional Services, https://services.vfsglobal.com/are/en/phl/additional-services#:~:text=Additional%20Services-,Additional%20Services,2,-Premium%20Lounge%20Fees"
How to renew Philippine passport in Wafi mall – full process
Renewing your Philippine passport can be difficult, but with the right steps, it can be made a lot easier. The Wafi mall in Dubai offers a convenient and easy way to renew your passport, and the process is outlined below.
Step 1: Fill up the passport renewal application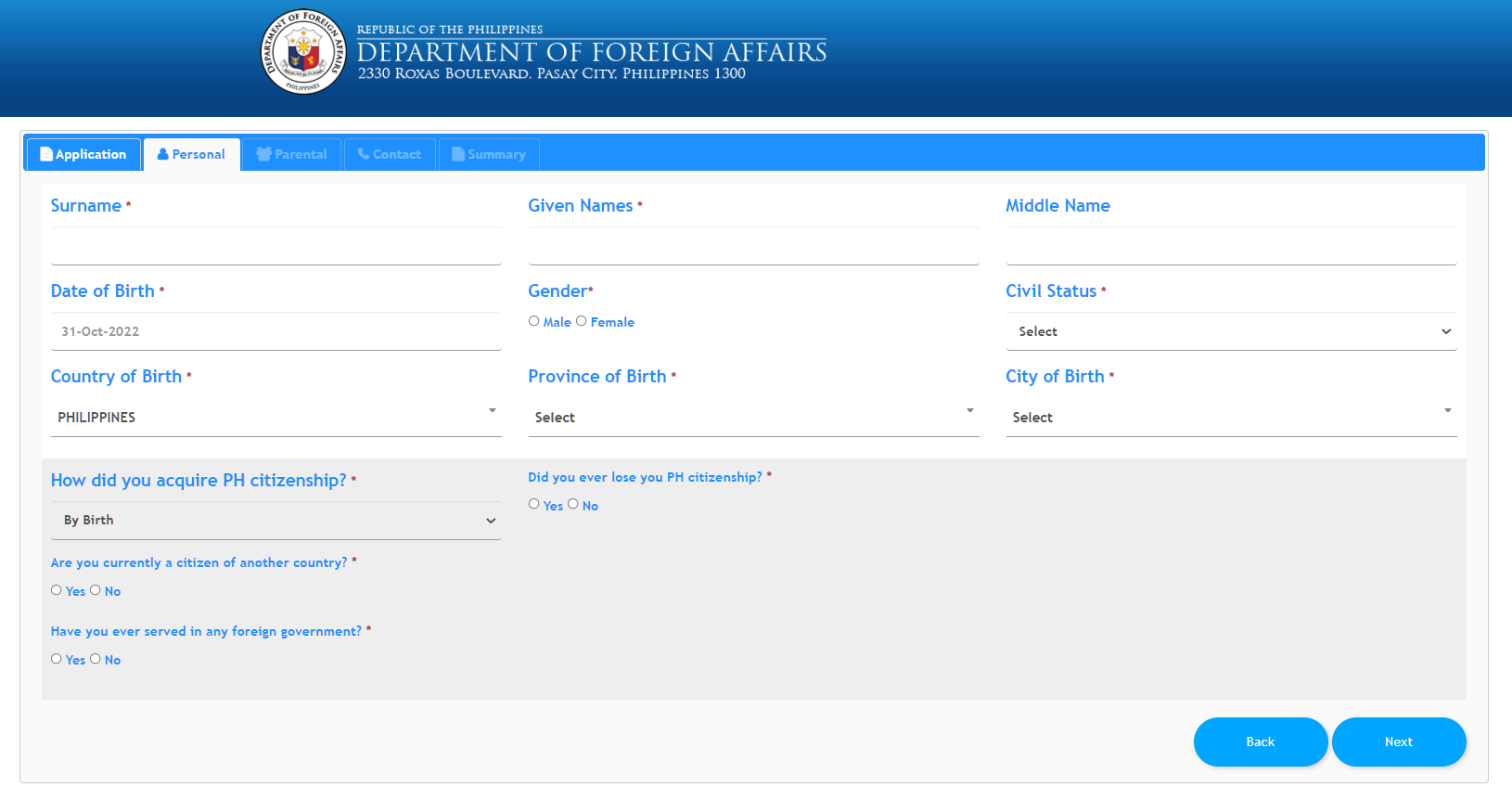 The first step in renewing your passport is to fill out the passport application online. You can find the form for free on the Department of Foreign Affairs website. [3]Department of Foreign Affairs, "Online Passport Application System, https://onlineappform.passport.gov.ph/form"
Click here to visit the webpage directly.
On the form, you will need to provide your personal information, such as your name, address, and date of birth. You will also need to provide your current passport number. So remember to keep your current passport with you to easily fill in the requested information.
Once you've double-checked that all the information is correct, submit the form. And that's it! After that, you are good to proceed to the next step.
Step 2: Printing with signature
After you have completed and reviewed your online form, the next step is to print the form. Make sure to print the form on standard-sized paper. [4]Department of Foreign Affairs, "Online Passport Application System, https://onlineappform.passport.gov.ph/"
Once you have printed the form, locate the space designated for your signature and sign your name in that space. Be very careful when you put your signature on the space. Once you have signed the form, you are ready to submit it.
Step 3: Prepare documents
After you have signed the printed application form, you need to submit that form in person. Besides that, you need to take these documents with you:
Original passport
Photocopy of your current passport
Photocopy of your Visa or UAE Residence card
You will need to submit the form and all of the required documents to complete the application process.
Step 4: Pay the necessary fees
Once you have prepared and submitted your documents, the only remaining thing to do is pay the fees. After you pay, your work is done and the office will be able to move forward with whatever steps are necessary.
Photo specification for passport renewal for adults and minors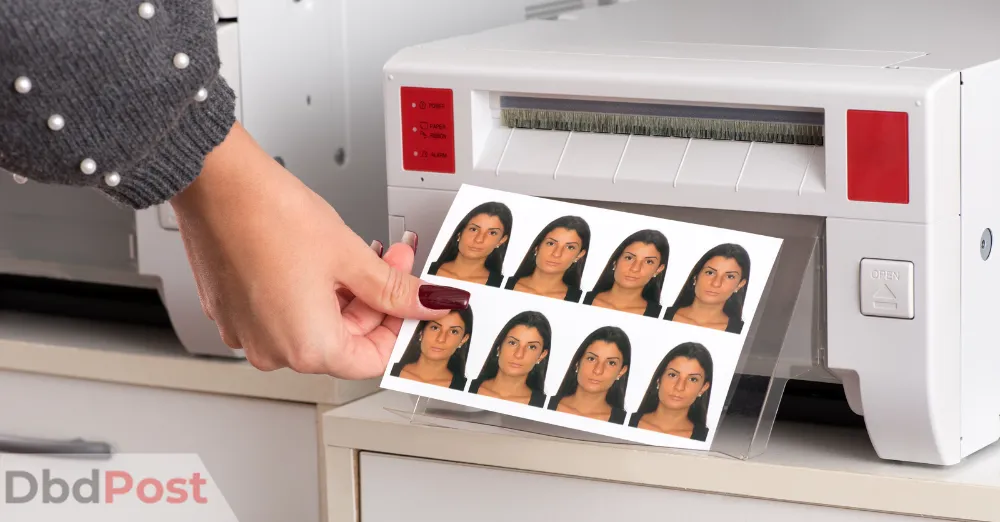 While renewing your passport at the Wafi Mall, you won't need to take any photographs with you.
The Passport Renewal Centre in the Wafi Mall will take the photo required for your passport renewal. However, you need to take off any jewelry such as earrings, necklaces, heavy make-up, eyeglasses, and contact lenses before having your photo taken.
If you are planning to walk in to renew your passport and you have sore, red eyes, then you should postpone your plan. It is better to wait until your eye condition improves before going to the Passport Renewal Centre.
Philippine e-passport renewal fee
The passport renewal fee in Wafi Mall is the same as the Philippine Consulate General. You can either pay by cash or debit/credit card.
The Philippine e-passport renewal fee at Wafi mall is AED 240. However, there are additional charges that can apply. These include a VFS service fee or convenience fee of AED 91.74 per application.
It is important to note that the renewal fee is subject to change without notice due to fluctuations in the foreign exchange rate. As a result, the total cost of renewing a passport can vary depending on the current exchange rate.
After you have paid the passport renewal fee, the staff at the PaRC will take your biometrics. This involves them taking your photo, scanning your fingerprint, and recording your signature. They will also scan all of your documents to make sure that they are valid.
Wafi mall passport renewal processing time
It is important to be aware of the passport renewal processing time in case you are planning a trip abroad, just to make sure there is plenty of time for the renewal process.
The passport renewal processing time is between 4 and 8 weeks. However, this time frame may change if any unforeseen events occur.
If you need your passport urgently, you can request expedited service for an additional fee. You can also check the status of your renewal application via SMS service or online.
If all your submitted documents are correct, there won't be any delay in the process. [5]VFS Global, "Track an application, https://services.vfsglobal.com/are/en/phl/track-application"
You can expect to receive a notification soon saying that your passport is ready. When you do get the notification, simply take your old passport and the confirmation receipt with you to the renewal center. They will hand over your new passport.
Passport Renewal for Minors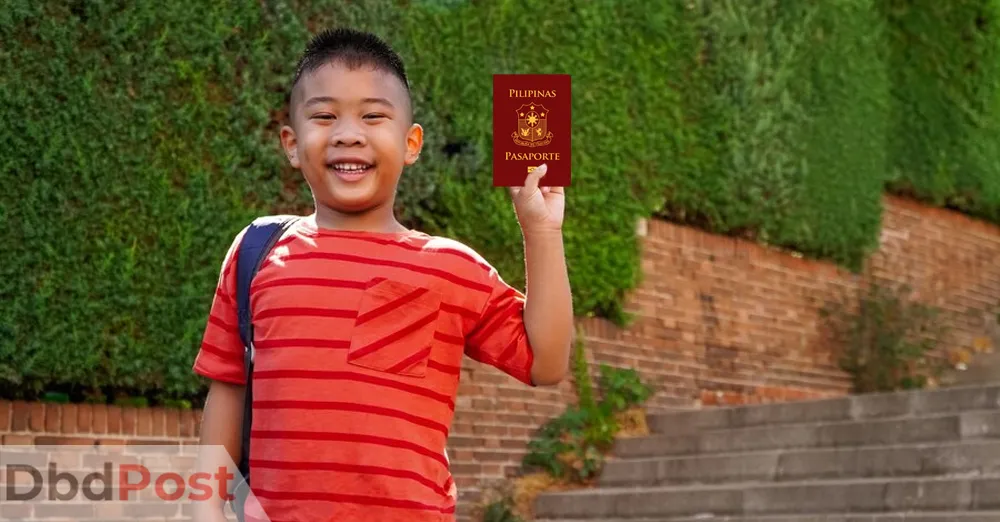 When applying for passport renewal for a minor, the online application process is the same as for an adult.
However, there are additional documents that are required in addition to the printed and signed renewal application form. The parent may need to sign the application form on behalf of the child.
Also, the minor must be accompanied by one of their parents. The parent will need to provide evidence of their relationship to the child, as well as proof of their identity.
Other documents required for the renewal of Philippine minors are as follows:
Original passport
Photocopy of original passport and visa
Copy of the child's birth certificate issued by the Philippine Statistics Authority or UAE MOH
Photocopy of both parents' passports and visas
A marriage certificate of the parents issued by the Philippine Statistics Authority, if available.
Who cannot renew their passport at Wafi Mall?
All Filipinos can renew their passports at VFS Global, Wafi Mall. However, there are some cases where applicants are not able to renew their passports at this location.
Such applicants include those who are applying for new passports, those who need to change the details in their passports, and those who have lost their passports.
These applicants will need to go to the Philippine Consulate General to renew their passports themselves. The process for each applicant may vary, but all will need to go through the department to get their new passport.
Wafi mall passport renewal center: Personal Information Safety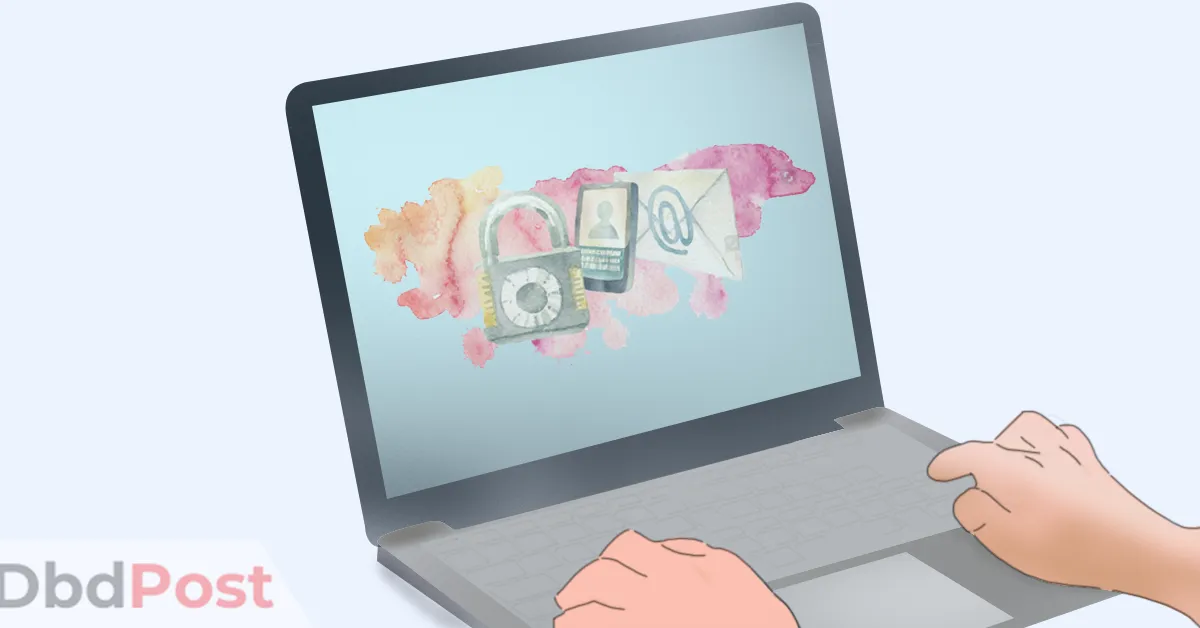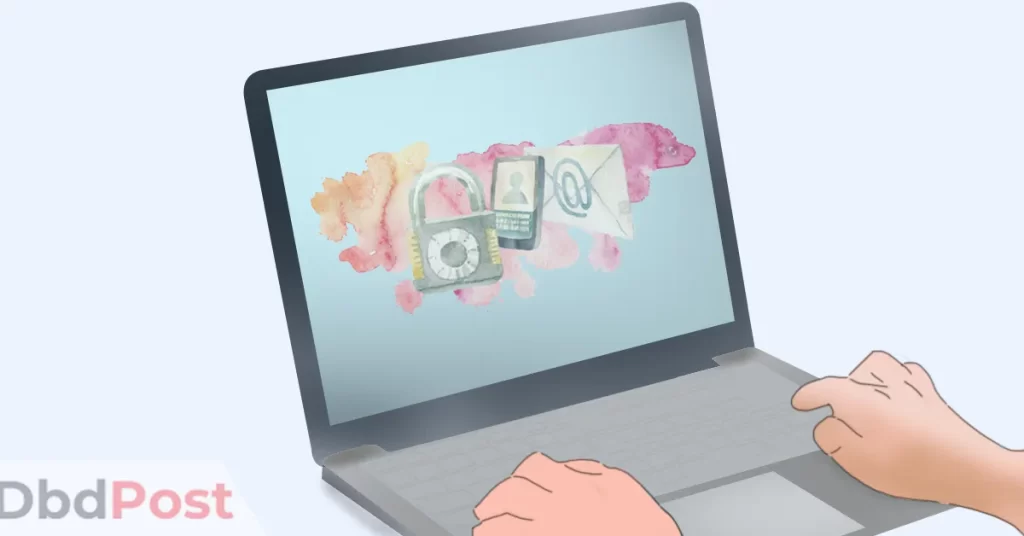 E-passport renewal at Wafi Mall is conducted by VFS global. It is a large company that offers many services, one of which is handling passport applications. As they handle such sensitive information, they have put many measures in place to ensure the privacy and safety of their clients.
They have a strict policy of only disclosing information to authorized representatives, and anyone concerned about their personal information can request a subject access request.
To further maintain privacy, VFS Global follows various authentication measures to confirm the identity of its clients before allowing access to their personal information. [6]VFS Global, "Data Privacy Rights Form, https://www.vfsglobal.com/en/general/data-privacy-rights-form.html"
Additionally, all the passport renewal procedures and operations are monitored by the Philippine Consulate General in Dubai. As a result, you can be confident that your information will be safe and protected in passport renewal at PaRC in Dubai.
Related Stories
---
FAQs
Why is PaRC charging a convenience fee?
When renewing your e-passport, the PaRC will charge a convenience fee to cover and maintain their expenses and investments in the PaRC system. The amount of the fee varies depending on the country of issuance but for the Phillippine passport renewal it is AED 91.74.
Is it necessary to bring a passport-sized photo for the application?
No, you do not need to bring a photo with you when you renew your passport. The VFS PaRc will take your photo along with your biometrics when you apply for renewal. 
Where to renew Philippine passport in Dubai?
You can renew your Philippine passport in Dubai at the Philippine passport renewal center at Wafi Mall. Alternatively, you can also renew it at the Philippine consulate at Al Qusais 3, off Al Beirut Street.
Final thoughts
Wafi Mall's epassport renewal center is now more convenient than ever before. The new updates include expanded hours and additional services like two-way courier and premium one-to-one consultation.
These changes make it easy and convenient for anyone to renew their passport, whether they are busy professionals or a stay-at-home parent. With the passport renewal in Wafi mall Dubai, there is no need to stress about renewing your passport.
Simply take advantage of the new updates and enjoy the convenience of renewing your passport from the comfort of your own home.


Adi Abbas is a travel enthusiast based in Dubai who has explored more than 15 countries in the Middle East and South Asia. He loves discovering different cultures, trying local food, and seeking out exciting things to do. His passion for travel has taken him to many places, where he's made unforgettable memories that will stay with him forever. Adi loves documenting his trips through photography and writing about his experiences.