Finding the best consultancy for Canada PR processing is essential. Luckily, there are lots of great consultancies to choose from.
Top consultants for Canada immigration provide all the services you need. They assist in application, assessment, and follow-up during your Canada PR application process. They provide a complete package to help you immigrate to Canada.
We compiled the list of consultancies by conducting a comprehensive research process. It involved evaluating various options based on essential factors such as the services offered, the level of experience, the cost, the success rate, and customer reviews.
We also sought input and insights from industry experts and gathered genuine feedback and testimonials from past users of the consultancies to provide a well-rounded and unbiased perspective. These efforts ensured that the guide was as informative and helpful as possible, with the most useful and reliable information.
15 best consultancies for Canada PR processing
Here we have listed 15 of the top Canada PR visa consultants worldwide. So, go through them and pick the one best suits your needs.
1.

Canadim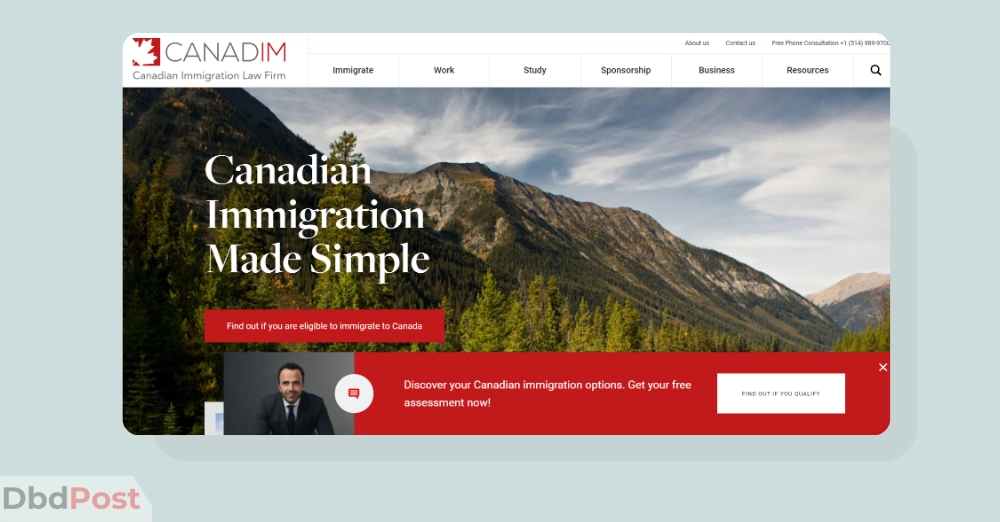 Canadim is a reputable Canadian immigration law firm based in Montreal, Quebec, that has been in business since 2001. As a full-service immigration law firm, they specialize in providing clear advice and representation for foreign nationals in their immigration applications to Canada, whether it be on a permanent or temporary basis, such as for workers, students, and visitors. [1] Canadim, About Canadim, https://www.canadim.com/about-us/#:~:text=Canadim%20is%20a,student%20or%20visitor.
One of the key differentiators of Canadim is its personalized service approach. They understand the importance of treating each case respectfully and offer one-on-one guidance to every client. This approach ensures that clients receive the individualized attention and care their case deserves.
Additionally, they offer free online assessment tools and consultations, making the process easily accessible to clients. They also offer a range of legal departments providing personalized guidance for Canada's many immigration pathways.
Canadim has built a strong reputation and credibility in the industry through its nearly 20 years of experience helping thousands of clients with their immigration process. Their accreditation by the ICCRC and membership with the BBB and CAPIC is a testament to their commitment to providing high-quality services and following strict industry standards. [2] Canadim, "Canadim Services, https://www.canadim.com/about-us/#:~:text=As%20a%20Canadian%20Immigration%20Law,Express%20Entry%20Department"
Overall, Canadim is a trusted and reliable option for those seeking Canadian immigration services, with a team of experienced professionals, a personalized service approach, and transparent pricing.
2.

Immigration.ca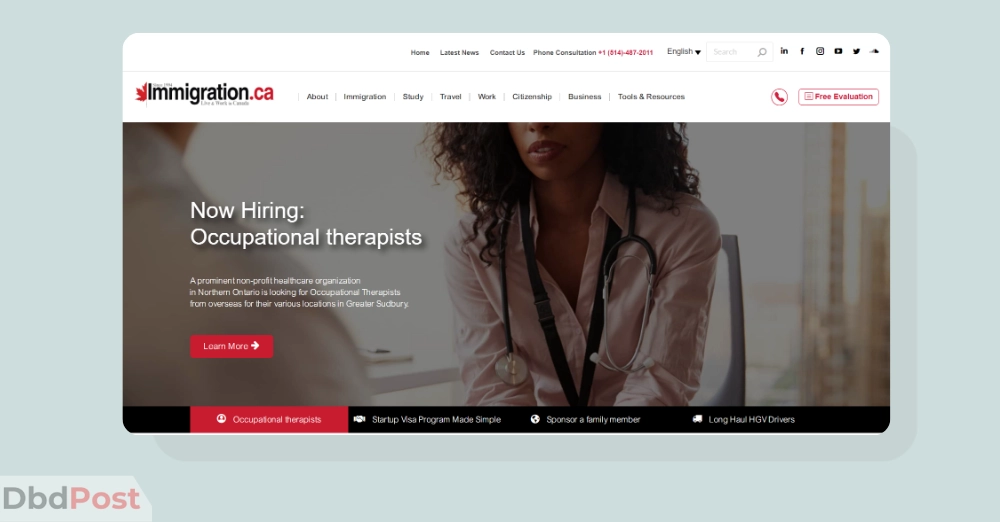 Immigration.ca has been a leading immigration consulting firm in business since 1994. The company claims a wealth of experience in representing clients in Canada and globally, with a cumulative experience of over 90 years and having successfully represented over 150,000 immigration cases. [3] Immigration CA, "About Immigration CA, https://www.immigration.ca/authorized-by-the-government-of-canada/#:~:text=If%20you%20intend,in%20immigration%20matters."
One of the strengths of Immigration.ca is its commitment to following the standard set of government processing fees established by Immigration, Refugees, and Citizenship Canada (IRCC).
They also provide information on additional costs related to language tests, educational credentials evaluations, and more on their website.
Additionally, they are licensed by the College of Immigration and Citizenship Consultants (CICC), allowing them to act as representatives under Canadian law.
Overall, this firm is a reliable and trustworthy choice for those seeking assistance with Canadian immigration.
With their extensive experience, commitment to following government guidelines, and highly qualified team, they provide a valuable service to those looking to make Canada their home.
3.

Canada Visa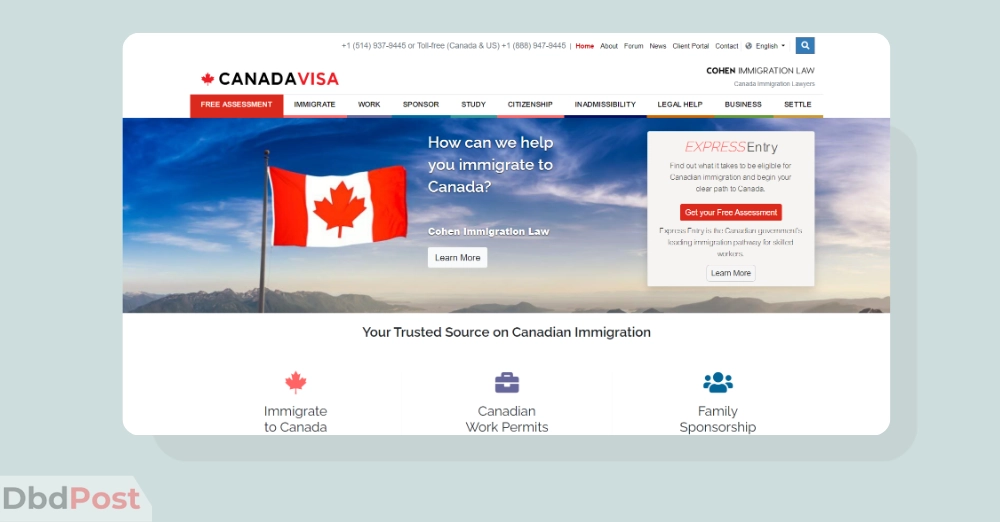 Canada Visa is an outstanding online platform that offers a wide range of resources and services for individuals looking to immigrate to Canada.
The website has been the online presence of the Cohen Immigration Law Firm since 1994. It has over 60 immigration lawyers, paralegals, and other professionals dedicated to helping individuals move to Canada. [4] Canada Visa, "Cohen Immigration Law Firm, https://www.canadavisa.com/cohen-immigration-law.html"
One of the standout features of this law firm is that it provides detailed information on the services offered by Cohen Immigration Law.
The firm has over 45 years of expertise in all areas of Canadian immigration, specializing in providing representation and advice to foreign nationals looking to obtain a Canadian visa and enter Canada on a permanent or temporary basis.
They assist clients in areas such as Express Entry, the Provincial Nominee Program (PNP), family sponsorship, work permits, study permits, Canadian citizenship, business immigration, and inadmissibility.
Furthermore, Canada Visa is recognized as a leading source of information on Canadian immigration.
The website provides the latest Canadian immigration news, a weekly newsletter, and a discussion forum, a great feature.
Overall, this firm is an excellent resource for anyone looking to immigrate to Canada and offers a wide range of services to ensure the process is as smooth and successful as possible.
4.

RightWay Canada Immigration Services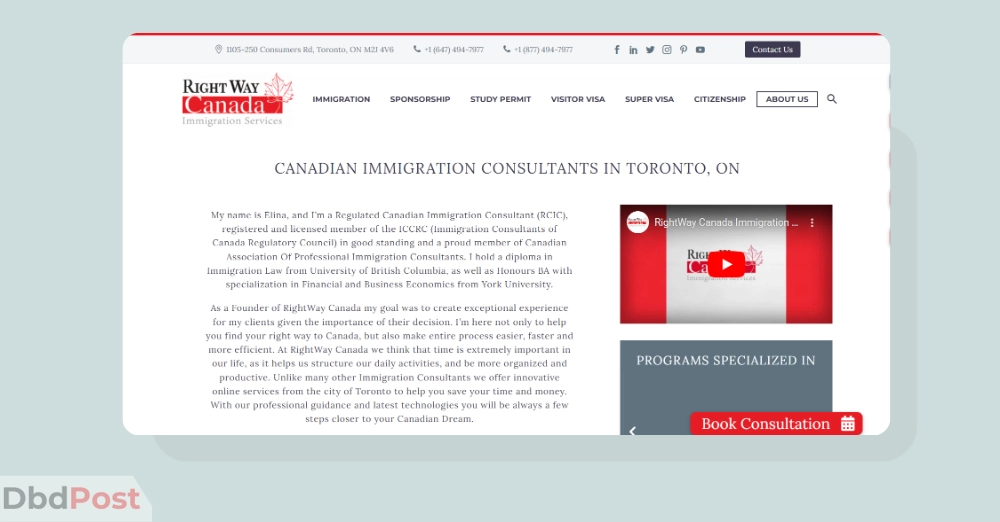 RightWay Canada Immigration Services is one of the best consultancy for Canada PR.
As registered members of the ICCRC, they follow strict industry standards and guidelines.
They are recognized as one of the top 3 immigration consultants in Toronto and have been awarded the Top Choice Award for Mark of Excellence in 2022. [5]RightWay Canada, "Awards, https://rightwaycanada.com/#:~:text=Google%20Rating,on%2021%20reviews"
RightWay values privacy and transparency, with a secure client portal and transparent pricing.
Additionally, they have established partnerships with reputable organizations such as IELTS, CELPIP, and ApplyBoard, demonstrating their commitment to providing high-quality services. [6]RightWay, "Partners, https://rightwaycanada.com/book-consultation/#:~:text=THAN%20ONE%20APPLICATION%3F-,OUR%20PARTNERS,-CONTACT%20US"
They offer a variety of packages to choose from, including initial consultations, document reviews, and more. They have a one-time free re-submission policy in the event of a rejection.
Furthermore, returning customers can take advantage of up to 50% off their consultations.
5.

ImmigCanada Immigration Consulting Firm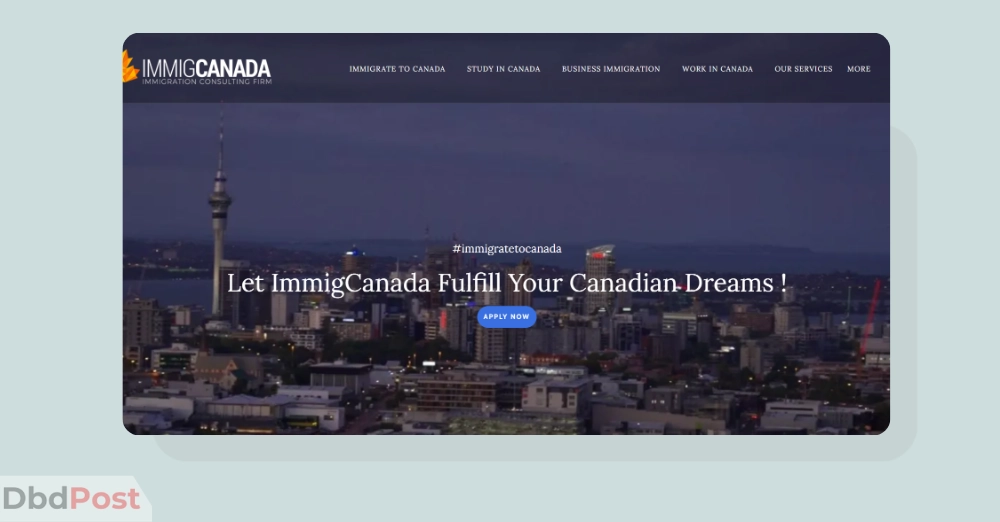 ImmigCanada is an excellent choice if you want help with your immigration visa, as they have the top Canada immigration consultants.
This firm is led by Ms. Eivy Joy Quito, a member of ICCRC, and provides services for students and immigrants.
The firm's immigration services comprise three phases immigration setup, evaluation, and submission. [7]ImmigCanda, "ImmigCanada services, https://immigcanada.com/our-services/https://immigcanada.com/our-services/"
Their online process includes application, assessment, and consultation with experts.
They also provide an Express Entry program and sponsorship visa processing. Not only that, but all their Canada PR consultant is RCICs registered. Furthermore, the firm also offers online consultations.
6.

Canadian Immigration Experts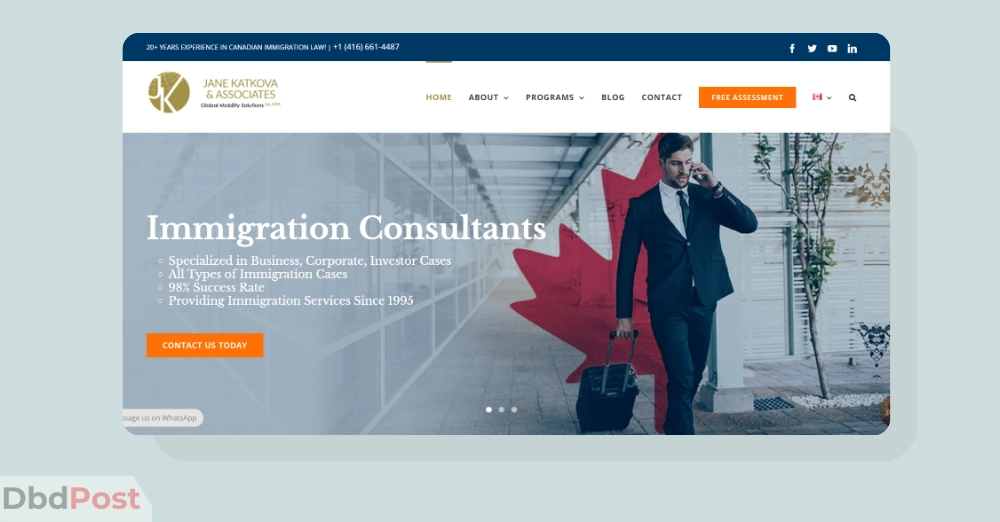 Canadian Immigration Experts is a reputable and experienced consultancy that has been providing quality immigration services to clients since 1995. They offer a wide range of services, including high-quality advice, counsel, and advocacy for private clients and businesses.
Moreover, they specialize in Startup visa Canada for entrepreneurs, rated as one of their top services. They have a team of experienced experts around the globe dedicated to helping clients secure their valid Canadian visas.
Additionally, they offer free assessments in various languages such as Chinese, Russian, Arabic, and more, making it easier for clients to understand the process and navigate their options.
7.

Canadian Immigration Solutions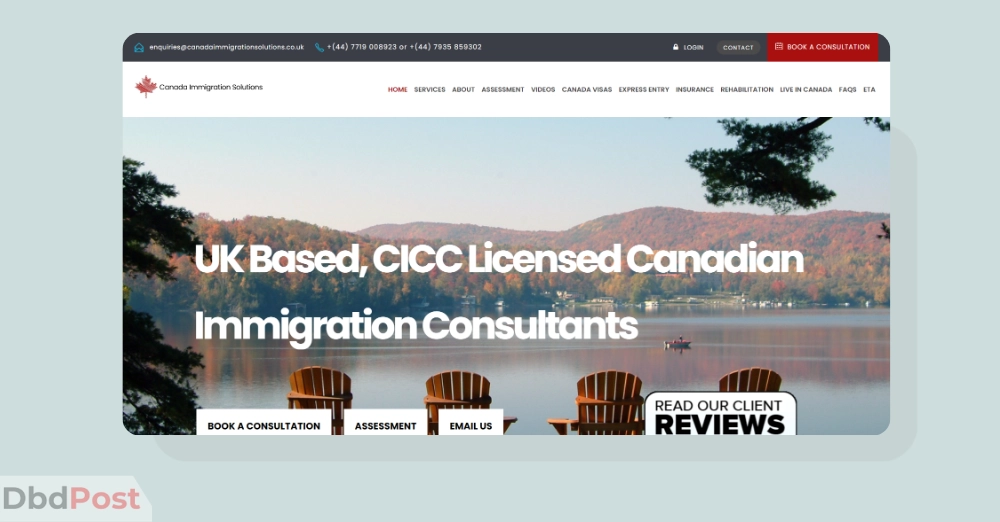 This UK-based Canadian Immigration Company can help make your dreams a reality, it provides top consultants for Canada immigration.
They offer a pre-consultation assessment and personal consultation for applicants. Plus, they are regulated and authorized in Canada by the CICC.
Also, they have a team of RCICs with whom you can speak directly. [8]CIS, "Home, https://canadaimmigrationsolutions.com/#:~:text=We%20are%20CICC,help%20you%20succeed."
You can choose from many top destinations to move to, like Toronto, Vancouver, Halifax, and more. They will check everything to ensure your move is quick, easy, and without problems.
On top of that, they offer free extensive relocation and settlement services. And the best part is they're open seven days a week to provide the best Canadian immigration service.
8.

Worldwide Immigration Consultancy Services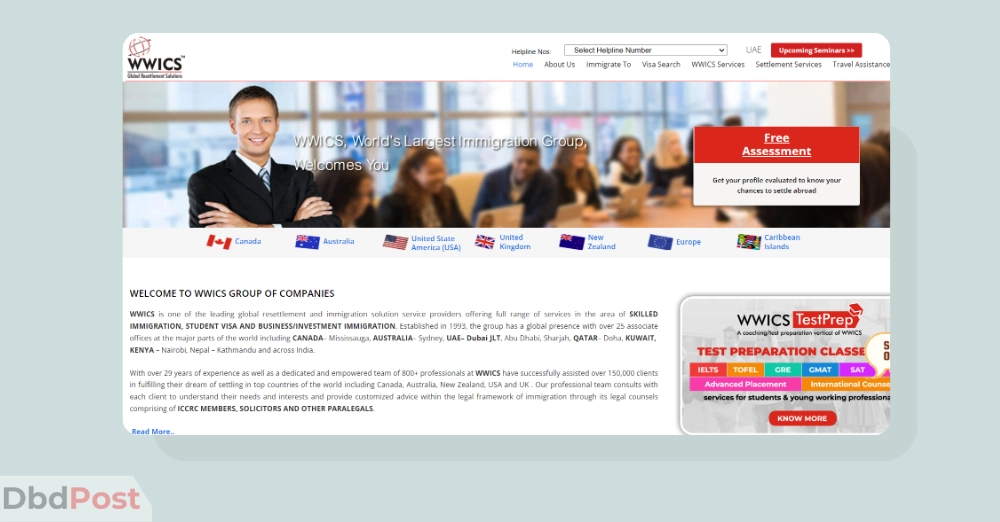 Worldwide Immigration Consultancy Services is a well-established company that has been providing resettlement and immigration solutions since 1993.
With 25 associate offices in major cities worldwide, they have established themselves as one of the leading global providers of immigration services. [9]WWICS, "About WWICS, https://wwicsgroup.com/about-us/#:~:text=WWICS%20offers%20a,of%20global%20citizens."
This company is known for their quality customer service and ability to make the Canada immigration process effortless for clients.
They specialize in handling applications for immigrants, student visa holders, and businesses or investments.
Besides, they also have a team of licensed practitioners, lawyers, ICCRC members, financial advisors, and investment consulting entity are ready to provide expert advice on any immigration queries.
9.

OSI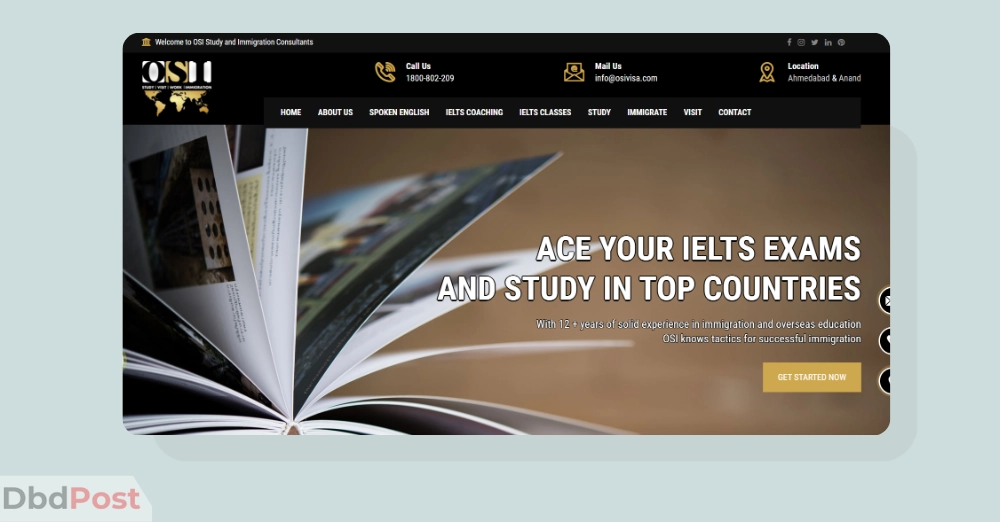 OSI offers a smooth, stress-free processing experience for applying for a Canadian visa.
The team of ICCRC lawyers are known for their expertise in PR processing. With more than 12 years of experience, they boast an impressive success rate. As of now, they have successfully approved over 5000 successful visas..[10]OSI, "Achievements, https://www.osivisa.com/#:~:text=APPLY%20NOW-,ACHIEVEMENTS,-13″
Their services range from PR processing to student visas and English language training. Whether you are trying to get into Canada for work or study, or PR, OSI has your back.
10.

Green Light Canada Immigration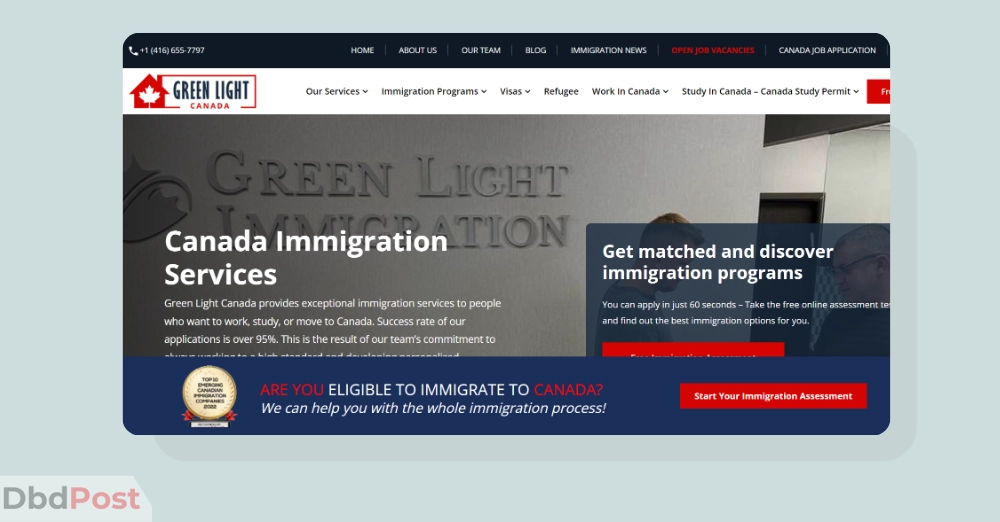 Green Light Canada Immigration is a consultancy firm founded by individuals who understand immigrant challenges.
They strive to provide the best possible help and support to other immigrants during their application process.
The consultants at Green Light Canada Immigration are knowledgeable and helpful and will use their expertise to assist you with your case.
Their mission is to ensure that all clients receive high-quality service standards in immigration law.
They have a team of experts with a proven track record of success in immigration.
Likewise, they are dedicated to following all legal and procedural requirements for each case using the latest technology. As they provide some of the top Canada immigration consultants.
Additionally, they offer a free online assessment tool to help applicants understand the process and navigate their options.
11.

Y-Axis – Best consultancy for Canada PR in India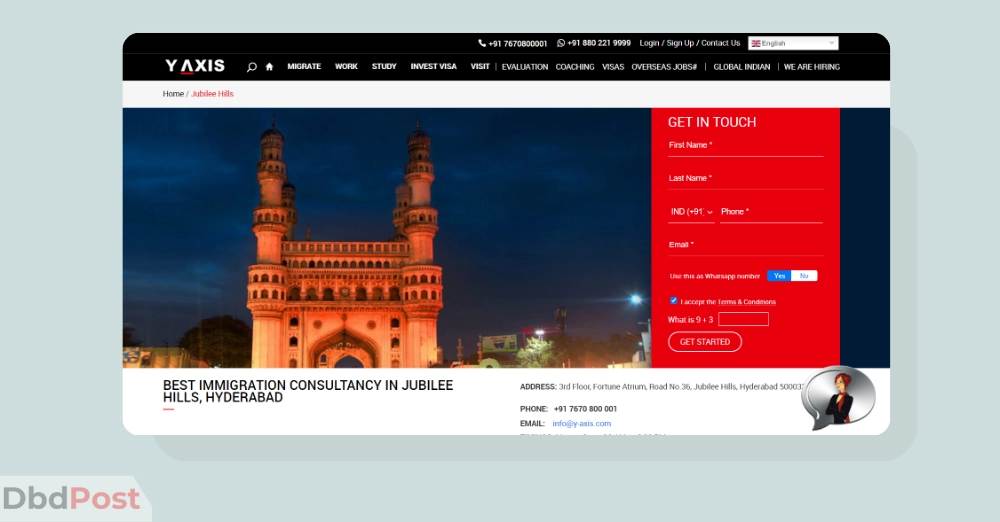 Y-Axis Canada Immigration is a highly reputable and successful consultancy in India specializing in Canadian Permanent Residency (PR) applications.
They have an experienced team of specialists and career counselors in Hyderabad who have been providing immigration services for over a decade.
Y-Axis has a proven track record of helping millions of people with their visa and immigration applications.
They are experts in processing visas and immigration and offer a wide range of services. [11] Y-Axis, "Canada Immigration, https://www.y-axis.com/migrate/canada/"
If you're considering applying for Canadian PR, it's worth checking out Y-Axis Canada Immigration.
They also provide free counseling sessions to help you get all the information you need to make an informed decision.
12.

Rao Consultants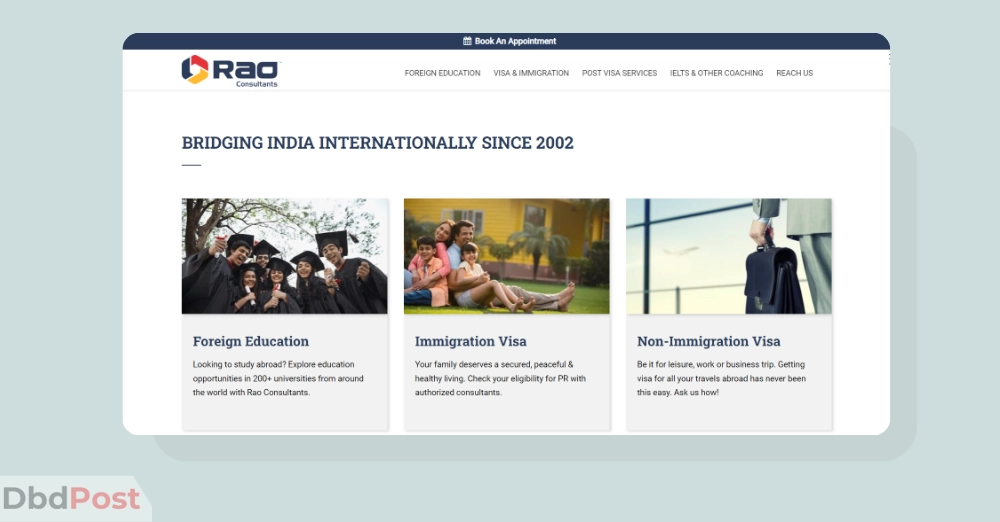 Rao Consultants is an experienced and reputable consultancy firm providing foreign immigration services since 2002.
For immigration, they are one of the best consultancy for Canada PR in India. This consultancy have a strong network of associates worldwide and have built a team of expert professionals.
Furthermore, they have an ample office space of 17,000 square feet in the University Area of Ahmedabad.
Rao Consultants offer various services, such as foreign education from over 200 reputed universities, immigration visas, work permits, IELTS coaching, and more. Furthermore, they have received recognition for their excellent services, winning several awards, such as India Leadership Award for Best Foreign Education Consultant in 2014.
Besides, they also won the Indian Achievers Award in 2010 from the Citizens Integration Peace Society and Best Counselling Award, presented at the Divya Bhaskar Education Expo 2008.[12]Rao Consultants, "Awards, https://www.raoconsultants.com/awards-accreditations/"
13.

Future Link Consultants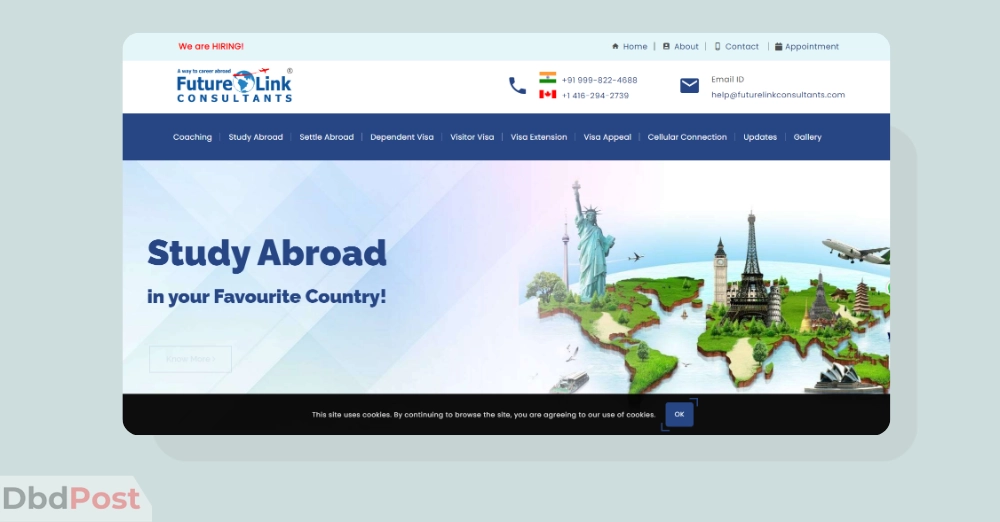 Future Link Consultants is a reputable consultancy firm specializing in immigration, overseas education, visa services, and more.
They have over 20 years of experience helping individuals and families move to countries such as Canada, the UK, and the USA. [13]Future Link Consultants, "Awards, https://futurelinkconsultants.com/gallery-2/#:~:text=Education%20Expo%202017-,Awards,-Best%20immigration%20consultants"
Their commitment to providing high-quality service has earned them several awards and recognition.
Besides, they have been awarded as the 'Best Immigration Consultants Service in Gujarat' and are also recognized as a 'Trusted Partner in Student Recruitment' by Sheridan International Center.
If you seek guidance and assistance with your visa and immigration-related needs, you can trust Future Link Consultants to provide you with the most knowledgeable support as they provide top Canada immigration consultants.
14.

Sky Immigration Consultancy Services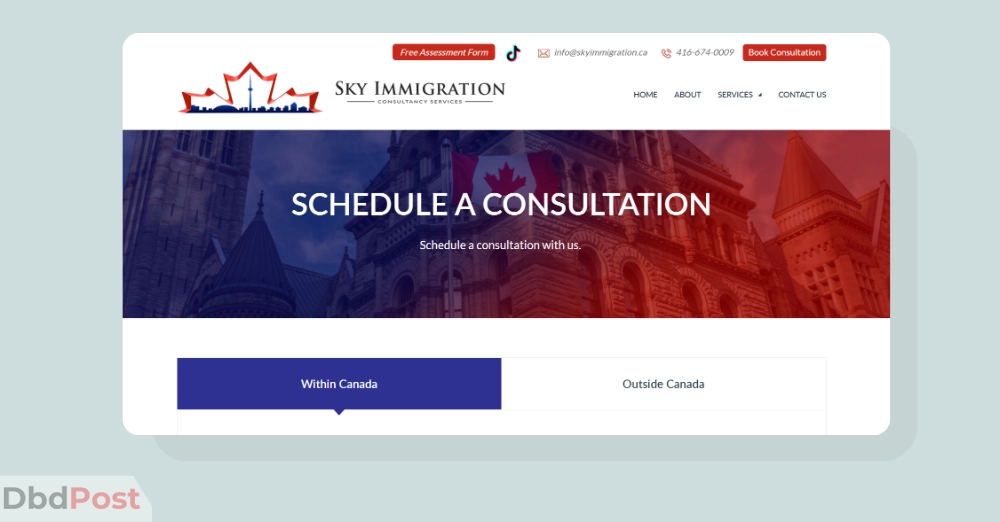 Sky Immigration Consultancy Services provides all the immigration services you need.
They have expert immigration consultants who are well-trained to deal with CIC, CBSA, and IRB. [14]Sky Immigration, "About Sky Immigration, https://www.skyimmigration.ca/about-us/#:~:text=%E2%80%9CYour%20Dream%20Our,affidavits%20act%20(Immigration"
Furthermore, their expert team builds and prepares a detailed case for submission. Some offered services include Study Permits, Start-up visas, Supervisas, and Visitor Visas. In addition, they provide top consultants for Canada immigration and customer support throughout the process for your ease.
15.

Fly High Abroad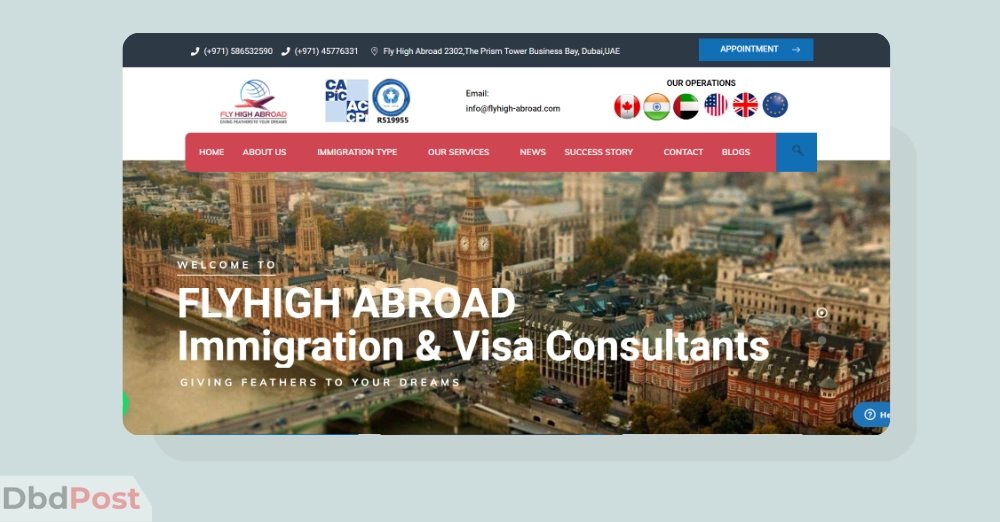 Fly High Abroad is a reputable immigration consultancy firm based in Dubai, UAE, providing professional advice and assistance for over a decade.
They specialize in helping individuals and families immigrate to various countries such as Canada, Australia, New Zealand, the UK, the US, and European countries. [15]Fly High, "Home, https://www.flyhigh-abroad.com/#:~:text=Best%20Immigration%20Consultants,IMMIGRATION%20TO%20USA"
To make the immigration process as convenient as possible for their clients, Fly High Abroad has offices in Dubai, India, and Canada.
Similarly, they have a team of experts who are well-versed in the immigration laws and regulations of these countries, particularly in Canadian immigration. They also employ Registered Migration Agents (RMAs) to ensure the best results for their clients.
Factors to consider when choosing a consultancy
When deciding the best consultancy for Canada PR processing, there are always some crucial factors to consider. Here is a more detailed explanation of each of the key considerations:
Accreditations and memberships
When considering an immigration consultant, it's important to check for their accreditations and memberships as it can indicate their credibility and expertise.
One important accreditation to look for is CAPIC membership, as it ensures that the consultancy is up-to-date on the Canadian regulatory council and follows the standards of the Canadian Association of Professional Immigration Consultants. [16]Government of Canada, "Accreditations, https://www.canada.ca/en/services/immigration-citizenship/search.html?q=Accreditations+&wb-srch-sub="
Additionally, it's also essential to consider firms that have registered Regulated Canadian Immigration Consultant (RCIC) counselors as they are regulated by the Immigration Consultants of Canada Regulatory Council (ICCRC) and are held to a high standard of professionalism.
Services offered
It's essential to look into the services they offer during the application process.
This includes determining your eligibility, guiding you through the application process, and providing support.
It's also helpful to check if they deal with different types of permanent residence visas like the Federal Skilled Worker Program or the Provincial Nominee Program. They should also assess your qualifications and experience and proofread your application before submitting it.
Make sure to choose a consultant that provides additional services like CV preparation, interview preparation, QA sessions, and tips. These will help ensure that you are well-prepared for the entire process.
Success rate and experience
Two important factors are success rate and experience. You want to ensure that you are in good hands. Knowing the success rate of the consultancy you're considering is essential. Also, it'll indicate their expertise.
Another key factor is experience; ask questions about how long they have been doing this work. Also, ask about the consultants, qualifications, and certifications they offer for their services. That way, you can choose the best Canada immigration consultants.
Customer reviews and testimonials
Customer reviews and testimonials can provide valuable insights into the company's track record. Read up on other people's experiences with the Canada PR agency. First-hand accounts like these are invaluable and can be a difference.
With so many consultancies, choose one that offers the best service. Be sure to find out what other customers say about how long their application process took. Don't forget to look for any extra or hidden fees in the process.
Cost of services
It is important to ensure that the cost of services is reasonable and transparent.
Make sure the cost of the service is within your budget before committing.
Ask about any extra or hidden fees and compare it with the official price set by the Canadian government for Permanent Residency, which is 515 CAD. It's also helpful to read customer reviews or ask others who have used the consultancy for feedback. [17]Government of Canada, "Fees, https://www.cic.gc.ca/english/information/fees/fees.asp#permanent:~:text=permanent%20residence%20fee-,Fees,%24CAN,-Right%20of%20permanent "
Responsiveness and professionalism
The consultancy's responsiveness and professionalism can impact the effectiveness of its service. You want to work with a firm that can respond promptly to questions.
Additionally, look out for consultants with great attitudes toward their clients. Working with a good customer care team will result in a pleasant experience during the process.
Things to watch out for when choosing a consultancy
Deciding to use a consultancy for Canadian Permanent Resident (PR) is a big step. It's important to make sure you choose the right one to ensure your application process goes smoothly. Before signing up, there are some things you should watch out for.
Upfront payment
One thing to look out for is if they ask you to pay upfront. We advise you to stay away from agents who demand advance payment. It is best practice always to pay only after the result of visa processing.
Personal information without secured communication
If you're looking for a consultancy, there are certain aspects to be aware of. Firstly, find out how they secure client data and communication. Choosing any consultancy that deals with personal data without proper security is risky. There's no excuse for not having cybersecurity systems in these modern times.
Unclear or unrealistic promises
When choosing an immigration consultant, verifying their promises are clear and realistic is essential. Ask them to explain any details or jargon that you may not understand so you can make an informed decision.
Be aware of all the services they offer, and be wary of anything that seems too good to be true. Doing your research before deciding can help you choose the best consultancy for your Canadian Permanent Residency application.
High-pressure sales tactics
When choosing an immigration consultant, be mindful of any high-pressure sales tactics used by the consultants. Some may try to rush you into deciding or use persuasive language to make you feel like you need their services. They may even claim that the opportunity they're offering is a one-time opportunity that you shouldn't miss.
However, remember that it's okay to take your time and make a decision that is best for you, don't let anyone rush or pressure you into deciding without proper consideration.
Research methodology
Before selecting the best consultancy for Canada PR processing, we did comprehensive background research. This research aims to identify the top consultancies for Canada Permanent Residency (PR) processing. The study was conducted in two phases.
Phase 1: Data collection
A list of immigration consultancies was compiled by searching through various online platforms such as Google and immigration forums.
We collected information such as services offered, length of operation, team members, cost of services, and customer reviews from the consultancies' websites and online reviews.
Similarly, our team contacted various industry experts to gather additional information and insights on the consultancies.
Phase 2: Data analysis and selection
The collected data was analyzed and compared based on the following criteria:
Services offered: The range of services provided by the consultancy related explicitly to PR processing.
Level of experience: The length of time the consultancy has been in operation and the level of expertise of their team members.
Cost: The cost of the consultancy's services and whether it is transparent and reasonable.
Success rate: The consultancy's track record of successful PR applications.
Customer reviews: Feedback and testimonials from past clients.
Related Info
---
FAQs
Final thoughts
When selecting the best consultancy for Canada PR application, conduct an in-depth. Choosing the best Canada PR consultancy is vital for a successful immigration application.
Make sure to do an in-depth review of all the choices available so that you can select the best one for you.
Look for a Canada PR consultancy with expertise and a good reputation.
Moreover, ensure the Canadian government authorizes the consultancy to process your application. All this will give you peace of mind and make your application more likely to succeed.
We hope this Dbd guide on top Canada immigration consultants was helpful. Share with your friends and family who may be considering moving to Canada to assist them in the process.