If you want to drive public or private vehicles in Ajman, you need to learn to drive and get a driving license from the best driving schools in Ajman.
Al Themar, Qeyadah, Emirates, Civil Academy, Shabwa Motors, and Hussain Driving Institutes are the best driving schools near Abu Dhabi. While each of these schools has unique advantages, they all provide the skills and knowledge you need to pass your driving test.
This article covers all the list of driving schools in Ajman. Similarly, we will show you all the documents needed for a driving license and explain the exact process of getting a driving license in Ajman.
Process of getting a driving license in Ajman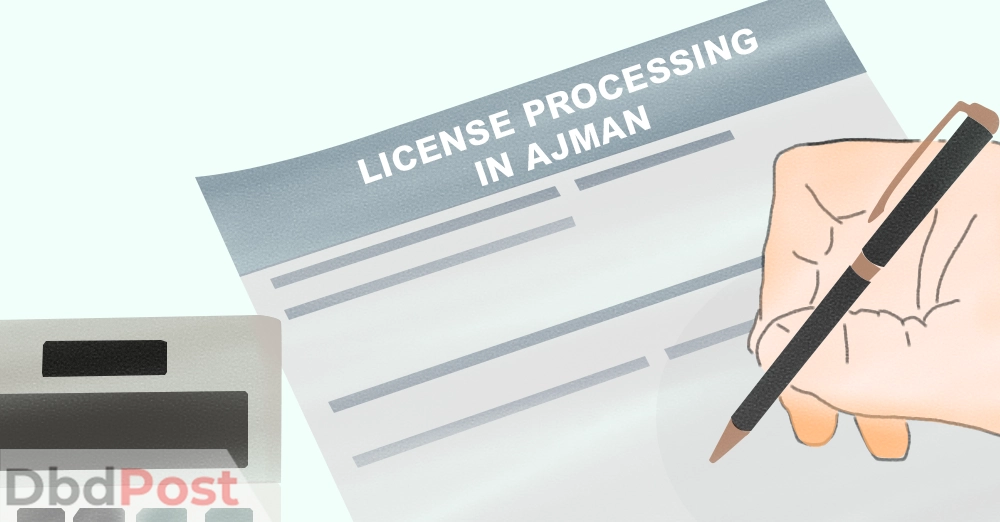 To get a driving license in Ajman, you must follow some processes and rules. There are different requirements for obtaining a driving license for cars, motorcycles, and heavy vehicles.
You must be 17 years old for a motorcycle license, 18 years for a car, and 21 years for a heavy vehicle. Likewise, you will need to open a file with the traffic department of the Ministry of Interior and submit all the required documents and fees.
Then, you must test your eyes and submit your eye test report. After that, attend all the theory classes on driving and take theory tests. Finally, you must finish your practical classes and do the internal assessment test well.
The final test is a road test, and if you pass the road test, you will be issued a driving license. Moreover, you can obtain a driving license after completing the eligibility requirements and processes and passing the test.
6 best driving schools in Ajman
1.

Al Themar Driving School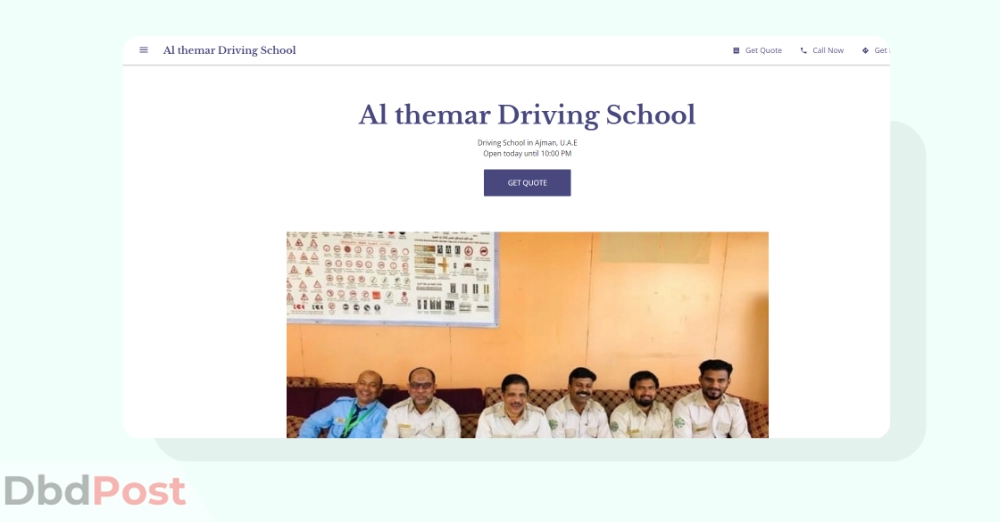 Al Themar driving school is a premier driving institution located in Ajman. The school is opposite Rashidiya Park, making it highly accessible for ladies and children. It operates from 8:30 AM to 10 PM daily, providing students ample opportunity to attend classes.
According to many reviews, the instructors at Al Themar are some of the most experienced and well-behaved in the country. They frequently encourage and motivate their students, which has resulted in a high success rate. Whether you're a beginner or an experienced driver, Al Themar driving school is an excellent choice for those looking to improve their skills behind the wheel.
2.

Qeyadah Driving Solutions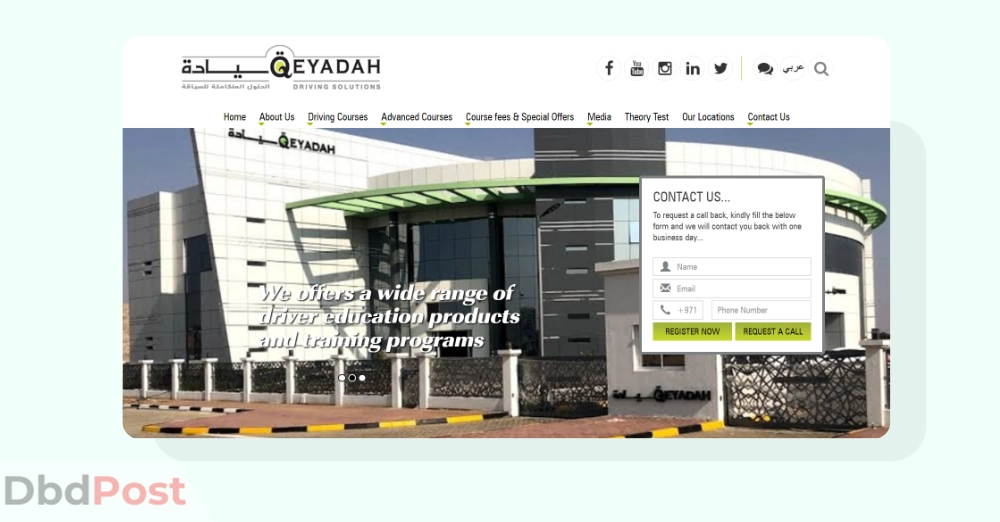 Qeyadah Driving Solutions is one of the best driving schools in Ajman as it comprehensively understands all driving procedures, instructions, and things to avoid while driving. Likewise QDS has many affiliations in Belhasa, Sharjah driving institute, and Emirates driving institutes and has Bureau Veritas ISO certification.
Similarly, the instructors make the learning environment comfortable, and the diverse shared nationalities make it possible to teach and lecture students in their native language. The criteria for QDS are defined at an international level, and they constantly update their driving instruction methods to incorporate the newest driving strategies.
Moreover, with QDS, students can be assured that they receive the best possible driving instruction available.
3.

Emirates Driving Institute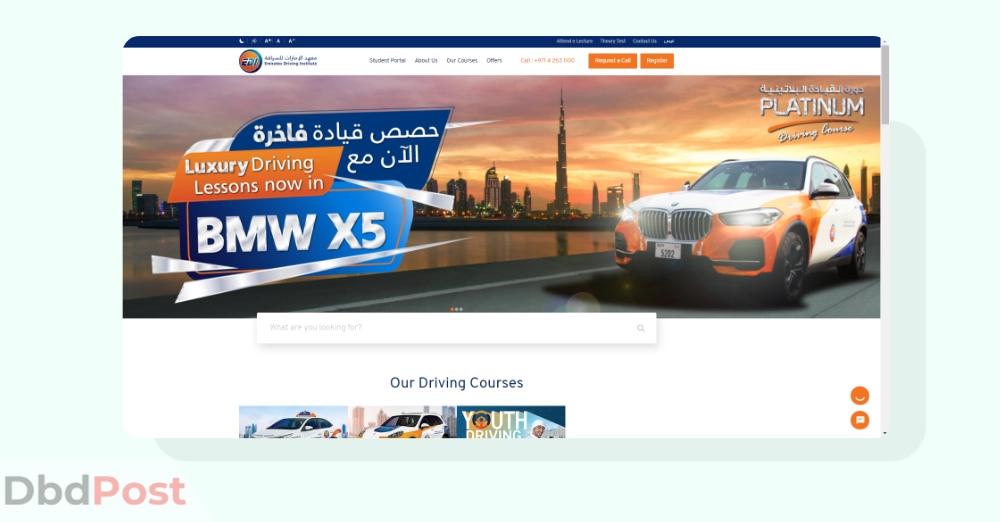 Emirates Driving Institute has been in operation since 1991, making it one of the most experienced driving institutes in the UAE. With over 20 years of experience, the institute offers driver's license acquisition courses in many vehicles, such as buses, cars, and trucks. [1]Emirates Driving Institute, "About Us, https://edi-uae.com/en/about-us/#:~:text=Emirates%20Driving%20Institute,them%20to%20learn"
In addition, the institute offers instructors from many different countries, so students can learn from those who best understand their needs.
Moreover, the institute also provides courses such as Car Driving, Platinum Driving, and Youth Driving courses which provide driving lessons on standard cars and luxury cars and lessons for youth people for a particular age group. These courses aim to provide the skills and knowledge necessary to obtain a driver's license safely and efficiently.
4.

Civil Academy of Driving and Safety Training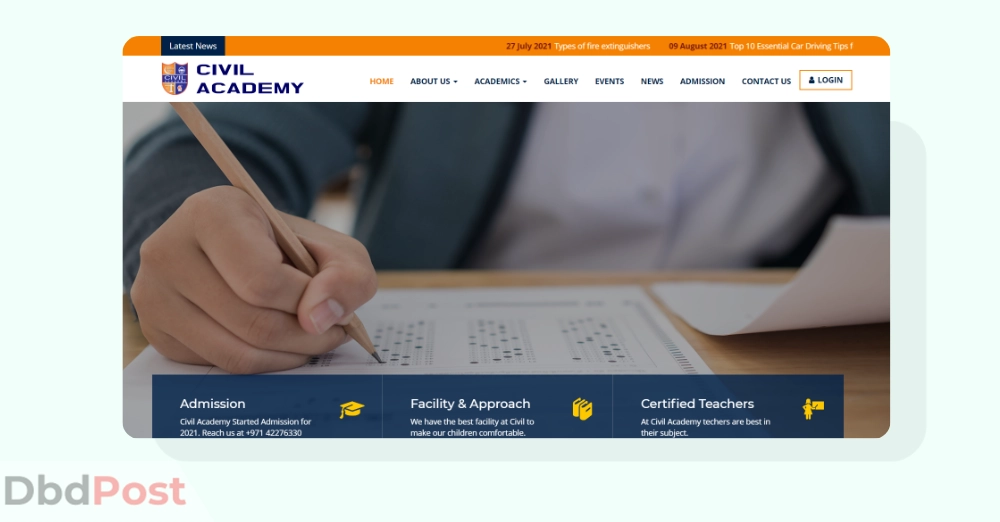 The Civil Academy of Driving and Safety Training is a quality driver education provider in the city that offers courses suited to different needs and experience levels. The institute is affiliated with the Civil Institute Group and has been approved by RTA to offer Advanced and Occupational Drivers Training Programs.
For instance, beginners can take the introductory course to learn the basics of driving, while more experienced drivers can take the advanced course to hone their skills. In addition, the academy also offers a defensive driving course for those who want to reduce their risk of accidents.
Similarly, you can get various services such as Basic, Basic Plus, Smart, and Smart Plus. With its wide range of courses offered and experienced instructors, the Civil Academy of Driving and Safety Training is the perfect place to brush up on your driving skills or learn them from scratch.
5.

Hussain Driving Institute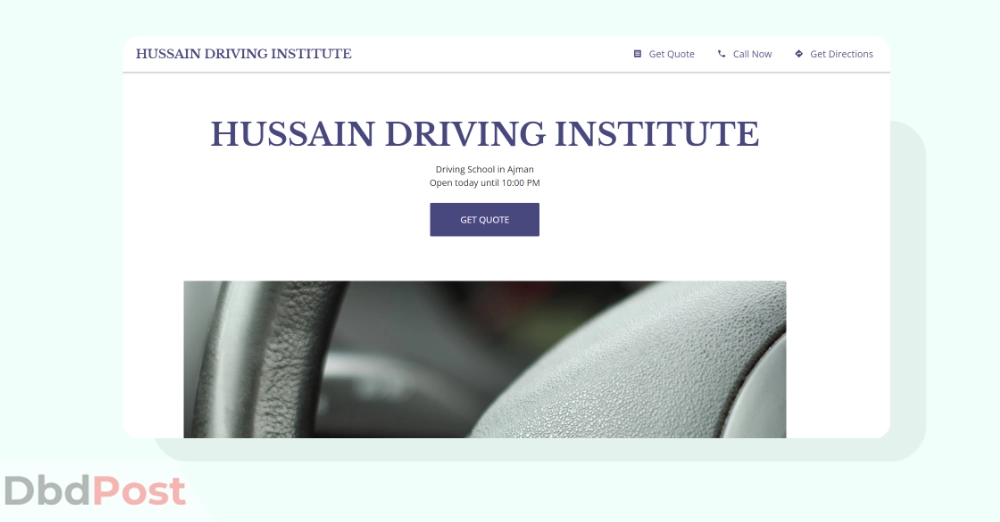 Hussain Driving Institute is one of the best driving schools in Ajman. They offer a comprehensive course for the beginner and the license holder. Their excellent customer review and established reputation as a good driving school make them a top choice for quality instruction.
In addition to offering a comprehensive course, Hussain Driving Institute provides a quick and easy way to get a course quotation from their official website. Provide your name, contact information, and email address, and let them know what you're looking for from their service. Within moments, you'll receive a detailed quote outlining the cost of the course and what it includes. Whether you're a beginner or an experienced driver, Hussain Driving Institute is sure to have a course that meets your needs.
6.

Shabwa Motors Driving School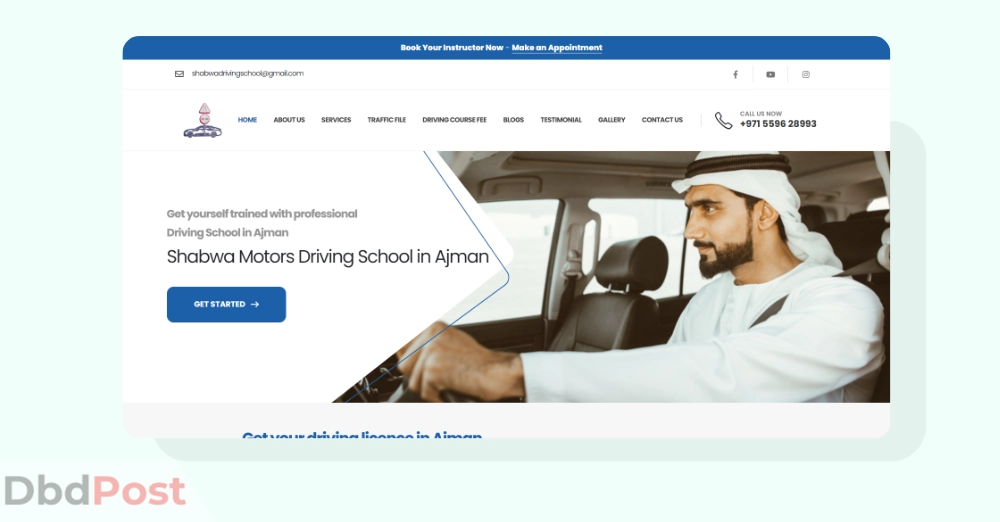 Shabwa Motors driving school is a premium driving school launched a decade ago to create safe and confident drivers in Ajman. They offer their students high-quality driving instruction and methodologies, teaching them how to navigate the streets confidently.
Likewise, they offer courses like adult lean lessons to boost driving confidence, private lessons to brush up on specific skills, and teen classes to give teenagers the fundamentals of safe driving. They have various sets of price packages for their driving classes, depending on the length and type of course. For example, an ordinary course for four months costs AED 4960, while a license holder course costs AED 4710 for two months. Their VIP course, which is a one-month course, costs AED 5300. [2] Shabwa Driving School, Car Driving Course Fee Structure, https://shabwadrivingschool.com/#:~:text=Car%20Driving%20License%20Course%20FEE%20Structure"
Besides the driving course, they also provide all the help for opening a traffic file and compile all the required documents. And to enroll in their course requires a photo of your passport size, a visa copy for ex-pats, and an original Emirates ID.
Documents required for driving license registration in Ajman
In order to obtain a driving license in Ajman, you will need to submit a few documents. First, you'll need a copy of your passport. This is to prove your identity and citizenship. You'll also need a copy of your legal visa residence card. This shows that you have the right to live and work in Ajman.
In addition, you'll need an original copy of your Emirates ID card. This is to show that you are a resident of Ajman. Finally, you'll need two passport-size photos and eye test photos. These are to ensure that you meet the physical requirements for driving. Once you have these documents, you can apply for a driving license in Ajman.
Related Info
---
FAQs on driving schools in Ajman
Which is the best driving school in Ajman?
The best driving school in Ajman are Al Themar driving school and Shabwa Motors driving school, which provides quality driving lessons and help in applying for a driving license.
How much does it cost to learn to drive in Ajman?
In Ajman, the cost of learning to drive varies depending on a few factors. For a regular car, the cost is around 1,500 dirhams. However, if you wish to obtain a commercial license, the cost increases to around 4,000 dirhams.
Which documents are needed to open driving schools in Ajman?
If you want to start a driving school in Ajman, you will need some documents. You will need an Emirates ID card and a copy of it. You will also need two photographs. Then you will need a recent eye test report. Finally, you will need a copy of your passport and residence visa page.
Final thoughts
Overall, these are some of the best driving schools in Ajman. These driving schools are essential if you want to learn to drive or get a driving license. Likewise, they also help you take all kinds of road and eye tests and prepare you with documents.
Applying for a driving license can be a daunting task, but with the help of a driving school, it can be much more straightforward as driving schools will provide an instructor who can teach you how to drive and help you apply for your license.
By choosing one of these driving school near Ajman, you can ensure that you will be able to get your license quickly and easily.

Omar Saeed is a Senior Contributor at DbdPost based in Dubai. He earned his degree in Master of Media and Communication from the University of Wollongong in Dubai and covers news, info guides, reviews, and opinion pieces on various topics related to the UAE.