The celebration of Diwali in UAE might come as surprise given that UAE is an Islamic country. However, the Hindu festival is of great significance to a large portion of the 3.5 million Indians living in the UAE.
With 30% of the UAE's population being Indians, there is no doubt that the number of Hindus in UAE is quite high. Diwali in UAE is celebrated with fireworks and light shows in all major cities. People enjoy feasts of sweets, snacks, and traditional dishes with family and friends on Diwali.
Traditionally on Diwali, houses and public spaces are illuminated with oil lamps and candles at this time. In Dubai, the city is lit up for 5 days by colorful light decorations and bright fireworks.
In this Dbd guide, we'll cover all about the UAE Diwali celebration and everything you need to know about the colorful festival.
Diwali date in UAE from 2023 to 2024
The exact date of Diwali is based on the Hindu lunar calendar. The festival falls on the seventh month, known as "Kartik". On the Gregorian calendar, this usually falls in October or November.
The third day of the festival is when the celebration reaches its peak. It is the day when Diwali in UAE can be observed at its best. The following table shows the Diwali dates from 2022 to 2024:
| Year | Dates for Diwali in UAE | Day |
| --- | --- | --- |
| 2022 | October 24th | Monday |
| 2023 | November 12th | Sunday |
| 2024 | October 31st | Thursday |
Diwali holidays in UAE
Although there is no public holiday declared by the government, Diwali in UAE is very popular among Hindu residents. Around 30% of the UAE population comes from India alone, which is the largest Hindu country in the world. [1]Indian Embassy, "Indian Community in UAE, https://www.indembassyuae.gov.in/indian-com-in-uae.php#:~:text=Indian%20expatriate%20community,UAE%20Indian%20population."
It is not very likely to see any UAE institution giving employees holidays on Diwali in UAE. But many Indian curriculum schools and Indian-owned businesses announce holidays during Diwali.
How is the Diwali festival celebrated in UAE?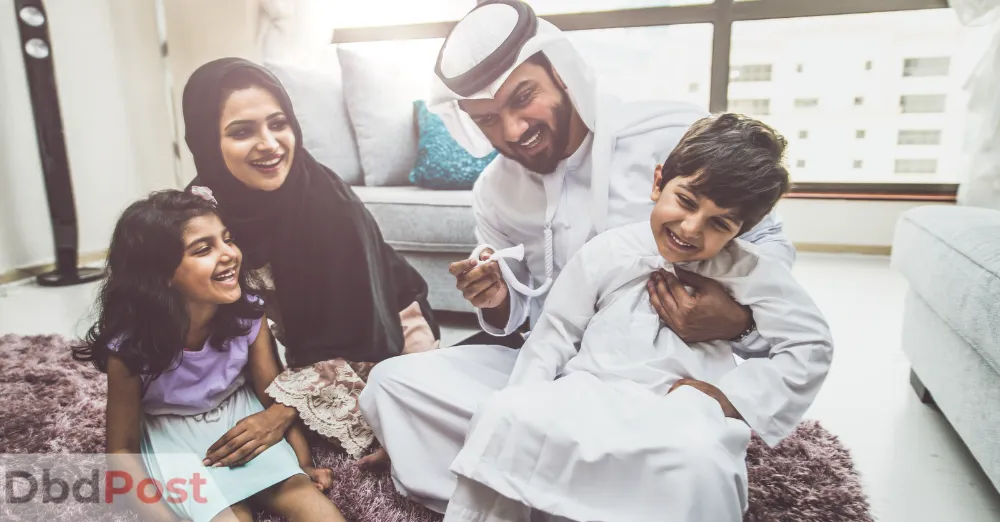 Despite not being a public holiday, there's no compromise in celebrating Diwali in UAE. All major cities come alive with grand light shows and fireworks during the Diwali celebration at night.
One of the finest events to see in the UAE during Diwali is undoubtedly the fireworks in Dubai. The light displays of Burj Khalifa are awe-inspiring too.
Best places to visit on Diwali in UAE
UAE itself is one of the most popular tourist attractions in the world, and the festival of Diwali is basically the cherry on top. Here is the list of the best places to visit in the UAE during Diwali:
Burj Khalifa: The Burj Khalifa symbolizes Dubai's modernity and prosperity, but it does not shy away from traditional celebrations in a grand way. Visitors from all over the country come to see the magnificent fireworks & light show and to experience the festive atmosphere during Diwali.
Ain Dubai: What better way to celebrate Diwali than by taking a ride on the world's highest observation wheel? Ain Dubai is 820 feet tall and people can see the view of Dubai skyscrapers at their best during Diwali from here.
Jumeirah beach: Diwali is one of the best times to visit Jumeirah Beach. During Diwali, the beach comes alive with fireworks that are set off against the backdrop of the Dubai skyline. This epic display of fire and water is not to be missed either.
Bollywood Parks: Bollywood Parks is the perfect place to celebrate Diwali in Dubai with your friends and family. The Big Zee Diwali Festival of Lights is a two-day event that features fun rides, thrilling attractions, and exciting entertainment.
Dubai festival city: The Dubai Festival City is a world-renowned shopping and entertainment destination. During Diwali, the building is illuminated with millions of twinkling lights, making it a truly magical place to celebrate.
Origin and tradition of Diwali
To understand Diwali's origins, we'll have to quote from the stories mentioning lord Rama in the Hindu epic, Ramayana. The epic ends with Rama coming back to his kingdom after rescuing his wife and destroying the evil demon king Ravana. This day of arrival to their kingdom marks the beginning of Diwali.
The most famous celebration during Diwali is the decoration of streets and houses with oil lamps. This is done to commemorate Rama and Sita's triumphant return at the conclusion of the Ramayana. The term "Diwali" comes from the Sanskrit word "Dipavali," which means "row of lights".
Lakshmi Puja, considered by most as the biggest day of Diwali, is the day when the Goddess of wealth, Lakshmi, is worshipped. Lamps are lit during the night to signify the coming of good fortune and wealth into the homes of her worshippers.
What are the traditional events of the Diwali festival?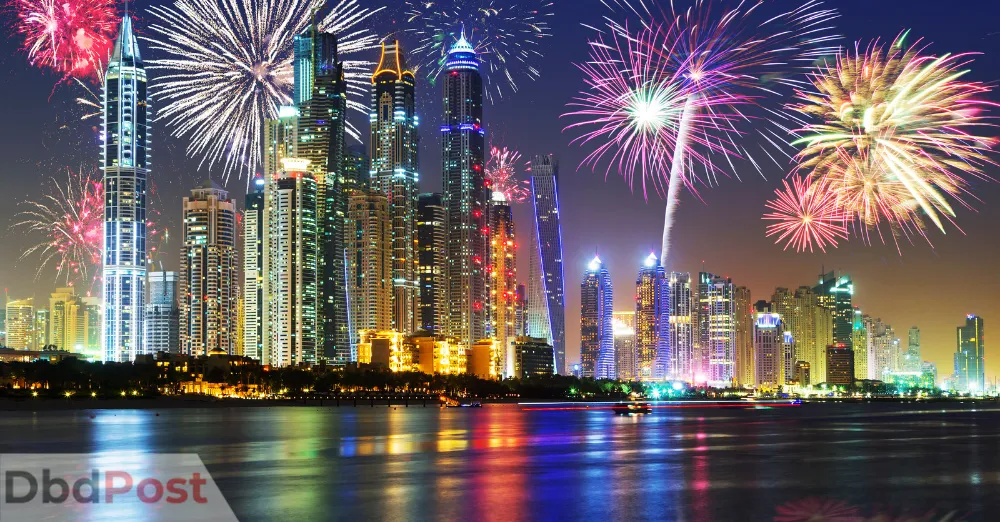 Spanning five days, Diwali is a time for families to come together, pray, share gifts, and enjoy feasts and celebrations.
Here is how Diwali is celebrated traditionally all over the world.
Day 1:

Dhanteras

Dhanteras, also known as Dhantryaodashi, is the first day of the five-day Hindu festival of Diwali. The day is dedicated to Lord Dhanwantari, the god of Ayurveda, and is considered an auspicious day for buying gold and silver.

On this day, families take holy baths during the sunset, light a lamp near the basil plant, and pray to Lord Yama for their well-being. Lord Yama is the god of the underworld and a bringer of justice. It is believed that he protects his devotees from evil men and sinners.
Day 2:

Narak Chaturdashi

On the second day of Diwali, Hindus observe "Narak Chaturdashi." During the Narak Chaturdasi, Hindus keep their homes clean and burn fragrant oils to cleanse the vibes. Artistic and colorful patterns called 'rangolis,' are made on this day, although a lot of people also do it on the third day.
Day 3:

Laxmi Puja – Main celebrations

Lakshmi Puja falls on the third day of Diwali. Goddess Lakshmi is believed to enter homes and bless people with good fortune and wealth. To welcome her, tiny oil lamps, candles, and electric lights are placed around the house and lit throughout the night.
Day 4:

Govardhan Puja

The fourth day of Diwali sees Hindus worshipping Govardhan Hill for providing abundant food and protection from natural disasters. In ancient times, when a huge rain threatened the lives of the villagers of Vrindaban in India, lord Krishna lifted the hill and allowed all villagers to take shelter under it.

Hindus also offer fruits, flowers, and sweets to Lord Krishna as part of Diwali celebrations on this day.
Day 5:

Bhai Dooj

Bhai Dooj is a special day in the Hindu calendar, celebrated on the fifth and final day of Diwali. On this day, brothers and sisters exchange gifts as a symbol of their affection and love.
Traditional foods of Diwali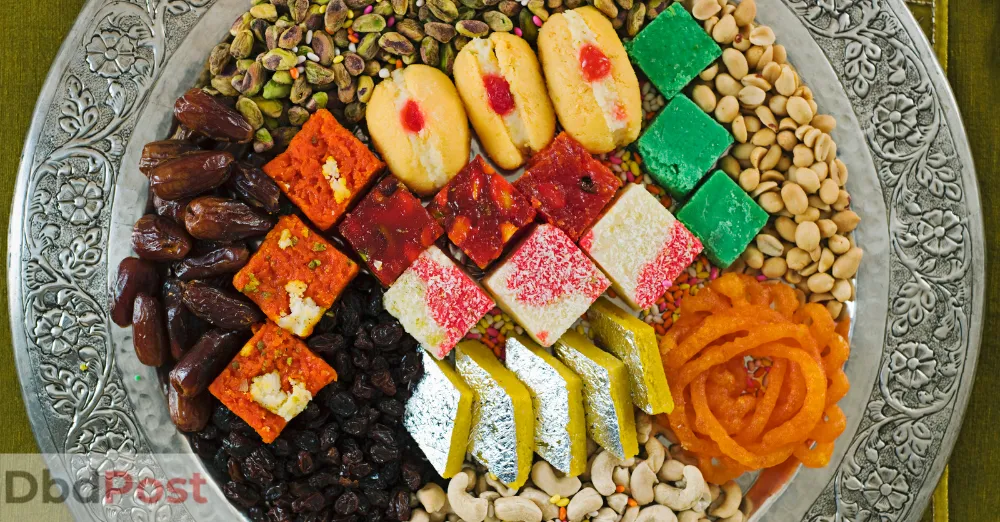 The celebration of Diwali in UAE is incomplete without food and feasts. Here are the most popular food items eaten during Diwali:
Sweets and desserts: Diwali is a time for celebration, and what better way to celebrate than with sweets? Traditional Diwali sweets include laddoo, barfi, halwa, gulab jamun, and jalebi. These sweet treats are often made with milk, sugar, ghee, and flour, and are sure to satisfy your sweet tooth.
Snacks: Traditional Diwali snacks include chivda, sev, mathri, and murukku. These savory snacks are typically made with rice flour, lentils, spices, and ghee, and are the perfect accompaniment to your favorite Diwali sweets.
Main dishes: Of course, no meal is complete without a main dish. Traditional Diwali main dishes include khichdi, dal makhani, butter chicken, and potato & cauliflower curry. These hearty dishes are sure to fill you up and leave you satisfied.
Bread: Traditional Diwali bread variations include roti, naan, and paratha. These delicious types of bread are typically made with wheat flour and ghee.
Shopping deals during Diwali in UAE
As the country gears up for Diwali celebrations, residents can enjoy a host of shopping deals and Diwali discounts. For the best deals, try to find Hindu and Indian shop owners who have decorated their shops with lights and flowers.
Many retailers offer special Diwali promotions, and there are also a number of pop-up markets selling traditional Indian goods. Diwali offers in UAE are an ideal time to stock up on gifts for family and friends.
Related Stories
Being an Islamic country, Ramadan in UAE is celebrated in a grand fashion. Read our guide to learn more.
Check out our guide – Eid al-Fitr in UAE, and learn about the great Muslim festival.
Few festivals are as important as Eid al-Adha in UAE. Know how and where to celebrate it.
---
FAQs
Is Diwali celebrated in Dubai?
Yes, Diwali in Dubai is celebrated with great enthusiasm. Most of the people attending the celebrations are Hindus.
Is there a Diwali holiday in UAE?
No, there is no official holiday for Diwali in UAE. But several Indian businesses and schools give holidays on the occasion.
Is Diwali celebrated in Abu Dhabi?
Yes, Diwali is celebrated in many places in Abu Dhabi. City-wide fireworks and light shows are held in a grand manner.
Why Diwali is celebrated in UAE?
The population of Indian residents with Hindu backgrounds is very high in UAE. This is why Diwali is celebrated in UAE with so much eagerness.
Final thoughts
Diwali is a five-day festival that is celebrated by Hindus all over the world. The festival celebrates the victory of good over evil and light over darkness.
If you're celebrating Diwali in UAE, be sure to make the most out of it. Make sure to try out the traditional foods and visit amazing places like Burj Khalifa, Dubai Flim City, Abu Dhabi, and many other attractions around UAE.
We hope we covered everything you wanted to know about the UAE Diwali celebration. We wish you happy and enjoyable times ahead.


Arijit Negi is an expatriate living in Dubai for 18 years. He completed his degree in Master of Arts in Journalism from the University of Mumbai. Arijit focuses on providing helpful guides and information for ex-pats living in UAE and visitors to the UAE.