Ajman is famous for its fish consumption. The most popular location in the emirate is the Ajman Fish Market. If you want to learn more about it, you have come to the right place.
Ajman Fish Market is the most popular place in Ajman to buy seafood, fruits, vegetables, dates, and syrups. Due to easy access by bus, taxi and metro, it is popular among both locals and tourists. Its fish auctions amass large crowds and they are important events among fish traders.
In this Dbd guide, you will learn about the location of Fish Market Ajman, its timings, its history, and what you can expect from the place.
Ajman Fish Market – Quick info
Address: Sheikh Rashid Bin Saeed Al Maktoum Street
Hours: Sunday to Saturday: 7 AM – 1:30 PM & 5 PM – 10 PM
Phone number: 971-6744-4844
Ajman Fish Market – Directions
Use the following map to find the exact location of the fish market in Ajman.
How to reach Ajman Fish Market?
There are plenty of travel options to reach the fish market. Let's see how you can get there:
Closest bus station to Ajman Fish Market
The closest bus station to Ajman Fish Market is the Fish market bus stop which is less than 200 meters away. It takes only a few minutes to reach the market from the bus station on foot.
Another nearby bus station is the 50-City Life bus stop, which is about 300 meters away.
Closest parking spot to Ajman Fish Market
There is a large parking lot right outside the fish market building. If you are going there by car, you can simply park your car outside and enter the market.
There is also a parking lot just outside Nesto Hypermarket. It is just opposite the fish market. You can park your car there if the parking lot of the fish market is full.
Closest metro station to Ajman Fish Market
The only metro station near the fish market is in Dubai, which is another emirate. So we don't suggest using a metro. Besides, the metro is very far away and will take over an hour by car.
Best time to visit the Ajman Fish Market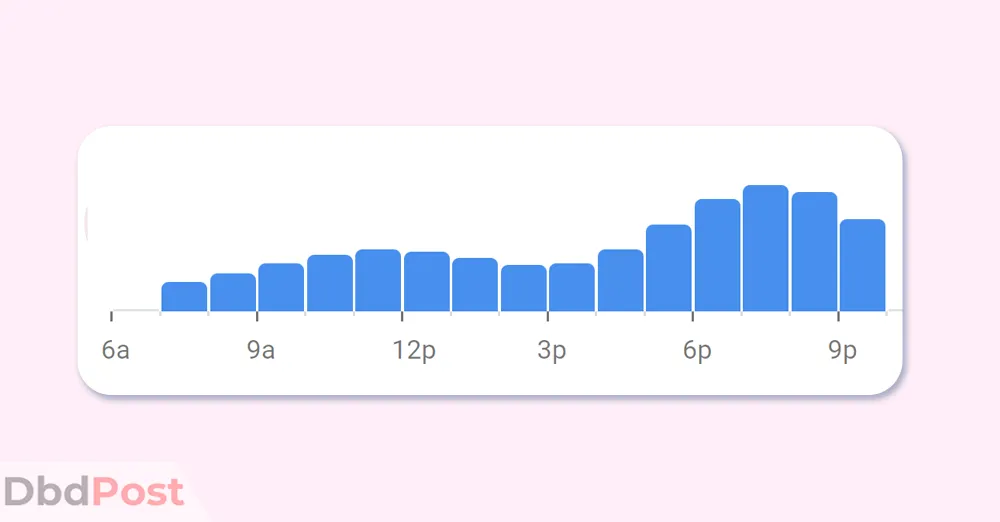 For many people in Ajman, the fish market is a popular place to shop or just take in the lively vibes of the place. While most people want to shop in peace, others simply want to enjoy the bustling crowd.
The best time to visit the market if you want to buy fresh fish is early in the morning between 7 AM to 8 AM. The place is not crowded and you will have a lot more options but the prices may be slightly higher for fresh products.
If you go in the evening at around 9 PM, you can get cheaper fish but the products are not as fresh as in the morning.
If you want to soak yourself in a loud and lively atmosphere, you should go there during the holidays. On weekends, the market is usually busy between 9 AM to 1 PM, and even more in the evening between 5 PM to 8 PM.
If you hate crowds, you should know that the least busy times at the fish market are Mondays from 7 AM to 5 PM. However, it gets a little busier after 5 PM even on Mondays.
Regardless of when you visit, the fish market is a lively place where you can find everything from fresh seafood to souvenirs.
What to expect in Ajman Fish Market?
Ajman Fish Market is a popular market where both local people and tourists come together for enjoyment. There are several reasons for that, and we will get into them below:
Fish and Seafood products
The Ajman Fish Market is a must-visit for any seafood lover. Located on the Arabian Gulf, the market is supplied with fresh fish every day by local fishermen.
Visitors will find a wide variety of fish and prawns from Oman and India, as well as oysters, crabs, squid, and other types of seafood. Jesh, Kingfish, Shari, and Hammour are some of the most popular items in the market.
The prices are very reasonable, and the quality of the seafood is impeccable. Not only you can buy fresh raw seafood but you can also enjoy the cooked food in various restaurants around the fish market.
So if you are an admirer of seafood and are craving for a unique taste, you can easily find plenty of varieties of seafood in Fish Market Ajman.
Other food products
Ajman market is not limited to fish and seafood. You can also find high-quality dates, sweet syrups, jams, and jars of honey here.
If you are a vegetarian, you can still visit the place to look for other food products. Along with seafood, Ajman market is also a great place to buy daily produce, vegetables, and fruits.
The market has a wide variety of everyday food items, and the prices are very reasonable.
Clean and hygienic market
One of the best aspects of the Ajman Fish Market is that it is clean and hygienic at all times. Everything is properly managed and the visitors tend to praise its clean environment.
The market also has incredible garbage disposal and waste management systems. The authority and shopkeepers pay serious attention to sanitization.
However, you will certainly feel the smell of fish constantly lingering in the air. So if you are allergic to the smell of fish, we recommend you not to visit the market.
Fish auction
One of the things that attract thousands of visitors to Ajman Fish Market is the local fish auction events.
Sometimes, fishermen catch extraordinary sea creatures that are highly sought after, leading to very high demand. Then a bidding war starts among the vendors and whoever pays more money will get the fish.
Local law in Ajman states that fishermen can only sell large creatures in auctions, which has made the events even more exciting. This event is popular among locals, but tourists may get irritated with the noise and occasional disputes during the event.
About Ajman Fish Market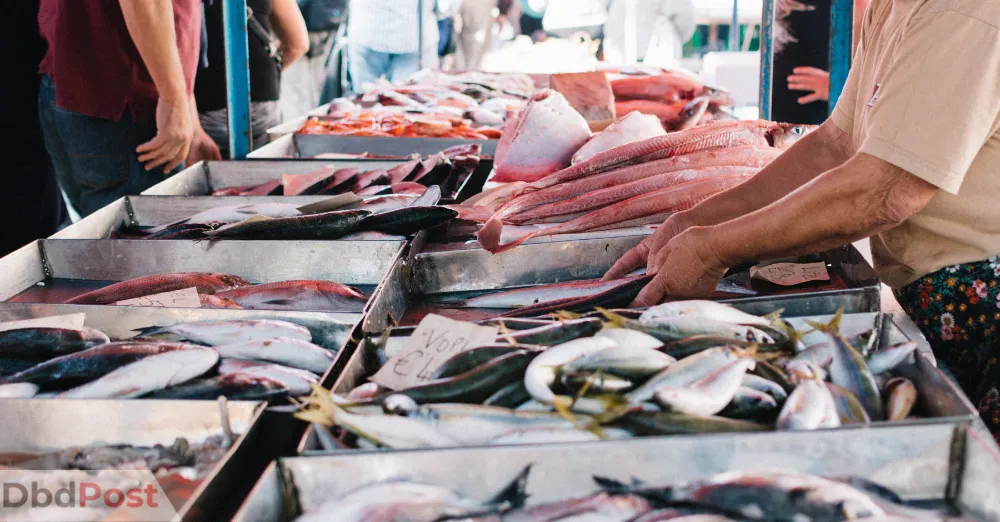 Ajman market is one of the most popular and traditional shopping districts in the emirate of Ajman. This fish market is famous not only for its fresh fish but also for the variety of local foods and vegetables.
Ajman market is home to a bustling market where fresh fish, vegetables, and dates are sold daily. The market is well designed and offers good prices on its fresh seafood.
The market is a great place to get your hands on fresh, affordable produce. Whether you're looking for fish, vegetables, or dates, Fish Market Ajman is sure to have what you need.
Major attractions of Ajman Fish Market
Let's take a look at the things that makes the market so popular:
Ajman Museum
Ajman Museum is another major attraction located just 6 km from the Ajman Fish Market. Many people who visit the fish market often tend to visit Ajman Museum too.
The museum is housed in an 18th-century fort that served as the residence of the ruler of Ajman until 1970. The museum's collection includes traditional Emirati clothing, jewelry, and weapons, as well as pottery, coins, and other artifacts from the area's rich history.
Ajman Museum and fish market have become one of the major tourist destinations not only in Ajman but in the whole of UAE.
Hotels and restaurants
Whether you're looking for a quick snack or a full meal, you will find it in the market's vicinity. The Ajman Fish Market is close to various popular hotels and restaurants.
Some of the famous hotels and restaurants around Ajman market are Ramada Hotel and Suits, Food book restaurant, and Crab and Crack.
There are also plenty of cafes if you need a coffee break or want to enjoy some time with friends and family.
Ajman park and resort
Ajman Park and Resort is a great place to take your family for a day out. The park has a wide range of activities on offer, from bumper cars and arcade games to a water park and go-karting. And there are plenty of places to grab a bite to eat or pick up ice cream.
The resort is only 3.5 km away from the fish market, making it the perfect place to visit after a day of exploring the market. Ajman Park and Resort is a popular destination for both locals and tourists.
You can even spend a night in the resort's deluxe rooms for singles, couples, or families. [1]Ajman park, "Features of Ajman park, https://ajman.al/#:~:text=Bedroom-,Ajman%20Park%20Resort,-x,"
History of Ajman Fish Market
Ajman Fish Market is one of the very popular traditional shopping spots for the local residents of Ajman. However, nowadays it has become one of the major tourist attractions of the emirate.
Ajman market is one of the most popular tourist destinations in Ajman. The market has been around for more than four decades and it has never lost its charm and appeal.
Ajman market has played a special role in preserving the history and culture not only of Ajman but also of the whole of UAE.
The government of the United Arab Emirates has also played a major role in preserving the culture of Ajman near the fish market by establishing the Ajman museum.
Related Stories
Learn more about the Fish market Dubai, including hours, location, map & more.
Check out another popular fish market in Dubai: Jumeriah fish market where you will find equally diverse varieties of seafood.
Do you need to find the best seafood in Sharjah? Check out our Dbd guide on Sharjah fish market.
Residents in Abu Dhabi can also purchase the best fish and seafood items locally. Read our guide on the Mina fish market and visit the place today.
---
FAQs on Ajman Fish Market
What is the best time to go to the fish market in Ajman?
The best time to visit the fish market to buy fresh fish is early in the morning. Late evening is also a great time to go there for buying cheaper food but the products might not be as fresh.
Where does Ajman get fish from?
Ajman is located on the Arabian Gulf, so they can get plenty of fish from there. However, over 75% of the seafood in UAE is imported from foreign countries. [2]Agriculture Canada, "Ajman fish consumption, … Continue reading
What is the opening time of the Ajman Fish Market?
The Ajman market opens from 7 AM. It closes from 1:30 PM to 5 PM and reopens until 10 PM after that.
Final thoughts
Ajman Fish Market is one of the best markets to buy local products like seafood, fruits, vegetables, etc in Ajman.
With our Dbd guide, we hope you find out the best mode of transportation to reach the market and the best times to visit the place.
If you know someone who should visit Fish Market Ajman, share our guide with them and help them out. Happy shopping!


Arijit Negi is an expatriate living in Dubai for 18 years. He completed his degree in Master of Arts in Journalism from the University of Mumbai. Arijit focuses on providing helpful guides and information for ex-pats living in UAE and visitors to the UAE.