Mina Fish Market is a popular fish market and shopping location in Abu Dhabi. Also known as the Abu Dhabi fish market, this place has become a local hub to enjoy fish and seafood.
Located near one of the biggest ports in Abu Dhabi, Mina Fish Market sellers sell fresh fish, crabs, shrimps, and other seafood. The market remains open till late at night and you can reach the place by bus or car. Along with hundreds of food stalls, there is also a fruits & vegetable market nearby.
In this Dbd guide, you will learn about the timings and exact location of the market so you can reach there easily on time. We will also help you know where to find the best modes of transportation to get there and know all the other necessary details.
We will also let you know what you can expect to see when you get there. Now let's get into it without any more delay.
Mina Fish Market – Quick info
Address: 169 Al Teelah St, Mina Zayed Port
Hours: 7 AM to 10 PM
Phone number: +971-2-670-3888
Website: Abu Dhabi Fisherman Co-operative Society
Mina Fish Market – Directions
Here is a map of Mina Fish Market:
How to reach Mina Fish Market?
Now let's take a look at how you can reach the fish market. You can choose several modes of transportation such as metros, buses, cars, and taxis.
Closest bus station to Mina Fish Market
The closest bus station to this fish market is the Al Doum St bus stop. The distance between the bus stop and the fish market entrance is just 100 meters which means you can reach the market from the bus station in a few minutes.
There are a few other bus stations nearby as well, but they are a bit far away. Those bus stations are:
Al Mina/ St Zayed Bus Stop
Al Wudouh / Al Doum Bus Station
Closest metro station to Mina Fish Market
Unfortunately, there are no metro stations close to the fish market. The closest metro station is ADCB metro station which is 145 km away from the fish market. So it is not practical to go there by metro.
Closest parking to Mina Fish Market
If you are planning to take a car or taxi to reach this fish market, it is essential for you to know all the parking spots around the area. Luckily, there is a parking spot right next to the fish market.
In case the parking is full, you can also find a parking spot at the Emirates Plaza Hotel parking. Be sure to ask for permission and pay if you have to before you park your car there.
Best time to visit the Mina Fish Market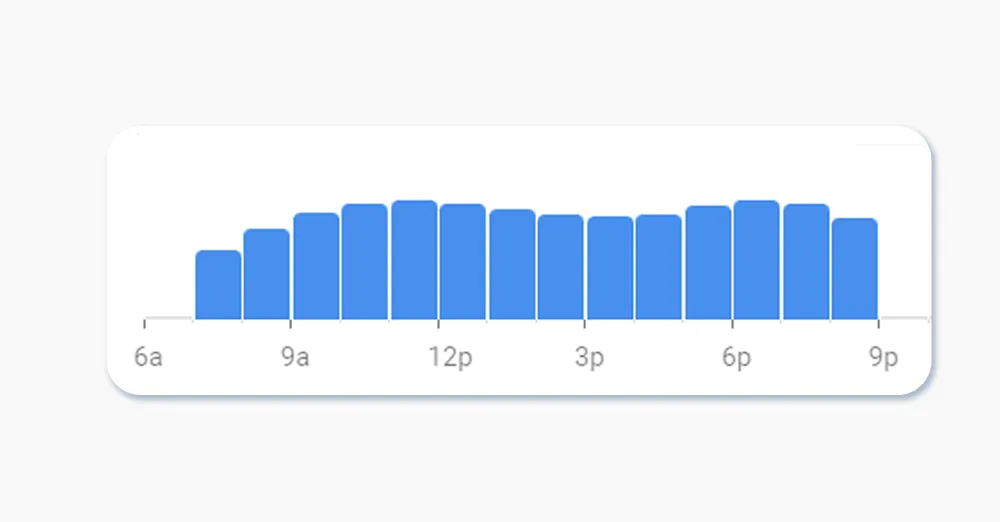 The best time to visit the Abu Dhabi fish market is early in the morning. Between 7 AM and 8 AM, the market has less crowd, the products are fresh, and you will have more options to choose from.
The biggest downside to shopping in the morning is that a lot of shopkeepers may not be willing to negotiate or give discounts. But this isn't always the case and you may actually get a great deal on the freshest catch if you are lucky.
Unlike mornings, the market is very crowded in the evening and you should avoid this time if you hate crowds. But if you go after 8 PM, most of the people will have gone back home already. But remember that you may not get what you wanted at the time because most products will have been sold already.
One advantage of shopping at night is that you may find good deals on the remaining seafood. This is the time when many sellers want to clear their stock, so they will sell you the items at slightly cheaper prices.
The market sees the largest crowds during weekends and holidays. If you want to shop during holidays, we recommend shopping early in the morning.
On the other hand, if you visit the market on Mondays, you'll find the least number of people. So if you are free on Monday, you should visit Mina Fish Market and see what they have to offer.
What to expect in the Mina Fish Market?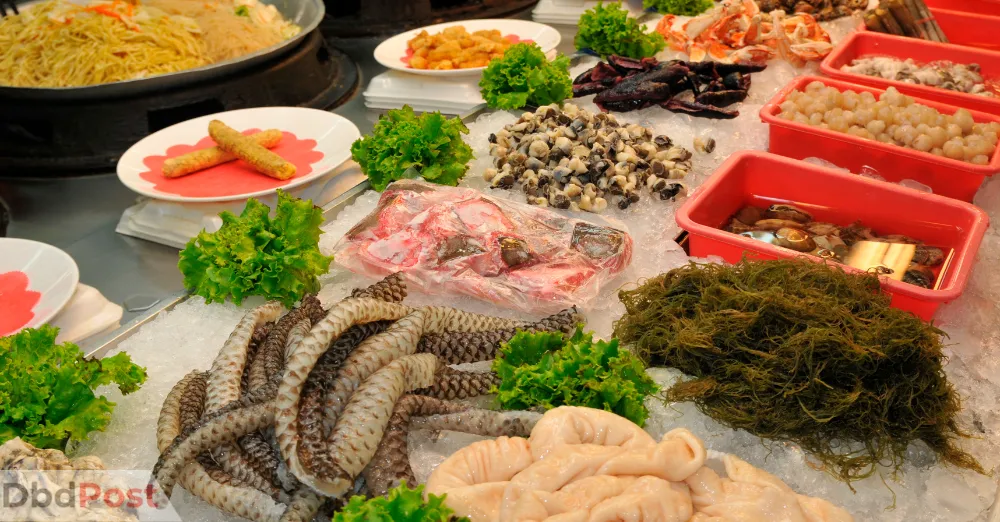 Mina Fish Market Abu Dhabi is a famous tourist junction for tourists and a shopping location for local people of the emirate. There are plenty of things to check out in the fish market so let's take a quick look at what you can expect in the market.
Amazing environment and experience
The fish market at Al Mina is a bustling place where you are greeted by the sights, sounds, and smells of fresh seafood and a lively crowd.
The air is filled with the delicious smell of roasted fish. The entire place is filled by the sounds of people haggling over prices too. The market can be overwhelming for most people, especially tourists.
If you have never experienced the delightful taste of seafood before, this marketplace will be a great place to get started.
Seafood heaven
For seafood enthusiasts, Mina Fish Market is the best place to be. The market is filled with stores selling all sorts of seafood like crabs, shrimp, shellfish, etc.
You can find all sorts of fresh seafood there, and the prices are unbeatable. So if you're in the mood for some fresh seafood, head to the fish market and buy something for your kitchen.
Visitors who want to taste delicious roasted fish can visit this place as well. Instead of buying raw fish, you can simply enjoy a meal in one of many seafood restaurants in the fish market.
Lots of food options
In addition to seafood, Mina's market offers an abundance of fresh fruits, vegetables, bread, dry fruits, and salads. The produce is locally sourced so you can be confident in its quality and freshness.
The variety of food items means something for everyone to enjoy. Whether you are looking for a light snack or a hearty meal, you will be able to find it here.
Another major reason people visit the fish market is to buy incredible local food from the large number of stalls. You will get the real taste of the UAE's most well-known and authentic cuisines from these stalls.
You can save a lot of money by avoiding big restaurants when you eat the dishes from the stalls and stores of Al Mina Fish Market.
About Mina Fish Market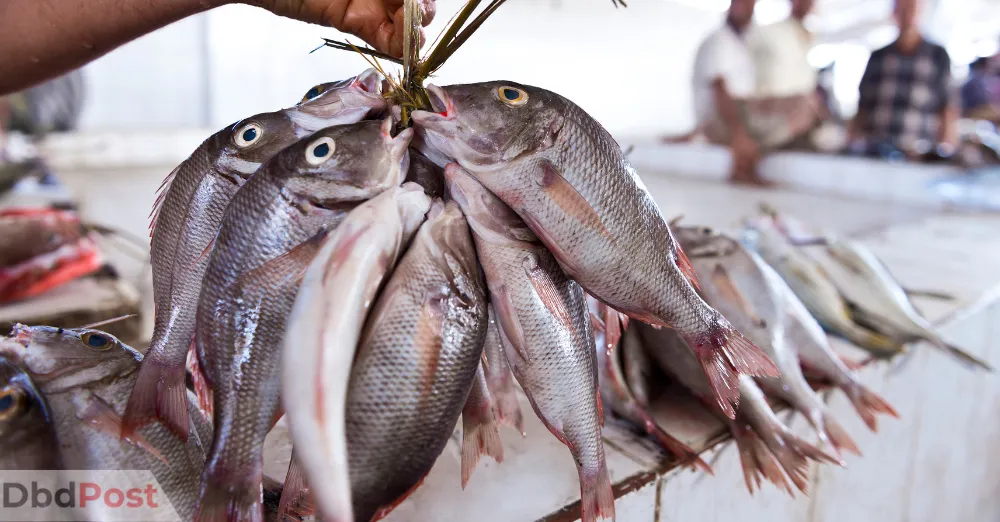 Mina Fish Market is one of the most popular spots to shop for food in Abu Dhabi. Many local people, restaurants, and five-star hotels buy their food products from here.
The fish Market in Abu Dhabi is a busy marketplace where fishermen sell their catches every morning. The market is filled by restaurant owners, wholesalers, and regular people who come shopping for everyday food items.
The fish market is a famous destination for both seafood lovers and bargain hunters alike. Located in the heart of Abu Dhabi, the market is home to stalls selling a wide variety of fresh fish, seafood, fruits, vegetables, and other local specialties. [1]ADFCS, "About Mina market, http://market.adfcs.org/en/brands/18/abu-dhabi-sea-port-market,"
The market is open daily from early morning until late at night, and its vibrant atmosphere is a favorite among locals and tourists alike.
Whether you're looking for fresh seafood to cook at home or unique souvenirs to remind you of your trip, this place is sure to have something for everyone.
History of Mina Fish Market
Established in 1972, Mina Fish Market has been in business for over 50 years, and it will continue to be in business for decades to come. Ever since its establishment the market has provided locally produced vegetables, fruits, and fish to its customers.
The fish market of Mina is located in one of the largest commercial ports in UAE. Due to its proximity with the port, fishermen are able to transport fresh seafood in very little time, ensuring that the food is always fresh.
The fish market is close to the Mina carpet market, fruits & vegetables market, and plant market. These markets have boosted each others' businesses at the same time by attracting a lot of people to come shopping for these products.
Related Stories
---
FAQs
What is the best time to go to the fish market?
The best time to go to the fish market is early in the morning between 7 AM and 8 AM. There are fewer people and the fish and other products are extremely fresh.
Where does Abu Dhabi get fish from?
Abu Dhabi gets its fish from the Persian Gulf. ICAD-II, Bateen beach, Al Raha beach, and Al Rabha beach are some places where people go for fishing.
What is the opening time of the Mina Fish Market?
The opening time of the fish market is 7 AM. It remains open until 10 PM.
Final thoughts
Mina Fish Market is one of the biggest attractions in Abu Dhabi for enjoying seafood and local cuisines.
Also known as the Abu Dhabi fish market, it is located near one of the biggest Abu Dhabi ports. This has made it easy to transport various sea creatures such as shrimps, seashells, crabs, and several fish species.
The place has a wide range of fresh seafood, fruits, vegetables, carpets, and souvenirs that you can buy. Make sure to try some of the delicious seafood while you're there!


Arijit Negi is an expatriate living in Dubai for 18 years. He completed his degree in Master of Arts in Journalism from the University of Mumbai. Arijit focuses on providing helpful guides and information for ex-pats living in UAE and visitors to the UAE.