Fish Market Dubai is also an alias of the very popular "Waterfront Market." The Waterfront Market is one of Dubai's biggest and most popular locations for seafood lovers.
Fish Market Dubai is one of the biggest food markets in Dubai with over 800,000 visitors each month. The Waterfront Fish Market sells seafood along with poultry products, meat, dry foods, spices, fruits, and vegetables. Tourists and locals can reach the market easily by taking a bus, car, or metro.
In this guide, you will learn everything about the Waterfront or Deira fish market along with the locations, timings, history of the market, and what you can expect there.
So if you are excited to learn about the place previously known as Deira fish market, then let's begin.
Fish Market Dubai – Quick info
Address: Al Khaleej St, Deira
Hours: Open 24 hours, Sunday to Saturday
Phone numbers: 971-47071599, 971-47971455
Website: Waterfront market
Fish Market Dubai – Directions
Have a look at this map to see the location of the Waterfront Market:
About Fish Market Dubai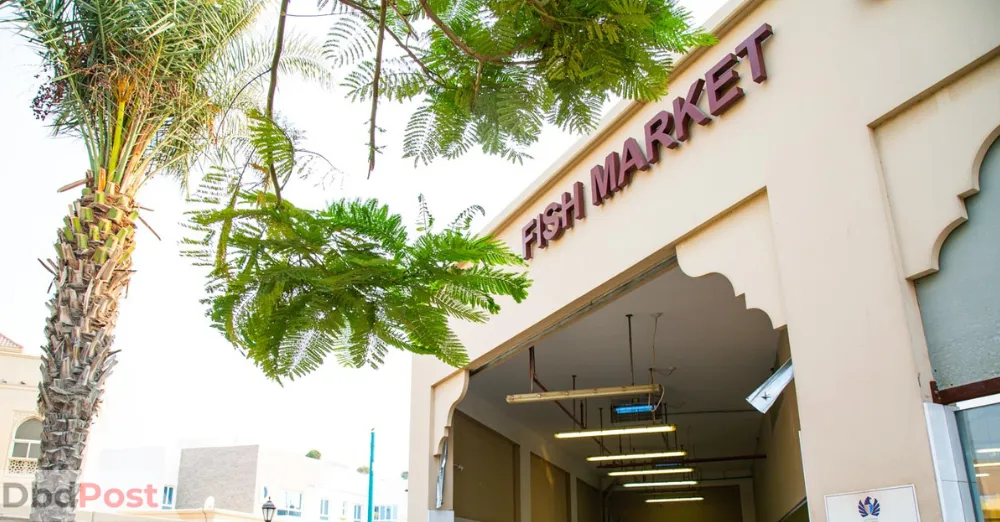 The Waterfront Market, also known as Fish Market Dubai is one of Dubai's most popular and crowded locations. They serve more than 800,000 visitors per month. [1]Waterfront, "History and culture, https://waterfrontmarket.ae/about-us/,"
Deira fish market is not only popular for fresh and organic seafood, but also for vegetables, fruits, dry food, meat, and poultry products.
Every day, thousands of people visit the Waterfront Fish Market for shopping and sightseeing. These fish markets in Dubai have some distinct features that attract residents and tourists alike.
Let's see what the key spots and attractions of the Fish Market Dubai are:
Cafes and Restaurants
One of the key attractions of Waterfront Market Dubai is the numerous cafes and restaurants. You can relax in these spots after you are done shopping or just enjoy the food with a big group of people.
You can enjoy a coffee break, a delicious snack, lunch, or dinner with your family in several restaurants in the Waterfront area. You can find some of the best cafes and restaurants in Dubai around the fish market.
Parks
Parks and recreation areas are also located in the Waterfront Fish Market. You can go for a leisurely walk and take your children with you as well. You will find many families with their kids enjoying an evening out in these parks.
Normally, parks around the fish market are crowded during weekends and public holidays.
Shopping centers
In the Waterfront Fish Market, you can not only shop for fish products & food but various fashion and clothing items as well.
Lulu Hypermarket is located in the Waterfront Market. It has tons of accessories, clothing, electronics, and other items.
Events and Happenings
Another amazing thing about the Waterfront Market is the sheer amount of entertainment, cultural, and religious events it organizes in the venue.
Waterfront is a very popular location for public gatherings due to the major events that take place several times a year. Tourists and locals are all attracted to the market area during those times.
Waterfront announces all the upcoming events on its social media. So if you don't want to miss them, you should follow them on social media.
Waterfront Dubai's social media accounts: Facebook | Instagram | YouTube
How to reach the Waterfront Fish Market Dubai?
Located in the heart of the city, the Waterfront Market offers a wide variety of goods and services, making it a one-stop shop for all your needs. And thanks to the convenient location of the market, getting there is a breeze.
As the market is one of the most popular destinations, it is essential to know all the routes and travel accessibility needed to reach there. You can reach the market in three ways – metro, buses, and cars.
Let's look at all the closest metro stations, bus stations, and car parking areas to make your travel easy and hassle-free.
Closest metro station to Fish Market Dubai
First, you must take the Dubai Metro to Salah Al-Din station. Then you can take a feeder bus to the Waterfront Market. There are also others metro stations that are 2 km away from the fish market. Some of these metro stations are as follows:
Abu Hail Metro Station
Salah Al Din Metro Station
Palm Deira Metro Station
Baniyas Square Metro Station
Abu Baker Al Siddique Metro Station
Closest bus station to Waterfront Fish Market
There are several bus stops near the market, so you can easily take a bus from Abu Hail or the Bin Eid Al Shabi Restaurant 1 and 2.
With buses running frequently, you won't have to wait long to start exploring the market.
So whether you're looking for fresh produce or unique souvenirs, be sure to check out the Waterfront Market which is just a bus ride away.
Closest parking spot to Fish Market Dubai
There are more than 1,000 parking spaces at the Fish market in Dubai, so you can park your car without any problems. The parking space in the market is known as the Waterfront parking spot.
Furthermore, the market is well-lit and easy to navigate, so you can wander around without getting lost.
History of Fish Market Dubai
UAE has a great fishing culture. But fishing has been one of the challenges in the Gulf country due to the intense currents in the seas surrounding it. Currently, the demand for seafood has significantly increased as well as the investment in this sector.
The oldest fish market in Dubai is Deira Fish Market. It has been operating since 1958 and has served tens of millions of customers with its different fresh catches since then. Currently, the Deira fish market is known as the Waterfront Market which is one of the leading markets in Dubai.
On June 11, 2017, Deira fish markets moved to Waterfont market to become one of the biggest fish markets in Dubai. Since then, they started serving seafood, other meat products, vegetables, fruits, and a vast range of exotic food products. [2]Waterfront, "History of Deira Fish Market Dubai, … Continue reading
Advancement in technologies in this sector has increased seafood production while maintaining their taste & quality. It has also reduced the difficulties caused by currents.
They are actively trying to reduce waste at the present. They have been doing this by removing any food contaminants and adopting new ways to keep food fresh.
Waterfront Fish Market has also developed techniques of freezing, salting, and roasting to avoid spoilage of the fish. They have been producing hammers, cod, Shari, Faskar, Omani creeks, Seabream twin bars, Jesh, Kingfish, and other types of fish and keeping them fresh for consumption.
What to expect in Waterfront Fish Market Dubai?
As mentioned above Waterfront market is one of the biggest shopping destinations for local residents and tourists. The Dubai fish market is not only limited to seafood, so there is a lot more you can expect to see.
There is a grocery store at the Waterfront with 5 sections where people can buy grocery items. Every month, around 5,000 people visit these stores.
Now let's take a look at what you can find in the Waterfront Market.
Foods product around Waterfront Fish Market
Waterfront has become one of the key hubs for people residing in Dubai to go shopping as they can get every food item they need in their day-to-day life.
The market is also popular for hotels and restaurants that need a large supply of food items that are locally produced and fresh.
Fish and Seafood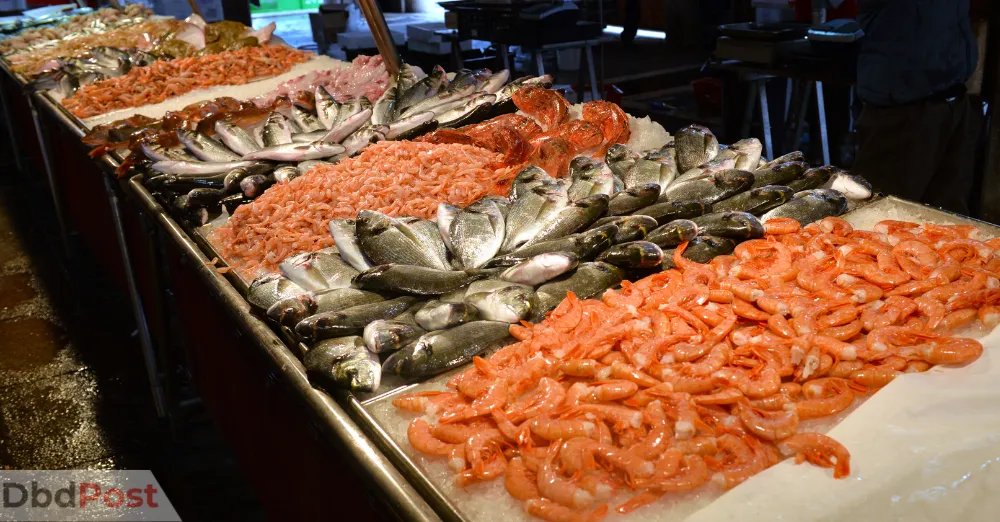 The Waterfront Market in Dubai is a seafood lover's paradise. With over 500 vendors selling more than 350 types of seafood and fish, there is something for everyone.
The fish come from all over the Arabian Peninsula as well as other parts of the world. So you can find fresh, live fish as well as dried fish and seafood products.
Whether you're looking for the Yellow Bar Angelfish, Kingfish, Omani prawns, Hammerhead Sharks, or Seabream, you'll find them at the Deira fish market. [3] Waterfrontmarket, "Fish and seafood, https://waterfrontmarket.ae/shop/fish/,"
Vegetables and Fruits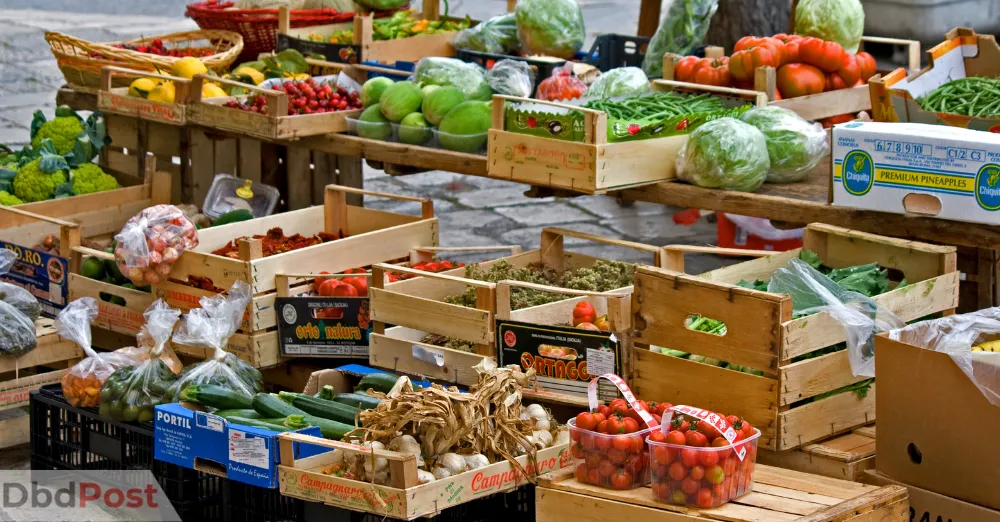 The Deira Waterfront Market is home to over 150 stalls. These stalls sell fresh local, regional, and imported fruits and vegetables.
You can find many different types of fruits at the market, including figs, jujubes, herbs, pineapples, and other types of products that are grown locally. These fruits and vegetables are fresh because of the close relationship between Waterfront Market and local farmers.
The Waterfront Market also helps the products to grow and maintain their freshness with exceptional ventilation and cooling systems in place.
The market also has the capability of producing a large number of products. As a result, they are the primary produce suppliers for the biggest hotels in Dubai. [4]Waterfront, "Fruits and Vegetables, https://waterfrontmarket.ae/shop/fruits-vegetables,"
Meat products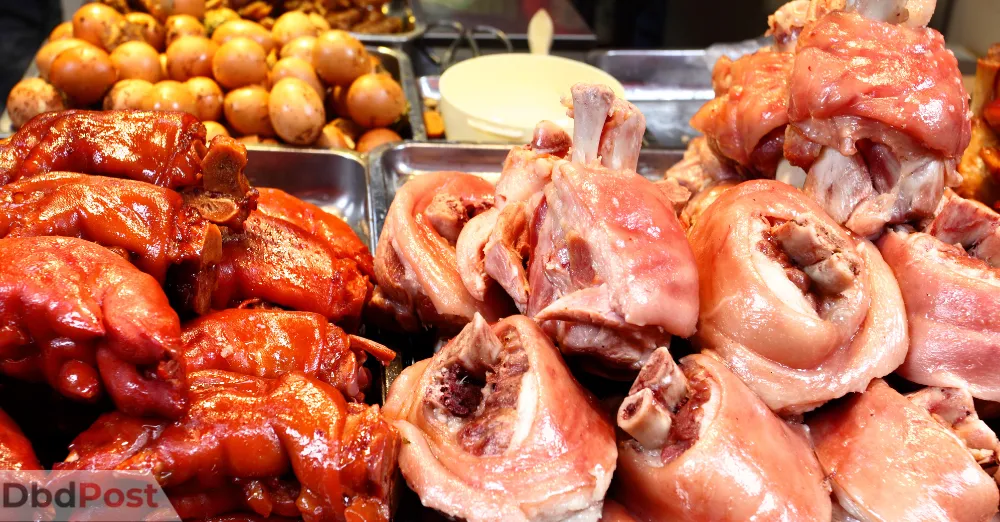 You can find a variety of meat products such as lamb, beef, chicken, and camel meat in the meat and poultry section of the Waterfront Market.
The sellers will scrub, wash, and marinate the meat you purchased so that you can take it home and grill it with ease. Many consumers of the Waterfront Fish Market praise the freshness and quality of their meat products.
The market has modern facilities and machines to cool and treat meat. This ensures that the meat's nutrients are still intact when you take them home.
The supervisors of the market have left no stone unturned to ensure quality and hygiene maintenance for every product. This is especially true for meat products as they are deemed to be less hygienic produce than other products. [5]Waterfront, "Meat products, https://waterfrontmarket.ae/shop/meat-poultry/,"
Dry Goods and Spices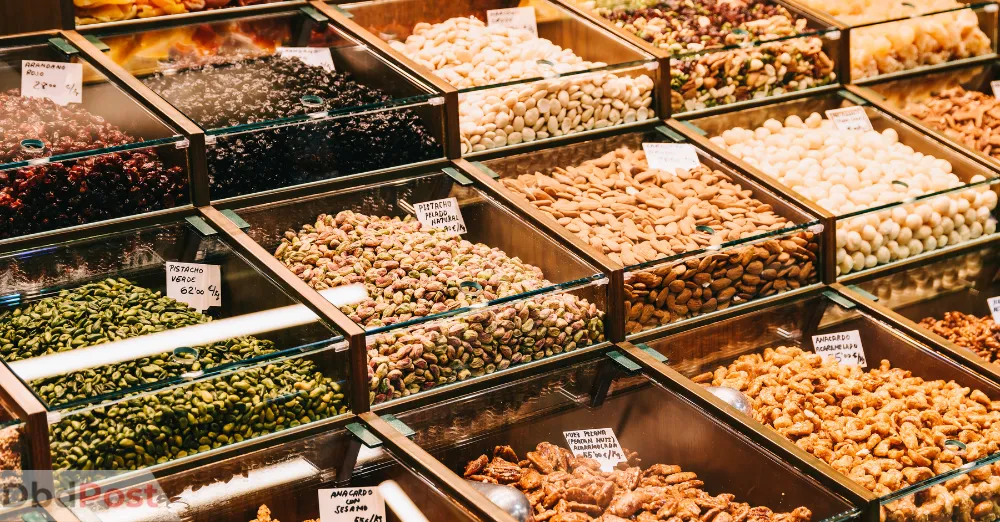 The Deira Waterfront Market is the perfect place to find spices and dry food. You can find everything from saffron to dukkah to za'atar in over 60 shops there.
Additionally, Waterfront Market is a great place to find high-quality dates, dry fruits, rice, and pulses. If you are looking for a specific spice or product, you will likely be able to find it in this market.
So whether you're a seasoned chef or simply looking to add some new flavors to your cooking, this is the place to go.
Best time to visit the Fish Market Dubai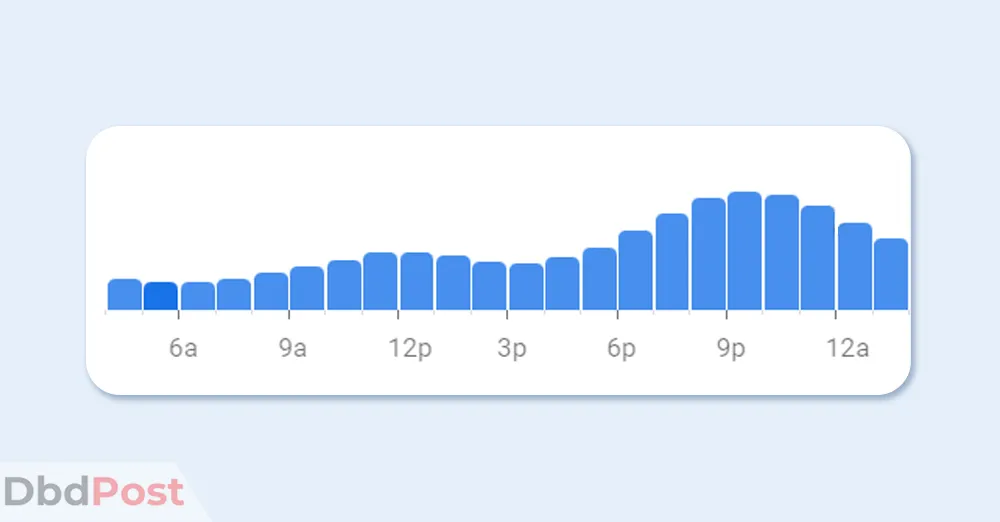 The market opens from 6 AM to 12 AM. The best time to visit the fish market is early morning when the catch is fresh, or in the late evening when the prices are at their best.
In the early morning, you will find fresh fish, but the prices may be a bit higher. If you want cheaper fish, you can visit the market during the evening when sellers want to clear out their stock.
In terms of days, the Waterfront Market is very busy on Sundays, especially from 10 AM to 12 PM and it gets even busier from 5 PM to 10 PM.
On the other hand, the market sees the least crowd on Mondays from 8 AM to 5 PM. People busy with their work usually come to the market at around 6 PM and it gets busy until 10 PM.
Where does Dubai get fish from?
Dubai is rich in water biodiversity because they have created artificial reefs. These artificial reefs have helped to create huge aquatic habitats.
These reefs are good places to find smaller fish. Subsequently, these fish attract larger fish which can also be caught and sold. Fishermen can find many kinds of fish and seafood this way.
Moreover, Dubai also imports hundreds of species of fish and seafood that are not available locally from international markets
Related Stories
---
FAQs
What is the best time to go to the fish market?
If you want to avoid large crowds and get the freshest fish products, you must go to the market early in the morning. But if you want cheaper fish items, then you can visit in the evening.
What is the opening time of the fish market in Dubai?
Waterfront Fish Market is open for 24 hours every day. However, it is closed for deep cleaning purposes from 2 PM to 4 PM between Saturdays & Thursdays, and from 12:30 PM to 2:30 PM on Fridays. [6]Waterfront, "Opening hours, https://waterfrontmarket.ae/plan-your-visit/,"
Final thoughts
Waterfront Market Dubai is one of the most popular and largest fish markets in the UAE. You can not only buy high-quality fish but also plenty of seafood, meats, fruits, vegetables, spices, and fresh dates as well.
There are several easy routes and transportation facilities to reach the market for all tourists and local residents. From professional chefs to regular home cooks, everyone can find the food items they need there.
So have you visited the Waterfront Fish Market Dubai yet? If not, you should give it a try. Also, feel free to share our Dbd guide with others close to you who may find this information useful.