Sharjah Fish Market is the largest market in Sharjah. It is one of the most popular shopping destinations for a variety of seafood for the local people of Sharjah as well as tourists.
Established in 2015, Sharjah Fish Market is the biggest seafood marketplace in Sharjah. Also known as Souq Al Jubail, you will find common fish species, exotic seafood, fruits, vegetables, and other meat items in a huge 400,000 square feet of space. It is easily accessible by bus or car.
In this guide, you will learn all about its location, timings, history, and more. You will also learn the history of the market and how it signifies the culture of not only Sharjah but the whole UAE.
The market is always abuzz with activity, and you can find just about anything you need here.
So if you are ready to know more about Fish market Sharjah, let's get into it.
Sharjah Fish Market – Quick info
Address: Opposite Al Jubail Bus Station, Corniche Street
Hours: 6 AM to 10 PM every day
Phone number: 971-65972444
Website: Souq Al Jubial
Sharjah Fish Market – Directions
To know the exact location of Sharjah fish market, take a look at the map below:
How to reach the Sharjah Fish Market?
Now that you know where the "Fish market Sharjah" is, it's time to learn how to get there. The best way to reach the destination is by taking the metro, bus, or car.
Take a look at how to use all three modes of transport to get there:
Closest metro station to Fish Market Sharjah
If you are visiting from another emirate such as Dubai or Abu Dhabi, you are more likely to take a metro. So it is very important to know the closest metro station.
Unfortunately, the closest metro station near Sharjah Market is located over 12 km away. It is called the Al Nahda metro station.
From Al Nahda metro station, you will have to take a bus or a taxi to reach the market. It takes less than half an hour to travel from the metro to the market.
Closest bus station to Fish Market Sharjah
The best way to reach the Sharjah market is via bus because the Al Jubail Bus Station is located just opposite the market. The distance between the bus station is just 300 meters so it will take less than 2 minutes to reach the market.
You can take many buses in Sharjah to reach the fish market. Buses E303A, E307A, E307, and E303A all go there.
Closest parking spot to Fish Market Sharjah
If you want to visit the market via your car or taxi then you should park at the Al Majaz Big Parking area. The market is 1.1 km away from the parking spot, which is quite far, so it will take nearly 15 minutes to reach the parking spot.
However, there is not much difficulty in parking as you can park near all the hotels and restaurants near the market.
What to expect in the Sharjah Fish Market?
If you are planning to visit the fish market, it is important to be familiar with what you can expect before arriving. Let's take a look:
Lots of Fish and seafood dishes
If you love seafood, then you'll want to check out the fish market. There are a variety of seafood and fish dishes to choose from, so you can be sure to find something that you'll enjoy. You can buy hamour, prawns, kanad, safi, and other fish either raw or cooked. [1]Souq Al Jubail, "Souq Al Jubail offers a diverse range of fresh fish, https://souqaljubail.com/souq-al-jubail-offers-a-diverse-range-of-fresh-fish/"
The seafood here is delicious and will provide you with a unique taste. You might even find a new favorite dish here.
Hygenic and odorless environment
The Sharjah Fish Market is one of the busiest places in Sharjah. With so many people in such a small space, the market must be clean and free of odors.
Thankfully, the Sharjah Market has a unique ventilation system and rigorous cleaning procedures that keep the stench of fish at bay. This makes it a much more pleasant shopping experience for everyone involved.
Varieties of shops
Fish Market Sharjah is one of the busiest places in the city. The market is not only a place for seafood but many other products as well.
There are over 400 shops in the market, selling everything from fish & meat to fruits & vegetables. If you plan to shop for all your kitchen needs in one go, then the Souq Al Jubail market is the place for you.
Free snacks service
Hospitality and helpfulness are two important factors contributing to the Sharjah market's popularity. The personnel are very polite and always ready to help shoppers with whatever they need.
They also offer free tea and snacks to shoppers after they have finished their shopping. In addition, the market has first aid and medical services in case of any emergency. This makes the market a safe and enjoyable place to shop, which is why it is so popular with locals and tourists alike.
Best time to visit the Sharjah Fish Market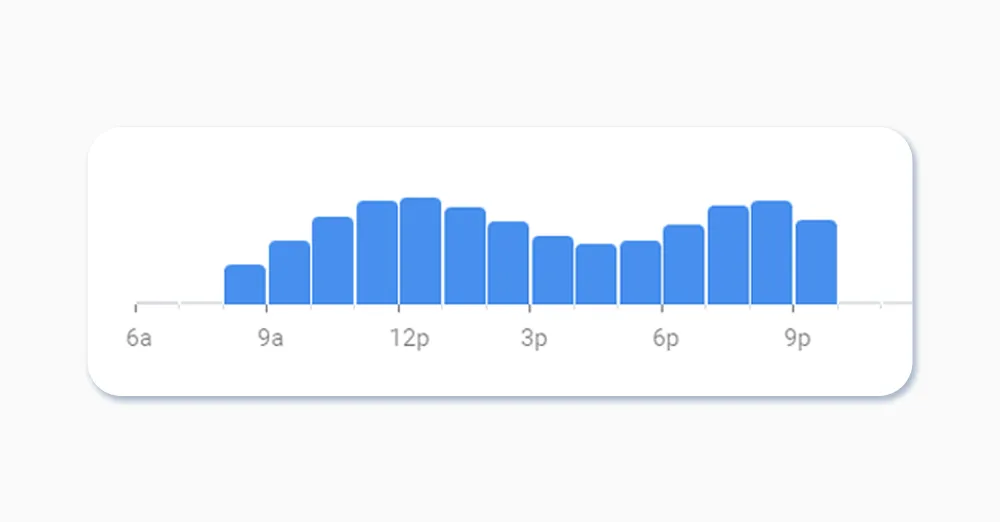 Generally, the best time to visit the Sharjah market is early in the morning or late at night when there are fewer people.
If you go to the market from 7 AM to 8 AM, you will find fewer people there. This is a good time to find fresh seafood, fish, fruits, and vegetables. However, remember that you may have to pay extra for fresh new products.
If you don't like crowds, you can go to the market later in the day around 9 PM too. However, the products there might be cheaper because they are slightly older.
Sundays are the busiest day of the week at the fish market. You will find the place crowded from 10 AM to 8 PM.
If you visit the market on Mondays, you'll find that there are not as many people there as on other days. The market is not as busy as it is on other days from 10 AM to 5 PM.
About Sharjah Fish Market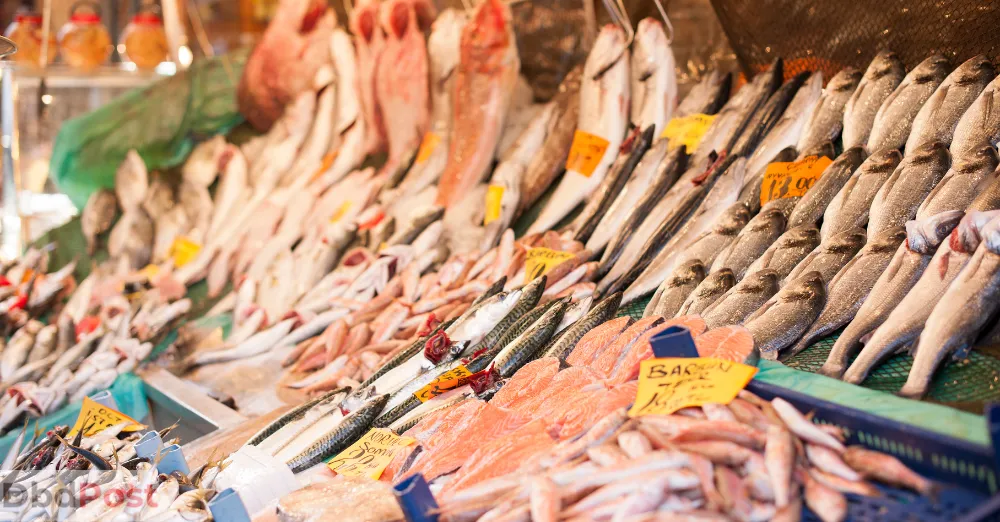 Sharjah Fish Market, also called Souq Al Jubail fish market, is a massive 400,000 square feet marketplace. The fish market is located near Corniche Road and Sharjah Creek, which is a great place to find fresh fish.
You can find nearly all kinds of fish you can imagine here. When you enter the market, you may be overwhelmed by the sheer number of fish species for sale. From exotic seafood to sharks and small sardines to huge tuna steaks, you will find all sorts of seafood there.
The prices for the items are reasonable too. You can save money by haggling with vendors, but be prepared to encounter some determined salespersons who won't budge on their prices.
One of the great things about this market is that it is extremely well-organized. The stalls are arranged in neat rows, and there is a central aisle where customers can walk without having to worry about getting in the way of the vendors. This makes it easy for you to find what you are looking for, and there is plenty of space for everyone.
It's always advisable to go with someone else so that you can keep an eye on your belongings while you're browsing through the stalls. The market is very safe but also very crowded during peak hours. So be careful when going there with your kids.
History of Sharjah Fish Market
Souq Al Jubail market was first established in December 2015. The fish market in Sharjah highlights the culture and heritage of the Islamic religion.
It features Islamic architecture that is unique to the United Arab Emirates. The marketplace also overlooks the stunning Flag Island and the Sharjah Corniche which are both very famous in the UAE.
The market was established while keeping the comfort of the visitors in mind. So the architecture features enough walking space for thousands at a time, and it has been neatly divided into three sections – fish section, fruits and vegetable section, and the meat and poultry section. [2]Souq Al Jubail, "History, … Continue reading
Related Stories
Learn more about the Fish market Dubai, including hours, location, map & more.
Check out another popular fish market in Dubai: Jumeriah fish market where you will find equally diverse varieties of seafood.
Residents in Abu Dhabi can also purchase the best fish and seafood items locally. Read our guide on the Mina fish market and visit the place today.
Learn more about the Ajman fish market, including hours, location, map & more.
---
FAQs on Sharjah fish market
What is the best time to go to the Sharjah Fish Market?
The best time to go to the market is between 7 AM to 8 AM. At this time, you will be able to find the freshest products of the day.
What is the best day to go to the Fish Market Sharjah?
The best day to go to the market is on Monday. On this day, the market is less crowded than on other weekdays and weekends.
What is the opening time of the Sharjah Fish Market?
The opening time of the market is 6 to 7 AM every day. Similarly, it closes at around 10 PM.
Final thoughts
The Sharjah Fish Market is a must-see for any seafood enthusiast visiting the city. Not only is it a great place to buy fresh fish, but it's also a great way to experience the local culture.
The market is full of vendors selling all sorts of seafood, from shrimps, lobsters & crabs to shark fins. You can also find fruits, vegetables, and souvenirs.
The best part of the market is that it is open for a very long time every day, so you can always drop by and find something to cook.
We hope our Dbd guide on Fish market Sharjah gave you the information you wanted.
Happy shopping!


Arijit Negi is an expatriate living in Dubai for 18 years. He completed his degree in Master of Arts in Journalism from the University of Mumbai. Arijit focuses on providing helpful guides and information for ex-pats living in UAE and visitors to the UAE.