If you are looking for the best gynecologist in Dubai, you have come to the right place. In this guide, we will provide you with all the information you need to find and contact the best OB Gyne in Dubai.
Many world-class clinics and doctors can be considered the best gynecologist in Dubai. Dr. Leila Soudah, Dr. Elsa de Menezes Fernandes, etc are some of the best. They can treat major & minor female health and reproductive issues and give the advice to prevent future problems.
We have put together this list based on our own research and experience. We have also taken into account the reviews of patients who have been to these gynecologists.
So, without further ado, here is our list of the six best gynecologists in Dubai.
6 best gynecologist in Dubai
1.

DLS Clinic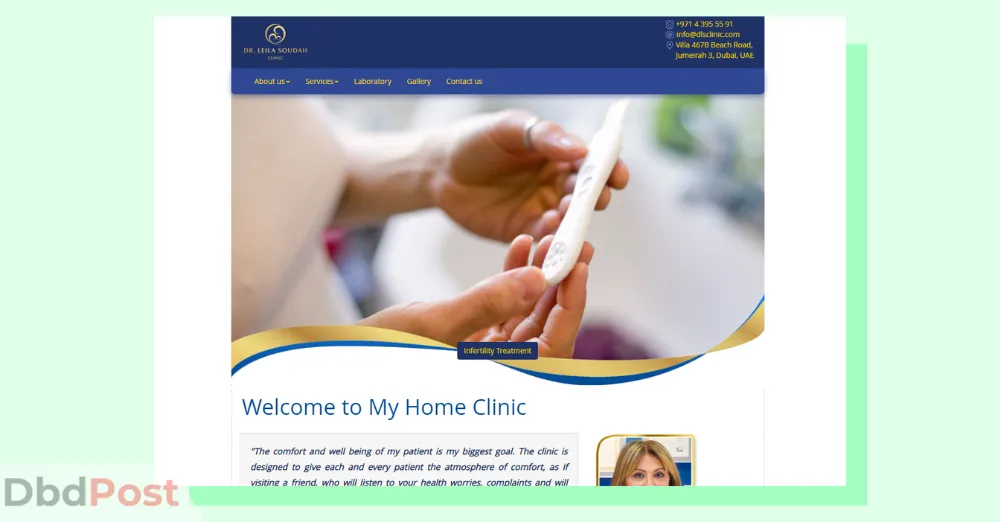 DLS clinic is being operated by Dr. Leila Soudah and she is among the best OB Gyne in Dubai and the whole of UAE.
Dr. Leila Soudah is highly respected for her knowledge and comprehensive treatment approach. She takes the time to do detailed research on each patient's symptoms to provide the most accurate diagnosis and treatment.
Plus, she's always on the lookout for any potential complications that may arise during treatment. This way, she can address them immediately.
Disclinic Dubai is one of the most renowned clinics in the city which provides a slew of services related to gynecology. Problems like breast pain and tenderness, vaginal bleeding, ovarian cysts, cervical erosion, etc are treated in this clinic.
The clinic also offers cancer screenings and uses procedures such as colposcopy for the more serious cases. The staff at Disclinic Dubai is highly skilled and experienced in handling all sorts of gynecological issues.
2.

New Concept Clinic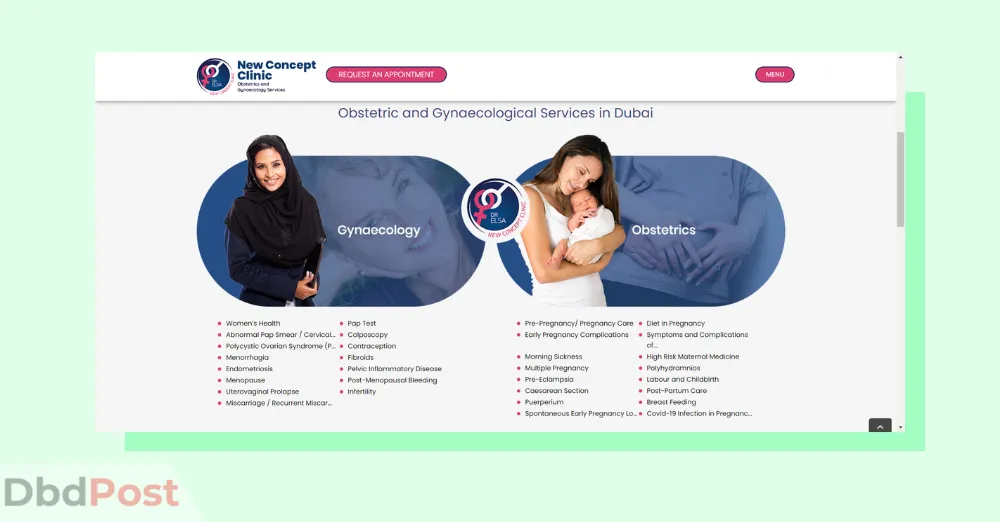 Dr. Elsa de Menezes Fernandes of New Concept Clinic is also considered by many to be the best gynecologist in Dubai. She is a UK-trained obstetrician and is among the best OB gyne in Dubai.
Under the supervision of Dr. Elsa, the clinic provides lots of treatment services in gynecology. The treatments include cancer screening, pelvic inflammatory disease, post-menopausal bleeding, infertility, uterovaginal prolapse, menopause, miscarriage, colposcopy, contraception, etc.
Alongside gynecology treatment, the clinic also provides services on obstetrics. Pre-pregnancy check-ups, pregnancy care, morning sickness, medicine, and childbirth services are available here.
Their all-female team will also ensure that you get the best treatment possible with great comfort. You can request an appointment by visiting their website.
3.

Dr. Gowri Ramanathan's OBGYN clinic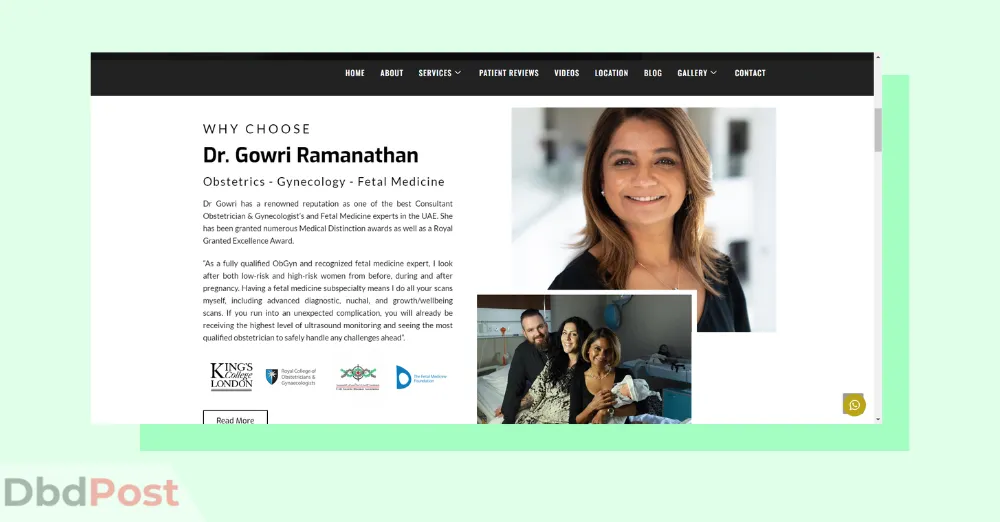 Dr. Gowri Ramanathan's OBGYN clinic has one of the best reviews from patients. Dr. Gowri's patients especially praise the warm and welcoming atmosphere of the place which puts everyone at ease.
Of course, the doctor's expertise is also on a very high level as well. From normal check-ups to pregnancy care, this clinic is equipped to handle everything related to women's health.
Many people often seek a second medical opinion to ensure that the first diagnosis was accurate. It is necessary to know that the treatment plan is the best possible option. It can be difficult to know who to trust when it comes to your health, which is where Dr. Gowri comes in.
Dr. Gowri has built up a reputation as a trustworthy and competent doctor. If you are considering getting a second opinion, Dr. Gowri's clinic is an excellent place to start.
4.

Aster Hospital's Dr. Safeena Anas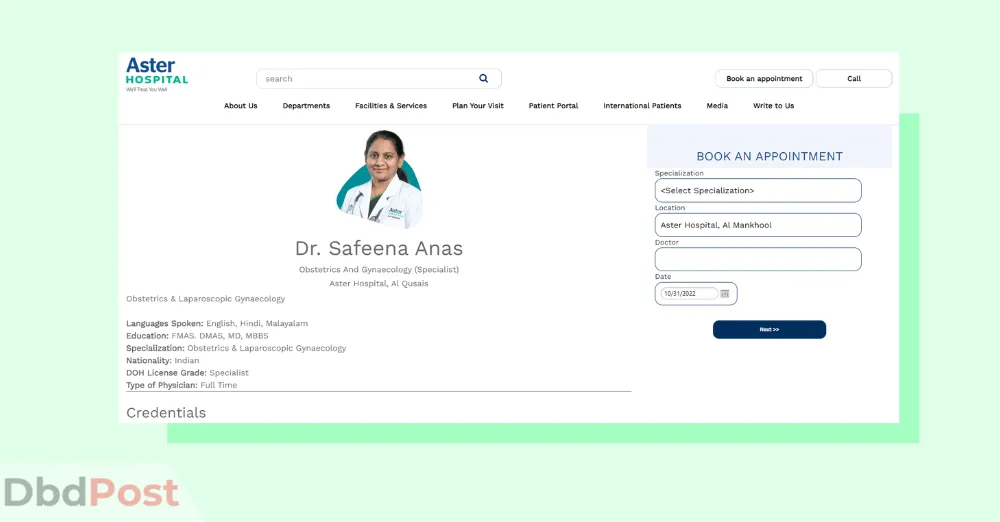 Dr. Safeena Anas is an obstetrics and gynecology specialist. She has 17 years of experience in gynecological surgeries and high-risk pregnancies.
The hospital provides a variety of services to women of all ages. Whether you are dealing with chronic pelvic pain, abnormal uterine bleeding, or ovarian cysts, the clinic is the best place to be.
The experienced team of doctors can work with you to find the best treatment plan for your needs. The clinic offers a variety of surgical and nonsurgical options for serious treatments.
They also provide counseling and support for women dealing with the loss of bladder control or other issues. So book an appointment on their website or call them immediately if you need help.
5.

Dr. Tazyeen Gynae and Polyclinic LLC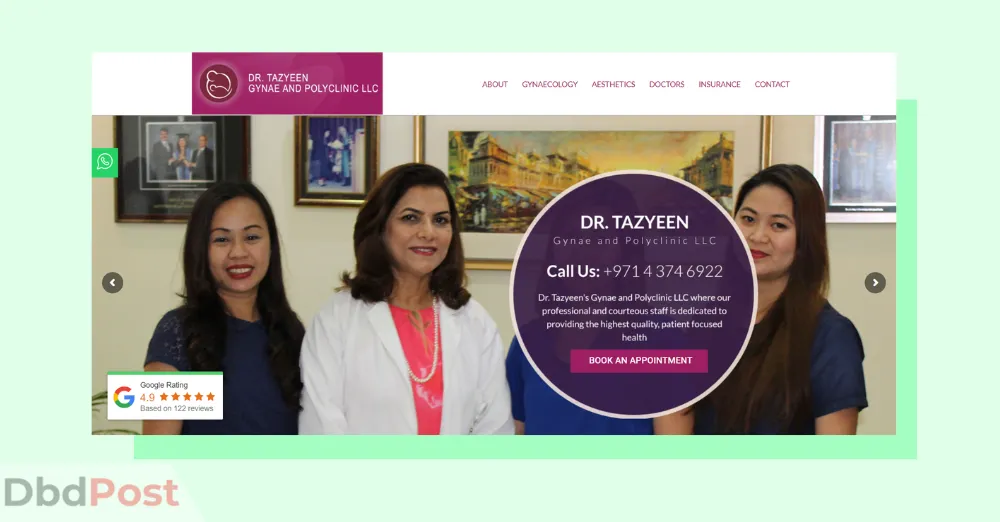 Dr. Tazyeen has been working as an obstetrician and gynecologist for the past 30 years. She is one of the best in her field and is very passionate about her work of taking great care of her patients.
The clinic provides a wide range of services for women. Cancer evaluation, colposcopy, ectopic pregnancy, contraception, disorders, cervical lesions, etc are treated here.
The clinic has a team of well-trained and experienced doctors like Dr. Tayzeen. They provide personalized treatment to each patient according to their medical history and health condition.
But what truly sets them apart is their focus on promoting healthy eating habits during pregnancy. They have specialists who will guide expecting couples for such things. They focus on diet, exercise, and mental health to ensure a safe and healthy delivery.
If you like the sound of that, you should contact them whenever you want to.
6.

Dr. Ripal Madnani Gyne clinic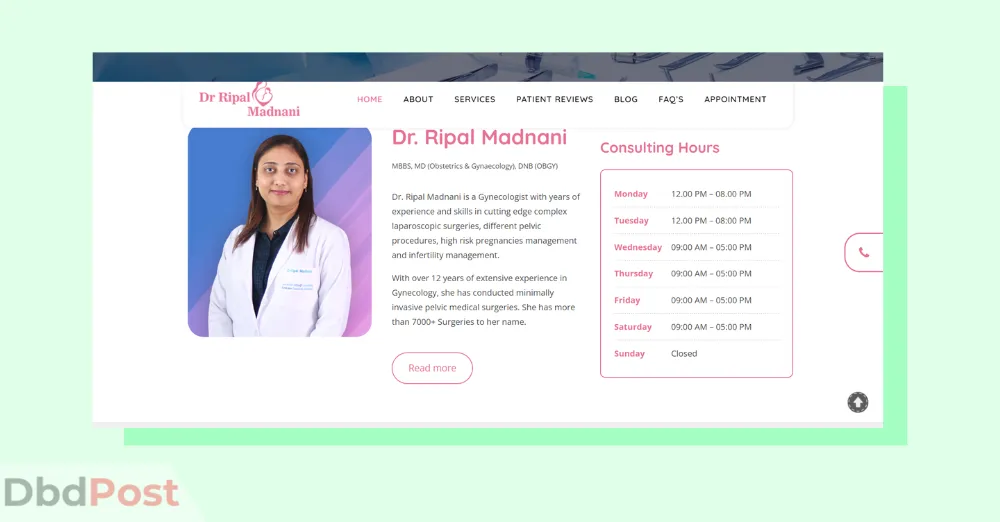 If you are searching for a place to get IVF treatment or laparoscopy, this clinic is the best OB Gyne in Dubai. Dr. Ripal Madnani is an IVF specialist with 12 years of experience in the field.
IVF is recommended when other treatments and medications don't help with fertilization. If a woman's age is over 40, IVF is prescribed to make sure they don't have to worry about infertility.
Laparoscopy is very different. It is a minimally invasive surgery where a fiber-optic camera is inserted through a small incision in the patient's stomach to view their abdominal organs. This helps to see the condition and prescribe necessary treatment plans if any issues are seen.
Both IVF and laparoscopy require extremely skilled doctors like Dr. Ripal. So if you are dealing with infertility or pregnancy complications, we advise you to contact them.
Benefits of visiting the best gynecologist in Dubai
Nowadays, more people visit gynecologists than in the past. People are getting more aware of their reproductive health, so they visit during pregnancy and childbirth.
There are tons of benefits to visiting the best gynecologists in Dubai. Let's take a look at some of the problems that can be solved by a good gynecologist:
Pregnancy, fertility, and birth-related issues
There are many reasons why pregnant women and mothers of newborns need to visit a gynecologist. During pregnancy, a woman's body undergoes a great deal of change. So it is important to have someone who is experienced in monitoring these changes and providing guidance & advice.
Gynecologists can also help to identify any potential problems that may arise during pregnancy and provide information on how to manage them. After the birth of a child, gynecologists can provide valuable guidance on breastfeeding and postpartum care.
Issues related to sexual dysfunction
Many women experience sexual problems at some point in their lives. These can be caused by a variety of factors, including hormonal imbalances, stress, relationship problems, and more.
Women's sexual health is a complex and often sensitive issue. When something is wrong, it can be difficult to know where to turn for help. Gynecologists can help to identify the cause of these problems and provide guidance on how to best address them.
Gynecologists can help in all aspects of women's sexual health, from contraception & fertility to menopause and sexually transmitted infections. They can also provide information on how to maintain a healthy sex life and how to deal with sexual problems.
Urinary and Faecal related issues
Maintaining good urinary and fecal habits is extremely important for keeping your overall health in check. However, not all people have the best eating habits which can in turn affect their urinary and rectal organs.
This is why it's so important to visit a gynecologist often – they can help catch any issues early on and provide treatment before it's too late. After all, prevention is better than cure.
In addition to regular check-ups, a gynecologist can also offer advice on how to improve your diet, ensuring that you're as healthy as possible.
Remedies from Asthma, Diabetes, and cardiovascular disease
Many people think of gynecologists as doctors who deal with reproduction-related issues. However, gynecologists play a much broader role in women's health than just that.
They don't just provide care for pregnant women and deliver babies. They also offer suggestions, remedies, and treatments for a wide range of other health problems.
For example, many gynecologists are also trained to treat patients suffering from asthma, diabetes, and cardiovascular diseases. As such, they are well-positioned to provide comprehensive care for all of their patients' needs.
Thus, these are some of the major benefits of visiting the best gynecologist in Dubai or anywhere else. If you are suffering from any issues, don't hesitate to ask for suggestions or recommendations from your local gynecologist.
Related Stories
---
FAQs
Which clinic is the best gynecologist in Dubai?
The best gynecologist in Dubai is Dr. Gowri Ramanathan's OB-Gyne clinic. That is because it offers a wide range of services on gynecology. Also you can also contact her for a second opinion on any gynecology or obstetrics issues if you are not satisfied with your primary doctor
How much does a gynecologist make in Dubai?
A gynecologist in Dubai earns AED 366,251 per year on average. The salary range of gynecologists is based on experience, skill, and also the number of successful surgery completed.
How do I choose a good gynecologist?
You can choose a good gynecologist by reading reviews and researching online. Normally, all gynecologists are friendly, well-educated, understanding, and sensitive but you must do good research on their expertise.
Final thoughts
Finding the best gynecologist in Dubai can be a daunting task. Additionally, many prefer consulting with a gynecologist as a private matter, so it makes the task even harder.
However, by doing your research and asking around for recommendations, you should be able to find a gynecologist that is right for you. Or, you can simply read a trustworthy guide like ours and go through the options.
We hope our guide has helped you to get in touch with the best OB Gyne in Dubai. If you know someone who can benefit from reading this guide, feel free to share this guide with them.


RN Sara Uddin is a Registered Nurse. She has experience working in hospitals, nursing homes, and community health centers across the UAE. Her expertise includes patient education on various medical topics and helping people understand their rights and responsibilities regarding healthcare. At DbdPost, she writes about medical news, advises readers about health topics, and offers support to those needing help navigating the world of healthcare.