Looking for the best movers and packers in Abu Dhabi? Don't worry we have got you covered.
They will guarantee the security and safety of your product while moving. However, Abu Dhabi has many movers and packers, so choosing the best one might confuse you.
Moving companies in Abu Dhabi are quite experienced in moving homes, offices, villas, and furniture. They can help you transfer a lot of stuff efficiently without you worrying.
This Dbd guide will provide you with a list of the 16 best packing and moving services in Abu Dhabi. Also, we will provide you with details like offered services, location, contact method, and more.
So if you want to learn more, keep reading till the end.
16 best movers and packers in Abu Dhabi
1.

Affordable Movers and Moving Company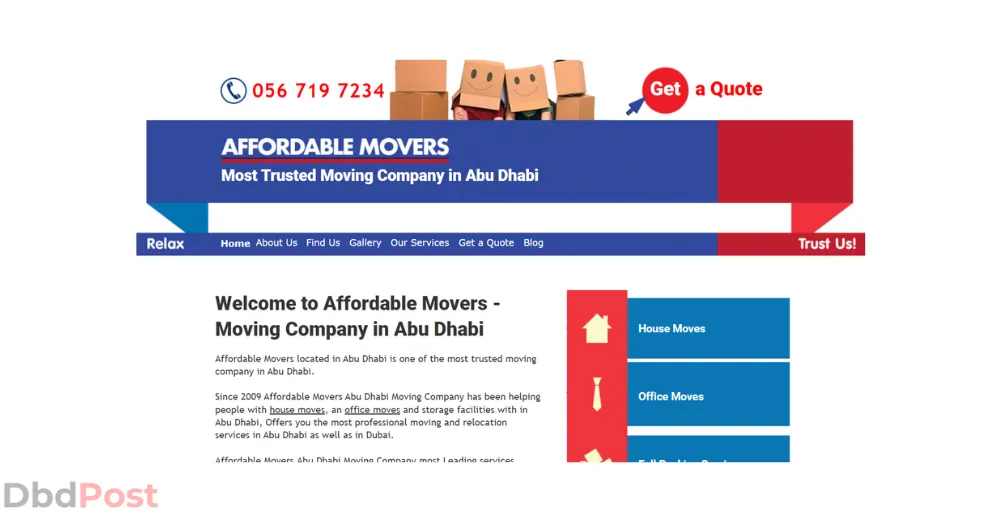 Affordable Movers are among the best movers and packers in Abu Dhabi, with experience of over 10 years. The most popular services they offer are packaging, storage, international freight, and relocation.
The company's storage facilities are also highly rated, providing a safe and secure place to keep belongings while people are moving. For those relocating internationally, they offer a comprehensive range of services to make the transition as smooth as possible.
2.

GI Movers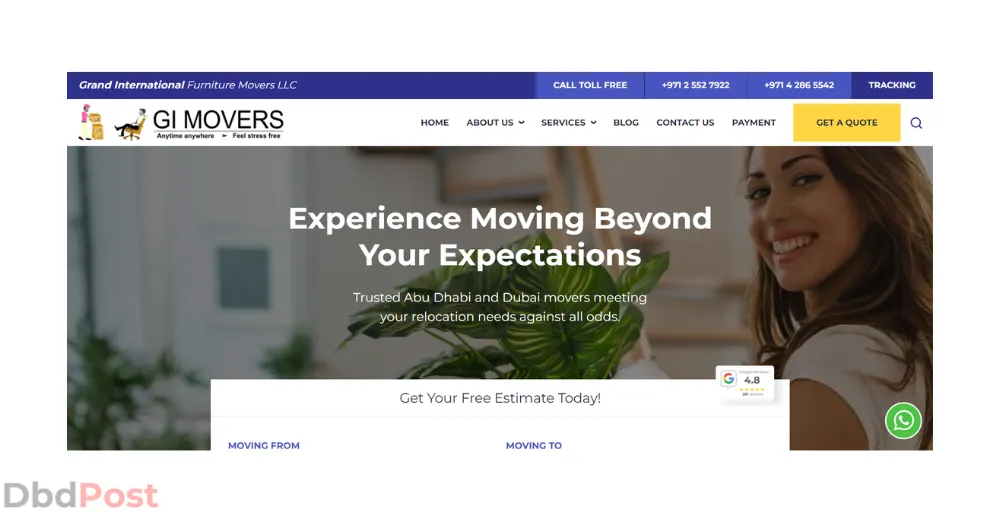 GI Movers is one of the most reliable and trusted movers and packers. They provide the best moving services, ensuring that all your items reach their destination in one piece. The moving company is certified with ISO 9001:2015 and ISO 18001:2007 with other quality standards. [1]GI Movers, "Certifications, … Continue reading
In addition, they will pack, unpack and even clean the debris. GI movers provide various service options, including home relocation, office relocation, furniture installation, and many more.
3.

Expert Movers and Packers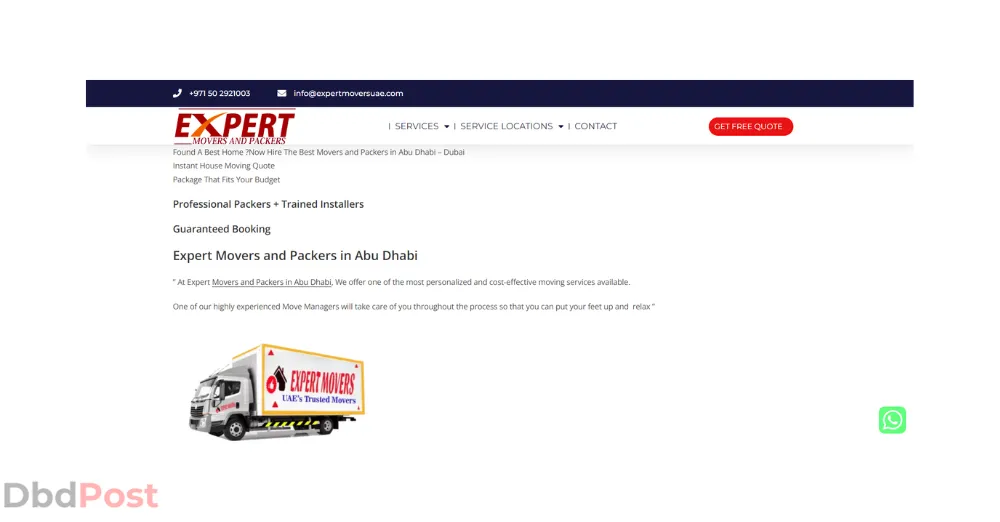 Expert movers and packers are moving company that provides their customers with the right employees to satisfy their needs. They have professional packers and movers who are not only experts but very skilled in their jobs. Their company operates from Dubai but extends its services to Abu Dhabi.
To protect the goods, furniture, and other items of customers while moving from harm, they use covered trucks. Furthermore, the movers provide special PC crates for moving your computers and other IT equipment. Also, you can book multi-site moves for commercial moving.
4.

Delight International Movers
Delight International Movers is a moving company that offers international and domestic moving services. They focus on providing a professional, efficient, cost-effective, and reliable service tailored to meet the needs of both the corporate and private sectors.
The moving company is a member of IAM (International Association of Movers), with members from over 170 countries. Also, they are associated with AMSA (American Movers and Storage Association), a non-profit trade association.
5.

We Movers Abu Dhabi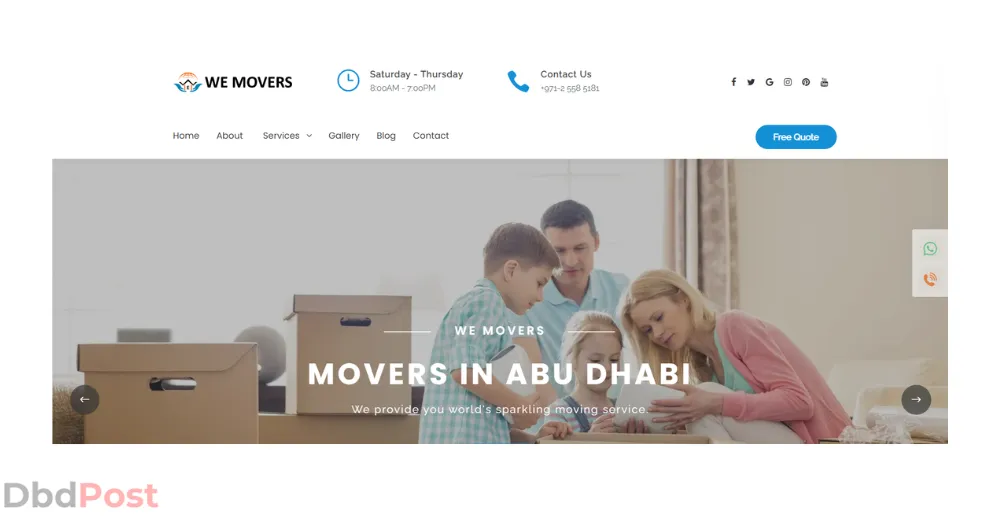 We Movers is one of the reputed movers in Abu Dhabi. They offer moving services for everyone, whether they are moving commercially or residentially. Also, they have a large warehouse to store your belongings and fast delivery services.
We Movers Abu Dhabi provides great services to their customers. These include office relocation, furniture installation, long-term storage, short-term storage, Art relocation, and more. Furthermore, the moving process follows proper sanitization to prevent Covid-19 contamination.
6.

Qualiko Movers and Packers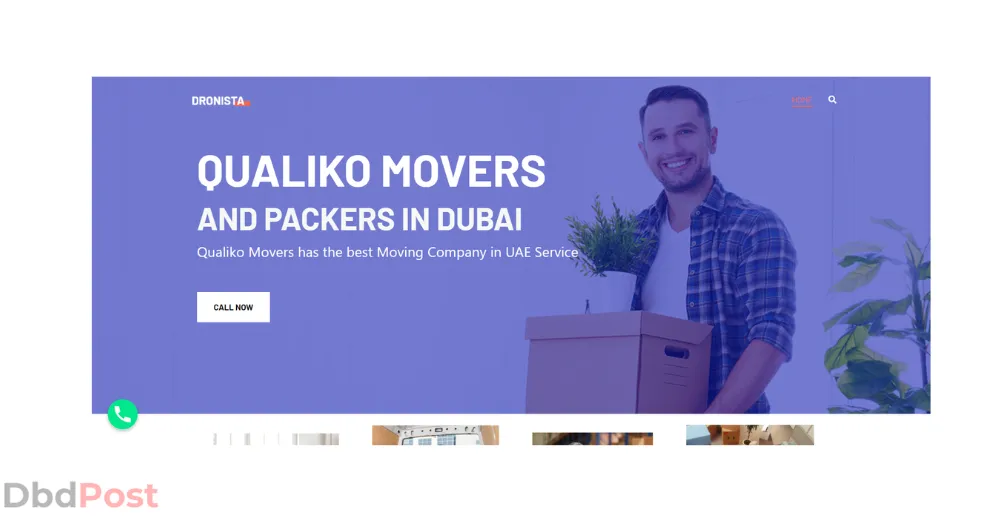 Qualiko Movers provides qualitative service to its customer for moving and packing. They are experienced and have been in the moving industry for more than 15 years.
Also, they have extended their services to cities like Dubai, Sharjah, and Al Ain. Like any moving company, Qualiko movers and packers also provides various services. Some of the services they provide are packing boxes, transportation services, and many more.
7.

Speedy Movers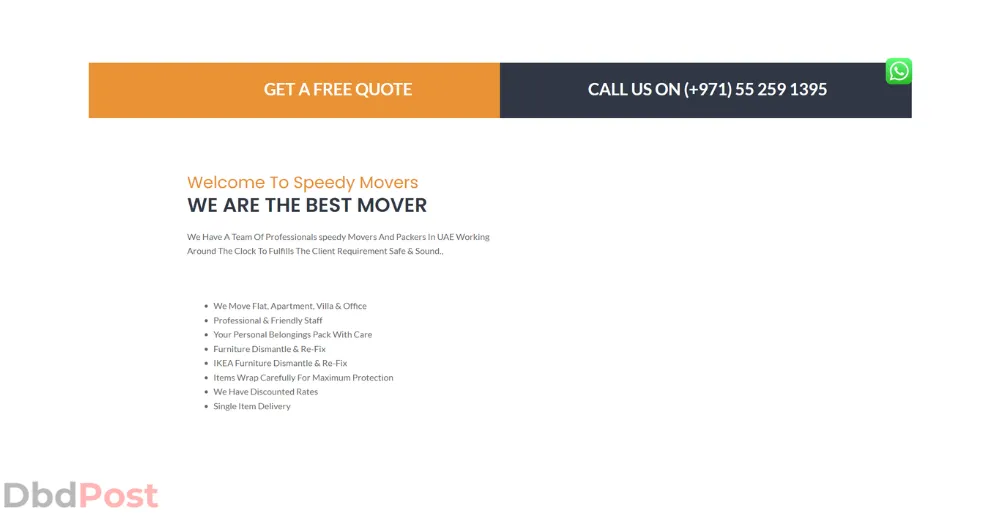 Speedy Movers and packers is a removal company with over 25 years of experience that offers its customers various services. They have a 24/7 customer support system and guarantee all items' safety.
Their website has good customer reviews, and its staff is punctual, courteous, and supportive. There will be hassle-free shifting and moving of your items. Some popular services are Speedy removals, Speedy couriers, and more.
8.

Super Budget Movers and Packers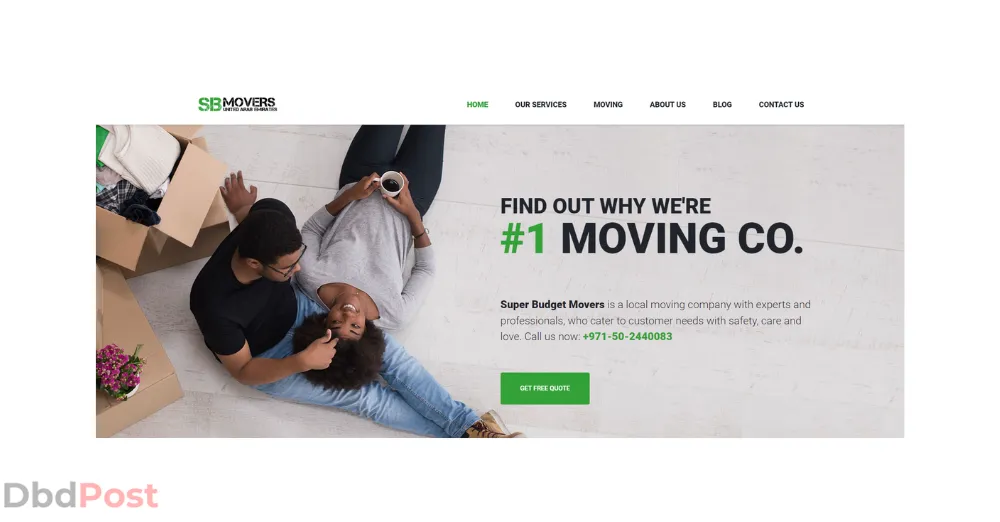 Super Budget Movers and Packers is a company that provides packaging, moving, and self-storage services. You can move to any city in UAE with the help of this licensed moving company.
In addition, they are one of the top-rated Villa Movers in Dubai, United Arab Emirates. They have an affiliation with the Dubai Federation of Movers and has Afnor NF Service certification.
9.

AGS International Movers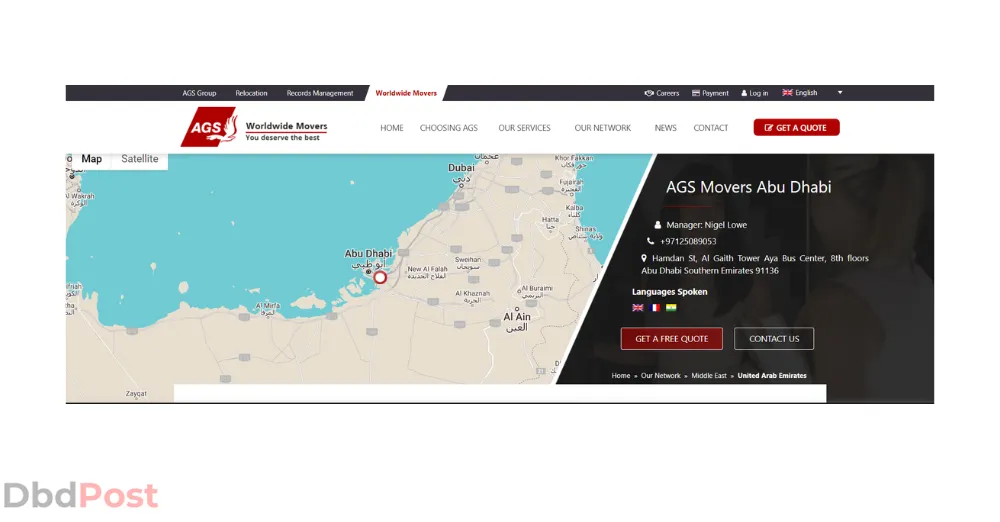 AGS International Movers is one of the cheap movers in Abu Dhabi that guarantees amazing services for an affordable price. It extends its services to 5 continents. They provide services both for individuals and corporations and the best quote based on customers' budgets.
AGS International movers and packers focus on four main aspects of their business. Their business motto includes Quality & Satisfaction, Security & Reliability, Flexibility & Advice, and Cutting-edge solutions.
10.

HouseMoverz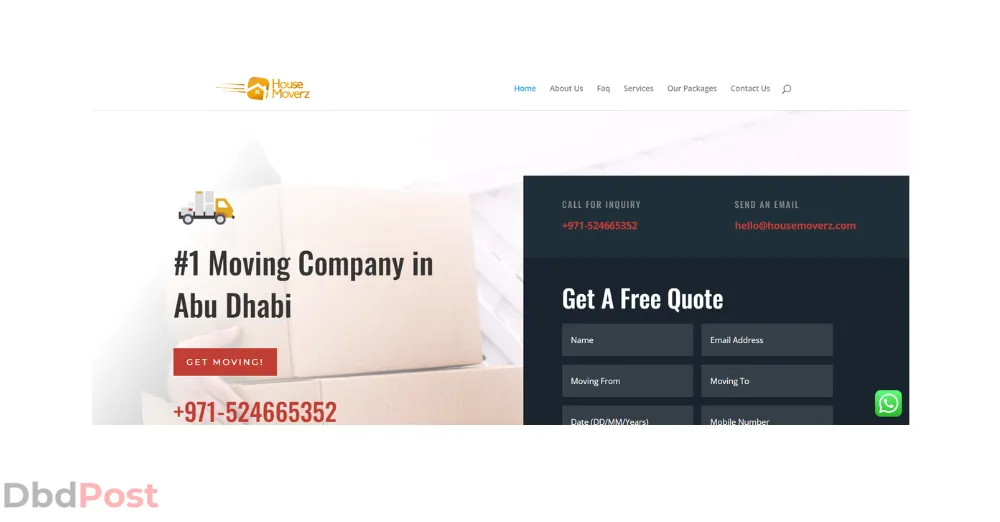 HouseMoverz is a moving company in Abu Dhabi with over 10 years of experience. They offer a hassle-free and seamless moving experience with a team of experts. The moving company offers storage, commercial relocation, and villa moving services.
Among the services, they excel in commercial moving. They focus on helping businesses on a large scale. Some of their valued customers are restaurants, fashion stores, IT companies, and more.
11.

MIJ Movers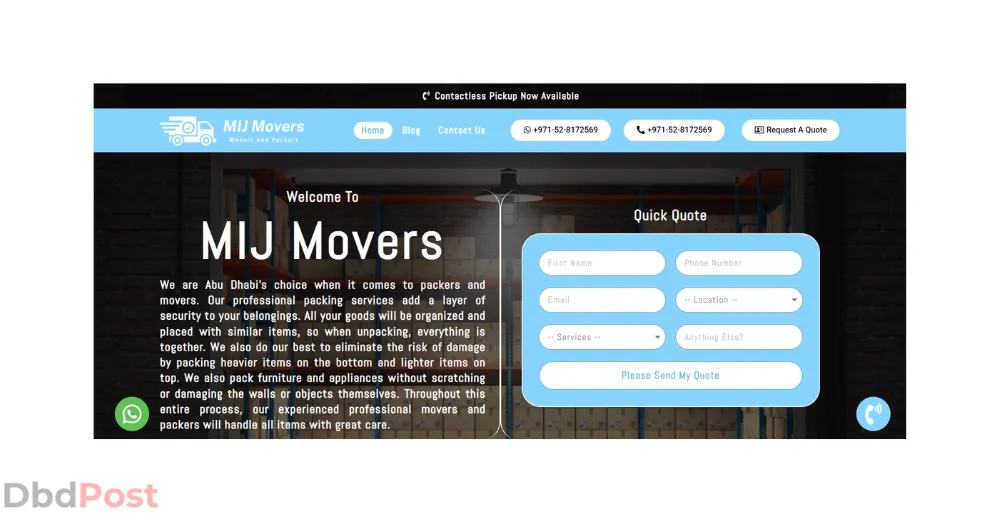 MIJ Movers offers an awesome moving experience with highly trained staff and the latest equipment. You can get an efficient and cost-effective moving experience with this moving company in Abu Dhabi.
They have over 15 years of moving experience in Abu Dhabi. Also, they follow Covid-19 precautions, regular inspection of trucks, and equipment maintenance to ensure quality.
12.

Furniture Relocators Abu Dhabi
Furniture Relocators are among the best movers and packers in Abu Dhabi that have over a decade of experience moving. They normally operate in Abu Dhabi but also have branches all around UAE.
You can get an obligation-free quote by filling out a simple form. Also, the movers have some great reviews on platforms like Google, TrustPilot, and MyMovingReviews. MyMovingReviews is a platform that has about 3900 prescreened professional moving companies.
13.

Fine Stars Movers and Packers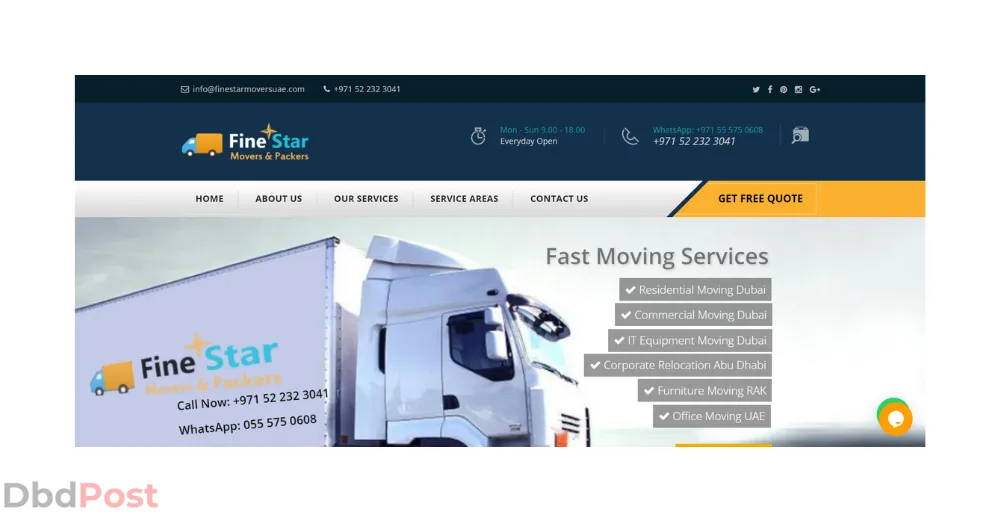 Fine Star Movers takes pride in providing its customers with the best moving services in Abu Dhabi. They are always researching and improving their methods to maintain the highest standards.
Fine Star's services include residential, commercial, office, packaging, storing, and warehousing. Apart from these services, you can get free quotes and consulting services from movers. Also, you can sign a contract for business logistics or commercial moving.
14.

Movers Packers Emirates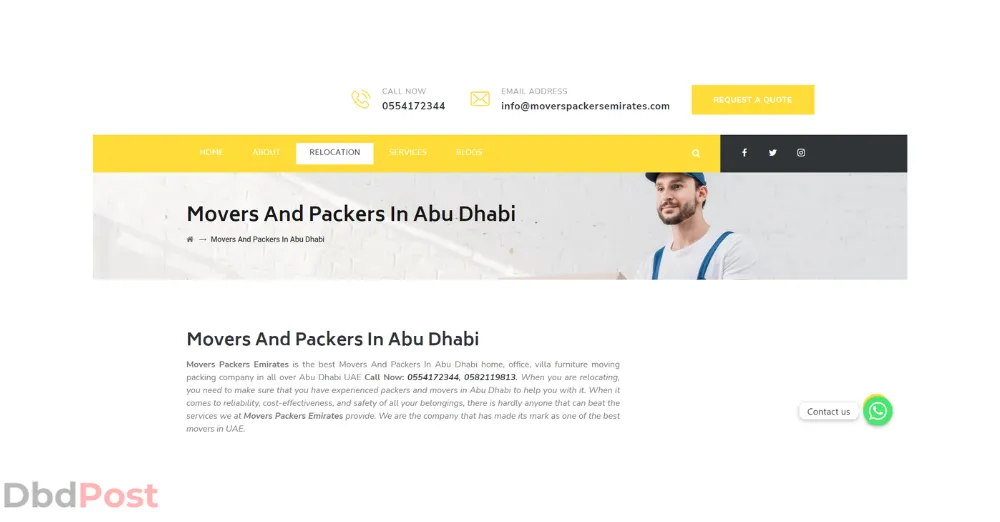 Mover Packers Emirates provides moving services all over UAE, including Abu Dhabi. You can get a high-quality moving service with the best equipment and reliable packing materials. They have a team of highly trained staff to meet your moving needs.
You can hire movers and packers any time of the week. However, to book the moving company on Fridays, you must make a booking in advance. Furthermore, you can also rent pickup trucks in Dubai, Sharjah, and Abu Dhabi.
15.

Al Amana Movers and Packers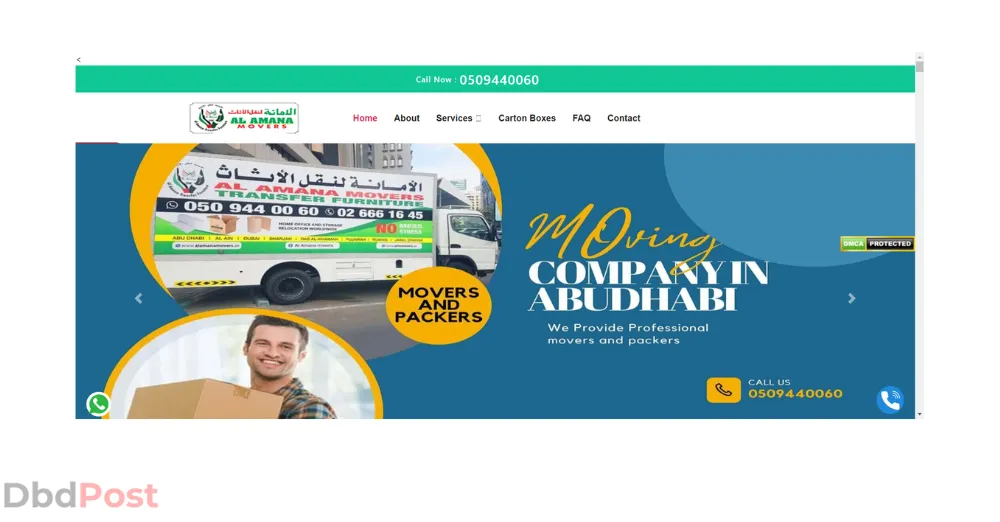 Al Amana is among the best moving companies in Abu Dhabi. Besides providing moving and packing services in Dubai, Al Amana operates in Dubai, Alain, and Al Ruwais.
The movers have provided services for over 22 years, making them a reliable moving company in Abu Dhabi. They have an impressive air-conditioned 30,000 sq ft warehouse for storing furniture.
16.

Everfine Professional Movers and Packers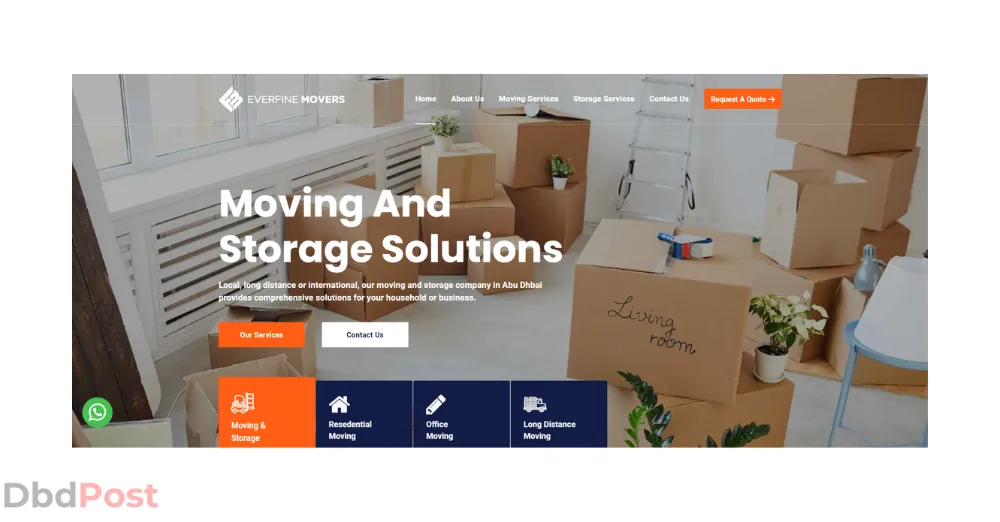 Everfine Professional Movers handle any type of moving, whether commercial or residential. They are experts in moving villas and furniture from one place to another.
Apart from moving, Everfine also provides storage services to people in Abu Dhabi. They provide the best cargo storage services as they have close relationships with major airlines in Abu Dhabi.
Related Info
---
FAQs
Final thoughts
The movers and packers in Abu Dhabi are essential if you want to move your home, offices, and villas. You need to choose the appropriate one after careful consideration.
We hope this Dbd guide has helped you find a moving companies in Abu Dhabi. Share and follow our page for more helpful content like this.