Looking for the best movers and packers in Dubai, UAE? If so, look no further.
Moving can be exhausting and take up a ton of time. Also, there are chances of getting hurt and damaging your stuff. Therefore, hiring professionals is the way to go.
Movers in Dubai are experienced in efficiently relocating your home and offices. You can ensure the safety of your furniture, equipment, and heavy machinery while using their services. Find out about the services offered, location, rates, and how to contact them here.
This Dbd guide will help you with the details about the professional movies and packers in Dubai. So, without any delays, let's get started.
21 best movers and packers in Dubai
1. Sunstar Movers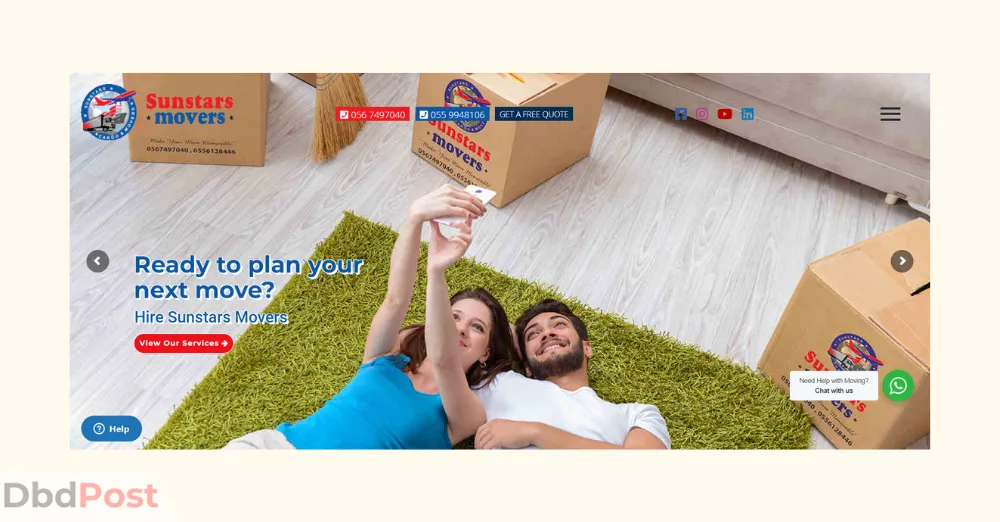 A group with a shared vision started this company to introduce change to the UAE relocation industry. Sunstars Movers & Packers in Dubai strives to make every move a "Jolly Moving Experience."
Their specialization in IT equipment moving service is a plus, resulting in the safe relocation of expensive data centers and servers. Furthermore, the fine art moving service lets museums relocate expensive art pieces and artifacts.
2. I Like to Move it Shipping Services LLC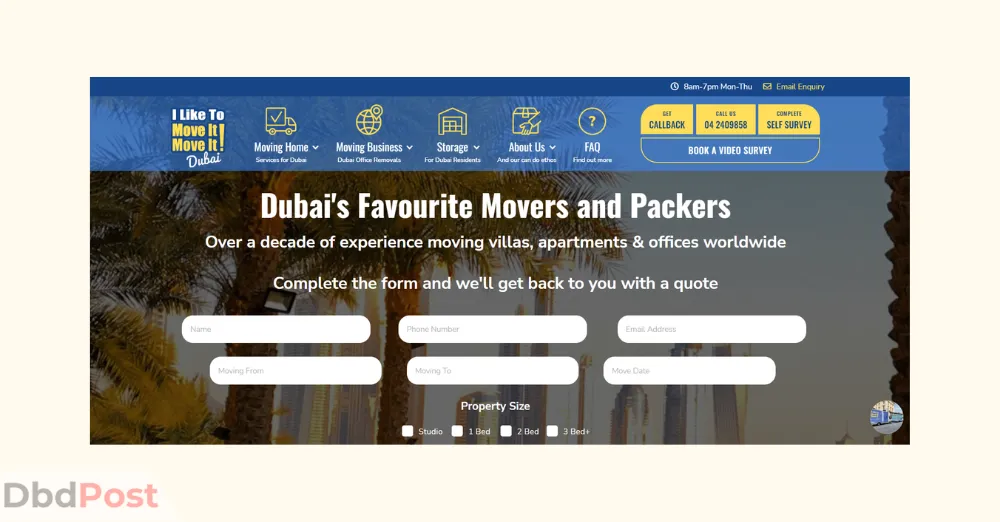 They are among the cheapest movers and packers in Dubai who will care for all your moving problems. "I Like To Move It" is a brand that helps move homes and offices regularly with a market reputation of over 10 years.
In addition, the service provider is certified with ISO:9001 for quality and BS:8522 for moving services. Furthermore, they have insurance coverage of up to 9.5 million AED in association with Axa Insurance.
3. HI FI Movers LLC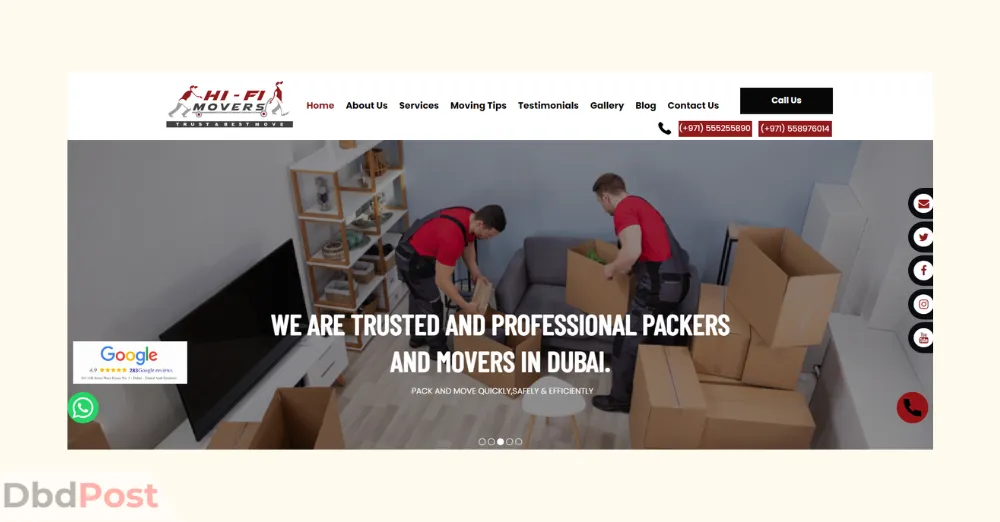 HI-FI Movers is a leading moving company in Dubai that provides its clients with a wide range of services. These include house and office relocation, packing and moving, and furniture assembly and dismantling.
As finding storage options in Dubai is hard to find. HI FI Movers offer some amazing storage options for both long and short terms. You can rest assured your stuff with a private area and unique identification.
4. Ghelman Movers and Packers
Based in the UAE, Ghelman Movers offers a wide range of moving services, from packing and loading to transportation and unloading. They also provide storage solutions if you need somewhere to keep your belongings while in between homes.
Best of all, their experienced movers will handle all the heavy lifting, so you don't have to lift a finger. Apart from moving homes and offices, Ghelman movers also help you in international export packing, loading, unloading, residential and commercial moving, and 24/7 storage facilities.
5. PacknDash Movers and Packers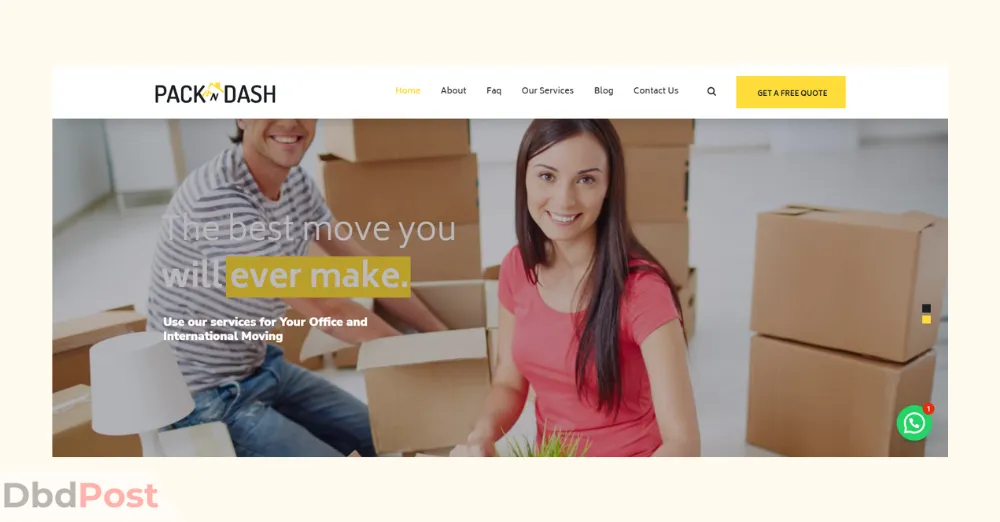 PacknDash is one of the best movers and packers in Dubai that help you move either locally or internationally. They provide a complete solution for your home and office, with full responsibility for your furniture, equipment, and valuables.
Pet relocation is one of their popular services. They have an experienced staff who can handle your loved pets. You can get one-on-one personal consultation for your special needs.
Packndash also offers storage services. The storage units are built with high-quality standards, and you can choose to have your belongings customized to fit in the unit.
6. FAST Movers and Packers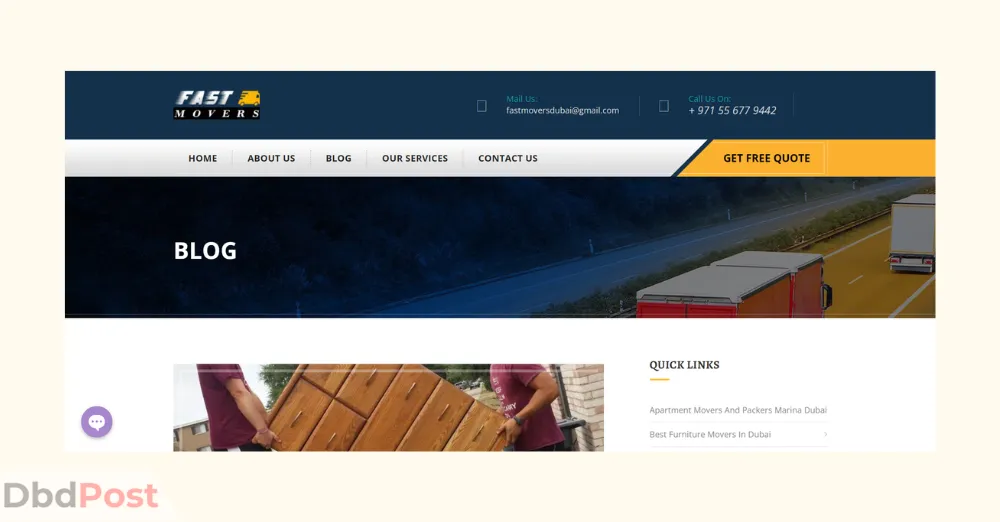 FAST Movers and Packers is a registered company located in Dubai with over 8 years of experience. They provide excellent service and high-quality work 100% of the time to all of UAE, including Sharjah, Ajman, and Abu Dhabi.
You can rest assured with any delicate materials with this moving company. They use bubble wrap, plastic rolls, and comfortable vehicles to ensure the safety of materials.
7. Unique Home Movers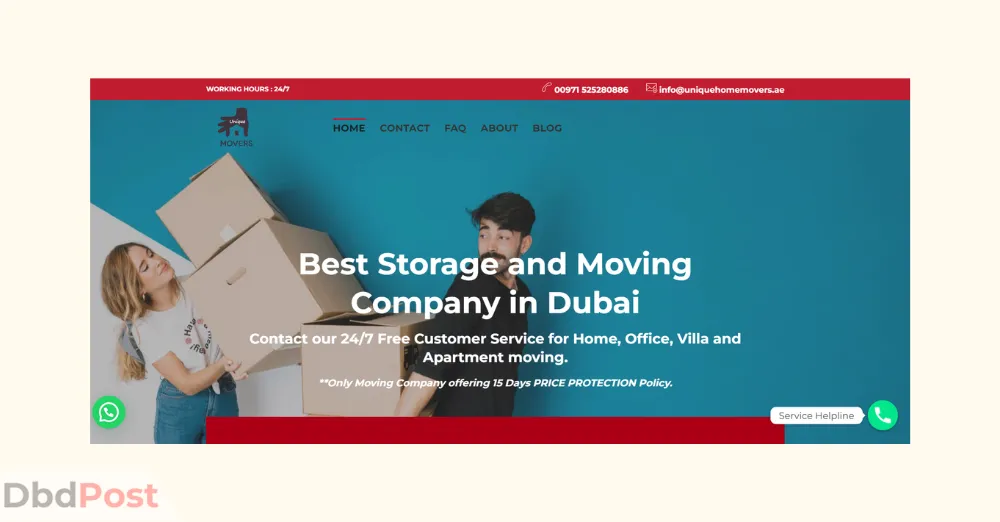 Unique Home Movers is an experienced and reputable company in the furniture business for over 9 years. They have a long list of satisfied customers who can attest to their quality work. With a team of more than 70 professional experts, they consistently provide quality packing and moving services at affordable prices.
Apart from that, they have exceptional storage services. Their units are bug-free, well-vented, and have 24/7 CCTV surveillance. Also, you can sign up for short-term and loving term storage options.
8. Super Movers & Packers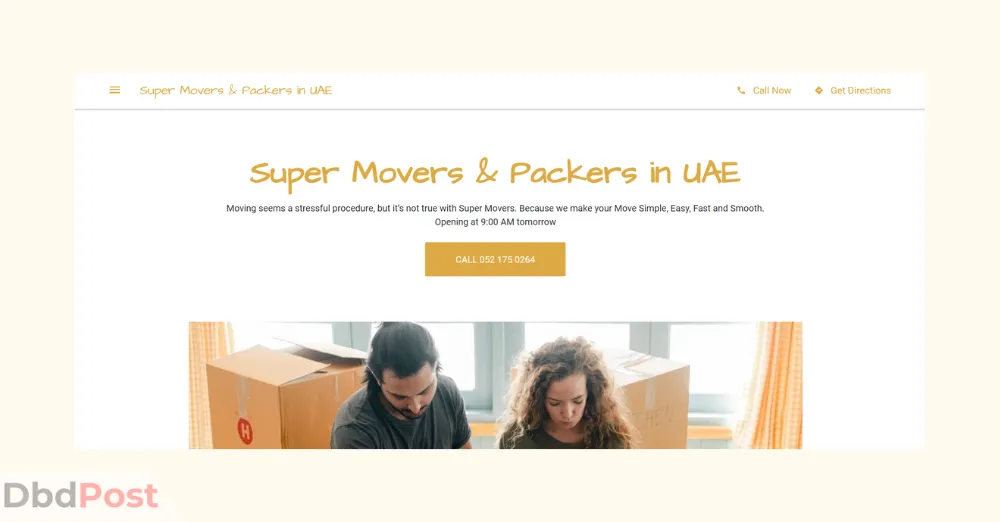 Super Movers & Packers is a leading packing and moving company in UAE. With years of experience, they can easily handle all your packing and moving needs.
Moving is an important moment in your life. Super Movers and Packers will do everything possible to make it as easy and enjoyable at a reasonable price.
9. UAE Movers and Packers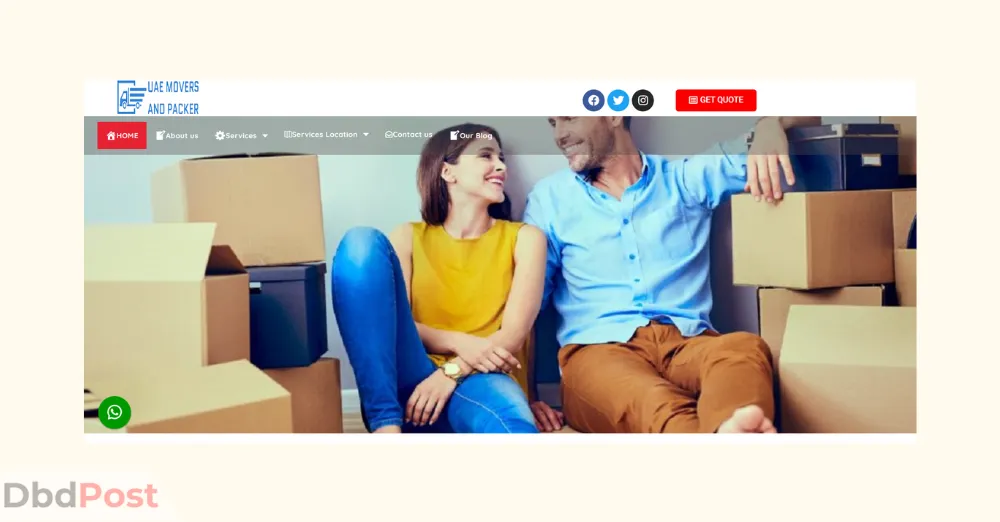 UAE Movers and Packers are one of the most reliable and efficient services regarding moving and packing. They use multiple transportation methods so your properties or valuables won't be damaged while moving. Their team is well-trained and has over 10 years of experience handling all properties, from fragile items to heavy furniture.
Also, they offer bundle plans for home relocation. The plans start from 1099 AED for studio apartments to 3999 AED for villas. You'll get boxes, tapes, and bubble sheets included in these bundles.
10. ALFA Movers LLC
ALFA Movers is a licensed moving company based in Dubai. They specialize in helping both individuals and businesses move to their new homes or offices quickly and efficiently. Also, they have the necessary facilities and know-how to complete your transfer safely, fastest, and conveniently.
They provide different services for local and international clients moving homes or offices. Also, you can get a free estimate for storage space and relocation. In addition, they have cutting-edge tools and equipment to ensure secure relocations.
11. E-Movers UAE (Official)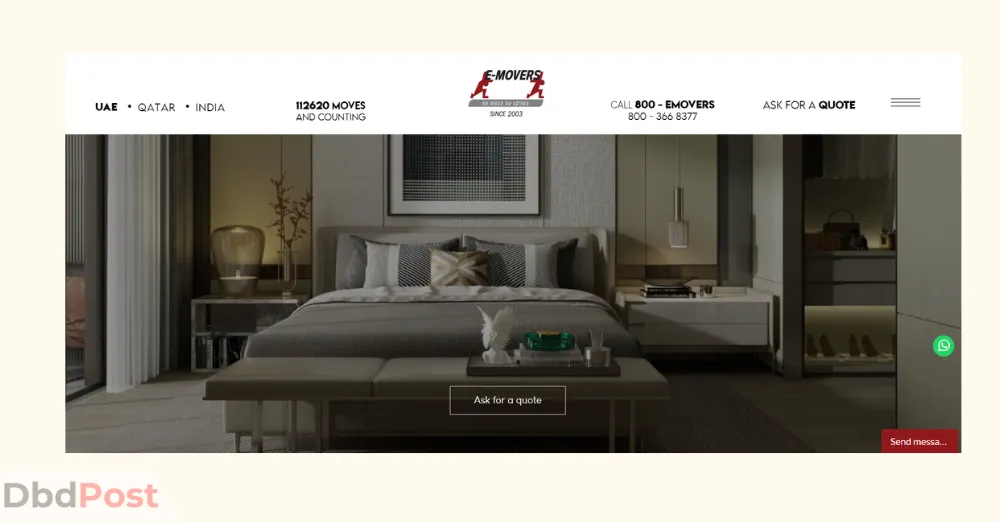 E-Movers is an ISO 9001:2015 certified company, offering services since 2003. With a team of 400 people, 70 trucks, and a 50,000 sqft storage facility at their disposal, they are one of the largest relocation companies in the UAE.
They have steadily grown over the years and opened new operations in Qatar. In addition, they have branches in locations like Dubai, Abu Dhabi, and Sharjah.
12. Shahi Movers And Packers Services LLC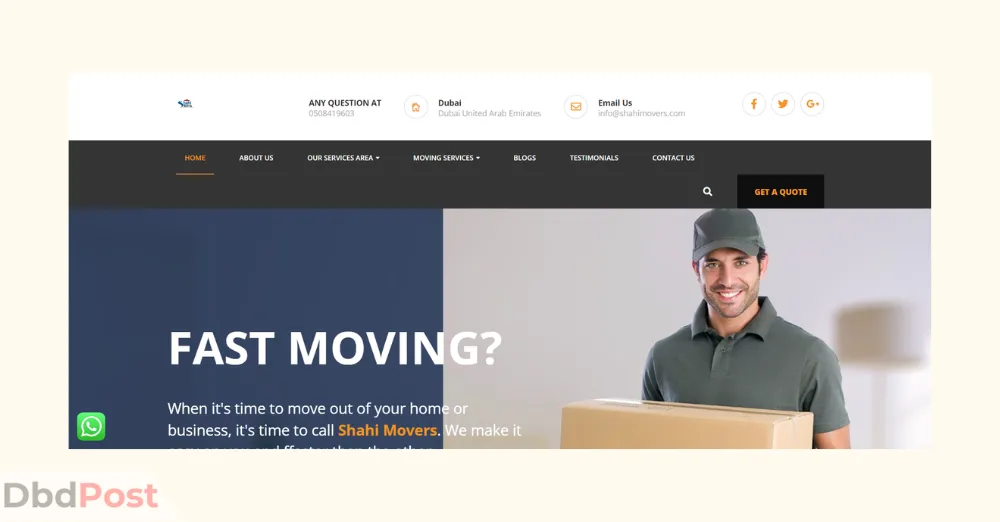 Shahi Movers offer a wide range of services, including residential and commercial moves, international packing and shipping, and housing. They're also one of the most competitively priced companies in the city.
They're also one of the most competitively priced companies in the city. You can get a 30% discount on your first move with the moving company.
13. DASA International Movers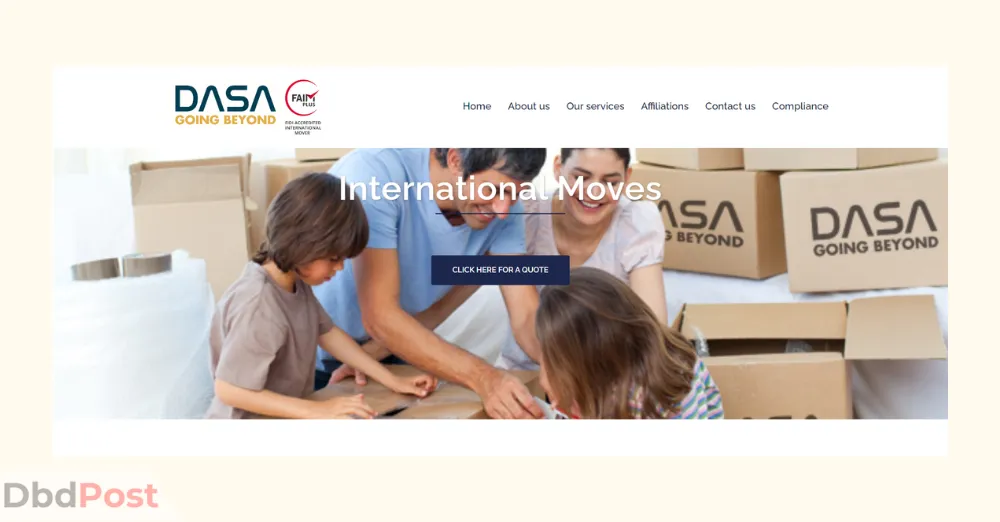 DASA International Movers is a company that provides local and international moving services. They offer a wide range of services to help you move, including packing, transporting, and delivering your belongings to your new home.
They also offer various additional services, such as storage and insurance, to help you protect your belongings during the move. In addition, they are accredited by FIDI ( Fédération Internationale des Déménageurs Internationaux) for quality of their work.
14. Best Movers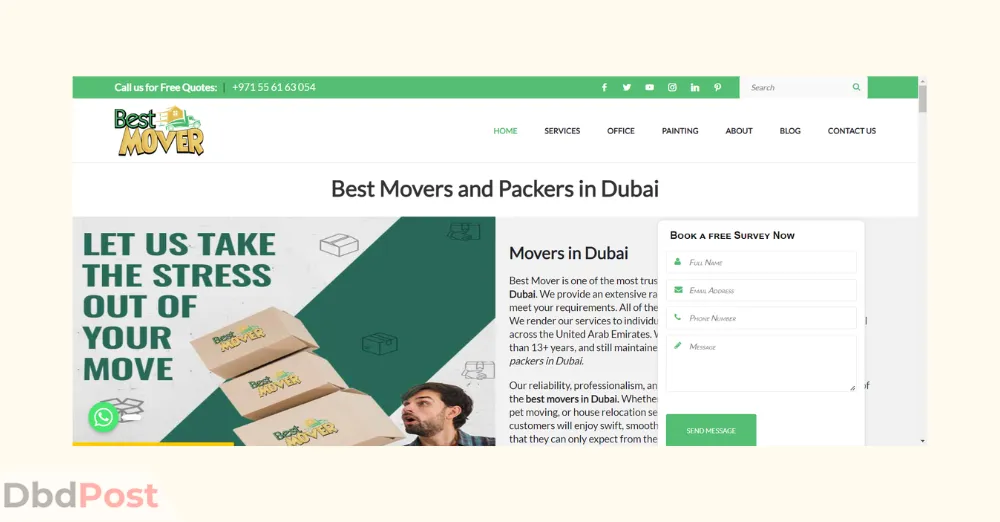 Best Movers Dubai provides services for international as well as local moving. They have skilled, professional, and experienced movers capable of delivering goods without damage. Also, they have been in the industry for more than 13 years.
Best Movers offers a wide range of services to help make your move as smooth and stress-free as possible. Among them, pest control is the most popular one. They have a skilled pest control team who can eliminate rats, bed bugs, ants, spider, and more.
15. MS Movers: Packers Movers Shifters Dubai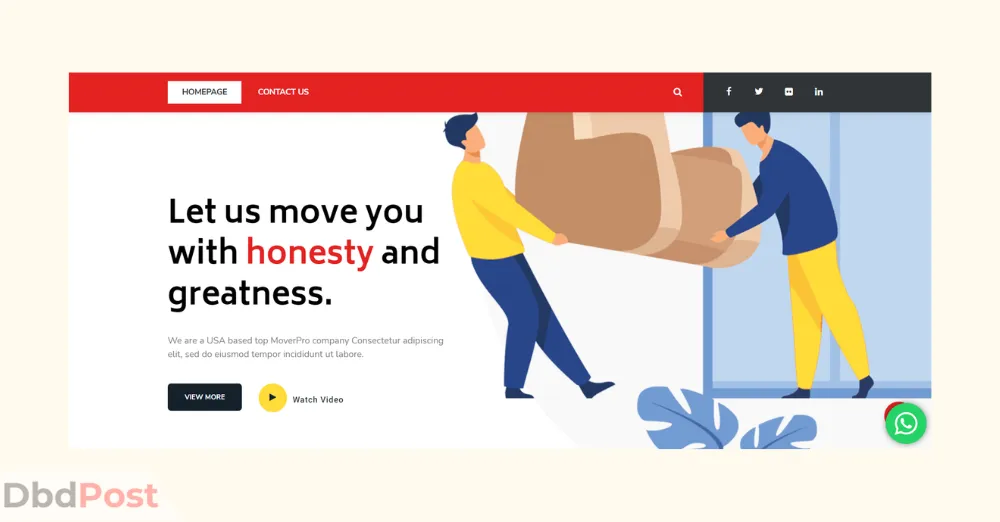 MS Movers is a leading moving company offering removal services for houses, offices, schools, universities, and corporate services. They are also very careful when it comes to furniture removal and packing. No matter where you need to move within Dubai or outside of the city, MS movers is a budget-friendly option.
They offer various additional services to make your move easier. For starters, they can provide you with a rental truck and even help you hire a handyman. Also, you can purchase good quality packing material from the moving company.
16. Union Movers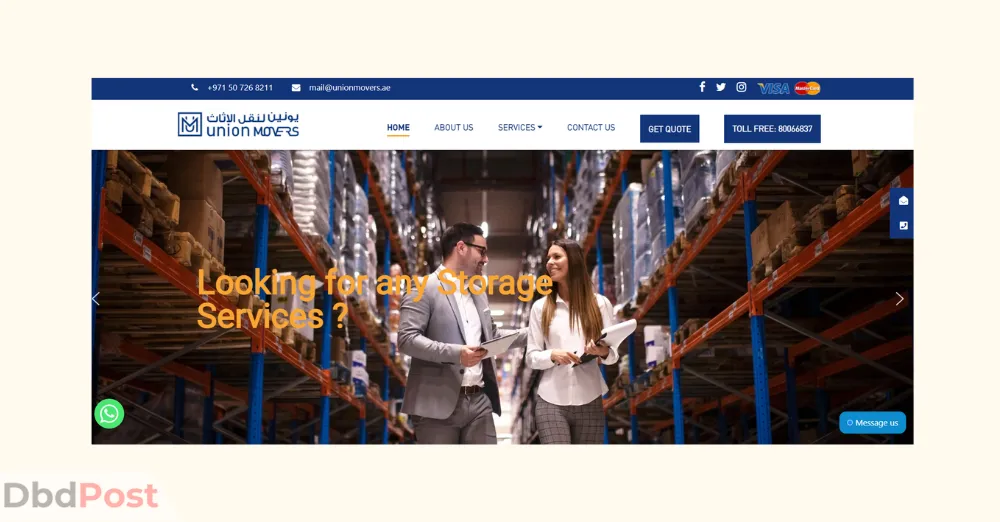 Since 1999, Union Movers has advocated for teamwork, and the company thrives on this belief. Their one goal is to "Deliver Excellence," and they have become industry leaders because of it. With over nineteen years of experience, Union Movers know what customers want with quality service at a reasonable price.
You can get the best professional services at Union Movers with a personalized touch. They have a team of talented individuals. Also, they are equipped to handle the needs of individuals and small and large-scale businesses.
17. MoversZone.com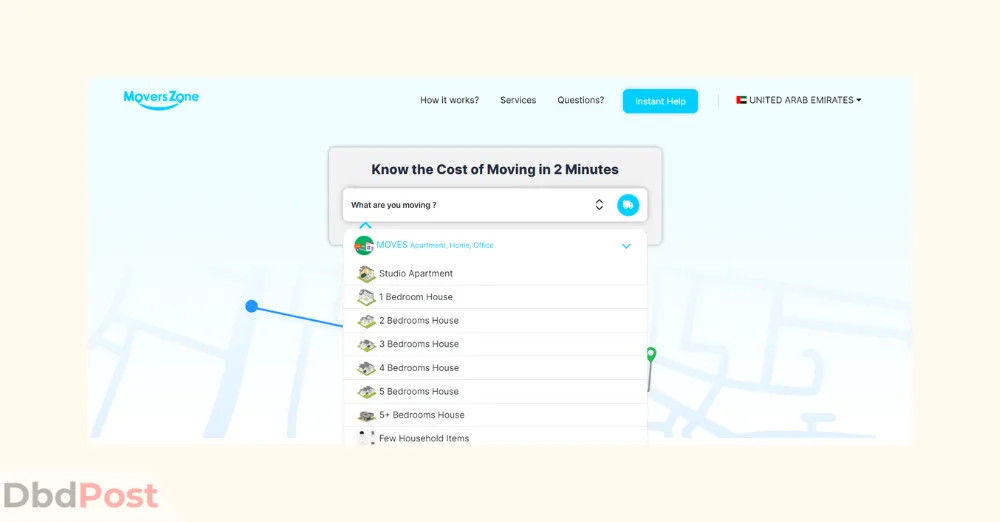 MoversZone is an online platform that makes moving a breeze. Simply enter your move details, compare prices and reviews, choose a verified mover, and book online.
This platform quickly and easily connects you with movers, so you don't waste time filling out multiple request forms. Simply enter your move details once to compare prices from multiple companies and book your move.
To ensure you're getting the best possible service, they screen all movers thoroughly. To meet quality standards, they must have all the necessary licensing and insurance paperwork, customer reviews, and references.
18. Professional Furniture Movers and Packers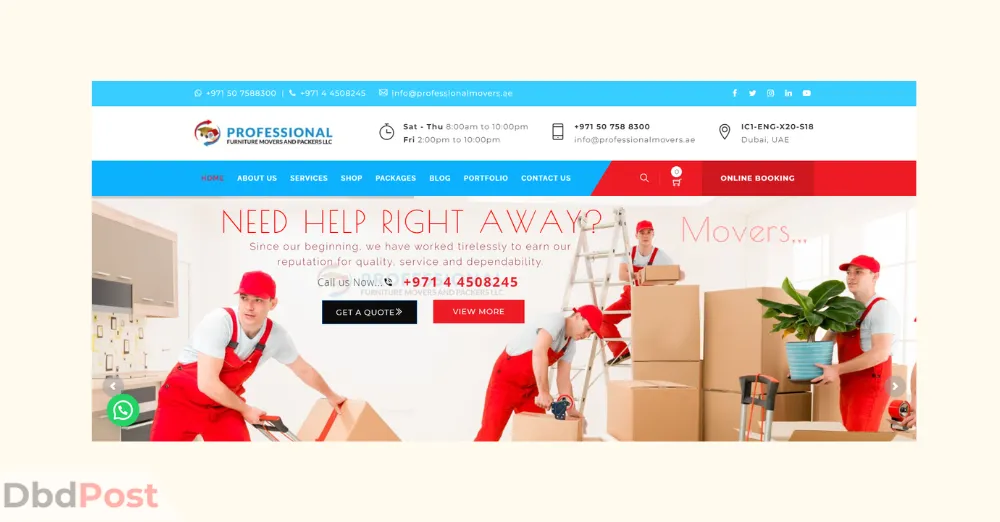 For over 15 years, Professional Movers has been providing first-class moving services to clients in Dubai and Abu Dhabi. They are a full-service company specializing in packing, shipping, and storage. Whether you're moving across town or the country, they'll take care of everything for you so you can relax and enjoy your new home.
They are an expert team offering dependable and budget-friendly service provider. They offer four levels of moving bundles vary. You can choose from Basic, Bronze, Silver, or Gold.
19. Tawheed House Movers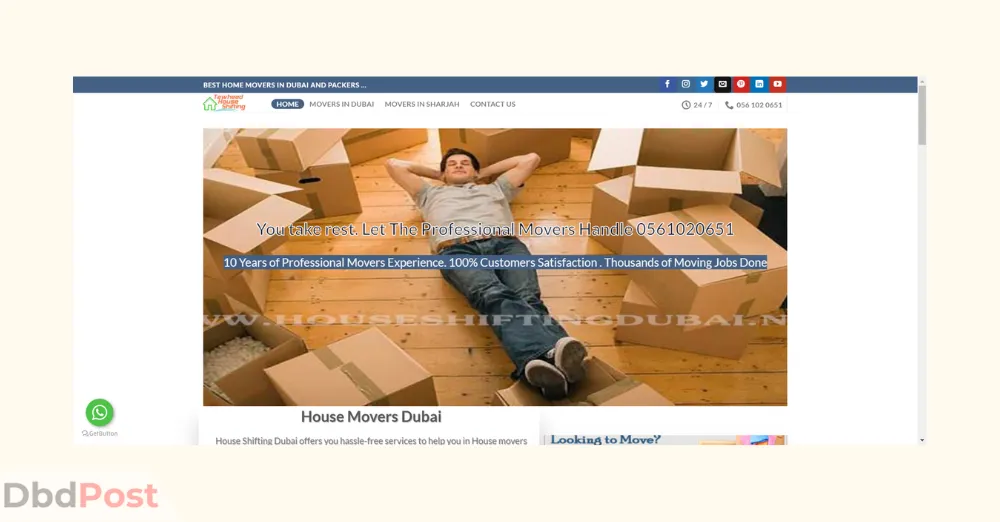 Tawheed House Movers are professional movers and packers in Dubai for over a decade. They're careful with your belongings and guarantee that nothing will be damaged during relocation.
You can trust their skilled staff to handle your belongings with care, from packing them up to moving them. Not only does Tawheed excel in moving furniture and equipment, but they also are trained to fix and dismantle furniture before and after your move.
20. Sara Movers & Cargo Packing LLC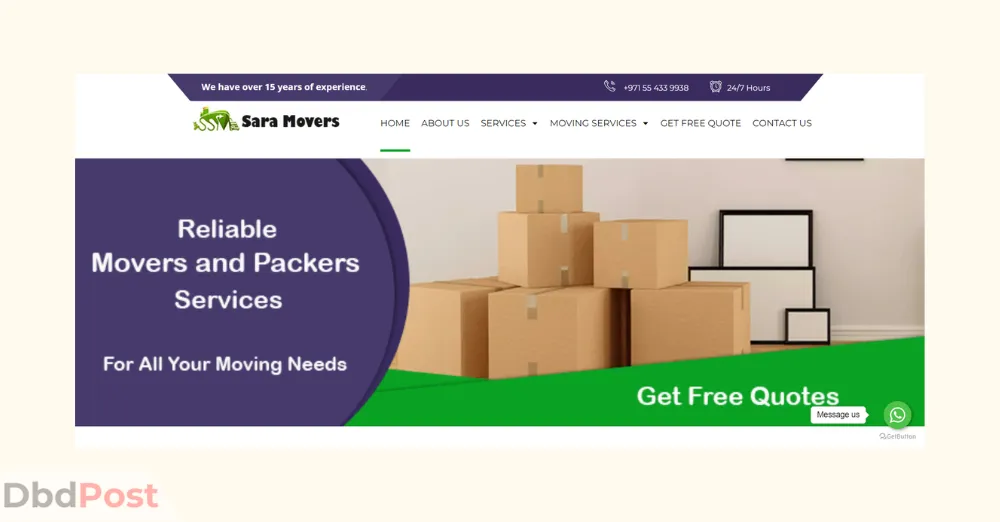 Sara Movers and Packers has been providing professional moving services for the last 5 years. Not only are they villa movers and packers in Dubai, but they also provide relocation services to Sharjah, Abu Dhabi, and other major cities in UAE.
Their team of experts are available 24/7 to help with your relocation needs. Additional services include house shifting, furniture moving, office relocation, and all other packing and moving services.
They not only use bubble sheets and other packing materials to safeguard your belongings during transport. They also take any customer damages very seriously to maintain excellent service ratings. The removal services are affordable, and all the necessary wrapping and careful moving will avoid damage.
21. Aeon Shipping LLC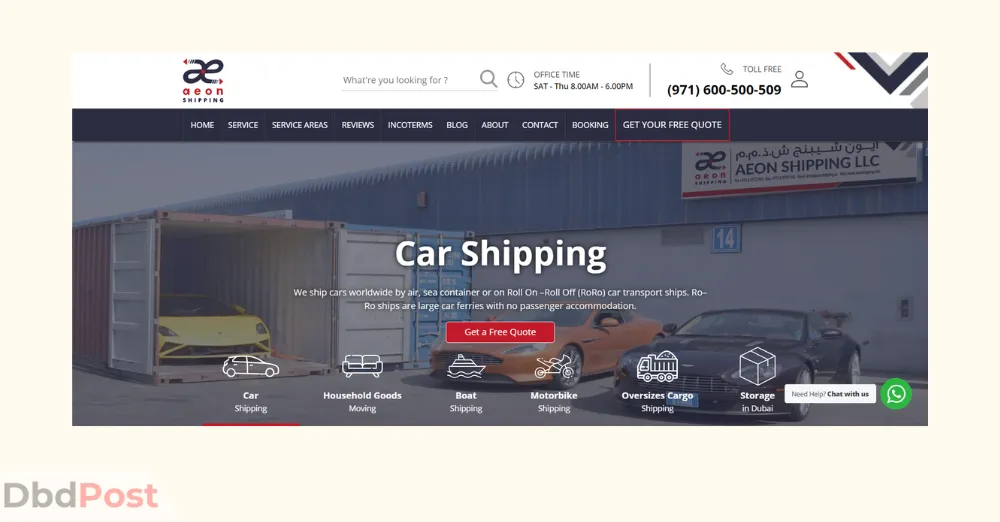 Aeon shipping aims to build trust and long-lasting relationships with clients by providing the highest level of service possible. The company's priority is to foster a respectful working environment and professional development.
They work hard to reduce costs while still providing reasonable prices for customers. The company plans to expand its freight services via sea, land, and air within 10 years. This step ensures their position as the best moving company in the UAE.
Related Info
---
FAQs
Final thoughts
There are several best movers and packers in Dubai to help make your move as smooth as possible. They have the experience and knowledge to get your belongings where they need to go. Also, they will work tirelessly to ensure that everything is packed safely so that no damage is done.
These moving companies in Dubai will help you move locally or internationally without hassle. Choose the best one depending on your requirements and get quotes from different companies to compare rates.
We hope this Dbd guide has helped you choose the right movers. Also, share this guide with your friends and family. Make sure to follow our blog for informative content like this.