With so many movers and packers in Ras al Khaimah, it can be hard to know which one to choose. So, there are plenty of factors to consider to look into before you choose one.
Generally, most moving companies in Ras al Khaimah offer relocation services locally and internationally. They also provide furniture loading and unloading, storage moving, handyman services, and truck rentals.
If you are looking for the best moving services in Ras al Khaimah, you've come to the right place. This Dbdpost guide will discuss the top moving companies that provide quality shifting services.
With their years of experience and expertise, they'll have your move done quickly and efficiently without damaging your belongings.
So, without further ado, let's get started!
6 best movers and packers in Ras al Khaimah
There are many houses, office movers, and packers, but finding reliable and affordable movers is not easy. You need to do some research before hiring one. Here is a list of the best moving companies in Ras al Khaimah that will help you to find a good mover.
1.

MIJ Movers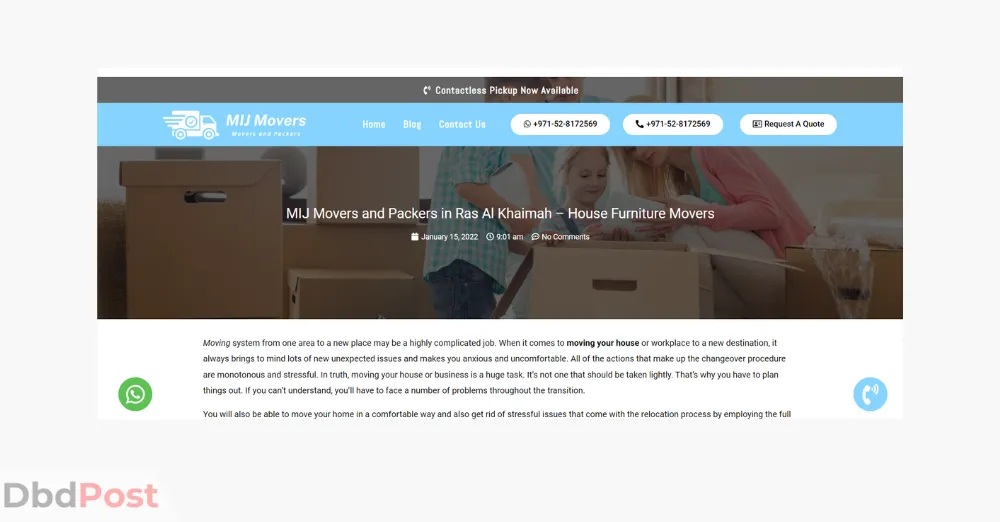 | | |
| --- | --- |
| Offered Services | Moving, Packing and Storage, Furniture Installation, Truck Rental Service |
| Location | Al Seer, Ras al Khaimah |
| Map | Get directions |
| Hours | Open 24 hours |
| Contact | +971528172569 |
| Website | MIJ Movers |
MIJ movers offer the best moving service in Ras al Khaimah. They can help relocate you long or short distances and help with residential or office moves.
Similarly, they also provide furniture installation, storage, and loading and unloading services. They take great care in packing and unpacking your belongings so that nothing is damaged during the move.
MIJ Movers are experts in all things that need to be in a moving company in Ras al Khaimah. Your belongings are always in good hands with constant monitoring, security, and regulated climate control. And if you need more space down the road, their scalable storage solutions are perfect for you.
In addition to their moving services, they also offer truck rental. This is an excellent option for moving any furniture or other items. MIJ movers are committed to providing the best possible service to their customers.
2.

Allied Dubai Movers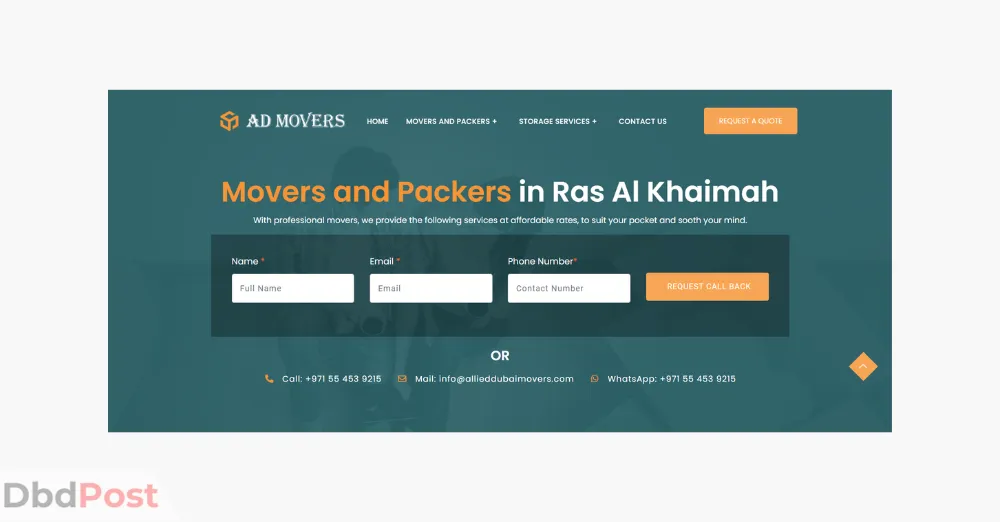 Allied Dubai Movers is a professional moving company that offers various services 24/7. Their services include home, office, and villa relocation, locally and in long-distance moves.
When Dubai Movers offer their services, they always follow some standards. The first thing they do is contact their customer and conduct a pre-move survey. This ensures that the customer understands what is happening during their move.
Moreover, they will provide the client with a free estimate. After confirming that the movers arrive on time. They will start by dismantling and packing your items with bubble roll stretch. Lastly, they will ensure a quality check before leaving the premises.
They claim to provide these services at affordable rates. Whether you need a simple home relocation or a long-distance move, they have your back.
3.

Ruby Movers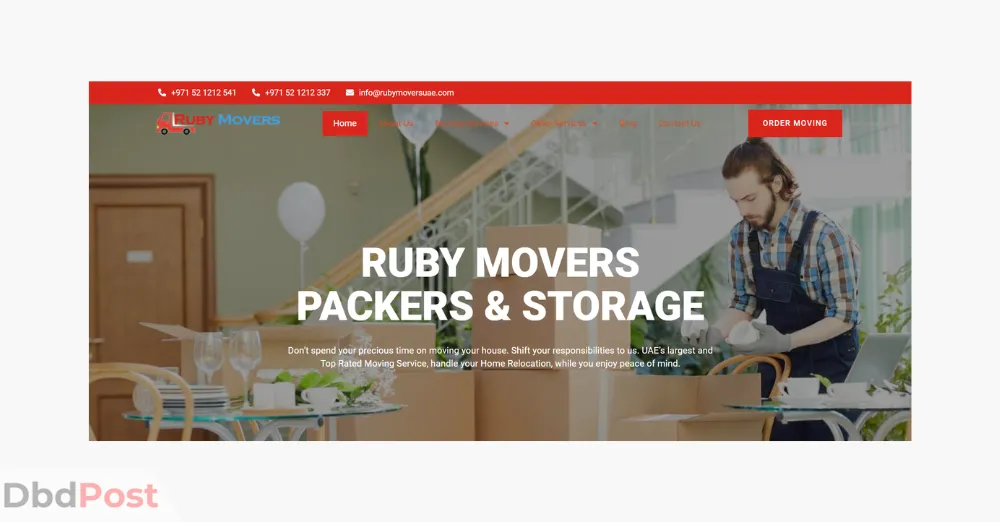 | | |
| --- | --- |
| Offered Services | Office shifting, Villa shifting, Piano moving, Storage, Handyman |
| Location | 1575 Al Hamra Village, Ras al Khaimah |
| Map | Get directions |
| Hours | Open 24 hours |
| Contact | +971521212337 |
| Website | Ruby Movers |
Ruby Movers are trustworthy, convenient, and professional movers and packers in Ras al Khaimah, United Arab Emirates. They operate 24/7 and are dedicated to providing quality packing services that guarantee the safety of your belongings.
Being a full-service moving company, they offer a wide range of services to meet your needs. In addition to villa, office, and apartment moving, they also offer packaging services with quality packing.
Similarly, they can take care of the installation of furniture items. They have a handyman service to do all kinds of assembling and dismantling work.
Ruby Movers provide top-quality moving services at an affordable price. They offer various discounts for Ruby cardholders (up to 20%). [1]Ruby Movers, "Ruby Exclusive, https://rubymoversuae.com/#:~:text=Get%2020%25%20Discount%20on%20Moving%20and%20Storage%20Services". You can get moving and storage services discounts if you have a membership card. It's a great way to save money on the move.
Additionally, Ruby Movers has a lot of experience in moving pianos. They know how to do it safely, following international standards. A special team does an extensive background check on the instrument to ensure they're qualified to take care of it.
4.

Euro Pro Movers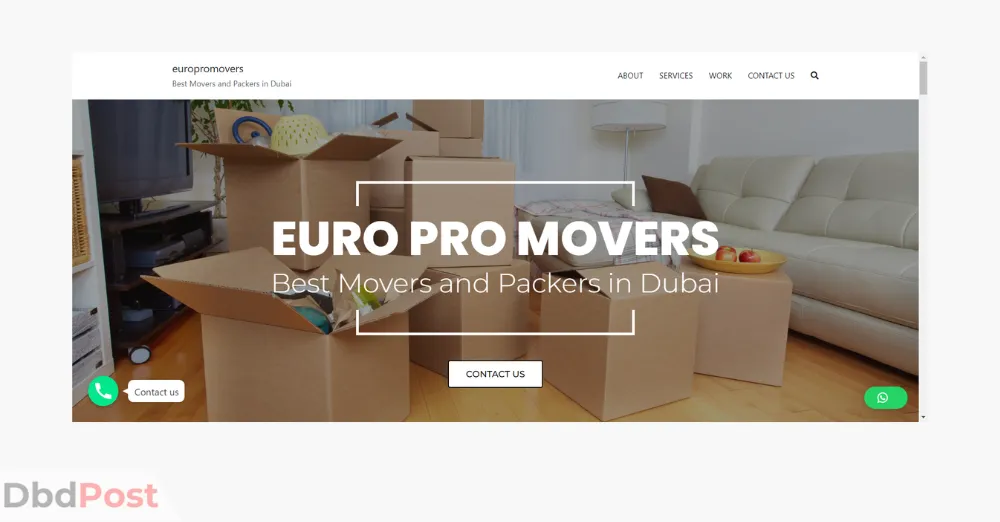 Euro movers and packers is a professional relocation company that can help you with your entire move. They have over 15 years of experience in the industry and are known for providing quality services at affordable prices. Whether moving locally or long distance, Euro movers and packers can help make the process easier.
They offer various services, including packing and loading, unloading, house relocation, furniture assembly, and disassembly. In addition, they also provide storage services to help you store your belongings temporarily until you're ready to move them into your new home.
These villa movers and packers in Ras al Khaimah have provided quality service to their customers for many years. Also, the VIP package takes care of the moving process from start to end, so you don't have to worry.
5.

Deluxe Movers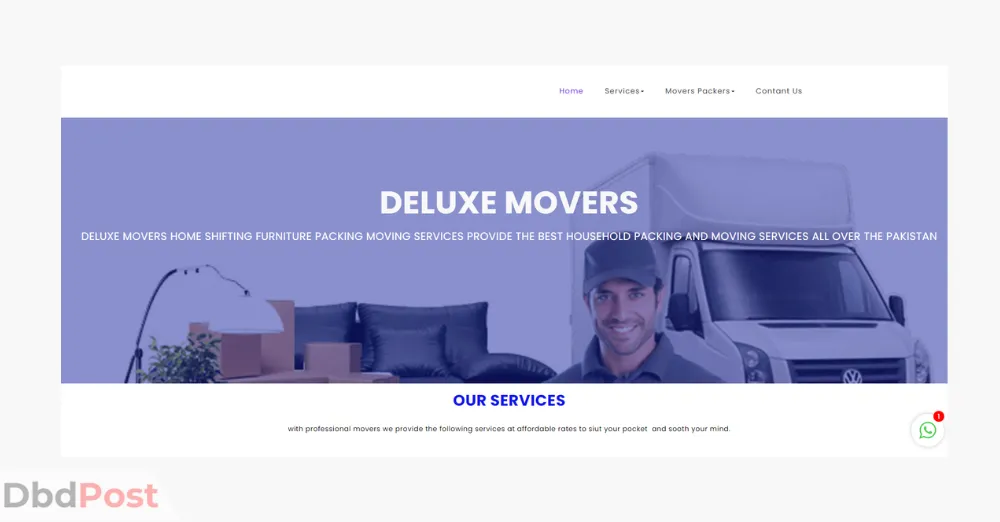 Deluxe Movers is a full-service moving company specializing in household relocations over the years. They are headquartered in Islamabad, Pakistan, but they also have regional offices in Dubai and Ras al Khaimah.
Deluxe Movers offers its services throughout the UAE and has built a reputation for being one of the region's most reliable and affordable moving companies.
They offer a wide range of services to cater to all your moving needs. Whether you are moving locally or long distance, they have a service that will suit you. They also provide moving kits and storage units, so you can pack and store your belongings safely and securely.
In addition, Deluxe Movers offers loading and unloading services to make your move as stress-free as possible. So if you are looking for a company that can handle all aspects of your move, Deluxe movers in Ras al Khaimah are also an option.
6.

Bright Movers and Packers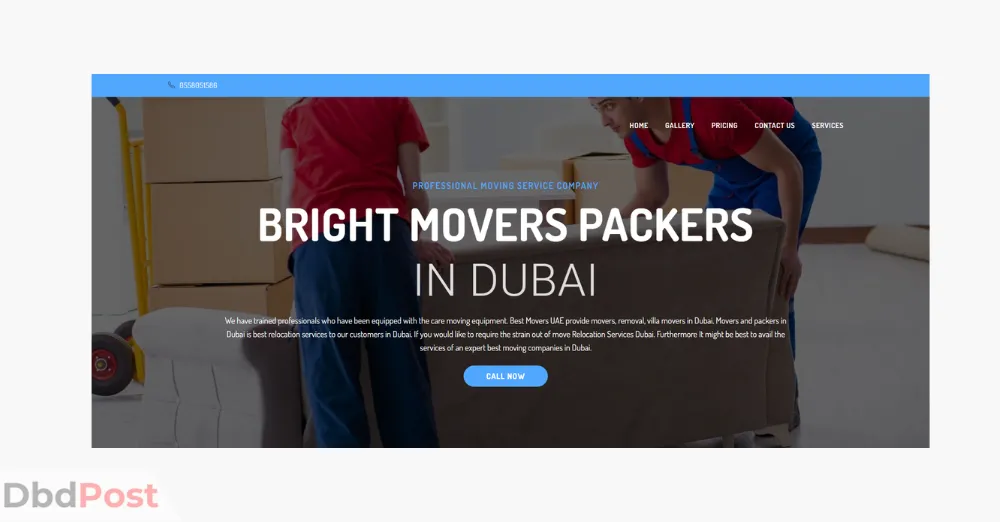 Bright Movers and Packers is a moving company that provides high-quality moving services with trained professionals. They have a wide range of moving services that cover all aspects of the move, from packing to unpacking and even storage.
These movers will create a custom plan that meets your specific needs. They will contact you to discuss your moving and packing needs before the move. They will also conduct a background check to provide the best possible service.
In addition, Bright movers are also experienced in dismantling pieces of furniture and have a large warehouse for storage. Their team of professionals always practices sanitized moving to ensure the safety of your belongings.
The company's moving process follows a set of steps. This process ensures that your move goes smoothly and that your belongings are safe. The steps are: getting a quotation, approving it, confirming and scheduling, loading and unloading, and arranging furniture and waste removal.
What is the average cost for movers and packers in Ras al Khaimah?
Many factors determine the cost of a move. The move's distance, the belongings' volume, and the packaging materials determine how much it will cost.
The estimated prices for 1 room and kitchen to 4 BHK range from 999 – 3,099 AED, and for villa relocation with 2-4 bedrooms, prices are around 2,399 – 4,099 AED. On an hourly basis, it may range from 90-100 AED per hour for a single mover and 160-280 per hour for more than 2 movers.
Try getting quotes from multiple companies to get the best deal and find cheap movers in Ras al Khaimah. So, compare the prices before making a decision.
Related Info
---
FAQs
Which are the best movers and packers in Ras al Khaimah?
Some excellent choices are Euro pro movers, Ruby movers, and bright movers. However, it is important to research to find the company that best suits your needs. There are many factors to consider when choosing a professional mover.
Do movers and packers in Ras al Khaimah guarantee transit insurance?
Yes, most moving companies offer insurance that covers the replacement value of lost or damaged items. This means that if anything happens to your belongings during the move, you will be compensated.
Do movers in Ras
Do movers in Ras al Khaimah provide moving trucks?
Yes, most of the Ras al Khaimah provides moving trucks. Also, you can rent them separately if you want them for other purposes.
Final thoughts
Movers and packers in Ras al Khaimah can help make your relocation easy. They can help with packing and moving your belongings and take care of any paperwork or formalities related to the move.
When choosing among moving companies in Ras al Khaimah, it is important to do your research. Make sure to read reviews and compare prices before making your final decision. With the right company, moving can be a breeze!
We hope this Dbd guide has helped you find the best movers. Also, make sure to share our blog with your friends and family. In addition, follow our blog for more helpful information like this.


Arijit Negi is an expatriate living in Dubai for 18 years. He completed his degree in Master of Arts in Journalism from the University of Mumbai. Arijit focuses on providing helpful guides and information for ex-pats living in UAE and visitors to the UAE.