Travel agency in Dubai offers packages and services to make your trip hassle-free. Traveling can be much fun, but it can also be overwhelming. That's why choosing the right travel agency to provide all the services you need is vital.
Tours and travels in Dubai can be expensive, but that doesn't mean sacrificing quality or service. We can help make your dream vacation a reality without breaking the bank with competitive rates and excellent services.
We've compiled the best travel agency in Dubai, Deira, in this Dbd guide to help you choose the right one. From finding the best places to visit, to great deals on services and accommodations, we've got you covered.
11 best travel companies in Dubai
There are many reasons to consider Dubai as a top travel destination. First, the city has a rich cultural heritage that is perfect for those who want to experience something new. Second, Dubai is home to some of the best shopping in the world. There is something for everyone when it comes to shopping, from high-end designers to traditional souks.
Not to mention, Dubai is a highly safe and welcoming city. With its low crime rate and a broad selection of activities for all ages, it is an ideal place to visit with family or friends. Moreover, Dubai boasts an excellent food scene. From street food carts to starred restaurants, there is something for everyone's taste buds in Dubai.
1.

Regal Dubai Travel Agency
Regal Dubai Travel Agency is one of the leading travel agencies in the UAE. The agency in Dubai is recommended by the UAE's consulate & embassy, along with reputed airlines. In addition, the agency is recommended by more than 1.3 million happy customers.
Similarly, they offer services for complete visa processing, renewal, and extension. Also, the team of experienced professionals are available 24 hours / 7 days a week, to assist you with all your travel needs.
2.

City One Tourism & Travel. L.L.C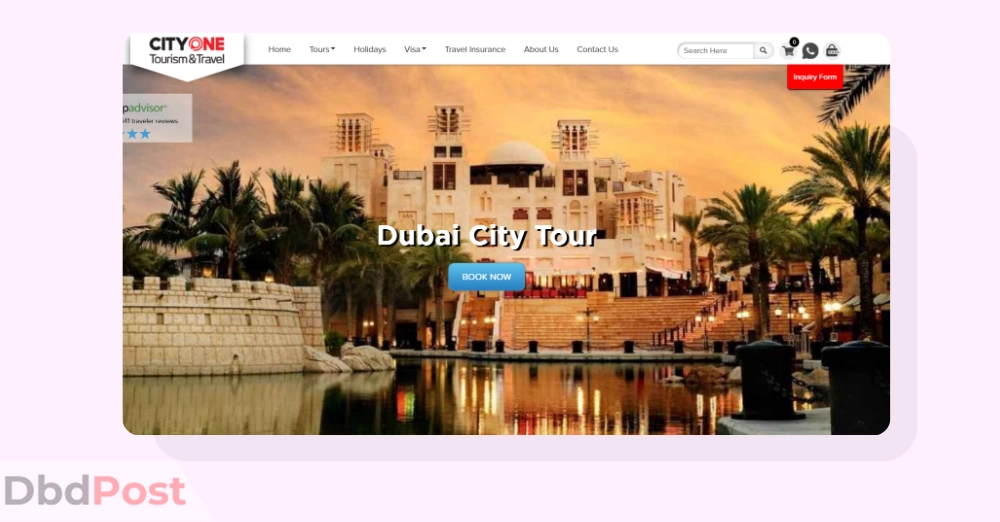 City One Tourism is a reputed travel company that provides exemplary service and tours to locals and visitors alike. Some popular tours they offer are desert safari, Dubai city tour, Dubai hot balloon tour, and helicopter rides.
They also provide 24×7 multilingual assistance, emergency services, and affordable worldwide coverage. Their annual multi-trip policy allows for unlimited trips, making them the perfect choice for those who travel frequently. City One Tourism is a top-notch company that provides an unbeatable experience for all who use its services.
3.

Travel Saga Tourism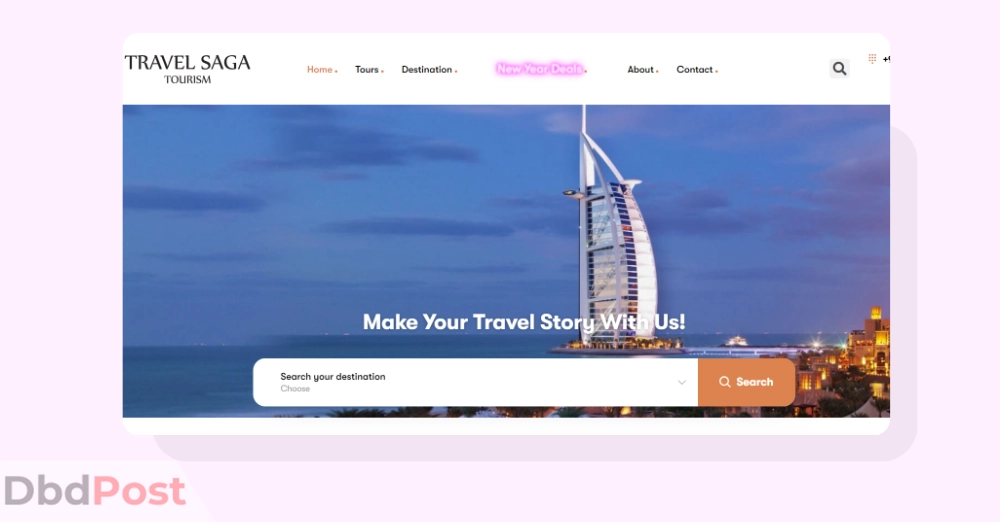 Travel Saga Tourism is a licensed travel agency in Dubai that is fully equipped to provide various services at competitive prices. Some services they offer include desert safaris, jet ski rentals, yacht rentals, ski lessons, and snowboarding.
They also have a special New Year's Eve party package that includes desert safaris, yacht rentals, and cruise ship tickets. Also, they have affordable packages starting from 120 AED and more. Whether you're looking for an adventurous experience or a relaxing vacation, Travel Saga Tourism has something to offer you.
4.

Dubai Travel & Tourism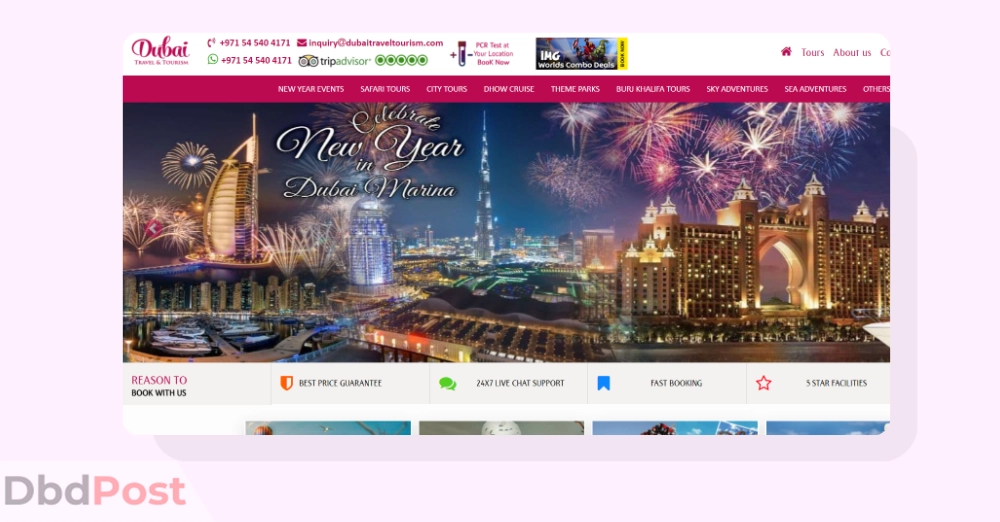 One of the best ways to explore Dubai is through the tours offered by Dubai Travel & Tourism. Economical and convenient, these tours provide an affordable way to see all that Dubai has to offer. And with a satisfaction rate of 90%, it's no wonder they are so popular.
From 4-hour sightseeing tours to dune bashing in Dubai, Dubai Travel & Tourism has a tour to suit everyone's needs. And with their Welcome and guide on arrival at the airport and 24-hour hospitality desk for corporates. They make sure that your trip is as comfortable and stress-free as possible.
5.

Amani Travel & Tourism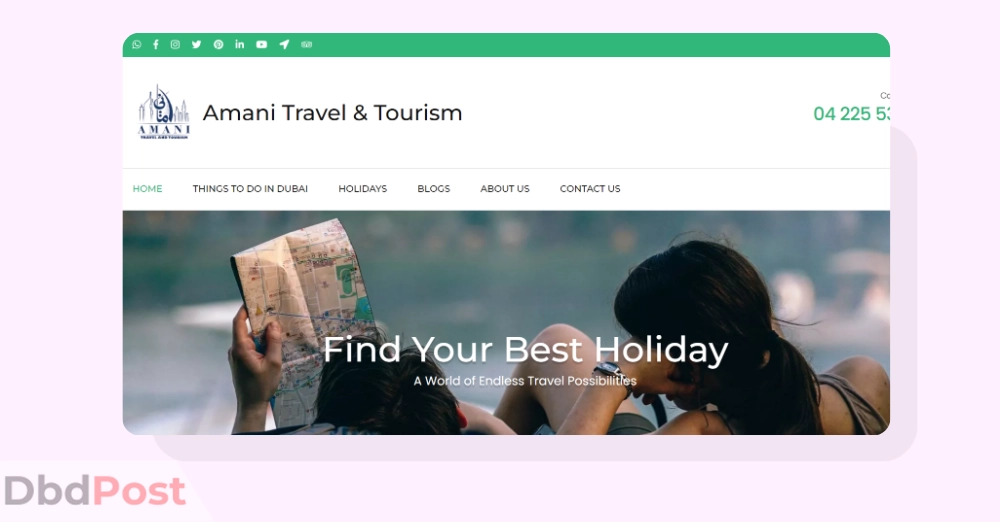 Amani Travel & Tourism specializes in planning and booking satisfying travel packages for its clients. They provide services for UK and US Visa applications and a Schengen Visa service. They offer online support and services to their clients 24*7 with the necessary information and resources.
With years of experience, they can provide clients with the best possible deals on flights, tours, and visa services. Amani Travel & Tourism provides excellent customer service so clients have a memorable and stress-free vacation.
6.

Tabeer Tours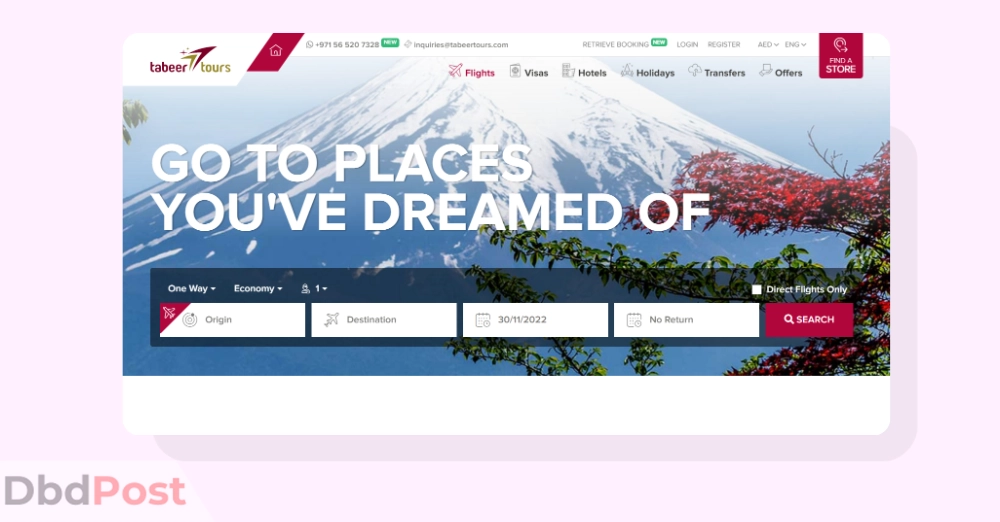 | | |
| --- | --- |
| Location | Musallah Tower, Bur Dubai, Dubai |
| Map | Get direction |
| Website | Tabeer Tours |
| Contact | +97143575404 |
| Hours | 9:00 AM – 12:00 AM |
| Services | Taxi rental, Flights booking, Hotels, Holidays, Visa services |
Tabeer tours is a one-stop solution offering a wide range of services to cater to the diverse needs of travelers from the UAE and beyond. With a team of experienced travel consultants, this travel agency in Dubai can help you plan your dream holiday. They have access to over 450 airlines and more than 1.5 million hotels worldwide.
Also, they can help you find the best deals on flights and accommodation to suit your budget and preferences. Some of the popular destinations that Tabeer tours offers packages to include Istanbul, Armenia, Russia, and more. In addition to competitive rates, Tabeer tours also offer 24/7 customer support in both English & Arabic.
7.

Seaman Tours
| | |
| --- | --- |
| Location | Next to Residential Oasis, Al Qusais Plaza, Dubai |
| Map | Get direction |
| Website | Seaman Tours |
| Contact | +97142381777 |
| Hours | 8:30 AM – 8:00 PM |
| Services | Visa services (Within 1 to 2 days), UAE deals, Dubai tours, Tour packages |
Seaman Tours is a leading provider of International tour packages, established in 1990. They have an experienced multi-lingual management team with more than 10 years of involvement in the industry. Their international tour packages include Maldives & Armenia, honeymoon, and Dubai local tour packages.
All their packages are affordable, starting from just 55 AED per person. Seaman Tours also offers a live chat feature on their website, so you can get answers to your questions in real-time. When booking your next vacation, be sure to check out Seaman Tours.
8.

Dusk Travel and Tourism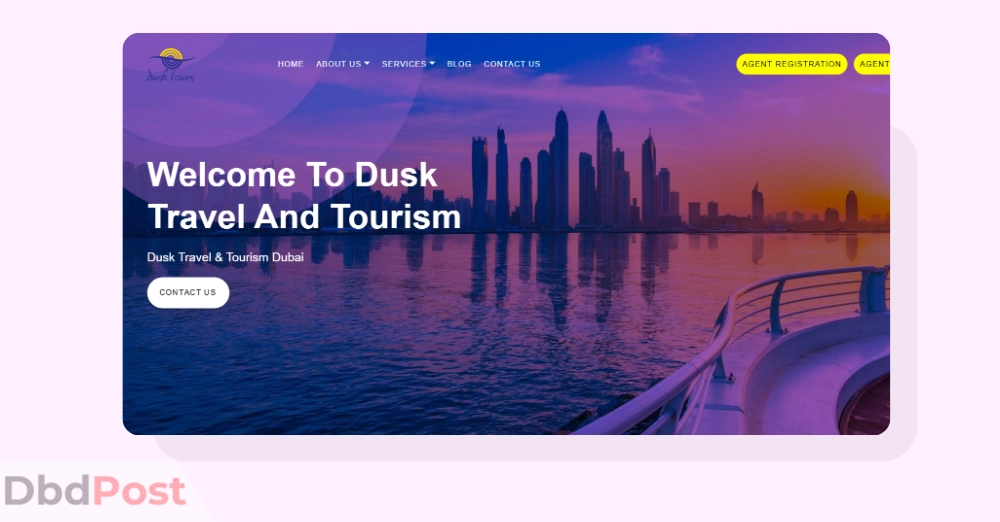 | | |
| --- | --- |
| Location | Khalid Bin Al Waleed Street Showroom 1, Ground Floor, Al Tawhidi Building 1, Bur Dubai, Dubai |
| Map | Get direction |
| Website | Dusk Travel and Tourism |
| Contact | +97143860603 |
| Hours | 10:00 AM – 9:30 PM |
| Services | Hotel bookings, Flight bookings, Travel Insurance, Car rental, Cruise booking |
Dusk Travel and Tourism is a full-service UAE travel agency helping travelers with their airport needs since 2005. They offer services to make your airport experience hassle-free, with luggage assistance. They also provide helpful tips on things to do in the city with their informative blog on the website.
They are specialists in booking the best flight tickets to Dubai at the most affordable prices. In addition, they offer transparency and no hidden fees for the best value for your money. With customer satisfaction, Dusk Travel and Tourism is the perfect travel agency in Dubai.
9.

AFC Holidays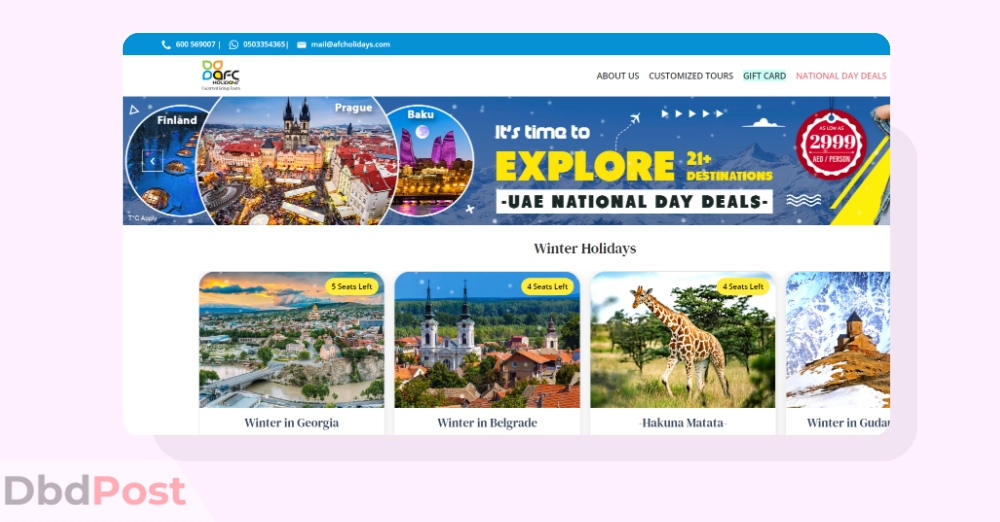 AFC Holidays is a leading travel company that offers customized tours to destinations worldwide. The company opened its branch in 1996 in the United Arab Emirates and has served over 247,000 customers in 109+ countries. AFC Holidays offers a wide range of tour options to suit every traveler, from luxurious safaris in Africa to exciting city breaks in London or Zurich. [1]AFC Holidays, "About us, https://www.afcholidays.com/aboutus"
The company has won numerous awards, including the Sheikh Mohamed Bin Rashid Golden Tourism Award in 2008 and the International Travel Award for Best Group Travel Company in UAE in 2021. Also, they were nominated for Middle East Leading Tour Operator 2021 and Outstanding Performance for 2019/20 in Etihad Awards.
10.

Arooha Tours & Travel Dubai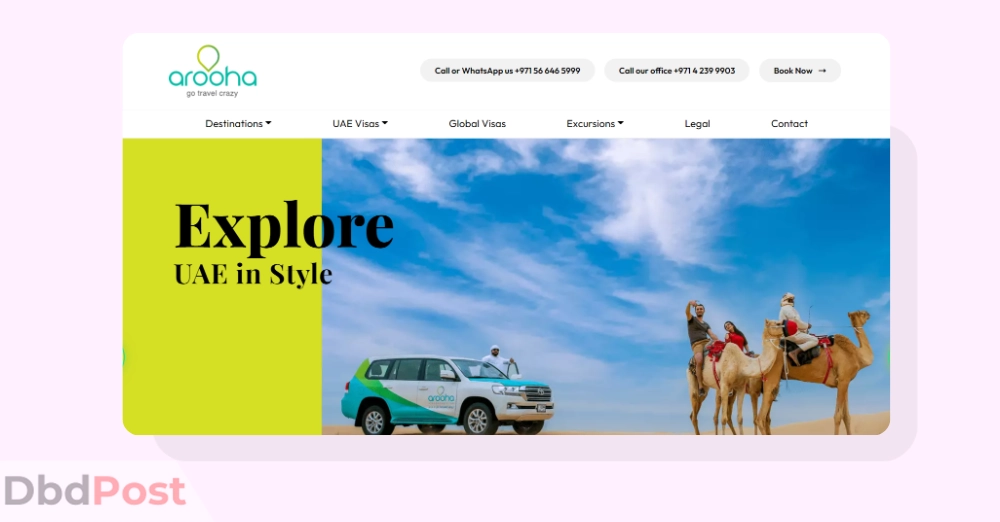 | | |
| --- | --- |
| Location | Khalid Bin Al Waleed road Al Suq Al Kabeer, Bur Dubai, Al Fahidi, Dubai |
| Map | Get direction |
| Website | Arooha Tours & Travel Dubai |
| Contact | +97142399903 |
| Hours | 9:00 AM – 10:30 PM (Monday to Saturday), 5:00 PM – 10:00 PM (Sunday) |
| Services | Visa processing (40 countries), Flights, Hotel bookings |
Arooha Tours & Travel Dubai offers many exciting activities for those seeking adventure. One of the most popular is the evening desert safari. Guests can explore the desert landscape on a four-wheel drive and enjoy a traditional Arabian cooking experience beneath the stars.
For the more adventurous, Arooha also offers Tandem desert sky diving. After a brief training session, guests can jump from an aircraft at 10,000 feet for the ultimate thrill of Seeking adventure.
Similarly, visitors can experience breathtaking views of the city skyline from Sky Dive Dubai Palm. Whether exploring the desert or diving from great heights, Arooha Tours & Travel Dubai offers an unforgettable experience.
11.

Uranus Travel & Tours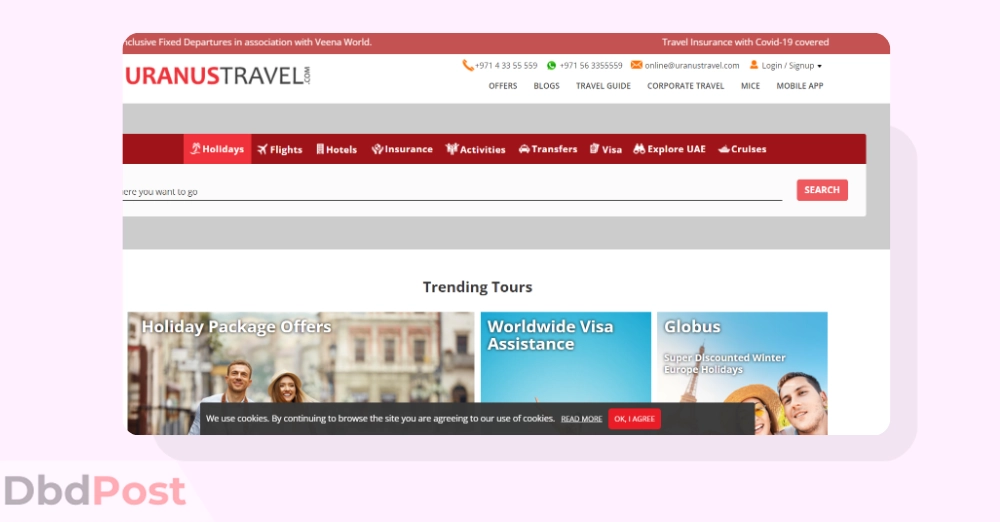 | | |
| --- | --- |
| Location | Sultan Business Center, Oud Metha, Dubai |
| Map | Get direction |
| Website | Uranus Travel & Tours |
| Contact | +97143355559 |
| Hours | 9:00 AM – 7:00 PM (Monday to Saturday) |
| Services | International visa processing, Holiday offers, Honeymoon packages, City tours |
Uranus Travel & Tours is one of the leading tours and travels in Dubai. Established in 1994, the company has a team of 65+ experienced professionals. The team comprises veterans from the travel industry with vast experience handling all travel-related services.
Also, they offer a wide range of services, including travel guides, corporate travel, insurance, and holiday packages. The company also offers discounts and special offers regularly to attract more customers. Uranus Travel & Tours is committed to providing the best possible service to its clients and strives to exceed their expectations.
How to choose the best travel agency in Dubai
Dubai has endless possibilities, and planning your dream vacation can seem daunting. A reputable travel agency ensures the trip is everything you've ever dreamed of. There are many great travel agencies in Dubai, but it's essential to find one that specializes in what you're looking for.
Whether you're interested in an all-inclusive resort experience or a more customized itinerary, an agency can make your dreams a reality. With a little bit of planning, you can have the vacation of a lifetime in Dubai.
Tips for finding the best travel agency in Dubai
Now, let's look into the tips for choosing the best travel agency in Dubai. These tips are well-researched by people with real traveling experience.
Background check
Start by reading online reviews and browsing through each agency's website. Pay attention to their list of specialties and see if they align with your interests. Once you've found a few that seem a good fit, reach out and request more information. After speaking with them, you should know which agency is the best choice for planning your dream vacation in Dubai.
Certifications
Check for official government certifications from the government or Dubai Tourism Board. These organizations ensure that all members have passed specific training standards to provide the best possible service. It's also essential to ensure the agency is registered with the relevant authorities and has travel insurance. Also, you can verify the agency's certification through the license number.
Customer service
A great travel agency should have excellent customer service. Start by asking for references and reading through their reviews online. The more reliable the agency, the better your chances are of having a safe and enjoyable trip in Dubai. Look for customer services like live chat, call support, and email services.
Budget
Finally, consider the budget for the trip and make your move. You want to ensure that the agency you choose offers competitive prices for its packages and services. Make sure to compare costs across different agencies before making a decision. You can also ask for a detailed plan with a quote for the trip to get an idea of the total budget.
Following these tips, you can easily find the best travel agency in Dubai and enjoy your dream vacation. Don't forget to ask questions before booking, and choose an agency that meets your needs and budget. With the proper planning, you can have a fantastic experience in Dubai with a reputable travel agency.
What services do travel agencies in Dubai provide?
Travel agency in Dubai offers travelers a wide range of services, from booking hotel rooms and airline tickets to arranging tours and activities. Travelers can rely on these agencies to take care of their trip's details, so they can relax and enjoy their time in Dubai.
In addition to making travel arrangements, many agencies also provide helpful information about attractions and activities in Dubai along with tips to adapt to local culture. With their expertise and knowledge of the city, these agencies can make any trip to Dubai memorable. Now, let's look into the services offered by the top travel agency. [2] Dubai Tourism, "Services, https://www.dubaitourism.gov.ae/en/services"
Visa processing
Ticket booking
Car rentals (taxi and chauffer services)
Hotel reservations
Tour guides
International holiday packages
New year special party packages
Winter special packages
Desert safari
Skydiving
City zip line
Jetskiing
City views
Honeymoon packages
City tours
These are some of the services the travel agency provides in Bur Dubai. Now, let's look into the costs of travel agents in Dubai.
How much do travel agency in Dubai cost?
The cost of booking a package tour with a travel agency depends on the type of trip you're looking for. Generally, the answer depends on several factors, including the type of agency you use and the services you require.
For example, a full-service travel agency will typically charge more than a smaller agency specializing in a particular type of travel. Additionally, agencies in prime tourist areas, such as Dubai's major hotels, will usually be more expensive than those in less popular areas.
Tour agency in Dubai costs around 50 AED per package per head for a single destination. For a family package or couple, expect a payment of around 350 to 900 AED with multiple locations. Also, the visa will cost you around 600 AED to 1500 AED for 30 to 60 days. Finally, international holidays will cost you more than 4000 AED, depending on the destination.
Of course, the price is not the only factor to consider when choosing a travel companies in Dubai. You'll also want to consider the quality of service, the level of expertise, and the range of services offered. With so many factors to consider, it's essential to research before choosing an agency. You can find an agency that meets your needs and budget by comparing prices and services.
Best places to visit in Dubai
Dubai is a city like no other, and there is no shortage of things to see and do. From skyscrapers to bustling malls, there is something for everyone in this bustling metropolis. For those looking for a more cultural experience, Dubai also offers several historical sites and museums. Of course, no trip to Dubai would be complete without spending time on its beautiful beaches for swimming, sunbathing, and watching stunning sunsets.
List of places to visit in Dubai
Whether looking for shopping, history, or simply relaxing by the sea, Dubai has something for you. Now, let's look into some of the best places in Dubai. The list contains a blend of popular places with new, recently opened attractions.
The Burj Khalifa
The Dubai Mall
Museum of the Future
The Dubai Fountain
Dubai Frame
Cityland Mall
Dubai Miracle Garden
Global Village
Madam Tussauds Dubai
Dubai Harbour
Mushrif National Park bike trail
AURA Skypool
Things to consider while traveling to Dubai
When traveling to Dubai, there are some things travelers should consider to have a safe and enjoyable trip. Safety is always a priority, and ensuring you are aware of local laws, customs, and regulations is essential. Additionally, understanding the currency of the United Arab Emirates and being aware of potential scams is crucial. Some of them are listed below as:
Weather: It is best to plan your trip for the cooler months in Dubai, typically November through March. This way, you can avoid the sweltering summer heat and ensure comfortable temperatures for exploring the city.
Visa: Depending on your nationality, you may need a visa to enter the United Arab Emirates. Make sure to research visa requirements and arrange for your visa before you go, as it can take some time to obtain the necessary documentation.
Dressing: Dress modestly while exploring the city, especially in more conservative areas. Women should avoid short dresses and skirts in public. However, you can wear short dresses and swimsuits in appropriate places like beaches or malls.
Transportation: Dubai offers a variety of transportation options, from taxis to buses, metro trains, and water taxis. Understand the costs of each mode of transportation and plan for safety and convenience.
Culture: Dubai is an Islamic city and has strong cultural values. Respect local customs, and avoid public displays of affection like kissing and hugging with your partners.
Overall, traveling in Dubai can be a great experience if you plan and research the city. By understanding local laws and customs, being aware of scams, and dressing modestly, travelers will have an enjoyable trip.
Related Info
---
FAQs
Which is the best travel agency in Dubai?
The top travel agency in Dubai will depend on the individual traveler's specific needs and budget. Some top-rated agencies in Dubai are Regal Dubai, Amani Travel, and more.
Is it cheaper to travel with travel companies in Dubai?
Yes, it is cheaper than booking a trip, as agencies often have access to discounts and offers. Additionally, a travel agency in Dubai for visit visa can save you a lot if you don't know about document processing.
How much does a Dubai tour cost?
The cost of a Dubai tour will depend on the duration and activities included. Generally, you can expect a cost of 50 to 10 AED per tour within the city. Long tours can cost you around 400 to 900 AED with multiple services.
How to find a trustworthy travel agency in Dubai?
You can find a good travel agency in Dubai by researching customer reviews, recommendations, and more. Don't forget to ensure the agency is licensed and insured to ensure your safety. Additionally, you can verify with the Department of Tourism that your chosen agency is registered.
Final thoughts
Dubai is a vibrant city with plenty of attractions and activities to explore. By researching local laws, customs, and regulations before your trip, you can ensure a safe and enjoyable experience. Additionally, being aware of dress codes and finding a reliable travel agency in Dubai is essential.
This Dbd guide has all the list checked to help you plan a successful and memorable trip with a reliable tour agency in Dubai. Good luck, and enjoy your trip to the Emirate.


Arijit Negi is an expatriate living in Dubai for 18 years. He completed his degree in Master of Arts in Journalism from the University of Mumbai. Arijit focuses on providing helpful guides and information for ex-pats living in UAE and visitors to the UAE.