With so many travel agency in Sharjah, knowing which is the best match for you and your needs can take time.
When looking for the best tour agency in Sharjah, it is essential to find one with good customer service and affordable prices. You should also consider the type of services they offer before committing yourself as their client.
Some of the top travel agency in Sharjah are Royal Palm Holidays, Smart Travel, and Marcopolo Holidays. These agencies provide international and local tours, visa services, hotel & ticket booking, insurance, and various activities.
This guide will give you all the information necessary to make your trip planning easier. To save you time, we have researched and compiled a list of the best travel agency in Sharjah.
List of best travel agency in Sharjah
A great way to explore a new city would be by taking one or more trips through a top-rated travel agency. Similarly, if you want your vacation to be perfect, there are many options and details to consider.
With many options for travel agencies in Sharjah, it can be challenging to know whom to trust. We have listed six agencies that are reliable and offer excellent service.
1.

Royal Palm Holidays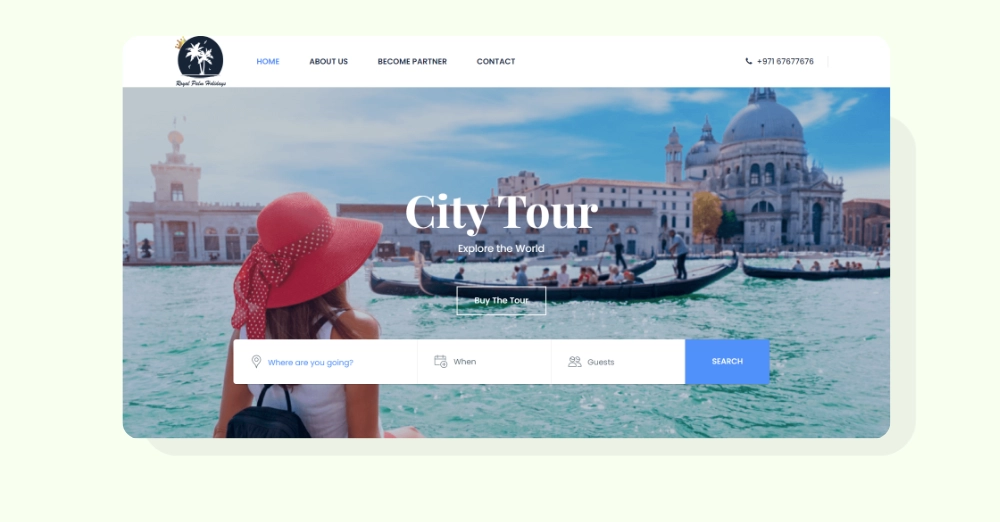 | | |
| --- | --- |
| Services | Hot air Balloon, City Tour, International Destinations, Local Activities, Cruise Booking, Rent Cars, Inbound and Outbound Holiday packages, Travel Insurance, Hotel Reservation Globally, Visa help |
| Location | Office No 1502, CG Mall Building, Tower C, King Faisal St, Sharjah |
| Working Hours | Monday – Thursday (11 AM–6 PM), Friday (11 AM–3 PM) |
| Contact | +971 6 767 7676 |
| Map | Get direction |
| Website | Royal Palm Holidays |
Royal Palm Holidays Fze is a company that supports 13,000+ partners and travel companies worldwide.
No matter your budget or interests, Royal Palm Holidays Fze can help you plan an excellent vacation. Services they offer include hot air balloon rides, city tours, cruise bookings, and more.
Moreover, they have tied up with more than 2 thousand properties worldwide. They are an expert in making pre-purchase packages for various destinations like Italy, Spain, Gree, the USA, Canada, Thailand, the UK, and more. Traveling can be expensive, but finding the best deals through Royal Palm Holidays FZE makes it easier on your pocket.
2.

Smart Travel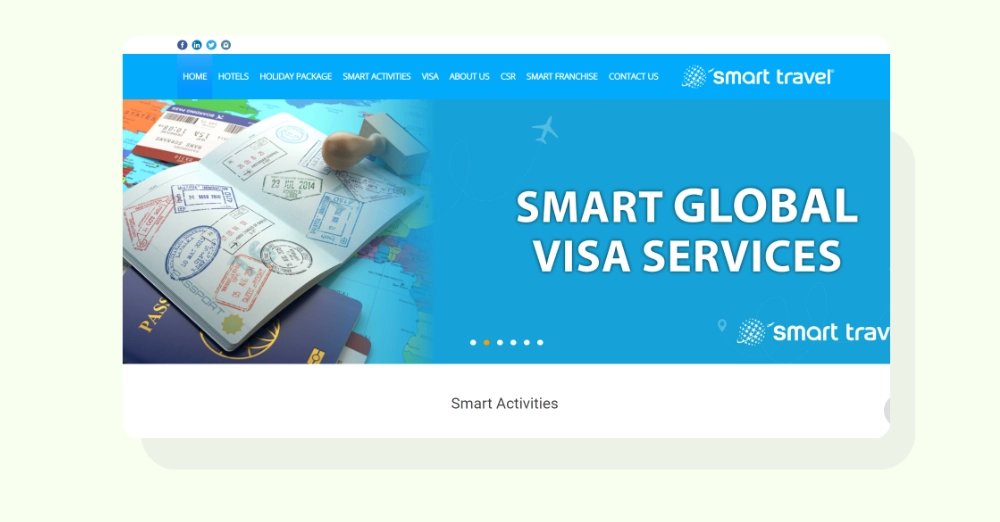 | | |
| --- | --- |
| Services | Hotel booking, Flight ticketing, Outbound, and Inbound Tour, Travel Insurance, Cruise, Umrah, and Hajj Service, Europe Rail, Visa Change, International Driving license |
| Location | Al Marija, Near Al Tahona Vet Clinic – Sharjah |
| Working Hours | Sunday- Thursday(9 AM- 11PM), Friday(9AM–12PM, 2:30–10PM), Saturday(12AM–11PM) |
| Contact | 06 569 1111 |
| Map | Get direction |
| Website | Smart Travel |
Smart Travel was founded in 2015 and quickly established itself as a leading player in the travel industry. The company offers many services to its customers. It focuses on providing great service and value for people's money.
One of the best features of Smart Travel is the company's commitment to providing excellent service to pilgrims traveling for Hajj and Umrah.
Smart Travel offers travel insurance policies that cover both domestic and foreign travel. Also, you can cancel the requested service within 24 hours, and they will refund the payment within 10 to 15 days.
In addition, the company offers a range of other services, such as cruise packages and Rail Europe packages. Smart Travel has the right solution for you, whether you're looking for a low-cost option or complete travel insurance coverage.
3.

Marcopolo Holidays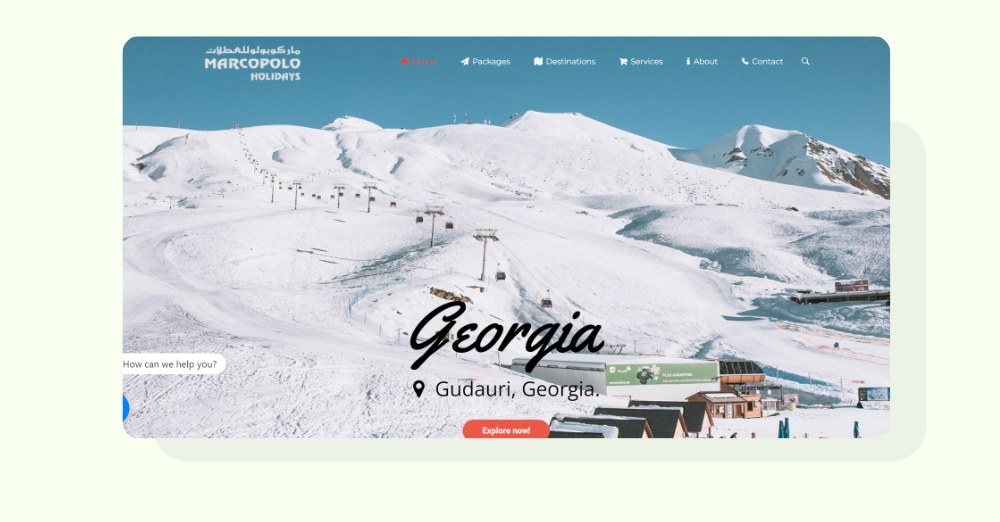 | | |
| --- | --- |
| Services | Flight, Train trips, Travel Insurance, Customize Packages, Global visas, UAE Tourist visas, Local Guided Tours, Educational Trips, Corporate Travel Services |
| Location | Al Zahra'a, Near NMC Royal Hospital – Sharjah |
| Working Hours | Monday- Friday(9AM–5PM),Saturday(9AM–5PM) |
| Contact | 06 562 6601 |
| Map | Get direction |
| Website | Marcopolo Holidays |
Marcopolo Holidays is a travel agency that was founded in 2002. The company has operational teams in Oman and Kenya. In addition, Marcopolo also offers many travel services.
Similarly, Marcopolo Holidays can help you get your UAE tourist visa for Georgia, Albania, and Azerbaijan. Furthermore, they can assist you with applying for your tourist visa.
In addition, they have partnered with many reputable organizations in the tourism industry. Some are the Tourists Authority of Thailand, the Cyprus Tourism Organization, and the Kenya tourism board.
4.

Alsaadah travels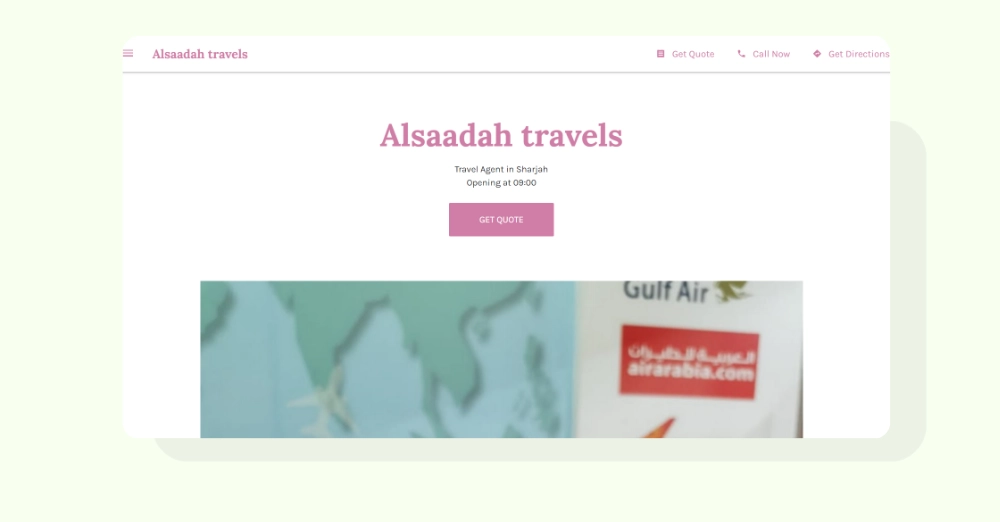 | | |
| --- | --- |
| Services | Flight Ticket Booking, Oman visa, UAE visa, Global visa, Global and UAE Tour packages, Cheap UAE tour packages, Visa processing |
| Location | Al Zahra'a St – Al Gharb – Sharjah |
| Working Hours | Sunday -Saturday(9AM–10PM) |
| Contact | 06 522 3236 |
| Map | Get direction |
| Website | Alsaadah Travels |
Al Saadah Travels is a company that offers both domestic and international flight tickets at low prices. Similarly, the company also includes insurance coverage on all flight tickets to ensure the safety of its customers.
Al Saadah Travels offers various UAE visa services to meet any budget or requirement. They also have a helpful and experienced team that can assist you throughout your stay, including with the visa process.
Also, they offer several different types of UAE tour packages. That includes Sharjah, Abu Dhabi, and Dubai holiday packages.
5.

Arooha Tours Sharjah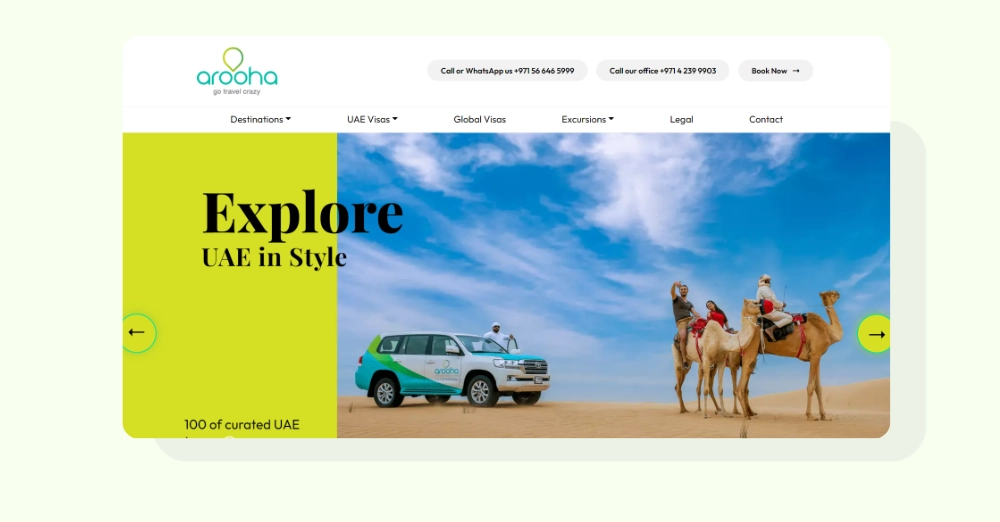 | | |
| --- | --- |
| Services | Global and UAE Visa services, Excursions Trips, Flight ticketing, Hotel Booking, Travel Insurance, Umrah Packages, Dubai tours with local activities |
| Location | Al Arouba street, Shop NO – 09 Al Arouba building, Al Arouba street Rolla – Sharjah |
| Working Hours | Monday- Saturday(9:30 AM–8:30 PM), Sunday(4:30–8:30 PM) |
| Contact | 056 828 3111 |
| Map | Get direction |
| Website | Arooha Tours Sharjah |
Arooha Tours has been a business-established travel agency for over ten years. They offer different packages for different holidays. They have a package for the spring holiday, Umrah, Eid Al Adha Holiday Packages, and more. In addition, they also provide 100 curated tours to help you experience the top destinations in the USA, China, Singapore, Portugal, and more.
Arooha's Outbound Visa Service department helps customers get visas for travel to any destination in the world. They also help with the online tourist E- visa process for those looking to travel to Dubai.
6.

Sharjah Airport Travel Agency (SATA)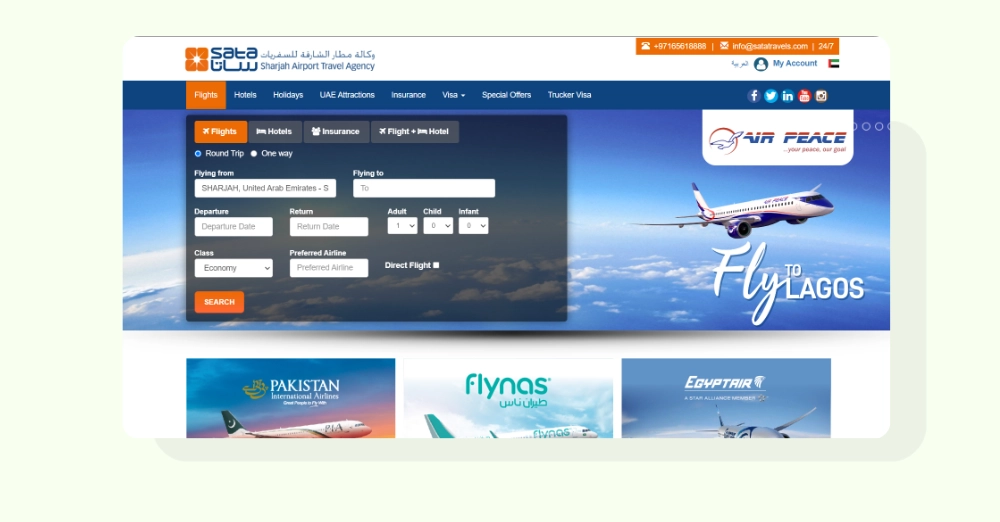 | | |
| --- | --- |
| Services | Visa Change, Educational Trips, Business Travels, MICE services, Travel Insurance, worldwide car rental, Rail Europe |
| Location | SATA Building Um Al Tarafa, Ibrahim Mohammed Al Medfa'a St, Sharjah |
| Working Hours | Monday to Thursday and Saturday(8AM–9PM), Friday(8AM–12PM, 1:30–9PM) |
| Contact | 06 561 8888 |
| Map | Get direction |
| Website | SATA |
Sharjah Airport Travel Agency (SATA) was founded in 1985. It offers premium services for locals and visitors to the United Arab Emirates. Sharjah Airport Authority and the government of Sharjah own the agency, and it has 14 branches across the UAE.
Similarly, SATA is a travel agency accredited by the International Air Transport Association(IATA). Moreover, SATA provides different services, like booking flights, hotels, and holiday packages. Furthermore, they also provide air charter and meet-and-greet services.
What services do travel agency in Sharjah provide?
The top travel agency in Sharjah offers various services to make planning trips easier for their customers. Here are the most common ones:
Tourist visas: Sharjah travel agencies have good relationships with embassies and consulates. This allows them to arrange tourist visas for customers.
Hotel booking: Most travel agencies have a list of hotels they work with. This makes it easier for customers to find a place to stay that suits their needs and budget.
Flight tickets: Travel agencies have many connections with different airlines. They can often get cheaper tickets depending on the season and how many seats are available.
Travel insurance: Many travel agencies offer travel insurance to their customers. This insurance protects them from any unforeseen events that may occur while traveling.
Custom tour packages: You may have a unique travel itinerary in your mind. Travel agencies can help you create a package and let you go where you want.
How much does a travel agency in Sharjah cost?
There are a wide variety of travel agencies in Sharjah, each with its special prices and services. When deciding on an agency, you must consider your budget and what you are looking for in a vacation.
Some agencies offer more luxurious holidays at a higher price, while others offer more affordable options. Once you know what you are looking for, you can compare the prices and services of different agencies.
For instance, SATA and Smart Travel are two companies that offer holiday packages to various destinations. Prices for SATA packages start at AED 1699 per person and go up to 5950, while Smart Travel prices range from AED 1349 to 4099.
Best places to visit in Sharjah
No matter what your interests are, you're sure to find something to enjoy in Sharjah. This city has museums and historical sites to beaches and markets. Some of the best places to visit in Sharjah include:
Sharjah Art Museum
The Sharjah Art Museum is one of the most important art museums in the Persian Gulf region. The museum is open to anyone who loves art or wants to walk around. The museum has an impressive library with over 4000 titles in many languages.
Al Noor Masjid
Al Noor Mosque is a beautiful example of Islamic architecture located on the picturesque Khaled lagoon in Sharjah, UAE. This masjid is always lit with colorful lights during the Sharjah Light Festival. This Masjid is a significant attraction for visitors during the festival.
Al Mamzar Beach Park
Al Mamzar Beach Park is ideal for groups or families who want to spend time together. The park offers plenty of activities, such as swimming, volleyball, and bike rentals. Plus, there's even a restaurant on-site
Al Noor Island
Al Noor Island is the perfect place to learn about the environment. The island is home to various plant and animal species and a butterfly house. Moreover, visitors of all ages can visit and enjoy picnicking bird watching, and fishing on the island.
Related Info
---
Which is the best travel agency in Sharjah?
Royal Palm Holidays, Smart Travel, and Marcopolo Holidays are some of the best travel companies in Sharjah. These tours and travels in Sharjah are all reputable and offer a variety of services for different travelers.
Does a travel agency in Sharjah help with a visit visa?
Yes, the Sharjah travel agency can help with visas to visit the United Arab Emirates. But, there are many travel agency in Sharjah for visit visa. To find the best source of information from the United Arab Emirates embassy or consulate in your home country.
Is travel agent in Sharjah cheaper than online booking?
Travel agents in Sharjah can be cheaper than an online booking, depending on the agent. Some agents offer discounts for booking through them, while others do not. Additionally, agents may have access to different or better deals than those found online.
When is the best time of year to visit Sharjah?
The best time of year to visit Sharjah is during the winter months, as the temperatures are cooler and it is less humid. There are many events and activities held throughout the year, so there is no bad time to visit Sharjah.
Is Sharjah worth visiting?
Sharjah is one of the must-visit places for anyone interested in history and culture. The city is rich with beautiful historical sites that attract tourists from all around the world.
How to find a trustworthy travel agency in Sharjah?
The best way to find a tour agency in Sharjah you can trust in Sharjah is to ask your friends for recommendations. You can also check them online, look at their credentials, and see what services they offer. You should also read reviews from previous customers before making your decision.
Final thoughts
If you're looking to make your dream vacation come true, there are plenty of top travel agency in Sharjah that can help. But not all of them are good or trustworthy. So it is important to do your research before choosing one.
A good travel agency will be able to offer exclusive deals and amazing services that will make your trip even more special. So don't hesitate to ask around or do some research online to find the best travel agency for you.
We hope this Dbd guide has helped you learn more about the travel companies in Sharjah. This will help you make a decision on which agency to work with.