Are you in the UAE and looking for a way to stay in touch with your loved ones? Well, then you should check out the Botim app.
Botim is an authorized VoIP calling service in UAE, where other similar free call services like Skype, WhatsApp, Viber, etc., are banned.
With Botim, you can make free voice and video calls locally and internationally. Using the app's instant messaging feature, you can also chat with your friends and family.
However, using the app will require internet calling plans from a local telecom operator in UAE. If you already have Etisalat or du internet calling plans, you can use Botim.
So, without further ado, let's get started with everything you need to know about this app.
What is Botim?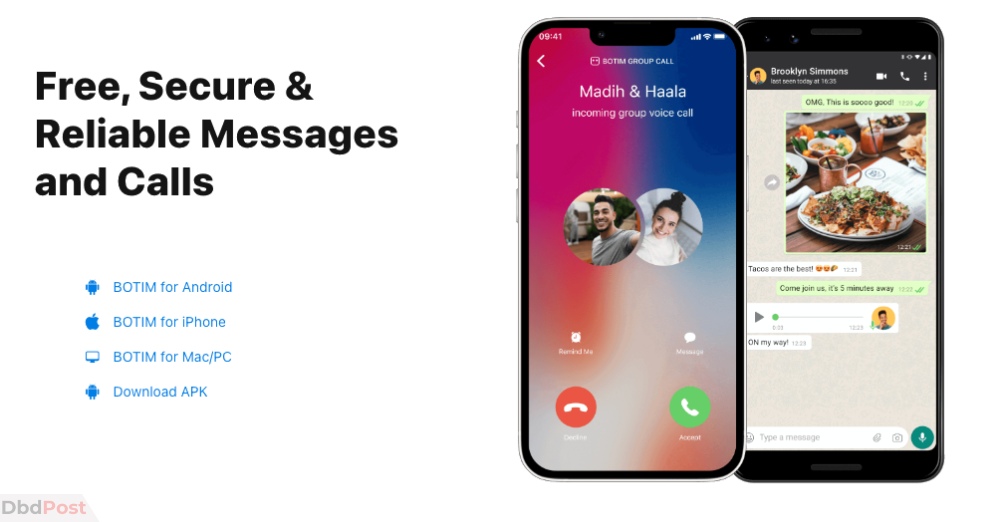 Botim is a calling and messaging app that offers unlimited voice or video calls over the internet locally or globally. Using the app, you may also upload and share documents, photos, movies, voice messages, and other media with complete confidentiality.
Botim also makes it easy to create group chats with 500 people. And even more fun, it comes with many options for emoji so you can express yourself however you want.
You can use Botim on any smartphone and PC. It is available to download on App Store and Google Play Store.
Whether you're looking for a new way to stay connected or want to try something casual, Botim is worth checking out.
How to use Botim app in the UAE?
To make calls using the Botim app, first, you must decide which telecom operator you want to use. Etisalat, DU, and Virgin Mobile are supported by the app. Each phone service provider has its unique internet calling plans.
So take a look at each operator's offer and select the one that best suits your needs. Whichever plan you choose, you can make high-quality calls without any dropped calls or connection issues.
Here are the steps you can follow and start using the Botim app:
Step 1: Subscribe to the internet calling plan
To use the app, first, you need to subscribe to the Internet calling plan offered by your sim card provider.
Either Etisalat, Du, or Virgin mobile's "Internet Calling Plan."
Step 2: Download and Install the Botim app
Once you subscribe to the internet calling plan, download the Botim app. The app is available on both iOS and Android platforms.
Download Botim app on Android | iOS
Step 3: Connect Botim with your "Internet Calling Plan" provider
Click on the Botim app icon, which will prompt you to register. You must insert all the login details, including your phone number and email ID.
You can use the same phone number you used to subscribe to the internet calling service and start making internet calls using the app.
The quality of the calls is generally good, although there may be some occasional sound issues. Overall, the Botim app is convenient for making internet calls in the UAE.
See also: Is Botim free in Dubai & UAE?
How to use Botim app on web?
To use Botim on the web browser, you must have this app installed on your mobile devices. Once you have installed the Botim app on your mobile devices, you need to follow a few simple steps:
Step 1: Open Botim's official website from your web browser or search web.botim.me. There you will find a QR code on the screen.
Step 2: Open the Botim app on your mobile device.
Step 3: Once you're in the app, click on the plus button in the upper right-hand corner. This will bring up a menu to "scan QR code."
Step 4: Select the "scan QR code" option from the app, and point your phone's camera at the QR code displayed on the screen of Botim's website.
Your phone should then be able to capture the code and open Botim web automatically. You will be able to see all your contacts and chats on it.
How to download Botim on your desktop?
In a few simple steps, you can install Botim on your desktop. Follow these steps to get Botim on your PC:
Step 1: Visit botim.me
Step 2: Go to "Download."
Step 3: Download the required desktop app compatible with your OS.
Step 4: Save the DMG file and install the app on the device.
Step 5: Connect Botim with the "Internet Calling Plan" using your phone number and login credentials.
See also: How to activate Botim in du?
What is Botim prime?
Botim Prime is an app that helps users search for discounts at restaurants and other services in the UAE. The app is convenient for your daily needs, whether you're looking for a gas station, service center, or car wash.
With Prime, you can enter your location, and the app will show you the nearest businesses that match your criteria. You can also read reviews and see discounts available before making your decision.
Whether you're looking for a quick bite or a leisurely meal, Botim Prime is the perfect way to save time and money on your next dining experience.
See also: How to activate Botim in Etisalat?
How much does Botim cost?
To use the Botim app, you need to have a subscription to an internet calling plan. Etisalat, du & Virgin 4G mobile offers monthly plans for AED 50. The daily prepaid plan costs AED 5 with free 1GB of mobile data. [1]Botim, "Subscribe Botim,https://botim.me/uae/icp.html"
Etisalat eLife and du Home Services offer a home wifi plan for AED 100 per month.
Once you have your subscription package, you can use the Botim app. The monthly premium charge covers the cost of your calls and maintaining the service.
How is Botim's customer service?
We have sent our queries to customer service on support@botim.me, and they were very quick to respond. The staff were friendly and always willing to help.
They did their best to resolve any issue we had with the app. Overall, we were delighted with the level of service we received from Botim.
FAQs about Botim app
Is Botim app legit?
Yes, Botim is a legit messaging and calling app in the UAE. It is trusted and downloaded by more than 50 Million people in Play Store.
Is Botim safe?
Yes, Botim is a safe app that uses end-to-end encryption, which means that your conversations are private, and only you and the person you're talking to can see them.
Does Botim work in UAE?
Yes, Botim is one of the apps that work in the UAE. The app is one of the few licensed VOIP providers in the country and offers users a legal and convenient way to make voice and video calls.
Due to rising Cybercrimes and security concerns, UAE officials have banned using unlicensed VOIP services like WhatsApp, IMO, and Skype.
How to know if someone blocked you on Botim?
There are several ways to tell if someone has blocked you on Botim. They may have blocked you if you try to call them and only get one ring before voicemail.
Another way to tell is if their Botim profile picture has disappeared or their Botim status is always "offline." If you want to go deeper, you may send them a message; if it never goes through or appears as "delivered," they may have blocked you on Botim.
How to add friend in Botim app?
To add a friend on Botim, click on the contacts tab and find the person you want to add. If they're already subscribed to Botim, their name will appear.
The people who are not subscribed yet will have the word "Invitation" next to their name. To add that person as a friend, click on the invitation.
If they are in UAE, they need to subscribe to internet calling plans. If not, they can use Botim by simply registering into the app.
Once they subscribe to the Botim app, you'll be able to message them and connect just like any other Botim user.
How to delete Botim account?
If you no longer want to use Botim, you can delete your account permanently. To do so, follow these steps:
Step 1: Open the Botim app and go to the "Me" section.
Step 2: Select the "Account" option and click on "Delete my account."
Step 3: Type your phone number and confirm it to the deletion.
Step 4: Once you have clicked on "Delete my account," Botim will send you a confirmation message.
Step 5: Click on "Delete" to confirm that you want to delete your Botim account permanently.
How to delete Botim message?
Delete a message in Botim by pressing and holding on to the message you want to delete, then select the trash can icon.
You can also delete messages from Botim by going into the settings menu and selecting the 'Delete Conversation' option. It will delete the entire conversation, including messages, photos, and videos.
Note that you can only delete conversations that you have created yourself. You cannot delete conversations that have been started by someone else.
Can Botim video calls be hacked?
Yes, it's possible. There is always a chance your calls may be hacked or intercepted, mainly if you're using an unsecured wifi connection.
Use a secure and encrypted VoIP service like Botim to avoid security breaches. Avoid using public wifi hotspots while on a call, and never reveal personal information or critical data.
You might consider encrypting them with a VPN to secure your privacy to be more secure.
Which countries can use Botim?
The app is available in several countries, including Sri Lanka, Morocco, India, Egypt, and the United States. The app is free to download and use in other countries, but in UAE, you need to pay a subscription fee to make calls to landlines or mobile phones.
Final thoughts
There are a few things to keep in mind before using the Botim app. First, you need to have a subscription to an internet calling plan.
Second, you need to be using a supported device. And third, you need to be in a country where Botim is available.
If those criteria are met, you can sign up for Botim and start making calls with friends and family.
Here, you have learned how to use Botim app, add contacts, and delete accounts. You've also known about some of the app's more advanced features, such as group chat and Botim web calling.
We hope you have enjoyed reading and have found this Dbd guide helpful. If so, please share it with your friends and family.


Driven to stay up-to-date with the latest technological advances, Harry Evans is an enthusiastic computer science B.Sc graduate and tech specialist with a wealth of experience in technical support, IT process analysis, and quantitative research. His expertise explores how various technology tools can effectively solve complex issues and create distinct solutions through data-driven processes. Additionally, he is passionate about educating others on the best ways to use these new technologies.