Free parking in Dubai can save you a lot of money. But with so many people looking for those, finding a parking space can be pretty tricky.
Public parking can amount to a lot of money if you drive regularly, and at first, it begins at a low rate, but it can quickly add up over the months.
You can find free parking in Dubai in malls, hotels, government buildings, and residential areas. Similarly, there are various popular accessible parking locations in Dubai, like Dubai mall, IMG mall, Safa park, and more. But you can park for free on Sundays and other national public holidays.
This Dbd guide will go over all the accessible parking spots and the hours during which they are free to use.
Free parking location in Dubai
RTA Dubai charges drivers a small fee for parking, from multi-story to roadside and public parking. But they also have provided specific free parking spaces for the benefit of the travelers.
There are various locations throughout Dubai where you can find free parking spaces. You will often find these in residential areas close to government buildings and some shopping malls.
Here are some areas in Dubai where you can find free parking spaces.
Shopping malls
Several shopping malls in Dubai offer ample free parking. If you plan to go shopping, it makes sense to park your car in the mall's parking.
However, you need to check the mall's policy on parking as some charge for the first few hours. Nonetheless, most malls in Dubai offer free parking for the first four hours.
If you need to go somewhere close to a mall, you can park there and walk to your destination.
Amusement parks
Dubai is home to many amusement parks that offer free parking. So if you are planning to visit an amusement park with your family, then you don't have to worry about paying to park your car.
These places are perfect if you want to spend a day with family or friends.
Hotels or restaurants
If you plan to eat out, you can park your car in the hotel or restaurant's parking.
Most of the time, these places offer free parking for customers. However, you may need to check with the hotel or restaurant before you park your car.
Government buildings
You may also be able to find free parking near government buildings. These buildings usually have plenty of parking spaces and are often not used during the daytime.
So next time you visit a government building for any service, ask if you can park there for free.
Residential areas
Another place to look for free parking in Dubai is in residential areas. Many residential buildings offer free parking to residents and their guests.
If you visit a friend or family member in Dubai, ask if you can park in their residential.
Don't forget that most residential parking costs some money too. So always ask to make sure it is okay and if it's free before parking your car.
Popular free parking locations in Dubai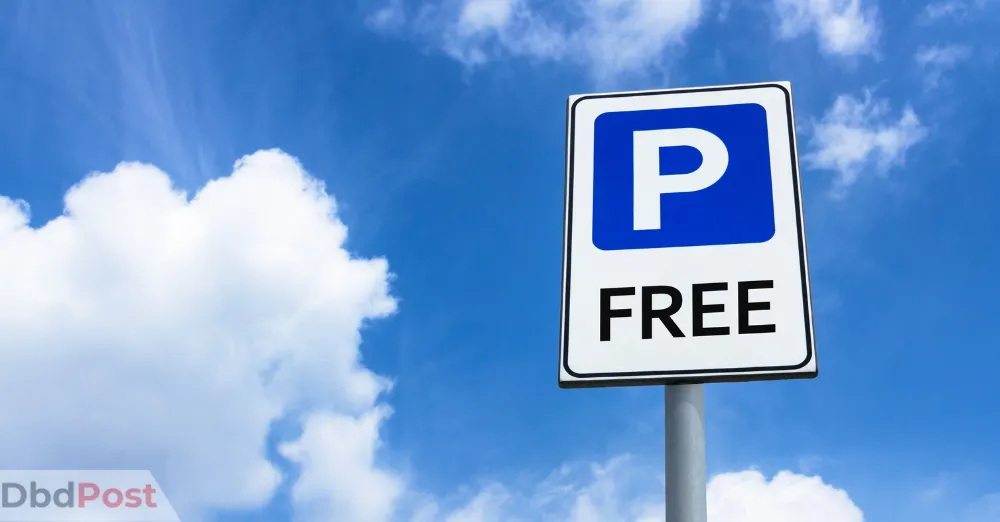 Let's see some popular places where you can park your cars for free. These places are very popular, so many people will be looking to park their vehicles for free.
In these places, you can park even on days other than Sundays and public holidays for free in Dubai:
Dubai Mall
Location: Financial Center Street, Along Sheikh Zayed Road, Next to Burj Khalifa
Map: Get directions
Global Village
Location: Sheikh Mohamed Bin Zayed Road and Emirates Road, Exit 37, E311
Map: Get directions
IMG Mall
Location: E311 Sheikh Mohammed Bin Zayed Rd, City of Arabia
Map: Get directions
Safa Park
Location: Sheikh Zayed Rd, Al Safa
Map: Get directions
JTS Medical Centre Parking
Location: JTS reserved parking, Lal Qila Rest Parking, Opposite Etihad Museum
Map: Get directions
Etisalat Metro Car Park
Location: Al Qusais, Al Qusais 3
Map: Get directions
Desert Safari Dubai
Location: Desert Camp Site, Al Awir
Map: Get directions
Bur Dubai City Center Car Parking
Location: Al Fahidi, Dubai
Map: Get directions
Wtc Parking
Location: 47th St, Za'abeel 2
Map: Get directions
Meeras Al Seef Parking
Location: Umm Hurair 1, Dubai
Map: Get directions
Sustainability Parking
Location: Sustainability area, Near Dubai Expo
Map: Get directions
Rashidiya Car parking
Location: 51-49 C St, Al Rashidiya
Map: Get directions
Mobility Parking – Expo 2020
Location: Sheikh Mohammed Bin Zayed Road, Exit 311, Near Dubai Expo
Map: Get directions
Blue Waters Island Parking
Location: Blue Waters Island, Dubai
Map: Get directions
When is free parking time in Dubai available?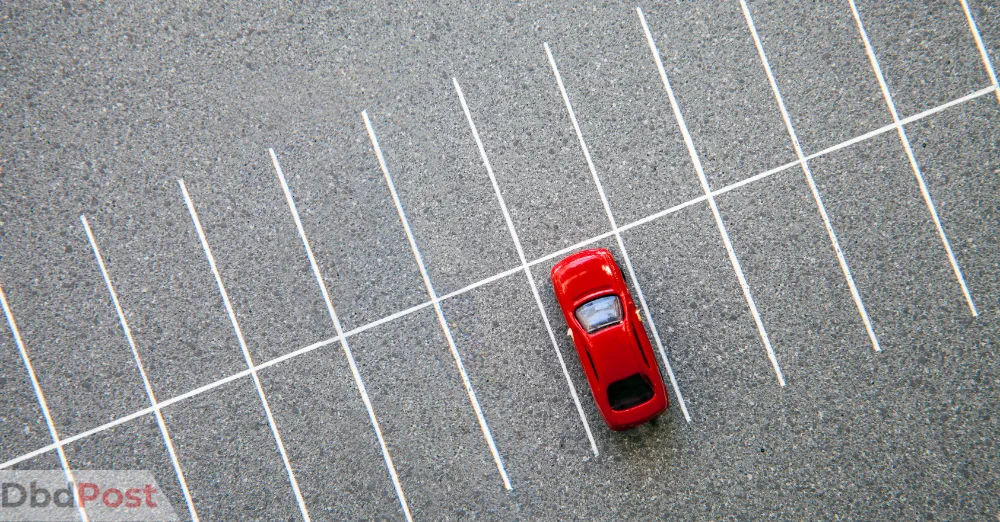 If you want to travel to the different attractions in the city, be sure to travel on holiday. You can find free parking and save money if you consider the timings.
You can park your car in Dubai for free on Sundays and other national public holidays.
This announcement was made by the crown prince of Dubai, Sheikh Hamdan bin Mohammed bin Rashid Al Maktoum, in March 2022.
He also announced that you could only park your cars on the roadside for four hours. Similarly, drivers in Dubai will be able to park for up to 24 hours in parking lots and 30 days in multi-story parking areas.
Otherwise, you may be charged with a parking fine, and your vehicle can also be taken away. So be careful where you park.
More Related Stories
---
FAQs on free parking in Dubai
Is parking free on Friday in Dubai?
No, parking is no longer free on Fridays in Dubai like it used to be. You have to pay for parking every day of the week except Sunday.
Final thoughts
Free parking in Dubai is possible if you can find the right spot. Of course, that is not going to be easy since a lot of people will be looking for them as well.
Parking is generally free every Sunday and public holiday in Dubai, so you won't have to worry about finding a free parking location.
But if you travel from Monday to Saturday, you will have to pay for a spot. We hope our Dbd guide will help you to find some free parking locations even on those days.
If you found this Dbd guide helpful, feel free to share it with others who might find it helpful.