Shopping for jewelry can be challenging, especially if you need to know what you're looking for. Gold souk Sharjah can be a confusing place to shop because there are so many different shops. It's hard to know which one is reputable.
Sharjah gold souk market, also known as the central market, is the perfect solution for all your jewelry needs. The experienced jewelers will help you find the perfect piece of jewelry. In addition, the shops offer a wide variety of gold coins, silver pots, and decorative pieces.
This Dbd guide will provide the latest data on open hours with the location of the marketplace. So without any further ado, let's get started!
Gold souk Sharjah – Overview
| | |
| --- | --- |
| Address | Sharjah Central Souq, Sharjah |
| Map | Get Directions |
| Hours | Saturday toThursday (9:00 AM – 10:00 PM), Friday (4 PM – 10:00 PM) |
| Service Options | Delivery, in-store pick-up, in-store-shopping, same-day delivery |
The modern Sharjah souk emerged after the marketplace was redesigned with Arabic architecture in the late 1970s. The iconic two buildings, The Central Souk and The Blue Souk, have over 600 shops. The Gold Souk Sharjah is a shoppers' paradise, especially for good quality and reasonably priced gold jewelry.
Similarly, the Gold Souq Sharjah exhibits a majestic flair of Arabic architecture, and its popularity shows no signs of waning. The souq's 80 square kilometers quickly became well-known to citizens of the entire nation, and the structure became a well-known landmark in the emirate.
In addition to jewelry, you can also find pashminas, traditional items, and rugs in the marketplace. Also, the market is located in the central area of Sharjah, and it is easy to get to by public transport. For your ease, we have made a list of popular jewelry shops in the market. Let's check them out.
Al Arooj Silver Trading LLC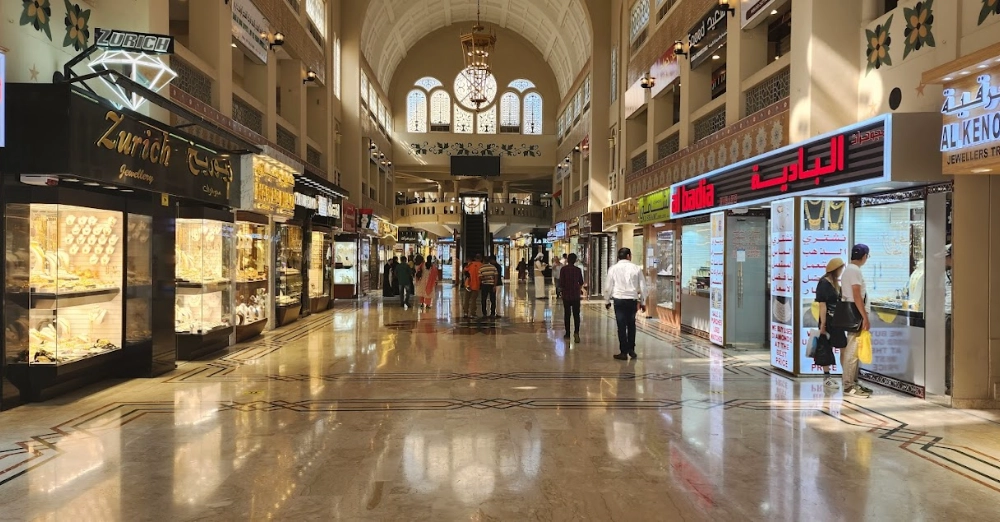 | | |
| --- | --- |
| Location | Gold Souq, Central Market – King Faisal St – Sharjah |
| Map | Get Directions |
| Contact | +971 504977536 |
| Popular Hours | 7 PM to 9 PM |
| Google Maps Review | 4.3 |
Al Arooj Silver Trading LLC is a great place to find cheaper gold pieces than the gold souk in Dubai. The shop also has good customer reviews, and you can find silver and bronze jewelry in addition to gold.
You can also find various other products, including coins, watches, and more. The shop is known for its excellent customer service, and you can be sure to find what you're looking for at a great price.
Al Abyad Jewellers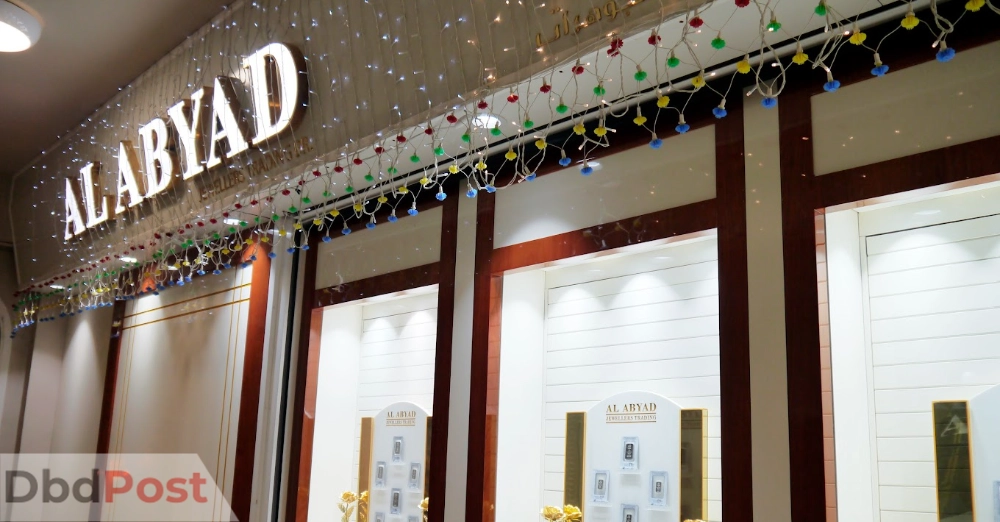 Al Abyad Jewellers is a sole proprietorship company that was established in 1995. It is located in Central Market, one of the most famous souks in Sharjah. Al Abyad Jewellers offers a wide range of products, including international brands of gold and silver bars, coins, and collectible coins.
Moreover, they are known for providing competitive pricing, reliable channel, various selection, and unparalleled customer service.
How to reach to Sharjah gold souk market?
There are two ways to get to the gold souk in Sharjah. You can use any of the methods mentioned below:
Method 1.

Closest bus station to Sharjah gold souk

Al Jubal Bus Station is the closest bus station to the gold souk. Depending on your speed, it will take 5 to 10 minutes to walk from the bus station to the gold souk.
Method 2.

Closest parking to the gold souk in Sharjah

The Sharjah central souk has a paid parking area. There are no free parking areas near the Sharjah gold souk market, so you must be prepared to pay for parking.
What is the best time to buy jewelry from gold souk Sharjah?
If you're planning a visit to the gold souk in Sharjah, the best time is during weekday mornings, between 9:00 AM and 3:00 PM. The stores are less crowded at these times, so you'll be able to browse more easily and potentially get better deals.
However, if you prefer a crowdy atmosphere or can only visit on weekends, the shops are usually jam-packed with customers between 4:00 PM and 10:00 PM. Whatever time you choose to go, make sure to bargain for the best price.
What to expect in gold souk Sharjah?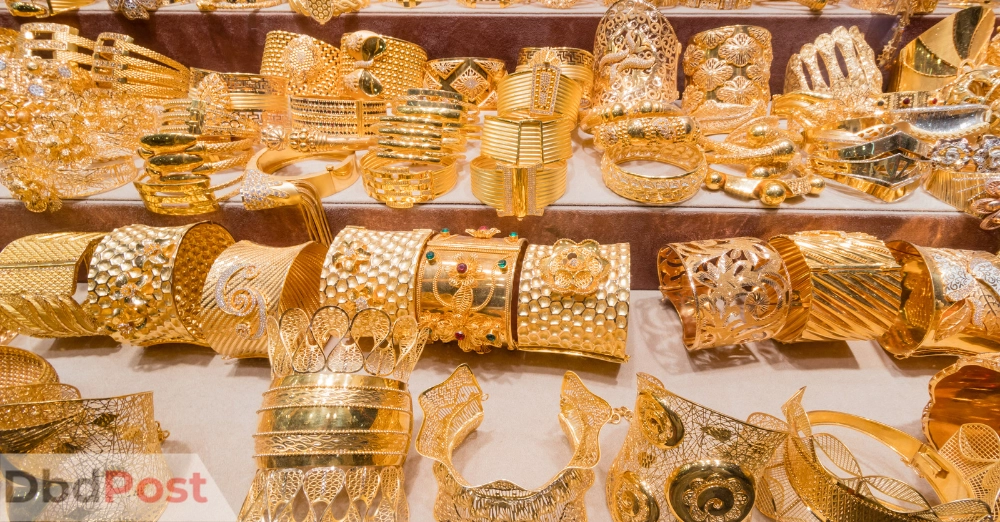 The Sharjah gold souk is one of the busiest markets in the city. It is always crowded with shoppers looking for the perfect piece of jewelry. If you are looking for an authentic gold souk experience, then Sharjah is the place to be.
If you are planning to visit the gold souk, here is some information about what to expect:
Negotiable prices
Before you begin haggling for a significant discount on gold items, make sure to find out how much things cost and visit a few stores. The pricing of gold items varies depending on the piece's weight and purity, so it is essential to have an idea of what you should be paying. So next time you're in the market for some new bling, remember to brush up on your bargaining skills.
Embrace the heat
The weather in Sharjah can be hot during summer, so it is important to dress appropriately and stay hydrated while visiting the gold souk. The souk is located in the central area of Sharjah, so there are plenty of air-conditioned areas to take a break if you feel too hot.
The language barrier
The market vendors are not particularly fluent in English. As a result, you may need to learn some basic local words or gestures for communication. Local buyers might not have to face this problem.
Fun facts about gold souk Sharjah
Now let's look at some facts about the gold souk Sharjah.
The Sharjah gold souk is one of the oldest markets in the city, and it has been around for over 40 years.
The British architectural firm of Michael Lyle & Partners designed the marketplace with Sharjah's ruler Sheikh Sultan Bin Muhammad Al Qasimi.
The marketplace's iconic name, The Blue Souk, was derived from the distinctive blue tiles that lined the walkway leading to it.
Across the souk is the Al Ittihad Park is home to the Pearl Monument. It's a tribute to the pearl diving industry that was once a cornerstone of commerce and trade in the UAE.
Things to consider while visiting Sharjah gold souk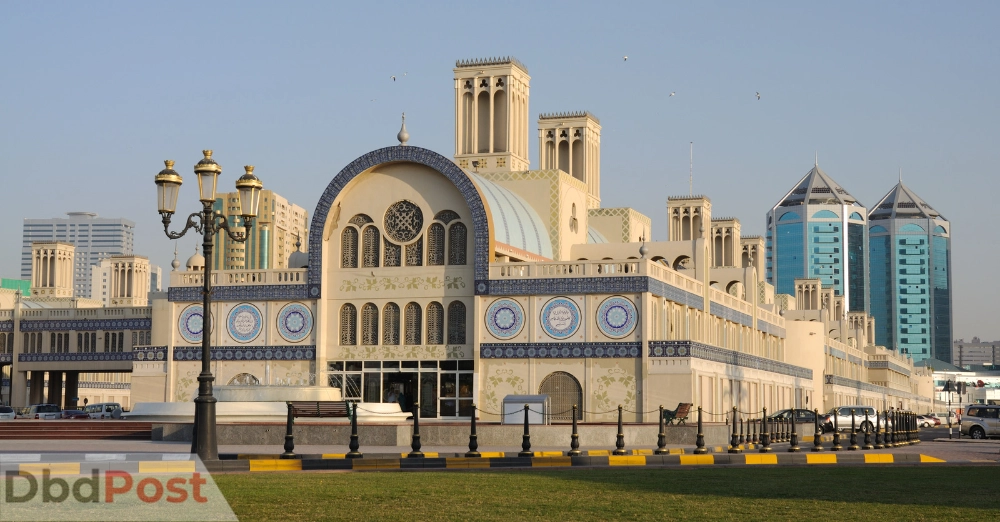 The gold souk in Sharjah is an amazing place to shop, but there are always things to consider before you visit. Here are some of the things you should keep in mind before heading to the gold souk.
1.

Gold price

The prices of gold vary daily. If you're planning on buying gold, check the current price before heading to the souk. You can do this by checking the live gold price on trusted sources.

It's always a good idea to know the prices before you shop. This might save you from getting scammed or getting good deals on the pieces.
2.

Heat

The weather in Sharjah can be very hot, especially during the summer. The temperature can quickly go over 40°C/104°F. Also, staying hydrated and taking breaks often is important if you visit the souk during these months.

The hot weather in Sharjah can have some adverse effects, especially if you're not used to it. Make sure to drink plenty of water and take breaks often if you visit the souk during the summer. It's also a good idea to wear light clothing that will allow you to stay relaxed and comfortable.
3.

Gold quality

When choosing gold jewelry, it can take time to know which type of gold is best. 24 Karat (pure) gold is too soft to make jewelry. Therefore, most stores sell 14, 18, or 22 Karat gold jewelry.

You should always ask the shopkeeper about the quality of the gold and look for any markings that show how pure the gold is. The karat weight is usually stamped on the jewelry. Furthermore, the price of the jewelry also depends on the quality of the gold used.
3.

Bargaining

Some stores have fixed prices, and others allow bargaining. You should always ask before you start bargaining.

Bargaining can get you a good deal, but be careful because some people might try to scam you. To ensure you're getting a good deal, it's best to know the average prices before you start bargaining.

Related Stories
If you are in Abu Dhabi and want to buy gold there, check our guide on Gold Souk Abu Dhabi.
Similarly, if you live in Dubai and wish to visit the gold market, check this guide – Gold Souk Dubai.
---
FAQs
How much is gold in Sharjah souk?
The price of gold is between 160 AED and 200 AED, depending on the quality. However, the price varies regularly.
Is gold souk Sharjah open on Friday?
Yes, the gold souk is open on Friday. However, the open hours are 4:00 AM to 10:00 PM on Fridays
What to buy in the Sharjah gold souk?
The Gold souk in Sharjah is one of the city's best places to buy jewelry. You can find a variety of gold jewelry, silver jewelry, watches, and loose diamonds at this store. Also, the souk is home to modern and custom-made stores, so you're sure to find something that suits your taste.
Can you bargain with the shopkeepers in the gold souk?
Yes, bargaining is a part of the shopping experience at Sharjah gold souk. You should be prepared to negotiate with shopkeepers to get the best price. However, don't expect to bargain when you are purchasing online.
What are the payment methods used by the shops in the gold souk?
Some shops only accept cash, while others will also take credit cards. Make sure you ask about the payment methods before you buy anything. Also, carrying enough cash with you when you visit the souk is a good idea.
Final thoughts
We hope you find all the information in this guide. We have tried to cover all the necessary information about the gold souk Sharjah. Share your experience with us if you've visited the gold market.
Overall, the Sharjah gold souk market is a great place to buy jewelry. The shopkeepers know what they are doing and can help you find the perfect piece for your needs. If you are looking for gold items in Sharjah, we highly recommend visiting the gold souk.
Not all jewelry is the same. You need to pick something that will last. Use the tips in this article to find the perfect piece for you.


Arijit Negi is an expatriate living in Dubai for 18 years. He completed his degree in Master of Arts in Journalism from the University of Mumbai. Arijit focuses on providing helpful guides and information for ex-pats living in UAE and visitors to the UAE.