The gold souk Dubai is one of the world's largest gold marketplaces you can explore. It is located in the city's commercial business district. The souk comprises hundreds of retailers that trade exclusively in gold and jewelry.
In Gold Souk Dubai, you can find anything related to gold, including silver jewelry and coins. Dubai gold souk market is a must-see for tourists. Similarly, it has hundreds of retail and wholesale shops, making it one of the largest markets for gold in the world.
This Dbd guide will provide an updated list of hours for the Deira gold souk and a map of its location. Also, we'll discuss some valuable tips for buying gold.
So without any delay, let's get started.
Gold souk Dubai: Overview
| | |
| --- | --- |
| Address: Souk Deira St, Deira, Al Sabkha, Dubai | Souk Deira St, Deira, Al Sabkha, Dubai |
| Map | Get direction |
| Hours | Saturday toThursday (9:30 AM – 9:30 PM ), Friday (4 PM – 9:30 PM) |
| Service Options | Delivery, in-store pick-up, in-store-shopping, same-day delivery |
Dubai's Gold Souk is a historic market that dates back over a hundred years. The souk was initially located near Dubai Creek and quickly became a thriving hub for the gold trade. This was due to Dubai's safe and tax-free environment for gold merchants. [1]DMCC, "History of Gold, https://www.dmcc.ae/news/history-of-gold#:~:text=With%20its%20narrow,in%20the%20world."
In recent years, the souk has expanded to include hundreds of retail and wholesale shops, making it one of the largest markets for gold in the world.
Visitors to the souk can find everything from traditional gold jewelry to modern bars and coins. The Gold Souk is the perfect place to do gold business, whether you're looking to buy or sell.
Now, let's look into some popular gold shops in the marketplace.
AlKhatib Jewellery Dubai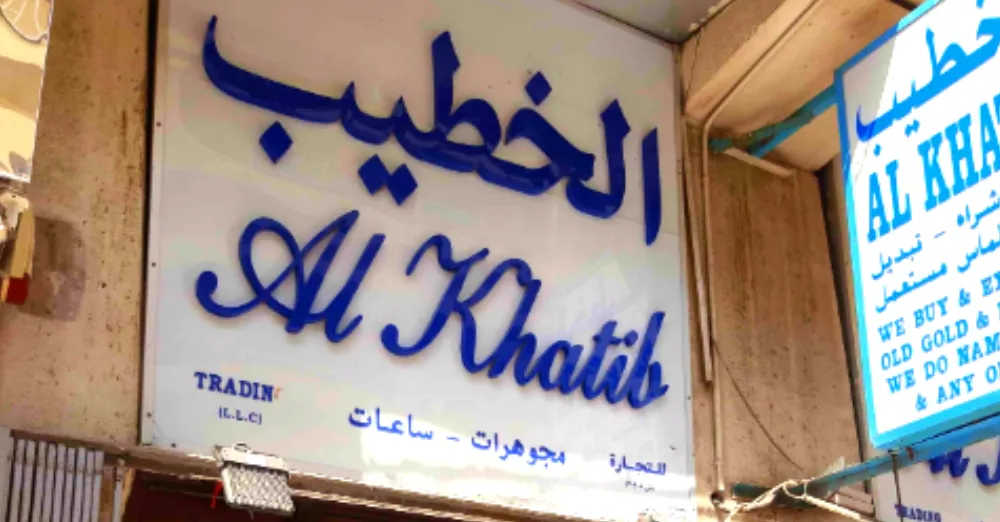 Alkhatib Jewellery is one of the most trusted jewelers in Dubai, with excellent customer support and multiple positive reviews from shoppers. They carry a wide selection of beautiful jewelry, including rings, necklaces, earrings, and bracelets.
Their experienced staff is always available to help customers find the perfect piece of jewelry for any occasion. Whether you're looking for a unique gift for someone special or an exquisite piece to add to your collection, Alkhatib Jewellery is a perfect choice.
Taiba Gold
Taiba jewelers offer a wide range of beautiful and unique Middle Eastern jewelry. The shop owners have over 40 years of experience and are experts in crafting authentic pieces. [2] Taiba Gold, "About Us, https://taiba.ae/about-us/#:~:text=Seeded%20in%20the,Jewellery%20crafting%20experience"
The wide range of styles and designs means that there is something to suit everyone's taste. Whether you are looking for a traditional piece or something more modern, you will find it at Taiba Jewelers.
How to reach to Dubai gold souk market?
There are three ways to reach the Dubai gold souk. You can choose any of the given methods to reach the marketplace:
Method 1. Closest metro station to Dubai gold souk
The Al Ras metro station is the closest subway stop to the Dubai g0ld market. The gold market is 600 meters away from the metro station.
Method 2. Closest bus station to the gold souk
Al Sabkha Bus Station is the best place to go if you're looking for a bus to the gold souk. It's only 800 meters from the station, and plenty of buses run directly to the souk. The bus journey only takes a few minutes, and it's a great way to avoid crowds and get there quickly.
Method 3. Closest parking to Dubai gold souk
Deira multi-story parking is located within 2 minutes of walking from the market. This makes it the closest parking to the market. Similarly, it an ideal option for those who are looking for convenient parking.
What is the best time to buy jewelry from gold souk Dubai?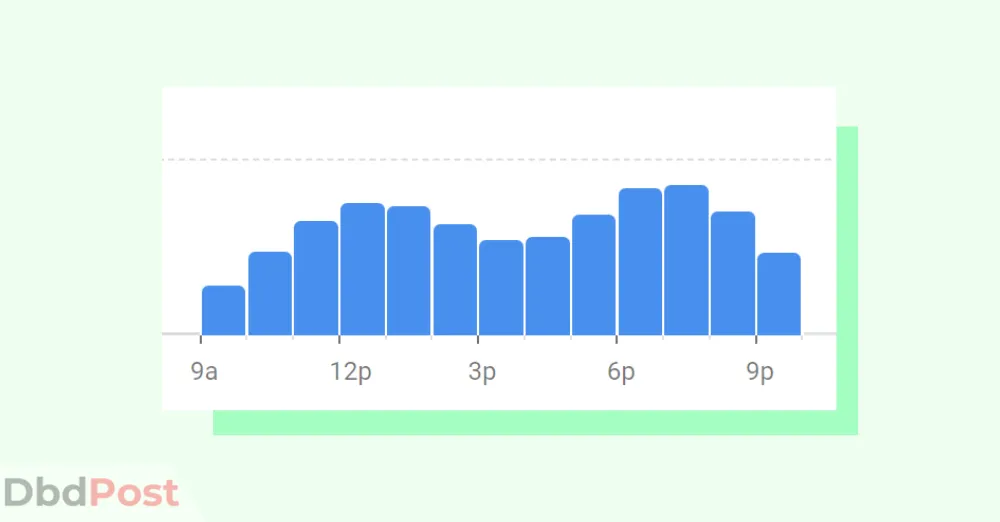 The best time to visit the marketplace is during the weekday morning hours. The market is less crowded from 9:30 AM to 12 PM. In addition, there are fewer customers at 3 PM and 4 PM.
Most people are busy with work at this time, so it will be easier to bargain and down prices. Likewise, the shopkeepers will also have more time to attend to you and answer your questions. However, avoid weekend visits, if possible, as it will get crowded on weekends.
The gold souk is one of Dubai's most well-known tourist destinations, but it can get pretty crowded. To avoid the masses, plan to visit during the week rather than on weekends.
What to expect in gold souk Dubai?
With over a hundred gold shops, the souk is located conveniently in the city's center and is ideal for finding one-of-a-kind jewelry. Generally, Dubai's prices for gold are lower than other places internationally.
In addition to jewelry, the gold souk sells coins, bars, and other investment-grade gold products. Whether you are looking to buy or window shop, the gold souk is an essential stop on any trip to Dubai.
If you are planning to visit the gold souk, here is what you can expect:
It can get extremely hot
The summers in Dubai can get quite hot, with temperatures often soaring above 40 degrees Celsius. If you're planning on visiting the gold souk, be sure to dress appropriately. The souk is located outdoors, so you'll want to wear loose, light-colored clothing. It's also a good idea to wear a hat or scarf to protect yourself from the sun.
It can get crowded
The gold souk is a popular tourist attraction, especially on weekends. It can be pretty crowded, making it challenging to bargain for the best price. Similarly, you may have to elbow through the crowds. Just be prepared for the crowds, and you'll be fine.
There will be a language barrier
Many of the merchants there have limited English-speaking skills. This can make it challenging to communicate with them if you don't speak Arabic. If this is the case, you may need to use hand motions or Arabic words to get your point across. However, this shouldn't be a problem if you are a native of the UAE.
Negotiate the prices
With hundreds of shops to choose from, there is something to suit every taste and budget. When negotiating prices at the gold souk, it is essential to remember that the starting price is always higher than what the seller is willing to accept. As a result, being assertive when negotiating a price is essential, as this will help ensure you get the best possible deal.
Fun facts about gold souk Dubai
Hundreds of people come to the souk every day to buy various items like gold coins and jewelry. Here are some fun facts about this famous market:
The Dubai gold souk has been a part of the city since it was founded in the early 1900s. However, its popularity took off in the 1940s when new trade policies encouraged Iranian and Indian entrepreneurs to set up businesses there.
The Najmat Taiba, or Star of Taiba, is on display in the Deira gold souk and is the largest gold ring in the world. It weighs approximately 64 kilograms and is made of pure gold. The ring is adorned with diamonds, pearls, and other precious stones. It is a truly spectacular piece of artistry and engineering.
The gold souk is one of the largest markets in the world for its kind. It has hundreds of retailers operating within it.
In addition to the vast array of jewelry available, many shops also offer custom design services. This way, you can leave with a unique, one-of-a-kind piece.
Things to consider while visiting gold souk Dubai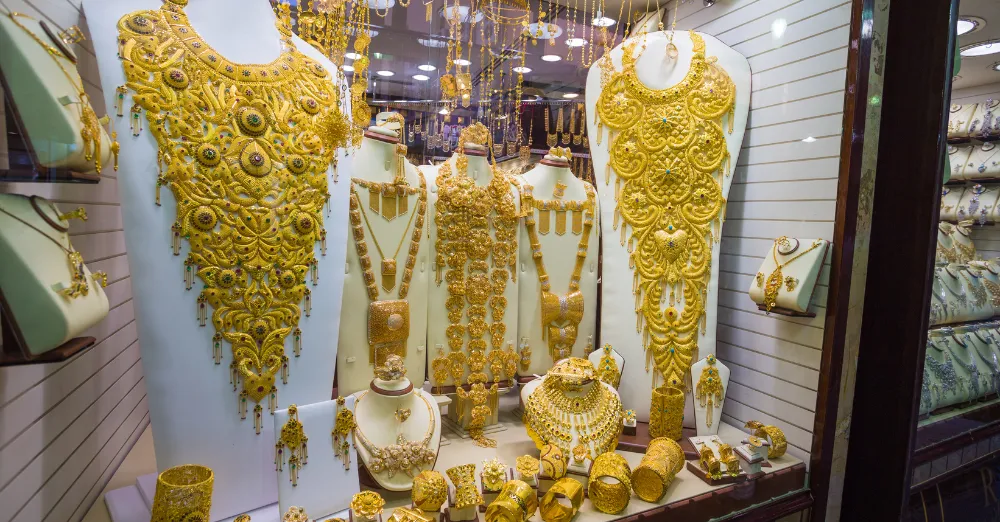 The Deira Gold Souk is one of Dubai's most popular tourist destinations. In addition to being a great place to buy gold, the souk is also a great place to people watch and take in the sights and sounds of Dubai. However, there are a few things that you should keep in mind when visiting the souk.
Market price
When shopping for gold, it's important to know the market price. This will help you get the best deals when haggling with the shopkeepers. However, the price fluctuates regularly, so it's best to check on the day of your visit. You can find up-to-date information on gold prices online or in newspapers.
Gold quality
The quality of gold offered for sale can vary greatly, so be sure to ask about the purity of the gold before making a purchase. It is also wise to shop around for the best price, as gold prices can vary considerably.
The highest quality gold is 24K or pure gold. However, most jewelry is made from 22K or 18K gold, which contains a lower percentage of pure gold. Similarly, buying gold bars or coins is a good way to get the highest quality gold available.
Bargain
Remember to bargain; the shopkeepers in the Dubai gold souk market expect you to haggle. So don't be afraid to try your hand at it. With a bit of practice, you should get the price down to a level you're comfortable with.
Safety
As with any tourist destination, there are certain things to be aware of while visiting the Gold Souk in Dubai. First and foremost, be mindful of your belongings, as there have been reports of pickpocketing in the area. Secondly, be cautious of scams, such as being offered fake gold or being charged an excessive price for a purchase. However, if you take these simple precautions, you will have a safe and enjoyable experience at the Gold Souk.
Alternative to gold souk Dubai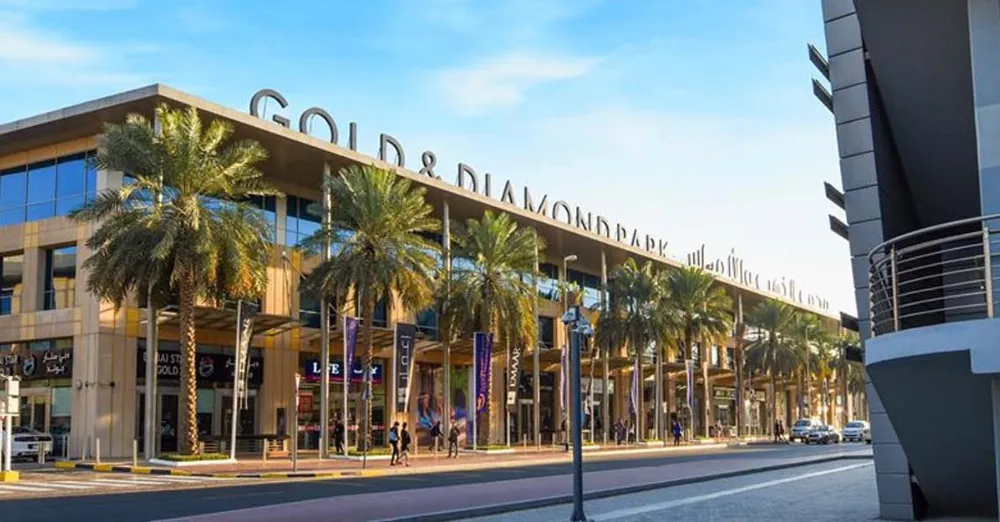 The Gold and Diamond Park is a one-stop destination for all your jewelry needs if you want to avoid the crowd at the gold souk.
Whether you're looking for a traditional gold necklace or a modern diamond ring, you'll find it here. The Gold and Diamond Park has something for everyone with its wide variety of designs. And with its convenient location in the heart of Dubai, it's easy to get to and from.
In addition to retail establishments, Gold and Diamond Park also contains a conference center, an auditorium, and several restaurants and cafes. Therefore, you can spend your entire afternoon in the park, resting with a cup of coffee or dining with friends after a day of shopping.
Alternative:
Related Stories
If you are in Sharjah and want to buy gold there, check our guide on Gold Souk Sharjah.
Similarly, if you live in Abu Dhabi and wish to visit the gold market, check this guide – Gold Souk Abu Dhabi.
---
FAQs
How much is gold in the Dubai souk?
Currently, you can expect a price of 160 AED to 210 AED per gram, depending on the quality. However, the price varies regularly.
How to get to gold souk Dubai by Metro?
The easiest way to get to gold souk is by metro and going to Al Ras station. It's a short walk from there to the souk. You can hop on a metro from any other Dubai station to access Al Ras station.
Is gold souk Dubai open on Friday?
Yes, the Dubai gold souk is open on Friday. However, the business hours are 4 PM to 10 PM on Friday.
What are the best times to visit the marketplace?
To avoid the crowds, plan to visit the gold souk in the morning. The merchants are well-rested and have their best products on display. However, expect more people later if you can't make it first thing in the day.
What to buy in the Dubai gold souk?
The Dubai gold souk is a marketplace where you can purchase all types of gold and silver ornamentation. Traditional gold jewelry is available, as well as more modern designs. There are also a variety of watches, as well as loose diamonds, to choose from.
Is gold cheaper in the gold souk?
The price of gold varies from one part of the world to another. The price of gold is cheaper because Dubai is a major center for the gold trade. Also, you can get good deals and custom orders at the gold souk.
Final thoughts
Visiting the gold souk market is a must-do when in Dubai! It's one of the most popular tourist destinations in the city, and it's easy to see why.
The Deira gold souk is a shopper's paradise with hundreds of gold shops. You can find everything from traditional gold and silver jewelry to contemporary designs.
We hope our Dbd guide was helpful for those looking to visit the gold souk during their stay in Dubai.
So go ahead and experience the grandeur of the gold souk Dubai and find your perfect gold jewelry piece today! Also, share your experience if you've visited the gold souk.