YouTube TV is a live TV streaming service that provides subscribers access to live sports, news, and entertainment channels over the Internet. If you have any complaints about their services, you can contact them through the customer service number, email, or live chat.
Youtube TV customer service complaints can differ depending on various methods. You can complain via a web app, website, and social channels.
Regardless of the various ways, our Dbd guide will ensure you have the necessary information on how do I complain to YouTube TV. We have thoroughly tested and verified each step to report a problem to Youtube TV.
How to contact YouTube TV for complaints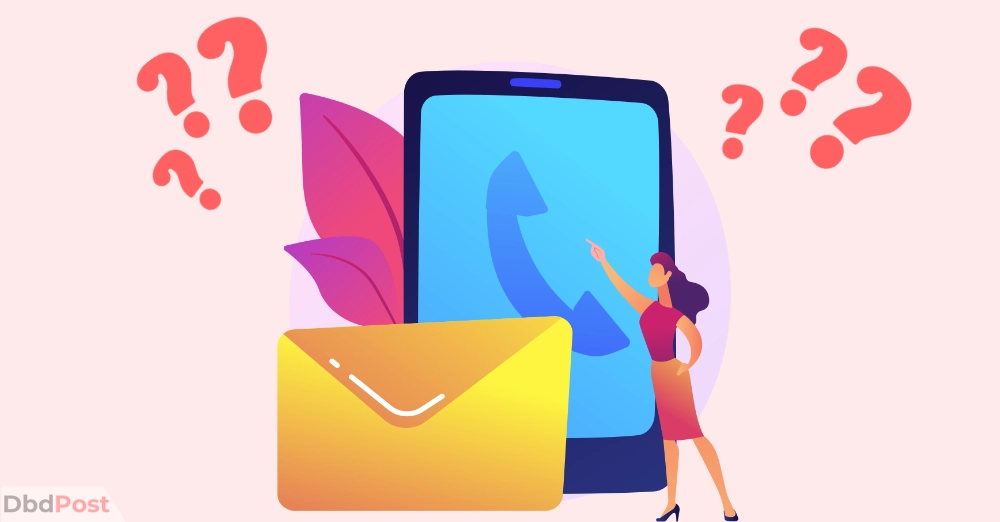 Regarding a complaint about YouTube services, you can contact their customer service to seek assistance. There are different ways to reach out to YouTube TV customer service, including phone, email, and a live chat option.
Let us discuss some of the methods to reach Youtube TV customer support:
Method 1:

Via Web App

To submit a complaint through the YouTube TV app, you can follow these steps:

Step 1: Open the YouTube TV app on your device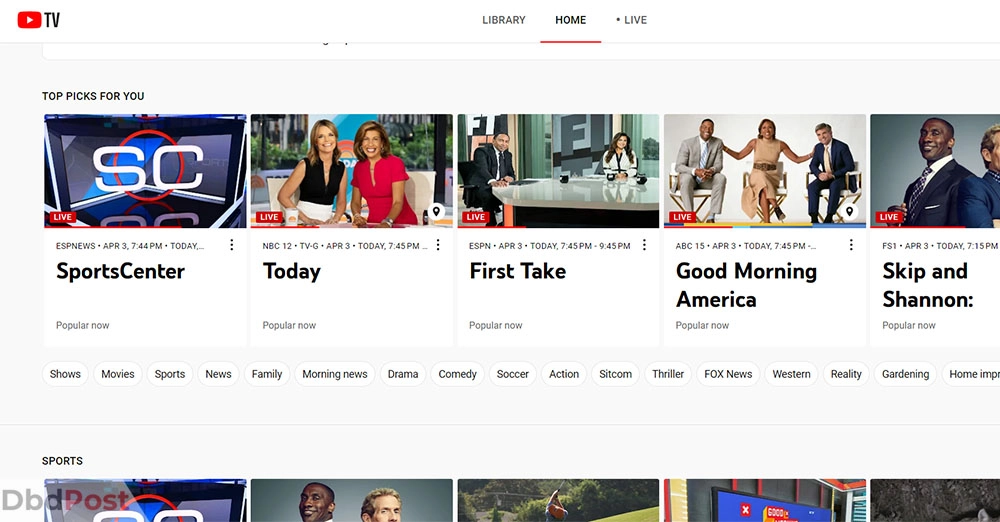 Step 2: Tap on your " Question Mark" icon in the top right corner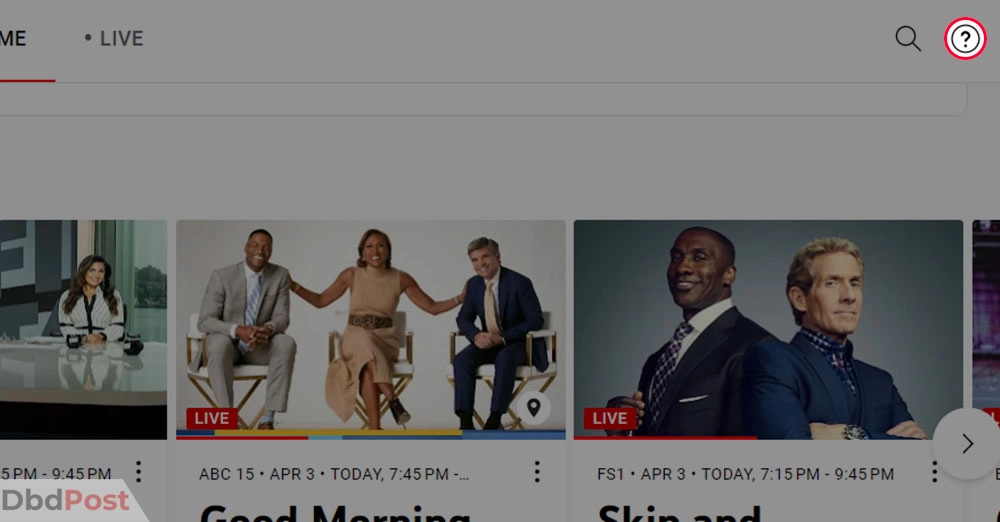 Step 3: Scroll down the menu and click on "Contact Us"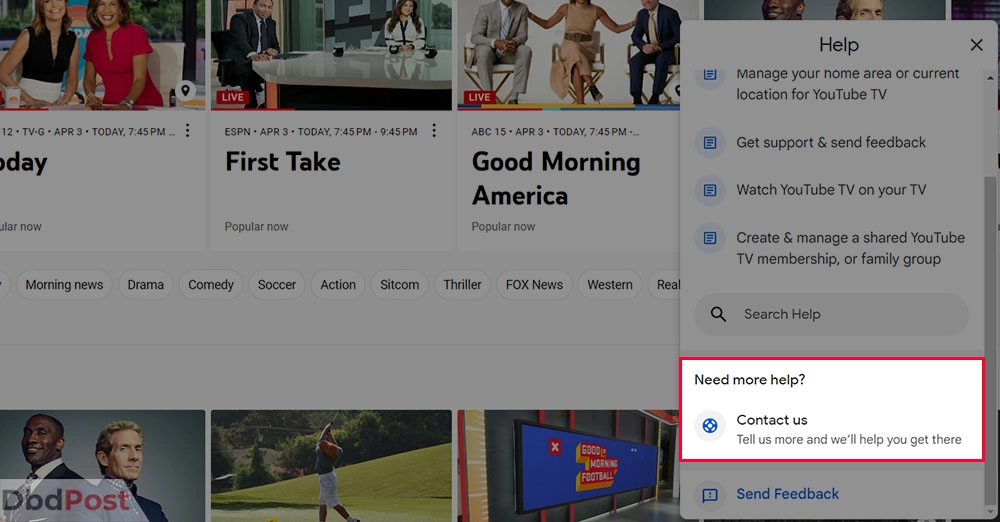 Step 4: Mention your problem and click on "Next," which goes up to 4 further similar steps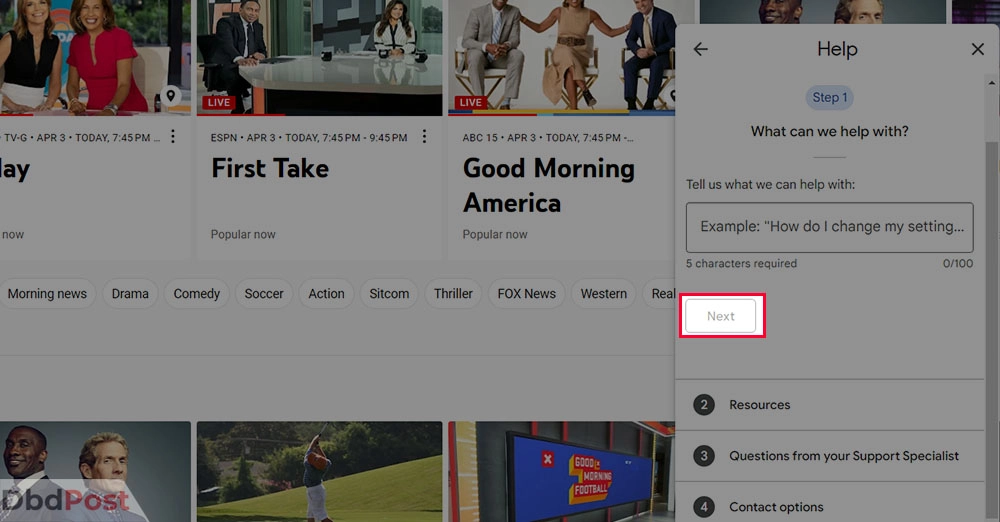 Step 5: You'll get the "Contact Options," where you can choose between call, chat, and email
Note: The same steps are followed if you contact Youtube TV through the website. Just visit the website, do a Youtube TV sign-in, and follow the steps mentioned above.
Method 2:

Via social channels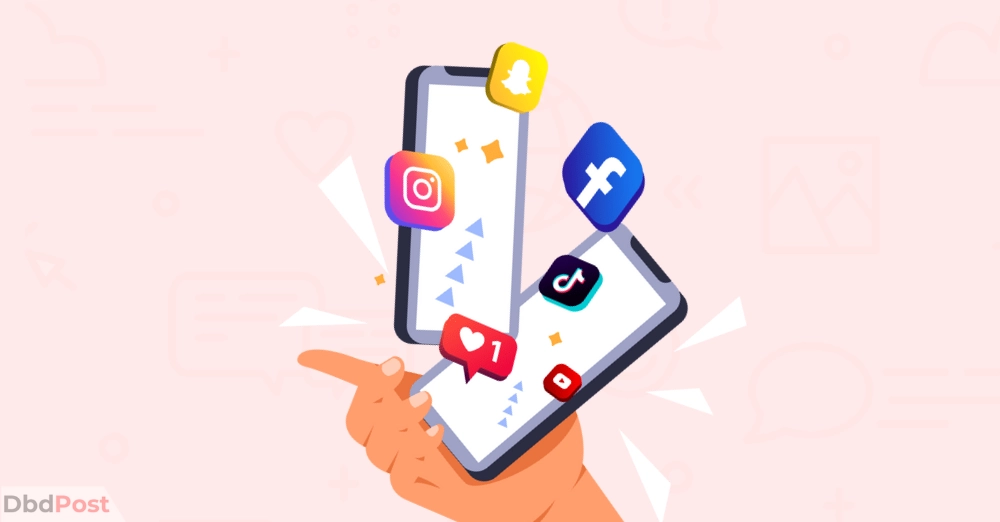 To get additional assistance with YouTube-related queries, you can explore various Youtube TV support channels:
Twitter is one of the channels where you can tweet your questions to @TeamYouTube and receive a response.
The YouTube Help Forum is another channel where you can interact with other members of the YouTube TV community and learn from their experiences.
You can also watch informative videos on the YouTube TV Help Channel to gain a better understanding of how to use the platform.
What to include in a complaint to YouTube TV?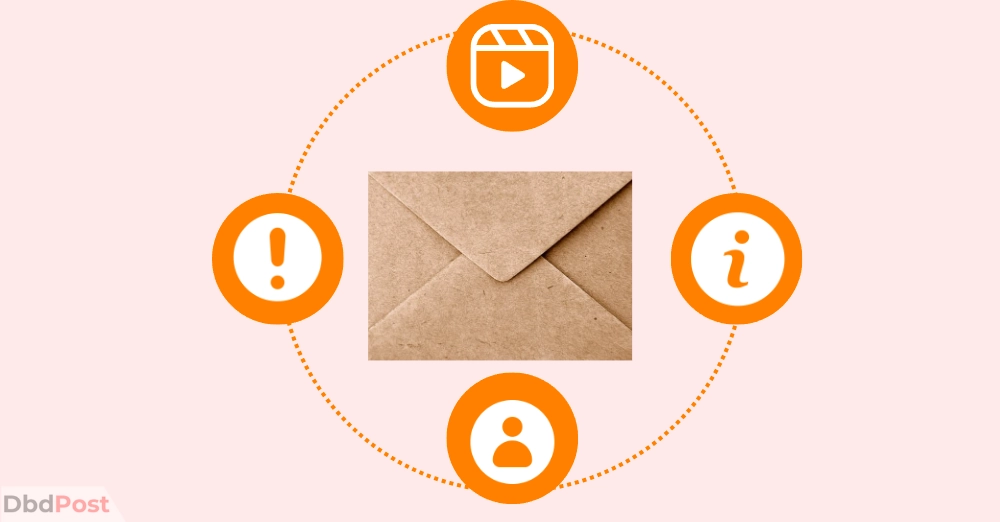 When submitting a complaint to YouTube TV, it's important to include as much information as possible.
It helps the support team to understand and resolve your issue. Here are some guidelines on what information to include:
Account information
Include your YouTube TV account information, such as your email address and account username. It helps the support team to locate your account and identify specific issues that may be associated with it.
Issue description
Clearly describe the issue you're experiencing in detail. Be specific about when and how the issue occurred and what steps you've taken to resolve it.
Relevant screenshots or videos
If possible, include screenshots or videos of the issue you're experiencing. This can help the support team better understand the problem and provide more effective assistance.
Device and app information
If the issue you're experiencing is related to a specific device or app, provide information about the device and app you're using. Include details such as the device model, operating system version, and YouTube TV app version. [1]YouTube, "Feedback, https://www.youtube.com/tv/feedback"
Escalating a complaint to a higher authority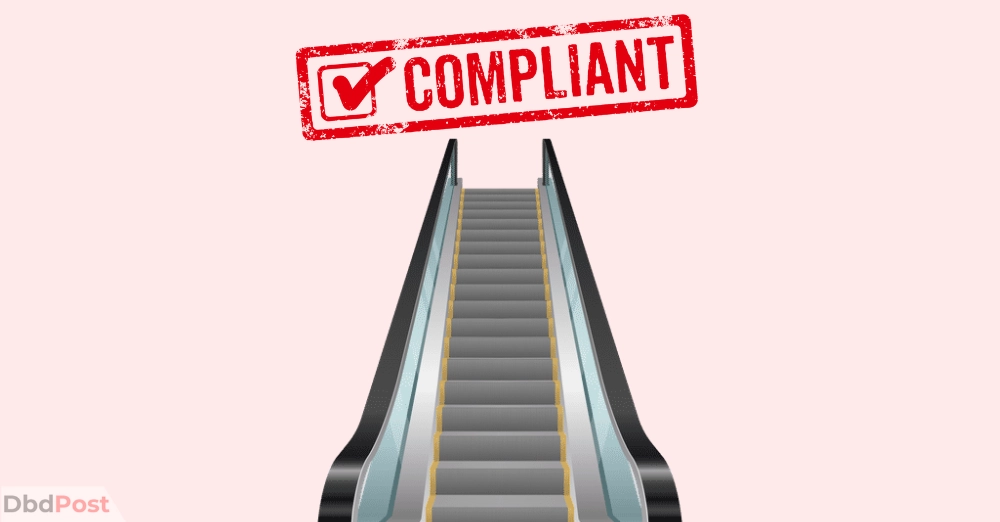 If a customer has lodged a complaint but is unsatisfied with the outcome, there are several ways to escalate the issue. Here are some steps to take:
Request a meeting with a manager
If you have not received a satisfactory response from the customer service representative, request to speak with their supervisor or manager.
Explain the problem and the measures you have taken thus far to resolve it.
Contact the company's customer support line
If you are unable to speak with a manager, contact the company's customer support line again and explain the situation. Inquire if there is anyone else who can assist you in resolving the issue.
Utilize social media
If customer service is not progressing, try posting about the problem on the company's social media platforms. This can sometimes capture the attention of higher management, who can help.
Submit a complaint to the Better Business Bureau (BBB)
For all other methods not working, you can file a complaint with the BBB. This is a last resort and should only be used if you've exhausted all other options.
Submit a complaint to the Federal Trade Commission (FTC)
The Federal Trade Commission will investigate a company if they know about wrongdoing. For them to know, people need to file a complaint with them.
These complaints often bring forth a pattern that tips off the FTC to do an investigation. This will help you and anyone else scammed by a company.
If your complaint pertains to a YouTube account, you can try to get in touch with a YouTube employee directly or utilize the platform's reporting system to report the issue. If you require additional assistance, contact Google LLC, which owns YouTube.
Some of the additional resources for resolving complaints with YouTube TV include:
The YouTube TV Help Center
The Help Center has a wealth of information and resources to help you troubleshoot common issues and find answers to frequently asked questions.
YouTube TV Community Forum
The Community Forum is where users can share tips, ask questions, and get help from other YouTube TV users.
YouTube TV social media accounts
YouTube TV has accounts on various social media platforms, including Twitter and Facebook. You can use these platforms to contact YouTube TV and get assistance with your issue.
Related Stories
---
FAQs
What types of complaints can I file with youtube tv?
You can file complaints with YouTube TV for a billing issue, technical problems with the service, or inappropriate content. You can access the support page on the YouTube TV website to report your complaint.[2]Google, "YouTube Tv Help, … Continue reading
How long does it take youtube tv to respond to complaints?
The response time for YouTube TV complaints can vary depending on the nature of the issue. Yet, the YouTube TV Help Center responds to inquiries immediately via call or chat, or within 24 hours by email.
What should I do if I'm not satisfied with youtube tv's response to my complaint?
If you're unsatisfied with YouTube TV's response to your complaint, you can escalate the issue to their support team. Also, you can file a complaint with the Federal Communications Commission (FCC).
Is there a phone number I can call to file a complaint with youtube tv?
No, there is no Youtube TV phone number to file a complaint. However, you can contact them through their website or mobile app.[3]Youtube, "Contact US, https://www.youtube.com/t/contact_us"
Can I escalate my complaint to a higher level within youtube tv if necessary?
Yes, you can escalate your complaint to a higher level within YouTube TV if necessary by contacting their customer support team. They have different levels of support available to address customer issues.
To conclude, filing a complaint to YouTube TV is easy and convenient with their readily available customer service channels.
We hope this Dbd guide on how do I complain to Youtube TV free has been helpful.


Driven to stay up-to-date with the latest technological advances, Harry Evans is an enthusiastic computer science B.Sc graduate and tech specialist with a wealth of experience in technical support, IT process analysis, and quantitative research. His expertise explores how various technology tools can effectively solve complex issues and create distinct solutions through data-driven processes. Additionally, he is passionate about educating others on the best ways to use these new technologies.