Missing teeth can significantly impact both appearance and functionality, necessitating their replacement. Dental bridges provide a solution by filling the gap with a prosthetic tooth that looks and feels natural.
On average, the dental bridge cost without insurance ranges from $1,500 to $16,000 in the United States.
In this guide, we will discuss how much does a dental bridge cost without insurance and the factors that influence the price. Understanding these aspects will help individuals seeking to cover the expenses of dental bridges without insurance coverage.
How much does a Dental Bridge cost without insurance?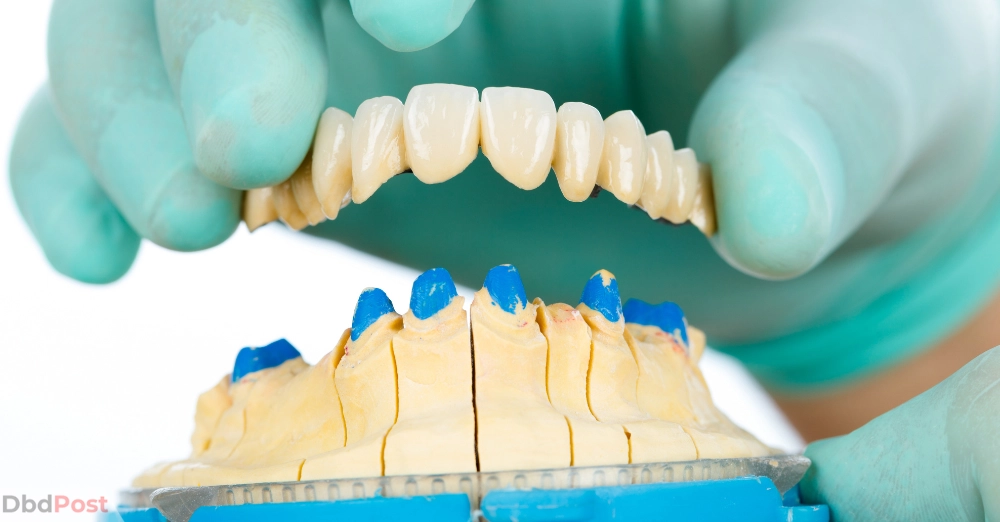 The cost of a dental bridge varies widely depending on several factors. The average dental bridge cost without insurance ranges from $1,500 to $16,000 in the United States.[1]Authority Dental,  "Average cost of dental bridge in 2022, … Continue reading
It's important to consult with a dentist to get a more accurate estimate based on your specific needs and circumstances.
Types and cost of the dental bridge without insurance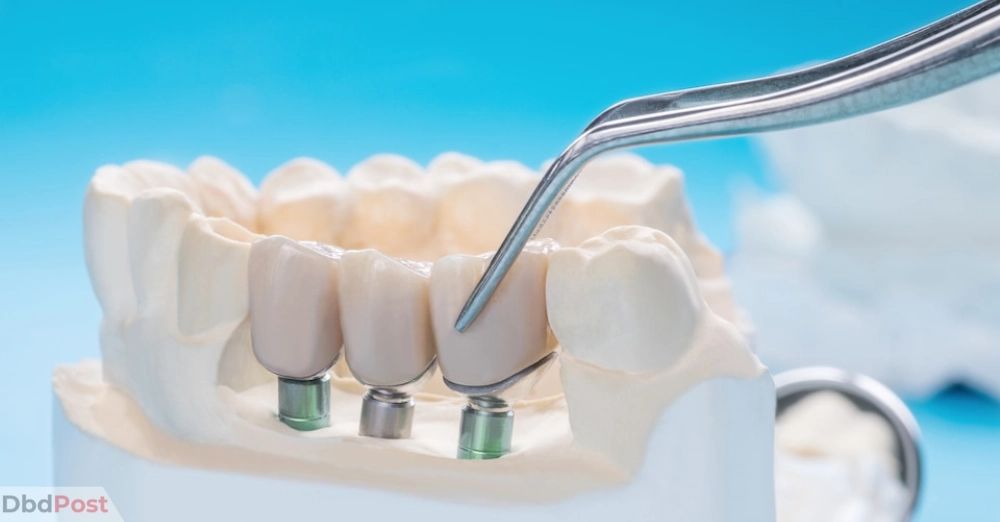 There are four main types of dental bridges available:
Traditional bridges: This common type involves creating a crown for the tooth or implant on either side of the missing tooth, with a pontic in between. Traditional bridges are typically made of porcelain fused with metal or ceramics.
Cantilever bridges: These bridges are used when adjacent teeth are on only one side of the missing tooth or teeth. This type of bridge is not recommended for the back of the mouth as it can exert excessive force on other teeth.
Maryland bridges: Also known as resin-bonded bridges, Maryland bridges consist of porcelain, porcelain fused to metal, or plastic teeth and gums supported by a metal or porcelain framework. They often feature metal or porcelain wings bonded to one side of the dental bridge and attached to existing teeth.
Implant-supported bridges: These bridges rely on dental implants for support instead of adjacent teeth. The implants are surgically placed in the jawbone, providing a secure foundation for the dental bridge.
While implant-supported bridges are the most expensive option, they also offer exceptional durability and longevity.
The cost of each type of bridge can vary. Check the table for an overview of the average dental bridges without insurance costs. [2] Authority Dental, "Average cost of dental bridge in 2022, https://www.authoritydental.org/dental-bridge-cost#:~:text=TYPE%20OF%20BRIDGE,%244%2C000%20%2D%2416%2C000 "
Factors affecting the cost of dental bridges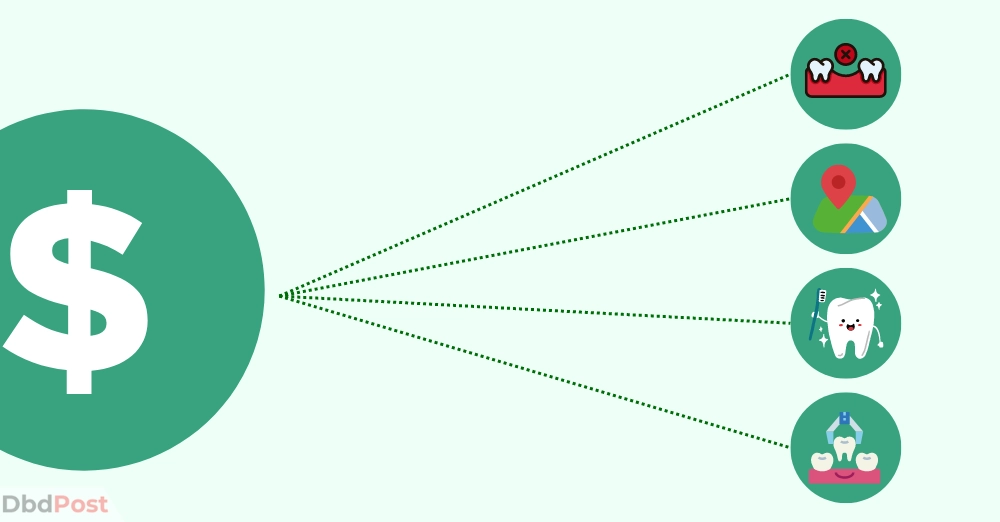 Several factors influence the cost of dental bridges without insurance:
The number of missing teeth: Bridges replacing a single tooth are generally less expensive than those replacing multiple teeth.
Location: Dental costs can vary based on the area and cost of living. Dental practices in high-cost cities may charge more for their services.
Materials used: The materials utilized in the fabrication of dental bridges can affect the overall cost. Porcelain bridges often command a higher price than other materials, such as resin.
Dentist's experience: The level of expertise and experience of the dentist performing the procedure can impact the cost. Highly skilled dentists may charge higher fees for their services.
Financing options for dental bridges without insurance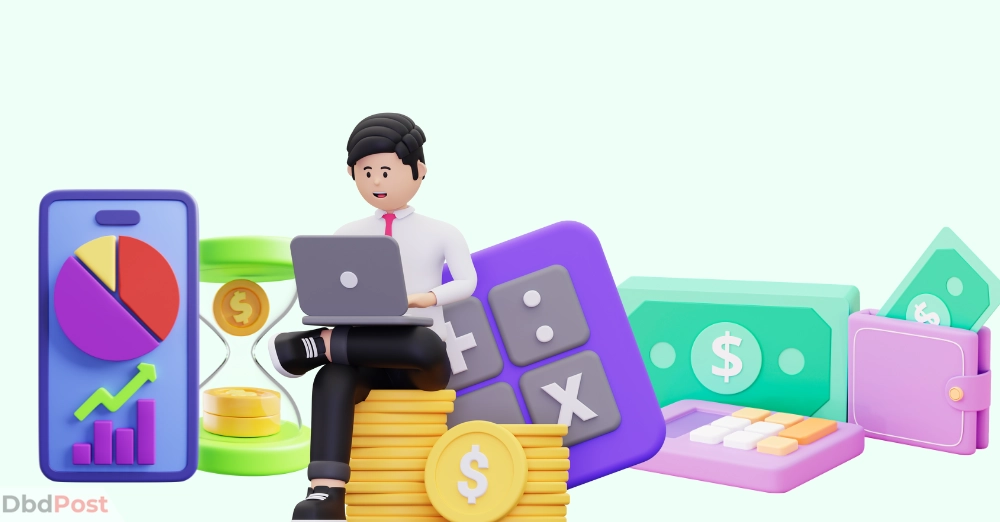 If you don't have dental insurance and need to pay for dental bridge expenses, you can finance it in different ways.
Some common options include:
Dental savings plans
These membership programs offer discounted rates on dental services, including dental bridges.
By paying an annual fee of around $150, you become a member and receive reduced prices for dental procedures.
Dental loans
These are personal loans that don't require collateral. The interest rates are usually fixed and range from 4% to 36% APR.
Once approved, the loan amount is deposited into your bank account and can be used to cover dental bridge expenses.
Payment plans
A dental payment plan is an option if you don't have insurance or can't afford to pay the full amount upfront. This allows you to make payments over a specific period instead of paying everything at once.
Payment plans are becoming more common, making dental work more accessible and affordable.
Research and compare these options to find the best financing option for your needs and budget.
Look into interest rates, repayment terms, and any associated fees. It's also helpful to consult with your dentist or a financial advisor for guidance on dental bridge financing.
Tips for reducing the cost of dental bridges without insurance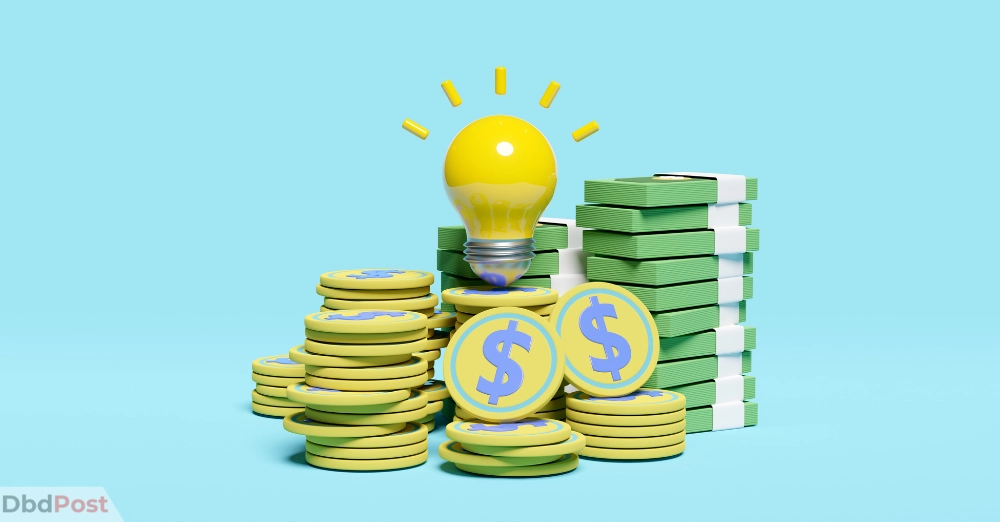 Aside from exploring financing options, there are several tips you can follow to help reduce the cost of dental bridges without insurance:
Negotiate with the dentist
Many dental offices are open to discussing payment options and may work with you to find a payment plan that fits your budget. Feel free to ask about potential discounts or negotiate the overall cost of the dental bridge.
Look for discounts or promotions
Some dental offices offer discounts or promotions for specific dental procedures, including dental bridges. Check their website or social media pages for ongoing promotions or special offers that can help reduce costs.
Consider dental schools
Dental schools often provide discounted rates for dental treatments, as dental students typically perform procedures under the supervision of licensed dentists.
This can be cost-effective for those looking to save money on their dental bridge.
Shop around
Obtain quotes from multiple dental offices to compare prices and find the best deal.
Ensure that you are comparing the same type of bridge, materials used, and the dentists' level of experience and training.
Related Stories
---
FAQs
Does insurance cover dental bridges?
Yes, your dental insurance will usually cover a portion of the fee, depending on your specific policy. [3]Webmd, How Much Do Dental Bridges Cost, … Continue reading
What are the different types of dental bridges?
There are three main types of dental bridges. They are traditional, cantilever, Maryland-bonded, and implant-supported bridges. 
How long does a dental bridge typically last?
Dental bridges have the potential to last for up to ten years or more with excellent oral hygiene. Even without proper care, a bridge lasts an average of five to seven years.
Can I get financing for a dental bridge procedure?
Yes, getting financing for a dental bridge treatment procedure is possible. It helps in the payment of dental bridge expenses without insurance. Many dental offices offer financing options such as payment plans.
Dental bridges are an effective way to replace missing teeth and restore the natural appearance of your smile.
While insurance may cover some of the cost, you may still need to explore financing options for a dental bridge's price without coverage to make the procedure more affordable and know how much a dental bridge costs without insurance.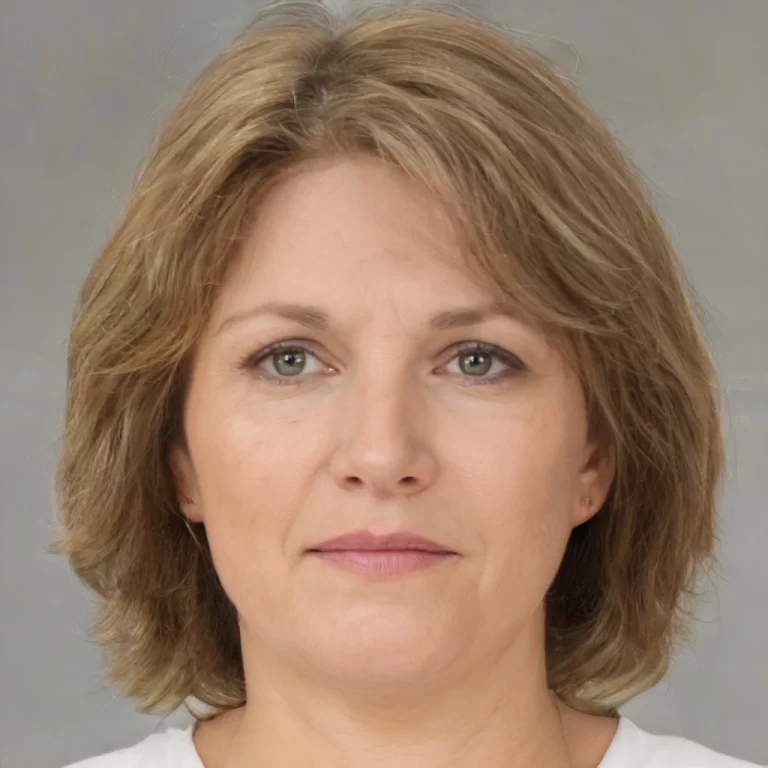 As a Registered Nurse, Lisa Green has worked in hospitals, nursing homes, and community health centers across New York. With extensive experience in patient education on various medical topics, she is also passionate about helping people understand their rights and responsibilities when it comes to healthcare. At DbdPost, Lisa covers medical news stories while providing advice about different health topics.