Nol card is an essential part of using the public transportation system in Dubai. Therefore, it is important to know how to recharge nol card so you don't run out of balance.
If you want to use the bus, metro, or water bus in Dubai, you need a nol card. And to use a nol card, you must have sufficient balance.
This Dbd guide will let you know not just one or two but five different methods of nol card top up. So, recharge your account right away without any hassle.
How to recharge nol card?
There are three online and two offline methods to recharge your nol account. [1]Road and Transport Authority, "Top Up nol Cards, https://www.rta.ae/wps/portal/rta/ae/home/rta-services/service-details?serviceId=9123790″ With so many options, you should be able to find the best method for yourself.
Let's check out the online options first.
RTA nol card recharge online
You can recharge your nol card online in three different ways by using mobile apps or through websites. These methods are very simple and will not take more than a few minutes.
Let's go through every method on how you can top up your nol card online:
Method 1.

RTA Dubai app

You can recharge the nol card through the RTA Dubai application. The RTA Dubai app works on both Apple and Android smartphones.

The RTA Dubai app is useful for a variety of other purposes as well, like checking card balances and topping off different cards. So, it is beneficial to have if you travel frequently.

To recharge a nol card using the RTA Dubai app, follow these steps:

Step 1: Download the RTA Dubai app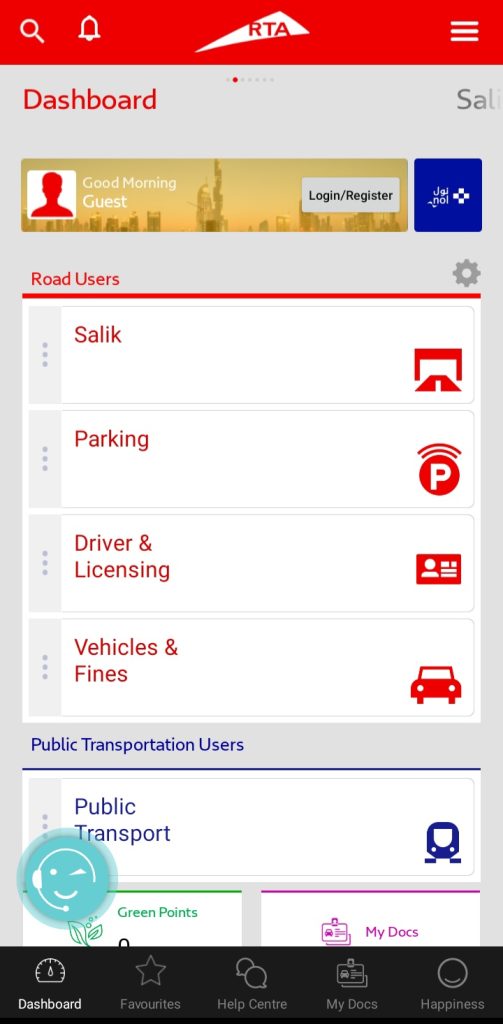 First of all, you must download the RTA Dubai application first. The RTA Dubai app is easily accessible through the Google Play Store or the Apple App Store.
Step 2: Go to "Public Transport" tab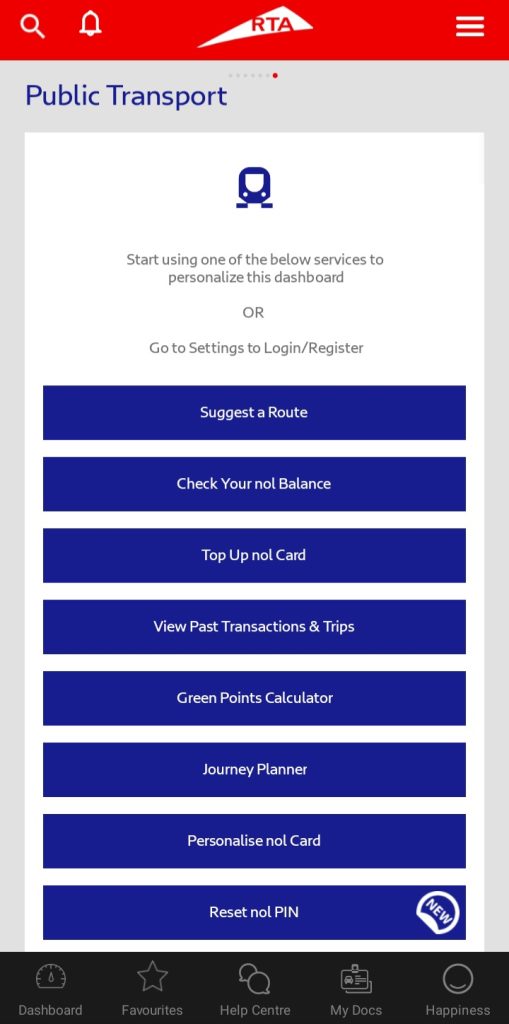 Simply open the app after downloading and installing it. Then, tap the "Public Transport" option by five times swiping your finger from right to left.
Step 3: Tap on "Top Up nol Card"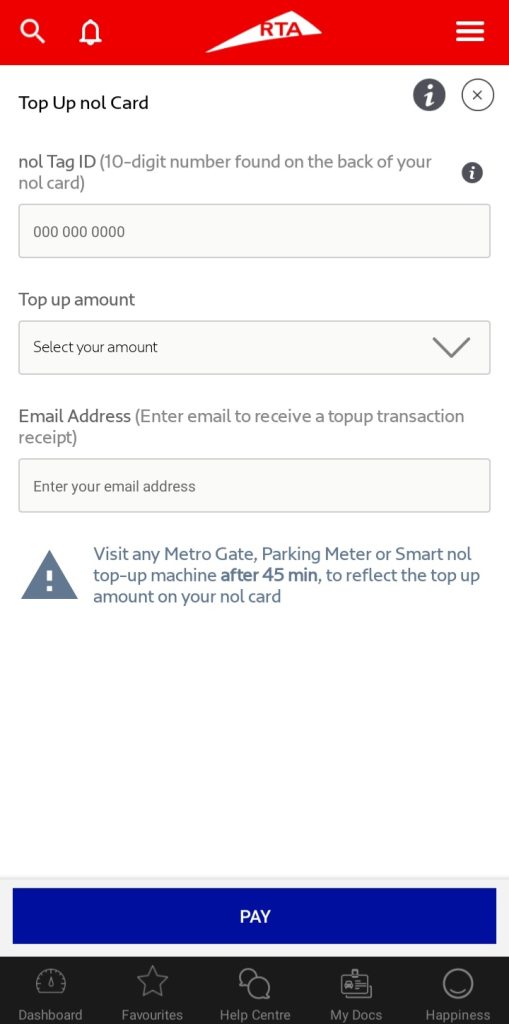 Several services are available under the "Public Transport" heading. Select "Top Up nol Card" from the list of options.
Step 4: Enter details
You now have access to three input fields. Insert your nol tag ID on the first one.
Next, choose the top-up amount from the second input box and fill out the third with your email address.
Step 5: Pay the fees
Lastly, press the "Pay" button. Then confirm your payment according to the on-screen instructions.
When you use the card at a metro gate, parking meter, or Smart nol top-up machine, your balance will be successfully updated.
Method 2.

RTA Dubai website

You can also recharge nol card online by going to their website rather than downloading the app. Here's how to do that:

Step 1: Visit the RTA Dubai website

To begin the recharging process for the nol, go to the Dubai RTA website. As this is the official website of the Road and Transport Authority of Dubai.

Step 2: Enter your details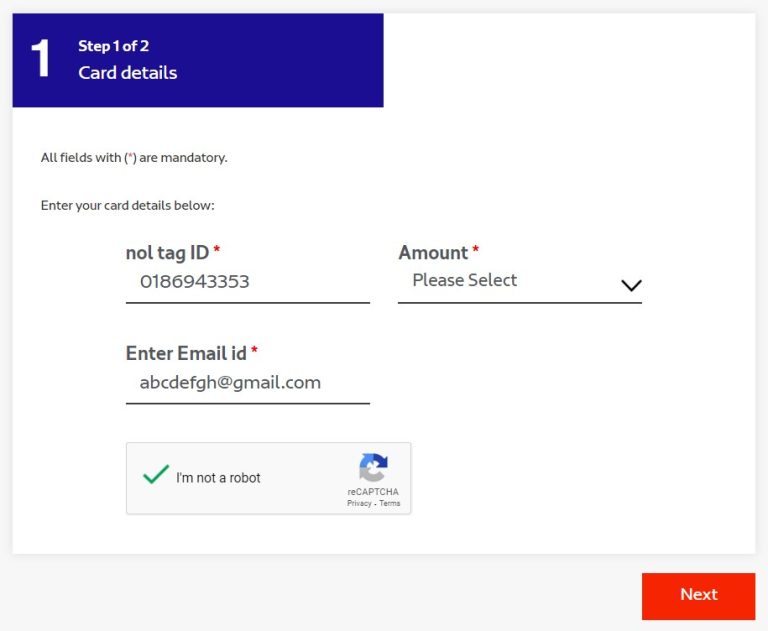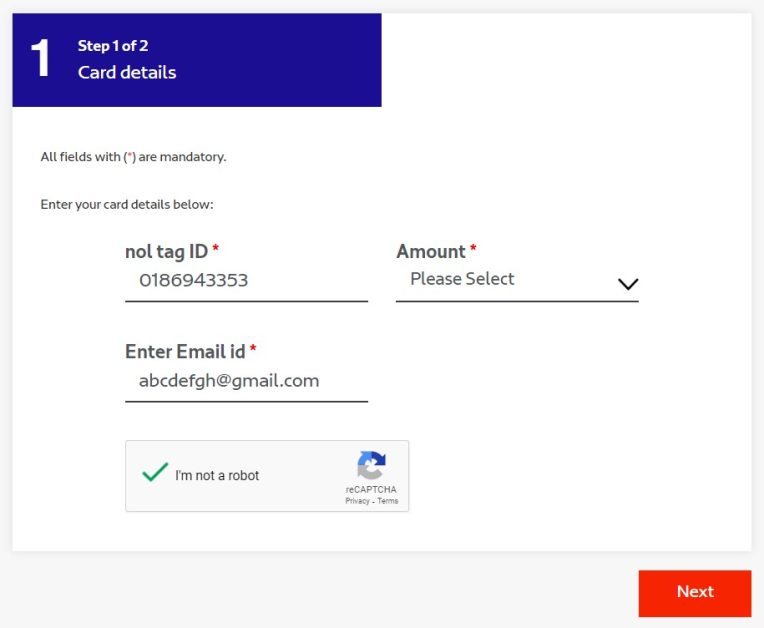 Scroll down until you see the input fields asking for your card details. Enter both your email ID and your nol tag ID in the input areas.
Step 3: Choose the amount to top up
A new drop-down menu will appear when you enter your nol tag ID and email address. From that menu, select the amount you want to top up.
Step 4: Complete human verification
Complete the human verification process. Just check the box where it says "I'm not a robot" and follow the instructions.
Sometimes, you only have to tick the box, and no actual captcha verification process is required. Then click the "Next" button.
Step 5: Agree to Terms and Conditions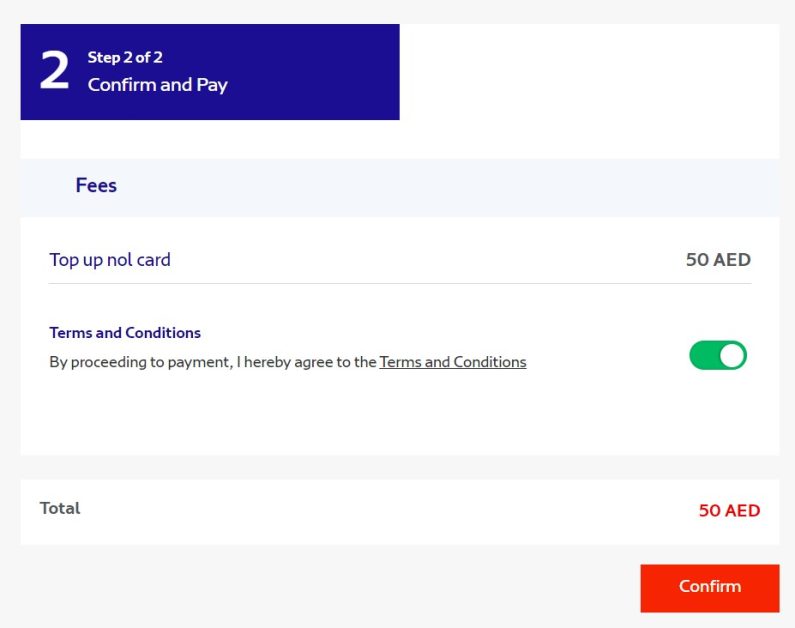 When a new page opens, it will ask you to agree to the terms and conditions. Click the switch button so that it turns green, then click on "Confirm".
Step 6: Choose the payment method
Lastly, you must choose the payment method- credit card, net banking, or Noqodi. Then enter your contact information and click on "Pay."
After that, enter your card information and confirm your details. Your nol balance will be updated after the transaction is complete.
Method 3.

Mahboub chatbot

In addition to the RTA website and mobile app, you can recharge nol card using an AI chatbot. The RTA Dubai website and RTA Dubai app provide access to this chatbot.

Step 1: Visit the RTA Dubai website

To chat with the Mahboub chatbot, you must go to the official RTA Dubai website. There, you will see a chat icon in the bottom left.

Or, you can also log in to the RTA mobile app to use the chatbot.

Step 2: Click the chat icon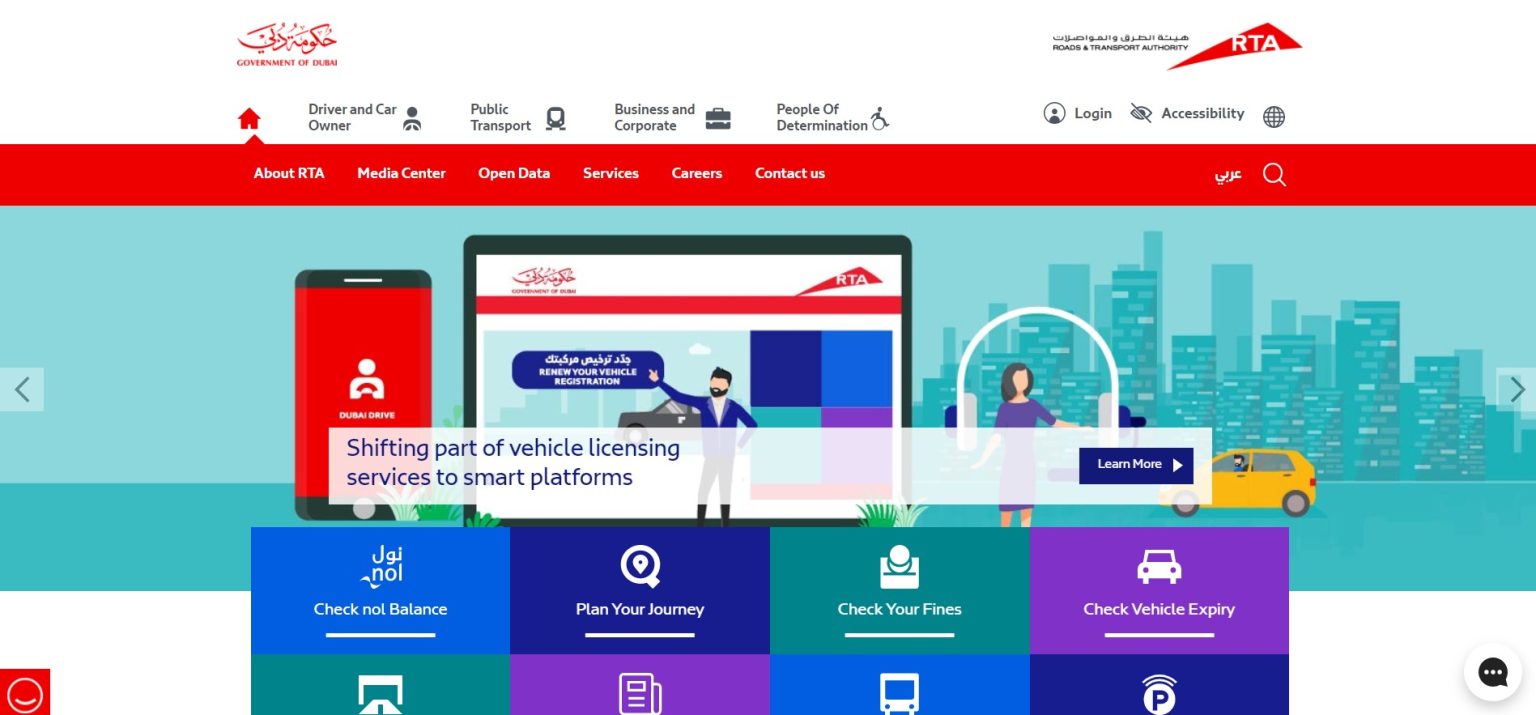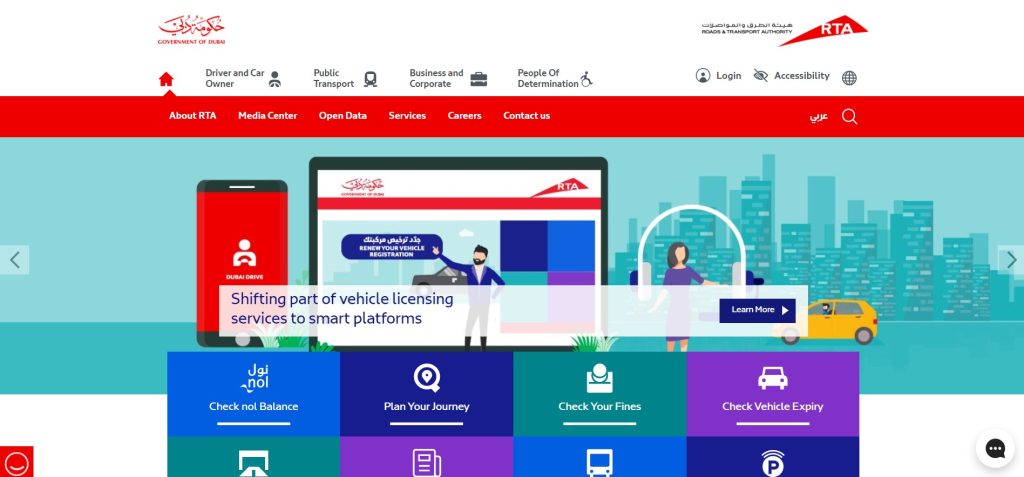 If you are using the RTA Dubai app, click the chatbot icon in the bottom right corner of the RTA Dubai app.
Step 3: Select "Chat with Mahboub"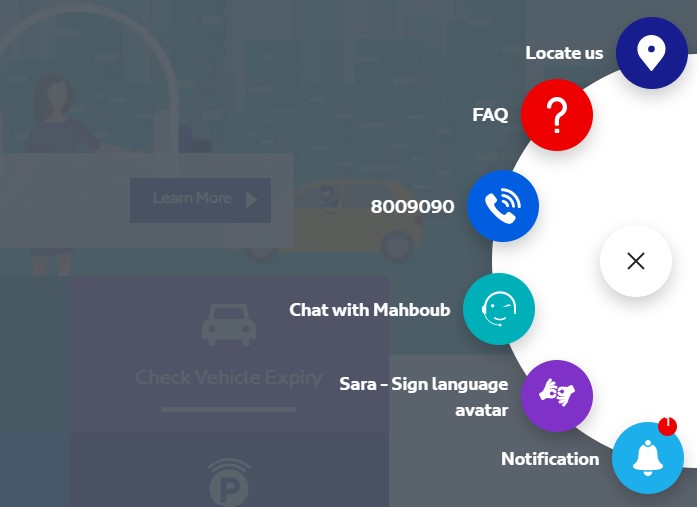 Several options will pop up when you click the chat icon on the website. You need to click on "Chat with Mahboub."
Step 4: Provide your information or skip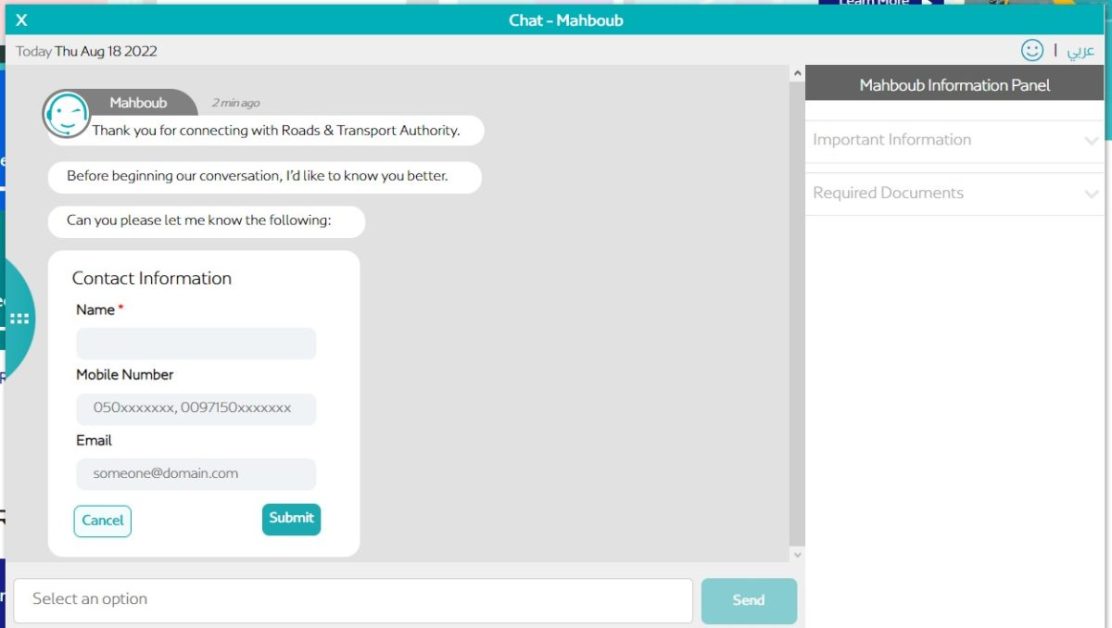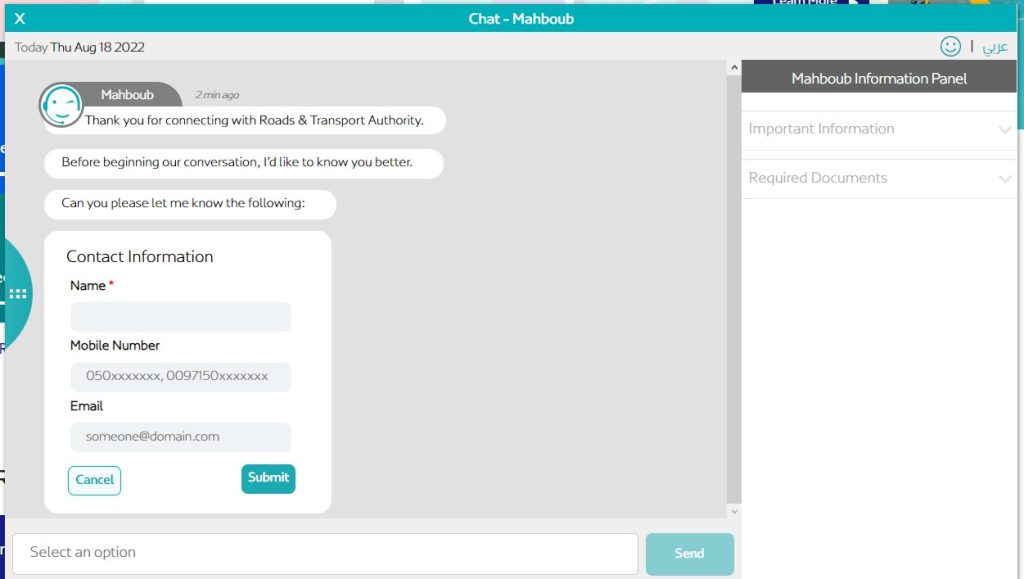 A chat box will appear after you click "Chat with Mahboub," You need to click on "Let's chat." Mahboub will then ask you to provide the contact information. You can choose to provide it or press "cancel" to skip it.
Step 5: Type "top up nol card" in the chat
Next, you should type "top up nol card" in the chat. When a new pop-up appears in the chat, click "Apply Now" after that.
Step 6: Tell Mahboub your nol Tag ID
The chatbot will ask you to enter the nol Tag ID, which you must type. Next, enter the amount you want to top up, and you will get an option to pay for it.
Step 7: Pay the fees
After step 6, a new pop-up will appear, you must select "Pay with DubaiPay." After clicking it, a new payment window will open where you must select a payment method and input your details.
Click "Pay" after entering the details and provide further card information.
Make sure that the information is accurate. At this stage, your nol card top-up is complete.
RTA nol card recharge offline
Sometimes, you may not have an active internet connection. Or for those people who aren't very comfortable using the internet. Knowing how to use offline methods to top up the nol balance can also be handy.
Let's, take a look at the different ways to recharge nol balance without using the internet:
Method 1.

Ticket vending machines

Around Dubai, there are several ticket vending machines and kiosks. You likely have seen one of these devices if you have lived in Dubai long enough.

You can quickly and conveniently recharge your nol cards using these machines. This procedure is relatively easy.

First, you need to find and visit a machine near your location.

After that, insert your card into the reader and select the option to recharge your nol account.

Next, choose how much money you want to add to your nol card. And keep your nol card on the reader for around six seconds.

Finally, your nol account will be updated with the new balance you added.
Method 2.

Ticket offices

Another way to recharge nol card is from the ticket offices in Dubai. There are many of these in all central locations in Dubai.

First, you must visit an office near your location. Once you arrive, approach the counter and request a nol card recharge.

After that, the staff will guide you through the process. You will be asked to provide basic details about your nol card and yourself.

Then, you must choose the amount of money you want to add to your nol balance. After that, complete the payment, and your nol account will be updated.

To know whether the required balance has been added to your nol account or not, you can check the nol balance for free.

More Related Stories
If you ever travel by public transport in Dubai, then you can pay via nol card. In this guide, you can learn – how to check nol card balance.
You can check our Dbd guide on check Salik balance so that you can check and keep your Salik balance always ready for electric tolls.
Living in Dubai, you may have come across Salik digital wallet. Check our Dbd guide on how to recharge Salik in Dubai.
---
Video Tutorial
FAQs on recharging nol card in UAE
Can I recharge nol card online?
Yes, you can quickly recharge your nol card online. You must download the app or visit the official RTA Dubai website to do that.
Where to recharge nol card in Dubai?
You can recharge your nol card in ticket vending machines and ticket machines in Dubai. Alternatively, you can recharge your nol card from the RTA Dubai website or the mobile apps available for Android and Apple smartphones.
How long will it take to recharge nol card online?
It takes only a minute or two to recharge your nol card online. But you need to know your number and nol account number beforehand.
How can I check my nol card balance?
You can check your nol card balance from the RTA Dubai website. If you have their app downloaded to your smartphone, you can also check it from there.
Final thoughts
It is not difficult to recharge nol card at all, and we are sure you have understood that by now.
Multiple options are available for those who want to recharge their nol card. You can choose the one that is most convenient for you.
But we would recommend you to use the online nol card top up method. It is faster and more convenient than offline methods.
If you found this Dbd guide helpful, share it with your friends who also use nol cards in Dubai.
Also, don't forget to bookmark this page so you can quickly return to it in the future.


Arijit Negi is an expatriate living in Dubai for 18 years. He completed his degree in Master of Arts in Journalism from the University of Mumbai. Arijit focuses on providing helpful guides and information for ex-pats living in UAE and visitors to the UAE.