If you frequently use the UAE's public transportation system, you must have a nol card. Therefore, you must always be aware of your balance and how to check nol card balance.
Public transport is the best and cheapest way to travel if you don't own a car. It is easy to locate public transportation like buses and metros on the go. Additionally, both services accept Nol cards payment. However, you must always ensure that your Nol card balance is sufficient.
Generally, you can check your nol card balance through the RTA website and mobile app. You need to access the site and enter your nol tag ID to check your balance. To check from the app, download the app and head to the public transportation section to view your Nol card amount.
In this Dbd guide, we will cover everything on how you can check nol card balance online through the RTA website and mobile app, how to use nol balance, and other nol card services.
What is nol Card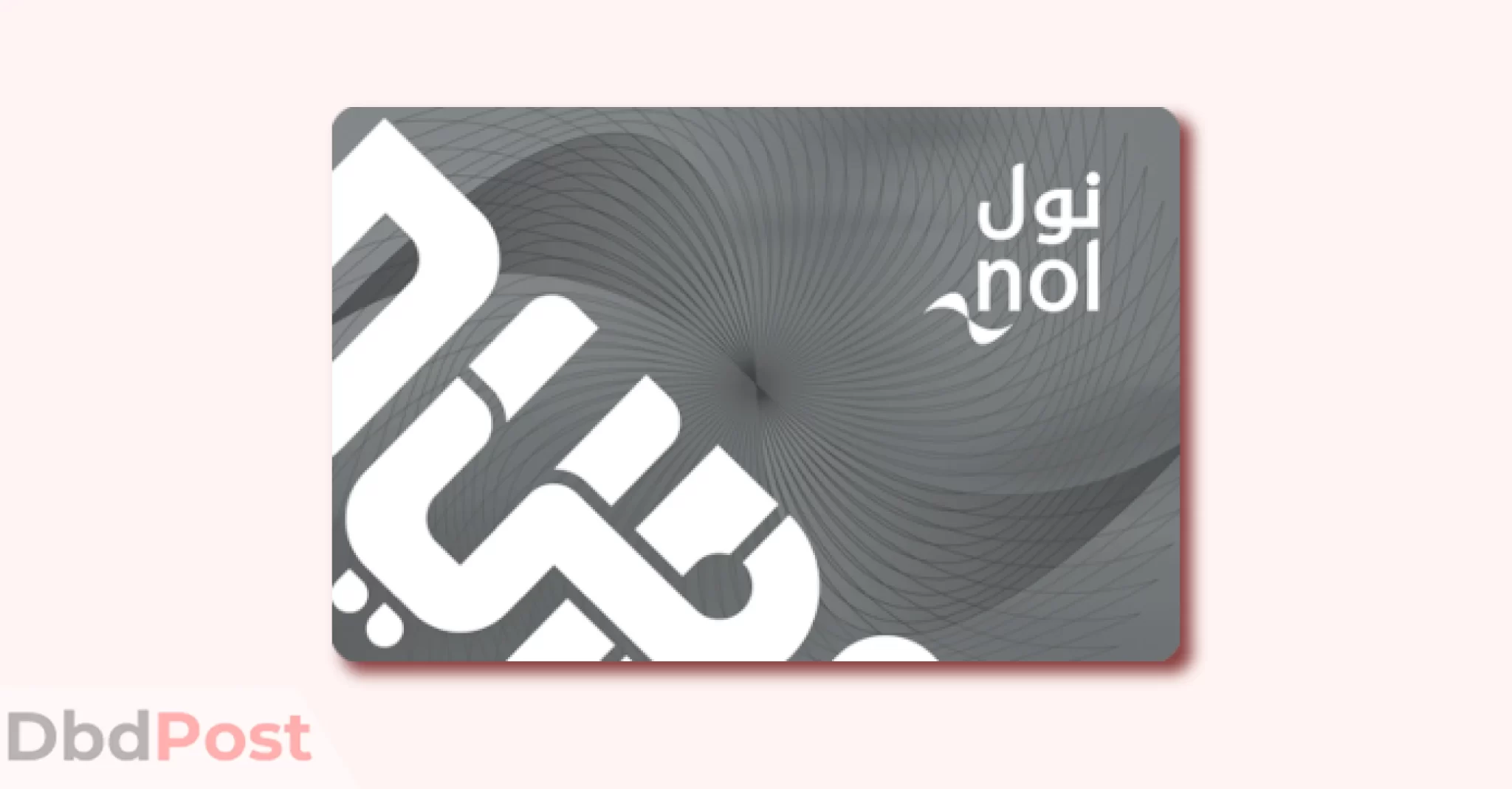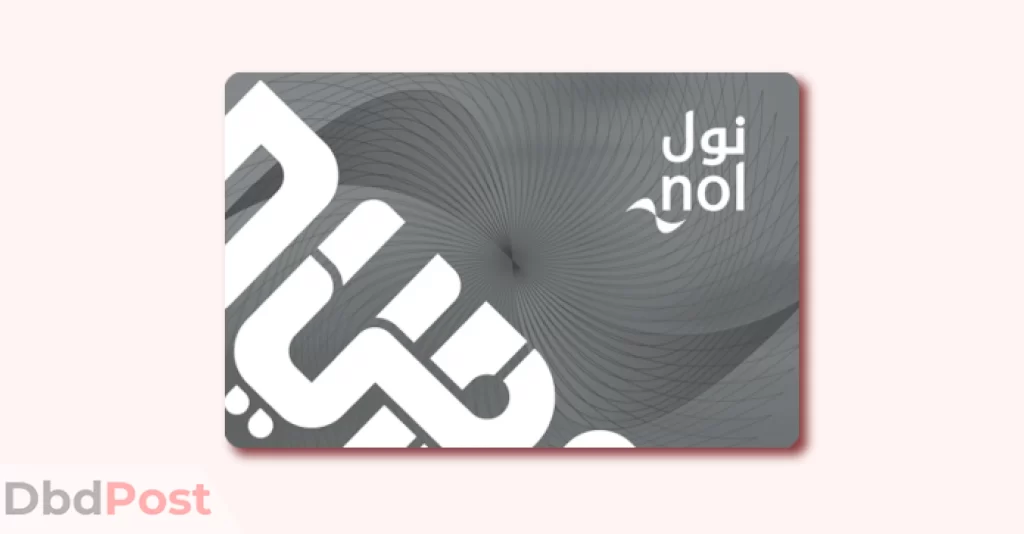 The nol card is a smart ticketing card for various modes of public transportation in Dubai. You can use it to pay the fare for travel on the buses, tram, metro, and water buses. Similarly, you can also use it to pay for RTA's paid parking.
The nol card makes paying for transportation convenient and easy. With the nol card, you don't have to worry about carrying cash or coins. Just tap your card and go.
In addition, you can check your balance and transactions online or through the mobile app. The nol card is a must-have for anyone who frequently uses Dubai's public transportation system.
Types of nol cards
Various types of Nol cards in Dubai will help you during your travel. Let's take a look at them.
Gold card
The gold card is one of the premium nol cards, which is incredible for new users. The Gold nol card also grants access to Metro's gold tier class seats. The validity of this card is for five years, and its top-off limit is AED 500. Moreover, a Gold Nol card is available for AED 25.
Silver Card
The Nol Silver Card is the perfect beginner card because it offers all the benefits of the Gold Card, except the Metro Gold Seat Benefits. You can get top-up up to AED 1000 and have the card validity up to five years. The price of the silver card is AED 25.
Blue Card
Blue Card is another popular and most used nol card that provides various services such as online tolling, public transport, and discount on restaurants and shopping malls. The Blue card costs AED 70 if you want to purchase it.
How to check nol card balance online?
Two main ways to check nol card balance online are via the RTA website or the RTA mobile application.
Method 1.

Via the RTA website

The first way to check the balance of your card is from the official web portal of RTA. Follow these steps to know your nol card balance: [1]Road and Transport Authority, "Road and Transport Authority Home, https://www.rta.ae/wpsv5/wps/portal/NolBalance"

Step 1: Visit the official RTA website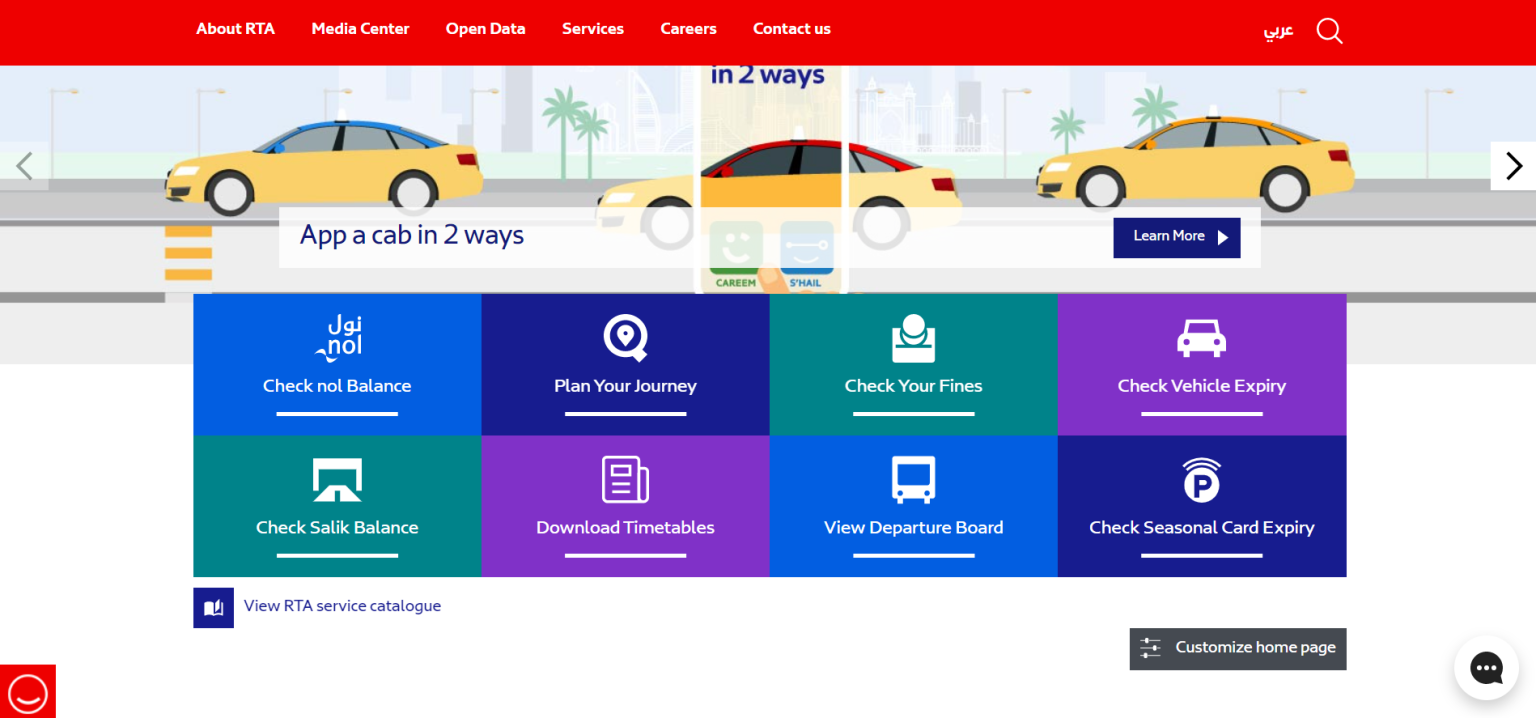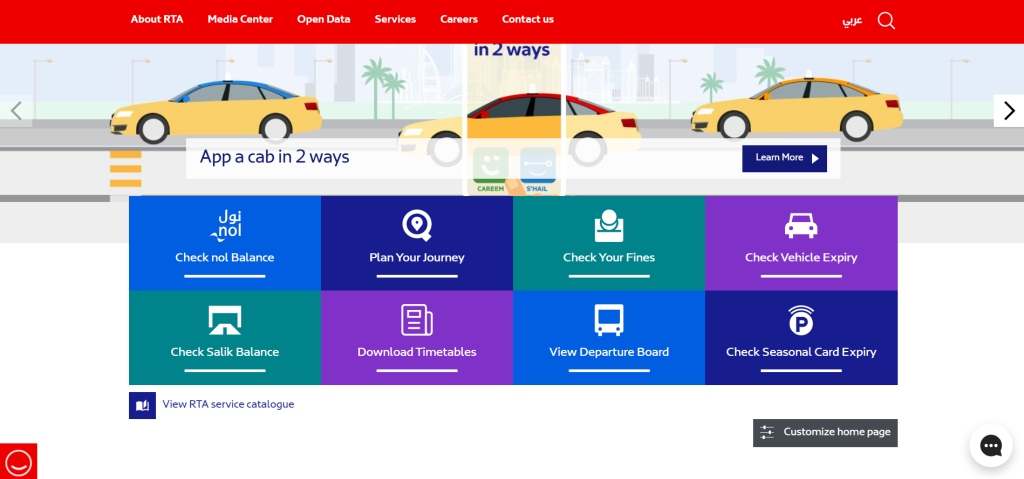 First of all, you need to visit the official website of the Road and Transport Authority. This is where all the upcoming steps will take place as well.
Step 2: Click on "Check nol balance"
The "check nol balance" field is right in the beginning. Just click that section, and the field will change to something else.
Step 3: Enter your nol tag ID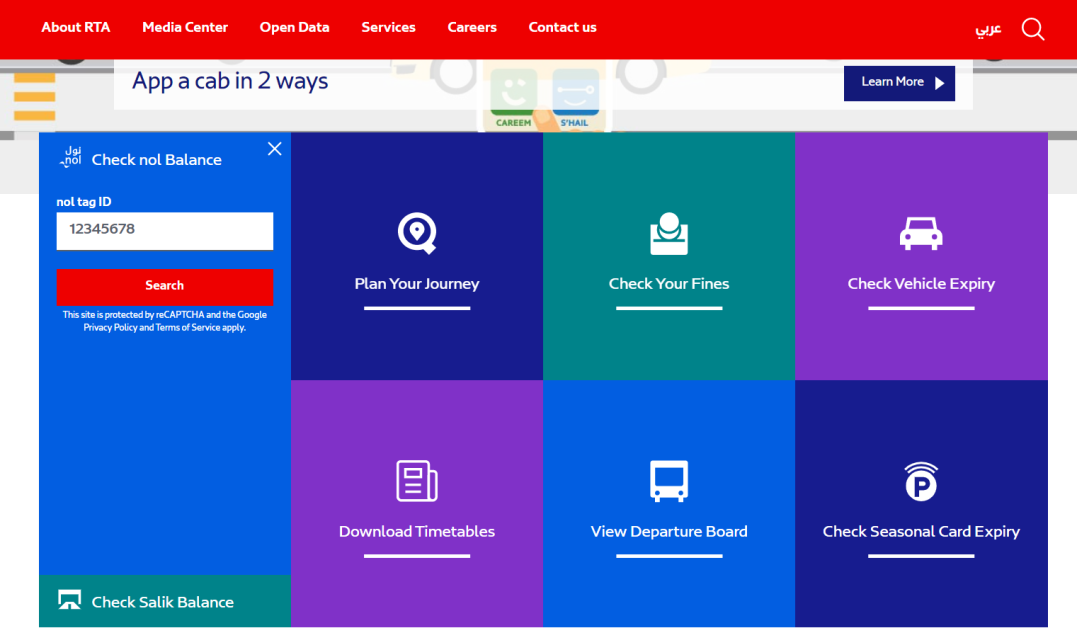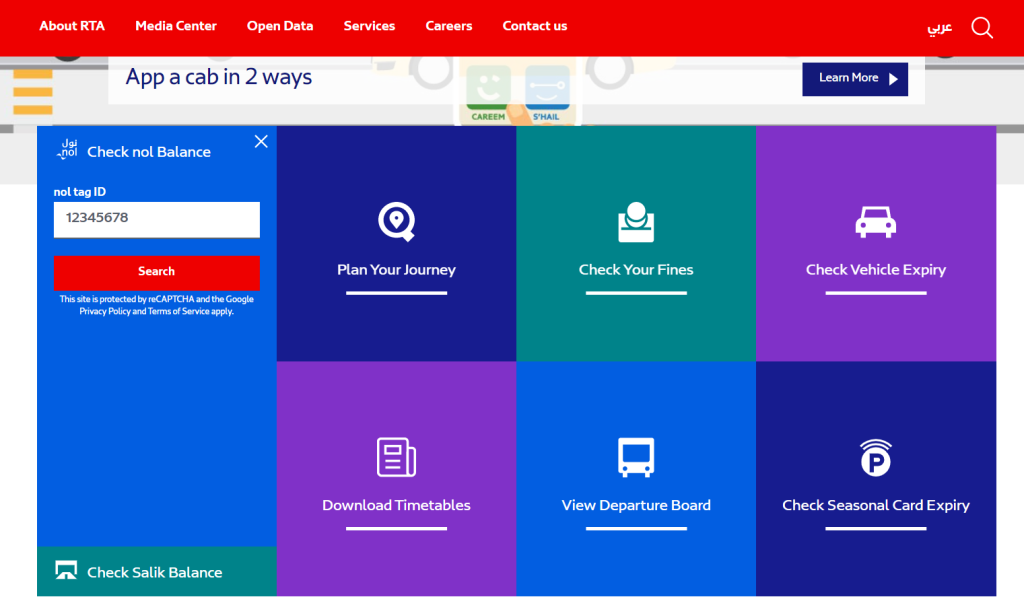 When the "check nol balance" field transforms into a new input field, enter the nol tag in the input field and hit the "Search" button. The nol tag ID can be found on the back of your nol card.
Often, some people cannot complete the nol card balance check due to a damaged card. If the card has been damaged and the tag ID is not visible, contact 800 90 90 for help with a replacement.
Method 2.

via RTA mobile application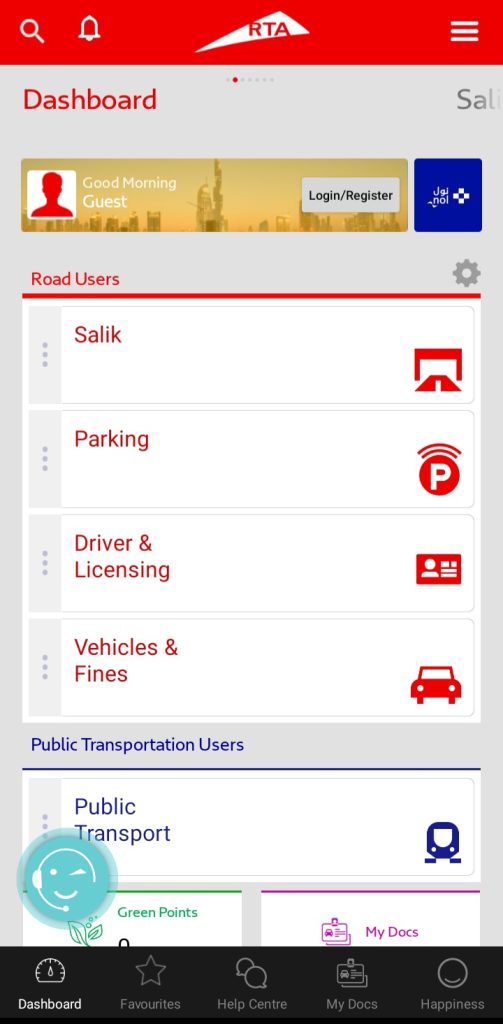 Alternatively, you can download the application on your mobile and go through the following steps: [2]nol card, "Check NOL Card Balance via application, https://nol-card.com/how-to-check-nol-card-balance-through-rta-dubai-application/"
Step 1: Download the RTA Dubai mobile app
Visit the Apple App Store or Google Play Store to download the RTA Dubai mobile app. Then install it on your device.
Step 2: Open the app
Open the app after downloading it. You can view the RTA nol card balance without logging in. But, if you still wish to get in, use your UAE PASS login information or your RTA username and password.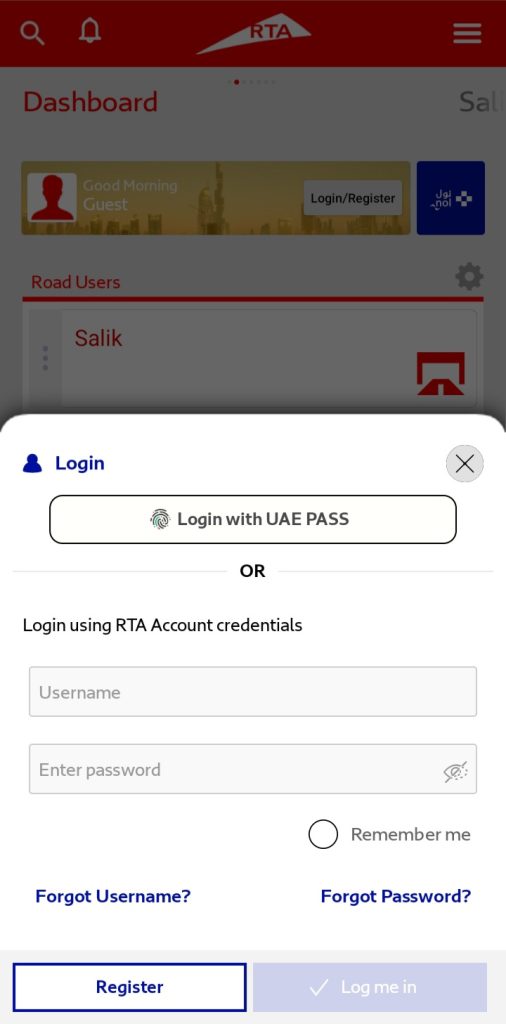 Step 3: Go to the "Public Transport" section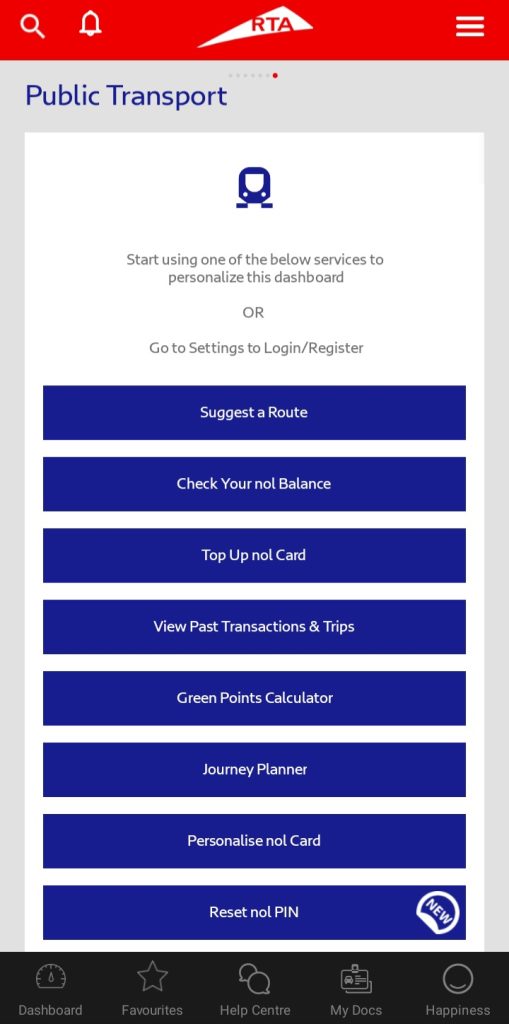 Swipe your finger on the app 6 times. Swiping left will take you through new pages that provide different services, and the public transport section comes at last.
Step 4: Check your nol balance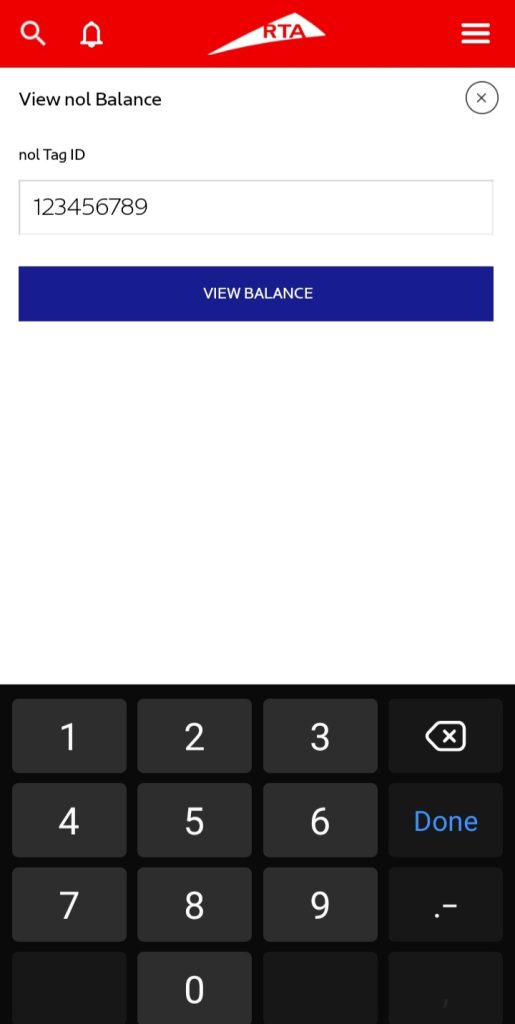 Lastly, tap on "Check Your nol Balance" and enter your nol Tag ID. Then tap on the "View Balance" button. After you tap it, you can see how much balance you have left.
How can I use nol card balance online?
A nol card acts like a digital wallet. The most significant benefit of nol card is the ease of use and security.
First, make sure that you have enough balance. After you check the balance of your nol card and see enough money, you can use it to purchase tickets, passes, as well as other services. [3]Road and Transport Authority, "About nol cards, https://www.rta.ae/wps/portal/rta/ae/public-transport/About-Nol-Card#:~:text=How%20to%20check%2Din%20and%20out"
If there isn't enough balance on your nol card, you have to top up your nol card online.
Here is how you can start using nol card for public transportation services:
Before getting into the vehicle
To start the service, just go to the nearest station's entrance.
Then all you have to do is place your nol card on the card reader and wait till you hear a beep or see a green light. These signals mean that you are ready to get in.
After getting out of the vehicle
At the end of your trip, get off the vehicle and place your nol card on the card reader again. When you hear a beep or see a green light, it means you have checked out.
It is also at the check-out point when your balance is deducted. The cost of your trip is automatically calculated and paid.
What are other nol card services besides public transport?
Recently, the nol card has been accepted as a viable payment method in various sectors.
Other services that nol card provides besides public transport are discounts on restaurants, malls, toll gates, paid parking spots, fuel stations, etc.
Nol card has become a revolution for people in UAE as it has essentially replaced cash for most common types of expenses.
You can use the nol card for these services besides public travel:
Shopping malls: You can choose nol cards as the payment method in several supermarkets, malls, and shops. But remember that not all malls accept cards, so be sure to ask first.
Restaurants: You can use your nol card to pay the bill in some restaurants. Burger kings, Gloria Jean's coffee, Circle K, and Aswaaq are some places you can buy snacks using a nol card.
Parking: You can use the nol card to pay for parking in some parking areas.
Toll Gates: The nol card can also be used to pay the toll tax while passing through some highways.
Hospitals: You can use the nol card to make payments in some hospitals. Some clinics and pharmacies also accept nol cards.
Parks: There is no shortage of recreational activities like amusement parks in the UAE. The nol card can be used to pay in various amusement parks.
Government services: The nol card can also be used to pay for various government services. You can check with the government authority whose service you want and ask if the nol card is accepted.
Fuel stations: ENOC and EPPCO fuel stations across UAE accept nol cards as payment methods.
Automotive services: You can use the nol card to get automotive services. Instead of cash, you can pay for your car wash, oil change, etc., with your nol card.
Hence these are some of the biggest benefits of knowing how to check nol card balance, as you may require those balances anytime and anywhere.
More Related Stories
Living in Dubai, you may have come across Salik digital wallet. Check our Dbd guide on how to recharge Salik in Dubai.
You can check our Dbd guide on check Salik balance so that you can check and keep your Salik balance always ready for electric tolls.
Nol card is used in public vehicles and other places in Dubai, so keeping it recharged is essential. Check our Dbd guide on recharge nol card to learn how to recharge your nol card.
---
FAQs
Can we check RTA nol card balance online?
Yes, you can check the RTA nol card balance online. You have to visit the RTA website or its apps for your balance inquiry.
What is the minimum balance for a bus nol card?
The minimum balance for buses is AED 7.5. If you have any less than that, the ride will be declined for you.
Does nol card balance expire?
A nol card has a validity period of five years. You can apply for a refund from the RTA website if it expires while still having a balanced amount.
Final thoughts
Now that you know how to check nol card balance, we are sure you won't be worried about not knowing how much you have left anymore.
Checking your nol balance can provide you peace of mind and help you plan more effectively. Therefore, the next time you go on a trip, check the balance on your RTA nol card before you go.
We hope this Dbd guide was helpful. If you have anyone who might also find this article useful, share it with them.


Arijit Negi is an expatriate living in Dubai for 18 years. He completed his degree in Master of Arts in Journalism from the University of Mumbai. Arijit focuses on providing helpful guides and information for ex-pats living in UAE and visitors to the UAE.