Explore some of the most authentic Chinese food in the best Chinese restaurant in Dubai. Whether looking for a Chinese takeaway or luxurious fine dining, the Emirate has something for everyone.
Dubai is home to many Chinese restaurants that offer different traditional and modern dishes, from classic Peking Ducks to spicy Szechuan noodles. Dubai has something for every taste and budget, from high-end to affordable Chinese restaurant. Some of the top Chinese restaurants in Dubai are New Shanghai Restaurant, Hutong Dubai, China Bistro, and others.
Our Dbd guide provides an in-depth and informative look at the best Chinese restaurants in the city. Our team of experts has visited and evaluated various good Chinese places in Dubai.
We considered important factors such as food quality, atmosphere, pricing, service, and location. Also, we looked into reputed food blogs and social media while compiling this list.
Additionally, we interviewed visitors and tourists visiting the restaurants for genuine feedback from the diners.
11 best Chinese restaurants in Dubai
Dubai is a city that offers a diverse culinary scene, and Chinese cuisine is a big part of it.
From traditional authentic Chinese restaurants to fusion restaurants, Dubai has it all.
1.

New Shanghai Restaurant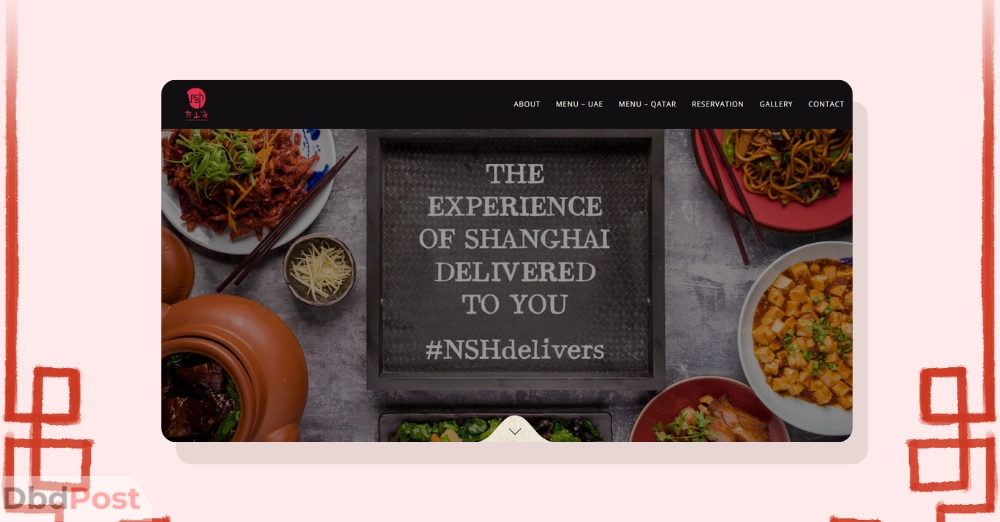 New Shanghai serves authentic Shanghai-style cuisine in a setting that evokes the city from which it takes its name. The restaurant's chefs specialize in ancient family recipes from their ancestors in Shanghai.
The Chinese menu features various specials, including soup dumplings, noodles, hot pots, and pan-fried buns.
In addition to the delicious food, diners can also enjoy a live dumpling-making theater, providing a glimpse into the historical culture of Shanghai.
New Shanghai is considered the top Chinese restaurant in Dubai, offering flavorful dishes and an immersive cultural experience.
2.

Asia Kitchen By Mainland China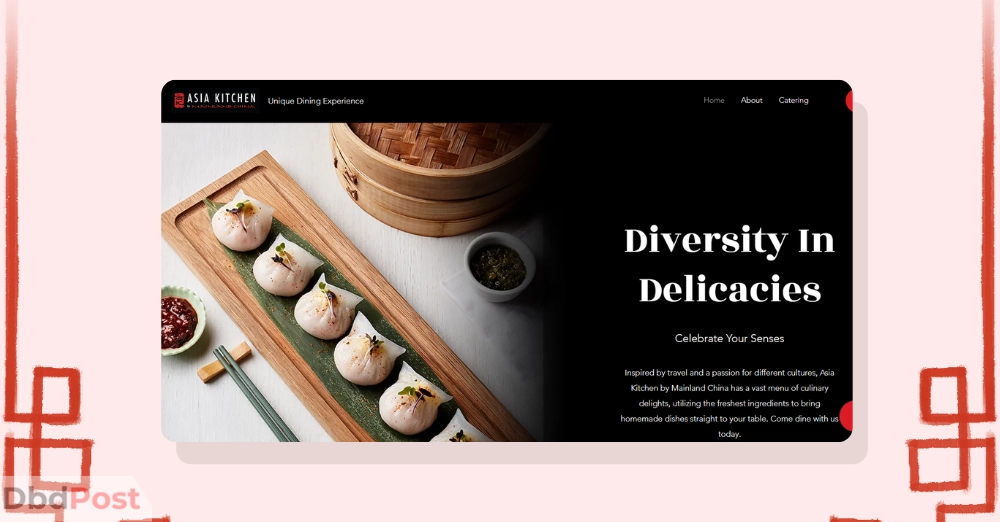 Asia Kitchen provides a diverse selection of authentic Chinese dishes from regions like Shanghai, Chengdu, and Hong Kong.
Moreover, their menu features a range of flavors, including the rich Tsing Hoi chicken and traditional Edamame dumplings.
This restaurant is known for serving the best Chinese food in Dubai. It also offers a selection of dishes from other parts of Asia, including Thailand, Vietnam, Singapore, and Malaysia.
Asian Kitchen also provides catering services for corporate events, personal gatherings, and social events, making it an ideal choice for any occasion.
3.

Golden Dragon Restaurant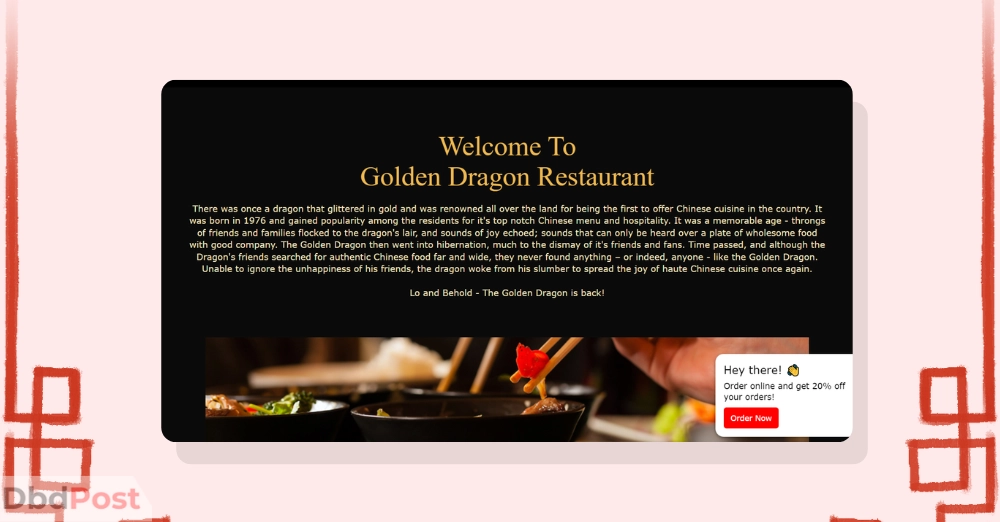 Golden Dragon Restaurant is a must-visit for authentic Chinese food with a modern twist in Dubai.
As one of the oldest Chinese restaurants in the city, it offers a wide range of authentic Chinese dishes and other Pan-Asian delicacies.
Their special Dim Sum is a must-try in vegetarian and non-vegetarian options in these Indian Chinese restaurants. The restaurant's famous "Kolkata Chinese Bhel" Fusion Noodle is also popular among diners.
Seafood lovers should try the Dragon wrapped prawns. Other Pan-Asian delicacies on the menu include Malaysian Chicken Satay, Sushi, and Thai Red Curry.
4.

Hutong Dubai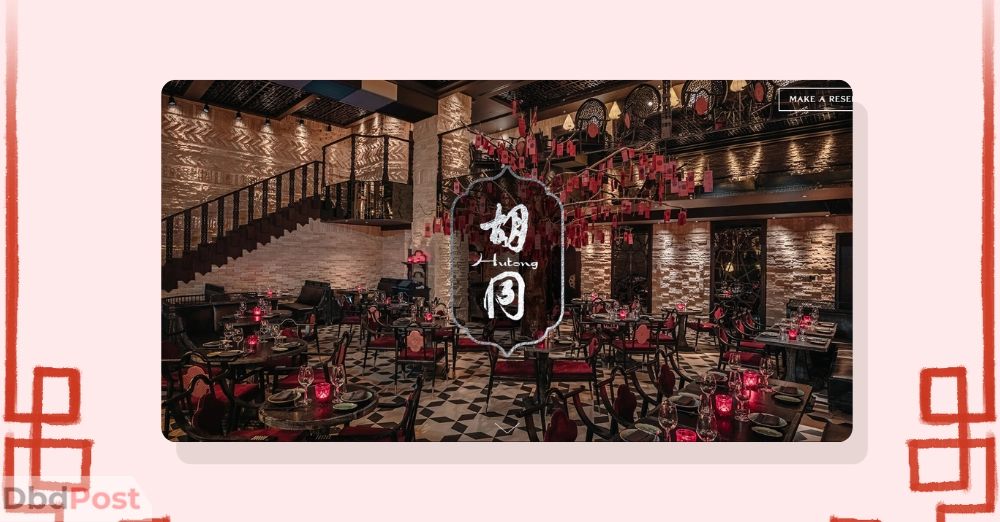 | | |
| --- | --- |
| Location | Gate Building 6, Ground Floor DIFC Al Sukook Street, DIFC, Dubai |
| Hours | Everyday (12:00 –3:30 PM & 6:00 PM – 1:00 AM) |
| Contact | +97142200868 |
| Average cost | 680 AED for two people |
| Map | Get direction |
| Website | Hutong Dubai |
Hutong Dubai is the perfect destination for those who appreciate Northern Chinese cuisine.
The menu features a wide range of amazing dim sum, creative cocktails, and a beautiful outdoor terrace making for an unforgettable dining experience.
Plus, they have other delightful items on their menus, such as grilled lamb chops and spiced sea bass fillet.
Hutong also offers its signature menu, which includes Ginger Lobster Bao, Wild Mushroom & Truffle Bao, Roasted Peking Duck, and Baos & Soy.
They also have a wine and beverages menu perfect for anyone who loves a good drink. From start to finish, Hutong provides an enjoyable atmosphere for diners.
5.

Maiden Shanghai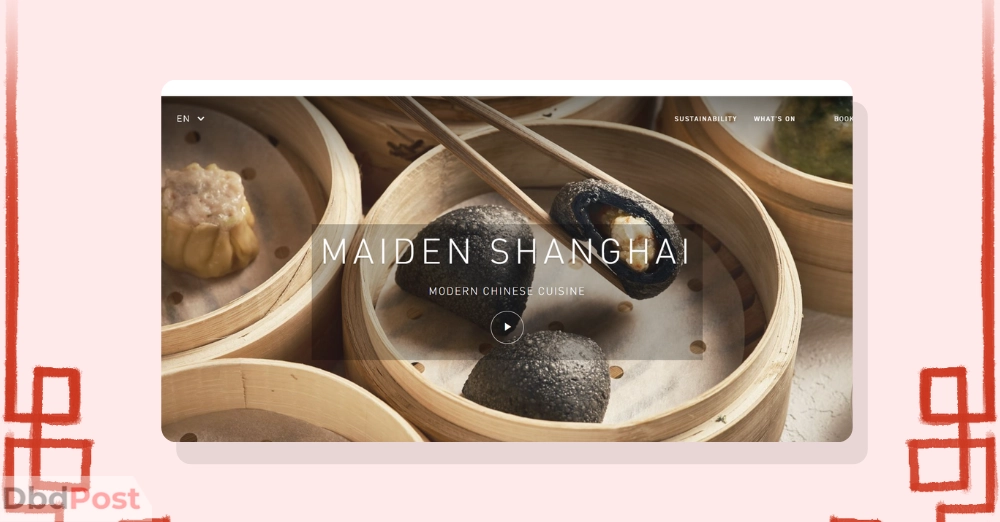 Chef Luo Bing's Maiden Shanghai is the premier MSG-free organic Chinese food destination.
With dishes crafted from four legendary cuisines, Cantonese, Sichuan, Shanghai, and Beijing, everyone can take a culinary journey across all of China.
Their unique dishes include BBQ Beef Puff With Honey Sauce, Kung Pao, and Bing's Organic Peking Duck.
Plus, there's so much to explore with its stunning views from the outdoor terrace, exclusive private dining rooms, and a buzzing bar.
No wonder it won BBC Food Awards for Fine Dining Brunch 2021 and Time Out Dubai Nightlife Awards' Best Party Brunch 2021.
In addition to its delicious food and beautiful outdoor terrace, Hutong Dubai also offers a karaoke room for even more entertainment.
And don't miss out on the popular Friday brunches and Naughty Noodles Saturday brunch.
6.

China Bistro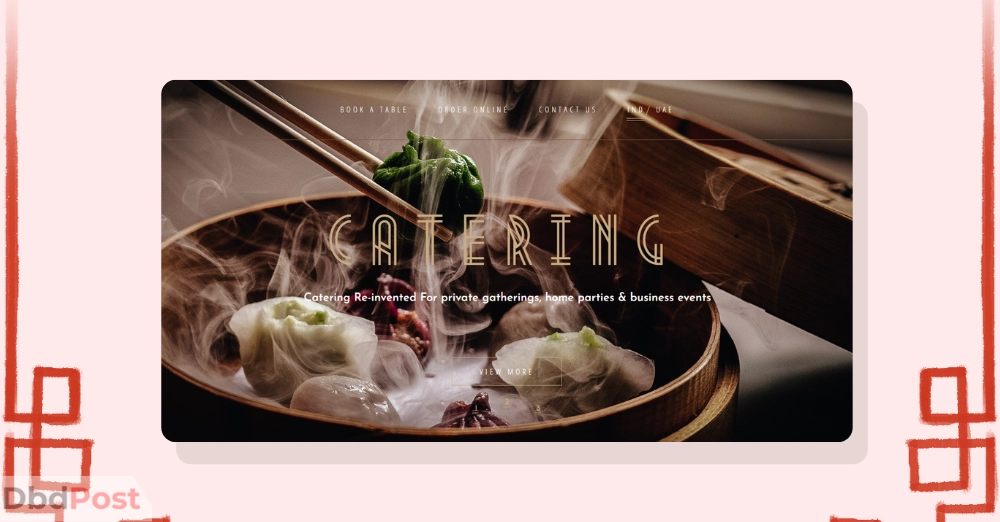 | | |
| --- | --- |
| Location | Al Balorah building Shop.no. 2, Dubai |
| Hours | 11:30 AM – 4:00 PM, 6:30 PM – 1:00 AM (Monday to Thursday), 11:30 AM- 2:00 AM (Friday and Saturday) |
| Contact | +97143931010 |
| Average cost | 175 AED for two people |
| Map | Get direction |
| Website | China Bistro |
China Bistro started in 2012 in the city of Mumbai, India. Since then, they have expanded to several places worldwide, including Dubai.
They have a wide selection of different Asian cuisines, such as coastal cuisine, food from the forest, tropical flavors, and tastes from different mountainous cultures. On top of this impressive array of foods, there's also a select cocktail menu.
China Bistro offers delicious food and a live kitchen experience where the chefs prepare your meal on the spot.
Their specialty items include a variety of dim sum options and other dishes such as Hot Pot Hunan Chicken and Chinese Bistro Hot Pot.
All in all, China Bistro has a wide range of options to suit every palate.
7.

Long Teng Seafood Restaurant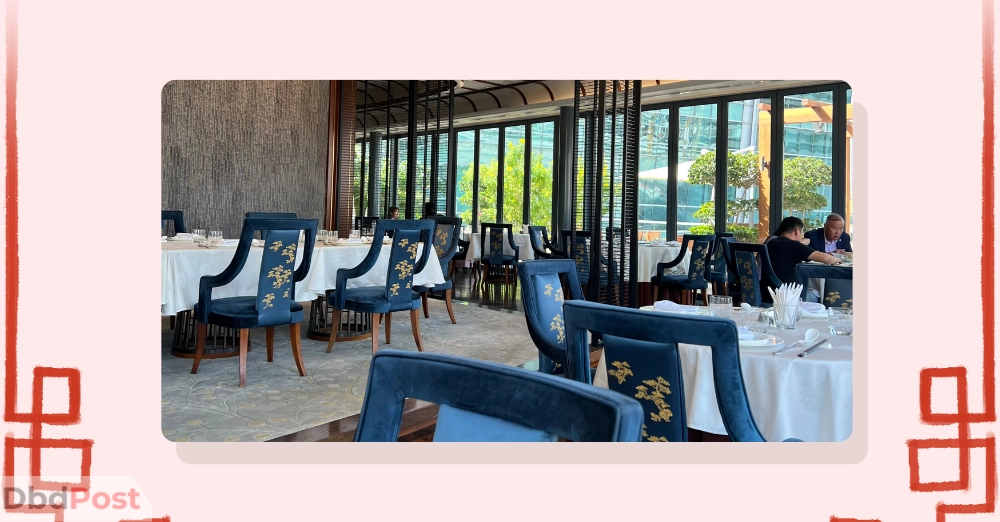 | | |
| --- | --- |
| Location | Ground Floor, U-bora Towers, Building # 3, Al Abraj Street, Business Bay, Dubai |
| Hours | 12:00 PM – 12:00 AM (Sunday to Friday) and 11:30 AM – 12:00 AM (Saturday) |
| Contact | +97142411666 |
| Average cost | AED 200 for two people |
| Map | Get direction |
Long Teng Seafood Restaurant is the perfect destination for a luxurious Cantonese dining experience. The menu features many delicious dishes, including steamed dim sum, Peking duck, king crab, and hot pot.
Long Teng also offers shisha, traditional Chinese teas, and other beverages. Dine in the restaurant and enjoy your meal in the outdoor seating with a view for an unforgettable experience.
Don't miss the opportunity to indulge in an amazing Chinese fine dining experience at Long Teng Seafood Restaurant.
8.

Royal China Restaurant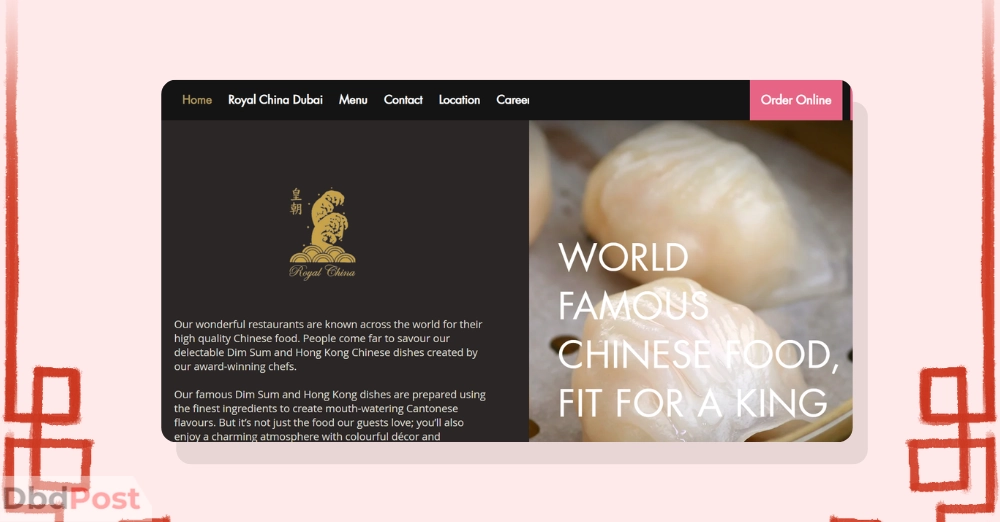 For a truly authentic Cantonese dining experience, head to Royal China Restaurant. The menu boasts a wide range of Dim Sum and Hong Kong Chinese dishes made with freshest and quality ingredients.
Enjoy classic Chinese favorites like Chicken dumplings, Shanghai Xiao Long Bao, Royal China Cheung Fun, and Assorted Meats Fried Noodles.
The restaurant's atmosphere is inviting, with traditional Asian decor and music, making it the perfect spot to savor Cantonese flavors.
Don't miss dining at Royal China and experiencing authentic Cantonese flavors in a charming setting.
9.

Hakkasan Dubai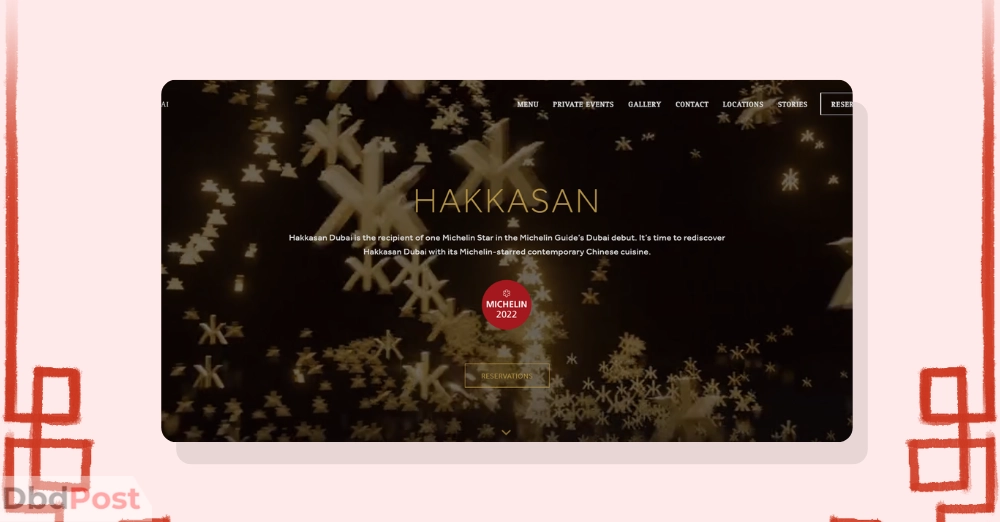 Hakkasan Dubai is the perfect spot for innovative Chinese food. Traditional Chinese food has been reimagined here with authentic Cantonese recipes and a touch of contemporary influences.
Awarded a Michelin star, the restaurant on Palm Jumeirah is sure to impress. The restaurant takes ancient Chinese cuisine to create modern dishes using traditional techniques, blended with quality ingredients to delight their guests.
Their menu includes a Dim Sum platter, Peking duck, lobster noodles, wild mushroom stir-fry, and Hakka noodles, among others. Their extensive cocktail options can complement the food.
Besides their extraordinary food and drink choices, the diner offers private events space. All in all, Hakkasan Dubai is a perfect space for dining and parties.
10.

Han Cuisine Restaurant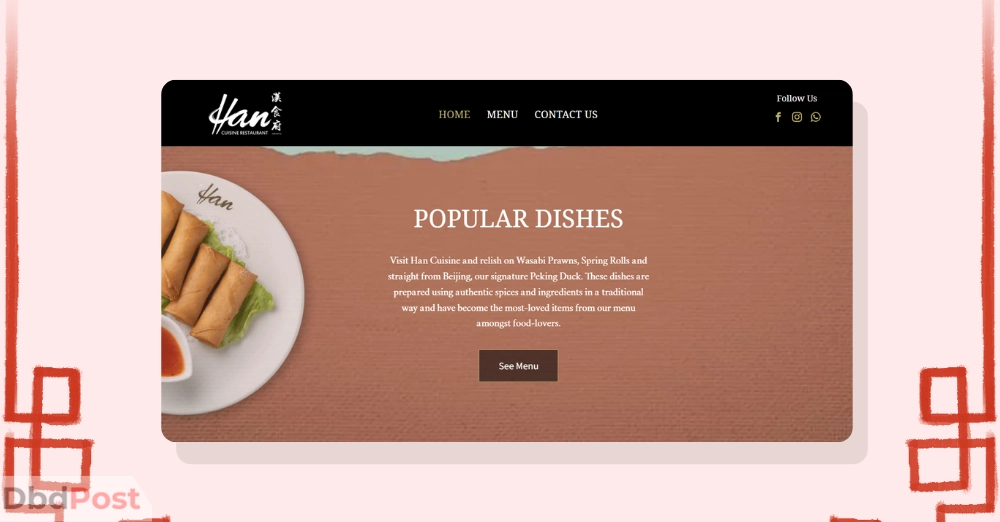 Experience authentic Cantonese cuisine with a touch of South East Asian flavors at Han Cuisine Restaurant.
Established in 2016 in Business Bay, Dubai, the chefs bring years of experience from Hong Kong and other major cities to create delicious, authentic dishes.
Try their renowned dim sum selection, featuring over 20 unique recipes, or indulge in popular favorites such as Herbal Chicken, Fried Milk, Pan-Fried Lobster, and Peking Duck.
11.

Shanghai Kitchen Restaurant
For a budget-friendly Chinese dining experience, head to Shangle Kitchen Restaurant. Whether you dine in, take out or have your meal delivered, this restaurant has something for everyone.
Their menu features a variety of traditional Chinese dishes, including Roast Duck, Sichuan Beef, Fish Manchurian, and Chicken Hakka Noodles.
Additionally, they have a wide selection of dumplings, including traditional Nepali momo, Prawn Sichuan Dumplings, and more.
So if you're craving Chinese food without breaking the bank, Shangle Kitchen Restaurant is a great option.
What is the average meal price at a Chinese restaurant in Dubai?
The average meal price at a Chinese Asian restaurant in Dubai can vary depending on the location, type of restaurant, and the dishes ordered.
Generally, a meal for one person at a Chinese restaurant in Dubai can cost around AED 50-200 per person. The price range is similar to other Asian restaurants in the region.
Mid-range Chinese restaurants in Dubai typically offer a diverse menu of dishes at prices ranging from AED 70-100 per person.
These establishments often provide a more refined dining experience with incredible menu items and a more upscale atmosphere.
There are plenty of options in Dubai for Chinese food. Gone are the days when Chinese cuisine enthusiasts were limited to takeaway or delivery options. [1]National News, "The year of Dim Sum, … Continue reading
On the higher end, Chinese restaurants in Dubai that are considered "fine dining" can have meal prices ranging from AED 100-150 per person.
These restaurants typically offer a more upscale atmosphere and a more comprehensive selection of high-end dishes.
It is important to note that these prices are estimates and may vary depending on the restaurant. It's always a good idea to check the menu or ask the staff for more price information before ordering.
What are the most popular Chinese dishes in Dubai restaurants?
Over two hundred thousand Chinese nationals live in UAE, with over 80% residing in Dubai. It is no wonder that Chinese dishes are popular on the island.[2]National News, "Chinese Dragon spread wings across UAE, … Continue reading
Dim Sum, Peking Duck, Kung Pao Chicken, and Fried Rice are popular Chinese dishes in Dubai restaurants.
Dim Sum is a Cantonese dish that consists of tiny steamed buns or dumplings filled with various fillings such as meat, seafood, or vegetables. They are often served in small steamer baskets and are typically eaten as a snack or a light meal.
Peking Duck is a dish from Beijing made by roasting a whole duck until the skin is crispy. It is served with thin pancakes, scallions, and a sweet bean sauce.
Kung Pao Chicken is a Sichuan dish with chicken, peanuts, vegetables, and chili peppers in a spicy sauce.
Finally, Fried Rice is a simple yet popular dish made with cooked rice, vegetables, meat or seafood, and various seasonings.
It can be customized to individual preferences, making it a versatile and popular dish in Chinese cuisine.
Related Stories
---
FAQs
What are the best Chinese noodle restaurants in Dubai?
New Shanghai Restaurant, Maiden Shanghai, and Royal China restaurant are a few of the best Chinese noodle restaurants in Dubai. They also offer other varieties of Chinese food.
What are the best Chinese buffets in Dubai?
Hutong Dubai and Golden Dragon offer the best Chinese buffet in Dubai. They offer a variety of cuisines, including unlimited dim sum from China on their menus.
What is the best Chinese takeaway to get in Dubai?
Royal China restaurant's Chicken dumplings are the best Chinese takeaway in Dubai. They also have other popular dishes like Shanghai Xiao Long Bun and dim sum items.
What is the best Chinese restaurant in Dubai?
New Shanghai Restaurant is the best Chinese restaurant in Dubai. It offers popular foods such as soup dumplings, noodles, bubbling hot pots, and pan-fried buns.
Final thoughts
In conclusion, the best Chinese restaurants in Dubai offer authentic Chinese foods such as Dim Sum, Peking Duck, and Fried rice.
Whether you are a Chinese food enthusiast or want to try Asian cuisine, the island has something for everyone.
We hope our Dbd guide helped you find the top Chinese restaurants in Dubai. It's essential to consider factors such as location, authenticity, price, and atmosphere before dining in Chinese restaurants.


Adi Abbas is a travel enthusiast based in Dubai who has explored more than 15 countries in the Middle East and South Asia. He loves discovering different cultures, trying local food, and seeking out exciting things to do. His passion for travel has taken him to many places, where he's made unforgettable memories that will stay with him forever. Adi loves documenting his trips through photography and writing about his experiences.