ExpressVPN is one of the most popular VPN providers out there, and for a good reason. It offers a great mix of speed, security, and ease of use, making it a perfect choice for anyone looking to protect their online privacy.
With thousands of servers in 160 locations across 94 countries, ExpressVPN has the most diverse servers of any VPNs out there. Its remarkable speed and security make it one of the best performing VPNs on the market, and its user-friendly apps make it an excellent choice for anyone who wants to protect their online privacy.
As one of the VPN giants in the market, ExpressVPN has a lot going for it in terms of value for money. Let's look at everything that ExpressVPN has to offer in this ExpressVPN comprehensive review.
ExpressVPN review – Quick summary
| | |
| --- | --- |
| Price | $6.67/month and above |
| Servers | 160 locations in 94 countries |
| Number of devices | 5 |
| Bandwidth | Unlimited |
| Encryption | AES-256 |
| Average speed | 135 Mbps |
| Platforms | Windows, macOS, Linux, iOS, Android, Chrome, Firefox, Edge, Routers, Chromebook, Kindle fire, Playstation, Xbox, Nintendo Switch, Apple TV, etc |
| Kill switch | Yes |
| Split tunneling | Yes |
| Dynamic IP addresses | No |
| No-log policy | Yes |
| DNS leak protection | Yes |
| Torrenting/P2P sharing support | Yes |
| Streaming services | Netflix, Hulu, BBC iPlayer, Disney+, Hotstar, HBO max, Amazon Prime, ESPN, DAZN, etc |
| Money-back guarantee | 30-day money-back guarantee |
| Free VPN trial | No. Only money-back guarantee |
| Based on | The British Virgin Islands |
| Customer support | 24/7 live chat, email |
ExpressVPN pros and cons
Pros
Fast speed
Strict no-logs policy
DNS leak prevention, kill switch and split-tunneling
Unlimited bandwidth
24/7 customer support
Friendly User Interface
Access in restricted countries
4k UHD streaming capabilities
Supported on all major platforms
Most diverse servers
Cons
Expensive
Only five simultaneous connections
ExpressVPN pricing – How much does ExpressVPN cost?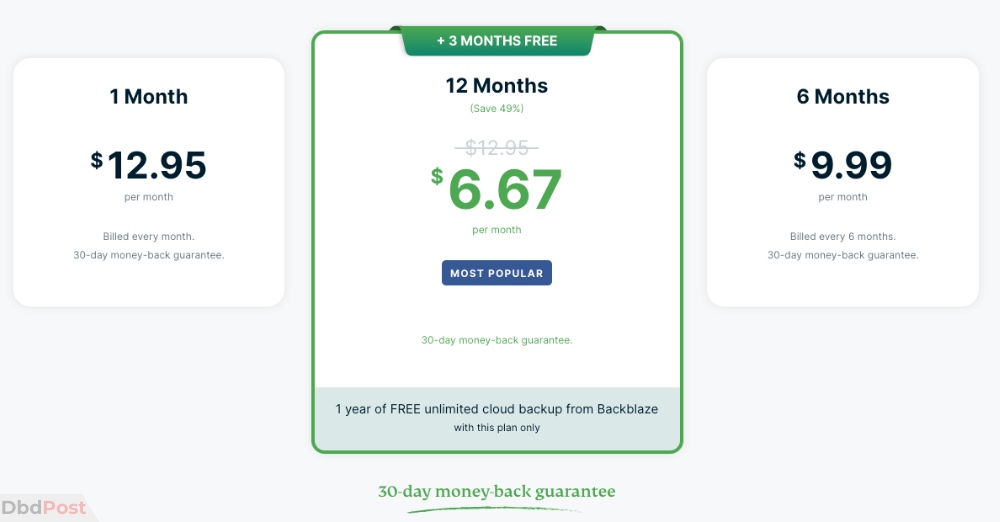 There are three different plans to choose from. ExpressVPN is one of the more expensive VPN providers.
12-month plan
The 1-year plan is the most cost-effective option, with 3 months free when you sign up for 12 months. The price is $6.67 per month, billed once for 15 months, then every 12 months.
6-month plan
For those who need a VPN for a shorter period, a 6-month plan is a great option. It costs $9.99 per month, billed every six months.
1-month plan
The monthly plan is the way to go for those who just need a VPN for one month. The plan is priced at $12.95 per month, which is expensive.
All plans of ExpressVPN provide the same features.
ExpressVPN discounts
ExpressVPN has one downside: their prices are on the high end. Fortunately, it regularly offers discounts on its plans, so it's worth keeping an eye out for deals.
The biggest discount can be found on their yearly plan, which ExpressVPN offers at a 49% discount by charging just $6.67 per month instead of the standard $12.95. You are also provided three months of free service on the same plan.
ExpressVPN free trial
ExpressVPN is a premium VPN service with no free trial. However, it offers a 30-day money-back guarantee, so if you're not satisfied with the service, you can get your money back by contacting live-chat customer support.
ExpressVPN payment methods
ExpressVPN supports a variety of different payment methods to suit everyone's needs. Visa, Mastercard, American Express, Discover, PayPal, and a variety of other credit and debit cards are all accepted. They also take payment via Paypal.
You can also purchase it using bitcoins if you want to use cryptocurrency. You can use almost any major payment method to pay for a subscription.
Related: Best VPN Services in 2023
ExpressVPN full specification
1.

Speed and Performance – How fast is ExpressVPN?

In our testing in the US region, we found that ExpressVPN has an average maximum speed of 135 Mbps.
It is one of the fastest VPNs on the market. So, It is perfect for streaming 4K UHD videos, general web browsing, and online gaming.
The connection speed depends on how far you are from an ExpressVPN server. However, it is quicker than most other VPN services, clocking at about 135 Mbps on average.
With ExpressVPN, you'll experience less speed loss than with other VPNs, and there's no throttling so that you can enjoy your favorite content without interruption.
It also has low ping times for gaming, making it a great choice for gamers who want to enjoy a lag-free gaming experience. You can also torrent safely at great speeds with ExpressVPN.
Overall, ExpressVPN is an excellent choice for anyone who prioritizes internet connection speed while being safe.
2.

Servers and locations – How many servers does ExpressVPN have?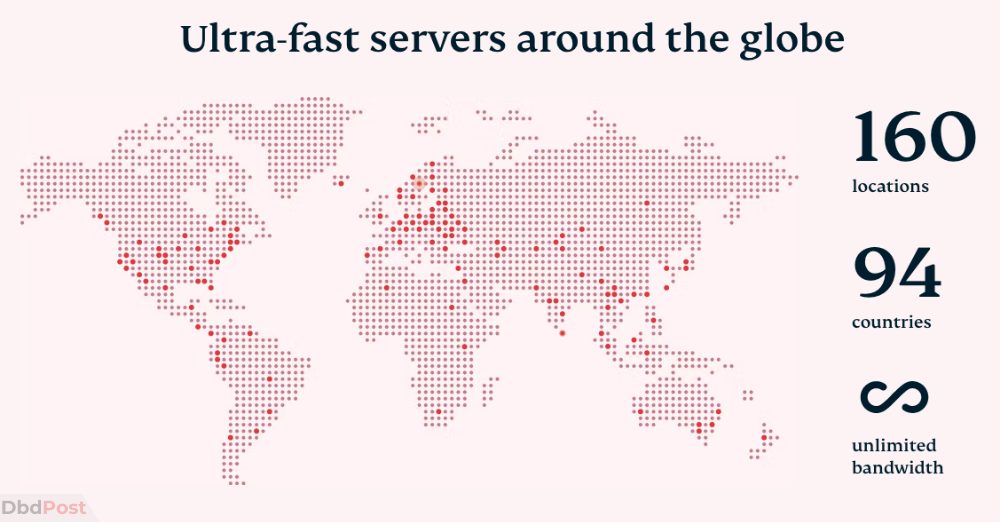 ExpressVPN has one of the most diverse and vast server networks in the VPN industry. There's a server for every need with over 94 countries and 160 locations.
ExpressVPN allows you to choose the closest server automatically. You're always guaranteed the best performance and speed. Not to mention, ExpressVPN regularly updates and adds new servers to their network, so you can always expect the latest and greatest.
When it comes to finding a VPN with a diverse and vast server network, ExpressVPN is the clear winner.
3.

Supported platforms – Which platforms does ExpressVPN support?

ExpressVPN is a versatile VPN service that supports a wide range of platforms. It can be used on a wide range of platforms, including those that aren't particularly popular, while many VPN services are only accessible in a specific operating system.

The ExpressVPN app is available for Windows, Linux, and Mac computers. You can also download Express VPN mobile apps on iOS and Android mobile devices.

It is available for download on certain smart TVs and gaming consoles such as PlayStation, Xbox, and Nintendo switch. Whether you need private internet access from your home computer, gaming consoles, or your mobile device, ExpressVPN is a great option. [1]ExpressVPN, "Download Express VPN app on all your devices, https://www.expressvpn.com/vpn-software"
4.

Logging – Does ExpressVPN keep logs?

When it comes to online privacy and security, one of the most important factors to consider is the logging policy of your VPN provider.

ExpressVPN takes a strict no-logging policy, which means that they do not track or record any of your online activity.

If privacy is important to you, it's no-logging policy is one of the main reasons to choose this VPN service.

The other key advantage of ExpressVPN's no-logging policy is that it is based in the British Virgin Islands, which has no data retention laws. That means it isn't subject to any mandatory data retention requirements, so you can be confident that your data won't be stored or shared without your consent.
5.

Encryption – What encryption does ExpressVPN use?

ExpressVPN uses AES-256 encryption, which renders brute force attacks useless as it would take billions of years to crack a 256-bit encrypted code. IP addresses are changed periodically, so your original IP address is not exposed at any time.

It uses lightway, OpenVPN, IKEv2, l2tp/IPsec, SSTP, and PPTP security protocols to protect your data. Traffic logs are discarded immediately, and only non-identifying metadata is stored long-term. All app and browser traffic on all devices is encrypted with AES-256-bit encryption by default, making it impossible for anyone to see what you're doing online.

It's Pv6 leak protection ensures that IPv6 traffic is not sent outside the encrypted VPN tunnel. WebRTC leak protection ensures that WebRTC traffic is not sent outside of the encrypted VPN tunnel.
6.

Kill switch – Does ExpressVPN have a kill switch?

ExpressVPN comes with a kill switch, a vital security feature for any VPN user. It's a fail-safe that disconnects you from the internet if your VPN connection drops, preventing your true IP address from being exposed.

It's kill switch is called "Network Lock", and it's always enabled by default. If your VPN connection does drop, Network Lock immediately cuts off all internet traffic to and from your device.

This ensures that your identity and location remain confidential, even if the VPN connection is lost for a moment. You can rest assured that your privacy is protected with ExpressVPN's Network Lock enabled.
7.

DNS protection – Does ExpressVPN prevent DNS leaks?

ExpressVPN has private DNS on every server. Your DNS queries are not logged, so your activity cannot be traced back to you.

Additionally, a standard private DNS server of ExpressVPN is faster than most other DNS providers' servers, so you'll get quicker results when you're using the internet.

DNS, or Domain Name System, is a system that converts human-readable website names into IP addresses. Every time you type a URL into your browser, DNS is responsible for finding the corresponding website and loading it up.

Usually, your ISP (Internet Service Provider) handles your DNS requests.

However, your ISP can see everything you're doing online, including which websites you're visiting. They can also block certain websites or even slow down your connection if they think you're doing something they disapprove of.

But when you use ExpressVPN, DNS settings are set to be handled by the VPN provider instead of your ISP.

It is more private because your ISP can't see what you're doing online, and it's quite fast because some VPN providers have their DNS servers optimized for speed. And finally, it's more secure because VPN providers can protect against DNS blocking and filtering.
8.

Split tunneling – Does ExpressVPN offers split tunneling?

One of the great things about ExpressVPN is that it offers split tunneling. You can route some of your traffic through the VPN, while other traffic goes through your regular connection.

To set up split tunneling, you need to go into the settings and select which apps you want to route through the VPN. Then, when you connect to the VPN, only those apps will have their traffic encrypted.

Therefore, split tunneling is a great way to keep your IP address private while still being able to access all the sites and services you need.
9.

Usability – How user-friendly is ExpressVPN?

ExpressVPN is one of the most user-friendly VPN providers on the market. The software is easy to install and use, and the interface is nicely organized so that you can quickly find the settings and features you need.

The software also doesn't feel cluttered, which can be an issue with some VPN providers.

Overall, it is a great choice for experienced users and beginners who want a simple VPN experience.
10.

Torrenting – How good is ExpressVPN for torrenting?

Users of ExpressVPN can torrent with confidence. After connecting to their VPN servers, IP addresses are never connected to a user's account or activities. This is good news for those who want to remain anonymous while downloading and sharing files.

In addition, every ExpressVPN server is optimized for P2P sharing. These servers do very well in a speed test.

This means that users can enjoy great speeds and reliable connections on any server. As a result, you can torrent with confidence, knowing that your identity is protected.
11.

Streaming – How good is ExpressVPN for streaming?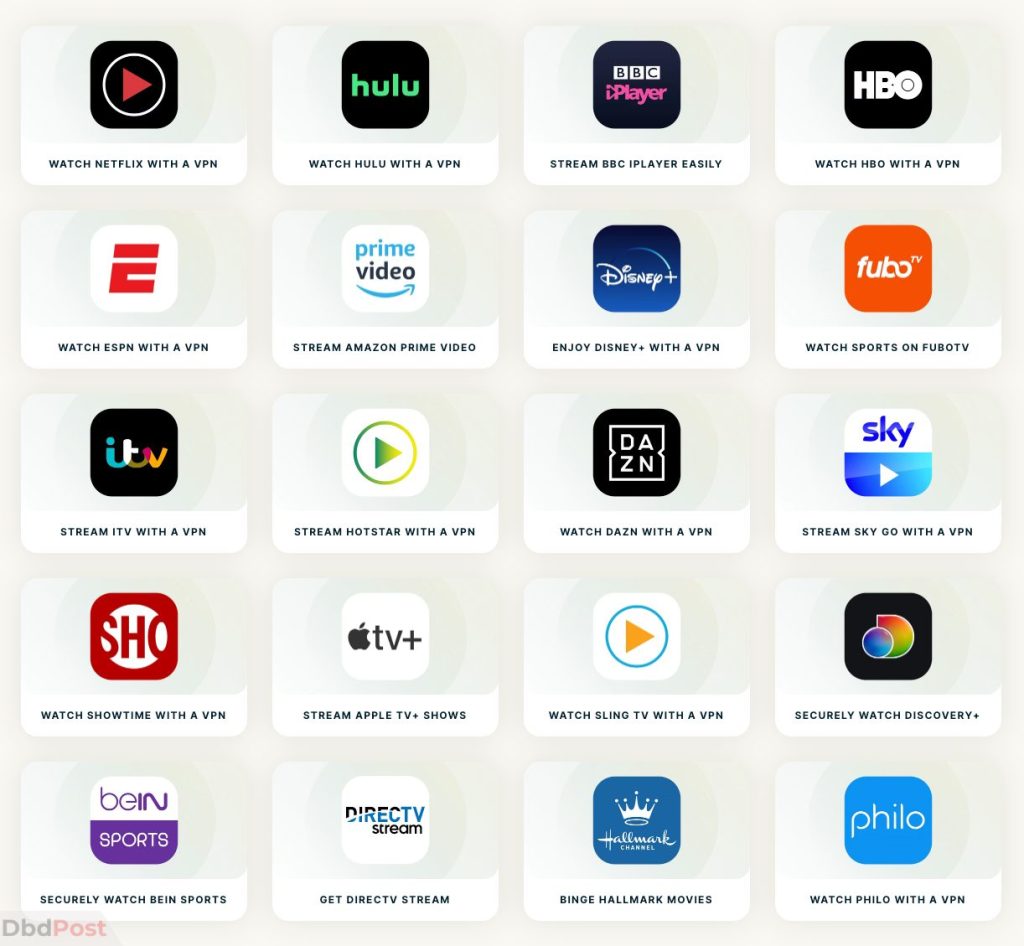 ExpressVPN is a great option if you're trying to stream HD-quality video content without buffering.
Streaming services often block some of their media in certain countries due to licensing restrictions.
However, you can circumvent these geo-restrictions and access the full library of content by using VPN services, even in countries where streaming services may be unavailable.
ExpressVPN servers are located in multiple countries, so you can always find a server with low latency in a region where your favorite series or films are available in any of the following streaming services.
Following are a few streaming services that ExpressVPN can unblock.
| | | | |
| --- | --- | --- | --- |
| Netflix | Hulu | BBC iPlayer | HBO |
| ESPN | Amazon Prime Video | Disney + | Fubo TV |
| iTV | Hotstar | DAZN | Sky Go |
| ShowTime | Apple TV + | Sling TV | Discovery + |
| Bein Sports | DirectTV Stream | Hallmark Movies | Philo |
| Pluto TV | Crackle | BritBox | Crunchyroll |
| Viki | Starz | Vudu | Acorn |
12.

Gaming – How good is ExpressVPN for gaming?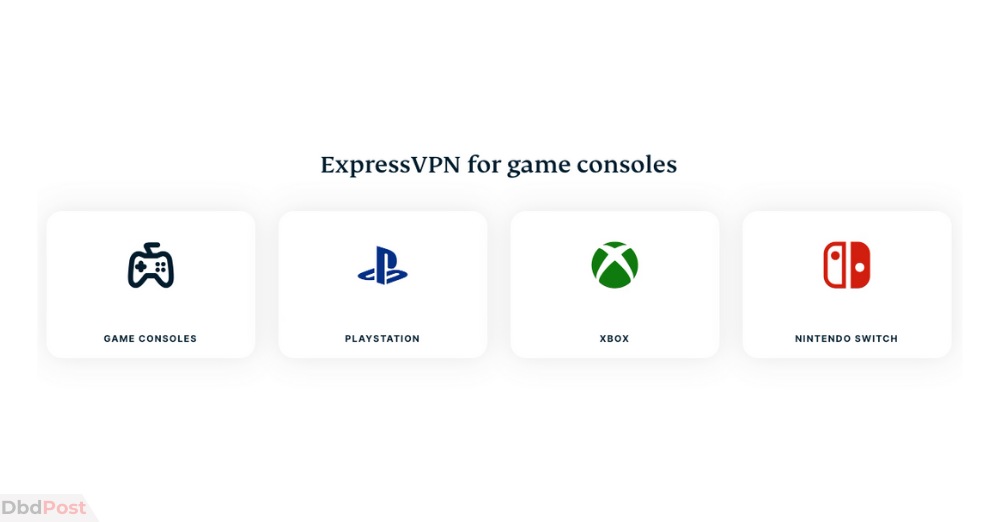 When choosing a VPN for gaming, there are a few key factors to keep in mind. Ping time is essential, as you want to minimize lag and maximize speed.
ExpressVPN has some of the lowest ping times, making it an excellent choice for gamers.
In addition, it provides high speeds, so you can be sure that you're getting the most out of your gaming experience.
And with servers in over 94 countries, there's always a fast connection close by. So, when it comes to gaming VPNs, ExpressVPN is hard to beat.
13.

Simultaneous connections – How many devices can be used with one ExpressVPN account?

ExpressVPN lets you connect up to 5 devices at the same time.

That means you can protect your entire family's online activity with just one account.

And if you have multiple devices yourself – such as a laptop, smartphone, and tablet – you can use them all simultaneously without worrying about exceeding your data limit.

Plus, ExpressVPN's software is compatible with a wide range of devices and operating systems, so be sure to find a connection that meets your needs.

Whether you need to protect your family's IP address or want to keep your own devices safe from prying eyes, ExpressVPN is the perfect solution.
14.

Third-party audit: Does ExpressVPN have a third-party audit?

To provide its users with the utmost privacy, ExpressVPN has enlisted the help of a third party to audit its servers. Privacy is a top concern for many people when using a VPN, as it should be.

Unfortunately, not all VPN providers are as rigorous about their privacy protections as they should be. Some may keep logs of user activity, while others may sell user data to third parties. In contrast, ExpressVPN takes pride in its commitment to user privacy and has taken measures to ensure that its servers are protected.

The addition of a third-party audit is another step in the right direction, providing an extra level of assurance for users that their data is safe.

PwC recently conducted audits of ExpressVPN's servers to confirm that the necessary privacy protections are in place. It is an important step in ensuring that users' data is safe and secure. With so many VPNs on the market, a third-party audit is one of the best ways to ensure that you're choosing a reputable and trustworthy provider. [2]ExpressVPN, "PwC audits ExpressVPN servers to confirm essential privacy protections, … Continue reading
15.

Region-blocked content access – Can ExpressVPN be used in restricted countries?

With a VPN service like ExpressVPN, it is possible to bypass these restrictions. ExpressVPN encrypts your traffic and routes it through one of its servers in another country, making it appear as if you are accessing the internet from that country, allowing you to bypass restrictions.

Those who travel frequently know the importance of being able to access the internet at all times. Unfortunately, there are many places where internet access is severely restricted. Social media are regulated in many countries, making citizens unable to access essential news and information.

ExpressVPN can unblock social media in UAE, China, Turkey, Russia, Iran, etc.
16.

Desktop apps: How good are ExpressVPN's desktop apps?
The ExpressVPN desktop apps look and feel great. The interface is well-organized and easy to use. The apps are regularly updated with new features and security fixes. The app is also available for Windows and macOS, so you can use it on any computer you own.
You can choose to launch the windows application on startup automatically.
The Windows version could be better if it showed the details of each server like NordVPN does. The macOS app does not show the split-tunneling feature.
Overall, the ExpressVPN desktop app is an excellent choice for anyone who wants to protect their online privacy.
17.

Mobile apps: How good are ExpressVPN's mobile apps?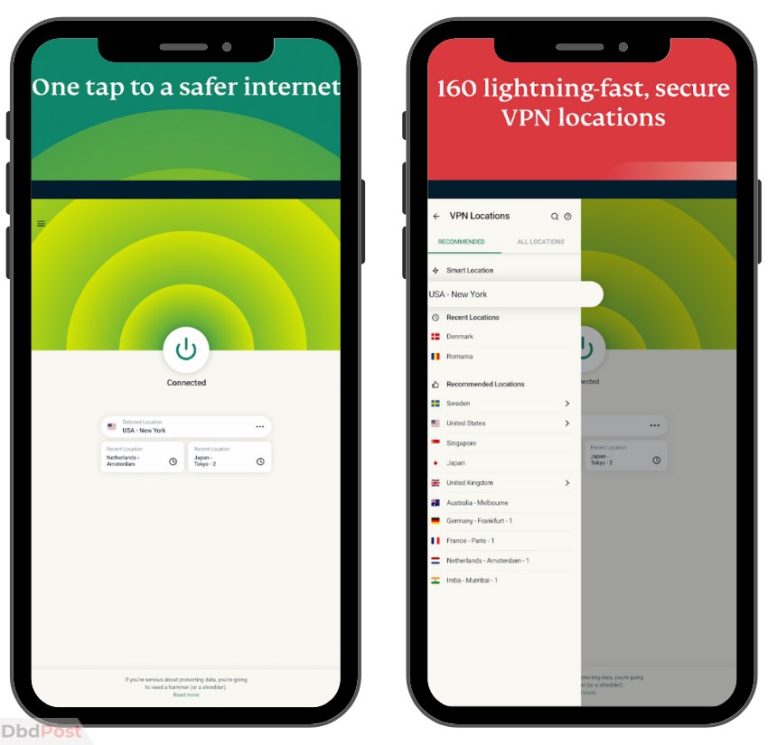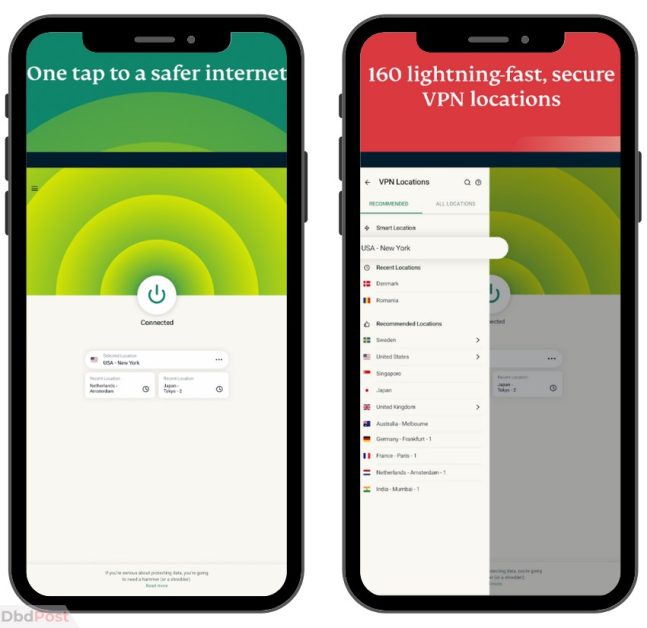 ExpressVPN's mobile apps look neat and optimized. They feel great to use.
However, there are some disadvantages to using the iOs app.
The iOS app does not have split-tunneling or a kill switch. ExpressVPN's Android app has more features than the iOS app as it has split-tunnel and the kill switch features enabled.
18.

Browser extensions: How good are ExpressVPN's browser extensions?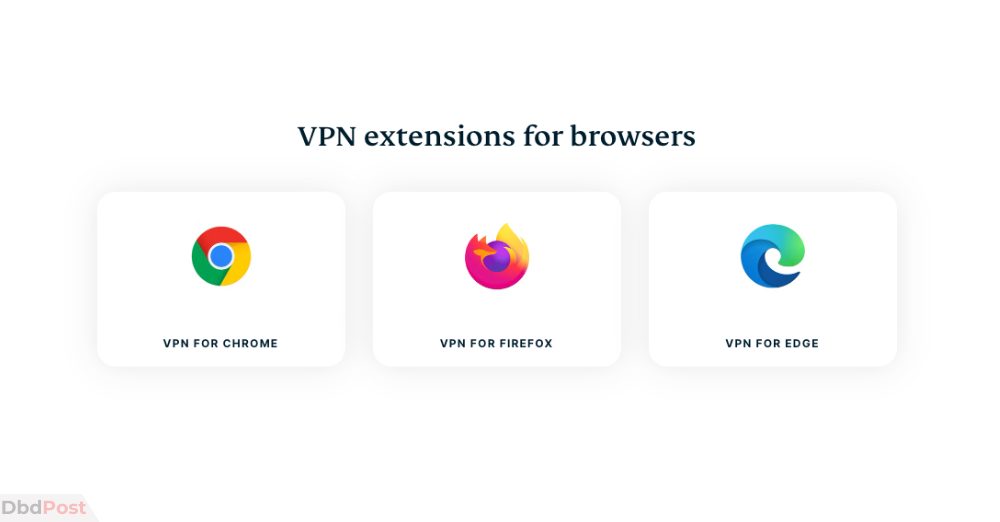 The browser extensions of ExpressVPN are simple but acquire all essential features.
The user interface is simple and makes connecting to the VPN very easy.
Chrome extension has auto-connect and split tunneling features that are handy in hiding your actual IP address, and everything works as they are supposed to, just like the VPN apps.
19.

Customer support – How good is ExpressVPN customer support?

ExpressVPN provides excellent customer service. Its live chat support is active 24/7, so you can always get help if you need it.

Additionally, the website provides step-by-step instructions for installation guides to easily set up the VPN on your devices.

Whether you're looking for help with installation or troubleshooting, its customer service team is always available to assist you.

Related info: Check out this – best Android VPNs, where we have listed expert-tested best VPN providers for Android devices.
ExpressVPN download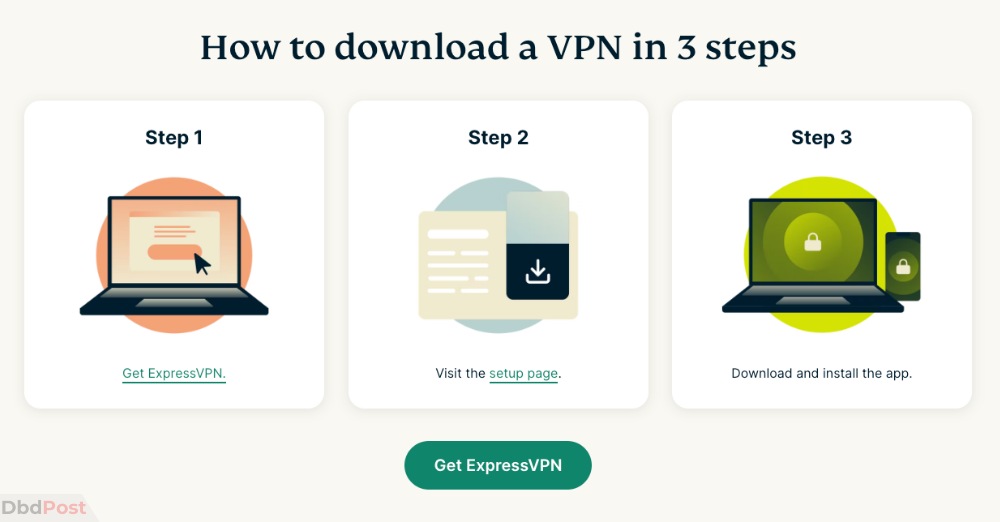 You can download ExpressVPN for Windows and Mac directly from their official website. You need to subscribe to a premium plan to set up your VPN first, and here is how you can do it:
Go to their download page (expressvpn.com/order).
Choose a plan.
Enter your email address.
Choose your payment option.
Enter your phone number or email address again.
Fill up all details and click "Create Account & Subscribe" at the bottom.
Installing ExpressVPN apps on iOS or Android is easy. Just visit the Google Play Store or App Store on your smartphone and search for ExpressVPN. You can install it and purchase a plan from the app itself.
Related info: Check out this – best iPhone VPNs, where we have listed expert-tested best VPN providers for iOS devices.
ExpressVPN alternatives
While ExpressVPN has a lot to offer, plenty of VPNs out there have some features that you may not find in it. Check out some of these VPN services:
Surfshark is one of the most significant competitors VPN companies of ExpressVPN. Surfshark comes with similar features, capabilities, and security protocols. In addition, it also starts at a lower price, so it is a more affordable option. However, it does not have variety in its servers as Express does.
If you need the best internet protection but with lower server locations, Surfshark VPN is the best alternative.
NordVPN is famous for its speed and a robust set of features. It offers the same level of encryption and similar security protocols as ExpressVPN. Its plans start from just $3.99, almost half of ExpressVPN's starting offer.
NordVPN's only drawback is that it has comparatively fewer server locations. However, if you want a bang for your buck, NordVPN is incredible.
If you're looking for a cheaper alternative to ExpressVPN, CyberGhost VPN is worth considering. Prices start at just $2.29 per month, significantly less than what you would pay for ExpressVPN.
In terms of features, both VPNs offer similar encryption and security protocols.
However, CyberGhost's parent company, Crossrider, has a shady history of developing adware and spyware. As a result, some users may prefer to use a different VPN provider. But still, it is a solid choice if you're looking for a budget-friendly option.
Is ExpressVPN right for you?
ExpressVPN has excellent, attractive features that seem very appealing to everyone. But some people may not find much use in it.
Recommended for:
Online gamers
Streamers
People who need a fast internet connection
Remote workers
Those who want maximum server locations
Not recommended for:
Corporations that require over five simultaneous connections
VPN users on a budget
How to cancel ExpressVPN subscription?
Follow these steps to cancel your ExpressVPN subscription:
Go to their official website (expressvpn.com).
Log in to your account.
On the bottom right corner, click on the green box that says "Need help? Chat with us!".
Type in the live chat box that you want to cancel your subscription.
Wait for their reply for a few minutes and follow their instructions.
If you are within a 30-day money-back guarantee, you will be refunded.
If you have exceeded the 30 days limit, you can only cancel the recurring payment option. To cancel the recurring payments when your plan's period is over, follow these steps:
Sign in to your ExpressVPN account
Under the subscription section, look for your subscription duration and renewal date.
Click "Manage subscription settings".
Go to the "Automatic subscription renewal" page.
Select "Turn off automatic renewal" and confirm.
You will have your auto-renewal canceled after this and will not be liable to pay any more when your term is over.
FAQs about ExpressVPN
Is ExpressVPN legit?
Yes, ExpressVPN is entirely legit. If you're looking for a reliable and secure VPN service, you can't go wrong with ExpressVPN.
With thousands of servers across 94 countries, ExpressVPN is the first choice of millions of people worldwide.
Thanks to its strict no-logging policy, you can be sure that your data will never be stored or shared with third parties.
Consider the 30-day money-back guarantee for a risk-free investment if you are skeptical.
Is ExpressVPN safe and good?
Yes, it is safe and works great. Among the VPNs, ExpressVPN is one of the most well-known and respected providers. As it is based in the British Virgin Islands, It has a solid commitment to online privacy and security, offering robust encryption and a strict no-logs policy.
Most major VPN companies pass all data to a remote server or multiple virtual locations through a secure VPN tunnel using a highly secure VPN protocol. ExpressVPN is one of them.
Is ExpressVPN free?
ExpressVPN is not free, but it does offer several features that make it worth the price.
However, You can download the ExpressVPN app on your device and take advantage of its 30-day money-back guarantee to try it out without risking anything.
While other VPN services are cheaper, ExpressVPN is one of the most affordable options that still offers a high level of quality.
How to use ExpressVPN?
ExpressVPN is easy to use. If you have downloaded and installed this app, all you need to do is launch it and connect to a server. Once you are connected, you will be able to browse the internet securely and anonymously.
Does ExpressVPN work with Netflix?
Yes, ExpressVPN can unblock Netflix, as it offers fast speeds and reliable connections that are good enough for high-definition video streaming. It is one of the few VPNs that can consistently bypass Netflix's geo-restrictions.
Does ExpressVPN work with Hulu?
Yes, like with Netflix, ExpressVPN can unblock Hulu. You will need to connect to a server in the United States, as Hulu is only available in this country. It offers a fast and reliable connection to stream Hulu without any interruptions.
Does ExpressVPN slow down the internet?
Yes, ExpressVPN will slow down your internet connection, but this is expected with any VPN. The speed loss is usually negligible, and you will still be able to browse the internet and stream videos from streaming sites without any issues.
Does ExpressVPN work in China?
Yes, ExpressVPN can help you bypass government surveillance and access blocked social media sites in China. It can bypass the Great Firewall of China, so your data is safe from government surveillance & spying.
And thanks to its strong encryption, ExpressVPN can even help you bypass censorship in UAE, Russia, Turkey, etc. So whether you're looking to stay safe online or unblock blocked sites, ExpressVPN can do so.
Is ExpressVPN unlimited?
Yes, ExpressVPN is unlimited, so you can use it as much as you want without any data limits. And thanks to its fast speeds and reliable connections, you can stream videos and download files without any issues.
How good is ExpressVPN?
ExpressVPN is one of the best VPNs, offering fast speeds, reliable connections, the best VPN protocols, and robust encryption. It passes the DNS leak test as well, and you can be sure that all data transferred from your location is safe from prying eyes.
Is ExpressVPN good for gaming?
Yes. A simple speed test is enough to prove how good ExpressVPN's speed, latency, and ping times are.
These are essential for a fun gaming experience, and if you choose to use ExpressVPN as your preferred VPN, you will not feel any regret.
Does ExpressVPN keep logs?
No, ExpressVPN does not keep logs of user data or traffic. Your online activities are completely safe from potential hackers or spies, whether government agencies or your ISP.
Does ExpressVPN offer dedicated IP addresses?
No, ExpressVPN does not offer dedicated IP addresses. While a shared IP address is sufficient for most users, there are some benefits to having a dedicated IP address. A dedicated IP address can help to improve your connection speed and stability.
Additionally, it can make it easier to access certain types of content that may be blocked on a shared IP address.
However, these benefits come at a price, and it's simply not something that Express VPN is willing to offer yet. If you're set on having a dedicated IP address, you'll need to look elsewhere.
Is ExpressVPN expensive?
ExpressVPN is more expensive than similar VPNs, but it's still very affordable. You can get a month-to-month subscription for $12.95 or save money by signing up for a 6-month or 12-month subscription with prices going as little as $6.67 per month.
ExpressVPN still has reasonable prices, considering the features it offers. If you compare it to other VPNs, you will see that its price is a bit high, but it doesn't cost a fortune either.
Is ExpressVPN the best?
While there are many different VPN providers to choose from, ExpressVPN is widely considered one of the best. It is because ExpressVPN offers several benefits that other providers do not.
For example, it has an extensive network of servers in different countries, so you can always find a fast and reliable server.
In addition, it uses military-grade encryption to protect your data, ensuring that your privacy is always protected. Finally, ExpressVPN offers a money-back guarantee, so you can try it out risk-free.
Final thoughts
If you're looking for a VPN, there's a lot to consider. What are your needs? What's your budget? But when it comes to finding a reliable, fast VPN, ExpressVPN is hard to beat.
With servers in 94 countries and unlimited bandwidth, it's perfect for streaming or browsing. And if security is your top concern, you'll be happy to know that it uses the best encryption.
With all of these features, it's no wonder that ExpressVPN is the VPN provider of choice for tens of millions.
If you found this ExpressVPN review informative and useful, help us reach more people by sharing it with your friends. We genuinely appreciate your support!