You have probably heard about NordVPN lately, and for a good reason. It's one of the most popular VPN providers today, with over 14 million users worldwide.
With cybercrime on a constant rise, it's essential to have a reliable VPN that you can trust. Not all VPNs provide good security, fast speeds, and multiple features on a single application. Fortunately, Nord has it all covered.
NordVPN was founded in 2012 to stop internet censorship and surveillance. Over the decade past, it has been offering a wide range of features with a great focus on online security and privacy, making it an excellent choice for those looking for a VPN that functions smoothly. Plus, with NordLocker providing file storage encryption and NordPass offering password management, you can be sure your data is safe and secure.
This NordVPN review will see why Nord is such a big deal in the VPN industry.
NordVPN review – Quick summary
| | |
| --- | --- |
| Price | $3.99 and above |
| Servers | 5500+ |
| Simultaneous connections | 6 per account |
| Bandwidth | Unlimited |
| Encryption | AES-256 |
| Connection speed | 6730+ Mbps |
| Platforms | Windows, macOS, Linux, iOS, Android, Chrome, Firefox, Edge, Smart TVs, etc |
| Kill switch | Yes |
| Split tunneling | Yes |
| Dedicated IP addresses | Yes |
| Dynamic IP addresses | Yes |
| No-log policy | Yes |
| DNS leak protection | Yes |
| Torrenting | Yes |
| Streaming services | Netflix, Amazon Prime, Hulu, BBC iPlayer, etc |
| Money-back guarantee | 30 days |
| Free trial | Not Available, only money-back guarantee |
| Based on | Panama |
| Customer Support | 24/7 live chat support |
NordVPN pros and cons
NordVPN has many advantages that make it an excellent choice for those looking for a VPN, but there are some shortcomings.
Pros
24/7 customer support
Unblocks primary streaming services seamlessly
Best security protocols
Multi-hop, split tunneling, kill switch, tor connections available
Great for gaming, streaming, torrenting
Over 5500 servers
DNS leaks prevention
Cons
Free version unavailable
Slightly expensive
NordVPN pricing – How much does NordVPN cost?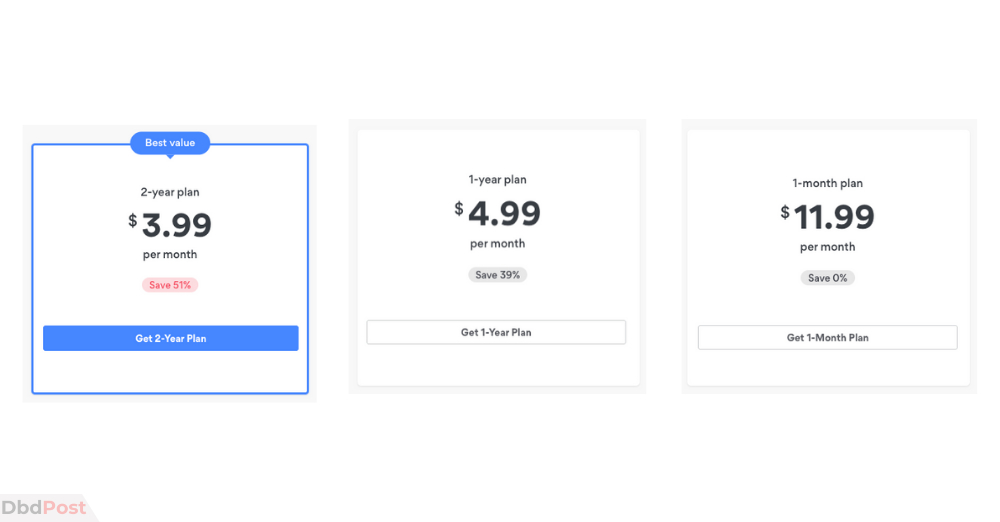 NordVPN has several pricing plans with different features.
The most basic plan starts at $3.99 per month on a 2-year plan. This plan gives you access to all NordVPN features and servers.
The $4.99 per month option is available in a 1-year plan and gives you the same features as the $3.99 per month plan.
The $11.99 monthly plan is the most expensive option, but it gives you more flexibility if you only need a VPN for a short period.
NordVPN referral
NordVPN also offers discounts if you sign up for their newsletter or refer a friend.
You can refer a friend using a referral link and get 30 days of free service for each friend that signs up. The invited friend must use it for at least a month before getting your free month service. There is no limit to how many friends you can refer.
NordVPN free trial
Unfortunately, NordVPN does not offer a free trial. The only way to try NordVPN is to sign up for their money-back guarantee.
If you're not satisfied with the service, you can cancel within 30 days and get a full refund. It is a great way to try Nord with no risk to your wallet!
Available payment options
NordVPN offers a variety of payment options to suit everyone's needs. Credit and Debit Cards from Visa, Mastercard, American Express, and Discover are accepted, as well as Google Pay and Apple Pay.
NordVPN also accepts Bitcoin, Ethereum, and Ripple for those who prefer to use cryptocurrency.
For those who prefer more traditional payment methods, it also offers the option to pay via PayPal.
No matter your preference, NordVPN has a payment option that will work for you.
NordVPN features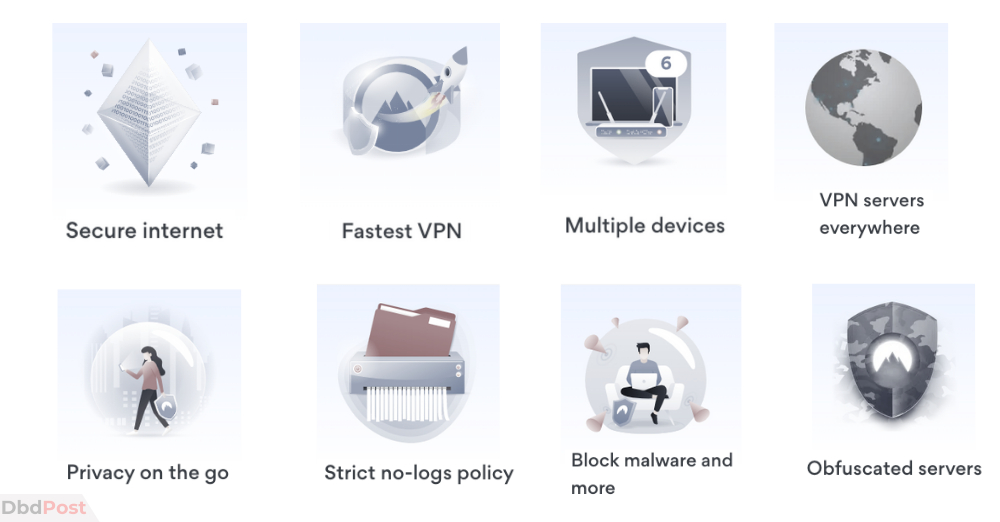 Nord is such a popular VPN provider because it offers a wide range of features to its users. Below are the most notable features explained in detail:
1.

Speed and performance – How fast is NordVPN?

NordVPN is a VPN service that promises fast speeds and reliable connections. And, for the most part, it delivers on its promises.
In our testing, we have found that the average maximum speed of NordVPN is 356.13 Mbps from the US region.
However, there are a few things to keep in mind – First, VPN speeds can vary depending on your connected server. Second, your internet connection can also affect speeds. So the actual speed might vary from your location to what we record.
If you're looking for blazing fast speeds, NordVPN is worth checking out.
2.

Supported platforms – What platforms does NordVPN support?

Nord supports one of the largest ranges of platforms in the VPN industry. One of the reasons Nord is one of the most used VPNs on the market as it is available on all major platforms.

You can use Nord on your PC with Windows, macOS, or Linux, or you can use NordVPN mobile apps on your smartphone on both iOS and Android platforms. You can also use Nord's browser extensions in Chrome, Firefox, or Edge.

Nord is one of the best VPN services for gamers because the NordVPN app is available on gaming consoles like Xbox, Playstation, and Nintendo switch.

In addition, Nord is also available on Android TV and other smart TVs. Finally, you can also use Nord on Firestick, Raspberry Pi, Chromebook, Chromecast, Kindle fire, and routers. So no matter what platform you're using, Nord has you covered.
3.

Servers – How many servers does NordVPN have?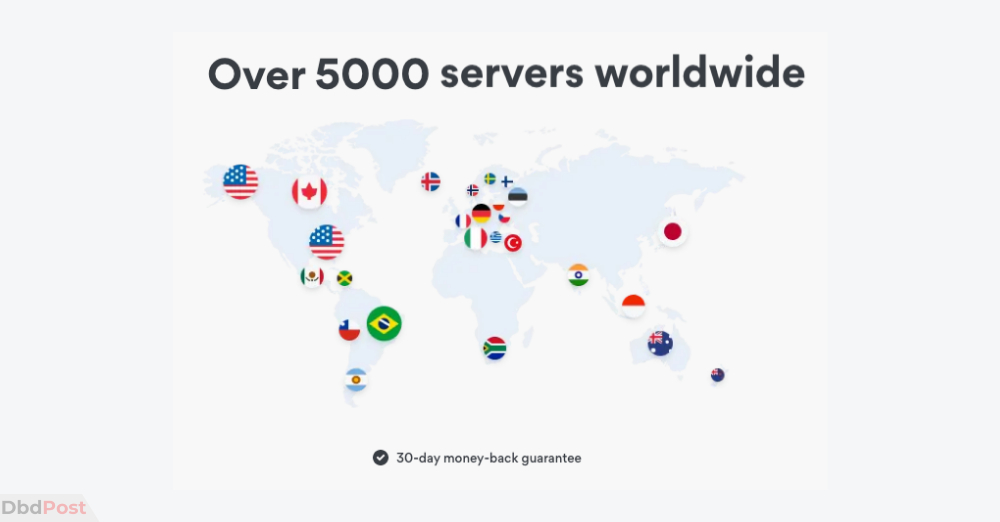 NordVPN has over 5,400 servers spread across 60 countries which allows NordVPN users a tremendous amount of flexibility when choosing a server location.
For those who want an even higher level of security, NordVPN offers a double VPN feature that routes your traffic through two servers instead of just one. Double VPN is available in the USA, Canada, UK, Netherlands, France, Sweden, Switzerland, and Taiwan.
Dedicated IP addresses are also available for purchase in the US, UK, Germany, Netherlands, and France. With so many options, Nord makes it easy to find the perfect dedicated IP servers for your needs.
4.

Encryption – What encryption does NordVPN use?

NordVPN uses AES-256-bit encryption to protect your internet connection. It uses the IKEv2/IPsec, OpenVPN, PPTP, and L2TP/IPsec VPN protocols. It also has its proprietary protocol called NordLynx, which uses the WireGuard protocol. [1]NordVPN, "Next-generation VPN encryption, https://nordvpn.com/features/next-generation-encryption/"

Related info: Check out this Dbd post – best VPN Services, where we have listed expert-reviewed most secure and trustworthy VPN providers.
5.

No-logs policy – What is NordVPN's logging policy?

NordVPN takes data security and privacy seriously. It has a strict no-logs policy, which means that it does not track or store any data that identify you. Instead, it only keeps track of general connection details, such as the server you connected to and the amount of data you used.

NordVPN also hires independent auditors to conduct audits of its systems and procedures. Recently, PWC conducted an audit of NordVPN's servers and found no evidence that NordVPN had logs of user activity. It demonstrates NordVPN's commitment to protecting your data and ensuring your privacy. [2]NordVPN, "the best no-log VPN, https://nord.com/features/strict-no-logs-policy/"

It goes even further to protect your data by accepting cryptocurrency payments. This is done so that you can anonymously purchase its services.
6.

Kill switch – What is NordVPN's kill switch?

NordVPN's kill switch is a security feature that protects your internet connection if the VPN connection drops. It will automatically block your connection to prevent your IP address from being exposed.
7.

DNS leak prevention – Does NordVPN prevent DNS leakage?

NordVPN has a DNS leak protection feature that prevents your DNS queries from being exposed. Your DNS queries are sent through the VPN tunnel, so your ISP can't see them.

This is important because if your DNS queries are exposed, they can be used to track your location and activities.
8.

CyberSec – What is NordVPN's CyberSec feature?

NordVPN's CyberSec feature protects you from malware, phishing, and other online threats. It will block malicious websites and ads to keep you safe while browsing the internet.

Unfortunately, due to Google Play's policies, it is not available on the Android app downloaded from the Play Store. You should download the Android app from their official website to get the ad-blocking feature.
9.

Split tunneling – Does NordVPN have split tunneling?

NordVPN has a split tunneling feature that allows you to choose which apps will route their data via Nord's VPN server and use your regular internet connection. This is useful if you want to use the VPN for some apps but not others.

For example, you could use the VPN for your web browser and email client but not for your video streaming app. This would allow you to encrypt your web traffic and protect your privacy while still being able to stream videos without any slowdown.
10.

Access region-blocked content – Does NordVPN work in restricted countries?

If you've ever tried to access websites and social media sites in UAE, China, Russia, or Turkey, you know how frustrating it can be to be blocked out. But with a good VPN, you can easily bypass these restrictions.

NordVPN encrypts your internet traffic and routes it through a server in another country. This makes it appear as if you're accessing the internet from that country, which allows you to bypass regional restrictions.

NordVPN is a great option for accessing region-blocked content, as it has servers in over 60 countries and offers fast speeds & strong security features. So if you're looking to access social media or other blocked websites in your country, NordVPN is worth checking out.
11.

Obfuscated servers – What are obfuscated servers?

If you live in a country with heavy internet restrictions, you may be familiar with the frustration of trying to access blocked content. Whether it's your favorite website being inaccessible or unable to access specific social media platforms, it can be frustrating to deal with censored content.

One way to bypass these restrictions is to use NordVPN's obfuscated servers. These servers are specialized VPN servers that do not let anyone know that you're using a virtual private network to reroute your traffic. This makes it much more difficult for internet service providers or government agencies to block your traffic, as they won't be able to tell that you're using a VPN.

In addition, these servers often have extra security features that make them more challenging to hack into and more capable of bypassing firewalls. As a result, using such a server can help you avoid restrictions and keep your traffic more secure.

NordVPN provides obfuscated servers facilities in several countries that censor the internet. So if you're looking for a VPN to use in a country with heavy internet restrictions, NordVPN is worth considering.
12.

Streaming capabilities – Is NordVPN good for streaming?

Yes, NordVPN is a great option for 4K UHD streaming because it offers high-speed VPN connections and access to popular streaming services. It provides fast and reliable connections to Netflix, Hulu, Disney+, HBO Max, and dozens of other streaming platforms worldwide to enjoy your favorite shows and movies without buffering or interruptions.

Tabular view of streaming services that NordVPN unblocks:
| | | | |
| --- | --- | --- | --- |
| Netflix | Hulu | Disney+ | Amazon Prime Video |
| Apple TV | Youtube TV | BBC iPlayer | Kodi |
| Roku | Sling TV | DAZN | HBO Max |
In addition, it has servers worldwide, so you can always find a server that meets your needs. Whether you're looking for the fastest connection possible or the widest range of available streaming services, Nord is a great option.
13.

Torrenting/P2P – Can you torrent using NordVPN?

One of the most common uses for VPNs is downloading torrents. NordVPN has become increasingly popular among P2P fans as more and more people look for ways to protect their online privacy.

When you download a torrent, your IP address is visible to everyone on the network. This can be a problem if you live in a country with strict internet regulations, as your ISP may be able to see what you're downloading and take action accordingly.

However, if you're using a VPN, your traffic will be encrypted and your ISP won't be able to see what you're doing. This means you can download torrents without worrying about being caught, as long as you have a stable connection or kill switch enabled.

VPNs can also provide anonymity, as they can mask your IP address. However, we do not recommend you use freely available VPNs that do not have the latest encryption and safety protocols. You can use NordVPN without worry, as it will always allow you to download torrents safely from multiple server locations and protect your online privacy.
14.

Simultaneous connections – How many devices can be used with one NordVPN account?

You can use NordVPN on up to six devices simultaneously with one account. This means that you can protect your entire family's devices with one subscription.

If you need to make more than six simultaneous connections, you do not need more NordVPN accounts. Instead, you can set up a VPN router. This will allow you to connect an unlimited number of devices to the VPN and protect your internet activity.
15.

Customer service – How is NordVPN's customer service?

NordVPN offers 24/7 live chat support to help you with any problems. You can also contact them through their ticketing system or email.

NordVPN customer support representatives are friendly and knowledgeable. They're usually able to resolve any issues you may have quickly and efficiently.
16.

Add-ons – What are NordVPN's add-ons?

NordVPN has two premium features that you can enable during your checkout process. They are:
NordPass: Nordpass is a password manager that helps you securely store, organize, and access your passwords from anywhere with two-factor authentication. It costs an additional $2.49 per month, but it is well worth the price for the peace of mind it provides.
NordLocker: Nordlocker is a premium cloud storage service that offers encryption for up to 10 GB of your data. Nordlocker uses 256-bit AES encryption to protect your data. The service also provides two-factor authentication for added security. The service costs an additional $1.49 per month.
17.

Usability – How user-friendly are NordVPN apps?

One of the many great things about Nord is its user interface. The NordVPN app is well-designed and easy to use, with a clean and neatly organized interface. When there are so many features, this can be hard to achieve.

The app is available for all major platforms, and they are all easy to use. One thing that could be improved is the labeling of specialized IP addresses. While few other VPN providers label their IP addresses specialized for gaming, streaming, and torrenting clearly, NordVPN comes short on that.

This can make it challenging to know which server to connect to for specific activities.

Overall, however, NordVPN's user interface is on the better side.
How good are NordVPN's desktop apps?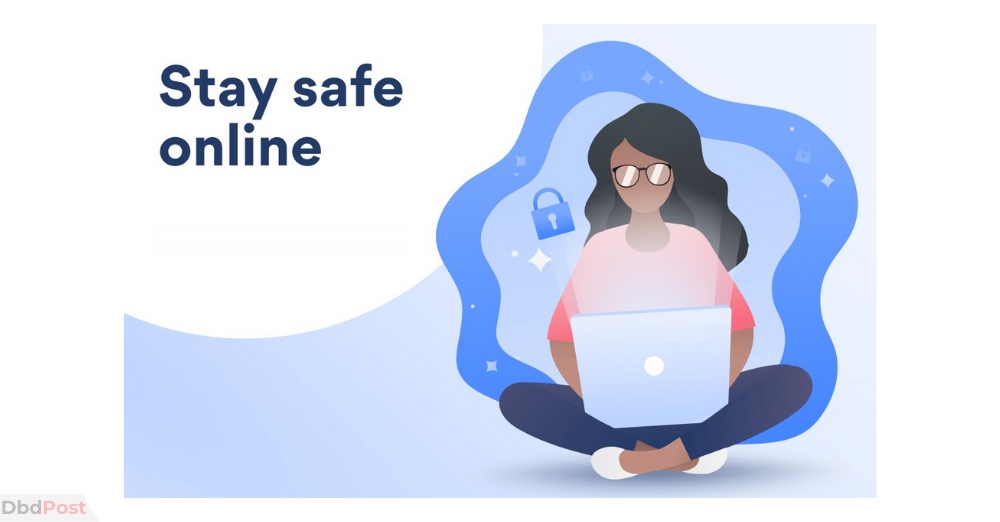 NordVPN's desktop apps are feature-rich and straightforward enough to use with some basic VPN knowledge, making them great for anyone looking for a VPN for Windows or Mac computers.
The apps come with all the mentioned features, and everything looks very neatly organized, along with a world map showing all VPN servers it has to offer.
In addition, the app is regularly updated with the latest features and is available in multiple languages. Overall, NordVPN's desktop apps are great options for anyone looking for a reliable and feature-rich VPN client.
Desktop apps have the best usability out of all versions. However, the Linux version works through the terminal and has nothing on the graphical front whatsoever.
How good are NordVPN's mobile apps?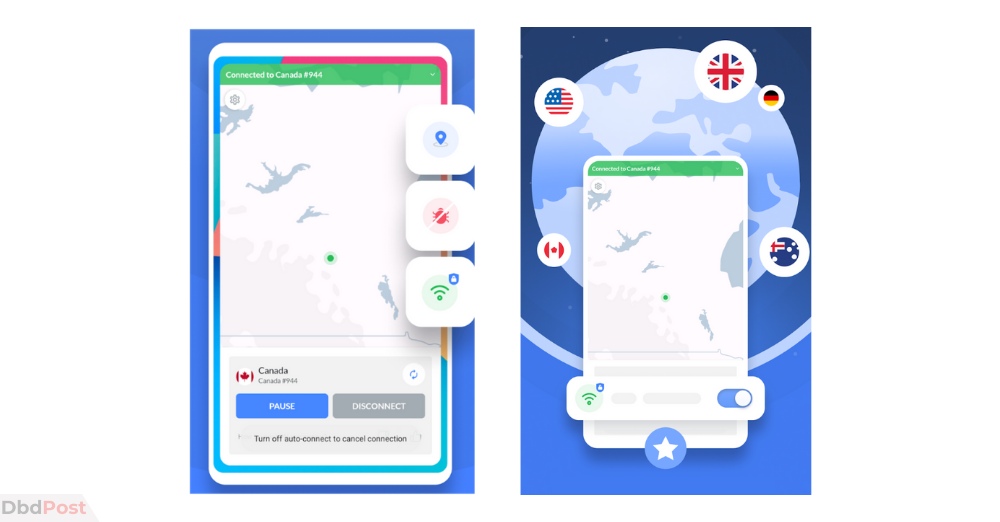 NordVPN's mobile apps are simple, clean, and easy to use, with a user interface that is straightforward & intuitive. The world map showing all servers is a great feature, and the ability to change protocols with just a few clicks is also convenient.
Overall, you will find NordVPN's mobile apps very user-friendly and reliable. The only issue is that the server list may seem overwhelming at first, but once you get used to it, you will have no problems finding the correct server for your needs.
The app is not too bloated, even with additional features like a kill switch, double VPN, and split tunneling. Overall, we highly recommend NordVPN's apps to anyone looking for a great VPN experience on their mobile device.
If you want more control, there are plenty of other options available. A simple "Quick Connect" button will automatically connect you to the best server for your needs. You can also change protocols, which is a great feature to have.
How good are NordVPN's browser extensions?
NordVPN's browser extensions are designed to provide higher security and privacy when browsing the web. The extensions have a settings menu where you can block WebRTC, which can leak your IP address, and CyberSec, which blocks malicious websites and ads.
The extension will automatically connect to the VPN server of your choice, and the Quick Connect feature makes it easy to find the most efficient server. It also has a bypass list for allowing specific sites to bypass the proxy.
Overall, NordVPN's browser extensions are very good at providing a higher level of security and privacy. However, they do have some limitations.
For example, they can't protect you from all tracking or data leakage, and they may somewhat slow down your browsing speed. But if you're looking for a way to improve your security and privacy when browsing the web, NordVPN's browser extensions are worth considering.
NordVPN download
NordVPN can be downloaded on almost all major platforms. To use NordVPN premium on multiple devices, you can simply register on their website, download the VPN apps on your devices and log in with the registered account.
Download the app on Windows PC or Mac OS by following these steps:
Go to the official website of NordVPN (nordvpn.com).
Click "Get NordVPN" on the top right.
Choose a plan.
Enter your email and choose a payment method.
Fill up your details by following the on-screen instructions.
On the 'Download' page, choose your preferred version and click on the link.
The file will start downloading automatically.
Once the download is completed, open the file and follow further instructions to install NordVPN on your PC.
Download NordVPN on mobile devices as follows:
Search for the VPN on the App Store for the iOS app and Google Play for the Android app, depending on your device.
Download and install the app.
Choose the plan and browse the internet safely.
You can install the NordVPN chrome extension by following these steps:
Go to the official Chrome store.
Search for NordVPN.
Click on the app named "NordVPN – VPN Proxy for Privacy & Security".
Click "Add to Chrome".
Click "Add extension" when a pop-up appears and wait for it to download.
You can open and activate the VPN from a puzzle icon on the top right in the Chrome menu bar.
NordVPN alternatives
Although NordVPN is one of the best VPNs on the market, there are some other VPN apps that you can consider.
Surfshark VPN
Surfshark VPN rivals NordVPN in a lot of aspects. It has reliable security, quick internet speed, and cheaper annual and 2-years plans. However, it has a more expensive monthly plan that starts at $12.95 and has a slower speed.
ExpressVPN
ExpressVPN is an excellent alternative if you're looking for fast speed and reliable connections. The service also offers a 30-day money-back guarantee and has an equally wide range of features.
It has the most diverse servers out of any VPN company, but the cost is almost twice that of Nord, starting from $6.67 per month for an annual plan.
CyberGhost VPN
CyberGhost VPN is another good alternative, especially if you're looking for a cheaper option. This VPN service offers a 45-day money-back guarantee and has many features.
The speeds are not as fast as NordVPN, but it's still a decent choice. The price starts at $2.29 per month, far less expensive than Nord.
Is NordVPN right for you?
NordVPN has all the necessary features, one of the best speeds, great add-ons, and active customer support. It is an excellent choice of VPN for all internet users overall.
The only potential drawback is its price, which is a bit higher than some of its competitors. But if you're willing to pay for quality, then NordVPN is worth considering.
Recommended for:
Businesses
Anyone willing to pay more for a high-quality service
People who want extra security features
People who need fast internet speeds
Streamers
Not recommended for:
Users who want a free VPN
People who want a lightweight, primary VPN proxy
How to cancel NordVPN subscription?
If you're not happy with NordVPN, you can always take advantage of their 30-day money-back guarantee.
To cancel your subscription, follow these steps:
Log in to your account on their website.
Click on the "Billing" tab.
Under the Billing tab, click on three vertical buttons and click "Cancel Subscription".
Select a reason for cancellation and click on the "Cancel Subscription" button again.
Your subscription will be canceled, and you will receive a confirmation email.
NordVPN's NordPass password manager for businesses
Introducing NordPass business plan – the password manager for business from NordVPN. Starting at just $3.59 per user, the NordPass password manager for businesses is an affordable and easy-to-use solution for small and big.
With NordPass, you can manage passwords for up to 250 users in the standard plan. If you need a password manager for more than 250 users, you can contact NordVPN for a custom quote. With NordPass, you'll never have to worry about losing or forgetting your passwords again.
These are a few of what you get with NordVPN's NordPass business:
Unlimited password storage: Nord's NordPass has a password manager designed with businesses in mind. It offers unlimited password storage to keep all of your organization's passwords in one secure place.
Import passwords: You can import passwords into your account in an easy way.
Share items securely: It allows you to securely share items with other users within the organization.
Store credit card info and notes: You can also store credit card information and notes in the business plan.
2FA and encrypted sharing: NordPass offers two-factor authentication and encrypted file sharing.
Fill forms: The Nordpass is useful to fill out forms with your personal information.
Create groups and set company-wide settings: The Admin Panel makes it easy to invite and manage users, create groups, and set company-wide settings.
Activity log: The activity log allows you to see an overview of the activities at your company. Admins can see the actions of all users.
24/7 support: NordPass comes with 24/7 customer support.
NordPass also includes various premium security tools, such as tracking the security of all organization's items and setting up multi-factor authentication.
FAQs about NordVPN
Is NordVPN free?
NordVPN is not free. While the service does offer a 30-day free trial, plans start at $3.99 per month after that. Technically, you can use it for under 30 days and then cancel it to get all of your money back.
Is NordVPN safe and good?
Yes, NordVPN is both safe and good. It is a well-known VPN provider, and it has a good reputation for being a reliable and safe VPN service.
In addition to its strong security features, It also has a kill switch and a strict no-logs policy, which means that your online activity is never tracked or monitored, even by accident.
Is NordVPN good for gaming?
Yes, NordVPN is one of the fastest VPNs on the market so it is the best choice for gaming. Furthermore, there are over 5000 NordVPN servers worldwide, more than most VPN service providers. This means that you'll always be able to find a server with low ping no matter where you are in the world.
Nord is available on Playstation, Xbox, and Nintendo Switch too.
It is also great for streaming on Twitch and YouTube, as it has high upload speeds. And if you're worried about security, don't be – NordVPN uses military-grade encryption to keep your IP address hidden from hackers and creeps who lurk on gaming platforms.
How good is NordVPN?
Nord is one of the best VPN services. It offers several features that make it ideal for streaming, gaming, and businesses. It uses the best encryption methods to protect your data and provides DNS protection to keep your online activities private.
In addition, NordVPN has some of the best speeds in the industry, making it an excellent choice for those who need a versatile and reliable VPN connection.
Is NordVPN unlimited?
Yes, NordVPN is unlimited. You can connect to a local VPN server and use as much data as you want without having to worry about any data limits.
Does NordVPN work in China?
NordVPN is one of the few VPN services that work well in China, thanks to its strong encryption, VPN protocol, and extensive network of VPN servers. Its kill switch can be a lifesaver because it will prevent your data from leaking if the connection with the NordVPN server drops.
Is NordVPN expensive?
NordVPN is slightly more expensive than some VPN providers. However, it is still a very affordable option, starting at $3.99 per month for the 1-year plan.
NordVPN offers a great value for your money, especially if you take advantage of its features like double VPN, which encrypts your traffic twice for extra security.
How to use NordVPN?
NordVPN settings are not complicated. After opening your app, simply select a VPN server and click connect. That is all you need to do to keep yourself safe.
If you want to use a specific feature like the double VPN, you can find it in the settings menu. The NordVPN app has a simple interface.
Does NordVPN keep logs?
No, NordVPN does not keeps logs on user data. Your data is safe from being accessed or monitored by NordVPN, making it an ideal choice for those who are concerned about their privacy. It uses third-party auditors to certify its no-log policy.
Does NordVPN slow down the internet?
Yes, somewhat you might experience your internet slowing down using NordVPN or any other VPNs. This is because a VPN service provider directs your internet traffic through various server locations to keep IP addresses hidden. Going through so many VPN servers takes more time than a normal connection.
But NordVPN is one of the fastest VPN providers amongst its competitors. The speed loss is not significant for most users.
Does NordVPN work with Netflix?
Yes, NordVPN works with various streaming services, including Netflix, BBC iPlayer, Hulu, HBO max, Amazon Prime Video, etc. There are over 5000 NordVPN servers worldwide, giving you a wide range of options for connecting to a VPN server in a location where your favorite shows and movies are available to stream.
Is NordVPN the best?
Possibly. There are many great VPNs out there, and NordVPN is one of the leading providers in the market today. Their service is fast & reliable, and their prices are very competitive.
In addition, NordVPN offers a variety of features that make it one of the best we reviewed. It has a strict no-logs policy, unlimited bandwidth, and support for up to six devices. Plus, their security is top-notch, with AES-256-bit encryption and a no-risk money-back guarantee.
If you're looking for a VPN that offers the best bang for your buck, it is definitely worth checking out.
Final thoughts
NordVPN is one of the best and most popular VPNs on the market, and it's easy to see why. NordVPN offers incredibly affordable features at a great price and can be helpful for everyone. The downside is that it doesn't have a free trial, but the money-back guarantee is a great way to try it out with no risk.
NordVPN services will seem impressive to anyone looking for a VPN provider, and we highly recommend it. It is an incredibly powerful tool that can help you protect your online privacy, and we believe that everyone should use a VPN.
We hope you found our NordVPN review helpful and if you did, share the article with your friends. We greatly appreciate your continuous support.