Cybersecurity is a big concern as our daily activities rely on the internet increasingly. So, using VPN is a great way to browse the internet more securely. Proton VPN is one of the most popular options among users.
Proton VPN is one of the leading and most trusted VPN services that lets you access blocked content with excellent security.
In this Proton VPN review, we'll cover everything you need to know about this provider, from its features to its pricing.
ProtonVPN review – Quick summary
| | |
| --- | --- |
| Pricing: | $4.99 and above |
| Number of servers | 1700+ in 60+ countries |
| Simultaneous connections | 10 |
| Platforms | Windows, Linus, macOS, iOS, Android, Chromebook, Android TV |
| Kill switch | Yes |
| Split tunneling | Yes |
| Bandwidth | Unlimited |
| Encryption | AES-256 |
| Server speed | 10 Gbps high-speed servers |
| No-log policy | Yes |
| DNS leak protection | Yes |
| Streaming services | Netflix, Disney+, BBC iPlayer, Amazon Prime Video, DAZN, Hulu, Spotify, etc |
| Money-back guarantee | 30-day money-back guarantee |
| Free VPN trial | Yes, an Unlimited free version is available |
| Based on | Switzerland |
| Customer support | Ticket system and email support |
Pros and cons of Proton VPN
Pros
Independent audit
Unlimited free VPN available
10 Gbps server speed support
Based in Switzerland
Easy interface
Ad-blocker is available
Cons
Above-average starting price compared to most VPNs
No live chat support
Proton VPN Pricing – How much does Proton VPN cost?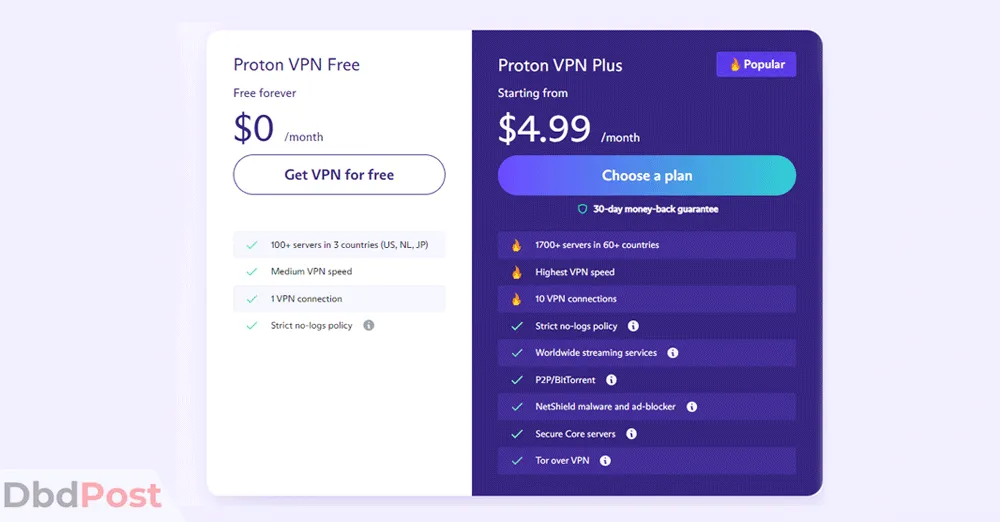 Proton VPN has several pricing options to choose from, depending on your needs from the subscription plan:
The basic plan starts at $4.99 per month for a 2-year program. You will be billed $119.76 in the beginning, and it will renew every year after two years have been completed.
The yearly plan costs $5.99 per month. You will be billed $71.88 once, and it will automatically renew each year.
The monthly plan is available for $9.99.
You will save 40% on the purchase of a one-year plan and 50% on the two-year plan. Whichever option you choose, you're covered by a 30-day money-back guarantee.
Proton VPN full specification
1.

Speed and performance – How fast is Proton VPN?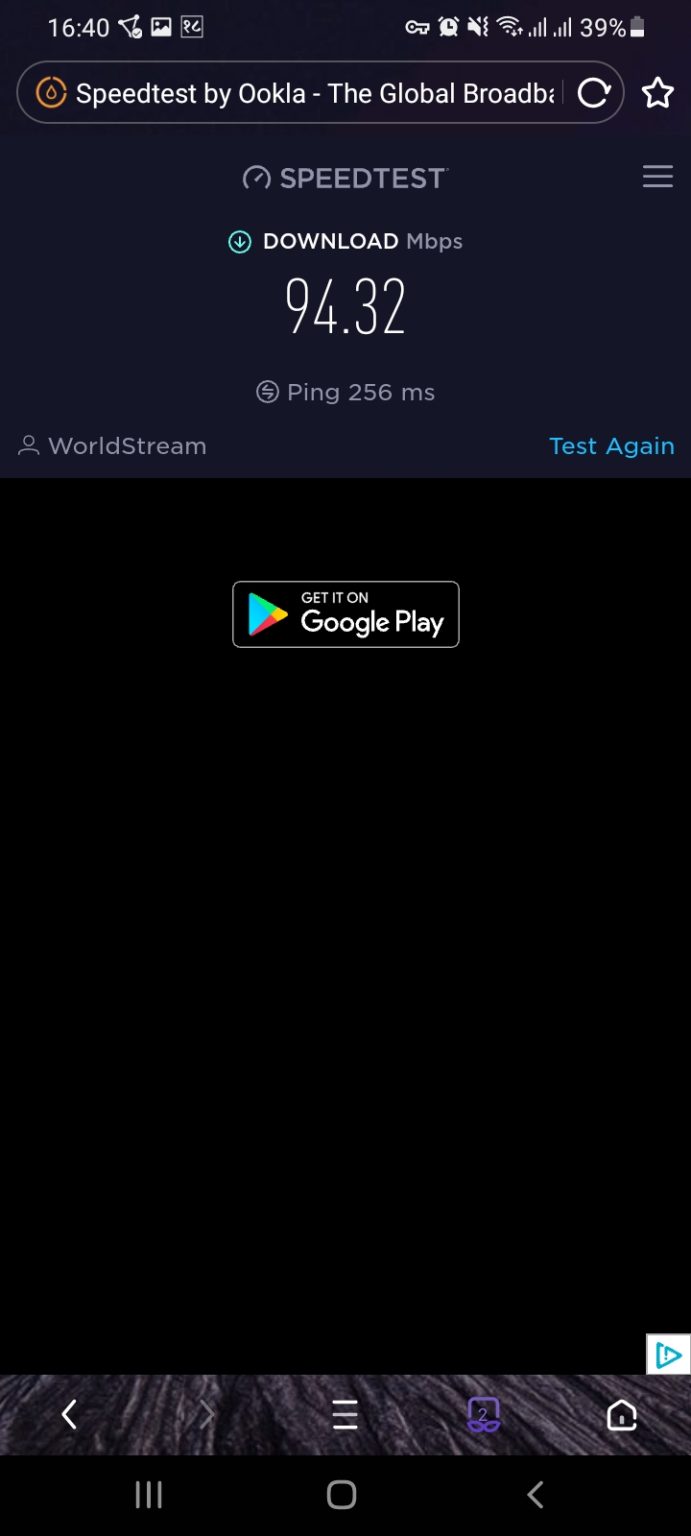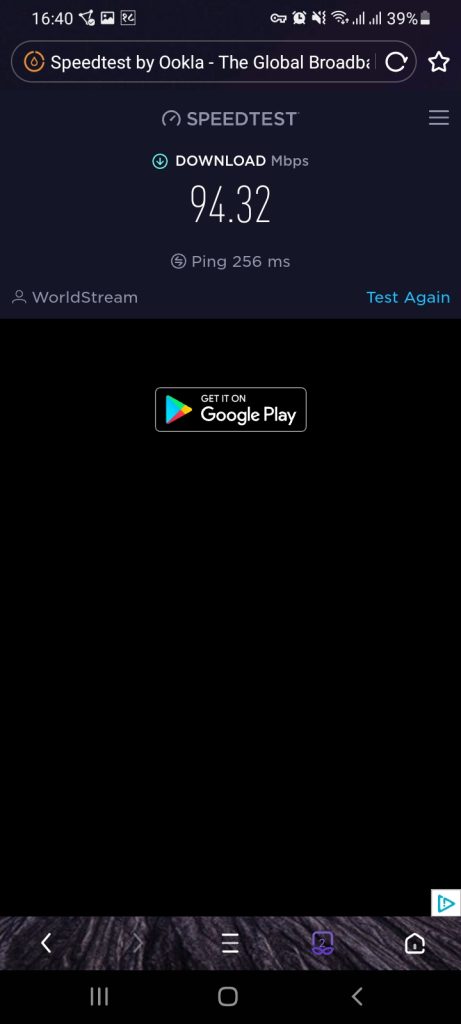 If you're looking for a VPN with high-speed servers, look no further than ProtonVPN. Their servers support 10Gbps speeds, making them some of the fastest on the market.
With our speed testing, we found that their average speeds were around 94 Mbps on our 150 Mbps internet connection. That is a speed loss of just 37%.
The speed is more than enough for even the most demanding users. So if speed is a priority for you, the Proton VPN app, which comes with its VPN accelerator, is worth considering more than other VPNs. [1]Proton VPN, "Proton VPN security features, https://protonvpn.com/secure-vpn/#:~:text=web.%20Learn%20More-,VPN%20Accelerator,-VPN%20Accelerator%20is"
2.

Bandwidth – Does Proton VPN have unlimited bandwidth?

One of the most important factors to consider in a VPN is bandwidth. After all, what good is a VPN if it limits your internet connection?

That's why Proton VPN offers unlimited bandwidth on all of its plans. Proton VPN will keep your connection fast and responsive, whether streaming HD video or downloading large files.

Proton VPN doesn't throttle your speeds or impose data limits. Therefore, you can use as much bandwidth as you want, whenever you want.
3.

Servers and locations – How many servers does Proton VPN have?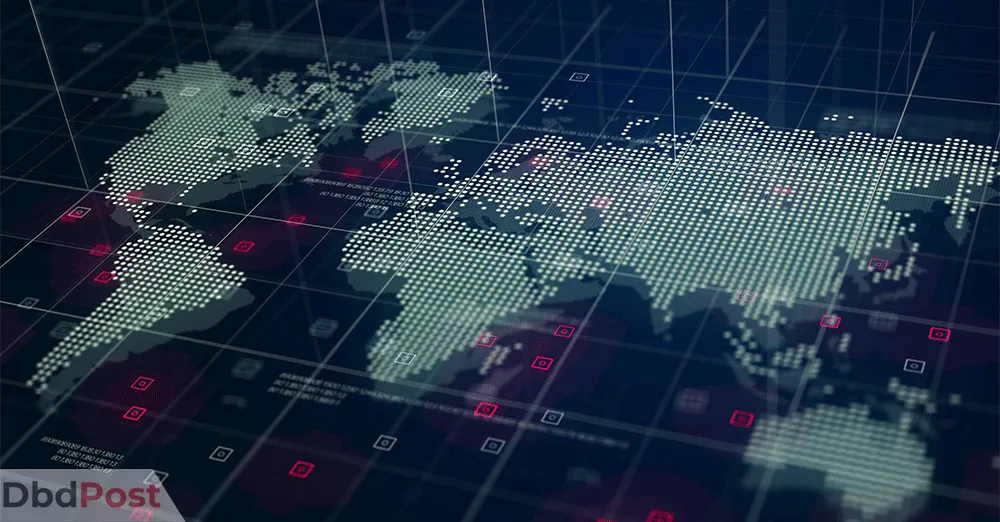 This VPN service has servers in over 1700 locations. ProtonVPN servers are spread across more than 60 countries.
ProtonVPN can offer you a fast and reliable VPN connection everywhere, thanks to the diverse VPN server locations. Moreover, the VPN servers are constantly monitored and updated, so you can be sure that your privacy is always protected.
The company has secure core servers that ensure your VPN connection is always protected. [2]ProtonVPN, "ProtonVPN security features, https://protonvpn.com/secure-vpn/#:~:text=money%2Dback%20guarantee-,Secure%20Core,-Proton%20VPN%27%27s" Whether you're at home or on the go, ProtonVPN can find you the fastest server to hide your true IP address.
4.

Logging – Does Proton VPN keeps logs?

It's no secret that many free VPNs don't live up to the hype. They often sell users' data, log IP addresses, and give a slow, unreliable connection. ProtonVPN is different.

They don't keep any logs of user activity, so your identity and movements are confidential. They also offer a free plan which doesn't track you like other free VPNs. [3]Proton VPN, "Does Proton VPN keep logs?, https://protonvpn.com/support/no-logs-vpn/"

Plus, Proton's VPN apps passed our DNS leak test. You can browse with confidence, knowing that your traffic is being taken through an encrypted VPN tunnel at all times.
5.

Encryption – What encryption does Proton VPN use?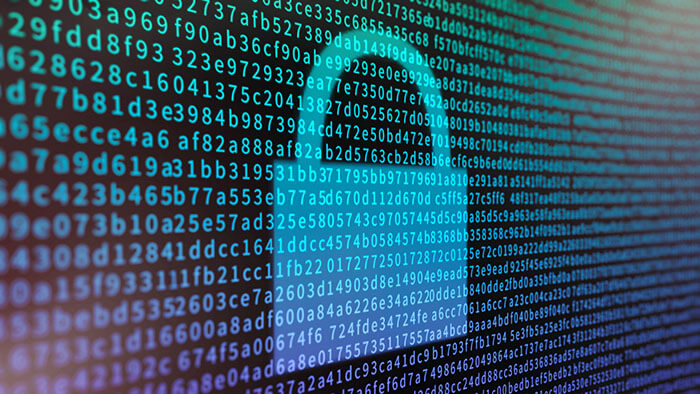 Proton VPN is a service that offers security features unmatched by most competitors. This VPN company is serious about user privacy.
Its security is achieved through an AES-256 bit military-grade encryption. Proton VPN features a 4096-bit RSA VPN protocol for key exchange and HMAC with SHA384 for authenticating messages. [4]Proton VPN, "VPN Security Features, https://protonvpn.com/secure-vpn/#:~:text=performance.%20Learn%20More-,Strong%20Encryption,-We%20use%20only"
These security features make it one of the best VPN companies available. ProtonVPN offers the same VPN protocols for free servers in Proton free VPN too.
6.

Torrenting – Is Proton VPN good for torrenting?

Using a VPN for torrenting is very common. But those connections are based on peer-to-peer protocols, and your online privacy can be compromised.

ProtonVPN has servers specialized in P2P sharing. You can find such a server easily since it is labeled. [5]Proton VPN, "Trusted and easy-to-use VPN app for Android, https://protonvpn.com/download-android#:~:text=Use%20the%20following,to%20Tor%20network"

Using a Proton VPN app, you can connect to a particular server on your desktop or mobile devices. Then, you can download torrents with an extra layer of security on all your traffic.

Even the basic plan can secure your web traffic and hide the actual IP address. The download speed was fast in our speed tests, with little speed lost.
7.

Streaming – How good is Proton VPN for streaming?

ProtonVPN is a great option for streaming. It can access streaming sites like Netflix, Disney+, BBC iPlayer, Amazon Prime Video, DAZN, Hulu, Spotify, and more. [6]Proton VPN, "Streaming guide for new Proton VPN users, https://protonvpn.com/support/streaming-guide/#:~:text=How%20to%20access%20streaming%20platforms"

Additionally, its diverse servers allow you to bypass regional blocking for content from any country. Plus, its fast servers won't decrease your streaming speed too much.
8.

Gaming – How good is Proton VPN for gaming?

Online gaming has become increasingly popular in recent years. However, it comes with challenges, such as protecting your identity and personal information.

The best way to hide your online presence is to use ProtonVPN. It encrypts your traffic and routes it through a server in another location, making it much more difficult for anyone to track your activities.

ProtonVPN is an excellent option for gaming, as it offers a Windows PC app, which most gamers use. Its servers support high speeds and have low ping times.

Low ping, also called latency, is essential for gaming as it eliminates lags that make multiplayer gaming difficult. In addition, ProtonVPN's speeds are high enough for downloading and playing games online.
Proton VPN download
Proton VPN is available for download on multiple platforms. It is quite easy to download and use the apps. Follow the steps below to download the app on windows, android, and iOS platforms.
Method 1. Windows app
Step 1: To download the windows application, follow these steps:
Step 2: Go to the Proton VPN's Windows download page.
Step 3: Click "Download Proton VPN" and save it to a folder of your choice.
Step 4: Once downloaded, open the file and follow the installation instructions.
Step 5: When installed, open the app.
Step 6: Create an account or sign in.
Step 7: Once signed in, use the quick connect button to connect to a server.
You can purchase a premium plan from the application to access additional servers.
Method 2. Android app
Follow these steps to download the ProtonVPN Android app:
Step 1: Go to the Google Play Store.
Step 2: Search Proton VPN on the search box.
Step 3: Tap on ProtonVPN's android app that comes in the search results.
Step 4: Tap "Install."
Step 5: Wait for it to install, then open the app.
Step 6: Sign up using your email.
Step 7: When the signup process is complete, you will see the home page. Tap on the right triangular icon to connect to a free basic server.
To connect to a specific server, tap on one of the countries available and tap on a server of your choice.
Method 3. iOS app
Follow these steps to download the ProtonVPN app for iOS devices:
Step 1: Open the App Store.
Step 2: Search Proton VPN.
Step 3: Tap on "Proton VPN: Fast & Secure."
Step 4: Tap on "Get." If it asks to verify the download, input the passcode or fingerprint.
Step 5: When it is downloaded, open the app.
Step 6: Create an account with an email or sign in.
Step 7: Once you have signed up or signed in, tap the quick connect button.
You can also connect to the secure core servers for better protection, which requires a premium account. You can upgrade to premium versions from the app itself.
The user interface is relatively easy whether you use its iOS or Android version. You can figure out the advanced options in your settings easily.
More Related Stories
---
Proton VPN alternatives
There are other VPN services available as mobile apps and desktop apps, that you can use. Some great VPN alternatives with unlimited data and high VPN speeds are:
Surfshark is a popular VPN with 3,200 servers in 65 countries. It allows unlimited VPN connections using the same account, so it does not matter the number of devices you have.
You can also create a free seven-day account on its Apple, Mac, or Android app. When you compare median speeds, it comes out as one of the fastest VPNs, with an average speed of 324 Mbps. Its starting price is $2.49 per month.
NordVPN is a big name in the VPN industry, with over 5500 servers and six simultaneous connections. It offers tons of features with prices starting from just $3.99 per month.
Nord VPN works flawlessly but only has a paid version. Regardless, its high speed of 356 Mbps, DNS request protection, excellent server list, and no logs policy make it worth the price.
With over 8000 servers in 91 countries, CyberGhost offers the biggest server network of all premium VPN providers. It also has dedicated servers for ultra HD streaming, gaming, and torrenting.
Its average speed of 548 Mbps makes Ultra HD streaming possible from everywhere. Cyberghost is the right VPN for you if you need a cheap VPN, with prices starting at only $2.29.
Is Proton VPN right for you?
ProtonVPN features and security protocols are excellent, but does it fit all your needs? The answer may sometimes be no. Let's see who we recommend this to.
Recommended for
Streaming
Gaming
Torrenting and P2P file sharing
Free plan users
Not recommended for
People in China
Those who want more than 2000 servers
How to cancel Proton VPN subscription?
To cancel your Proton VPN subscription, you must go to the contact support page and request a downgrade to the free version. Here is how you can do that:
Log in to your account from their website.
Go to the support-form page on their official site.
Fill in the details. These include your operating system & version, Proton VPN version, username, and email address.
On the "Subject" field, simply type "Cancel subscription." Type "Request refund" if you are within the money-back guarantee period.
In the "What happened?" section, explain why you want to cancel your subscription.
Click the "Send Support Request" button.
You will receive a Proton email soon, and you will be able to get a refund if possible. If a refund isn't possible, your account will stop renewing after your subscription period ends.
FAQs
Is Proton VPN safe?
Yes, Proton VPN is safe and has a built-in kill switch, wireguard protocol, and IKEV2 IPsec protocol. You can download apps from Apple App Store, Google Play, Mac App Store, etc., without hesitating.
Is Proton VPN legit?
Yes, Proton VPN is legit. Thanks to Proton VPN's secure core servers, kill switch, and IKEv2 IPsec protocol, all IP addresses you use will remain hidden and safe.
Is Proton VPN free?
Yes, Proton VPN is one of the best free VPNs. You can download it and hit the quick connect button to connect to a random server. Your internet traffic will be safe even without being one of its paid users.
Does Proton VPN work with Netflix?
Yes, Proton VPN works with Netflix. Proton VPN's servers are fast and diverse, so you can use ProtonVPN's apps to connect to an individual server and access Netflix without bandwidth limits.
Does Proton VPN work in China?
No, Proton VPN doesn't work in China. You should download other VPNs for restricted countries if you want to access a banned website or unblock Netflix on Windows, Mac, iOS, or Android devices.
Final thoughts
Proton VPN is one of the leading VPN providers with secure core and specialized servers spread across 60 countries. ProtonVPN works flawlessly to tackle the growing online threats during downloading, streaming, web browsing, etc.
With ProtonVPN kill switch and split tunneling, you can hide your real IP address even when the connection drops.
Proton VPN app has plans starting at just $4.99 per month. So choose one of the ProtonVPN basic plans and secure your browsing history on several devices with the same account.
If you found this Proton VPN review helpful, help us share the word with your friends. We greatly appreciate your support.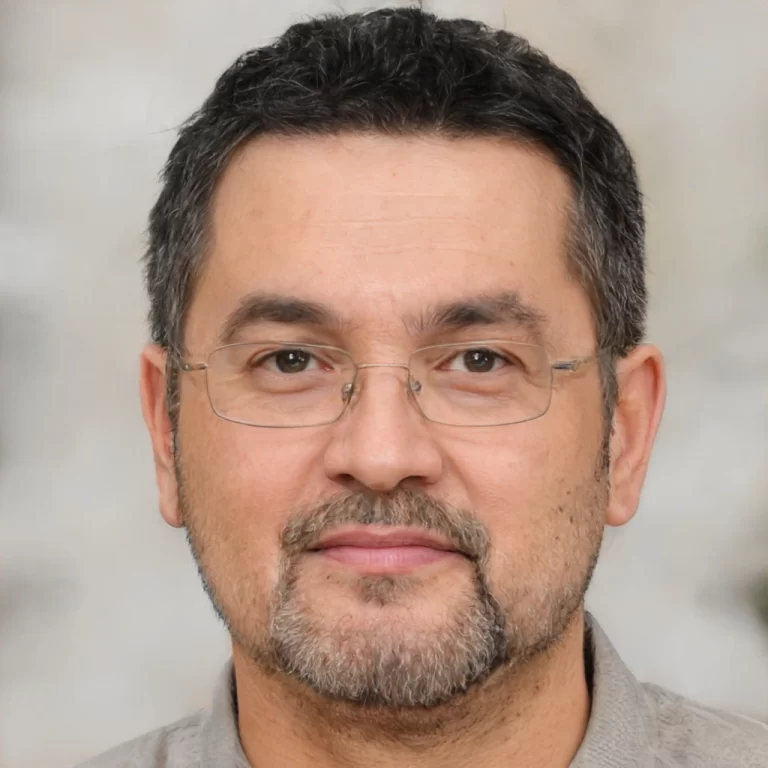 Christopher Brooks is a computer and information researcher with a passion for advancing digital technologies. He holds a Master's Degree in Computer Science from MIT and has been applying his knowledge to further the fields of cyber security, consumer electronics, artificial intelligence, data science, and more. In his free time, Christopher enjoys biking and hiking.