Hotspot Shield is a popular VPN service with over 650 million users worldwide. It offers a limited ad-supported free service and unlimited premium plans, loaded with great features and fast internet speed.
With access to servers in over 70 countries and military-grade encryption, it is a favorite among millions. Maybe it will be your favorite after reading this Hotspot Shield VPN review.
Let's go through a quick overview.
Hotspot Shield VPN Review – Quick Summary
| | |
| --- | --- |
| Price | Free limited VPN, $7.99 and up |
| Servers | 3200 + |
| Number of devices | 5 to 25 (premium) |
| Bandwidth | Limited (free), Unlimited (premium) |
| Encryption | 256-bit AES |
| Server speed | Up to 1Gbps |
| Platforms | Windows, Linux, macOS, iOS, Android, Chrome, Smart TVs, Router |
| Kill switch | Yes |
| Split tunneling | Yes (SmartVPN), only on Windows PC and Android |
| No-log policy | Yes |
| DNS leak protection | Yes |
| Torrenting | Yes |
| Streaming services | Netflix, YouTube, Disney+ & more |
| Money-back guarantee | 45 days |
| Free VPN trial | Limited free VPN |
| Based on | United States |
| Customer Support | 24/7 Customer Support |
Hotspot Shield pros and cons
Pros
Limited free version available
Simple interface
Great gaming capabilities
Works in restricted countries
Long money-back guarantee
Cons
High starting price
No add-ons
Crypto payment unavailable
Limited bandwidth, throttling, and ads in the free version
Hotspot Shield pricing – How much does Hotspot Shield VPN cost?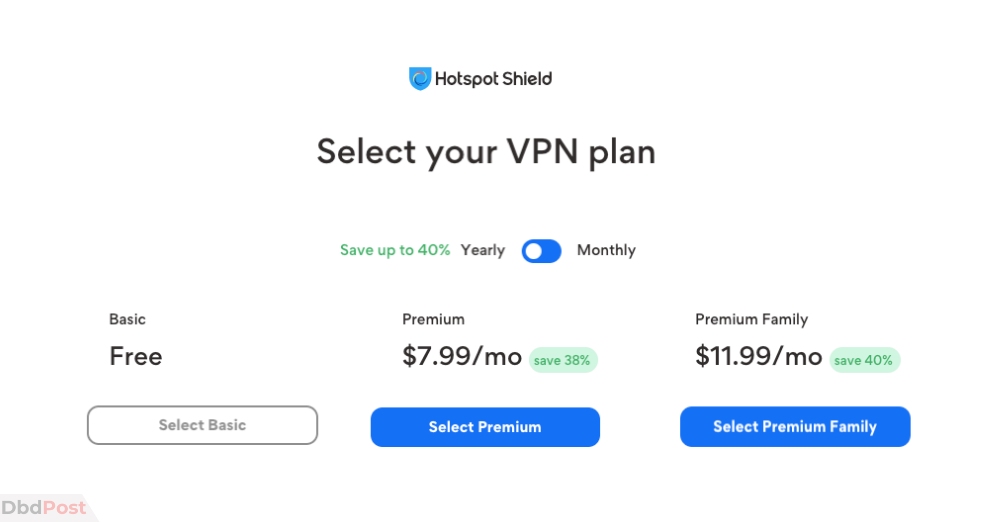 HotSpot Shield is a free VPN that offers benefits for both personal and professional use. However, the free version has limitations, including a limit of 500MB of data usage per day and reduced speeds of up to 2Mbps only.
If you want access to more advanced features and higher speeds, then you will need to sign up for one of these premium plans:
Annual plans:
$7.99 per month for an individual plan with up to 5 device connections
$11.99 per month for a family plan with 5 accounts and 25 device connections (5 devices per account)
Monthly plans:
$12.99 per month for an individual monthly plan
$19.99 per month for a monthly family plan
So no matter what your needs are, HotSpot Shield has something to offer that can help make your online experience faster and more secure.
Related: Best VPN Service of 2023
Hotspot Shield VPN full specification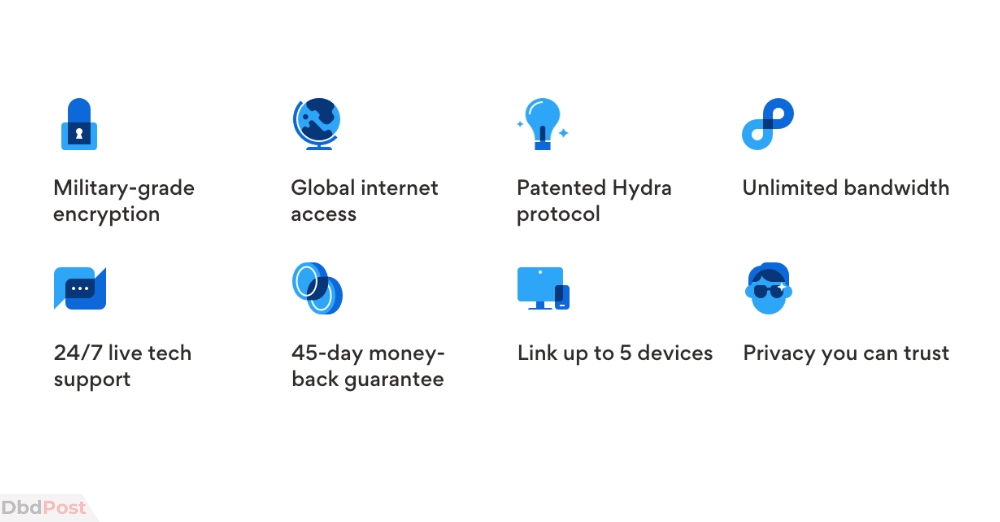 There are many things Hotspot Shield has to offer, and here we go through some of the most important:
1.

Speed and performance – How fast is Hotspot Shield VPN?

In our testing, we have recorded the average maximum speed of Hotspot Shield as 48 Mbps from the US region.
But it offers speeds of up to 1 Gbps, which is above average for the industry. Hotspot Shield is a good choice for 4k UHD streaming and online gaming.
The internet speed doesn't reduce by more than 50% if you choose the correct server. So the average speed depends on your own ISP's speed.
Additionally, its speeds are not very inconsistent, so you won't have to worry about your connection slowing down at peak times. It is also a good choice if you're looking to torrent, as its speeds are fast enough to handle large files.
Overall, Hotspot Shield is great if you're looking for a VPN with fast speeds and consistent performance. There are faster alternatives, but what it offers is enough for most individuals.
2.

Bandwidth – Does Hotspot Shield have unlimited bandwidth?

The free version of Hotspot Shield offers basic protection from internet threats. Still, it has some limitations, including a limited bandwidth allowance of just 500 MB per day and a relatively slow speed of 2 Mbps.

By contrast, the premium plan offers unlimited bandwidth and speed up to 1 Gbps, making it ideal for heavy users or those who need high-performance connectivity for their personal and business activities.

So if you're looking for superior security and high-speed access to the internet, then go with a premium plan from Hotspot Shield.
3.

Servers and locations – How many servers does Hotspot Shield VPN have?

Hotspot Shield has over 3200 servers in 80 countries around the world. It provides a wide range of options for users looking for the right server for their needs.

Hotspot Shield is one of the most popular VPN providers globally, and its servers are a major reason for this. Hotspot Shield's servers are diverse, with a range of security features and capabilities. It means that users can find the right server for their specific needs and requirements.

With many servers, Hotspot Shield can provide users with the reliability and flexibility they need to stay safe and secure online.
4.

Supported platforms – Which platforms does Hotspot Shield support?

You can download and install the Hotspot Shield app on various platforms. You can use Hotspot Shield's mobile apps on your smartphone or desktop apps on your personal computer.

Additionally, Hotspot Shield VPN Chrome extension and Firefox extension are also available. You can even utilize its virtual locations on your SmartTV.

You can secure your internet connection using its desktop and mobile apps with a single subscription. You can choose from thousands of server locations and hide your actual IP address even from your internet service provider on any device you own.
5.

Logging – Does Hotspot Shield keep logs?

Hotspot Shield doesn't keep any logs. They claim that they don't track or keep any logs of user activity. It means that your identity and online activities are safe with them.

Additionally, their privacy policy states that they don't share any personally identifiable information with third parties. So you can be sure that your data is safe with Hotspot Shield. [1]Hotspot Shield, "Hotspot Shield Privacy Policy, https://www.aura.com/legal/privacy-policy"
6.

Encryption – What encryption does Hotspot Shield use?

AES 256-bit is the encryption standard used by Hotspot Shield. It is the same level of encryption used by corporations and the military and is considered unreachable.
7.

Kill switch – Does Hotspot Shield have a kill switch?

Hotspot Shield has a kill switch. It is an important feature for VPN users, as it prevents your data from leaking if the VPN connection drops.

You can access blocked websites from restricted places without the hackers or government going through your browsing history. If your secure connection drops, your device will not use the internet anymore, and your IP address will not be visible to anyone.
8.

Split tunneling – Does Hotspot Shield support split tunneling?

They use a feature called SmartVPN, which allows you to choose which apps use the VPN and which don't. It is a great feature for those who want to torrent or stream content anonymously while allowing some apps to use your real location.
9.

Simultaneous connections – How many devices can use the same account?

Hotspot Shield premium allows up to 25 devices to connect to its VPN servers at once. There are also cheaper Hotspot Shield subscription options that allow connections to up to five devices. Hotspot Shield's free service only allows one device per account.

Getting its premium subscription will allow you to use the Android app, Windows app, iOS app, etc., with a virtual location. It means that multiple Hotspot Shield users in a large family can use a Smart VPN with the fastest connection speeds for maximum security.
10.

Torrenting – Is Hotspot Shield good for torrenting?

Hotspot Shield is a great VPN for torrenting. It allows anonymous torrenting and uses military-grade encryption to protect your internet traffic. However, be careful if you are downloading copyrighted content, as this is still illegal.
11.

Streaming – How good is Hotspot Shield for streaming?

Whether you are looking to stream your favorite shows from Netflix, Hulu, Amazon Prime, or YouTube, Hotspot Shield is an excellent tool for staying connected. With its many servers worldwide, you can easily hop between different regions and access content that may not normally be available in your own country.

Whether you are tuning in for the latest news or catching up on your favorite TV show and sports, the Hotspot Shield makes it easy to keep up with what's going on both at home and abroad. So if you want to stream like a pro, be sure to give Hotspot Shield a try. [2]Hotspot Shield, "Unblock streaming, watch the content you love with Hotspot Shield VPN, https://www.hotspotshield.com/streaming/"
Hotspot Shield VPN download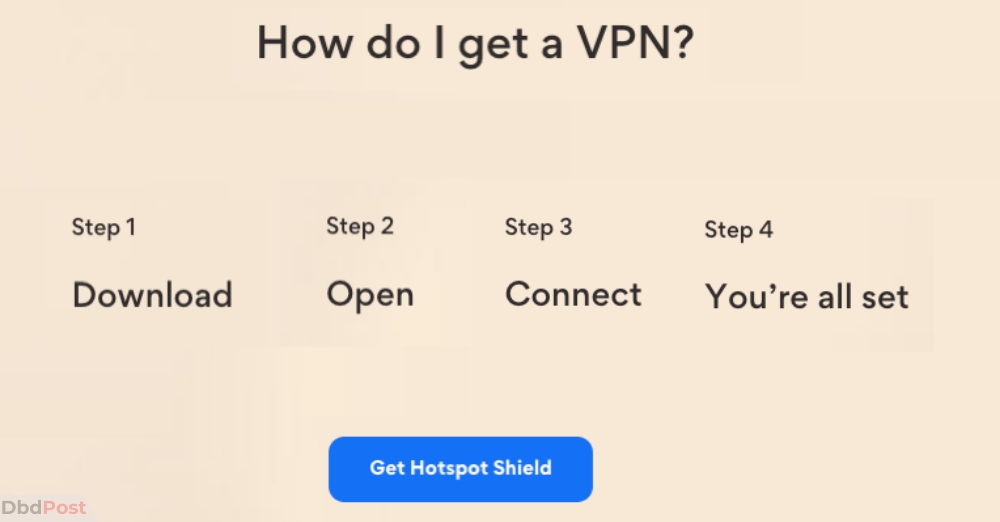 Hotspot Shield is very easy to download to any of your devices. Just follow these simple steps:
Step 1: Go to their official website (hotspotsheild.com).
Step 2: Click 'Get Hotspot Shield'.
Step 2: Choose where to save your file (it may be saved to default automatically).
Step 4: Locate the downloaded file and open it.
Step 5: Click Yes if a pop-up appears asking if you want this application to make changes to your computer.
Step 6: Agree to the terms and conditions and let it install.
After installation is complete, open the app and start using the free version or sign up for a premium account on their website. To create a HotSpot Shield premium account, follow these steps:
Step 1: Go to their official website (hotspotsheild.com).
Step 2: Click 'Pricing' on the navigation bar.
Step 3: Choose a plan and the yearly or monthly option.
Step 4: Enter your email address and choose a payment option.
Step 5: Fill in your payment details accurately and click 'Continue.' If you choose the PayPal option, click on the 'Paypal' button.
Step 6: Confirm payment.
After your payment is confirmed, open the application you installed and log in using the same credentials you used to get the premium plan.
You can simply download the VPN apps from the app store and create an account from within the Android or iOS app itself on mobile phones.
Related info: Check out this Dbd post for the best Android VPNs, where we have listed expert-tested best VPN providers for Android devices.
Hotspot Shield alternatives
Hotspot Shield offers great value for money, and it is certainly not a bad VPN. But there are some alternative services that you may want to consider for different features:
Anyone who knows about VPNs has heard of this one. Surfshark is the choice of tens of millions because it offers fast, reliable, and secure VPN connections, just like Hotspot Shield.
You may want to choose this instead because of its unlimited device connection capability. There is no limit to how many of your gadgets may be linked to the same account. Its prices start from just $2.49.
2) NordVPN
Nord is another big name in the VPN industry due to its incredible security and add-on features. You can choose Nord over Hotspot Shield if you want added features like encrypted cloud storage and password manager.
NordVPN prices start from $3.99 per month in a 2-year plan.
CyberGhost is known for having one of the most diverse VPN server networks spread across 91 countries. It gives you a highly effective region-unblocking ability. It is also the cheapest alternative, starting from just $2.29 per month.
Related info: Check out this Dbd post for best iPhone VPNs, where we have listed expert-tested best VPN providers for iOS devices.
Is Hotspot Shield right for you?
You can trust Hotspot Shield for its reliable, fast, and secure protocols. But whether it is right for you depends on your specific needs.
Do you need to have multiple connections at the same time? Or do you use streaming services more than anything else? See if it meets your demands:
Recommended for:
Large families
P2P sharing
Streaming
Not recommended for:
Those who need an ad-blocker
Free unlimited VPN users
How to cancel a Hotspot Shield VPN subscription?
You can cancel your subscription by following these steps:
Step 1: Open your Hotspot Shield app
Step 2: Log in to your Hotspot Shield Premium account
Step 3: Click "Account info" on the menu on left
Step 4: On the Membership section of the "Account info" page, select "Cancel Plan"
Step 5: Choose a reason for your cancellation or write your unique reason by selecting the "Other" option.
Step 6: Click "Submit".
If you need to know more about billing processes, you can contact one of the Customer service representatives using the live chat option on the Hotspot Shield website.
FAQs about Hotspot Shield VPN
Is Hotspot Shield VPN safe and good?
Yes, Hotspot Shield VPN is safe and good to use.
The premium has never leaked any information, making it a safe and extremely reliable service. It is also one of the fastest VPNs in the industry, with thousands of servers across several continents. DNS leaks and IP leaks have been detected only in Hotspot Shield's free version.
Is Hotspot Shield VPN legit?
Yes, VPN services like Hotspot Shield are legit and very useful virtual private networks to maintain privacy, security, and anonymity.
Hotspot Shield logs no user data, and real IP addresses are practically invisible. It has been used by millions of people worldwide for several years to bypass censorship and geo-restrictions.
Is Hotspot Shield VPN free?
Hotspot Shield has free and premium versions. The free version has a 500MB daily data limit which resets every 24 hours. The premium version doesn't have any data limits and starts from $7.99 per month. It also comes with a 45-day money-back guarantee.
How to use Hotspot Shield VPN?
Simply download and install the app from your favorite app store to use it. Once installed, open it and log in using your login credentials. You can then choose a server location you want to connect to. That is all you need to do to hide your IP address.
Does Hotspot Shield VPN work with Netflix?
Yes, Hotspot Shield claims to work with Netflix, which it did during our testing as well. The server connections are fast and diverse enough to stream HD quality videos from every Netflix library.
Does Hotspot Shield VPN work with Hulu?
Yes, it can unblock Hulu. In our tests, we could access the platform without any issues. In addition, it also works with Amazon rime, YouTube, Twitch, BBC iPlayer, etc.
Does Hotspot Shield VPN slow down the internet?
Yes, the download and upload speeds will be affected when using Hotspot VPN, just like other VPNs. However, we did not get slow connection speeds in all our speed tests. The internet speeds were still fast enough to download files, stream, or play games.
Many servers are available, so there isn't too much server load that may throttle your speed. If you have a good connection, you will experience lightning-fast speeds. It is not the fastest VPN we tested, but it is faster than most.
Does Hotspot Shield VPN work in China?
Yes, Hotspot Shield works in China. The service has strong encryption and security protocols that allow users to bypass the Great Firewall.
Hotspot Shield features an automatic kill switch that will instantly disconnect you from the internet. It prevents the government from identifying the IP addresses of Hotspot Shield users.
It can also access streaming services, websites, and banned social media in UAE, Russia, China, Turkey, Iran, etc. Hotspot Shield's kill switch will protect user data from leaking to third parties, including your ISP and the government.
Final thoughts
Overall, Hotspot Shield is a great VPN. It offers fast speed, strong security, and effective privacy protection. You can easily find the right VPN server from its extensive network for bypassing censorship and geo-restrictions.
DNS leak protection, automatic kill switch, and additional security features will keep your data safe from surveillance. It is a great VPN company with premium service and apps available on all major platforms. It has no bandwidth limits unless you are using a free subscription.
The only downside is that the free version has a data limit. The premium version starts from $7.99 per month, which isn't the cheapest VPN, but it is worth the price. Plus, it comes with a 45-day money-back guarantee.
So if you're looking for a reliable VPN service, Hotspot Shield VPN should be on your radar.
We hope you found this Hotspot Shield VPN review helpful. If so, do not forget to share it with your friends and families.