If you want to learn how to buy cryptocurrency in UAE, this beginner's guide is for you. Cryptocurrency is becoming widespread worldwide, and the United Arab Emirates is no exception.
Cryptocurrencies are digital assets that have many potentials. They offer many opportunities for investors who want to capitalize on the crypto trend. If you're based in the UAE and interested in buying cryptocurrency, this Dbd guide will help you how to do it.
The best cryptocurrency exchange in UAE provides an easy way of trading crypto. You can find information about these exchanges, like commissions and supported platforms. Also, this guide lets you learn where and how to buy bitcoin in UAE.
So, stick to the guide and read through the end to know everything about crypto trading in the UAE.
How to buy cryptocurrency in UAE?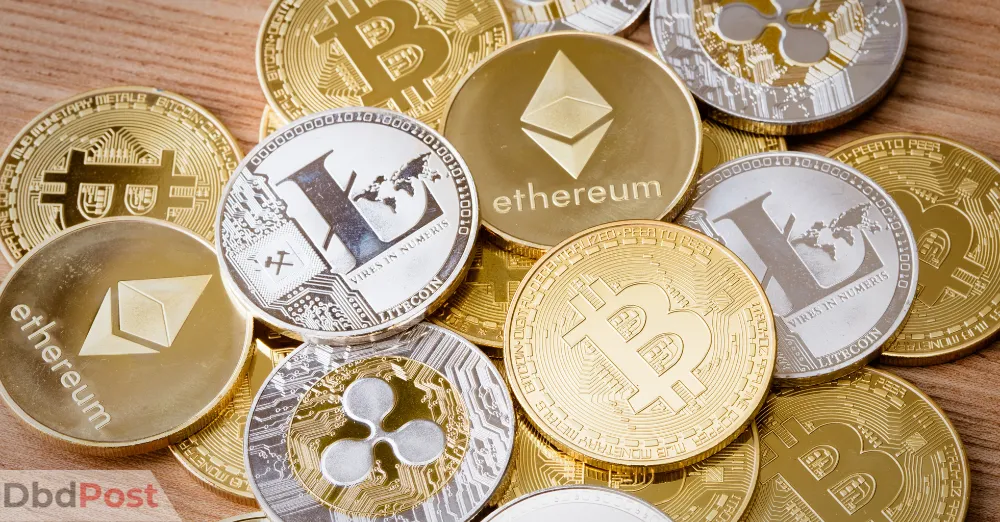 Cryptocurrencies are digital or virtual tokens that use cryptography to secure their transactions and control the creation of new units.
Similarly, cryptocurrencies are often bought and sold on decentralized exchanges and can be used to purchase goods and services. In the United Arab Emirates, there are a few different ways to buy cryptocurrency.
Step1: Choose a crypto exchange
To buy and sell cryptocurrency in the UAE, you will need to find a reputable exchange that supports investors in the country. A cryptocurrency exchange is a marketplace where buyers and sellers can trade cryptocurrencies.
There are many different types of exchanges, so you must compare the features and fees before choosing one. Some of UAE's most popular crypto exchanges include Coinbase, eToro, and Kraken. When selecting an exchange, consider your preferences to find the best fit for you.
Step 2: Create an account with the exchange
The next step is creating an account on the exchange of your choice. Many platforms require users to verify their identity to meet standards or regulations set by the region they are operating.
Sometimes, you must confirm your identity by giving a copy of your passport or ID. After finishing the registration process, you can log in to your account. You can deposit funds into your account and start trading cryptocurrencies.
Some exchanges also offer wallets, which can be used to store your coins. However, storing your coins in a personal wallet is generally recommended for security purposes.
Step 3: Make a deposit
After setting up your account, you must deposit to buy cryptocurrency. The minimum amount varies depending on the exchange platform you use. Some only permit bank transfers, while others allow credit or debit cards.
In general, starting with a small amount of money is advisable to get a feel for how the system works before investing a more significant sum. Once you deposit, you can trade cryptocurrency on the exchange.
Step 4: Make your purchase
Once you have money deposited in your account, you can start placing orders. There are hundreds of cryptocurrencies to choose from, so take your time picking the one that's right for you.
When deciding which cryptocurrency to buy, specify how many coins you'd like to buy. Remember that most exchanges and brokers let you buy fractional cryptocurrency shares.
Step 5: Store your cryptocurrency
Cryptocurrency exchanges are not backed by a central authority. Once you've bought cryptocurrency, it's important to store it in a secure crypto wallet.
The reason behind this extra step is that exchanges are vulnerable to hacks and theft. If you store crypto on an exchange, it is risky to lose it all if the exchange is hacked.
Where to buy cryptocurrency in UAE?
1. eToro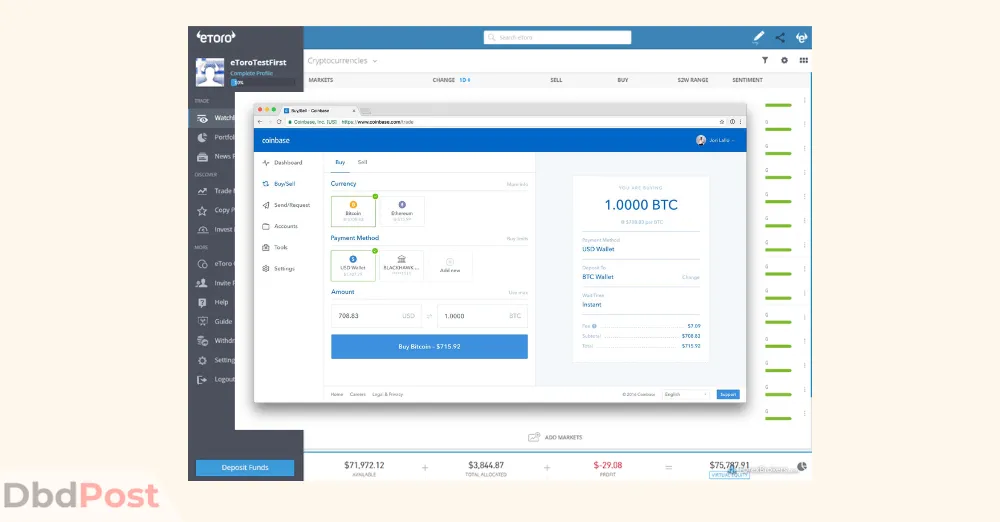 | | |
| --- | --- |
| Website | eToro |
| App | iOS and Android. |
| Cryptocurrencies | Bitcoin, Ethereum, Binance Coin, Cardano |
| Commission | 1% |
eToro is the perfect platform for crypto trading, whether you're a beginner or an expert. With eToro, you'll have everything you need to get started and trade successfully.
With this platform, you can create your portfolio with various cryptocurrencies. Also, you can invest in leading digital currencies. Furthermore, you can check the trends of each crypto via advanced charts and analysis tools. [1]eToro, "Crypto, https://www.etoro.com/crypto/#:~:text=eToro%20provides%20investors,While%20You%20HODL"
2. Coinbase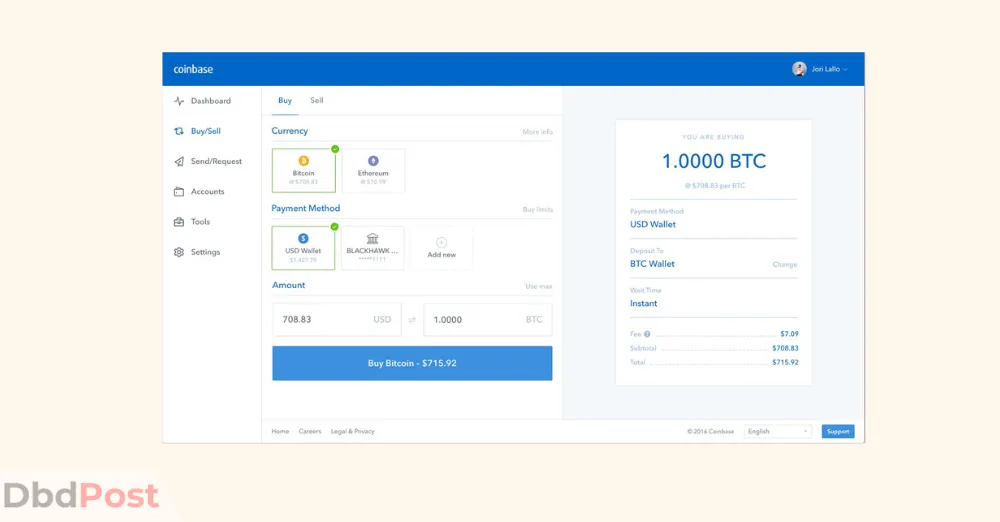 | | |
| --- | --- |
| Website | Coinbase |
| App | iOS and Android. |
| Cryptocurrencies | Bitcoin, Ethereum, Ethereum 2, Binance Coin, USD Coin |
| Commission | 1% |
Coinbase is an online platform that allows you to buy and sell cryptocurrencies. The sign-up process is simple, and you can get started within minutes.
Coinbase offers a variety of features that make it the best place to trade. For example, you can invest at your own pace by scheduling regular investments.
Additionally, the vault protection features offer extra security by storing your funds in a secure offline location. Overall, Coinbase is the best place to start trading for many reasons. [2]Coinbase, "Features, https://www.coinbase.com/#:~:text=Recurring%20buys,time%20delayed%20withdrawals."
3. Crypto.com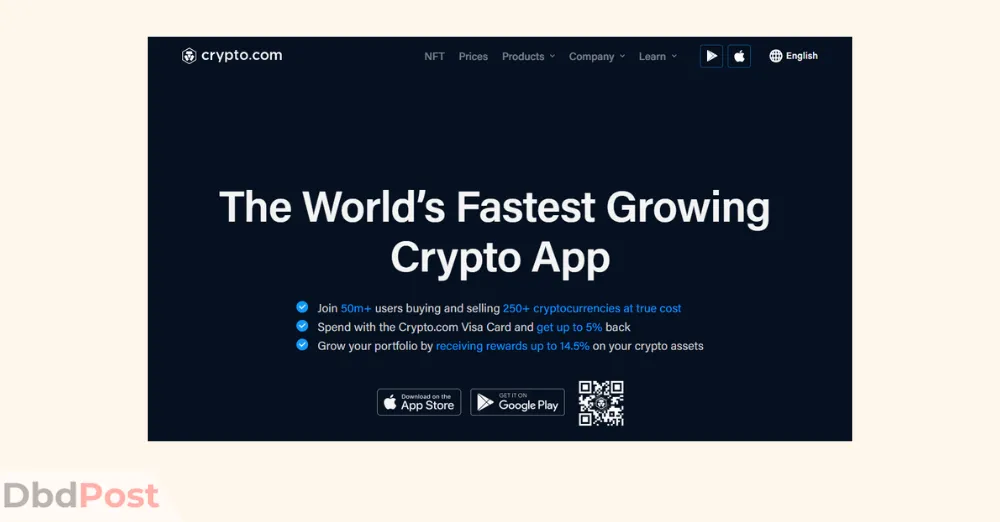 | | |
| --- | --- |
| Website | Crypto.com |
| App | iOS and Android. |
| Cryptocurrencies | Bitcoin, Ethereum, Cardano, Dogecoin, Polkadot |
| Commission | 0.075% on transactions below the value of 917,500 AED |
Crypto.com is an all-in-one cryptocurrency trading platform that allows you to trade digital assets anywhere that accepts Visa. You can use their prepaid card to spend your cryptocurrency. The Crypto.com app will update your trading fees every hour based on how much trading you do, how active you are as a maker, and how much CRO you have staked.
The more CRO you stake, the more benefits you could be eligible for, like discounted fees and 0% maker fees. So whether you're a seasoned trader or just getting started in the world of cryptocurrency, Crypto.com is the platform for you. [3] Crypto, "Fees and limits, https://crypto.com/exchange/document/fees-limits#:~:text=Other%20Considerations,time%20to%20time."
4. xtb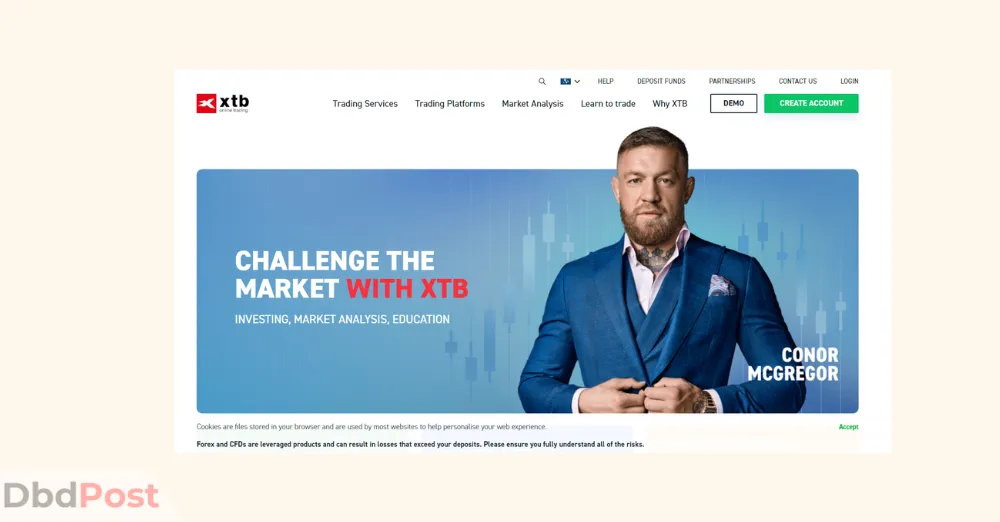 | | |
| --- | --- |
| Website | xtb |
| App | iOS and Android. |
| Cryptocurrencies | Bitcoin, Ethereum, Ripple, Dogecoin, Filecoin |
| Commission | No commission on the Standard account |
xtb allows you to trade on a world-class, easy-to-use, and fully customizable platform. With this platform, you'll experience lightning-fast performance speeds. You'll also have access to a trader's calculator, performance statistics, sentiment charts, trading order depth, and more.
In addition, you can trade 10+ Crypto CFDs, including Bitcoin, Ethereum, Stellar, Dogecoin, and more. Also, it provides low trading costs with spreads starting from 0.22%. [4]xtb, "Cryptocurrencies, https://www.xtb.com/int/cryptocurrencies#:~:text=10%2B%20Crypto%20CFDs,starting%20from%200.22%25″
5. Binance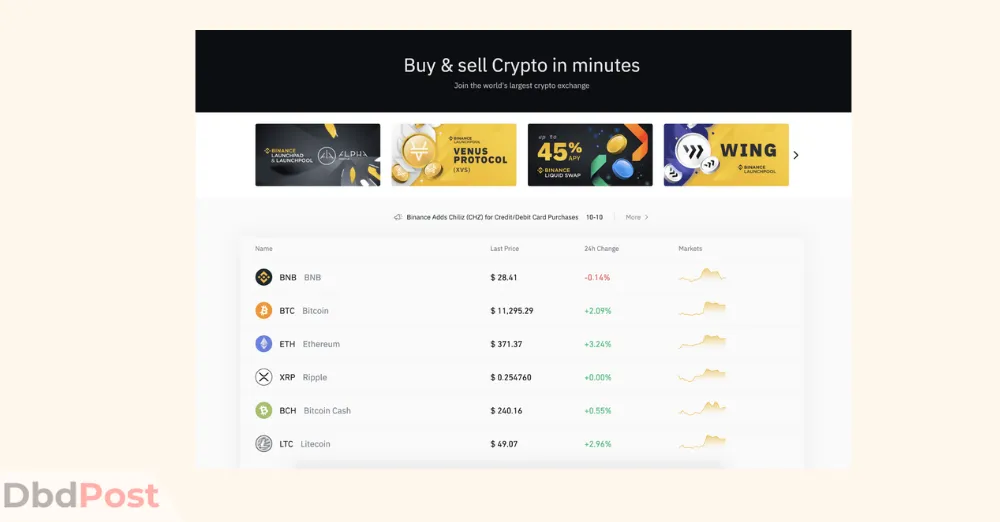 | | |
| --- | --- |
| Website | Binance |
| App | iOS and Android. |
| Cryptocurrencies | Bitcoin, Ethereum, TetherUS, Dogecoin, Ripple |
| Commission | No deposit fees |
Binance is one of the most popular cryptocurrency exchanges, offering many features and benefits. One of the most significant advantages is that it offers 0% trading fees on Bitcoin (BTC), making it an affordable option for investors.
Additionally, the transaction fees are some of the lowest around, often less than 0.10%. Plus, Binance makes it easy to get started in the cryptocurrency world. Verify your identity and set up an account to start trading. [5]Binance, "Trade Bitcoin, https://www.binance.com/en#:~:text=0%20trading%20fee,transactions%20fees%20%3C%200.10%25″
Whether you want to buy or sell crypto, invest for the future or take advantage of all that Binance offers, this platform is a great option.
6. Swissquote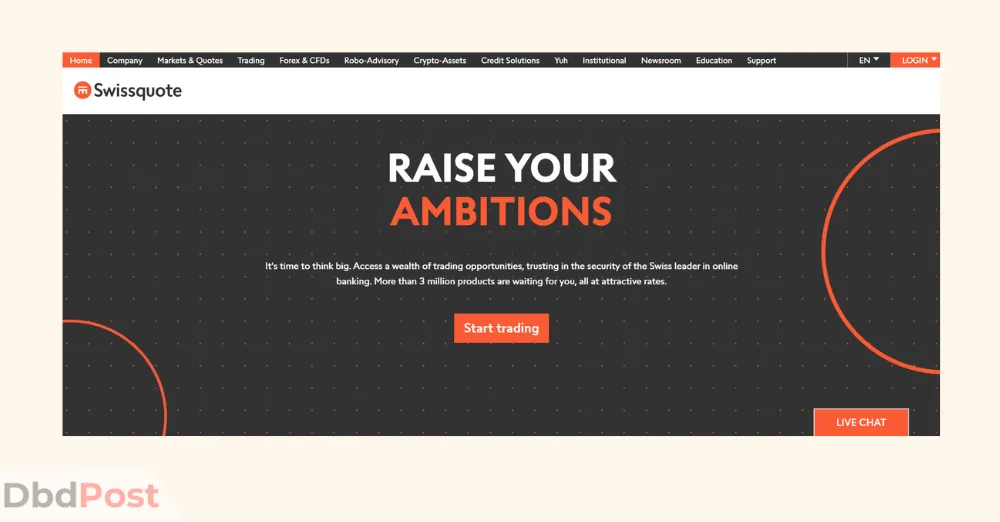 | | |
| --- | --- |
| Website | Swissquote |
| App | iOS and Android. |
| Cryptocurrencies | Bitcoin, Ethereum, Litecoin, Tezos, Ripple |
| Commission | No deposit fees, 37 AED fee on withdrawal |
Swissquote is one of the best cryptocurrency exchanges in the UAE for trading. With Swiss banking access, you'll get world-class security for your crypto investments. Plus, take advantage of even more competitive prices when you swap cryptocurrency within this platform.
Besides, Swissquote offers 35 cryptocurrencies, which you can take advantage of. Furthermore, you can ensure the safety of investment from Swiss banking securities. [6]Swissquote, "Cryptocurrencies, … Continue reading
7. FOREX.com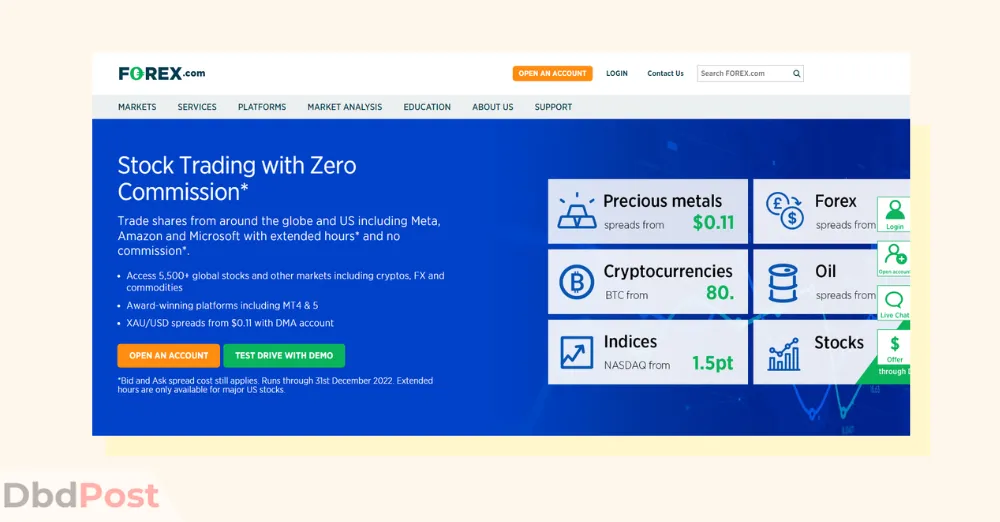 | | |
| --- | --- |
| Website | FOREX.com |
| App | iOS and Android. |
| Cryptocurrencies | Bitcoin, Ethereum, Litecoin, Ripple |
| Commission | No commission on the Standard account |
FOREX.com makes cryptocurrency CFD trading easy by allowing you to trade without having to set up a complicated wallet or exchange. With just an internet connection, you can speculate on Bitcoin, Ethereum, Litecoin, and Ripple prices.
You can use leverage to your advantage when trading, which means you only have to put up a fraction of the total price.
However, keep in mind that leveraging can also increase your losses as well as profits. FOREX.com is a convenient way to trade cryptocurrencies without delay or complication.
8. StromGain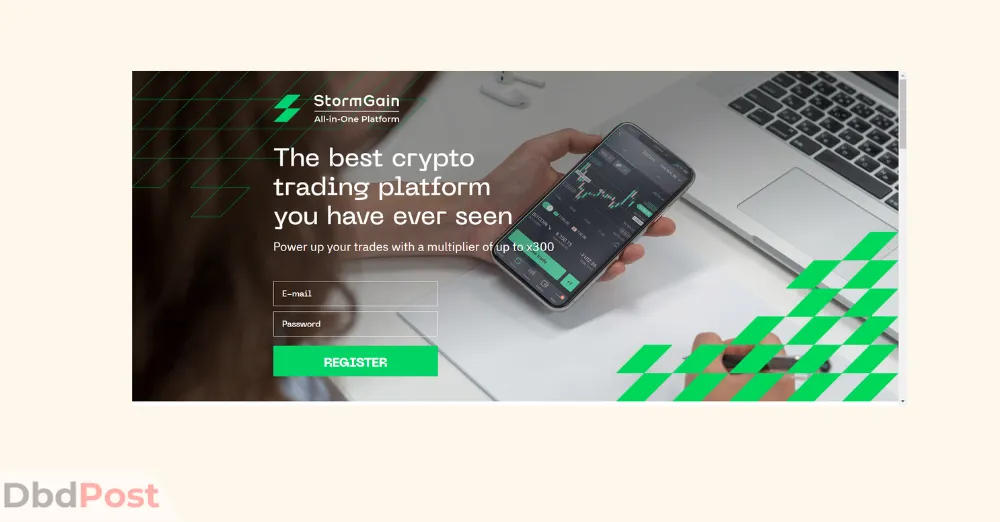 | | |
| --- | --- |
| Website | StormGain |
| App | iOS and Android. |
| Cryptocurrencies | Bitcoin, Litecoin, Ethereum, Ripple, Dogecoin |
| Commission | 0% commissions on crypto |
StormGain is a crypto trading platform that offers a variety of features to its users. In addition to being able to buy, store, trade, and exchange cryptocurrencies, StormGain also provides live cryptocurrency prices and charts.
This is a valuable resource for users who want to stay up-to-date on the latest developments in the crypto world. In addition, StormGain offers a 0% commission on all trades, making it an attractive option for those looking to save money on fees. [7]StormGain, "Home, https://stormgain.com/#:~:text=All%2Din%2Done,a%20single%20tap."
Plus, the platform also rewards users who use the app. Overall, StormGain is a complete crypto trading platform with something to offer everyone.
9. Kraken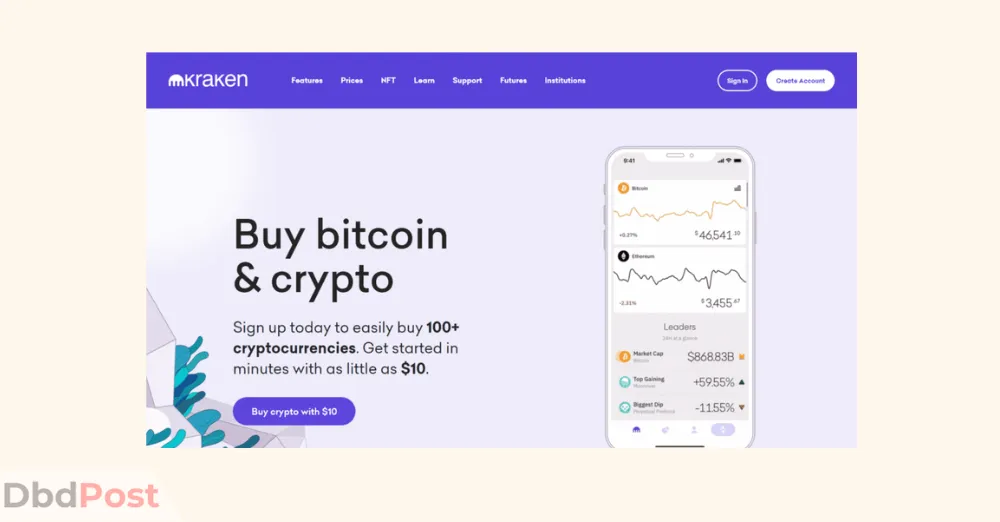 | | |
| --- | --- |
| Website | Kraken |
| App | iOS and Android. |
| Cryptocurrencies | Bitcoin, Ethereum, Tether, Binance Coin, Cardano |
| Commission | 0.5% for Stablecoins and 1.5% on any other crypto |
Kraken is a popular UAE crypto exchange and is a popular choice to trade digital currency. They have excellent customer service, low fees, various funding options, and high-security standards.
Kraken is the perfect platform for anyone looking to start cryptocurrency trading. They offer a wide range of currency pairs and all the tools and features you need to grow your portfolio. [8]Kraken, "What We Do, https://www.kraken.com/why-kraken#:~:text=Empowering%20investors,Supporting%20institutions"
Things to consider while buying cryptocurrency in UAE
Market research
When investing in cryptocurrency, it is essential to do your research. With hundreds of options on the market, it would be a mistake only to focus on the big names. Instead, take the time to observe how the cryptocurrency tokens you are considering for investment use blockchain technology.
This will help you to make more informed investment decisions. In addition, it is also essential to understand cryptocurrencies and blockchain technology. By doing so, you will be better equipped to navigate the volatile world of cryptocurrency investing.
Join community
Cryptocurrency is a rapidly evolving landscape, and it can be tough to keep up with all the changes. Fortunately, there are plenty of online communities where people can discuss the latest news and developments. Reddit has become a popular destination for people interested in digital currency, and many other online activity groups exist.
By joining one of these communities, you can stay up-to-date with the latest news and get valuable insights from other experienced investors. With the cryptocurrency landscape changing all the time, it's crucial to have a reliable source of information.
Buy and sell at the correct time
When it comes to investing in cryptocurrency, timing is everything. Cryptocurrencies are famous for their volatility, so it's essential to consider when to buy in. One way to do this is by monitoring price patterns.
Bitcoin frequently follows specific price patterns, and other cryptocurrencies follow suit because it's the largest and most well-known digital currency. Therefore, by paying attention to the trajectory of Bitcoin, you can get a good sense of where the market is headed.
Stay away from scams
There are thousands of cryptocurrencies out there. It can be tough to determine which ones are legitimate, like bitcoin. Unfortunately, some cryptocurrency creators engage in something called a rug pull.
Therefore, when looking to invest in cryptocurrencies, it is important to do your research beforehand. Always consult with a professional to get expert advice before investing.
Secure your wallet
When it comes to cryptocurrencies, one of the most important things you need to do is find a safe place to store your coins. Various options are available, but the two main types of wallets are light and heavy. Light wallets are perfect for small amounts of currency, as they can be stored directly on your phone.
Similarly, heavy wallets are ideal for more significant amounts of currency, as they offer more security features. However, they can be more challenging to set up and use. When choosing a heavy wallet, consider your needs in terms of speed and ease of use.
Related Info
---
FAQs
Where to buy cryptocurrency in UAE?
There are many cryptocurrency exchanges in UAE. These exchanges allow you to buy different types of crypto. The most popular exchanges in UAE are eToro, Coinbase, Crypto.com, and more.
Is Bitcoin legal in UAE?
Yes, it is legal to buy Bitcoin in the UAE. UAE is a crypto-friendly country that is adapting this technology at a rapid pace.
Which crypto exchange is best in UAE?
There is no definite answer to this question. The UAE crypto exchange you choose should meet your requirements. Some people might prefer traders with low commissions.
Which bank in UAE allows cryptocurrency?
Although, there are no banks that allow a direct exchange of cryptocurrency with AED. However, there have been agreements for the direct exchange of cryptos with UAE banks.
How to open a Bitcoin account in UAE?
You first must create a crypto wallet via an app or desktop software to store Bitcoins. This is where you will store after you buy Bitcoin in Dubai from crypto exchanges.
Final thoughts
Although there are many advantages to buy crypto in UAE, it is essential to be aware of risks. Before you put your money into cryptocurrency, learn about the blockchain and cryptos. Doing this research will make you more likely to avoid potential risks and losses.
We hope to have answered all your queries on how to buy cryptocurrency in UAE market through this Dbd guide. If you have questions or comments, please leave them in the comment section below.
If you found this blog helpful, please share it with others to help educate them as well. Also, if you want more content like this in the future, follow our blog to get all the new posts.