If you are looking for the best Forex brokers in UAE, then you are in the right place. Trying to pick the best Forex platform for you can be confusing with all of the options available on the internet. When choosing a platform, you must evaluate them based on your needs.
Forex exchanges in UAE have specific criteria, such as the minimum deposit you must make before trading, fees, and commission. Also, we have compiled a list of popular Forex exchanges along with currency pairs, what we like about the platform, and the pros and cons.
In this Dbd guide, we'll save you the trouble and review the best Forex trading platform in UAE. Without further ado, let's get started.
Compare the best Forex brokers in UAE
11 best forex brokers in UAE
1.

eToro – Best Forex brokers in UAE with large userbase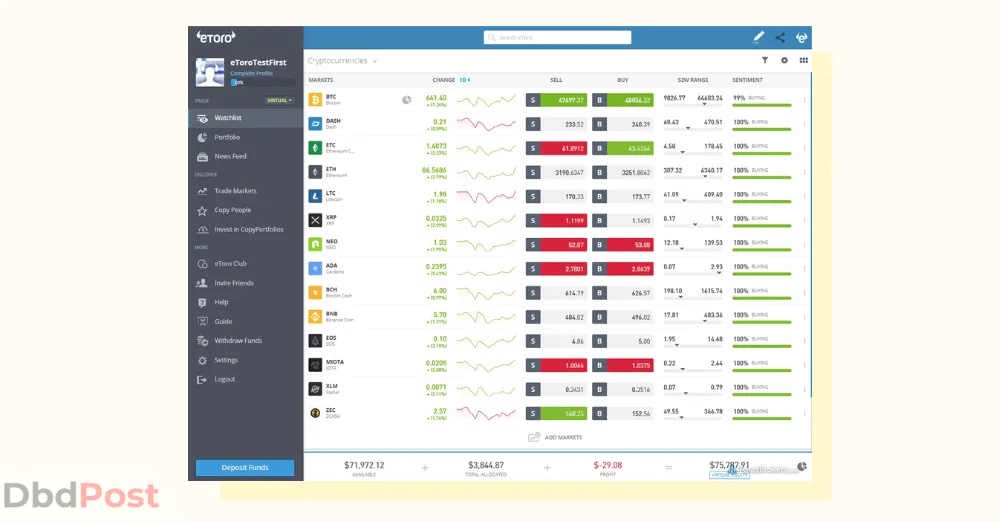 eToro is one of the world's leading social investment networks and allows users to connect, share, and learn from each other. The company offers various graphical representations of financial instruments to make online trading more accessible to a broader range of people.
eToro also has an investor education platform that helps users connect and learn from each other. This makes it easier for users to invest without needing multiple platforms.
Ultimately, the company aims to revolutionize how people invest and offer financial education opportunities. Consequently, eToro is an innovative and convenient option for investing online.
Currencies they trade in
EUR/USD
USD/JPY
GBP/USD
AUD/JPY
USD/CAD
NZD/JPY, etc.
What we like about eToro
eToro Copy Trader allows you to mirror the successful trading patterns of top traders.
25 million plus users worldwide.
An online academy that can help you learn how to trade.
2.

HYCM – Experienced Forex broker in UAE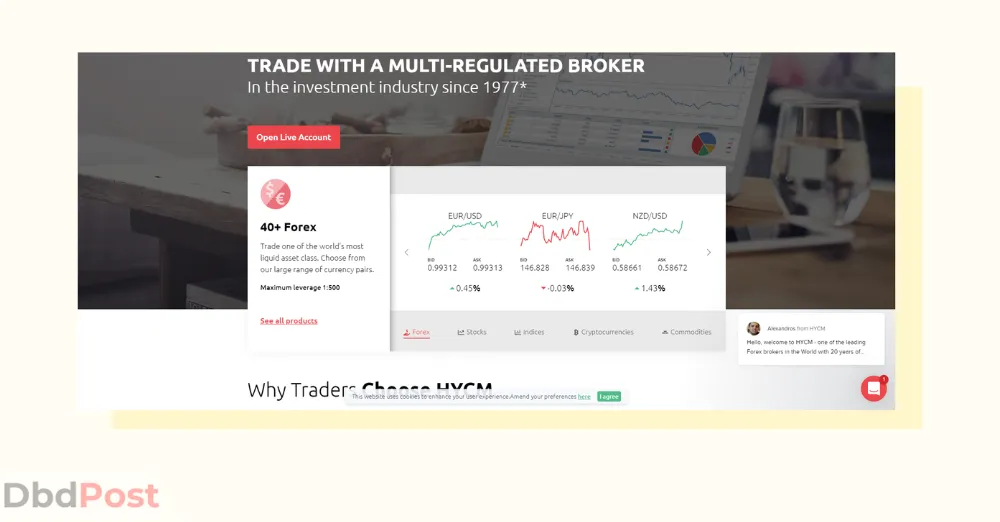 HYCM has over four decades of experience in the Forex market and is committed to providing all of its clients with an excellent trading experience.
The Financial Conduct Authority regulates HYCM in the United Kingdom, the Cyprus Securities and Exchange Commission, the Dubai Financial Services Authority, and the Cayman Islands Monetary Authority.
Moreover, HYCM has five offices in some of the world's leading financial centers, providing services to over 140 countries. To date, HYCM has won 15 global awards for excellence. [1]HYCM, "About us, https://www.hycm.com/en/about#:~:text=Offices%20in%20the,awards%20of%20excellence"
Currencies they trade in
EUR/USD
EUR/JPY
NZD/USD
USD/JPY
AUD/USD
GBP/USD, etc.
What we like about HYCM
More than 40 Forex currency pairs.
0% commission on Fixed and Variable accounts.
Over 40 years of experience.
3.

Pepperstone – Forex trading platform in UAE with rewards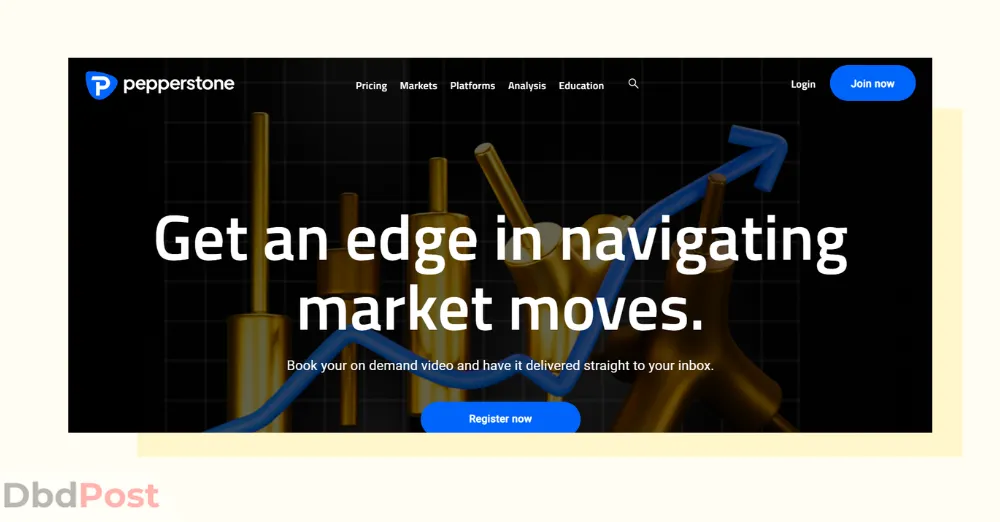 Pepperstone is one of the world's largest Forex brokers, handling an average of US$12.55bn in daily trades. They were founded in 2010 by a team of experienced traders who saw room for improvement in online trading. [2]Pepperstone, "About Pepperstone, … Continue reading
Today, they are trusted by over 300,000 traders in countries all around the world. In addition to being regulated by ASIC, SCB, CMA, CySEC, FCA, BaFin, and DFSA, Pepperstone segregates its clients' funds with tier 1 banks and offers many fee-free funding methods.[3]Pepperstone, "About Pepperstone, … Continue reading
Their commitment to excellence has earned them multiple prestigious awards from Investment Trends, Deloitte, and Compare Forex Brokers.
Currencies they trade in
AUD/USD
EUR/USD
USD/CAD
USD/JPY
USD/CHF
What we like about Pepperstone
If your friend opens a trading account and meets the deposit and trade requirements, you can earn up to 3670 AED in cash.
On a regular basis, Pepperstone processes US$12.55bn of trades every day.
If you convince a friend to open and fund a trading account, you both get 20 free trades.
4.

xtb – Best Forex brokers in UAE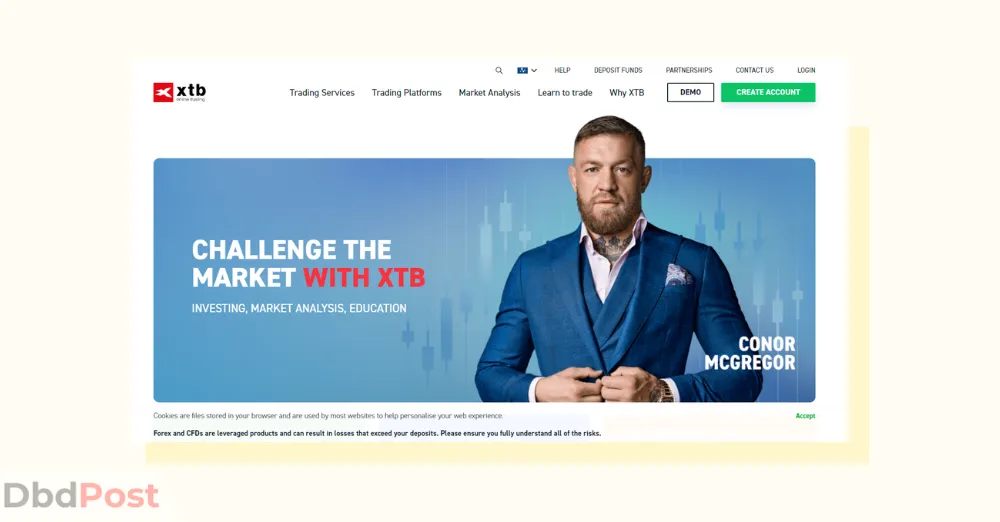 xtb is a leading global FX & CFD broker with over 20 years of experience. They offer clients a wide range of products and services in more than 13 countries. [4]xtb, "Our Company, … Continue reading
Similarly, the platform complies with the rules of major regulatory organizations, such as the FCA, KNF, CySEC, and FSC. xtb's xStation 5 is an easy-to-use platform that has won numerous awards. The speed is incredible, and it can also be used on smartphones. [5]xtb, "Trust, … Continue reading
Furthermore, in almost two decades of activity in the financial markets, they have earned the trust of over 495,000 customers worldwide. Their commitment to customer satisfaction and security is evident in their compliance with the highest industry standards.
Currencies they trade in
EUR/AUD
EUR/CAD
EUR/CHF
USD/JPY
USD/CHF, etc.
What we like about xtb
Best Forex Award for Beginners award 2022 by Broker Tested.
Insurance policy of up to 1 million USD (3.67 million AED).
Transparent business policy.
24 hours support.
5.

Swissquote – Swiss guaranteed Forex brokers in Dubai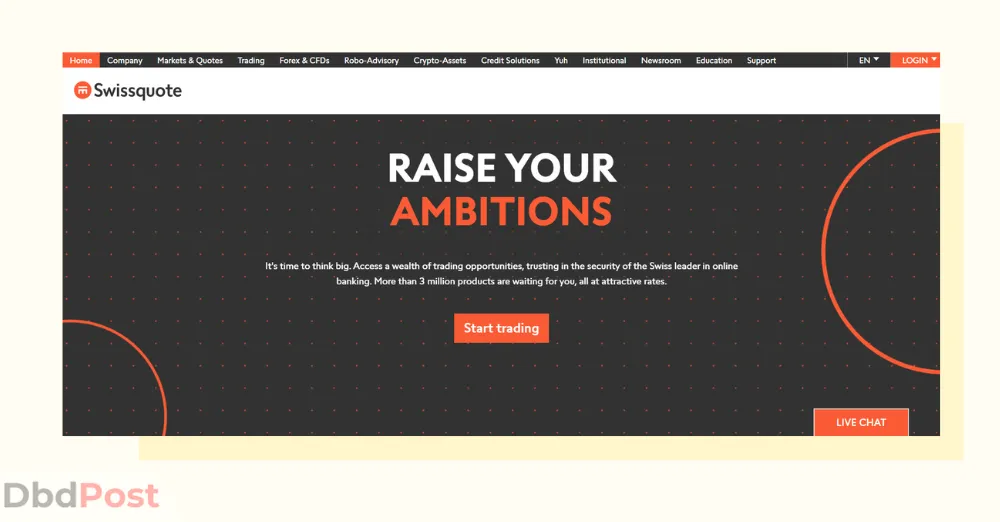 Swissquote has a vast network of Tier 1 banks and other regional non-bank liquidity providers. As a result, they can provide a consistent liquidity pool across FX instruments. [6]Swissquote, "What makes us better, https://en.swissquote.com/forex/pricing/execution#:~:text=Deep%20Forex%20Liquidity,and%20fastest%20execution."
Similarly, Swissquote is also regulated by FINMA and listed on the SIX stock exchange. Also, they adhere to the highest standards regarding online financial services, transparency, and deposit security.
So with Swissquote, you'll not only have access to low-latency trade servers in prime locations for the best execution possible, but you can also be confident that your deposits are safe and secure.
Currencies they trade in
EUR/USD
USD/JPY
GBP/USD
USD/CAD
AUD/USD, etc.
What we like about Swissquote
Trust score of 99 out of 100 by ForexBrokers.
10+ language customer support.
Liquidity with 0% loan.
6.

FOREX.com – NSA licensed Forex brokers in Dubai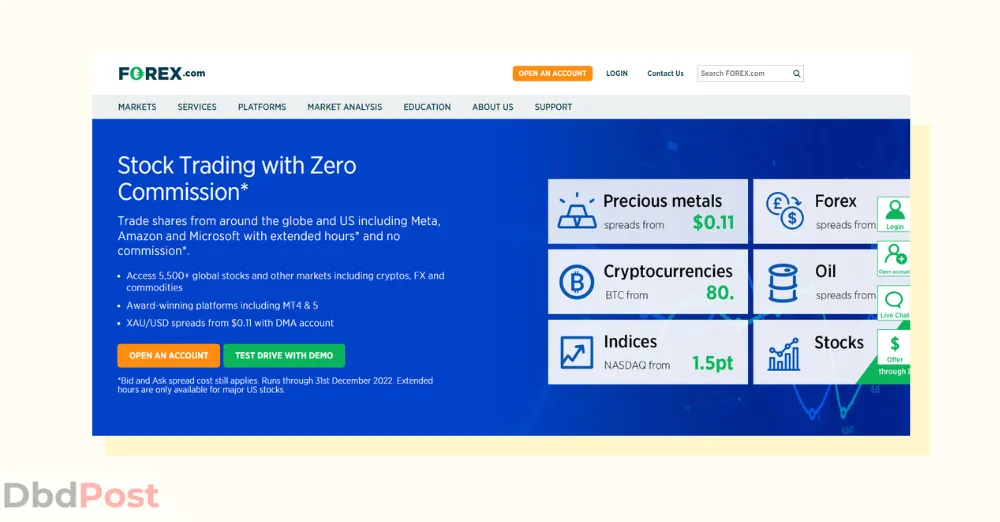 FOREX is a leading provider of online trading services. They offer sophisticated trading technology and personalized support to suit the needs of experienced traders and investors and those new to online trading.
Similarly, FOREX is part of StoneX Group Inc. (NASDAQ: SNEX), a publicly traded company with a long history of providing innovative solutions for the global financial markets.
The company is committed to corporate governance and financial reporting, which has earned it a reputation as a reliable partner for institutional and retail clients.
Currencies they trade in
EUR/USD
CBP/USD
USD/JPY
USD/CHF
AUD/USD, etc.
What we like about FOREX
FOREX.com is a licensed and accepted member of the National Futures Association(NFA).
Lowered their trading costs by up to 15% with cash rebates.
No. 1 FX broker in the US.
7.

AvaTrade – Secured Forex brokers in Dubai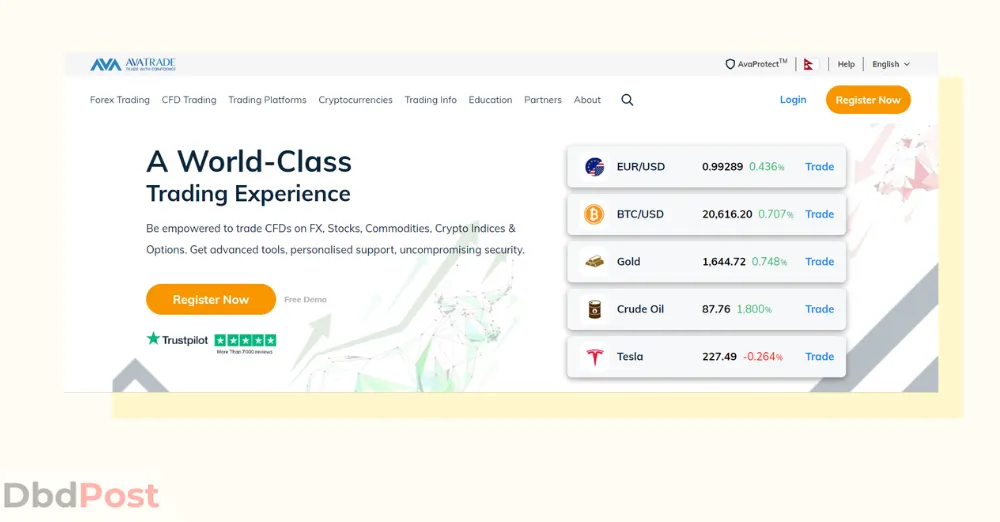 AvaTrade is an online broker that was established in 2006. Since then, it has served over 300,000 clients and has won numerous prestigious awards. [7]AvaTrade, "Background, … Continue reading
Furthermore, AvaTrade offers an exclusive security risk management tool, AvaProtect. This is an effective tool that protects you from losing money.
Some other features of AvaTrade include plenty of options like a wide variety of cryptocurrencies, all under one account, no hidden fees, and you can trade against major currencies.
Currencies they trade in
EUR/USD
GBP/USD
USD/JPY
EUR/CHF
EUR/GBP, etc.
What we like about AvaTrade
You'll get a dedicated manager for your first trade.
Their website is published in over 20 languages.
8.

Kraken – Accessible Forex brokers in Dubai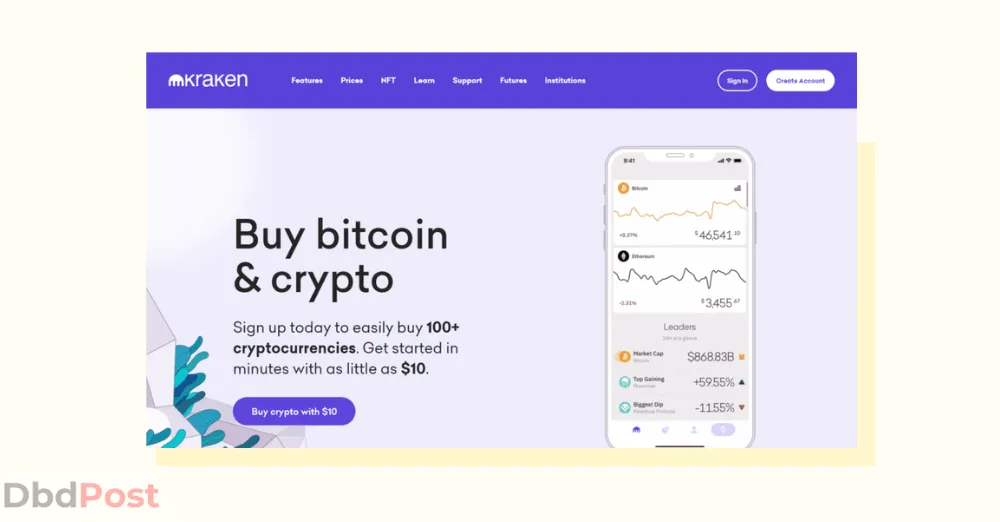 Kraken is a leading cryptocurrency exchange that offers users a wide range of features and benefits. With Kraken, you can access the world's most currencies, including euros, U.S. dollars, Canadian dollars, and more.
The platform also offers pro trading, advanced API access, and low trading fees based on the volume of transactions. In addition, Kraken makes it easy to buy and sell crypto using their mobile apps.
With 9 million clients and services in more than 190 countries, Kraken is a reliable and convenient option for those looking to get started in the cryptocurrency market. [8]Kraken, "Kraken for Everyone, https://www.kraken.com/#:~:text=9M%2B,Quarterly%20trading%20volume"
Currencies they trade in
EUR/CAD
USD/CAD
EUR/CHF
EUR/GBP
USD/CHF
EUR/JPY
USD/JPY, etc.
What we like about Kraken
ISO/IEC 20071/2013 certified cybersecurity.
Up to 100,000 dollars in bug bounties.
9.

IG – Advanced Forex brokers in Dubai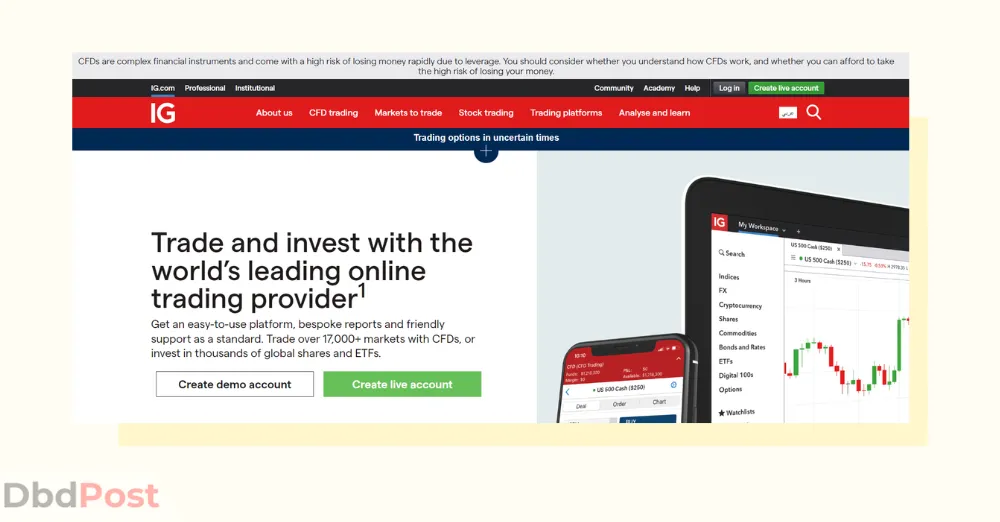 IG offers a wide range of investment options, with over 17,000 markets and thousands of shares. Their advanced platforms and charting tools make it easy to trade quickly and smoothly, and their web platform is fast and user-friendly.
With apps optimized for all devices, IG gives you the flexibility to manage your investments on the go. Their suite of alerts and risk management tools helps you keep on top of your portfolio to make the most of your investment opportunities.
Currencies they trade in
AUD/USD
EUR/GBP
EUR/USD
GBP/USD
USD/JPY, etc.
What we like about IG
Award-winning forex platform.
Negative balance protection.
Authorized and regulated by the DFSA.
10.

Interactive Brokers (IBKR) – Highly rated best Forex brokers in UAE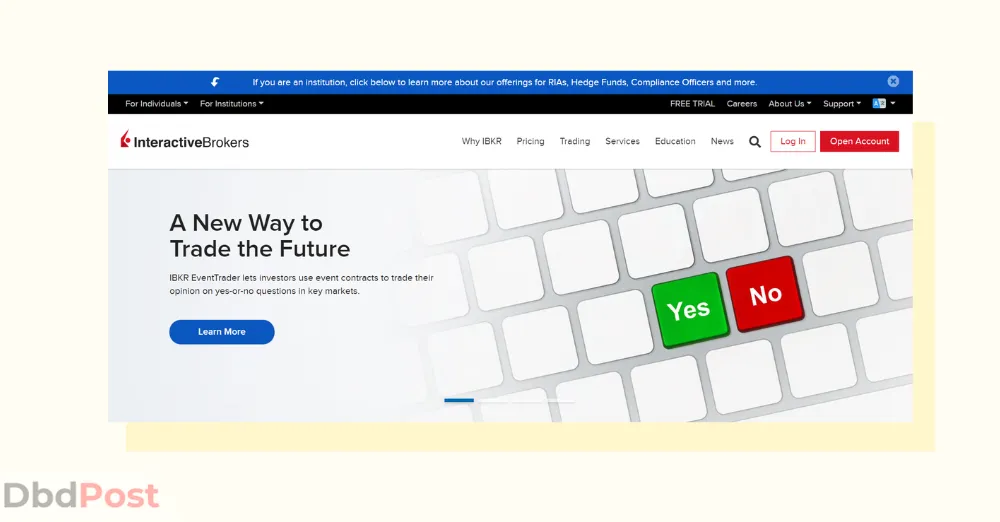 FXTrader is the Forex trader tool developed by IBKR. It provides an optimized interface for Forex trading, making it easy to customize the trading interface according to your needs.
You can use it to show position, average cost, and P&L data. With low commissions starting at $0 and low financing rates, it is an excellent tool for anyone looking to invest globally in stocks, options, futures, currencies, bonds, and funds.
Moreover, this tool can earn interest of up to USD 2.58% on uninvested cash. Therefore, FXTrader is an excellent choice for those who want to invest in the Forex market.[9]IBKR, "FXTrader, https://www.interactivebrokers.com/en/home.php#:~:text=Low%20commissions%20starting,your%20lendable%20shares"
Currencies they trade in
EUR/USD
USD/CAD
GBP/EUR
USD/JPY
USD/CHF, etc.
What we like about Interactive Brokers
Real-time quotes from 17 elite Forex dealers.
Rated 5/5 by Forex Brokers.
Over 100 currency pairs.
11.

Saxo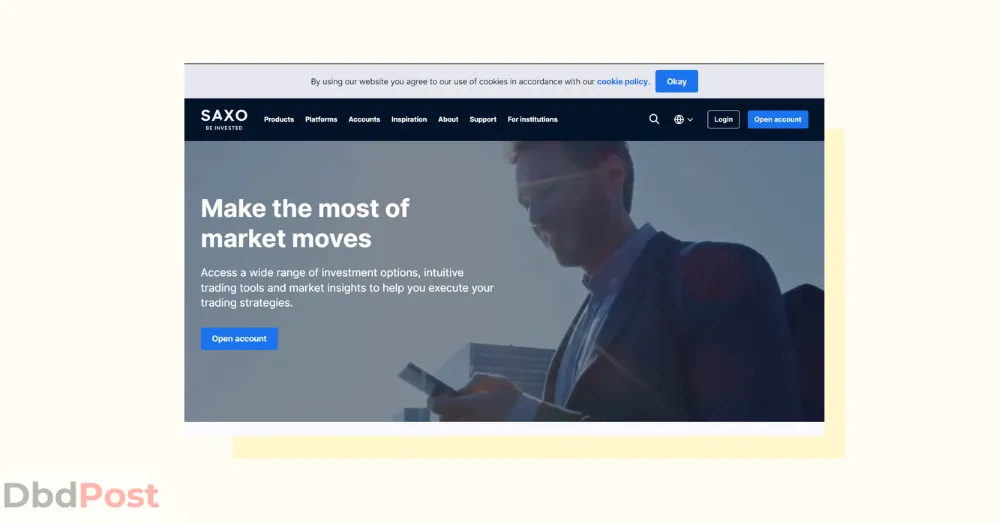 Saxo Bank is a leading global provider of online trading and investment services. They offer various products and services for individuals and institutional investors, including forex, stocks, bonds, ETFs, commodities, etc.
Saxo Bank has over 30 years of experience and is trusted by 850,000 customers worldwide. They offer an award-winning platform with integrated trade signals, news feeds, and innovative risk-management features.
You can trade significant FX pairs from 0.3 pips with Saxo Bank. They also offer competitive entry prices and lower rates for active traders. Similarly, with Saxo, you can Access Tier-1 liquidity to receive higher fill rates, fewer premature stop-outs, and significant price improvements. [10]Saxo, "Why Saxo, https://www.home.saxo/en-mena/products/forex#:~:text=Why%20trade%20Forex%20with%20Saxo%20Bank"
Currencies they trade in
EUR/USD
GBP/USD
XAU/USD
USD/JPY
AUD/USD
EUR/JPY
What we like about Saxo
Prices from Tier 1 banks, ECNs, and market-making firms.
20+ billion USD daily trade volume.
180+ currency pairs to buy and sell.
How to start Forex trading in UAE
Before you begin forex trading in the United Arab Emirates, there are a few steps you need to take. First, you'll need to find a broker that the UAE Central Bank regulates. Next, you'll need to open a trading account and deposit funds into it. It's important to remember that forex trading is risky, and you can lose money and make money.
Step 1: Learn Forex
There are many things you need to understand before starting to trade Forex. This includes what Forex is, how to trade, and some of the most common terms used. You can find many resources online, like videos and blogs, to help you learn about Forex trading.
There are many things you need to cover while learning about Forex. Among them, market analysis is the key. There are several methods of analysis techniques, such as technical analysis, fundamental analysis, sentiment analysis, and more.
Step 2: Open and verify your broker account
After that, you need to open a broker account with one of the best Forex brokers in the UAE. This is where you will deposit your money and get tools to trade. There are many brokers in the UAE, and it's crucial that you take the time to evaluate them before making a decision.
After selecting a broker, you must complete the verification process through personal information and required documents like ID or passport. The requirements for verification and the time it takes to verify an account can differ from one broker to another.
Step 3: Minimum deposit
After you finish the application, registration, and verification process, you will need to fund your Forex trading account. You can do this via a bank transfer, credit/debit card, or e-wallet.
The amount of money you need to deposit will depend on the broker and their requirements. Some best Forex brokers in UAE have low minimum deposits requirement, while others let you open an account with no initial deposit.
Step 4: Develop a strategy
After you've deposited money in your trading account, it's time to start thinking about your trading strategy. This includes deciding when to buy or sell a currency pair, how much money you're willing to risk on each trade, and more.
There are two types of Forex trading strategies, manual and automated. Manual systems involve a trader analyzing data by looking at trading signals and deciding whether to buy or sell. Automated systems involve a trader developing an algorithm that finds trading signals and executes trades independently.
For positive trading results, it is crucial to follow the rules of a trading strategy. Keep in mind that what works today might not be effective tomorrow. If you are not satisfied with the results of your current strategy, consider developing a new one.
Step 5: Find Forex currency pair
You purchase base currency and sell the quote currency when you trade forex. For example, in the USD/EUR pair, USD is the base, and EUR is the quote. When you buy a currency pair from a broker, you're buying the base currency and selling the quote currency.
Finding a broker that offers the forex pairs that interest you as a trader is essential. Before choosing an investment amount, you should consider the risk, market liquidity, and investment amount knowledge.
Step 6: Start trading
Now that you have completed all the steps, it is time to trade. Open your broker account and start trading. Remember that Forex trading is risky, so you must be aware and invest carefully.
Things to consider while choosing Forex broker in the UAE
There are several things to consider before you start Forex trading in the UAE. Here are some of the key factors:
Regulation
The first thing you need to consider before you start Forex trading is to check for Regulations. In the UAE, the Central Bank regulates currency exchanges. For starters, brokers must obtain a license before they start Forex trading in Dubai.
Now, you can open a Forex trading account with the broker of your choice. Some other things to keep in mind while opening the account are the verification process, initial deposits, commissions, and more.
Tools offered
Most Forex brokers in UAE will offer you all the tools you need, no matter your level of experience. To begin with, platforms like MetaTrader 4 and 5 are commonly used in the Forex industry to allow real-time market data analysis.
Similarly, tools like economic calendars, charting software, and volatility calculators have commonly been used in Forex trading. In addition, some brokers offer unique tools to their clients. So, look out for tools offered by them before signing up.
Fees and commissions
The commission is a fee that the broker charges for Forex transactions. This fee can be a fixed amount, or it can be a percentage of the total value of the trade. The party who initiates the trade pays this fee. Sometimes, both parties involved in the transaction pay commission.
Commissions are how most brokers make their money. It is essential to understand how it works before you start trading. Commission can impact a trader's profitability, so it is essential to consider this when choosing a broker.
Initial minimum deposit
The initial deposit is the amount you need to transfer to your account before you start trading Forex. Some brokers have a minimum requirement, while others let you open an account with no initial deposit. Forex experts suggest traders use only 1% of their account balance per trade.
Apps
Mobile apps can help you trade quickly and easily. Most brokers have mobile apps you can use to trade on the go. Also, mobile apps have extra security features to help keep your transactions safe.
Before registering with a broker, ensure that they offer an app compatible with your device. Also, take some time to check if the app has an easy-to-use interface for a smooth trading experience.
Related Stories
---
FAQs
Final Thoughts
Forex trading's popularity is rising in the United Arab Emirates, and technology plays a significant role. Starting up with the best Forex brokers in UAE is now easier than it has ever been before.
This list of best Forex trading platforms in UAE is all reputable. Before making our recommendations, we considered factors like minimum deposit, commissions, currency pairs, and pros and cons.
With this Dbd guide, we hope to have helped you select the best Forex trading platform in uae. We would greatly appreciate sharing, and following our blog will help us provide more content like this in the future.