If you are looking for how to buy stocks in UAE? Then you have landed in the right place. Online trading platforms are the best way to buy stocks in UAE. You'll be able to trade stock from anywhere and have access to various stocks provided by businesses based in the UAE.
Buying stocks in UAE requires several considerations, such as the fees involved, company reputation, market conditions, and investment goals. Furthermore, it is also essential to understand how trading works.
The platform you choose to trade on is critical. It will have a significant impact on your trading results. Once you choose a platform, you need to open an account and deposit money into it. With this money, you can then buy and sell stocks.
This Dbd guide has a detailed guide on how to buy shares in UAE. Also, we have listed some of the best platforms for buying stocks. So, without any delays, let's get started.
How to buy stocks in UAE?
Here's a quick guide on getting started with stock trading in the UAE.
Step 1: Open a trading/broker account
The first step is to open a trading account with a broker. You must provide the broker with your personal information, including your name, address, date of birth, and contact details. The verification time may vary depending on the broker.
The UAE government requires an investor identification number (NIN) to be eligible for trading. Also, you can get the investor number from the DFM app, Investor Affairs at Dubai CSD, or through a trading member.
Step 2: Make a deposit
Before trading stocks, you will need to have a certain amount of money saved up. The broker may set a limit on the minimum deposit required before starting to trade. This number could differ depending on your broker's minimum deposit policy.
You can deposit in many ways, such as a cheque, cash, or bank transfer. The most straightforward method is to connect your bank account to your brokerage account. Transferring money between the two will be much simpler when you have linked your bank and brokerage.
Step 3: Market research
Once you have deposited money into your account, you are ready to buy shares in UAE. There are many factors to consider when you are investing. However, before you start buying and selling stocks, it is crucial that you do your market research first.
For example, you need to look at a company's financial data. This includes revenue, net income, P/E ratio, ROE, and more. The stock market is constantly changing, so it's essential to stay up to date on the latest news. That way, you can avoid losing any money if something unexpected happens.
It's also a good idea to set financial goals before buying shares in UAE. That way, you'll better understand which coins or stocks will benefit you in the long run.
Step 4: Start trading
After completing all the steps mentioned above, you're ready to trade. We recommend a simple entry and exit strategy if you're new to trading.
As you progress and gather market knowledge, you can set higher goals and increase your transaction volume.
A good trader is always ready for anything. The market is constantly changing, so you need to be prepared for the unexpected. Traders must have good risk management knowledge and trading strategy and plans.
Where to buy stocks in UAE?
Now that you know how to buy stocks in UAE, the next step is finding the right platform. There are many trading platforms to choose from. However, only jump into stocks with proper research.
A good trading platform will provide you with all the tools and resources you need to make informed decisions. Among the features the trading platform offers, some factors to consider when choosing a platform are ease of use, fees, payment methods, and reputation.
Below we have listed some of the most popular stockbrokers where you can buy shares in UAE.
1.

eToro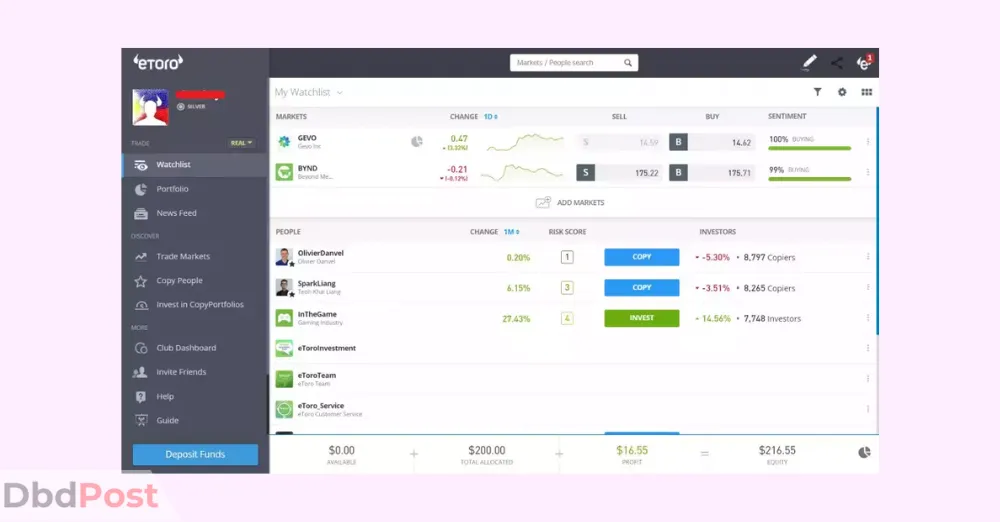 The first platform on this list is eToro. It has been one of the leading investment platforms worldwide since it launched in 2007 and the first choice of traders who buy shares in UAE. Also, users can interact, share, and learn in the eToro community.
Registration
Opening an account in eToro is simple. Enter your data in the form to open a new trading account. You can also log in via Facebook or Gmail, which is optional.
Afterward, go through the terms and conditions and mark the check box to indicate your agreement. Now submit your form, and you are done. [1]eToro, "New Account, https://www.etoro.com/customer-service/how-to-open-etoro-account"
Verification
To verify the account on eToro, you must provide proof of identity and address. While your proof of identity should contain your name, date of birth, clear photograph, identity issue date, and expiry date if mentioned. Also, Etoro prefers a passport as proof of identity. You can also use alternate ID cards like driving licenses or government-issued IDs.
Likewise, the proof of address must contain your full name, address, and issue date, which must be no older than three months. Also, ensure that the name or logo of the issuer is evident in the ID. Your proof of address can be a bank statement, credit card statement, electricity bill, water bill, gas bill, council tax bill, etc.
However, the verification process can take up to a few days. You will be notified once your verification is complete. You can easily check your verification status on eToro's website. Your account is verified if you find a green tick on your user profile. [2]Etoro, "verify Account, https://www.etoro.com/customer-service/account-verification"
Funding
You can easily find your eToro account from your bank account. To transfer, add eToro Money as a new payee to your bank account. Most of the payments will be made instantly, but sometimes it can take up to 2 hrs. [3]eToro, "How to Deposit, https://www.etoro.com/money/fund-your-account/"
Investing
To invest, look out for the stocks you want to invest in, click "Trade," and search "Buy" to open a long position. Or you can also choose "sell" to open a short position.
Then provide the dollar value you want to invest and enter the number of units you want to purchase. Once you open a trade, an order to execute a trade will be created.
2.

xtb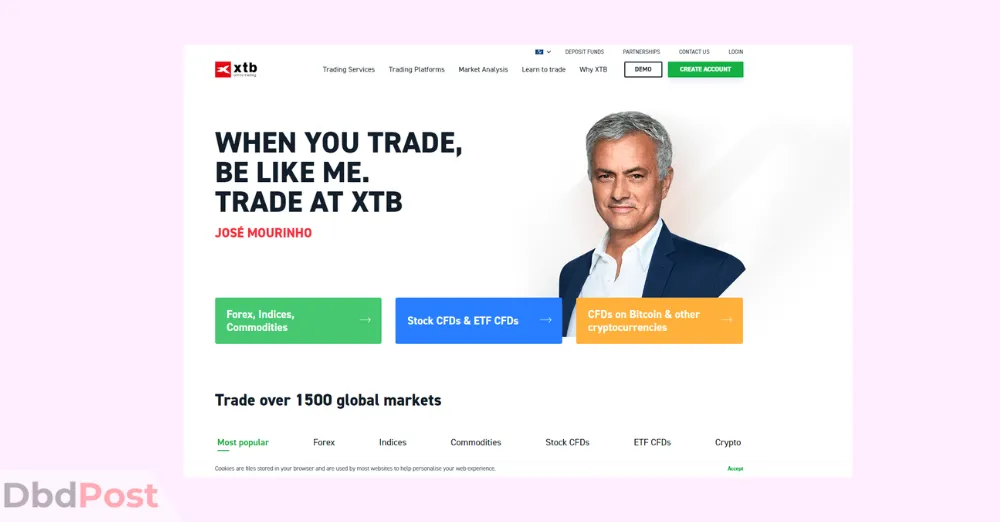 Another platform is xtb, the largest stock exchange broker in the world. This platform provides retail trades instant access to hundreds of global markets. Also, it has offices in over 13 countries, including the UK, Poland, France, and Chile. [4]xtb, "Our Company, https://www.xtb.com/int/why-xtb/about-us#:~:text=We%20have%20offices%20in%20over%2013%20countries%20including%20UK%2C%20Poland%2C%20Germany%2C%20France%20and%20Chile."
Registration
To start trading in xtb, you need to create an account, which only takes a minute. So, start by providing your personal information like name, address, email, country, etc. After that, continue by agreeing to the terms and conditions, and you are done registering.
Verification
Once account creation is complete, you need to verify your account. To do so, start by uploading the required documents like proof of identity and address. Upload your national identity card, passport, or driving license on the "Client Office" from the xtb website.
Likewise, provide proof of address like a bank statement, phone bill, utility bill, or tax statement. After that, xtb will review and approve your account once verified. [5]xtb, "How to activate your account, https://www.xtb.com/en/education/how-to-activate-your-account"
Funding
It's easy to deposit funds into your xtb trading account securely and quickly via your "Client Office." You can fund your account through bank transfers, cred and debit cards, and Paysafe (formally known as Skrill).
Investing
With xtb, you can invest in several stocks, CFDs on forex, indices, commodities, cryptocurrencies, and ETFs. And to start investing, you need to open a trade, which is possible from the "Market Watch" and form the chart.
Moreover, you can also use "Stop Losses" or "Take Profit" to secure your transaction. Also, there are many ways to define parameters in the order window. For example, setting level, specific distance in pips, giving normal value. etc.
3.

FOREX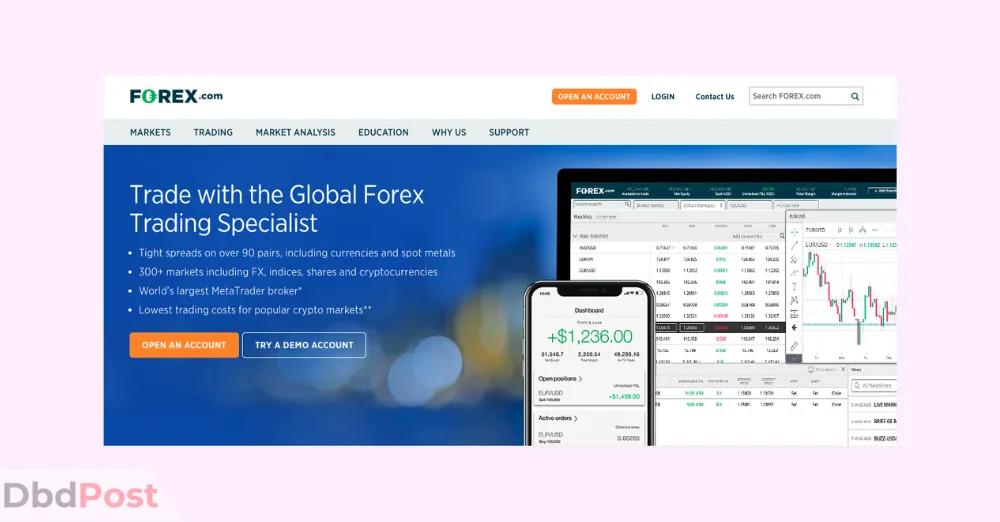 FOREX is a powerful platform for the forex trading experience. You can trade over 80 FX pairs through this platform, with a EUR or USD spread of as little as 0.2 and low commission. [6]Forex, "Forex Trading, https://www.forex.com/en-us/#:~:text=Trade%20over%2080%20FX%20pairs%2C%20with%20a%20EUR/USD%20spread%20as%20little%20as%200.2%20and%20low%20commissions."
Registration
Registering an account takes a minute with Forex. You must choose the account type like standard, MetaTrader 4, and DMA Account. After that, provide your personal information and complete your registration.
Verification
To verify the account, you need to provide acceptable identity documents. For example, you can provide valid, current passports, driver's licenses, and national IDs.
Funding
You may quickly fund your account by signing into MyAccount and proceeding to the Funding tab. Also, you can use your credit card, debit card, or wire transfer. The first deposit must be at least 367 AED. [7]Forex, "Funding, https://www.forex.com/en/support/faqs/funding-and-withdrawals/"
Investing
FOREX.com provides the advanced trading tools and resources you need to trade. You can use MetaTrader 4, Webtrader, and mobile apps to buy shares in UAE.
4.

Stromgain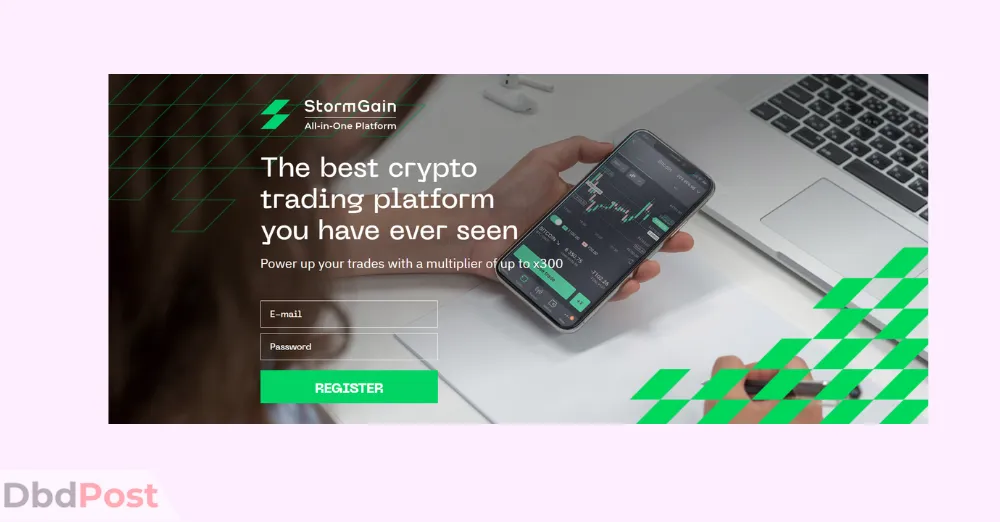 StormGain is a convenient crypto trading platform. This platform is available on any device. And it allows you to start trading the most popular and capitalized crypto coins with a multiplier of up to 500 times. [8]StormGain, "Home, https://stormgain.com/about-us#:~:text=StormGain%20is%20a,and%20hold%20crypto."
Registration
The registration process is straightforward for a trading account. Go to "register account" in the app or web platform. After that, provide all the information like emails, passwords, etc., and confit the registration.
Verification
To verify the registration, you need to enable two-factor verification. There are two ways of doing that; you can either use SMS or Google Authenticator.
Funding
You can deposit fun in StormGain in various ways. You can use a crypto wallet and SEPA bank transfer without any deposit fee. However, visa, MasterCard, Simplex, and debit or credit cards may impose deposit fees. [9]StormGain, "Depositing Funds, https://support.stormgain.com/articles/depositing_funds"
Investing
After depositing, you can buy cryptos and sell them for profit. Also, you can exchange cryptocurrency with low fees.
5.

Kraken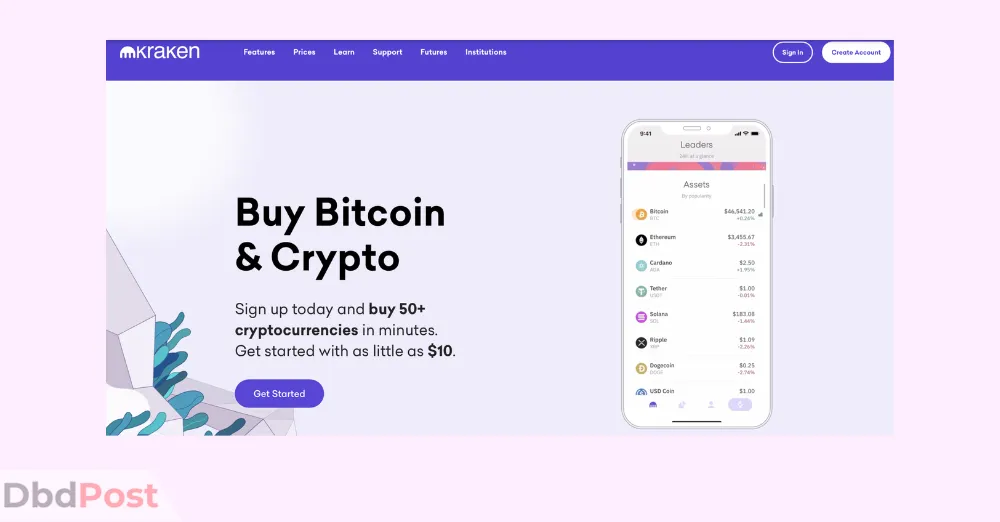 Kraken is one of the oldest Bitcoin exchanges worldwide. It is the top bitcoin investing solution for institutions of all sizes. Also, it offers over-the-counter trading together with individualized white-glove account management.
Registration
You can start to register by visiting its official website. Then provide your email address and username, create and password, and sign up. After that, check the terms and condition box, and you are done. Once complete, you will receive an activation email with the activation key. Enter the key, and your registration is complete. [10]Kraken, "Create an Account, https://support.kraken.com/hc/en-us/articles/226090548-How-to-create-an-account-on-Kraken"
Verification
In order to get verified in Kraken, sign in and click on your name on the website. Choose the account type and click on "verify" on the account you want to apply for.
Normally the verification takes one to two minutes, depending on your account type. For example, the Express level with gets verified under a minute, the intermediate takes four to five minus, and so on.
Funding
Now, choose the currency and add the amount you wish to deposit to fund your Kraken account. You can also choose a funding provider like Visa, MasterCard, debit or credit card, digital wallet, and ACH online banking.
Investing
To process the investment, start by selecting your trading pair. Then decide if you are looking for a market or limit order and submit the order. Once the market is selected, the trade will happen instantly, and your balance will change.
6.

Crypto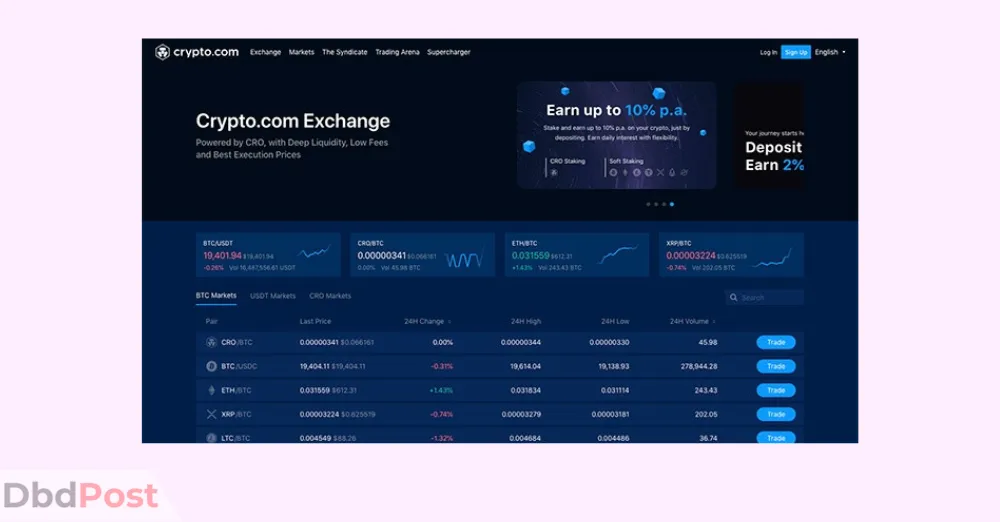 Crypto is the world's fasted growing crypto app. Here you can buy and sell over 250 cryptocurrencies with 20+ fiat currencies using bank transfer, debit, or credit card.
Registration
To continue registration, provide the necessary information like name, date of birth, address, etc., and follow the platform's instructions. You need to provide a valid email address, which will be used to send you a confirmation link. Also, you need to verify your phone number with the area code of your country.
Verification
You need to complete the general KYC verification process. To do so, provide the required information like first and last name, nationality, date of birth, email, phone number ID submission, and photo.
Funding
You easily deposit funds on this platform using a bank transfer or credit card. Also, you can directly deposit your cryptos via the Transfer button in the app.
Investing
To start investing in Crypto, you must first be at the Starter level or higher. Afterward, go to the "Markets" and select the market you want to trade in, like CRO or USDT. After that, select "Trade," and you are done. [11]crypto, "How to trade, https://help.crypto.com/en/articles/3514966-how-to-trade-on-crypto-com-exchange"
Who is eligible to trade stocks in UAE
You will need an Investor Number (NIN) to buy shares in UAE. Nationals can apply for a NIN by providing their Emirates ID, while foreigners must present a Passport and ID card. [12]ADX, "Investor Number, https://www.adx.ae/English/Pages/MarketParticipants/Investors/default.aspx#:~:text=DOCUMENTS%20REQUIRED%20TO%20ISSUE%20AN%20INVESTOR%20NUMBER%3A"
Once you have obtained a NIN, you can open a trading account with a registered broker within the DFM. After your account has been verified, you will be able to start trading.
Note that you may be subject to certain restrictions depending on your nationality and the type of shares you are interested in purchasing.
Related Info
---
FAQs
How to buy US stocks in UAE?
To buy US stock in UAE, you need a broker account with a platform that supports international trading. For starters, NASDAQ Dubai supports both national and international stock exchanges.
Can I buy stocks on Saturday in UAE?
No, the UAE stock market is closed on Saturday and Sunday. The trading week is from Monday to Friday between 10:00 AM and 3:00 PM.
How to buy Aramco stock in UAE?
To buy Aramco stock in the UAE, you must have a registered broker with the Saudi financial market. Tadawul (The Stock exchange of Saudi) has a Qualified Foreign Investor Program for international investors.
Where to buy Google stock in UAE?
To buy Google stocks, you need to sign up with a trader that supports international trading. You can buy Google stock in the UAE through eToro, as the stock is listed on the platform.
Can I buy stocks without a broker in UAE?
You cannot buy shares in UAE without a broker. The stock market is well-regulated, and it would not be possible to trade otherwise.
Can you buy crude oil stock in UAE?
Yes, you can buy crude oil stocks in UAE. In addition, you can trade oil in the form of CFD and stocks in UAE.
Final thoughts
The UAE is a great place to trade stocks. The market is well-regulated, and there are plenty of opportunities for investors.
However, it is essential to remember that stock trading comes with risks. Before you start trading, be sure to learn about the market and the risks involved. This will help you make informed decisions when you buy shares in UAE.
We hope to have answered all your queries on how to buy stocks in UAE through this Dbd guide. Also, make sure to share this blog to educate others. Lastly, follow our blog for more content like this in the future.