If you are looking for the best trading platform in UAE, then you are in the right place. Many trading platforms are available in UAE, but not all are good.
With so many different platforms, it can take time to determine which is right for you. Each platform comes with its own set of features and fees, making it hard to compare them all side-by-side.
The online trading platforms in UAE have requirements like the minimum deposit you need to make before trading, fees, and commission. Also, we have listed their trading services and what we like about the platform. These platforms are verified and work in the UAE without any issues.
We've done the research for you and reviewed the best online trading platform in UAE in this Dbd guide. So, without any further delay, let's get started.
Compare the best trading platform in UAE
11 best trading platform in UAE
1.

eToro – Overall best trading platform in UAE and Dubai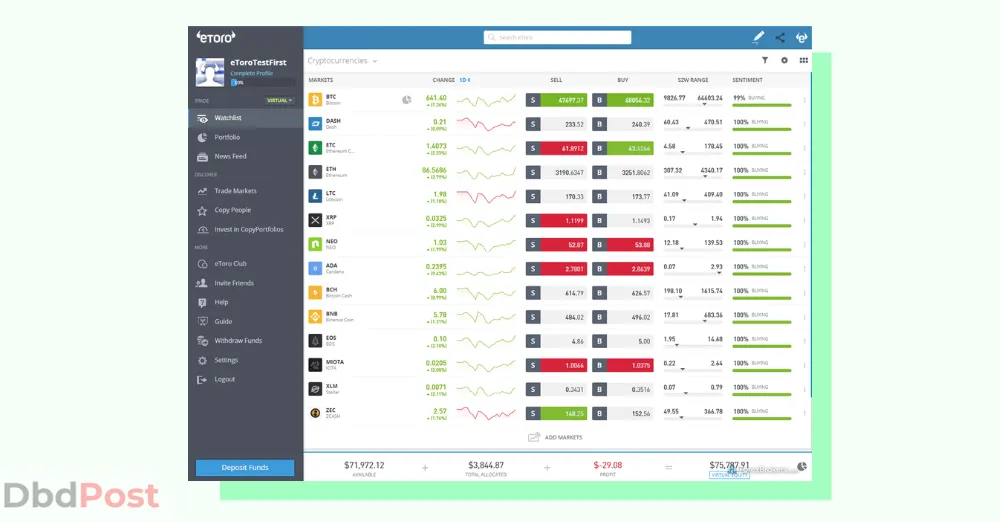 eToro is one of the world's leading social investment networks. It helps people learn more about finance and invest smarter. The mission of this company is to make online trading accessible to everyone by removing all barriers.
Also, they want to make the whole process transparent and accessible and eliminate the need for multiple platforms. They have created a platform that lets users connect, share, and learn from each other. Moreover, this platform is based on social collaboration and investor education.
What we like about eToro?
Online academy that can help beginners to advanced traders.
Huge user base of more than 25 million worldwide.
You can replicate and copy the trading practices of top traders using CopyTrader.
More than 60 cryptocurrencies to trade.
2.

xtb – Start free online trading in UAE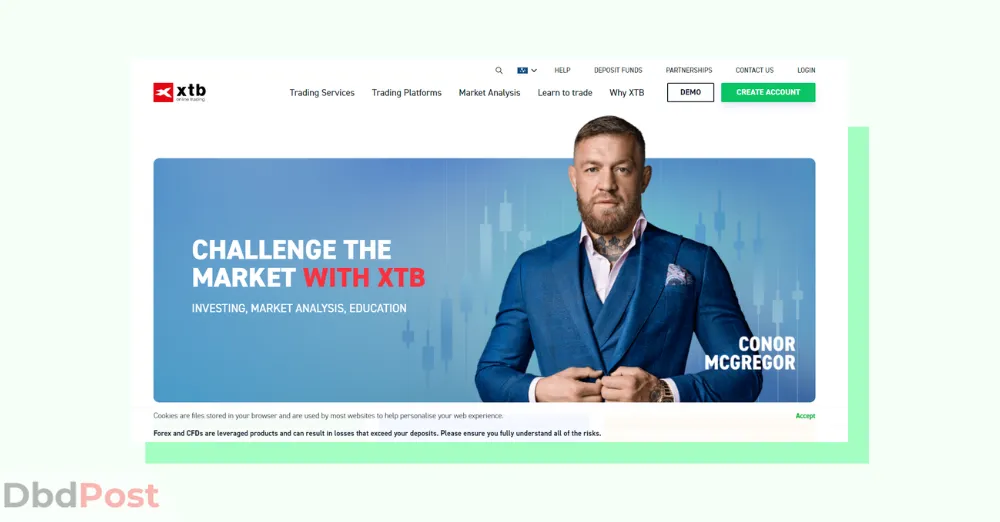 As a large, publicly-traded FX and CFD broker with nearly 20 years of experience, xtb has a long track record of success. The company has offices in over 13 countries, including the UK, Poland, Germany, France, and Chile. [1]xtb, "Our Company, … Continue reading
In addition, xtb adheres to the regulatory standards of some of the world's most respected financial authorities, such as the FCA, KNF, CySEC, and FSC. xtb's award-winning xStation 5 trading platform is easy to use and extremely fast. [2]xtb, "Trust, … Continue reading
Plus, the platform can be accessed on smartphones. With nearly 500,000 customers worldwide and a commitment to customer satisfaction and security, xtb is a trusted name in the industry.
What we like about xtb?
Best Forex Award for Beginners award 2022 by BrokerTested.
Insurance policy of up to 1 million USD (3.67 million AED).
Transparent business policy.
24 hours support.
3.

Swissquote – Award-winning online broker in UAE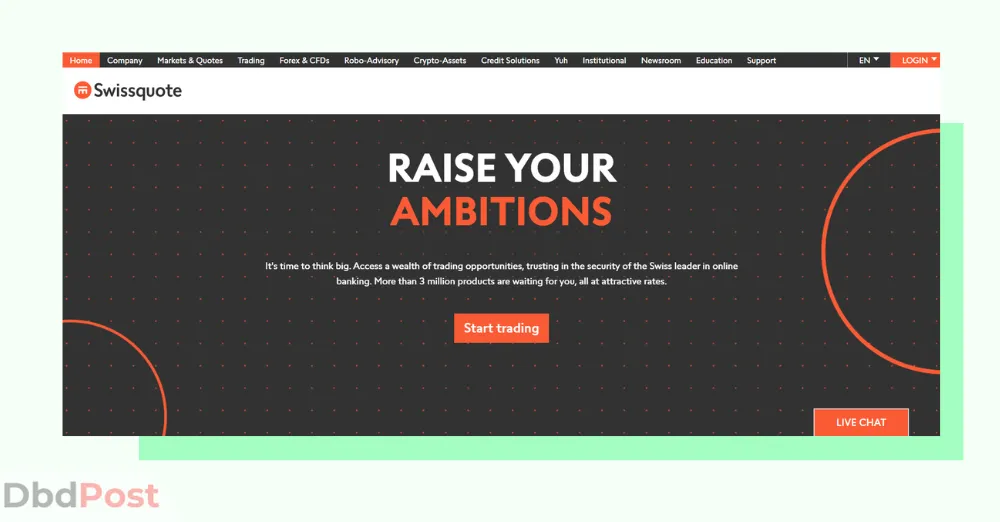 SSwissquote Group Holding Ltd was created in May 2000 and listed on the SIX Swiss Exchange. The following year, Swissquote Bank Ltd obtained a banking license.
Swissquote was the first fully online bank in Switzerland in 2001. That same year, they were awarded the Best Swiss Online Broker. Swissquote has a vast network of Tier 1 banks and other regional non-bank liquidity providers. [3]Swissquote, "What makes us better, https://en.swissquote.com/forex/pricing/execution#:~:text=Deep%20Forex%20Liquidity,and%20fastest%20execution."
As a result, they can provide a consistent liquidity pool across FX instruments. Similarly, Swissquote is also regulated by FINMA and listed on the SIX stock exchange.
In addition, they adhere to the highest standards regarding online financial services, transparency, and security.
What we like about Swissquote?
Customer support in over 10 languages.
Liquidity with 0% loan.
Trust score of 99 out of 100 by ForexBrokers.com.
4.

FOREX.com – Best trading app in UAE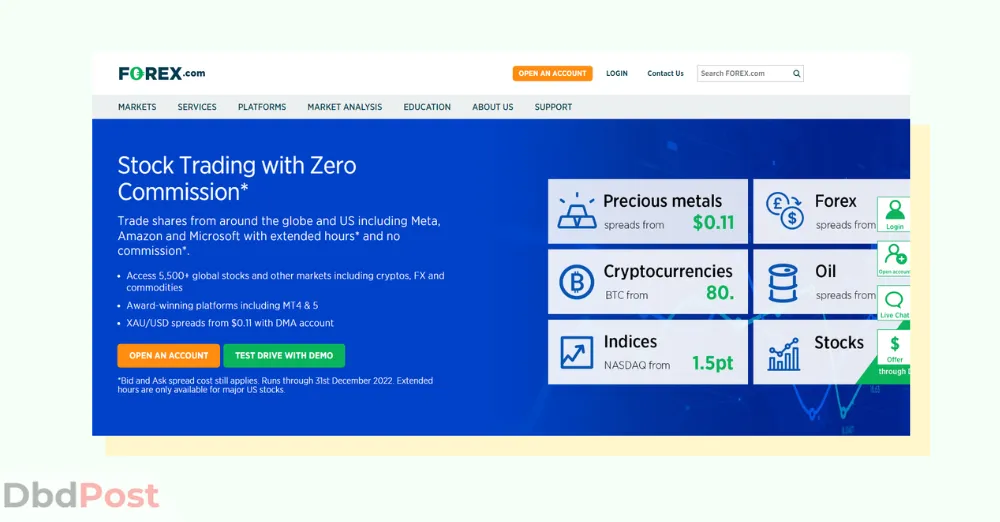 FOREX is a reliable and innovative provider of online trading services, a part of StoneX Group Inc. They offer personalized support and sophisticated technology to suit the needs of experienced traders, investors, and those new to online trading.
The company is committed to excellent customer service, earning it a reputation as a reliable partner. Furthermore, FOREX takes care of its customers by segregating customer deposits into different banks and imposing firm bank review and monitoring rules.
StoneX Group Inc. (NASDAQ: SNEX) has a long history of providing innovative solutions for the global financial markets and is a publicly traded company. Institutional and retail clients can trade confidently, knowing their interests are always protected.
What we like about FOREX.com?
FOREX.com is an officially recognized member of the National Futures Association.
Lowered their trading costs by up to 15% with cash rebates.
With Market Spyder, you can select from 14 different time intervals.
5.

StromGain – Dedicated crypto online trading in UAE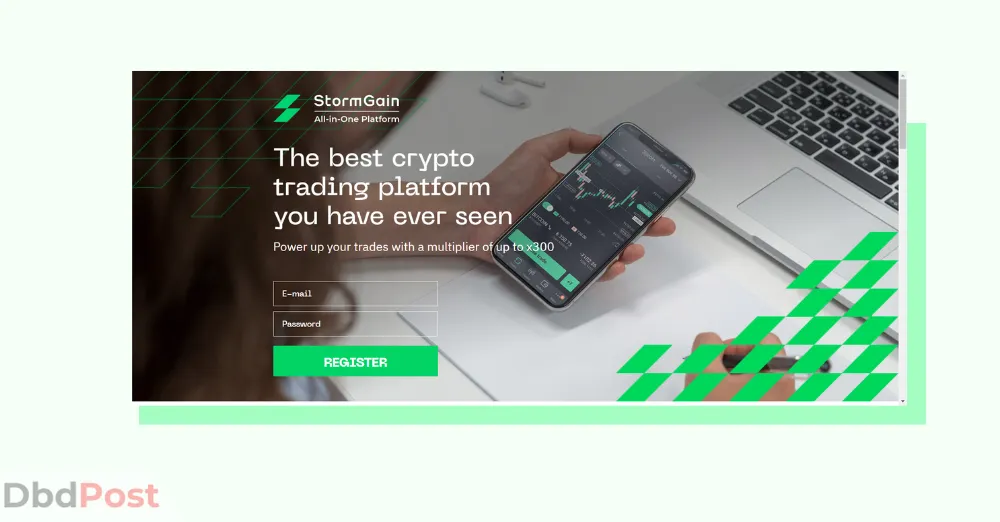 StormGain is the best platform to invest in crypto. You can buy, store, trade, exchange, learn and earn crypto with a single tap on this app.
The platform lets you do well in both booming and crashing markets. Plus, it also lets you trade established cryptocurrency pairs.
Similarly, it also provides many order types and software, including buy/sell signals made for users and some of the most competitive fees in the industry.
What we like about StormGain?
This platform is available in over 230 countries.
There is no commission for trading on this platform.
You can use over 50 different cryptocurrencies.
6.

Kraken – Certified online trading platform in UAE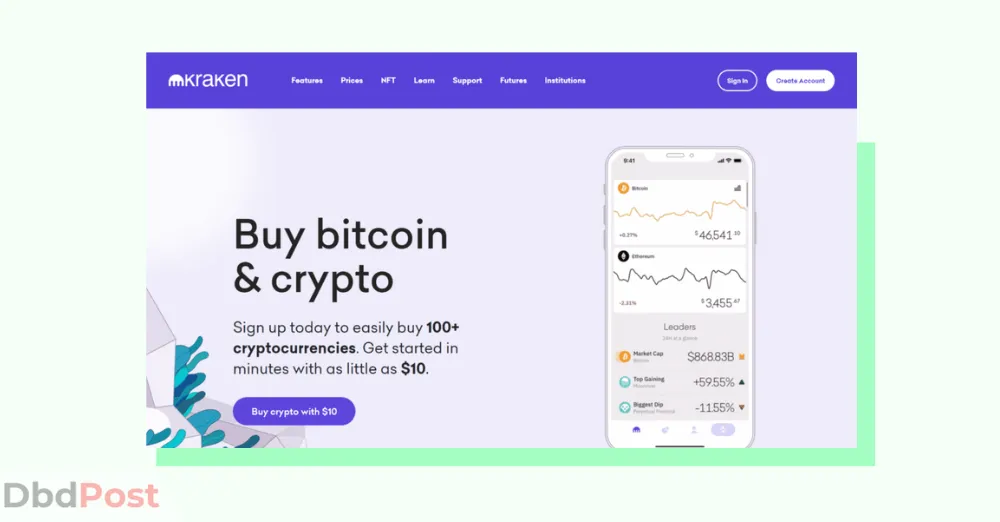 Kraken is a reliable and convenient option for those looking to get started in cryptocurrency. With 9 million clients and services in more than 190 countries, it offers users a wide range of features and benefits. [4]Kraken, "Kraken for Everyone, https://www.kraken.com/#:~:text=9M%2B,Quarterly%20trading%20volume"
You can access most currencies, including euros, U.S. dollars, Canadian dollars, and more. The platform also offers pro trading, advanced API access, and low trading fees based on the volume of transactions.
In addition, Kraken makes it easy to buy and sell crypto using their mobile apps. No matter your level of expertise with cryptocurrency, it can help you take control of your finances. They have many currency pairs to invest in and plenty to use as you expand your portfolio.
What we like about Kraken?
ISO/IEC 20071/2013 cybersecurity.
20% lifetime fees from affiliate programs.
Up to $100,000 of bug bounty.
7.

Crypto – Online trading platform in UAE with most users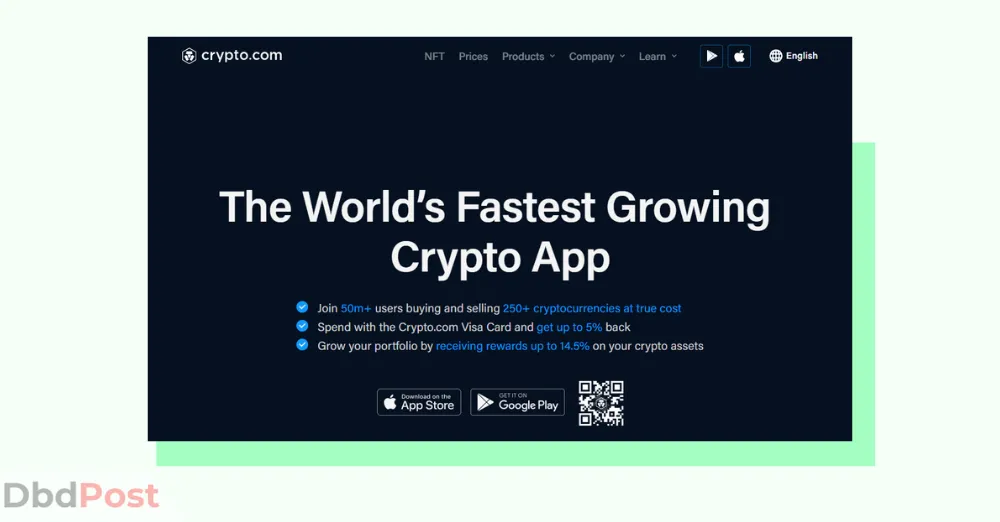 Crypto is one of the most convenient ways to buy, sell, and hold cryptocurrency. They offer an app that allows you to do everything from one place. You can also use their prepaid card to spend your cryptocurrency anywhere that accepts Visa.
Besides, trading fees are charged (positive fee%) or rebated (negative fee%) on every successful transaction. To enjoy these exclusive trading fee benefits, you must stake CRO on the Crypto Exchange.
Furthermore, trading fee rates on user accounts are updated accordingly every 1-hour. This is done by following the evaluation of Users' Trading Volume, Maker Activity, and amount of CRO staked. Additionally, depending on the amount of CRO staked, you could be eligible for benefits like discounted fees and 0% maker fees. [5]Crypto, "Fees and limits, https://crypto.com/exchange/document/fees-limits#:~:text=Other%20Considerations,time%20to%20time."
What we like about Crypto.com?
Over 50 million users worldwide.
First company with the ISO 22301:2019, ISO/IEC 27701:2019, ISO/IEC 27001:2013 and PCIDSS v3.2.1 certification.
Get up to $2,000 in CRO bonuses for each successful referral, plus 12 months of free trading fee commissions.
8.

AvaTrade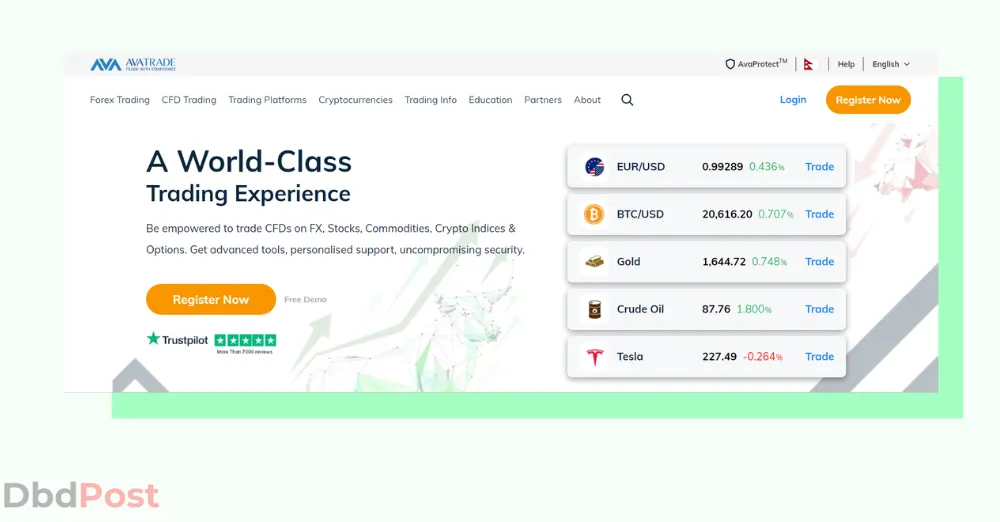 AvaTrade is an internationally recognized online broker established in 2006, serving over 300,000 clients. [6]AvaTrade, "Background, … Continue reading
It has won numerous prestigious awards, including being one of the first platforms to be made available to retail traders. It is compatible with various automated trading platforms and EA compatibility.
AvaTrade offers a security risk management tool, AvaProtect, to protect you from losing money. Additionally, some other features of AvaTrade include many options like a wide variety of cryptocurrencies, all under one account, no hidden fees, and you can trade against major currencies.
What we like about AvaTrade?
It has trading websites in more than 20 languages.
Assign a dedicated account manager to guide you in your first trade.
The support team is available by phone, email, and live chat.
9.

IBKR Global Trader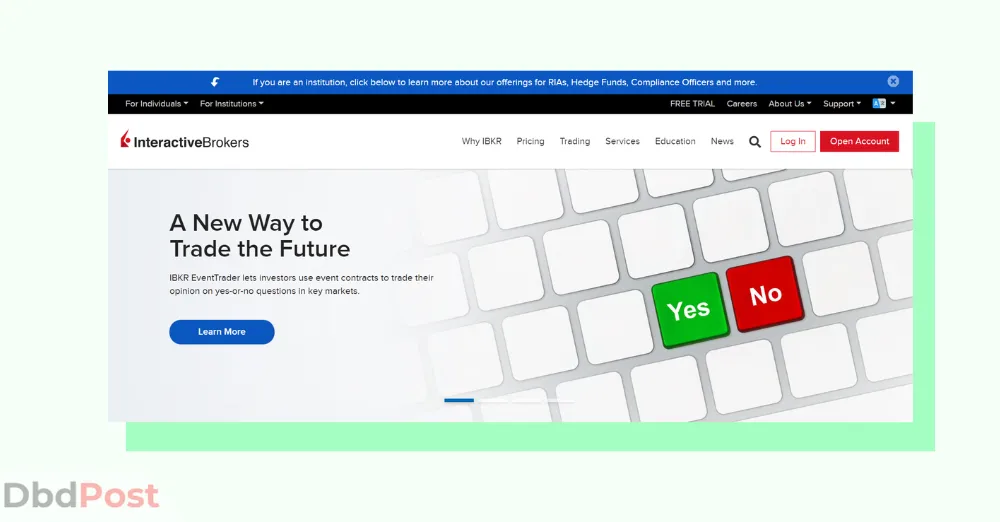 IBKR Global Trader is a worldwide stock trading platform. It has over 10 billion in equity capital and 1.80 million investors in 200+ countries.
You can use both Single and Multi-Leg Options Strategies. The Options Chain window will help you see the prices of options over time.
You can add an option to the order entry panel by clicking on either the bid or ask price. Alternatively, use the Option Chain window to keep track of multiple single-option legs or multi-leg options via a watchlist.
What we like about IBKR Global Trader?
You can invest in any of the 24 available currencies with confidence.
With tools like the Options Chain and Option Exercise Tool, trade options on over 30 market centers. There are no account minimums or platform fees for stock trading.
10.

Pepperstone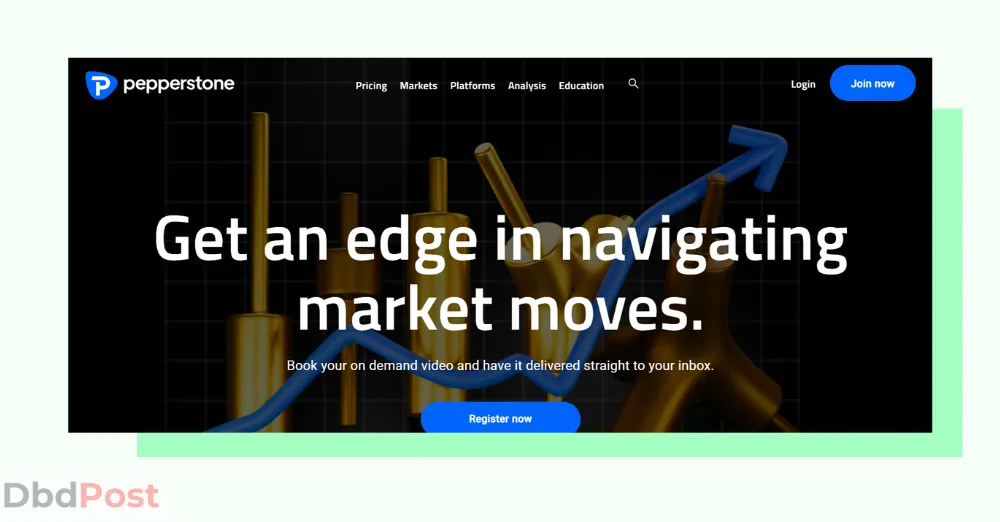 Founded in 2010 by a team of experienced traders, Pepperstone has become one of the world's largest Forex brokers, handling an average of US$12.55bn in daily trades. [7]Pepperstone, "About Pepperstone, … Continue reading
Over 300,000 traders trust them in countries worldwide as they offer a reliable and regulated platform that helps you take on the markets with confidence. As a regulated company, they are recognized by ASIC, SCB, CMA, CySEC, and FCA. [8]Pepperstone, "About Pepperstone, … Continue reading
Plus, they keep client funds safe by storing them in tier-1 banks. Best of all, there are many fee-free funding methods available. You can trust Pepperstone to give you everything you need to succeed in the markets.
What we like about Pepperstone?
On average, Pepperstone processes US$12.55bn of trades every day.
For every friend that you convince to open and fund a trading account, you both earn 20 free trades.
When your friend opens a trading account and meets the deposit and trade requirements, you can earn up to USD$1,000 cash.
11.

Saxo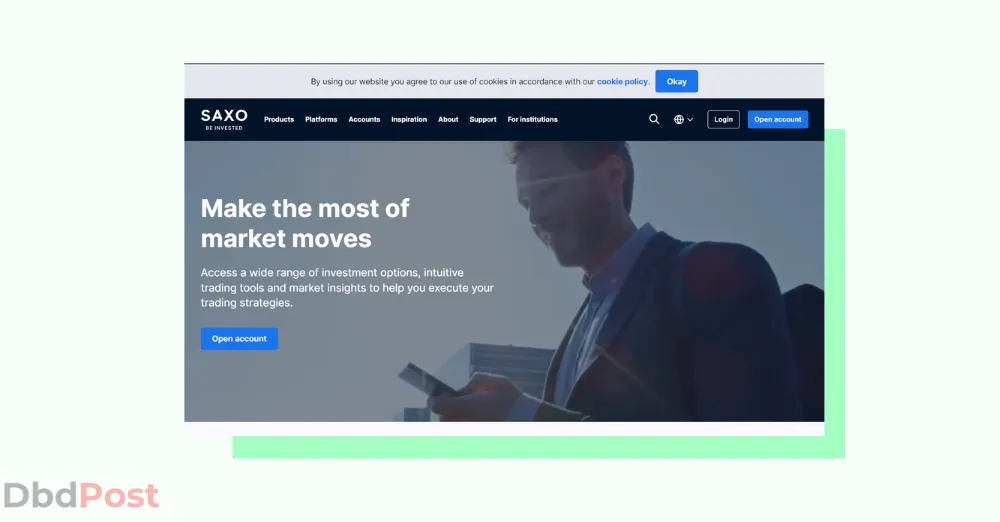 Saxo Bank is a leading financial services company with over 30 years of experience. They offer an award-winning platform with integrated trade signals, news feeds, and innovative risk-management features.
Likewise, Saxo Bank provides a wide range of products and services to 850,000 customers in 180 countries. With its advanced tools, market research, and trading inspiration functions, Saxo Bank helps traders make good decisions.
In addition, Saxo Bank offers competitive entry prices and lower rates for active FX traders. Similarly, they provide access to Tier-1 liquidity to receive higher fill rates, fewer premature stop-outs, and significant price improvements. [9]Saxo, "Why Saxo, https://www.home.saxo/en-mena/products/forex#:~:text=Why%20trade%20Forex%20with%20Saxo%20Bank"
What we like about Saxo?
Trade bonds with as little as 0.05% commission.
Choose from 6,400+ ETFs tracking specific market indices or sectors.
It had a 20+ billion USD daily trade volume.
Prices from Tier 1 banks, ECNs, and market-making firms.
180+ currency pairs to buy and sell.
What to consider when choosing a trading platform
There is no definitive formula for being a successful trader. Some of the techniques you involve technical knowledge. However, some of them require practice and a certain level of experience.
The best way to become a successful trader is to learn from your experiences by trying different techniques and strategies. Below is a list of factors to consider when choosing a trading platform.
Regulations
Ensure that a credible financial authority regulates the platform you use to trade. This will ensure that the platform abides by specific rules and standards, which protect your interests as a trader.
For platforms to be legit in the UAE, they must be registered in the DFM (Dubai Financial Market) and SCA(UAE Securities and Commodities Authority). So, using registered platforms will make all of your investments and trading legal. [10]DFM, "Rules of Brokerage Firm Registration Article (2), https://www.dfm.ae/docs/default-source/Rules/rules-and-regulations-eng.pdf?sfvrsn=2″
Ease of use
The platform should be easy to use, whether you are a beginner or an experienced trader. The last thing you want is to waste time trying to figure out how the platform works instead of trading. Also, a bad trading experience can cost you much money.
Make sure that the platform is easy to use and has an exemplary user interface so that you can focus on making money instead of wasting time. Also, we recommend choosing a platform that offers a knowledge base that provides a step-by-step guide on their platform.
Offered tools
Choose a trading platform that equips you with everything needed to trade according to your experience level. If you're new to trading, ensure the platform has an educational center packed with resources like video tutorials and articles.
On the other hand, if you're already experienced in trading, make sure more sophisticated tools are available on the platform. Some advanced trading tools are price charts, stock screeners, backtester, sentiment indicators, and more.
Fees and charges
The cost of using a trading platform should also be considered when choosing one. Make sure to check the fees before signing up and using the platform. Also, we recommend the platform with the lowest fees so that you can make a lot of money.
You should also check the fees for each type of order, like brokerage fees, commissions, management fees, advisory fees, and other expenses. These fees can quickly increase and lower your profits, so choosing a low-fee platform is essential.
Minimum deposits
Next, you want to think about the platform's minimum deposit and account balance. If you're starting, we recommend choosing a platform that doesn't require a minimum deposit or account balance. This will allow you to start trading with a small amount of money and grow your account over time.
However, if you are an experienced trader with money to invest, you might choose a platform with a higher minimum deposit. This is because platforms that require a higher minimum deposit usually offer lower fees, high profits, and other premium features.
Withdrawals
When you withdraw money, you want to ensure that your platform offers fast and easy withdrawals. The last thing you want is to wait a long time to get your money.
Ensure that your platform provides many withdrawal options like bank transfers, credit/debit cards, and e-wallets. This will allow you to choose the most convenient method for you. However, you should be aware of settling time, which depends upon your broker (2 to 3 business days on average).
Mobile apps
Last, you want to consider the platform's mobile app. App-based trading allows you to trade stocks and other financial products from any location. With this type of trading, as long as you have an internet connection, you can make trades no matter where you are.
The best stock trading platform in UAE offers apps that can be used on any modern smartphone or tablet. We recommend testing out apps of the platforms before you start to invest. You can make more money by having a compatible platform with many devices and always available.
How to get started with trading?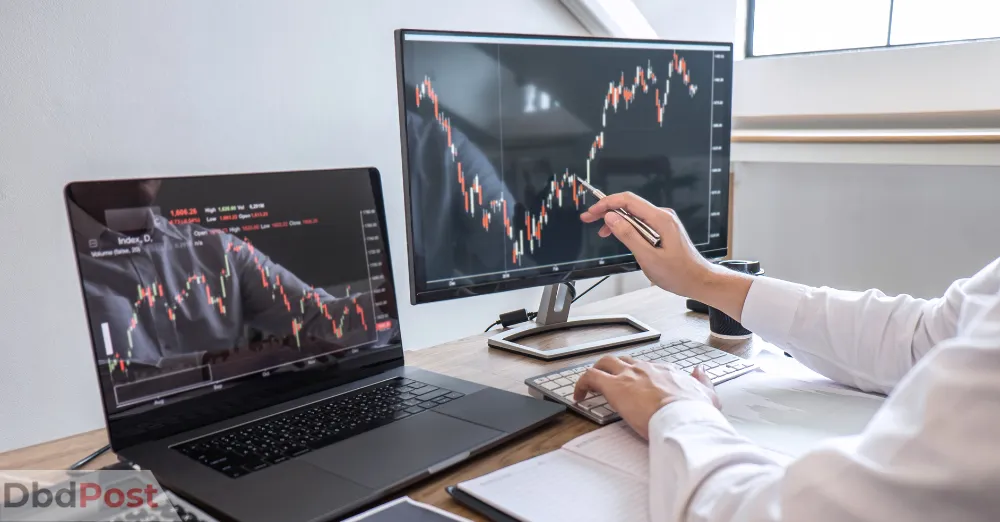 Whether you're just starting or have been trading for a while, this section will help get you up to speed. We'll be going over the basics of trading and how to get started.
Step 1. Open a trading account
The first step is to open a trading account with a broker. A trading account allows you to buy and sell stocks, bonds, mutual funds, and other financial products.
To open an account, you must provide the broker with your personal information, such as your name, address, date of birth, and contact details. You'll also need to fund your account with a minimum deposit. Once your account is open, you can start trading.
Step 2. Set a budget
It's critical to set a budget before you begin trading, and this will aid you in understanding how much money you're willing to trade on the platform. The simplest method is to connect a bank account to your brokerage account.
Moving money between the two becomes much simpler when you link your bank account to your brokerage account. Once your initial deposit has cleared into the new account, you can begin trading.
Step 3. Learn the basics of trading
To start investing money, you need to understand the basics of trading. Trading is the process of buying and selling products like stocks, bonds, and mutual funds. If you believe the market will improve, you buy stocks; if you think it will decline, you sell.
You can learn how to trade the financial markets by educating yourself on how to read the financial markets. In addition, you can do this by looking at charts and price action. Also, you can use technical analysis and fundamental analysis to understand what is happening with prices.
Many investor accounts need proper basic knowledge to lose money when trading. Also, retail investor accounts lose money when trading CFDs without proper practice.
Step 4. Practice in the trading simulator
A stock market simulator is a program that recreates the conditions of a livestock market. It allows users to invest in virtual portfolios of stocks and other financial instruments without worrying about real-world financial risks.
A trading simulator is a tool that allows you to test your investment strategies in the financial markets without using real money. Many online brokerages and websites include them as part of their product offering so you can become familiar with trading before committing capital.
Related Stories
---
FAQs on online trading in UAE
Final thoughts
So, this is the list of the best trading platforms in UAE. We considered factors like offered trading services, fees, deposits, and other essential traits. The platforms are legit and available for online trading in UAE without any issues.
The best trading platforms in the United Arab Emirates will offer you competitive prices and allow you to trade in various markets. With all these features, you can be sure that you will be able to find the best trading platform that meets your needs and requirements.
We hope to have helped you search for the best trading platform in UAE with the help of this Dbd guide. Do let us know if you have any queries or suggestions in the comment section below.