IMO app could be the best choice for those looking for high-quality video calls and an instant messaging app. It works great for local and abroad without any issues.
IMO is a cross-platform app available to download for iOS, Android, Mac, and Windows platforms.
It is one of the most trusted calling apps as it has already been downloaded by over 100 million users worldwide.
IMO is not just a video calling app but also includes features such as instant messaging, voice calls, stickers, etc.
It also offers single or group chat sessions and video conferences for online meetings. You can also join any ongoing stream and share emojis and virtual gifts with them.
So, there are plenty of reasons why you should use the IMO app. Let us now get into the details of this app and find out how it can be useful for you.
IMO app review – Quick summary
| | |
| --- | --- |
| Legit | Yes |
| Works on | Android, iOS, Windows, and Mac |
| Free video calls | Available |
| Free texting | Available |
| Registration required | Yes |
| Free call limit | Unlimited |
| Payment requires | No |
| Premium subscription | Available ($0.99 to $199.99) |
| Total downloads | 1,000,000,000+ |
| Available language | English |
| Ease of use | Easy |
Features of IMO app
IMO is faster and easier to use than most other apps. Several key features include sending text, voice messages, and video calls. Let's look at some more features that make the app great.
Free international calls: With IMO, you won't have to worry about expensive international calling rates. You may make crystal clear and high-definition free international calls worldwide.
Group chats: The ability to create group chats is one of the features that the IMO free video calls and chat provide to its users.
You can use this feature to send a text message to different people simultaneously.
It will also allow you to change the name of your group and send a group invitation link to other contacts.
If you don't want someone in your group, you can remove them also.
Free audio, video, and photo sharing: You can share photos and videos for free with the IMO app. You can send and receive voice messages or any type of document.
Customize profile: You can customize your profile with hundreds of cool avatars, music themes, and backgrounds.
Related info: Looking for the free calling apps? Check out this Dbd post on – free calling apps, where we have reviewed the 15+ best free calling apps for Android and iPhone users.
How to download IMO in Android?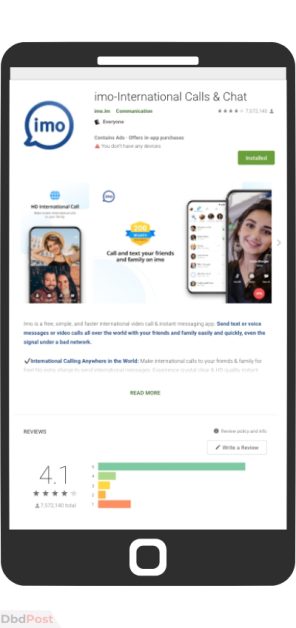 Download IMO HD and IMO lite apps on your Android device as follows:
Step 1: Go to the Google Play Store.
Step 2: From the top of your screen, tap on the "search" bar.
Step 3: Type the "IMO HD" or "IMO Lite" in the search bar.
Step 4: Tap on the "Install" button after finding the app.
Or, you can use the following link to download IMO app on Android devices – IMO App for Android
As the app installs, you are ready to use IMO free video calls and chat app.
How to download the IMO app on iPhone?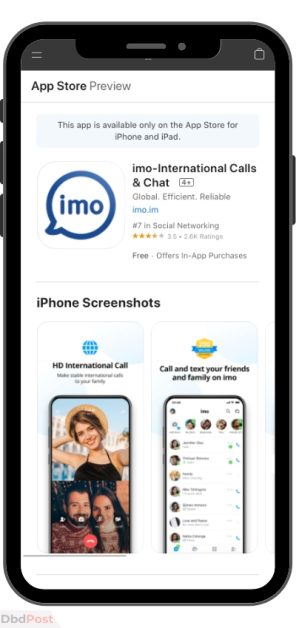 To install the IMO HD video calls or IMO lite app on your iPhone, follow these steps:
Step 1: If you are an iPhone user, visit the App Store and search "IMO HD" or "IMO Lite."
Step 2: Click on the "Install" button, and the app will start downloading on your iPhone.
Step 3: It will take a few minutes to install the app and sign up for your IMO account.
Step 4: You are all done, and now you can run the app on your iPhone.
For your convenience, here is a download link for the IMO app for iOS – Download IMO for iPhone
How to download IMO on PC?
Follow the steps and download IMO on PC for free without any hassle.
Step 1: Open your web browser or chrome and visit IMO's official website (imo.im).
Step 2: Click the "Download IMO APK" button.
Step 3: You will receive a file imo.setup, Double click on it.
Step 4: Accept the terms and services and click on the "install" button.
Step 5: After your installation is completed, click the "Finish" button.
For your convenience, you can download IMO app for PC from this download link.
Related info: Looking for the site that allows you to make free calls? Check out this Dbd post on – free calling websites, where we have reviewed the 8+ best free calling websites that work in 2023.
Pros and cons of IMO free video calls and chat app
Pros:
Free international calling service
High-Quality Video and voice calls
Ability to send large size documents or videos
Option of cloud storage
Compatible with high or low networks
Cons:
It always requires an internet connection
Cannot determine location through GPS
Is the IMO app right for you?
IMO's encryption features make it the right choice for people who want to keep their conversations private. It is trusted and downloaded by millions of users around the world.
Recommended for:
Group project with your colleagues
Sharing documents with anyone you want
Holding a conference call with your team
Not recommended for:
Them who want to make frequent local communications within the country. In that situation, a local call service is better than IMO.
IMO Plus vs IMO Beta vs IMO Standard version vs IMO Web
The IMO Plus app is a full-featured messaging app that lets you send texts, photos, clips, and audio files to contacts using the app, regardless of whether they are using the Plus, Beta, or Standard versions.
The Plus version will work on 2G, 3G, 4G, and WiFi networks, while the Standard version will only work on WiFi.
It is an excellent option for messaging anytime, anywhere. The Plus version also offers more features than the Standard version, making it the better choice for those who need a more robust messaging app.
Similarly, IMO beta is a less stable version of the IMO app, which is being updated from time to time and is not stable. It is more for the new feature experiments.
IMO Premium Subscription
IMO users can enjoy an ad-free experience with a premium subscription and get 25 GB of cloud storage. The app's premium membership is also cheap, just $0.99 per month.
The premium subscription is charged monthly at the rate selected depending on the subscription plan. You can manage and cancel your subscription by going to your account settings.
IMO app alternatives
There are some alternatives to IMO, and they are:
Facebook Messenger: Facebook Messenger is one of the best alternatives to other video call and chat apps. You can make unlimited HD video calls and text if both parties are using Facebook Messenger.
Skype: Skype allows you to send text messages, group or one-to-one video calls, and call out to landlines or mobile phones with Skype credit.
WhatsApp: You may send and receive as many messages, calls, pictures, and other files as you want using WhatsApp messenger for free.
TextFree: TextFree is an app that lets you send and receive calls and texts from your contacts for free. Outbound calls to non-TextFree users consume minutes, although you can earn minutes for free.
Globfone: Globfone is a provider of international telecommunication services, offering both SMS and calls for free to users across the globe. It also provides a free P2P file transfer service that allows users to send and receive files.
FAQs about IMO app
Is IMO legit?
Yes, IMO is a legitimate service. It is a popular messaging app among millions of users.
Is IMO safe?
IMO is a safe and secure app since it does not store any personal information on its servers. It only requests permissions that are necessary for the app to function.
Is IMO app free?
Yes, IMO is a free chat and video calling app that allows you to stay with your friends and family. It's always the most excellent option for you, no matter where you live.
How to create IMO account?
Creating an IMO account is very simple and takes about a minute. Follow these steps below:
Step 1: Open the IMO free video calls app.
Step 2: Enter a valid phone number, and you will receive a verification code.
Step 3: Enter the verification code you received on your phone number.
Step 4: Enter your name and tap on the "Done" button.
Step 5: Choose your account picture, and tap "Done."
What is IMO code?
The IMO code is a verification code emailed to your phone number when you created an IMO account.
How to delete IMO account?
To delete your IMO account, Follow these steps:
Step 1: Open the IMO app, then tap on three dots in the upper left corner.
Step 2: Select the "setting" icon.
Step 3: Enter your phone number, then choose "Delete."
Step 4: Tap on "Confirm" to make sure that you want to delete your account.
How to block on IMO?
To block unwanted contacts from IMO, follow these steps:
Step 1: Open the IMO app
Step 2: From the top menu of the screen, tap "Chats"
Step 3: Tap on the person's name whom you want to block
Step 4: Scroll down and tap on the "Block" option
How to backup IMO messages?
IMO app does not provide any means of recovering your chat messages on your phone.
How to create a group in IMO?
To create a group IMO, follow these steps:
Step 1: Open the IMO app.
Step 2: Tap on the horizontal line on the left side of the screen.
Step 3: Tap on "Create a group chat."
Step 4: Search and add a contact whom you want to your group.
Step 5: Once you are done selecting, tap on the white button present at the bottom right corner.
Can IMO video calls be recorded?
Yes, you can record the video calls and save the moments later.
How to remove my IMO profile picture?
You can remove and add another profile picture, just follow these steps:
Step 1: Open the app.
Step 2: Tap on your picture. It will open your profile menu.
Step 3: Tap on your profile picture.
Step 4: Click on the "Edit" button.
Step 5: Tap on the "Avatar" option.
Step 6: Tap on the "Camera" icon.
Step 7: You will see two options. Either tap on "Take a photo" or tap on "Choose from the album."
Step 8: Click "Done" after you choose your profile picture. Then your profile picture will get changed.
Final thoughts
We hope you now know how IMO could be useful for you and your business or community or any other small organization.
It is a powerful communication tool. From your group project to holding a conference, this app got you covered.
No doubt IMO HD free video call and chat is also most useful for those who are living abroad and want to stay connected with their loved ones back home.
So, if you are looking for a powerful communication tool that is easy to use and makes staying in touch easy, IMO is worth trying out.
Do not forget to share this information with your friends, family, and colleagues who might be interested in trying the IMO had or IMO lite app.


Andrew Chavez is a passionate technology researcher and MSc graduate from Texas A&M University. He has a broad range of knowledge on current tech developments, new discoveries in the field of high-tech and science, as well as software engineering proficiency. With an insatiable appetite for learning and discovering, Andrew strives to bridge the gap between academia and industry. His ambition drives him to make meaningful contributions to the tech world continuously.