If you are worried about staying connected with friends and family, the Dingtone app is the perfect solution. With this app, you can make free calls and text from your cell phone to any mobile or landline phone number in over 200 countries.
Additionally, you can receive calls, texts, and voicemails on your Dingtone app and set up call blocks and call forwarding. That way, you never have to worry about missing an important call again.
And if you need a second number for your business or travel, it got you covered. It offers phone numbers for the USA, UK, Canada, and other countries.
Without further ado, let's get into its quick summary.
Dingtone review – Quick summary
| | |
| --- | --- |
| Price | Free |
| Legit | Yes |
| Operating system | Android and iOS |
| Free version | Available |
| Languages | English, Spanish, Portuguese, French, Turkish |
| In-app purchase | Available |
| Starting price | $0.9 per call minute |
| Category | Social networking |
| Download size | 215.3 MB for iOS and 46 MB for Android |
| Customer support | Available |
What can you do with Dingtone?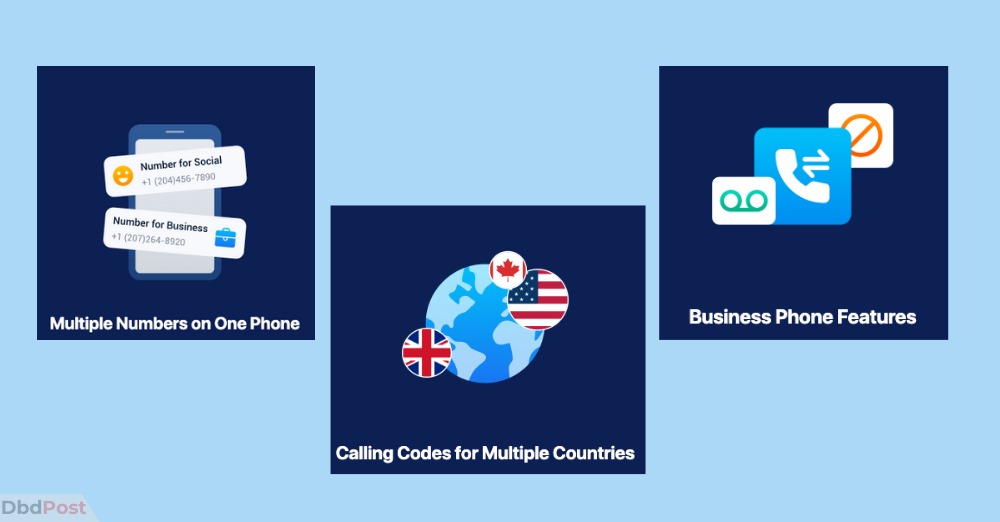 Dingtone is the best calling app that turns a WiFi connection into a phone call. With the Dingtone app you can get a free second phone number, make free calls globally, send unlimited text messages, share photos and earn rewards.
Get a free US phone number using Dingtone
Dingtone is a great way to get a US phone number or other countrie's phone numbers so you can receive calls and texts from anyone. The phone numbers support caller ID, call block, call forward, voicemail, and many great features.
These numbers can be used for various purposes, such as adding a second line for business calls or creating a private number for family and friends. On this app, one phone can have multiple area codes and still be used to call text via the internet.
Unlimited free calls using Dingtone
Dingtone is a free voice calling service that allows you to make free or cheap limitless phone calls over WiFi and 3G/4G without utilizing your mobile minutes. You can make a call in 200+ countries using this app.
Dingtone number offers a variety of additional services, such as calling back home for free when you are on vacation, talking for hours without using your phone minutes, and much more.
Unlimited free texts using Dingtone
Dingtone free call app lets you send unlimited texts and SMS messages to anyone, in your contact list. Enjoy more fun with unlimited texts, instant messaging, and group messaging.
Dingtone also offers great features like free instant multimedia sharing, including photos, videos, contacts, and group chatting with non-app users.
Related: Free Calling Apps for Unlimited Texts and Calls
Dingtone app download
Dingtone is a free mobile application used by more than 100 million users worldwide. You can download the app for free, either on iOS or Android devices.
To download the Dingtone app, follow the easy steps below:
Step 1: Open the App Store to download Dingtone app for iOS devices or Google Play Store to download Dingtone app for Android devices.
Step 2: Type "Dingtone" to search the Dingtone app.
Step 3: Once you find the Dingtone app, download and install it.
Step 3: Create an account and start making calls.
You can download Dingtone from their website too (dingtone.me) where all versions of Dingtone installation packages are available.
How to get a free phone number on Dingtone?
Dingtone offers a free phone number to everyone. It is easy to get a free phone number on Dingtone with just a few taps. To get a free phone number on Dingtone, follow these steps:
Step 1: Download and register for a Dingtone account.
Step 2: You will be automatically assigned a phone number.
Step 3: Start making calls and texting for free!
However, if you want that Dingtone free phone number as a permanent number, please follow these steps:
Step 1: Download and register a Dingtone account.
Step 2: Go to the "Connect" tab, then click on "My Phone Numbers." You can add a new phone number, and you'll have access to the list of phone numbers to be selected.
Step 3: Choose a Dingtone number, and select your country from the list of available options.
Step 4: Choose area code and choose a custom number or have a random number assigned to you and click "Continue" at the bottom to enter the payment page.
Step 5: Pay by Dingtone credit. But, if you do not have enough time to earn the Dingtone credit you can also directly pay them for a permanent phone number.
How to make free calls using Dingtone?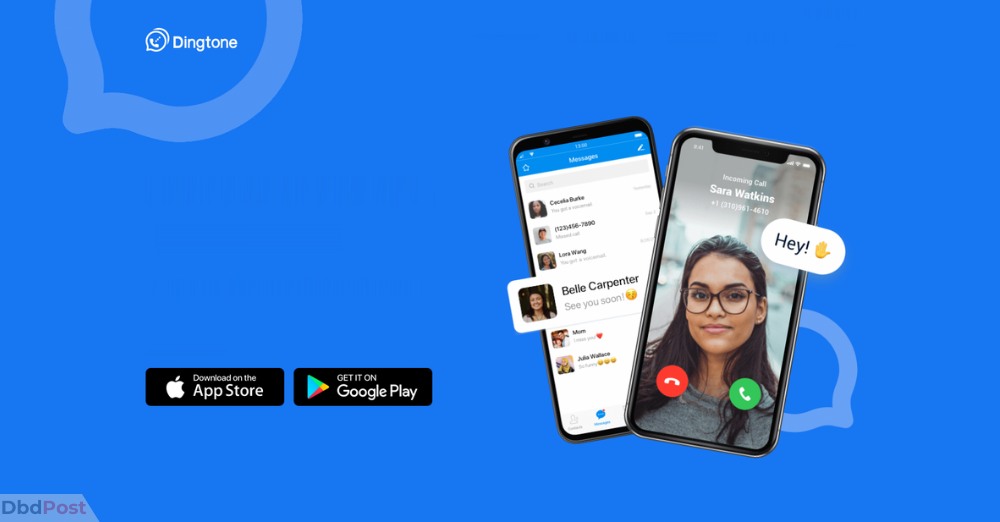 Dingtone allows you to make free calls to anyone, anytime, anywhere. To make a free call using Dingtone, simply follow these steps:
Step 1: Download and install the Dingtone app on your phone.
Step 2: Create a free account and log in.
Step 3: Choose a contact from your phone book or enter a number manually.
Step 4: Click on the "Call" button to make a call.
Related: Best Free International Calling Apps and Website
How to send a free text using Dingtone?
Dingtone also allows users to send unlimited text messages. The service's capabilities include sending emojis, voice notes, and photo messages. Follow these steps to send SMS using Dingtone:
Step 1: Download and install Dingtone.
Step 2: Open Dingtone.
Step 3: To begin texting, tap the "Edit Pen" in the upper right corner.
Step 4: Choose message type, to enter your phone number or contact name to determine your contact target.
Step 5: Now it allows you to send text, photos, voice, videos, location, doodle, or contact information of others.
Pros and Cons of Dingtone
Pros:
Get an actual free second phone number for your tablet/phone.
Make free calls to 200+ countries and regions.
Get an actual US phone number for free.
Make free calls and send messages to your Facebook friends.
It offers push-to-talk walkie-talkie functionality in addition to its text chat feature.
A group call and conference calls are free of charge.
Allows you to record your calls and forward the recordings via email.
Amazing premium feature.
Cons:
The app can be a little bit tricky to use.
The customer support is not as responsive as it could be.
How to earn credits in DingTone?
You can earn credits by completing offers, watching videos, or inviting friends. Once you have enough credits, you can use them to pay for your phone number or make calls globally or download the app that offers credits.
Is Dingtone right for you?
Yes, this app may be the right choice if you frequently make calls to mobile phones or landlines. It will help you to save your monthly cellphone bill. You can also call overseas without incurring high fees using Dingtone.
Recommended for:
Not recommended for:
Frequent international caller.
If you are looking for unlimited free international calls.
How to cancel the Dingtone subscription?
To cancel the subscription, follow these steps:
Step 1: Open the Google Play Store and sign in to the correct Google account if you have multiple accounts.
Step 2: Click on the menu icon, then select "Subscriptions."
Step 3: Choose the Dingtone subscription you wish to cancel and tap on the "Cancel Subscription" option.
Best Dingtone alternatives
If you are looking for the best alternatives to Dingtone, here are some top apps that you can use to make free calls and messages.
Globfone: Globfone is a provider of overseas telecommunication services, offering free calls and SMS to users across the globe.
TextMe: TextMe offers one of the best free unlimited texting, calling to any phone in US and Canada. You can also send pictures and voice and video messages to your friends.
PopTox: Poptox lets you make free VOIP calls from your PC or smartphone using WiFi or the internet. You can use PopTox from any standard web browser.
CitrusTel: Citrustel offers a free online call to all mobile and landline to make calls worldwide.
Google Voice: Google's VoIP service is the perfect option for businesses who are looking for alternatives to traditional phone services.
FAQs about Dingtone
Is Dingtone legit?
Yes, It is legit. You can trust the app. It has 610K+ five-star ratings, and 300M users voted it the best free calling app worldwide.
Is Dingtone safe?
Yes, it is a safe and secure free calling app. This app is used by more than 100 million users around the world.
Is Dingtone free?
Yes, It is a free app, but it also offers in-app purchases. The purchase will allow you to access premium features like visual voicemail, call recording, etc. [1]DingTone,"Free call and text for everyone,https://www.dingtone.me/"
What is Dingtone used for?
Dingtone is used for making free calls, messaging, and sharing photos and videos with friends and family locally and globally. Dingtone also offers free voicemail, group chat, calling to landlines, etc.
Does Dingtone support group call?
Yes, Dingtone can make calls with up to eight people at a time. To begin group calling, you must first create a group.
Create a group on Dingtone by going to "Contacts," then "Groups," and tapping "Create Group." Select your friends to join the group. Fill in a group name and tap "Continue."
Once the group is created, Dingtone will notify all group members and they can start calling each other. Non-Dingtone users can also be added to the group with their phone numbers.
Can a Dingtone phone number be changed for free?
No, you won't be able to switch your Dingtone phone number without paying. You'll have to pay for a new number through the Dingtone app.
How is Dingtone different from another regular call?
It is different from other regular calls because it uses VoIP (Voice over Internet Protocol) to make calls. It also offers unique features such as group calling, voicemail, calls to landlines, etc.
It offers lower cost and higher flexibility.
How to delete the Dingtone account?
To delete your Dingtone account, follow the following steps:
Step 1: Log in to your Dingtone account.
Step 2: Tap on the "Settings" tab.
Step 3: Scroll down and tap on the "Delete Account" option.
Step 4: Enter your password to confirm the deletion of your account.
Once you have confirmed, your account will be permanently deleted.
Can Dingtone calls be traced?
No, the Dingtone app cannot be traced. Because you may choose the phone number of your desired location, Dingtone calls are impossible to trace.
Does Dingtone have a mobile app?
Yes, Dingtone has a mobile app that is supported on both iOS and Android devices. You can visit its official website to download both apps.
Is a Dingtone phone number real?
Yes, it gives a real phone number to call for free with your family and friends. It also provides accessibility like your real phone carrier.
Final thoughts
Dingtone is a great app that can save you money on your phone bill. The app has some unique features, such as group calling and voicemail, that make it stand out from other regular calls.
Additionally, the app cannot be traced, making it a safe choice for users who want to keep their conversations private.
If you found this information helpful, please share it with your friends and families.


Driven to stay up-to-date with the latest technological advances, Harry Evans is an enthusiastic computer science B.Sc graduate and tech specialist with a wealth of experience in technical support, IT process analysis, and quantitative research. His expertise explores how various technology tools can effectively solve complex issues and create distinct solutions through data-driven processes. Additionally, he is passionate about educating others on the best ways to use these new technologies.