When it comes to making no-cost calls, Ievaphone is one of the most popular apps that is found on the internet. It allows you to call almost any country without a penny.
The best part about Ievaphone is that it does not need any registration or sign-up process, making it convenient for users.
Ievaphone is a good choice for making free international calls through the internet. It has access to more than 200 countries.
Ievaphone review – Quick summary
| | |
| --- | --- |
| Legit | Yes |
| Works on | Website and mobile application |
| Free voice call | Yes |
| Free texting | No |
| Registration required | No |
| Free call limit | Unlimited (credit-based) |
| Payment required | No |
| Premium subscription | Not required |
| Released date | May 30, 2016 |
| Available language | English |
How does Ievaphone work?
Ievaphone lets people make calls through the internet instead of a regular phone line. It works by using VoIP technology. VoIP is a technology that has been around for a long time.
The Ievaphone website uses WebRTC technology, built into most modern browsers (including Chrome, Firefox, and Opera). You don't need to download any software or plugins – everything you need is already built into your browser.
Even though you do not require to make any payment, all calls made through It run on the basis of credits. These credits translate to free minutes and can be available to you for free.
The website gives you a few free credits. If you download the application on an iOS or Android device, you will get 10 more free credits. These credits do not expire, so you can keep them for as long as possible.
Furthermore, you can earn these credits through exciting ways, such as playing games and watching videos. This means that even though you might run out of credits there is still an opportunity for more credits to you can earn.
You can use this service without the other person having the application or being on the website. They need to have a registered mobile or landline number. [1]Ievaphone, "How to use Ievaphone to make free calls, https://ievaphone.com/how-to-use"
Features of Ievaphone free calling apps
Various features are available on the website and the application at the cost of nothing.
Free voice call: All the calls made through Ievaphone are free, no matter which country you are calling.
HD voice quality: It offers excellent HD voice quality for all the calls made through its platform.
Cross-device: It offers a service that is rare among free calling sites and apps. This service allows two people to communicate through different devices. For example. you could be using your PC to make a call to a mobile device.
No registration needed: To make free calls through the website you do not have to register any of your details making life easier for you.
Ease of use: It is an easy service because it does not require registration, and you only need an internet connection.
Easy configuration of caller ID: It also provides the feature of setting a caller ID. You can set up a caller ID without any additional cost.
With these features, it is no surprise that Ievaphone is gaining popularity as it offers an excellent service without any cost.
Related: Best Free Calling Apps in 2023
Ievaphone pros and cons
Pros
Free to use
No need to download any software or plugins
You can use it on most modern browsers
Has an app for mobile phones
Cons
Call quality can be poor at times
Weak internet connection may lead to disruption of the call
Texting option is not available
Step by step guide on using Ievaphone
Follow these steps to use Ievaphone.
Step 1: Open the Ievaphone website on any web browser.
Step 2: Enter the country code and phone number you wish to call in the spaces provided.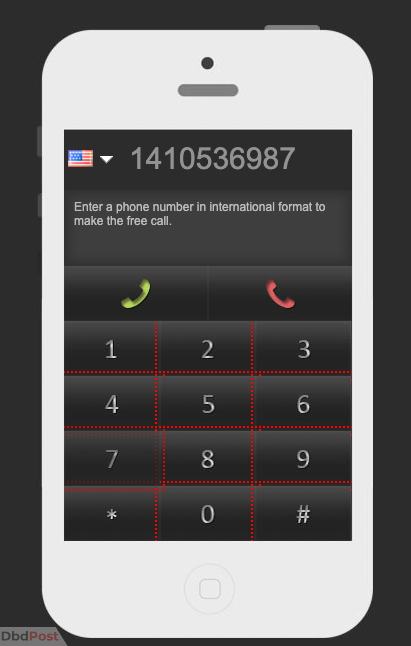 Step 3: Click the green call button on the left side after entering the number and the country code.
Step 4: Click on the red call button on the right side after you have completed your call.
How to download Ievaphone?
Currently, the Ievaphone app is not available on either the Appstore for iOS devices or the Google Play Store for Android devices.
Is the Ievaphone app right for you?
Recommended for:
It is recommended for people who are looking to make abroad calls free of cost.
Not recommended for:
It is not recommended for people who are looking for free texting options as Ievaphone only offers free calls online.
Alternatives to Ievaphone
There are various Ievaphone alternatives that you can use:
Globfone– Globfone is a web-based application that enables users to make free phone calls as well as send free text messages to any part of the world.
Citrustel– Similarly, Cirustel is also a web-based application that lets you make calls without any cost to any mobile or landline phone number.
PopTox– PopTox is yet another web-based application that allows users to make no-cost calls all over the world. It also uses VoIP technology.
If you want to explore more free calling options, check this page.
FAQs about Ievaphone app
Is Ievaphone legit?
Yes, ievaphone is legit and free to use.
Is Ievaphone safe?
Yes, Ievaphone is 100% safe to use and only requires you to have a strong internet connection accessible through a website or its application.
Is Ievaphone free?
Yes, Ievaphone is free to use for users that you can use for making calls to different countries regardless of your location.
How to get unlimited credits on Ievaphone?
You can get unlimited credits by watching ads on the website or inviting friends to use the service. You can also add credit upon downloading the given apps.
Final thoughts
So if you are looking for a way to communicate with your loved ones overseas for free, then Ievaphone is certainly the way to go! Its simple interface and easy-to-use features are the best options available.
There are many other websites that offer free abroad calls like Ievaphone, if you would like to see more options then you can explore them here.
Well – if you like the information in this Ievaphone review, don't forget to spread the word to others who might want to know about the Ievaphone.


Driven to stay up-to-date with the latest technological advances, Harry Evans is an enthusiastic computer science B.Sc graduate and tech specialist with a wealth of experience in technical support, IT process analysis, and quantitative research. His expertise explores how various technology tools can effectively solve complex issues and create distinct solutions through data-driven processes. Additionally, he is passionate about educating others on the best ways to use these new technologies.