TextFree is a free texting app and calling app that gives you a real US phone number so you can text or call anyone over the internet connection. Even if the other person does not have the app, you can call or text people in the US, Canada, and Mexico for free.
TextFree includes features like MMS, group messaging, and choosing from various ringtones and emojis. It is available for Android, iOS, Microsoft Windows, and Mac devices.
TextFree App is handy for international travelers since it allows you to stay in touch with friends and family back home without charging roaming.
TextFree app review – Quick summary
| | |
| --- | --- |
| Free version | Available |
| Access on | Android, iOS, Microsoft Windows, and Mac devices |
| In-app purchases | $1.99 to $69.99 for a TextFree Plus subscription |
| Ads | Not an ads-free |
| Key features | Second phone number |
| App category | Communications |
| Number of downloads in Google Play | 10 million-plus |
| Author | Pinger, Inc |
| Released date | 2006 |
| Current version | Varies with device |
| Download size | 19.94 MB |
| Required minimum software Android | Varies with device |
| Required minimum software iOS | 13.0 or later |
How does TextFree work?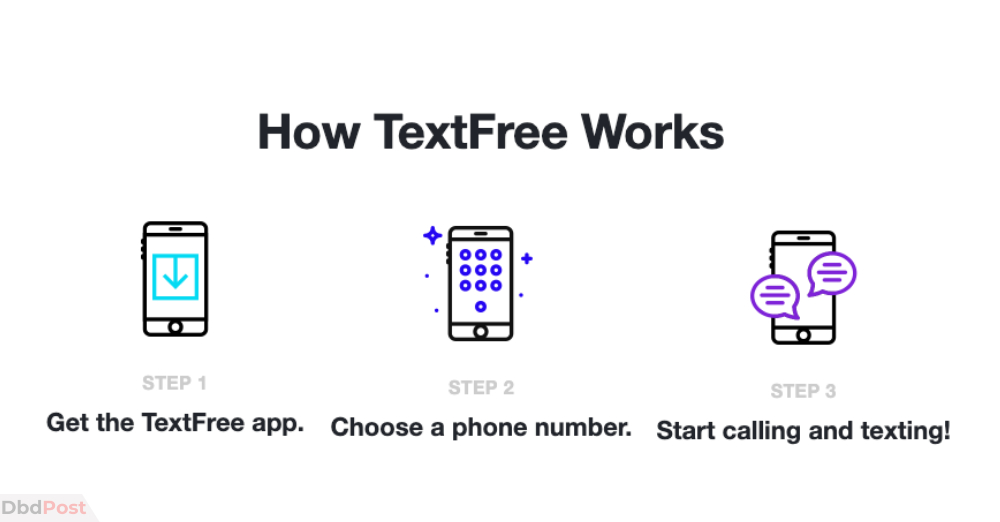 TextFree is a VoIP-based service that allows you to send and receive text messages with a real U.S. phone number. You can also chat with friends on Facebook using TextFree's chat feature.
To start using TextFree, download the app from the App Store or Google Play Store and choose a phone number. You can then start making and receiving calls and texts completely free.
Related: Best Free Calling Mobile Apps in 2023
Features of the TextFree app
Real phone number: Unlike other free texting apps, TextFree gives you a real US phone number so you can text or call anyone. You can choose your phone number. Because it's a secondary number, you can use it for any purpose without worrying about giving out your primary number.
Free unlimited calling: With the TextFree app, you can use it to make internet calls without a carrier plan. All TextFree app to TextFree app calls and incoming calls are free of cost. But you may need to purchase credits to call landlines and non TextFree users.
Unlimited free texts and MMS: TextFree allows you to send unlimited texts and MMS pictures without paying for every individual message. You can even send photos to people who don't have the TextFree app installed on their phones.
Voice mail Service: TextFree also offers a Voicemail service, allowing users to receive and listen to voicemail messages. TextFree transfers voicemail to a text message by recording the message and then sending it as an audio file attachment.
Group messaging and chatting: TextFree allows you to send group text messages to your contacts, but you can also create a group, add the participants, and start group messaging and chatting.
Available in multiple languages: The TextFree app is available in English, Spanish, and French.
Safer communication: TextFree is a secure and private communication platform that prevents people from calling or messaging you if they are not on your contact list. Additionally, it hides text communications from spambots and end-to-end encryption of your private conversations and calls.
Related: Here is how to make free international calls
TextFree app pros and cons
Pros:
An actual US phone number
MMS picture and video messaging
Block an unwanted phone number
No log policy
Free voicemails
Simple and easy to navigate
Cons:
It does not offer video calling features
A weak or slow internet connection may cause poor voice quality
Steps to create an account on the TextFree app?
Follow the simple steps to create an account on the TextFree app:
Step 1: First, download and install Textfree on your Android or iOS.
Step 2: Tap on the "Sign up" button.
Step 3: Allow the app to access your location so that you may get a local phone number.
Step 4: Choose numbers from the list, enter your desired area code, and tab "Continue."
Step 5: Enter your email address, create a password, and select gender.
Step 6: Tap "sign up," and you are ready to use TextFree for free calls and texting
Can you send a message on TextFree web? How?
Yes, you can send and receive a message from TextFree web.
To send a message on TextFree web, you need to log in to your account. Once you're logged in, you can enter the phone number you want to message in the "Phone Number" field at the top of the page. Type your message in the "Your Message" field and click the "Send Message" button.
A confirmation screen will appear, indicating that your message has been sent. [1]TextFree,"TextFree Support, https://textfree.zendesk.com/hc/en-us"
How to get a real US phone number in TextFree?
To get a real US phone number in TextFree, all you need to do is follow the simple steps:
Step 1: Sign in for a new account from TextFree web (textfree.us)
Step 2: A popup will prompt you to "Allow Textfree to access this device's location" Tap "Allow" to allow the app access to your location to get the local area code phone number.
Step 3: Enter your local area code and tap "Continue."
Step 4: Select the number and click "Confirm."
Step 5: Enter your primary account details i) email address, ii) password to login the TextFree account, and iii) your gender, and click the "Confirm Account" tap.
How to change your TextFree number?
To change the TextFree number, you must first log into your account.
After that, go to the "Settings" tab and select "Account Info." Here, you will see the "Change Number" option. Just enter the preferred area code and choose a new number from the list of available numbers.
Finally, hit the "Confirm" button to save your changes.
How to block unwanted numbers in TextFree?
To block unwanted numbers in TextFree, follow the simple steps:
Step 1: Log in to TextFree web (textfree.us).
Step 2: Click the contacts you wish to block on the arrow alongside the name.
Step 3: In the dropdown menu, tap "Block Number."
Step 4: You will see a popup to confirm it, and click on "Block" to confirm.
TextFree subscription packages
Monthly(1 Month): $9.99 (Default for new accounts and account who upgrades to Texting free plus)
Half-yearly (6 Months): $39.99 (Currently available for iOS customers only)
Yearly (12 Months): $69.99 (Currently available for iOS customers only)
Features provided by premium subscription
Premium subscriptions include more features than the free service. Some of them are as follows:
Free call to friends and family as long as you want
Ad-free experience
Can change TextFree number at any time
How to subscribe TextFree?
You have the option to subscribe TextFree plus. Here is how:
Step 1: Open your TextFree app and Click "Setting."
Step 2: Tap "Upgrade TextFree Plus."
Step 3: Tap "Subscribe" and signup Text free Plus.
You will receive a subscription confirmation message "Thanks for subscribing."
Is TextFree right for you?
TextFree is the right option for those looking for a reliable and free texting app. It offers a convenient way to stay connected with friends and family.
Recommended for:
For those who want a trustworthy and free texting program for when they go on vacation or a business trip abroad, TextFree is the ideal solution.
It is also an excellent choice for those who want to keep their contact number private.
Not recommended for:
TextFree is not recommended for those who frequently message because it has a limit for complimentary messages.
Best TextFree alternatives
There are few alternatives to TextFree. Some of the best ones are listed below:
FAQs about TextFree app
Is TextFree app legit?
Yes, TextFree is a legal and secure app to use.
Is TextFree app safe?
Yes, it is a safe app to use as it is encrypted and private. You can text or have free calls with full privacy in your conversation.
Is TextFree app free?
Yes, TextFree app is free to download and use. You can also purchase credits to make calls and send texts.
Is pinger TextFree anonymous?
Yes, TextFree is private and anonymous. Your personal information is not shared with anyone.
How to delete TextFree account?
To delete the TextFree account, first, you have to go to the settings of the app or website. After that, you have to find and tap on the "close account" button. Finally, you have to tap "Close Account" to confirm and finalize the process of deleting your account.
Can TextFree number be traced?
Yes, the TextFree number can be traced. It may take time and effort to track down the owner of a TextFree number.
Can TextFree receive verification codes?
Yes, TextFree can receive verification codes if you have a paid subscription.
After TextFree plus subscription, will you see ads?
TextFree offers a premium subscription that gives you an ad-free experience. With this subscription, you will not see any ads on the app. This is an advantage over the free version, where you may see ads.
How to cancel TextFree subscription?
To cancel the TextFree subscription from the mobile app, go to the app's settings and tap on "Cancel subscription." You will be asked to confirm the cancellation, and once you do, your subscription will be canceled. If you cancel the subscription, you will still have access to TextFree features for the remainder of the current billing cycle.
Final thoughts
TextFree is a great way to stay in touch with friends and family without worrying about expensive text messaging fees. The app is easy to use, and it's also very affordable.
TextFree is a free alternative for making calls and sending text messages. We suggest this app to anybody searching for free voice and texting options. Enjoy your shared conversations with your family members.
If you found this information helpful, share it with your friends and families.


Driven to stay up-to-date with the latest technological advances, Harry Evans is an enthusiastic computer science B.Sc graduate and tech specialist with a wealth of experience in technical support, IT process analysis, and quantitative research. His expertise explores how various technology tools can effectively solve complex issues and create distinct solutions through data-driven processes. Additionally, he is passionate about educating others on the best ways to use these new technologies.