Are you planning a trip to Armenia but don't know how to get an Armenia visa for UAE residents? Well, pack your bags and get ready because the process is quick, cheap, and easy!
Armenia is one of the many countries with a visa-on-arrival travel policy for the UAE. You can obtain a tourist visa at the airport after you land in Armenia.
Alternatively, you can also apply for an e-visa online to enter the country. This will make your entry to Armenia easier as you won't have to wait in a queue at the airport for paperwork.
Now you may wonder what documents are required to fill out the e-visa application form. You do not need to worry. We will take you through the whole process in this Dbd guide.
What are the requirements for Armenia visa for UAE residents?
The following are the visa requirements for Armenia for UAE residents: [1]UAE MOFAIC, "UAE MOFAIC FAQs, https://www.mofaic.gov.ae/en/missions/yerevan/contact-us/faqs#:~:text=What%20are%20the%20requirements%20related%20to%20passport%20validity%3F"
Your passport that is valid for six months
Plane tickets
Travel itinerary
Once you have gathered all the documents required, you are eligible to be one of the applicants by applying online.
See also: Check out our Dbd guide on – Albania Visa for UAE Residents: Requirements, Application, and Fees
How to apply for Armenia tourist visa from UAE?
First of all, you need to know that an Armenian visa is not required for citizens of UAE. The primary requirement they have is that you need to have a passport valid for at least 6 months.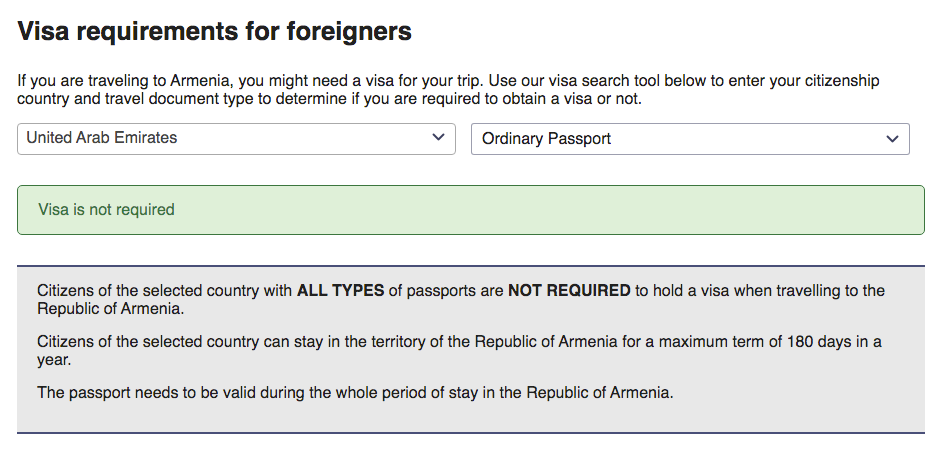 On the other hand, you may need a visa if you are not a UAE citizen but have a UAE residence visa. UAE residents need to follow these simple steps to visit Armenia: [2]MFA Armenia, "Visa requirements for foreigners, https://www.mfa.am/en/visa/#:~:text=List%20of%20countries,an%20entry%20visa."
Visit the Republic of Armenia's Ministry of Foreign Affairs page.
In the "Visa" section, click on the e-visa application link.
Click "Apply for visa" and fill out the form. You need to fill up personal and important information. All the information will need to be 100% accurate.
State your purpose for the visit and duration of stay.
Make necessary payments. You can pay the visa fee using your bank's credit card.
When you enter passport details, ensure your passport is valid for the entire stay. To be eligible for a 180 days visa, you will need the passport to have at least the same validity.
United Arab Emirates citizens can stay in Armenia for up to 180 days a year. The residents can also stay for the same period after they have completed these steps. [3]MOFAIC UAE, "FAQs, https://www.mofaic.gov.ae/en/missions/yerevan/contact-us/faqs#:~:text=Do%20UAE%20citizens%20need%20entry%20visa%20to%20visit%20the%20Republic%20of%20Armenia%3F"
Children under the age of 18 can enter Armenia with their parents, who are residents of the UAE. [4]Armenia MFA, "Visa requirements for foreigners, … Continue reading
You can also apply for a visa with the help of a tourism company. But you will be paying more, as they will charge you an extra service fee too.
It is a straightforward process, so it is a better idea to obtain it online on your own by filling up the application form.
Related info: If you want to go to Canada as a UAE citizen or resident, check our Dbd guide on – How to Apply for Canada Visa from Dubai?
How much does Armenia tourist visa for UAE residents cost?
The cost of a tourist visa depends on the length of your stay in Armenia. If you are applying for a 21-day e-visa, it will cost you $6, which is equivalent to AED 22. Likewise, a 120-day visa costs $30, which is approximately around AED 110. [5]Armenia MOFA, "E-VISA Issuance System, https://evisa.mfa.am/"
These fees can be paid online using your bank's credit card details at the time of the e-visa application.
See also: Check this Dbd guide on – How to check UAE visa status online, where we have shared a detailed step-by-step guide with images.
More Related Stories
---
FAQs
Here are a few frequently asked questions about visa requirements for travel to Armenia for UAE residents.
Can I get Armenia visa from Dubai?
Yes, you can easily get an Armenia visa from Dubai and other Emirates. You just need to apply for an e-visa to enter the country and stay there for short time as a tourist.
Is Armenia visa on arrival for UAE residents available?
Yes, an Armenia visa on arrival for UAE residents is available. It is one of many countries worldwide that allow free visits for people in the UAE.
Why do UAE residents visit Armenia?
Armenia is a good change of pace from UAE's bustling cities. The country is home to some of the most gorgeous and serene landscapes you will ever see.
The Armenian capital is a historical city with some of the world's oldest architecture.
How long is a flight from UAE to Armenia?
A flight from the UAE to Armenia takes only about 3 hours and 20 minutes. It is a very short flight and does not require transit.
Final thoughts
Now that you know how easy it is to get an Armenia visa for UAE residents, feel free to go ahead and plan your trip!
Obtaining an e-visa for Armenia is a straightforward process. All you need to do is fill out the form, make necessary payments, and have a valid passport for the duration of your stay.
Armenia is a short flight away from the UAE, and you can explore this beautiful country in just a few days. You can visit the historical attractions and enjoy exploring the beautiful landscapes as you wish.
All in all, we hope you found our guide for obtaining Armenia tourist visa for UAE residents helpful.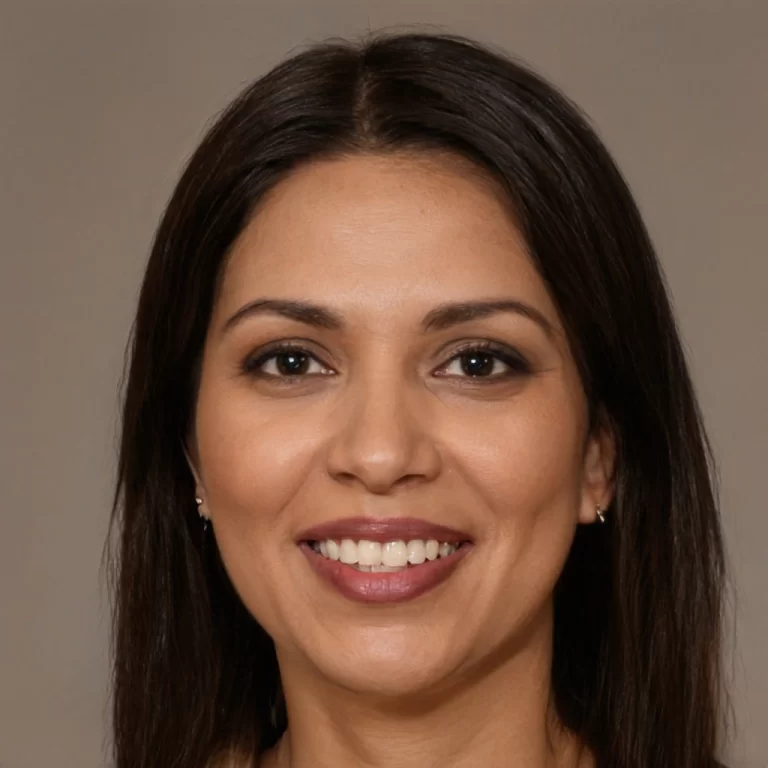 Sarika Patel is an experienced immigration expert with a Master's degree in Law from the University of Dubai. For the last two decades, she has been living in Dubai, and throughout this time, her focus has been on providing helpful information and advice to those seeking to immigrate or gain a visa in Dubai. Sarika is passionate about helping people navigate the often complex and confusing world of immigration, visa rules, and laws in the UAE.