A Unified Number UAE is a unique identifier assigned to each person who holds a UAE visa. Whether you are a tourist, a jobholder, or a resident, you will have a UID number assigned to you.
Just like we identify other people by their name, the government and immigration-related legal entities identify everyone by their UID. The government manages your records based on your number.
The UID number is valid for the duration of your visa, even if you cancel your visa and obtain a new one. Therefore, keeping your UAE number safe and remembering it when needed is important.
If you lose your UAE number or forget it, don't worry because we have you covered. You will know how to find Unified Number UAE after reading this Dbd guide.
What is Unified identification number in UAE?
The Unified Identification number is unique to all people who enter the UAE. This number is used for immigration and identifying a person in the United Arab Emirates.
Everyone with a tourist, employment, or dependent visa has this identification number. The same number will be used when applying for a residence visa in the UAE.
Learn more: If you are concerned about your overstay in the UAE, take a look at our Dbd guide on – How to check the overstay fine in UAE, where we have shared all the latest information.
How do I get a UID number for UAE?
You will automatically get a UID number for UAE when you apply for a visa. No matter your visa type, you will be given a UID number.
Related info: Want to get updated about the latest services offered by ICA in UAE? Read our Dbd guide on – ICA services in UAE.
How do I find UAE visa unified number?
It is straightforward to find UAE visa number and the UID number. If you have your passport with you, the unified identity number can be found in no time at all.
You can see the UAE visa unified number in passport you own. If you look on the top right side of your visa, you will see a number with nine digits. That is the UID number the Authority of Residency and Foreign Affairs UAE assigned to you.
See also: Check this Dbd guide on – How to check UAE visa status online, where we have shared a detailed step-by-step guide with images.
How to check Unified number UAE online?
You are required to complete the following steps to check your UID number online: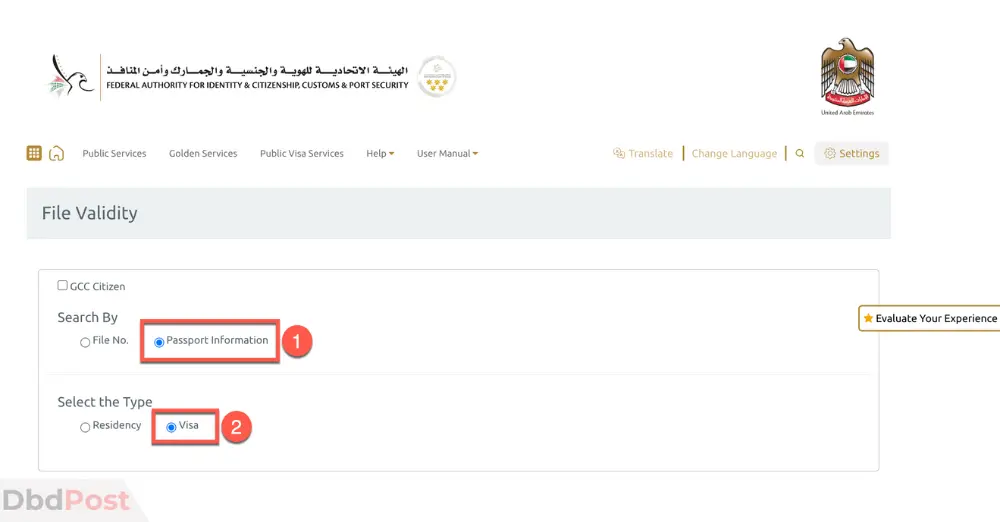 Step 1: Go to the File Validity webpage on the official ICP smart services website.
Step 2: If you are a GCC resident, tick the box labeled "GCC Citizen." Enter your passport number, expiry date & nationality, and proceed to step 5. If you aren't a GCC resident, proceed to step 3.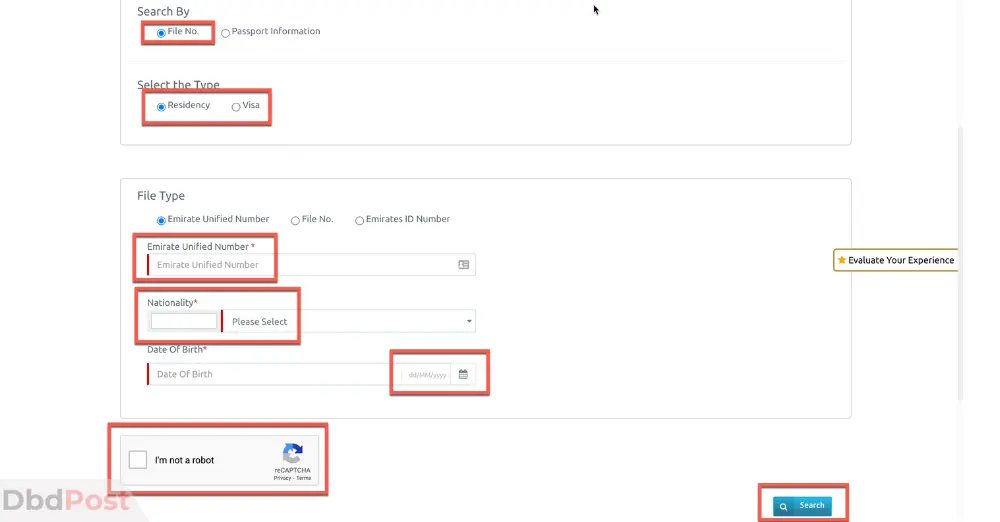 Step 3: On the "Search by" field, choose 'File number' or 'Passport information'; on the "Select the type" field, choose 'Residency' or 'Visa.'
Step 4: If you chose 'File number' on the "Search by" field, then choose one of the file types and fill up the necessary details accurately.
Step 5: If you choose 'Passport information,' enter your passport number, expiry date, and nationality.
Step 6: Click on the box labeled "I'm not a robot" and solve the captcha for human verification.
Step 7: Hit the search button on the bottom right of the form.
You will be able to see details of your visa, and one of those details is the UID number
See also: GDRFA return permit requirement for UAE residents & expats
How to check the UID number UAE with passport number?
You can also check your UID online with just your passport number. Here is how to find UAE visa unified number online: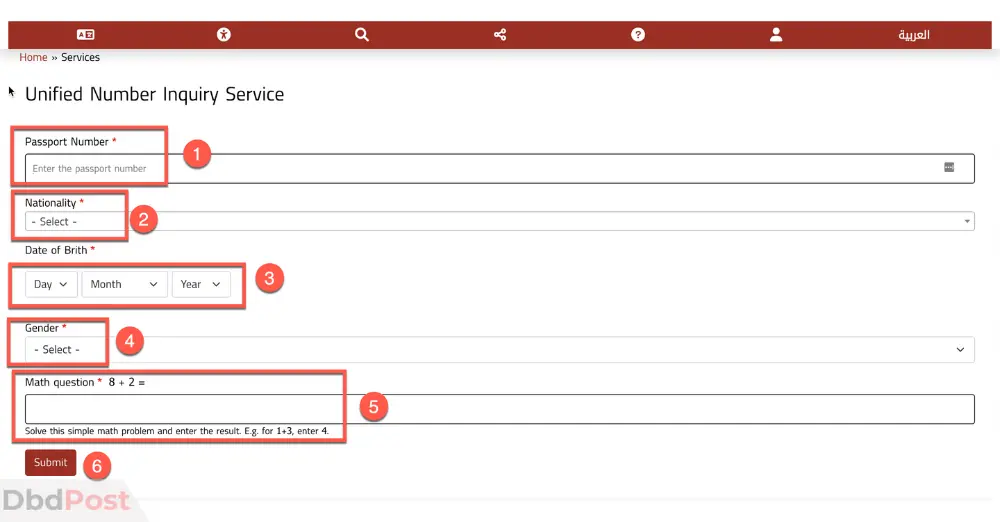 Step 1: Go to the Unified Number Inquiry Service page.
Step 2: Enter your passport number.
Step 3: Select your nationality from the dropdown menu.
Step 3: Choose the day, month, and year of your date of birth.
Step 4: Choose from one of the two genders – Male and Female.
Step 5: Solve a simple math question.
Step 6: Click on 'Submit.'
You can see your ID number after this. Make sure to keep the number safe for any future use.
See also: Check out this Dbd guide on – UAE Golden Visa, where we have shared all the detailed information about how to apply, requirements, fees, and more.
Why do you need UAE unified number?
The UAE unified number helps to ensure that everyone who enters the UAE is accounted for and can be properly identified.
This number helps to keep track of people in the UAE and ensures that they can get the appropriate visas when necessary.
Without this number, it would be very difficult to keep track of everyone who enters and exits the UAE, which could lead to serious problems.
Therefore, the UAE UID number is essential to maintaining order in the UAE.
A UAE visa UID number gives you a unique identification. If you are on a short-term visa and want to apply for a residence visa, you will need this number too.
See also: Check this Dbd guide on – UAE visa renewal, where we have shared a detailed process for both tourist visas and residency visas.
FAQs about Unified number UAE
These are some frequently asked questions about UID numbers:
Is UID number the same as the visa number?
No, the UID number is not the same as the UAE visa number. Some people might cancel their visas and get a new one, but even then, they will have the same UID number. Once it is issued, the UID number remains the same.
What authority issues a Unified number UAE?
The general directory of residency and foreign affairs issues a UID number in UAE. You may also know the authority as GDRFA.
Can I have multiple UID numbers?
You can only have one UID number, but there are cases when one person is assigned two UID numbers. This happens due to system errors, and you need to contact the immigration authority to solve this issue. Their toll-free number is 8005111. [1]GDRFA, "Contact information, https://www.gdrfad.gov.ae/en/contact-information#:~:text=Contact%20General%20Manager-,Toll%20free%20number,-You%20can%20reach"
Final thoughts
We hope our Dbd guide has helped you to understand more about the Unified Number UAE and why it is important. We are sure that you now know how to find Unified number UAE after reading this.
Please keep the number safe, as you will need it for future visa applications or travel within the UAE. If you think you'll need help in the future, be sure to save GDRFA's toll-free contact number 8005111 on your phone.
There may still be individuals who don't know where to find UAE UID number. If you found the information helpful, please share it. They would appreciate it, and so would we!


Arijit Negi is an expatriate living in Dubai for 18 years. He completed his degree in Master of Arts in Journalism from the University of Mumbai. Arijit focuses on providing helpful guides and information for ex-pats living in UAE and visitors to the UAE.