Planning on visiting the United States? You will need a USA visa from Dubai or UAE to do so.
The United States is one of the most popular destinations in the world, and with good reason. There's so much to see and do in this amazing country.
Whether you're interested in history, culture, nature, or just plain fun, the US has something for everyone. From the bright lights of New York City to the majestic Rocky Mountains, there is something for everyone to enjoy.
To experience everything that America has to offer, you need a USA visit visa from UAE. This will allow you to travel freely within the USA and enjoy what the country offers.
To ensure your trip goes as smoothly as possible, you must fulfill all USA visa requirements before applying. That's where we come in – we can help you every step of the way, so your application is processed without any issues.
In this Dbd guide, we will tell you how to apply for the USA visit visa from UAE, as well as the USA visa requirement you must fulfill.
Documents required for USA visit visa from Dubai
Before you begin a visa application process from the United Arab Emirates for the U.S, you need to prepare some documents.
The following are the required documents and additional things for a USA visit visa: [1]Travel.state.gov, "Visitor visa, https://travel.state.gov/content/travel/en/us-visas/tourism-visit/visitor.html#:~:text=Gather%20Required%20Documentation"
Your original passport
Recent photograph
An online application form (DS-160 form)
It's a good idea to prepare $160 to pay for fees. You might also be asked to pay visa issuance fees after your interview.
If your documents are not in English, you need a certified translator to translate them.
You may also be requested to submit additional documents to fulfill your USA visit visa requirements.
These are the documents of proof you might be asked for by the consulate general: [2]Travel.state.gov, "United Arab Emirates, https://travel.state.gov/content/travel/en/us-visas/Visa-Reciprocity-and-Civil-Documents-by-Country/UnitedArabEmirates.html"
The purpose of your trip
Intent to depart the US after your trip
Your income statement or bank balance to prove your ability to pay for the trip
Marriage certificate, birth certificate, etc., as proof of relationship with the traveling companion.
See also: Check this Dbd guide on – How to check UAE visa status online, where we have shared a detailed step-by-step guide with images.
How to apply for USA visit visa from UAE?
There are two stages to applying for a USA visit visa from Dubai and UAE. In the first stage, you must fill up a DS-160 application form online, and in the second stage, you must schedule a visa interview.
It can take between an hour or two to fill up the DS-160 application form for the visa from UAE. So make sure you have enough spare time to fill up the details.
Furthermore, while you are filling up the form, make sure to save the form once every couple of minutes. The saved form can be retrieved later if any internet issues arise at your place, which might cancel the whole process.
After you have gathered the required documents to apply for a USA visa from Dubai, follow the steps in the two stages below:
Stage 1:

Fill up the DS-160 form online

The first stage of the USA visit visa application is to fill up the DS-160 form. Go through the steps described below to complete the first stage:

Step 1: Visit the US Department of State's official website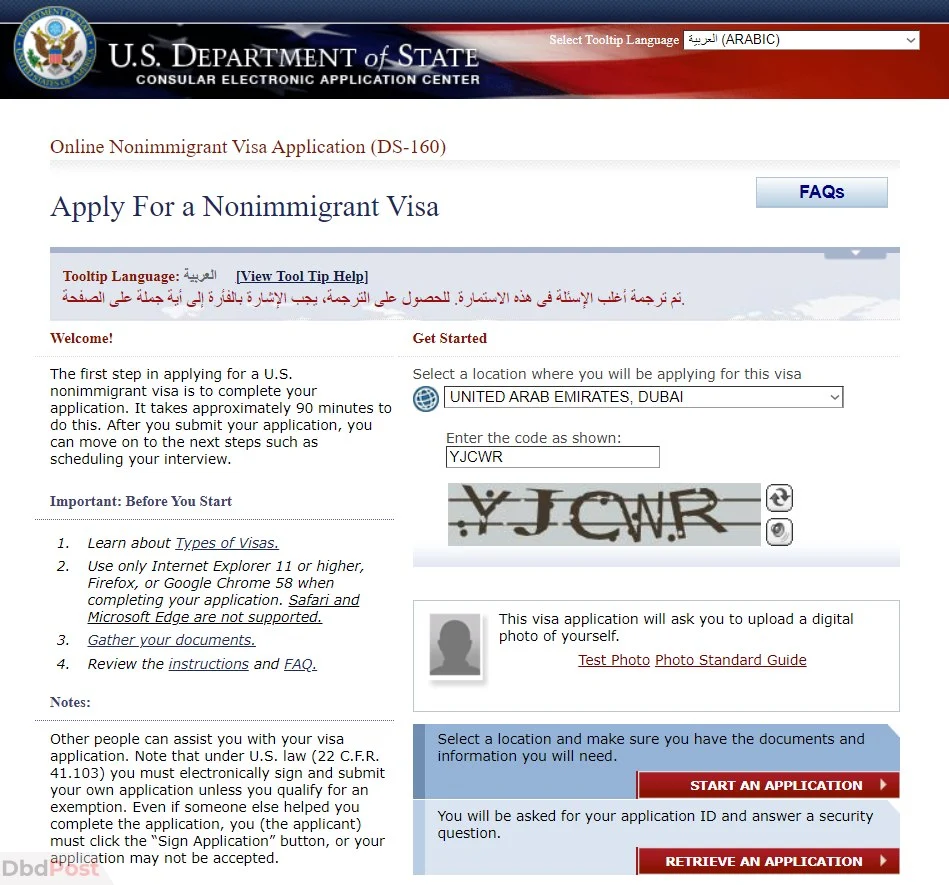 Go to the US Department of State's Non-immigrant visa form page.
Step 2: Select application location
Next, select the location you want to apply from. Then solve the captcha and click on "Start an application" to start the form process.
Step 3: Get the Application ID number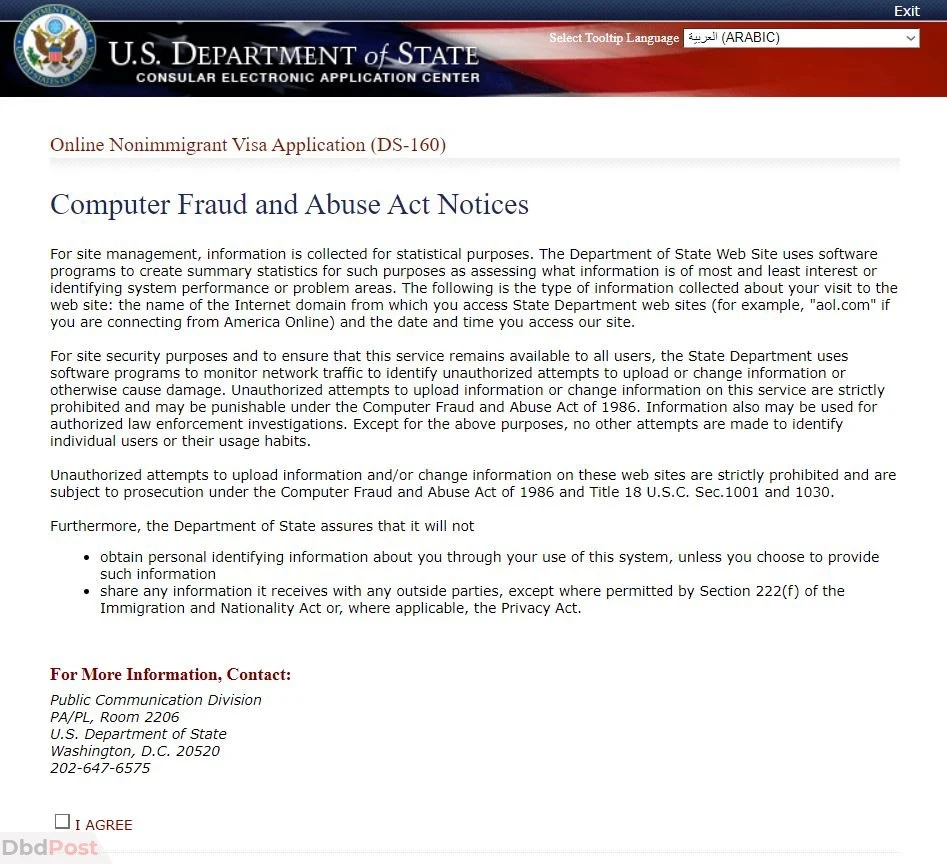 On the next page, check the box beside the "I Agree" text. Then save the Application ID number, as it is essential.
Step 4: Answer the security question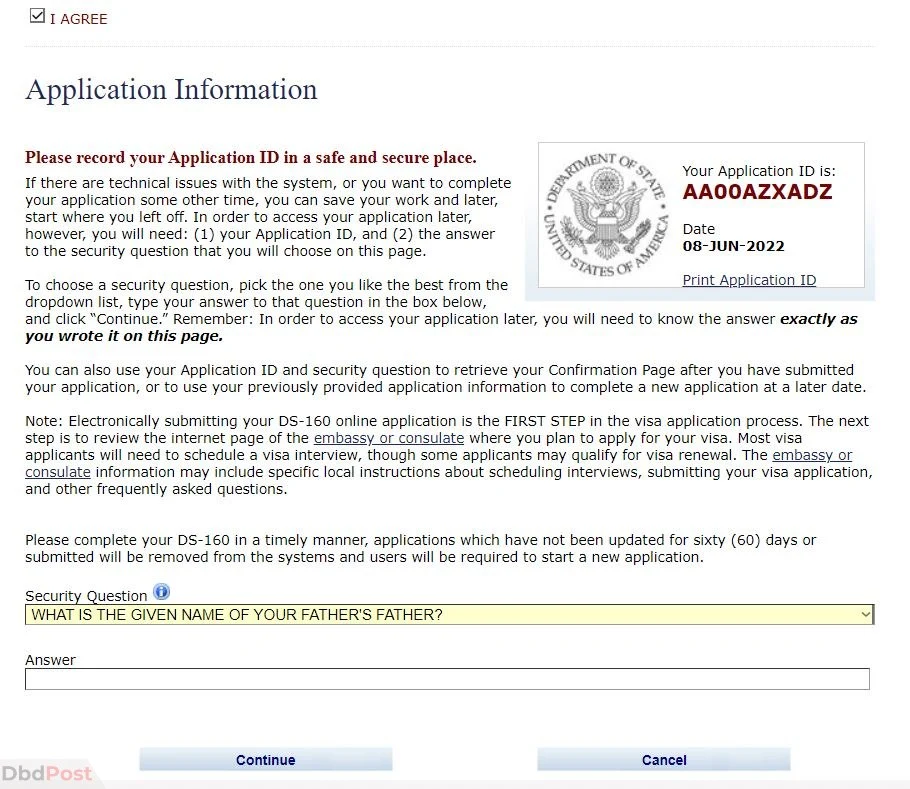 Scroll down, choose a security question, and then answer it. You have to select a question whose answer you can always remember. Then press on "Continue" at the bottom of the page.
Step 5: Enter your personal details
You will have to provide a lot of information in multiple pages. You must enter your personal details, national ID information, your traveling companion's information, and answer several questions.
Click "Next" at the end of each page after you enter all details.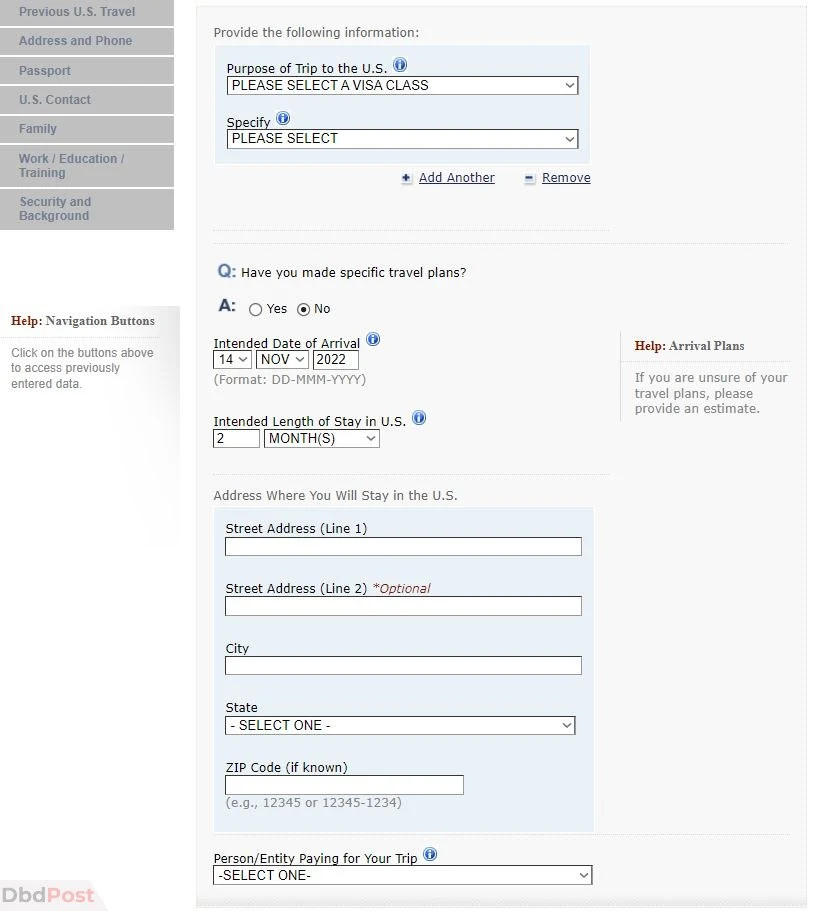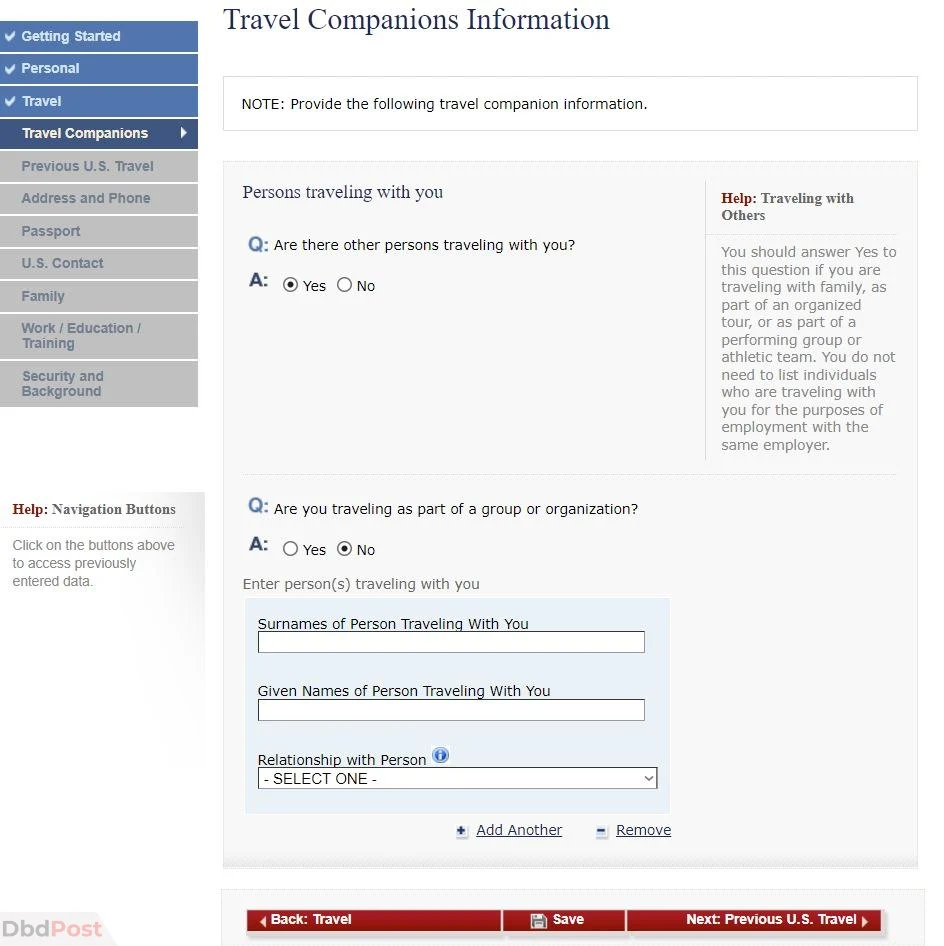 Step 6: Upload your photos
After you answer the questions related to your employment, residence, diseases, crime, etc., upload your photos. Your photo must be plain & unedited along with no cosmetics or glasses.
Step 7: Review and finalize the form
Review your application and enter their details of those who helped you fill the form, unless you filled it without help. On the same page, enter your passport or travel document number. Then type the text shown in the image and press "Save."
Once you have saved the application, you cannot make any edits anymore. Hit the Confirm button to finish the application process.
Step 8: Save or print your confirmation file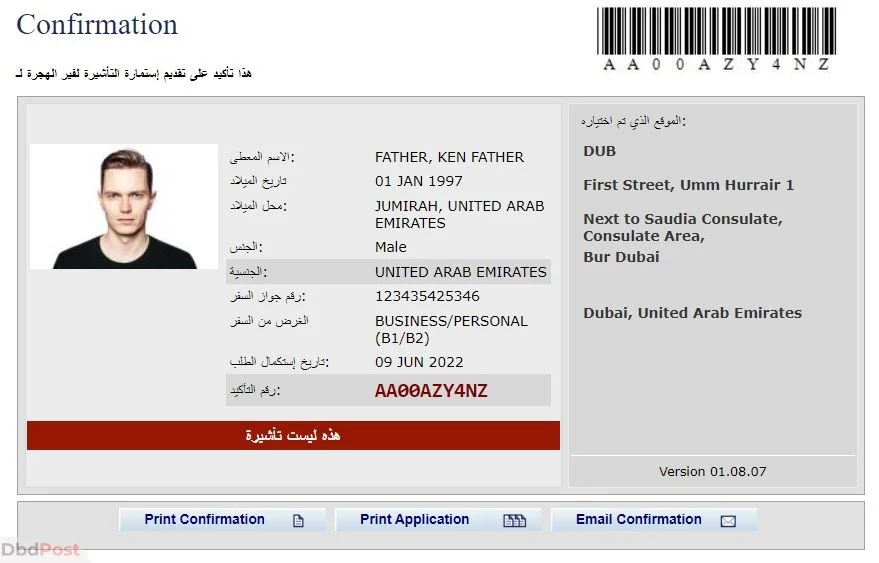 A confirmation page will appear after you finalize the form. At the bottom of the page, press the "Print Confirmation" button to print it or save it as a PDF file.
You can also press the "Email Confirmation" button to send the application's copy to an email address that you can access anytime.
On the same page, you will see the address of the U.S embassy in Abu Dhabi or Dubai. If you think you need to visit then, you can save their location details.
The process for a USA visa from Dubai is not yet completed. The application form is only the beginning, and you still have to go through the second stage, which is:
Stage 2:

Take a US visa interview appointment

After completion of the DS-160 application, you have to book an appointment for an interview. Follow these steps to schedule your interview:

Step 1: Visit the Visa Appointment Service website

First of all, you must go to the UAE's official US Department of State Visa Appointment Service website.

Step 2: Create an account

You will be asked to choose the condition that best applies to you. We have filled out a DS-160 application already at this point, so choose the second option and click "Next."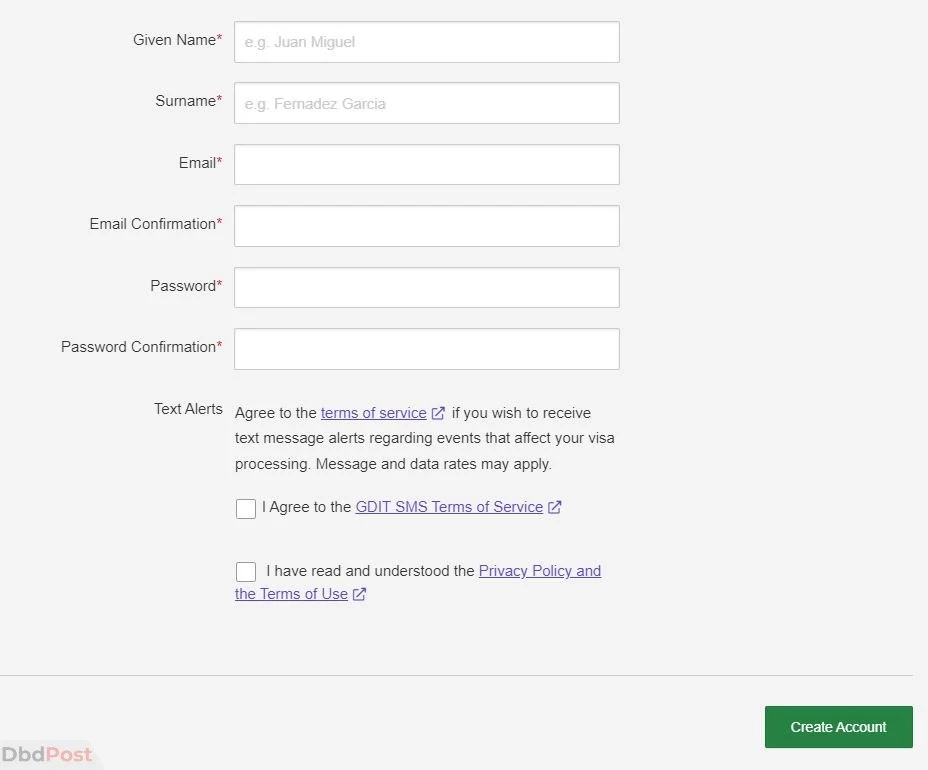 Enter your name, surname, email address, and password to create an account. Then agree to both of the terms and services and click on "Create account."
Step 3: Finalize your account details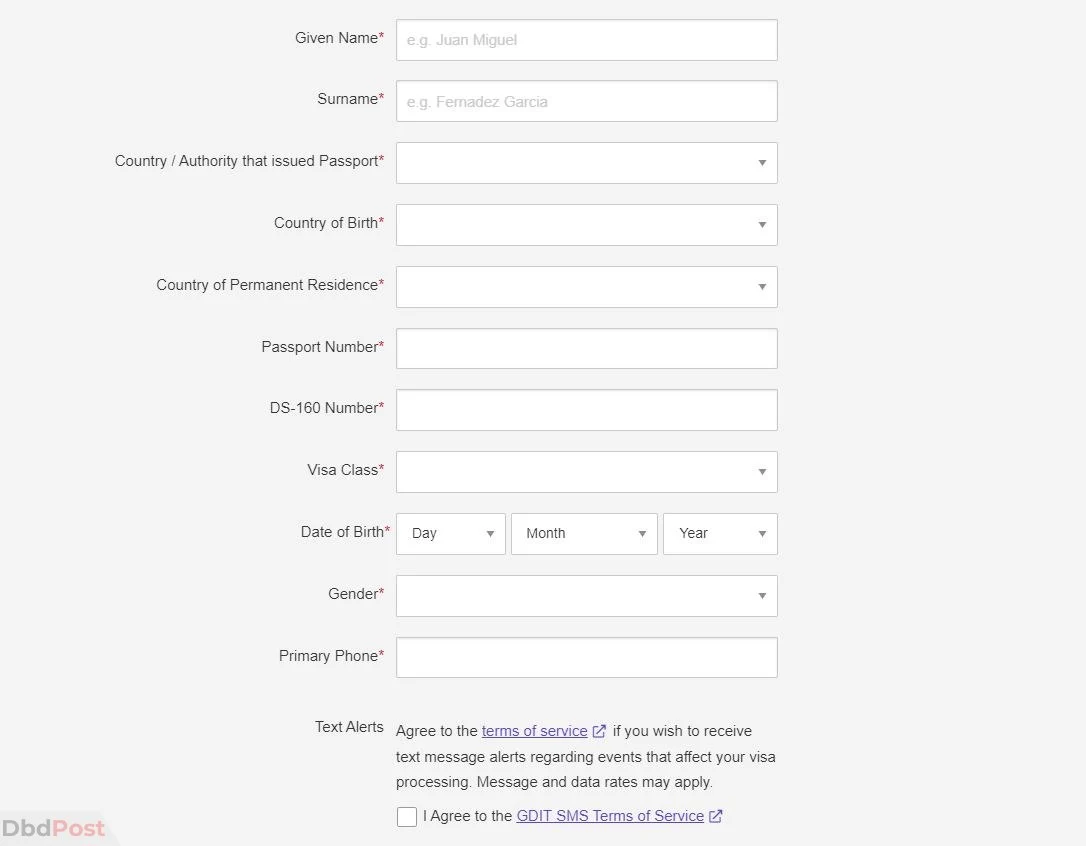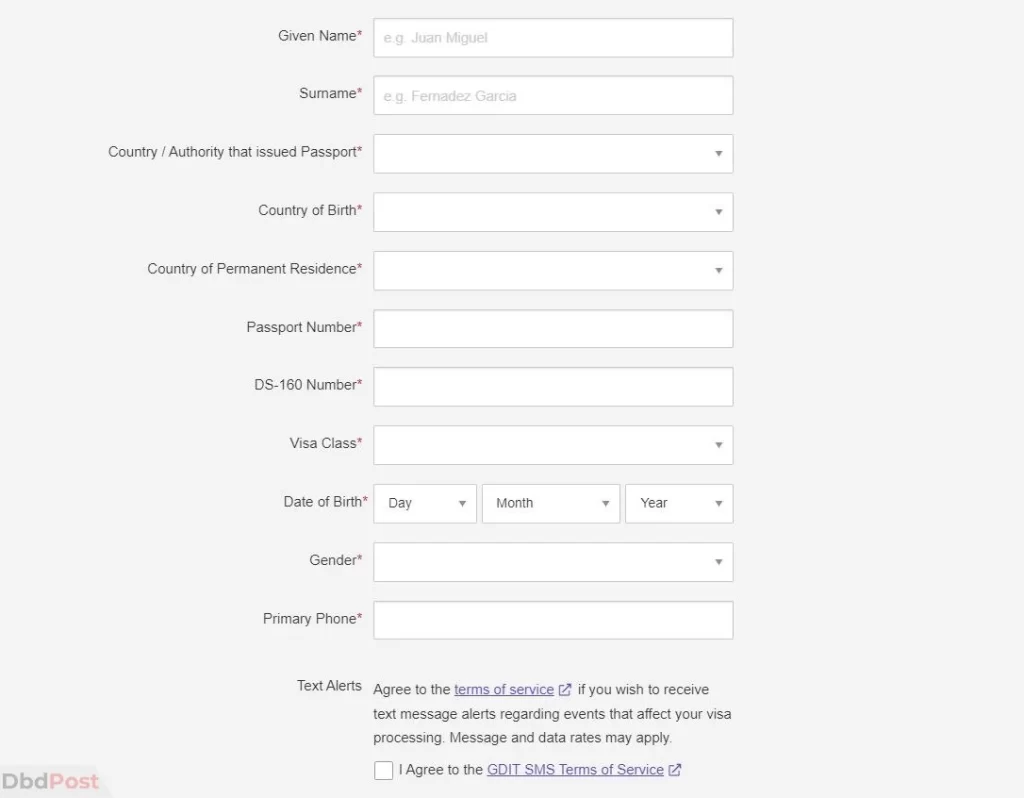 Input your name, passport details, DS-160 application number, visa class, date of birth, phone number, and gender. Set text alerts, agree to the terms, provide an email address, and answer the 2 questions.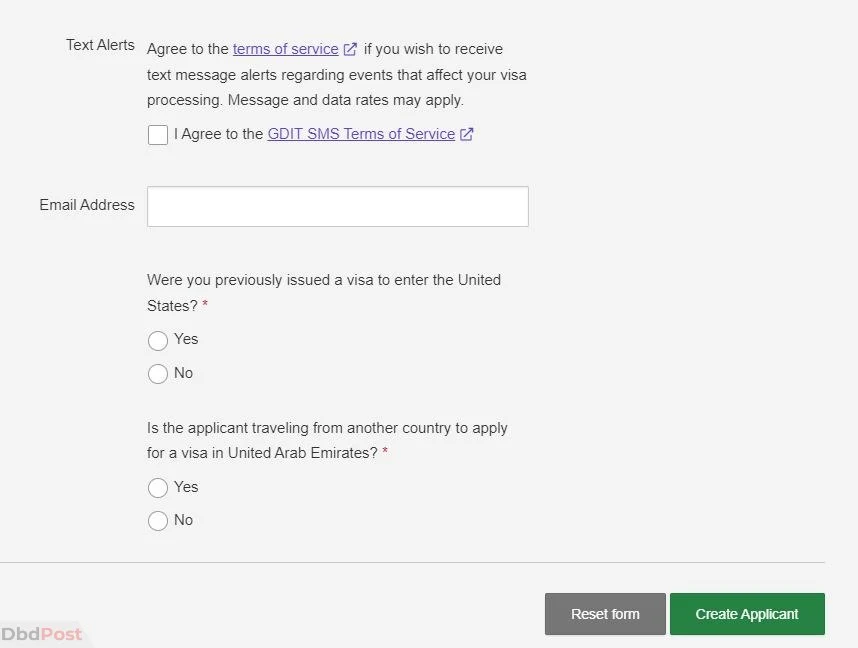 Then click on "Create Applicant."
Step 4: Choose the interview date
Choose a date for the interview once you have created the account. Select a payment method to pay the fee of $160 and proceed with the payment on this trusted government website.
Step 5: Save the payment receipt
Print or save the receipt of payment. Do not lose the receipt, as you will need to take it with you to the interview.
Finally, applying for a USA visa from Dubai is complete. For more information or questions, contact the US embassy at +971-2 414 2200 in Abu Dhabi and the Dubai at +971-4-309-4000. [3]ae.usembassy.gov, "US Visa Services, https://ae.usembassy.gov/visas/#:~:text=Types%20of%20Visas-,Our%20Locations,-U.S.%20Consulate"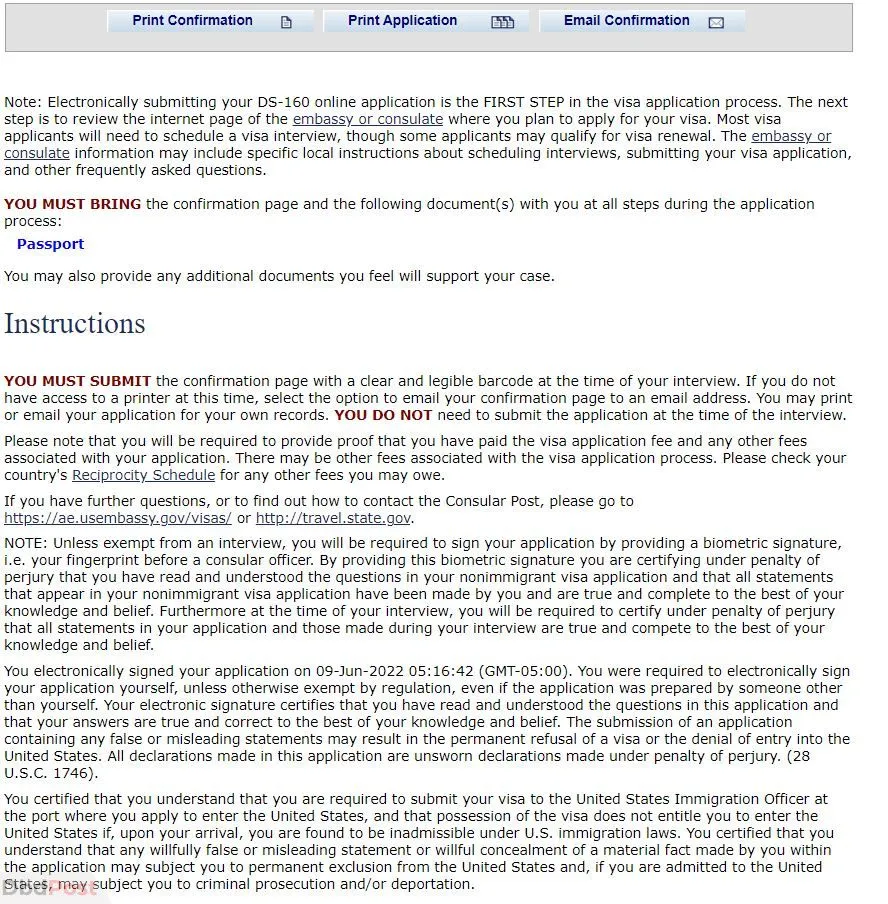 Be sure to take a receipt of payment and your original passport to the interview. You need to present both of them to the interviewer.
The tourist visa requirements of the United States may seem quite extensive. But becomes much easier when you follow our step-by-step guide.
See also: Check out this Dbd guide on – How to apply for Canada visa from Dubai & UAE, where we have explained the process in detail with images.
Visit visa fees – How much does USA visit visa cost from the UAE?
The fee for a US visa from the UAE is $160, which is about 590 AED. The UAE currency value might change based on the currency conversion rate. [4]Travel.state.gov, "Visitor visa, https://travel.state.gov/content/travel/en/us-visas/tourism-visit/visitor.html#:~:text=Prepare%20for%20Your,%24160″
Many people also get help from a travel company to get a USA visa from Dubai. They have good knowledge of US visas for the United Arab Emirates and will make things easier.
However, it is not compulsory, and they will charge you additional service fees.
Related Stories
---
How long is USA visit visa from UAE valid for?
The visit visas for USA are valid for 10 years. It is a multiple-entry visa. An American visa for visit purposes is classified as a B-1 or B-2 visa.
B-1 visa is for business purposes, while B-2 is for tourism or medical reasons. [5]Travel.state.gov, "Visitor visa, … Continue reading
For the UAE visa applicants, both of these visas have a 120-month validity. You can enter and exit the country multiple times during the valid period of your visa. [6]Travel.state.gov, "United Arab Emirates, … Continue reading
FAQs on USA visa from Dubai
Some frequently asked questions when people apply for a tourist visa for the US are answered below. If you have any queries for a USA visit visa from UAE, you might find an answer below:
Do I need visit visa from Dubai to visit USA?
Yes, you should get a visa to travel to the United States from Dubai. You can fill up a DS-160 immigrant visa form yourself and contact a tourism company to get information for a visa.
Is USA visit visa open from Dubai?
Yes, USA visit visa is open for residents living in Dubai. You can apply for a visit visa if you are in Abu Dhabi and other emirates as well.
How long does it take to approve USA visit visa application from Dubai?
The wait time for a visit visa application process is between 137 to 313 days. [7]Travel.state.gov, "Visa appointment wait times, … Continue reading So if you know your dates, you should start processing at least a year before the date of travel.
What is the bank balance required for a US tourist visa?
Bank statements aren't important to be shown by a citizen who needs a non-immigrant visa.
On rare occasions, the embassy or consulate-general may request to view your income sources, assets, and strong connections to your country of origin. This is to ensure that you have a strong bond with your home country and that you will not violate the terms and overstay your visa.
Do you need an invitation letter to visit USA?
No, you do not need an invitation letter to visit the USA. However, having one will definitely improve your chances.
Can I stay in the USA for 10 years if I have a 10-year visit visa?
No, you can not stay in the USA for 10 years continuously. The government only allows international visitors to stay for 180 days at a time. You must return to your home country after 6 months, but you can go back later.
Final thoughts
The USA is not just a land of opportunities for Dubai's job-seekers and businesses. Tourists and short-term visitors can also have a fantastic time in the country if they have a USA visa from Dubai.
With a 10-year multiple entry non-immigrant visa, you have plenty of time to explore all the best places in the U.S.
The sooner you start, the better your chances of meeting all requirements for your USA visit visa are. That is because you will have time to correct your documents and get a faster interview schedule.
After reading our Dbd guide, we hope you understand the process that visa applicants must go through better. If you run into any problems, feel free to read the above steps while you are filling out the form.
Now it is time to gather the required documents and fill out the application for USA visa from Dubai!