Best Arabic Restaurants in Dubai offer traditional street foods like Shawarma and Falafel, delicious grilled meats, and flavorful rice dishes. From luxurious eateries to street stalls, Dubai has Arabic restaurants for all price points.
Dubai is home to a thriving food culture, and Arabic cuisine is integral. From food stalls serving street eats to high-end restaurants offering elaborate feasts of traditional dishes, the city has something to offer for every taste.
We researched various Arabic restaurants in Dubai to identify the best options. We considered the restaurant's atmosphere, pricing, service, and location factors. Also, we gathered information through online reviews, interactions with locals and visitors, and visits to the restaurant.
The resulting list represents our top recommendations for seeking high-quality Arabic cuisine in Dubai.
11 best Arabic restaurants in Dubai
Arabic cuisine is integral to Dubai's thriving food culture, with a wide range of options from street food stalls to high-end restaurants. Whether you are looking to find the best Arabic food in Dubai or enjoy a taste of the Middle East, the island has it all.
1.

Arabian Tea House Restaurant & Cafe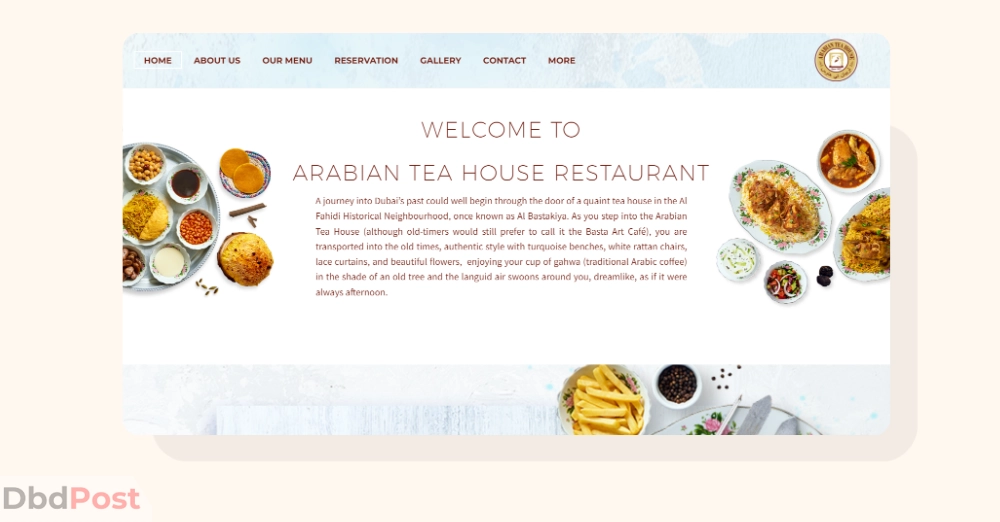 The Arabian Tea House Restaurant & Cafe is popular among those looking to experience traditional Arabic culture through the food offered at their six branches in the UAE and beyond. The restaurant, which opened in 1997, serves delicious halal dishes, including traditional Arabic coffee, Gahwa, and Saloona deyay.
They also offer Biryani Deyay/Laham and Saloona deyay as main courses and a variety of options for vegetarians. Stop by the Arabian Tea House Restaurant & Cafe today to try some of the best Arabic food in Dubai.
2.

Al Safadi Restaurant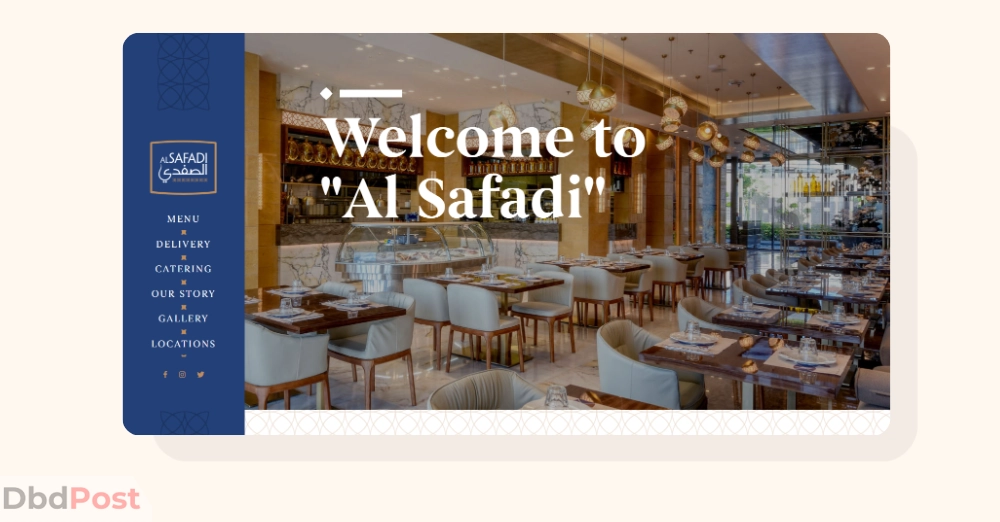 Al Safadi Restaurant is an excellent destination for anyone looking to enjoy delicious Lebanese cuisine. This restaurant specializes in Arabic food and offers a range of options for dine-in, catering, and delivery.
Overall, Al Safadi Restaurant is excellent for enjoying tasty Arabic food. The restaurant offers delicious desserts like Cheese Kunafah and creamy honey for those with sweet cravings. Some standout dishes on their menu include Hummus Balila for breakfast and the Chicken Shawarma Platter or Rosto for a main course.
3.

MAMAESH Business Bay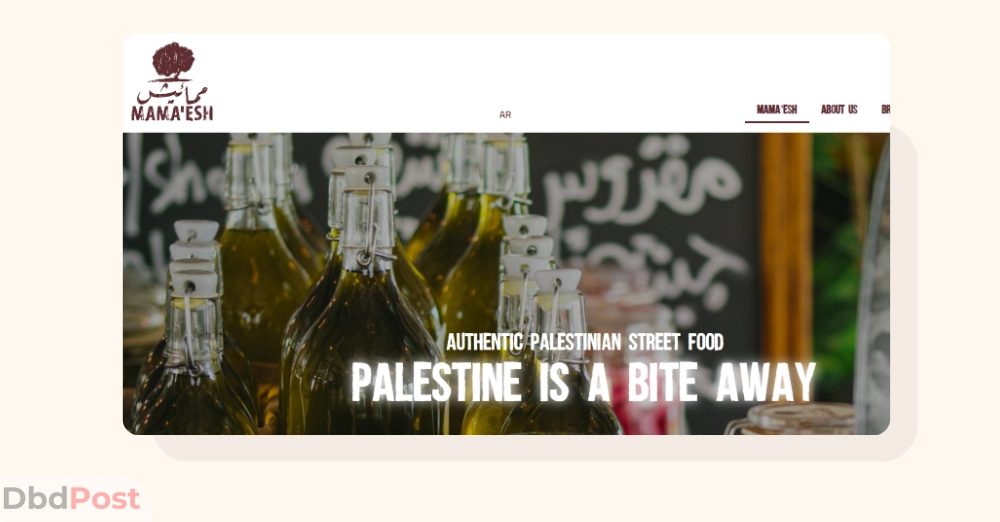 Mama'esh is a popular Palestinian street food restaurant in Dubai that offers fair prices and friendly service.
Their menu features authentic Palestinian specialties like Palestinian Musakhan rolls, Maqdous with walnuts, and oven-baked halloumi, all made with fresh ingredients imported from Palestine.
In addition to these tasty options, Mama'esh has a selection of vegan and vegetarian dishes.
Diners at Mama'esh can enjoy a free tea refill with each visit and complimentary bread for dine-in customers. Its delicious and affordable fare makes it no surprise that Mama'esh has become a favorite among Dubai locals.
4.

Bab Al Mansour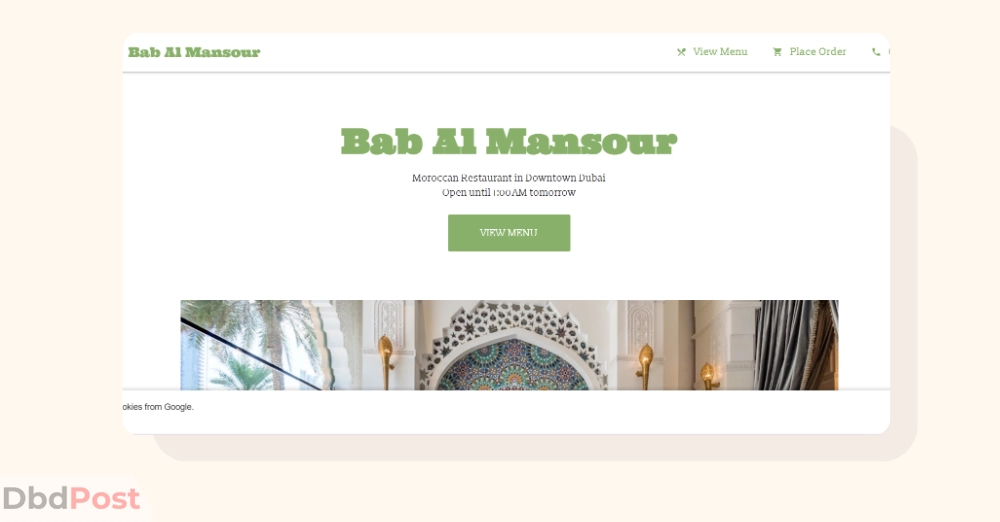 Bab Al Mansour is a restaurant in Dubai that celebrates the rich culture and history of the Arab world. Inspired by a famous landmark in Meknes, Morocco, Bab Al Mansour serves traditional meals made with over 70 organic ingredients sourced from Morocco.
Some special dishes include Roasted Lamb Shoulder, Seafood Pastilla, and Saffa Stuffed with Chicken.
They also have a separate Moroccan menu featuring dishes like Lamb Chops, Grilled Spicy Beef, and Kofta Skewers. Islamic art designs enhance the restaurant's atmosphere, and Moroccan artists craft the grand doors.
5.

Samad Al Iraqi Restaurant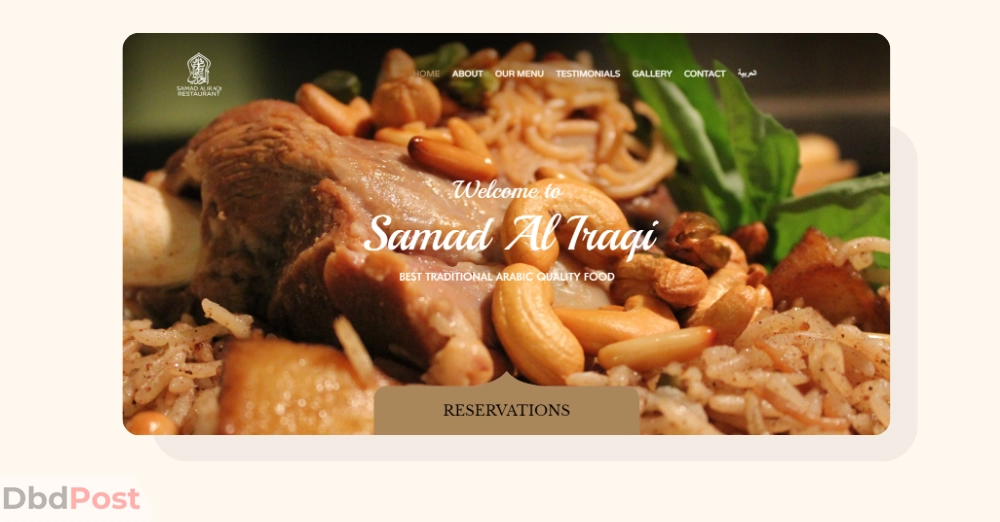 Samad Al Iraqi is another restaurant located in Dubai that offers a taste of traditional Middle Eastern culture. Specializing in the cuisine of Mesopotamia, Samad Al Iraqi serves a wide variety of Arabic favorites like Maskouf fish, Shawarma Tashrib, Kebab, and stuffed Lamb.
Not only will diners enjoy a unique flavor at Samad Al Iraqi, but they'll also get a glimpse into one of the oldest civilizations in the world.
6.

Cello Restaurant & Cafe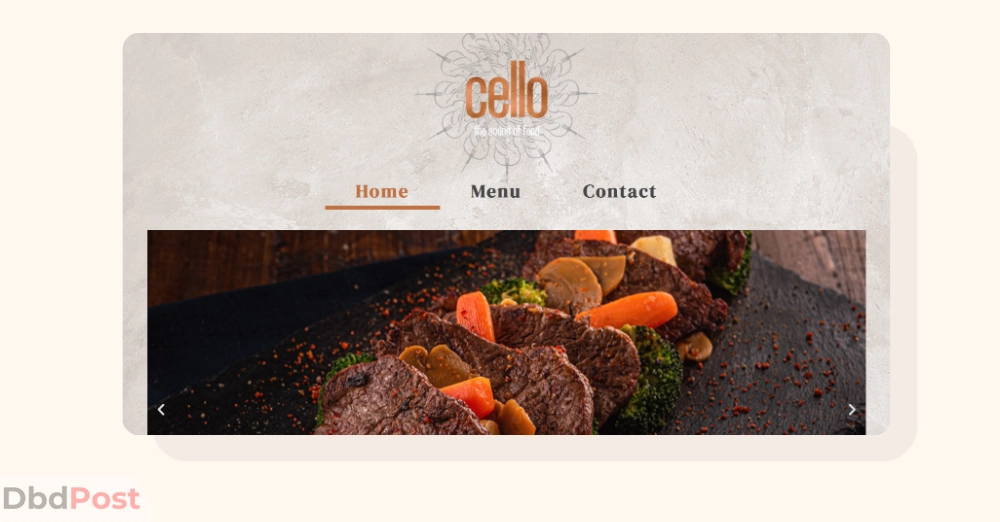 Cello Restaurant has been serving Dubai middle eastern food for seven years. Here, you can find delicious and authentic Arabic food served in a fine-dining atmosphere.
Whether you come for the delicious food or the cozy atmosphere, this Arabic cafe will ensure an enjoyable experience.
Cello's special foods include Biryani Chicken, Manti, and Roasted Lamb Thigh. Their friendly staff is always happy to help, and the atmosphere is even more unique, with live music playing throughout the restaurant.
7.

Awani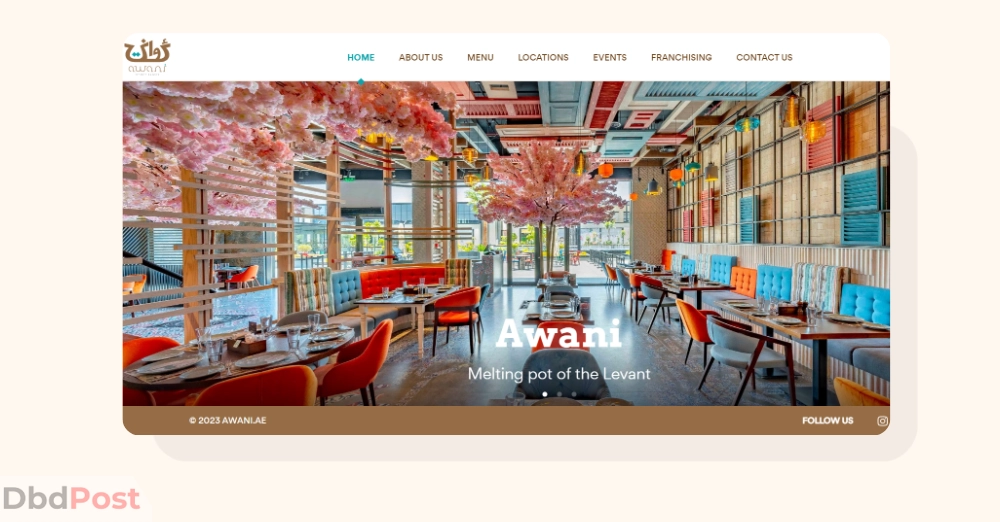 If you want to try authentic Levantine cuisine, Awani is the place to go. The chefs at this top Arabic restaurant in the UAE use traditional tools, techniques, and ingredients to create complex and flavorful dishes. From Hummos to Qalayet Bandora to Zaatar, there's something for everyone on the menu.
Overall, visiting Awani is a must for anyone looking to experience authentic and tasty Middle Eastern cuisine.
In addition to serving delicious food, Awani also offers events for special occasions like baby showers and birthday parties. Similarly, the restaurant's welcoming atmosphere makes it a great place to celebrate and feel right in the Levant.
8.

Al Fanar Restaurant & Cafe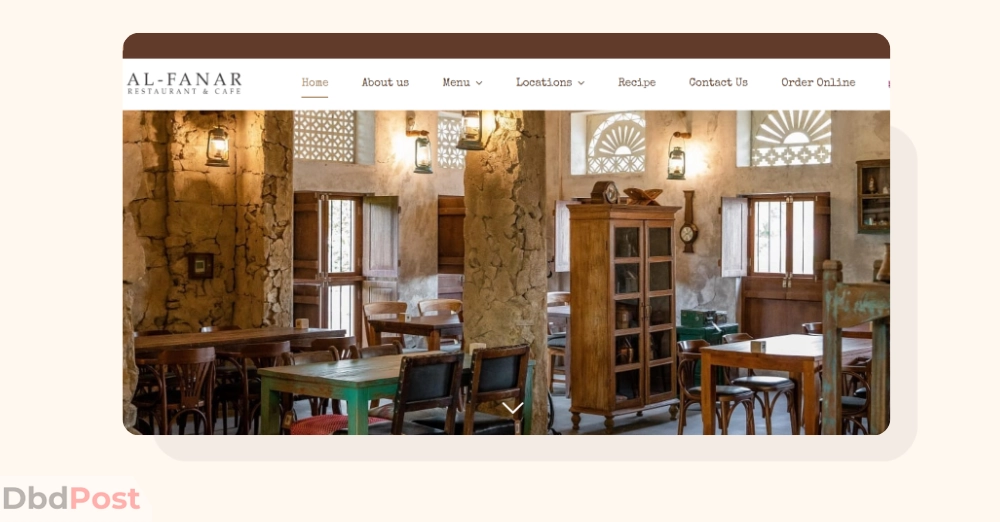 Al Fanar Restaurant & Cafe is a special spot for those wanting to learn about the Emirati culture. It is known for its Emirati ambiance and authentic cuisine. They serve traditional Arabic dishes from the UAE which share similarities with Indian and Persian cuisines which makes them unique.
A few of their specials include Machboos Samak, Beryani Maleh, & Robyan Mashwi. Whether you're a tourist or looking to explore the country's cultures, Al Fanar Restaurant & Cafe should be on your list of must-try places.
9.

Al Hallab Restaurant & Sweets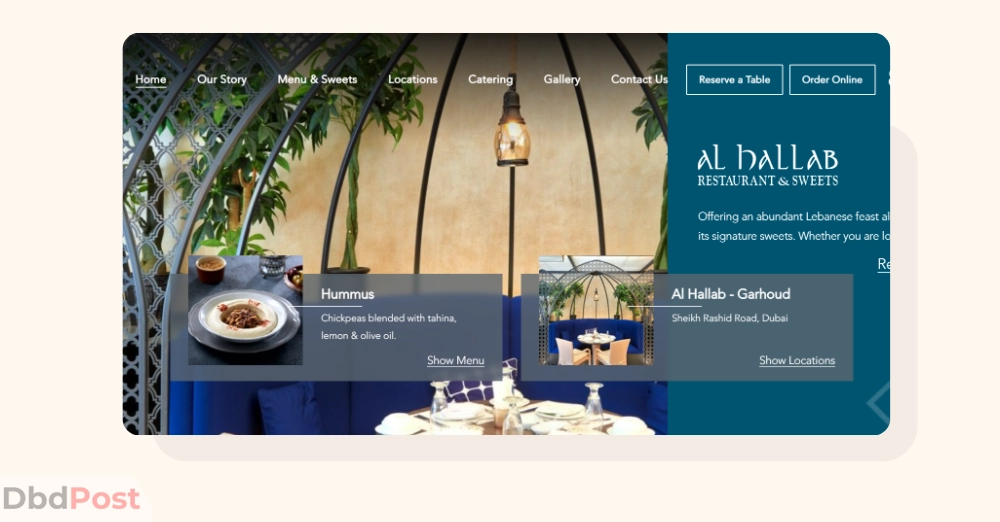 Al Hallab Restaurant & Sweets has been in Dubai since 2002, and they now have 4 locations across the city. You can order their special Arabic breakfast, lunch, and dinner when you visit.
Al Hallab specializes in Lebanese cuisine, so it's an exciting experience whether you seek traditional Arabic flavors or something a bit more exotic.
They offer delicious dishes like Kounafa Cheese, stuffed Lamb, and Hummus that you won't find anywhere else.
So, for a distinctly flavorful Arabian outing, try the delightful dishes at Al Hallab Restaurants & Sweets.
10.

Zaroob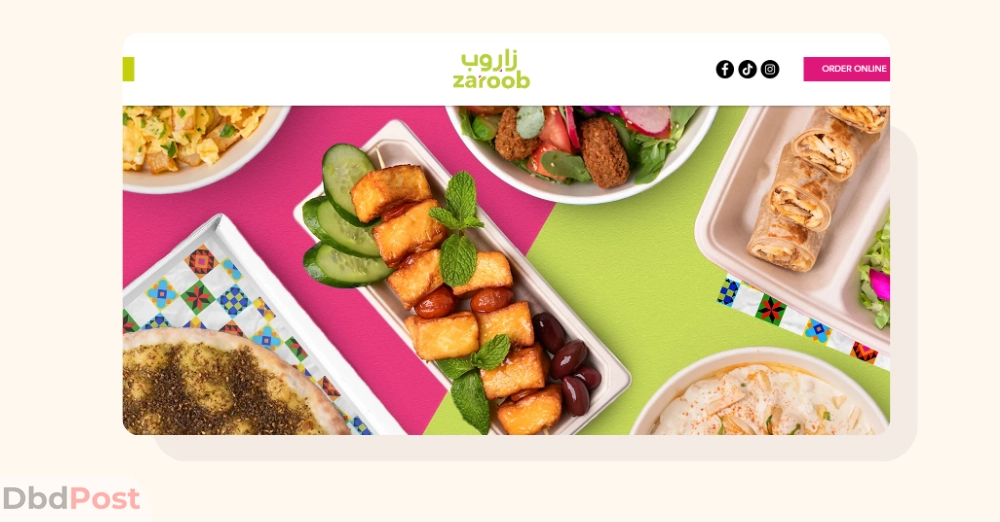 Visiting Zaroob is like being transported back to the traditional streets of Lebanon or Jordan. The unique and flavorful dishes are created with fresh ingredients for maximum flavor and prepared in front of you.
When dining at Zaroob, you'll want to try out their special items – The Impossible Shawarma, Garlic Chicken Wrap, and Falafel Salad. There are several other delicious variations at Zaroob of traditional Arabic food with a twist.
11.

Aseelah Middle Eastern & Emirati Restaurant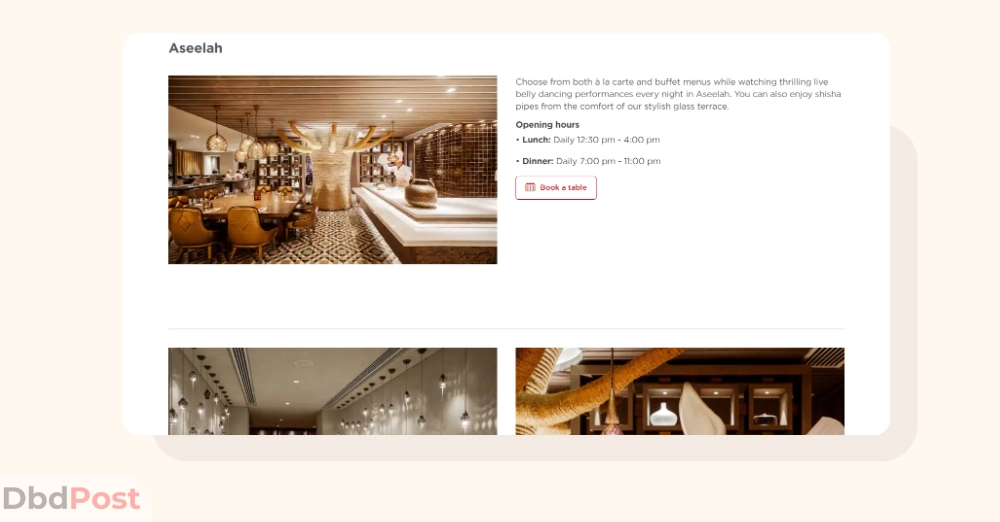 Aseelah is another great restaurant to experience authentic Emirati and Middle Eastern cuisine.
In addition to delicious dishes like Fish Machboos and Aseelah Mixed Grill platter on Mangal, the restaurant also offers belly dancing performances and a beautifully designed interior, making it a great spot for intimate dinners or private events.
Don't forget to try their delicious desserts like Kunafa and Balaklava, and if you're interested, you can even enjoy them with a shisha pipe.
Overall, Aseelah offers a mix of culture, heritage, and hospitality with a modern twist.
How much does an Arabic meal cost in restaurants in Dubai?
The cost of an Arabic meal in Dubai can range from around 50 to 250 AED, depending on the type of restaurant, location, and specific dishes ordered.
The cost of an Arabic buffet depends on the restaurant. Cheap Arabic restaurants may offer a main dish, such as shawarma or kebabs, with sides like rice, vegetables, and sauces, for around 50-100 AED per person. In contrast, upscale Arabic restaurants may offer a variety of appetizers, main courses, and desserts for several hundred AED per person.
The price of an Arabic meal in Dubai may vary according to the restaurant and dishes ordered. Prices may differ slightly, and some think they are on the rise. Ordering specialties or more expensive items like seafood or meats may increase the overall cost.
What is the most popular Arabic food in Dubai restaurants?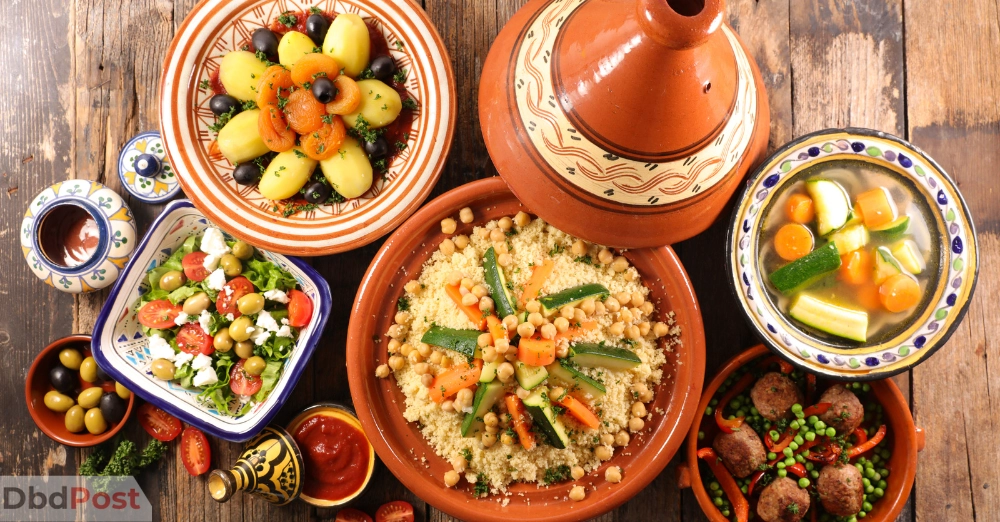 Dubai restaurants' most popular Arabic food is Shawarma, Falafel, Hummus, Lambchop, and Kebabs. Traditional Arabic restaurants, as well as modern fusion restaurants, serve all of these famous dishes.
Shawarma is a sandwich with shaved meat served on pita bread or a plate with various toppings such as vegetables and sauces. Shawarma is a popular street food in Dubai and can be found at many restaurants and food stalls throughout the city.
Another popular Arabic dish in Dubai is kebabs. Kebabs are made with grilled meats, such as lamb, chicken, or beef, and are served on a skewer. You can easily find them at many restaurants in Dubai, and they are often filled with sides such as rice, vegetables, and sauces.
Hummus is a popular Middle Eastern dip or spread made from ground chickpeas, tahini, lemon juice, and garlic. It is often served with pita bread or vegetables as a snack or appetizer.
Lambchop is a popular dish found on the menus of many Arabic grill restaurants in Dubai. It is usually prepared by grilling or pan-frying the lamb chops and serving them with various sides, such as vegetables, potatoes, or rice.
Vegetarians visiting Dubai can try falafel, a deep-fried ball, or patty made from ground chickpeas or other legumes. Falafel is a popular vegetarian option in Dubai and is served on pita bread with various toppings like vegetables, tahini sauce, and pickles.
In summary, many delicious and popular middle eastern dishes are found on Dubai's Arabic menu, and visitors are sure to find something to suit their taste.
Related Info
---
FAQs
Final thoughts
All in all, Dubai is home to some of the best Arabic restaurants in the region, offering a wide variety of delicious and authentic Arabic dishes. From upscale restaurants to more affordable options, there is something to suit every taste and budget.
Whether you're in the mood for a hearty shawarma sandwich or a flavorful lamb chop, you'll be able to find it at one of the many excellent Arabic restaurants in Dubai. So, if you want to experience the rich and varied flavors of Emirati and Middle Eastern cuisine, visit one of the city's many top-rated Arabic restaurants.