When it comes to food, Italian cuisine is beloved all around the world for its delicious and comforting flavors. From classic pasta dishes to wood-fired pizzas, the best Italian restaurant in Dubai have it all.
Italian cuisine is at the heart of Dubai's growing international food culture. Whether you're in the mood for a pasta dish, a wood-fired pizza, or a contemporary Italian creation, the Emirate has something for everyone. Some of the best Italian restaurants in Dubai are Bice Mare, Scalini, GIA, and more.
Our team has researched extensively and visited various Italian restaurants in the city. We evaluated them on factors such as food quality, atmosphere, pricing, service, and location to create a comprehensive guide.
Our Dbd guide will provide all the information you need about some good Italian restaurants in Dubai. So, without any delays, let's get started with the list.
11 best Italian restaurants in Dubai
Italian food in Dubai is popular among Emirate and visitors for its delicious flavors and comforting dishes.
Whether you're looking for a casual trattoria or a fine-dining experience, the city offers plenty of options. 
1.

Bice Mare Restaurant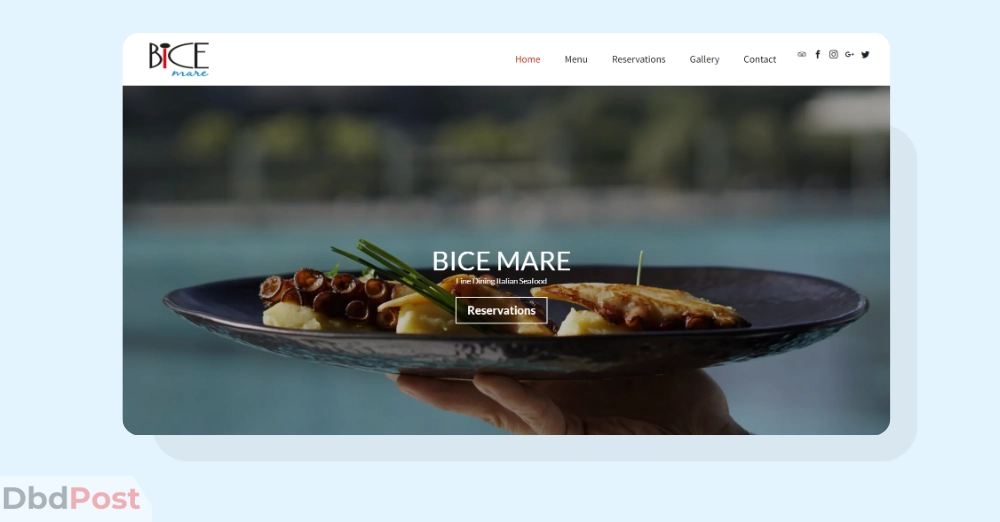 Experience the unique and amazing flavors of fresh seafood at Bice Mare. This restaurant has received the What's On Magazine's Award in the Best Seafood Restaurant category three years in a row.
Bice is an incredible spot to indulge in a contemporary fine dining experience. Located in the heart of Downtown Dubai, you can enjoy wonderful dishes with breathtaking views of Burj Khalifa.
The head-chef Michele Blasi, only uses top-quality ingredients to create delicious meals. Additionally, the menu includes delicious Pasta and Risotto dishes; one can even try Marinara or Bufala.
All the menu items uses seasonal and artisanal ingredients formulated in Italy.
So if you want an exquisite Italian seafood feast, head down to Bice Mare for a remarkable experience.
2.

Scalini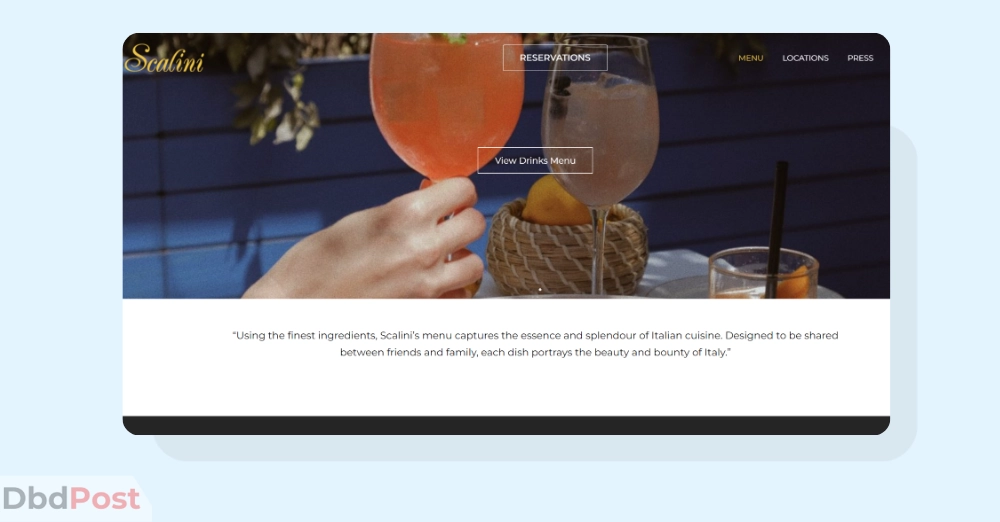 Scalini Dubai offers Italian cuisine for authentic food hunters. This Italian-inspired eatery in the Four Seasons Resort offers authentic dishes with a Mediterranean twist.
They have a traditional Italian-style interior that guarantees a premium dining experience. Also, you can enjoy the recreated version of the Southern Italian coast in their outdoor seating.
You can find many dishes like delicious Pizzas, Spaghetti All'astice, and Guazzetto di Pesce.
To top it off, they also have a range of cocktails specifically crafted to compliment their delicacy. So, come along to Scalini Dubai today to experience its authentic Italian lunch.
3.

Carluccio's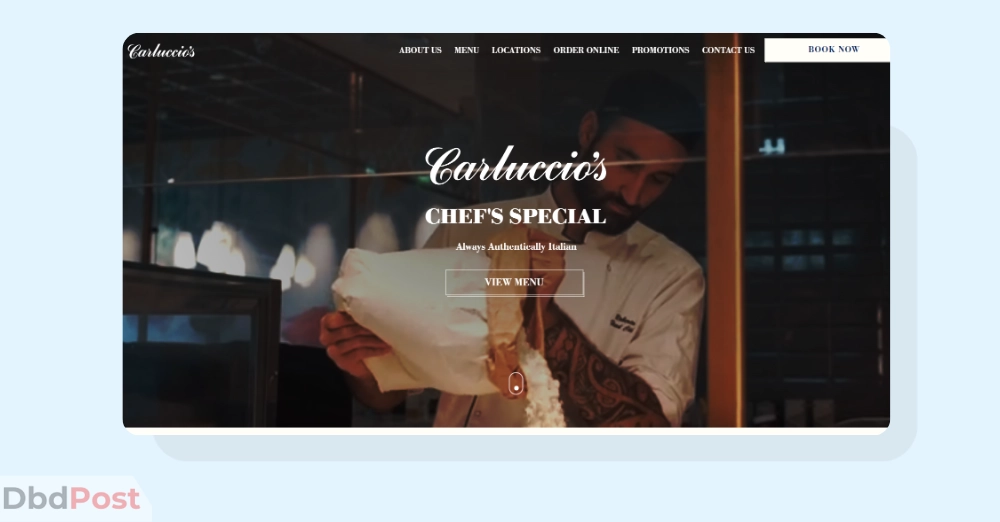 Carluccio's is an authentic Italian restaurant by the Antonio and Priscilla started in London in 1999.
They aim to provide excellent quality, authentic Italian food at sensible prices with amazing customer service.
Customers can find Carluccio's across 30 restaurants in the UK, Ireland, and the Middle East. In the Middle East, you can find Carluccio's in three places in the UAE and two locations in Qatar.
Their menu has tasty dishes such as garlic pizza bread, calamari fritti, Sicilian arancini, and tomato pesto bread. They also have a separate vegan menu for those who are vegan.
So if you're ever looking for some genuine Italian goodness away from Italy then look no further than Carluccio's.
4.

Il Borro Tuscan Bistro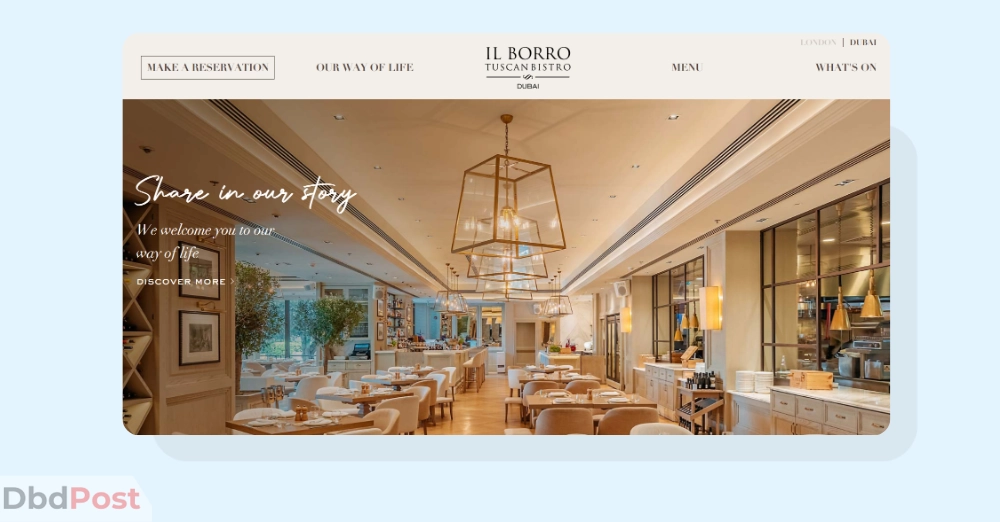 Il Borro Tuscan Bistro offers an amazing dining experience with its wholesome Tuscan cuisine. Here, you'll find a true farm-to-table concept with its commitment to organic farming, and quality ingredients.
These recipes are a modern twist on traditional Tuscan classics and Il Borro's products from the organic farm "Orto del Borro."
The wine list is also fantastic, embodying the unique flavor of Tuscany. To make it even better, there's a delicious range of cocktails on the menu, such as the signature Martini and aged cocktails from the barrel.
Their menu includes food options like Zuppa del Giorno, Panzanella, Risotto asparagi, and Pizza al Tartufo, among others.
With excellent Italian options paired with special wines and cocktails, II Borro Tuscan is a place to be.
5.

GIA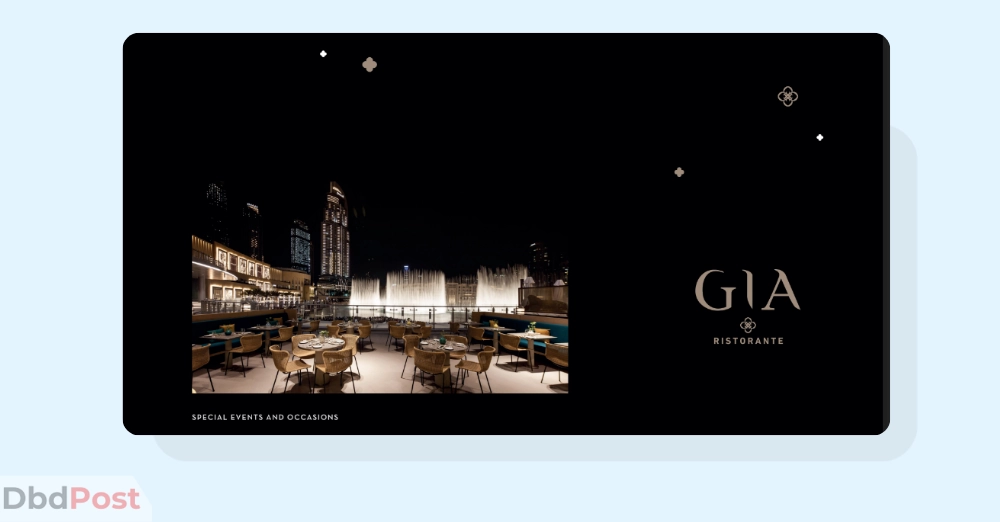 Located at Fashion avenue, GIA provides the most authentic Italian dining experience.
With its comfortable and relaxing interiors and smart outdoor seating overlooks the Dubai Fountain, this restaurant offers an amazing atmosphere.
You'll want to try all the delicious starters, such as chicken livers, wagyu meatballs, and fritto misto.
Pizzas are very popular here; however, you should also try pasta options like bavette allo scoglio. Visit GIA today to try the best Italian meal in Dubai.
6.

Massimo's Italian Restaurant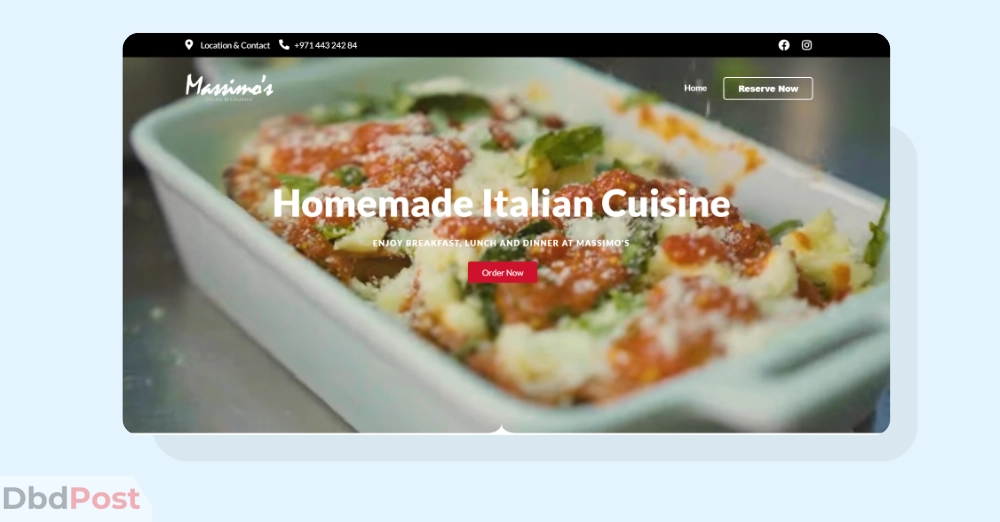 Forget the ordinary, Massimo's Italian Restaurant serves special homemade Italian cuisine in an authentic atmosphere.
Located in the heart of Marina, Dubai, with a superb waterfront terrace, it is perfect for an Italian escape.
Their extensive menu offers options like Lasagne Bolognese, heavenly Ravioli ai Funghi Porchini, and Margherita Pizza.
You can choose from delicious main dishes and end your meal with tasty gelato and ice cream. They also offer different lunch and breakfast options.
7.

Bussola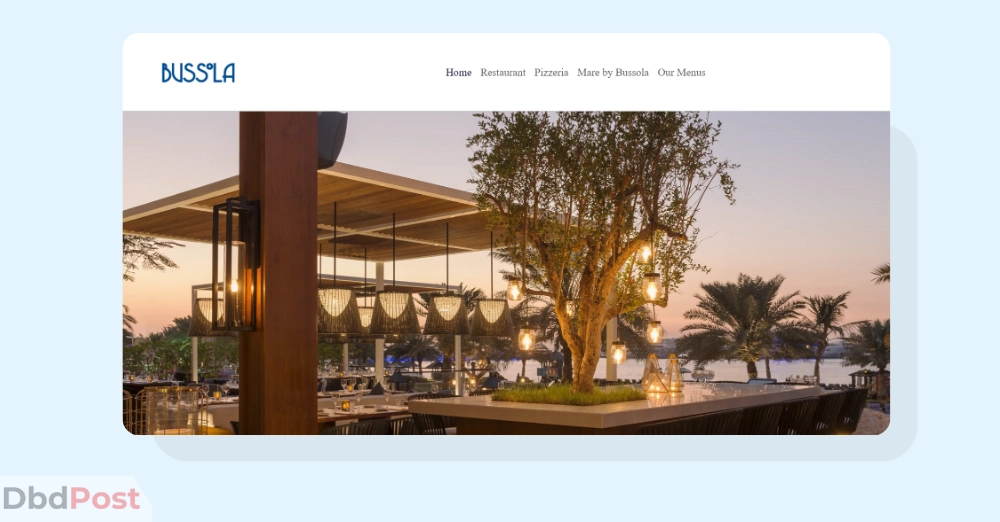 Bussola is an award-winning restaurant offering three concepts in a single venue that can accommodate any occasion.
You can enjoy a signature dining experience perfect for special occasions on the lower level.
On the upper deck, there's a pizzeria with a casual ambiance for those who want something more laidback. For beach and pool lovers, there's Mare by Bussola, which offers luxurious amenities.
Guests can choose from traditional Italian dishes like Ostriche, Frittura Mista di paranza and Risotto ai Funghi.
Or indulge in Linguine all'astice or Affogato al caffe and finish it off with some Pistacchio icecream.
8.

Andiamo!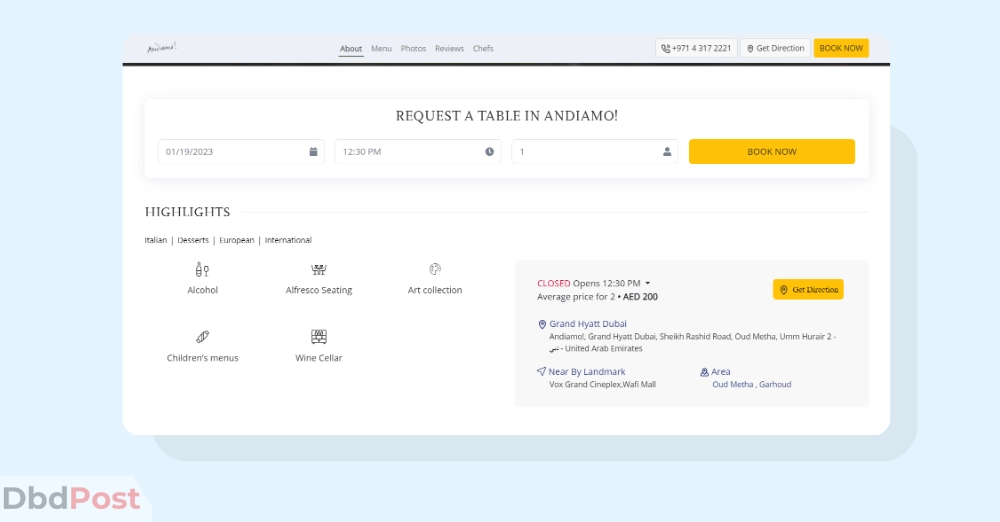 Andiamo! is the perfect restaurant for any occasion. It has a rustic exterior and contemporary work of art that features indoor seating overlooking colorful mosaics and a lively kitchen. There's even an outdoor terrace complete with a floral pergola.
They have everything from classic Italian dishes like Marinara and Bufalina pizzas to modern twists like Gnocchi di Pane and Whole Lobster.
There are several desserts like Fondente Di Cioccolato and Lemon Chill and a wine list to choose from.
With so much to offer, Andiamo! is the perfect spot for your next gathering or night out.
9.

Armani/Ristorante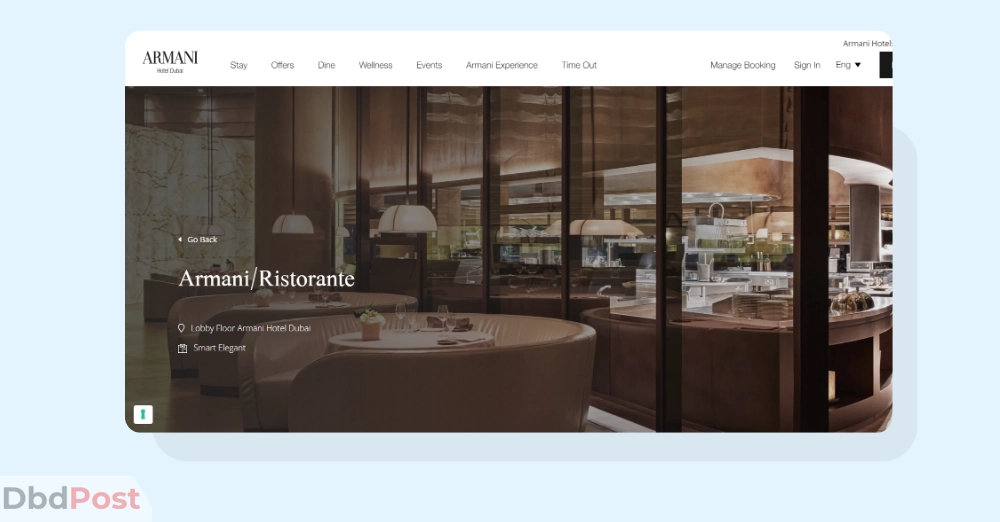 For an exclusive experience that brings the essence of Italy to life, Armani is hard to beat. Known for exquisite flavors, contemporary presentation, and personalized service, the Italian restaurant has something for everyone.
Its beautifully presented dishes make it easy to see why the diner is a popular choice among lovers of Italian Cuisine.
From its signature Aperitivo to its Costolette di wagyu, Ravioli, and famous Rombo Chiodato, each bite melts in your mouth.
Not to forget the stunning views of The Dubai Fountain or their private dining room, Armani admits diners on a memorable journey.
10.

Cinque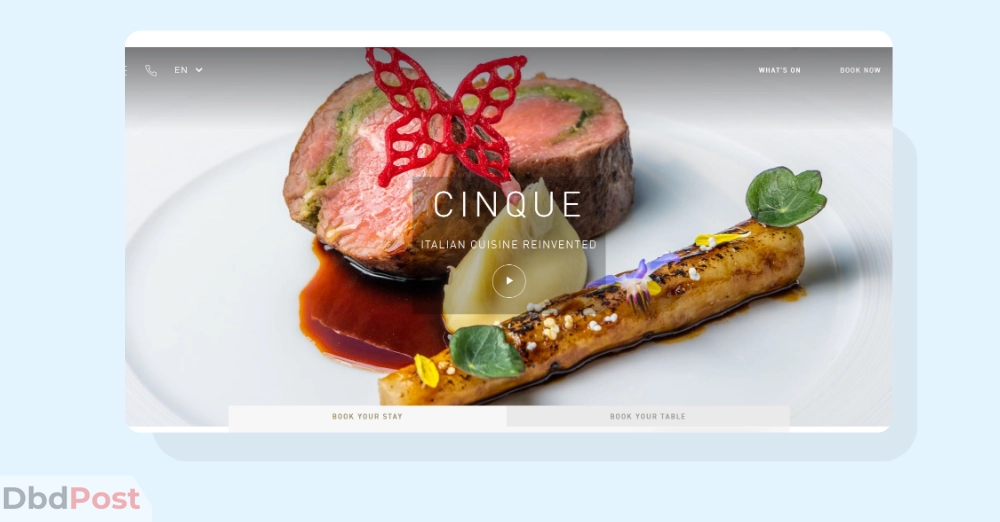 Cinque is an award-winning Italian restaurant that's famous for its delicious Italian dishes. Going there will make you feel like you're dining in a special place, with its fun-fine dining atmosphere.
Plus, you get to enjoy the food prepared by the Executive Chef Mauro, who trained with Michelin-star chefs. So why not take your friends or family to Cinque and try their Astice, Galletto, Funghi Shiitake, and Ravioli for dinner.
And don't forget to stay late if you want the mixologists at Cinque to make you the best post-dinner cocktail ever.
11.

Leonardo Restaurant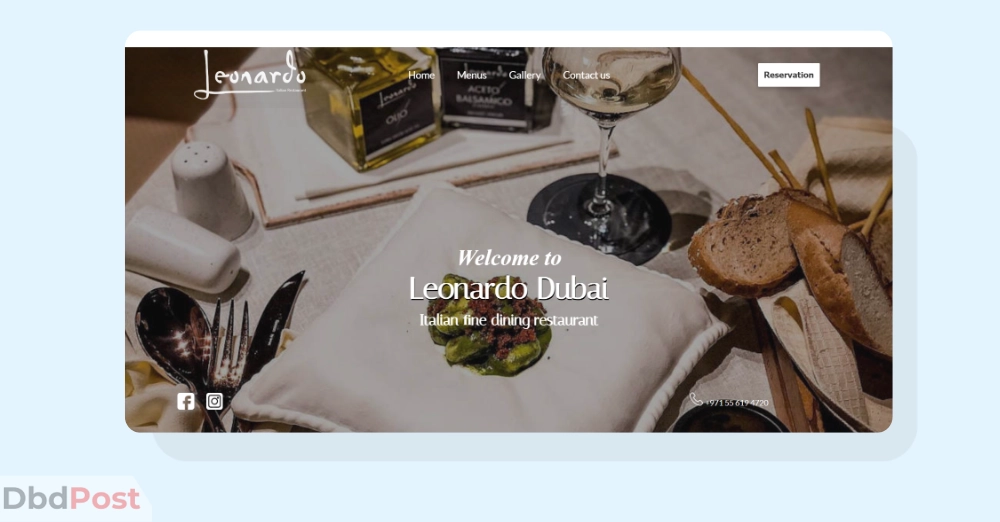 Take a journey back to the Renaissance period while dining at Leonardo restaurant. You'll get to take in the genius artworks of Leonardo Da Vinci, like The Flying Machine and Perpetual motion water lifting machine.
They offer some of Italy's tastiest dishes prepared by expert Italian chefs. You'll find flavorsome specialties, like Pizza Corni, Pollo Alla Cacciatora and classic Tiramisu.
With a beautiful mezzanine floor set up, it's no wonder that Leonardo restaurant offers an upscale Italian fine dining experience.
How much does an Italian meal cost in restaurants in Dubai?
The cost of an Italian meal in a restaurant in Dubai can range from AED 50-400 per person, depending on the location and quality of the establishment.
On the lower end of the spectrum, casual Italian pizza restaurant and trattorias typically offer meals for AED 50-100. These restaurants often have a laid-back atmosphere and serve traditional Italian dishes such as pasta, pizza, and risotto.
However, upscale Italian restaurant charges AED 150-400 ($40-81) per person for a three-course meal. These restaurants often have a more refined ambiance and offer a wider variety of dishes and an extensive wine list.
These restaurants can also have Michelin star ratings or other prestigious accolades.
What are the most popular Italian dishes in Dubai restaurants?
The most popular Italian dishes in Dubai restaurants are Pizzas, Pasta, and Risotto. Pizza Margherita and Napoletana are classic options often found on menus.
These traditional pizzas are made with simple, high-quality ingredients such as tomatoes, mozzarella, and basil.
Risotto dishes such as mushroom risotto, seafood risotto, and truffle risotto are often found on menus. These rice dishes are made with Arborio rice and various flavorful ingredients such as Parmesan cheese, butter, and white wine.
Pasta is also a staple in Italian cuisine and Dubai's Italian restaurants. Spaghetti carbonara, lasagna, and fettuccine alfredo are some of the classic pasta dishes you can find on the menu.
These dishes consists of ingredients like Italian pasta, fresh herbs, and various sauces.
Italian dishes are increasingly popular among diners in Dubai. It is often considered the most popular food after India in Dubai. [1]Khaleej times, "UAE Food, … Continue reading
FAQs
Final thoughts
In conclusion, Italian cuisine has a special place in the hearts of many food enthusiasts in the Emirate.
From posh Italian restaurants in Dubai to a casual trattoria, the island has something for everyone.
We hope our guide has helped you discover the best Italian restaurant in Dubai, and you can enjoy a visit to one of these establishments.