You can save a lot of money if you travel on cheap flights from Dubai to Nepal. But finding the most affordable flight is not easy.
When looking for affordable flights from Dubai to Kathmandu, there are many things to consider. The month, incoming festivals, and even a flight day affect the flight price.
Dubai is one of the top destinations for Nepalese people, and cheap flight tickets from Dubai to Nepal will save a lot of money they earn there. The tourists can spend the money saved on their tickets to discover more places inside Nepal.
If you need to fly to Nepal with minimal expenses, cheap tickets are the way.
In this Dbd travel guide, we will show you how to find cheap flights from Dubai to Nepal.
Let's get started.
Here is how to find cheap flights from Dubai to Nepal
These are some ways we recommend getting low-cost tickets from Dubai to Nepal.
By following these tips, you can save a lot of money on your airfare and enjoy your trip more.
1.

Book a flight from Dubai to Nepal in advance

Generally, it is better to book your flight tickets a few months or weeks in advance, if possible. It will help you avoid the last-minute rush when airfares are high due to fewer remaining seats.

Airlines tend to release their tickets several months before the departure date. So, if you know your travel dates well in advance, start looking for flights as soon as possible.

This way, you will have more chances of finding cheap flights. Moreover, you can also take advantage of early bird offers and discounts.

The best time to book tickets in advance is three to four months before departure. Prices rarely drop after this time has elapsed.
2.

Find cheap flights from Dubai to Nepal, avoiding peak times

To get cheap flights, fly during off-peak seasons and months. You can also find more affordable rates if you fly during weekdays instead of weekends.

People will be willing to pay a lot during the holidays, Christmas, new year, etc, to spend time with their families. Airlines always take advantage of this fact and hike their prices as much as possible.

Many people travel during the busiest holiday seasons in Nepal, like Dashain and Tihar festivals. These take place in October and November. If possible, completely avoid flying in these months.

We have experience paying almost exactly double the regular airfare during these months.

Book your tickets as early as possible if you must fly during the holiday season.
3.

Be flexible with your travel dates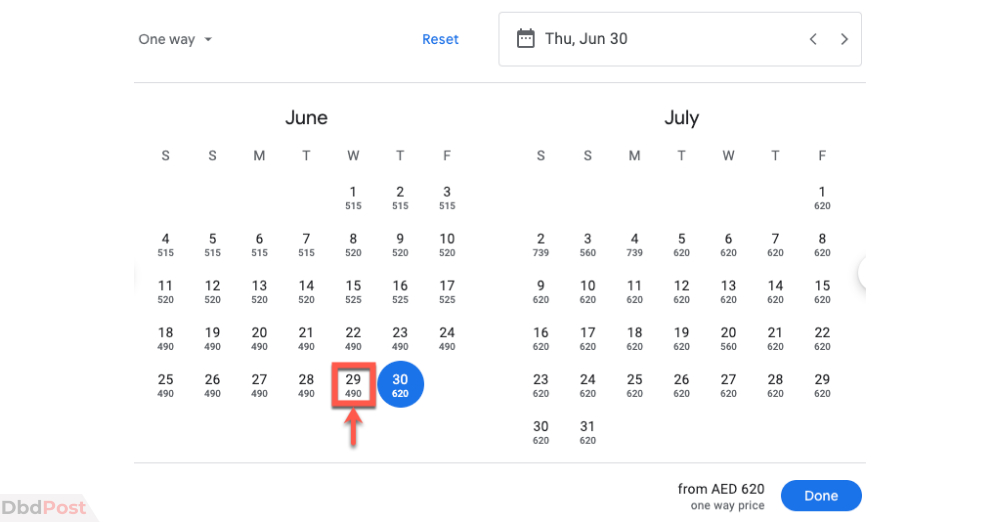 You can increase your chances of finding cheap flights from Dubai to Nepal by adjusting your flight dates.
If you have a flexible schedule and can fly to Kathmandu whenever you want, spend some time every day to find better deals.
Also, if you are ready to head to the airport right away if the deal is right, you can find low-cost flights by looking for last-minute deals sometimes.
The flight price can vary a bit depending on the day of the week. So it's worth checking a few different dates to see what's available.
In addition, keep an eye on flight prices and look for deals regularly. Airlines often release special fares at short notice too. You can grab those deals and travel whenever there is the availability of affordable tickets.
Being flexible with travel dates is a good thing no matter where you travel, not just between Dubai and Kathmandu.
4.

When searching for cheap air tickets from UAE to Nepal, use incognito mode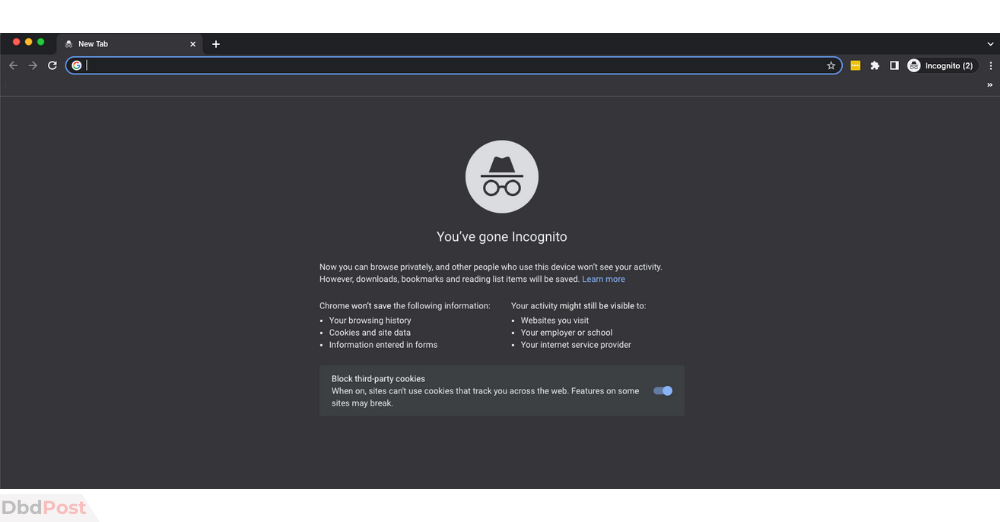 It sounds like what! – but hear us out. You may find it helpful.
Websites generally track your data and use them for advertisements. The way they do it is by the use of "cookies." Cookies are files sent to your browser by a website that tracks your search information.
Ads are shown to you based on cookies. Your preferences, your google search, websites you visited, and products you look for are all tracked for monetization.
The web algorithm will know this when you look for a flight ticket online and go to multiple websites.
Then, when you start looking at the prices of tickets, some websites might slightly increase the cost.
That is because they know that you are likely to buy a ticket from them.
Using incognito mode will disable cookies and web history from being stored.
To open incognito or private mode, right-click your browser icon and select "New incognito window" or "New private window."
You should open your web browser in incognito mode and clear your cookies before beginning your search.
It will help you get an unbiased view of prices which is not a difficult thing to do and takes only a minute.
Definitely, it is worth trying this technique if you want to book cheap flights from Dubai to Nepal or any other routes.
5.

Compare flights using various search engines to find cheap flights from Dubai to Nepal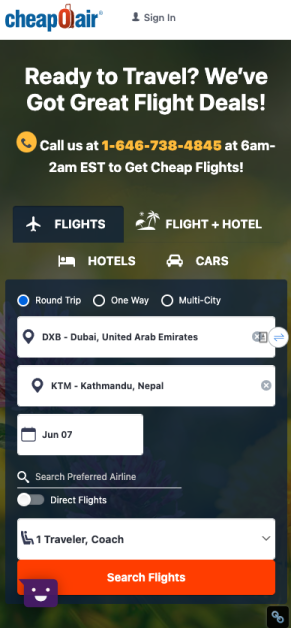 The best way to get the cheapest flights from Dubai to Nepal is by using flight search engines.
It can help you find the cheapest flights available and provide you with a list of airlines that fly to your destination.
Most people Google their destinations and get results from only the most popular and commercialized sites. Instead of that, you can use services that compare flight prices on different websites.
To find the best deals on flights from Dubai to Nepal, we recommend searching multiple websites and airlines.
Some popular sites include:
Overall best broad flight search engine
Best customer service
Broad search with many results
Number of options for advanced search
There are a lot of airlines that you may not have heard of. It means that there is a higher chance of getting a low fare.
Quick redirection to actual airlines for ticket booking
Best flight aggregator to combine multiple different airlines to get the best deal
Broad search with many results
Best customer support
You may look for a flight's price for a longer time, such as one or two months.
Quick result
Broad flight search engine
Quick result
It shows the low-cost flights from lesser-known airlines
Broad search engine
Update flight information fast and in realtime
It is also recommended to sign up for fare alerts to be notified when prices drop. You can subscribe to CheapOair to get alerts when the price drops.
6.

Use a travel reward program if you travel a lot
Another way to get cheap flights from Dubai to Nepal is by using points or miles from your credit card rewards program. You can use these points to book flights or get discounts on airfare.
You can also save money on your flight by using an air miles credit card. This card allows you to earn points for every dollar you spend on your flight tickets. You can then use these points to book future flights.
A few of the best air miles credit cards that you can use are:
Citibank – Emirates-Citibank Ultimate
Best for the frequent traveler
AED 800 joining bonus
Earn up to 1.25 Skywards Miles for every $ spent on your card
Emirates Islamic – Flex Card
Can redeem over 300 Airlines worldwide
Earn up to 2.25 EI SmartMiles per AED 1 purchase
Mashreq – Platinum Elite Credit Card
Earn AED 1000 joining bonus
5 Salam Points per AED spend
You will have free access to the airport lounges
HSBC – Platinum Select Credit Card
Earn 1 Air Mile for every AED 4 spent
No annual fee
Additionally, you can also get low-cost flights by being a member of an airline's loyalty program.
It allows you to accumulate points that you can use to book future flights at discounted rates.
7.

Budget airlines provide cheap flights from Dubai to Kathmandu

Another way to get cheap flights is by flying with budget airlines. These airlines offer low-cost airfares but often have fewer amenities than major airlines.

Some affordable budgets to book cheap flights from Dubai to Nepal are:
Comparatively cheaper than other airlines to fly from Dubai to Kathmandu
Frequent flight schedules
It offers a low-cost flying experience
Variety of flight times
The national carrier of Nepal
Offers cheaper flights if booked in advance
You can find budget airlines by checking if any flights are landing at other airports near your city. Many budget airlines land at smaller airports because it costs less.
In the case of Nepal, recently, Gautam Buddha International airport has also been opened for international flights. So, you can compare to see if any cheaper flights are landing there.
Besides, sometimes these premium airlines also offer promotional rates that can be cheaper than the budget airlines. So, always keep an eye out for these deals.
8.

Mix and match airlines to find affordable flights from Dubai to Nepal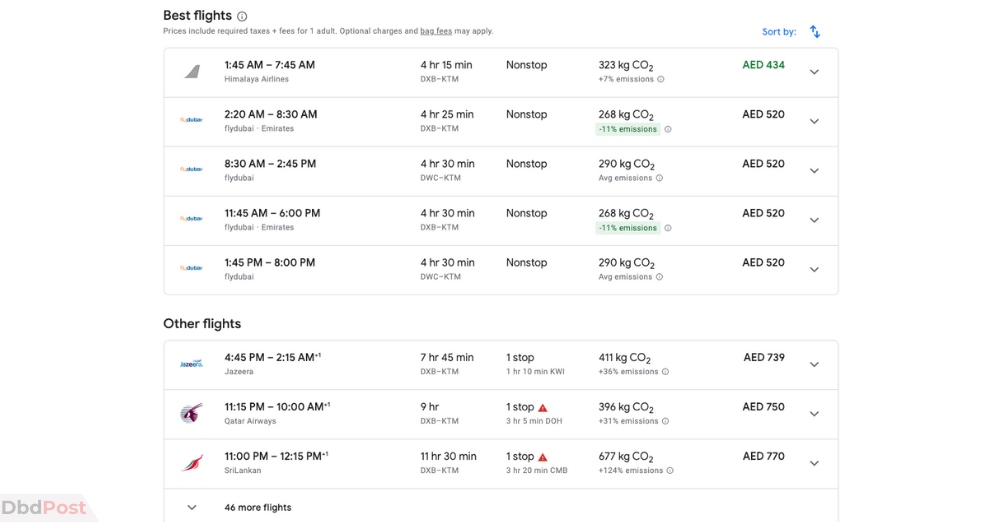 If stopping on a route is not a problem, you can always mix and match different airlines to get affordable air travel.
For example, you can book a flight from Dubai to Delhi with one airline and then take a separate flight from Delhi to Kathmandu with another airline.
You can take advantage of different airlines' offers and deals to get a cheaper overall fare.
Several flight search engines can easily help you compare different airlines and find the cheapest flights from Dubai to Nepal.
We recommend using the following flight search engines to get the best deal using this method:
Select the "Stops" option on the left side menu to find a flight to Nepal with one-stop.
Click on the "1 stop" and "2 stop" filters on the left side menu to find airlines that have cheaper deals.
The best thing about Kiwi is that it compares the prices of different airlines to find you the best deal. If it is possible to fly with more than one airline, Kiwi will show you this option.
Remember that this method might not always work if your destination is not too far away.
So, it is best to check out all the methods given above before booking your flight.
9.

Find the cheapest day to fly from Dubai to Nepal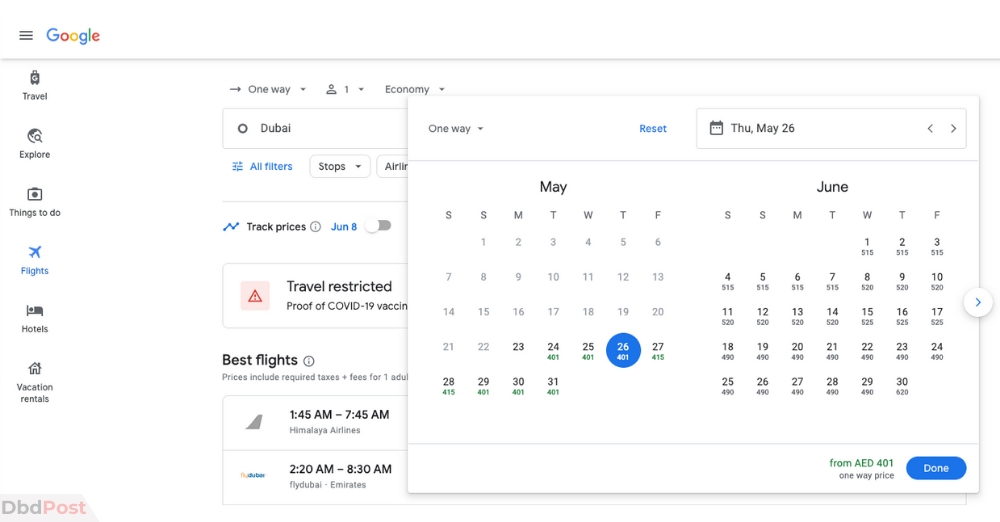 With the advancement of flight search engines, it is now possible to find the cheapest day to fly.
Go to any flight search engine and enter your itinerary to search this. Then, click on the calendar and hover over the various dates to see the cheapest day to fly.
It will show you a year-long calendar with the cheapest days to fly highlighted in green.
You can then choose the cheapest day that suits your schedule and book your flight.
We recommend CheapOair and Google flight websites to see the cheapest days to fly from Dubai to Nepal.
Here is how you can find the most affordable ticket prices on CheapOair:
Go to the CheapOair homepage (cheapoair.com).
You will see "From where" and "To where" search boxes and the option to choose one way, round trip, or multi-city journeys. Choose the departure and arrival airports.
Choose the travel date by clicking the calendar icon.
Select the number of passengers and select coach class.
Click the search button.
Once you are on the flight results page, click on the departure date again. A calendar will open with the prices for that particular date. The same thing happens for the arrival date.
Google flights have a very similar interface. You can find the cheapest days to fly using Google flights as above.
The best part of Google flight is it will show you 12 monthly calendars at a go. You can scroll through the months and find the cheapest day to fly from Dubai to Nepal.
With the right use of available flight search engines, you can find cheap flights from Dubai to Nepal.
10.

Look for flight pricing mistakes

Flight pricing mistakes can often occur while listing the prices of tickets. These are usually human errors and are a bit difficult to come across.

Such mishaps can also happen when there is a mistake with currency conversion or automation process. Regardless, you can find incredible savings by utilizing these errors.

For example, someone might list a $230 ticket as just $23. That is a straight-up 90% discount you can get.

If you come across such mistakes, you should be as quick as possible. That is because there will be others who notice it too. And airlines are usually very fast when it comes to fixing these errors.

So, how can you find cheap flights from Dubai to Kathmandu using mistake prices? Well, you can subscribe to Cheapoair, Skyscanner, Kayak, etc, to get alerts when prices drop to unbelievably low.

See also: Check out this Dbd travel guide on – cheap flights from Dubai to India, if you are looking to travel to Manila from Dubai.
Is it worth flying on cheaper airlines from Dubai to Nepal?
Yes, it is worth flying on cheaper airlines. Doing this can save you a lot of money to spend on other fun activities when you reach Nepal.
However, it is important to ensure that the airline you choose is safe and reliable.
We haven't considered the quality of services you may find bad on cheap flights from Dubai to Nepal. You can get better seats and services with more expensive flight deals, but the cost will be more.
The flight duration between Dubai and Kathmandu is not very long. So it is a reasonable compromise you must be willing to make when you travel to Nepal at the cheapest rates.
It isn't a bad idea to sign up for newsletters from various airlines. It will update you on the latest offers and discounts available.
You can also get cheap flights from Dubai to Nepal by following airlines on social media sites like Facebook and Twitter. Airlines might offer special deals and promotions for their followers.
FAQs about cheap flights from Dubai to Nepal
Are flights operating from Dubai to Nepal?
Yes, multiple airlines are operating Kathmandu flights from Dubai. You can see which ones are flying on their official ticket booking websites.
What is the cheapest month to fly from Dubai to Nepal?
The cheapest month to fly from Dubai to Kathmandu in May.
The most expensive months to fly from Dubai to Nepal are September and October. It is because there will be festivals in Nepal at that time.
How much does it cost to fly from Dubai to Nepal?
It can cost anywhere from around AED 400 to over AED 9000. The price depends on which class you want to travel to and the time of the year. Airlines flying from Dubai to Nepal usually charge AED 400 to 700 for economy class on a normal day.
What airlines fly to Nepal from Dubai?
Fly Dubai, Emirates, Qatar Airways, Nepal Airlines, etc., are some airlines that fly from Dubai to Kathmandu. You can find the cheapest direct flights from Dubai in Nepal Airlines, Air Arabia, and Flydubai's flight deals.
How long does a flight from Dubai to Nepal take?
A flight from Dubai to Kathmandu lasts about four to five hours. Transits will take a longer time. It is the case if you are on direct flights from Dubai.
How many flights are there between Dubai and Nepal?
Is there a cancellation fee if I cancel my flight from Dubai Intl. Airport (DXB) to KTM before it departs?
Cancellation policies are different for airlines that have Dubai to Kathmandu flight routes. For example, if you cancel Air Arabia's flight between 24 and 72 hours before departure, you will pay either 30% of the fair price as a fine or at least AED 200.
Is emirates flying to Nepal?
Yes, emirates is flying from Dubai to Nepal. They are one of many airlines that travel from Dubai to Kathmandu.
Final thoughts
When booking cheap flights from Dubai to Kathmandu, consider the price of airfare and any additional fees that may incur. These can include baggage fees, seat selection fees, and even taxes and surcharges.
Once you have found a few flights that meet your needs, be sure to compare the total cost of the trip before making your final decision.
With a little bit of planning and research, you should be able to find cheap flights from Dubai to Nepal that fit your budget and travel needs. You can save money and enjoy a hassle-free trip by following these tips.
We hope you found this Dbd guide helpful. If you did, feel free to share it with your friends. We greatly appreciate your support!